You are in the right corner of the web if you have been weighing your options on the best logo maker tool you can use for free to create a professional logo for your business.
Your business logo is a crucial aspect of your brand identity.
With your business name and tagline, a logo gives people a sense of who you are and what your business represents. The sooner you have one, the better your company branding will become.
Here's a review of the ten best logo generators you can use for free.

Let's get rolling:
The Themeisle Logo Maker is a nifty tool for creating impressive logos instantly. It has a clean user interface and fits the best logo maker bill.
You can edit your logo's typography, layout, colors, and scale. Plus, you get to pick the perfect symbol to go with it from the suggested ones: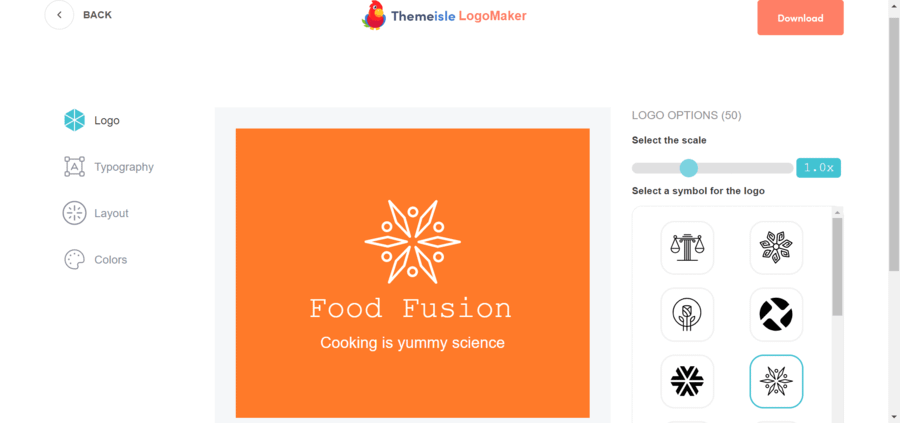 The Themeisle Logo Maker is perfect for cash-strapped brands that want a free solution.

Key Features:
Customizable pre-made templates allow you to mix and match color combinations and icons.
Design logos for every platform, be it a website, Facebook, Twitter, Instagram, and more.
An easy-to-use interface so you can design a magnificent logo in a few simple steps.
Download as PNG and SVG file types or zip folders with exact dimensions for different social media platforms.
Pricing:
The Themeisle Logo Maker is free.
Canva is a famous logo maker that makes creating a logo painless. You can generate an aesthetic logo for free in a few minutes.
Pick a template, tweak the text, and voilà, you have a stunning logo for your brand: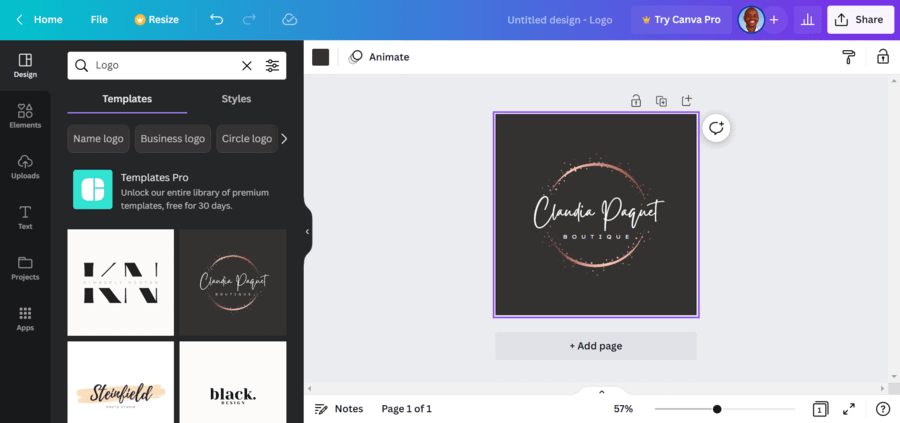 Canva is perfect for non-designers because it's intuitive and easy to use.

Key Features:
A sleek drag-and-drop editor that makes logo creation fun and painless.
Collaborate with team members on your logo design live, no matter where they are, and which device they are on.
Download your logos in three file formats: JPEG, PNG, and PDF.
Gain access to millions of images, icons, vectors, and stickers for better designs.
Pricing:
Canva Pro custom costs $12.99 monthly.
Any best logo maker list that doesn't include the Tailor Brands Logo Maker is incomplete. It's an AI-driven logo generator that allows you to create a logo for your brand with a few clicks.
Unlike most logo generators, Tailor Brands doesn't use templates. You start with a blank canvas and create a unique logo:
The Tailor Brands Logo Maker is an excellent fit for veteran designers who enjoy designing from scratch.

Key Features:
Choose a template from the following categories: physical goods, services, hospitality, technology, and content creators.
Customize your logo's font, icon, and color to create a logo that represents your brand.
Choose your logo style from three options: wordmark, monogram, or icon.
Download high-resolution files of your logo design as a vector EPS, SVG, or PNG.
Pricing:
Tailor Brands plans start at $3.99 per month, billed annually.
With over 20 million logos made using the tool and an impressive 4.9-star rating on Trust Pilot, Logo.com is a popular choice that deserves a spot on the best logo maker charts.
With Logo.com you can create professional, clean, and unique logo designs in a few minutes. You can also get high-resolution images in various file formats for absolutely free: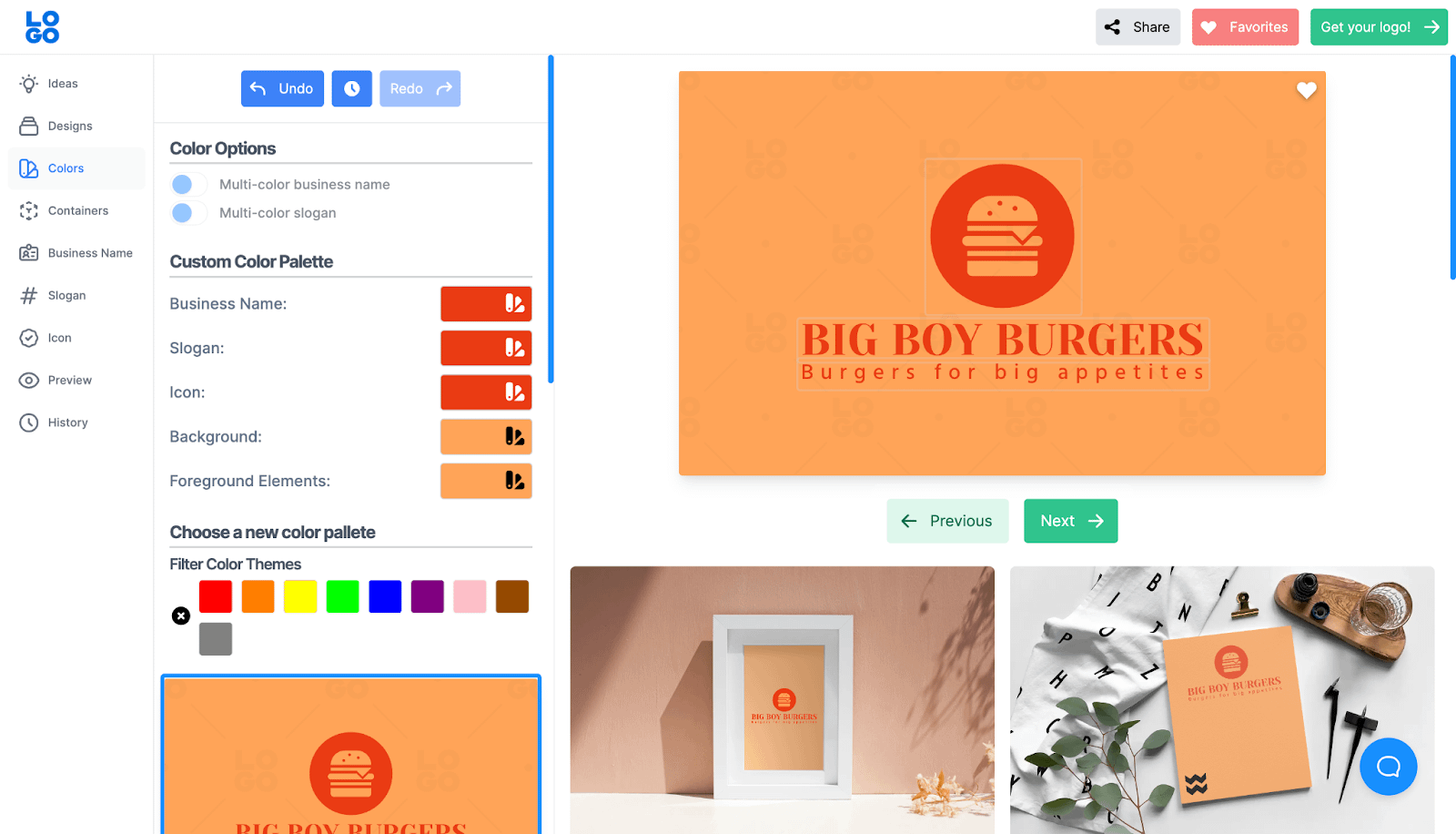 If you're willing to pay for the fairly affordable premium plan, Logo.com makes an ideal choice for ramping up your social media presence as well. It comes with pre-sized images for Facebook, Instagram, and Twitter.

Key Features:
Make unlimited logos using unlimited icons until you find one that's perfect for you.
Renders PNG, JPG, WEBP, PDF, AI, and SVG file formats to suit all your business needs.
Offers many logo variants, so you can hone in on the pixel-perfect logo for your brand.
Adjust every aspect of your logo: colors, fonts, layouts, and icons.
Pricing:
Logo.com is free, with an optional premium plan starting at $8 per month, paid on an annual basis.
Looka is another noteworthy logo maker solution.
With just a few clicks and less than five minutes, you can design a good company logo using Looka. The tool uses artificial intelligence to combine your industry, color, icon, and font choices to generate custom logo options for you: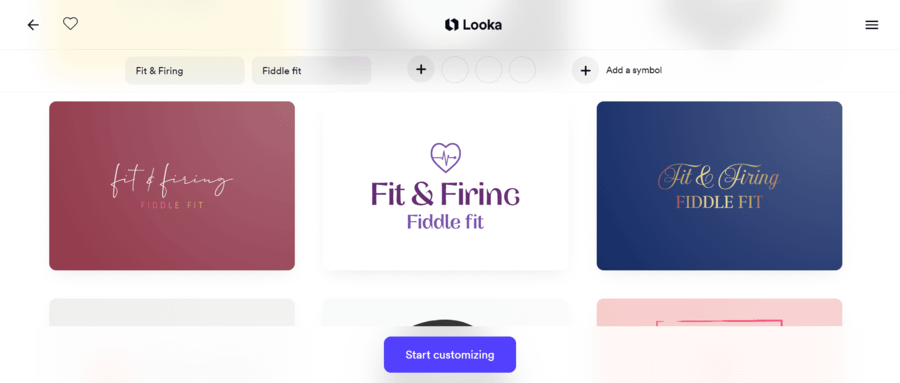 Non-techies will love Looka because it's easy to use.

Key Features:
Customize every element of your logo as you see fit: layouts, fonts, colors, and icons.
Generate precise, high-resolution JPG and PNG logo files for online and offline use.
Scale your logo to any size using expandable SVG and EPS files.
Create perfectly sized logos for social media profiles like Twitter, Facebook, YouTube, and more.
Pricing:
For a simple, low resolution file, Looka will charge you $20. To get your logo rendered into multiple, high resolution file types, it'll cost you $65 (as a one-time purchase).
Next up on our best logo maker review is Designhill. It's a quick DIY logo creator tool that lets you create a logo without the help of a professional designer.
Your design is fully customizable. You can combine and polish various logo elements to your liking for a one-of-a-kind logo: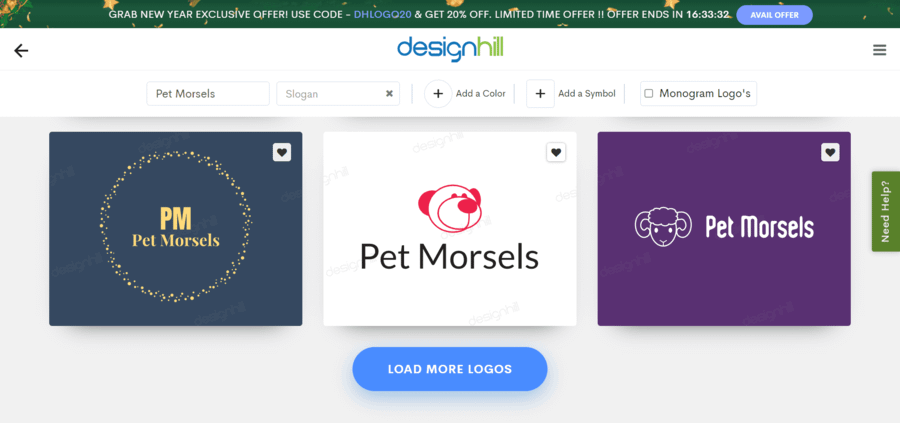 With their extensive industry templates, Designhilll is perfect for people who want niche-specific logos.

Key Features:
Hundreds of templates to choose from, so you get a design that matches your brand.
Supports PNG, SVG, EPS, and vector file formats for online and offline publication.
Versatile logo outputs with many color variations: black and white, colored, and transparent.
Multi-device support so you can access your logo on any device.
Pricing:
Designhill premium packages are similar to Looka above. You can download a low resolution version of your logo for a one-off payment of $20, or pay $65 for a bundle of various high resolution file types.
Adobe Express Logo Maker lets you create a presentable logo quickly.
You can download your logo as a transparent background PNG or an MP4 file if it's an animated logo for social media clips and video intros.
With Adobe Express, you can build a logo from scratch or pick a template from the thousands of top-quality logo templates: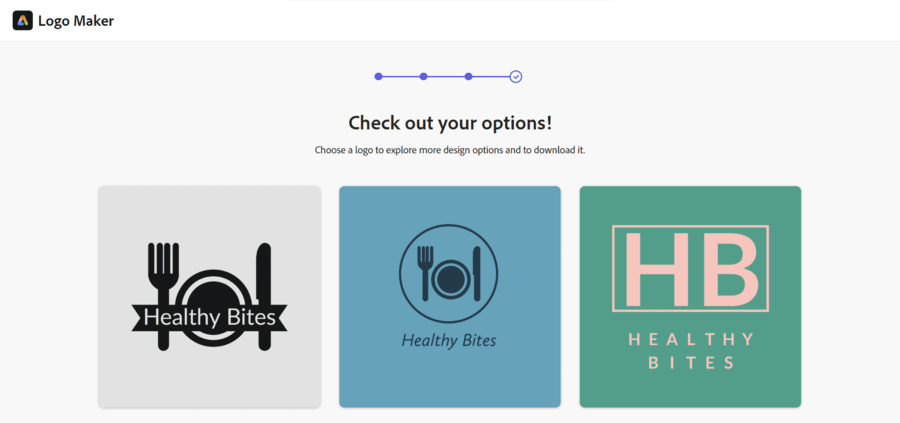 Adobe Express is best for branding agencies that create lots of logos for clients.

Key Features:
Make a logo for business cards, flyers, merchandise, and social media marketing videos.
Design flexibility to create your logo on both mobile (android/iOS) and the web.
Animate your logo's text or image using dozens of animation styles, so it stands out.
Gain access to over 2,000 unique fonts and a massive 160 million stock photo collection.
Pricing:
Adobe Express Premium costs $9.99 per month.
Another best logo maker platform for creating a professional company logo on your own is Logogenie.
Logogenie allows you to create and customize basic, minimalistic business logos. Your logo designs can be icon-based or shape-based: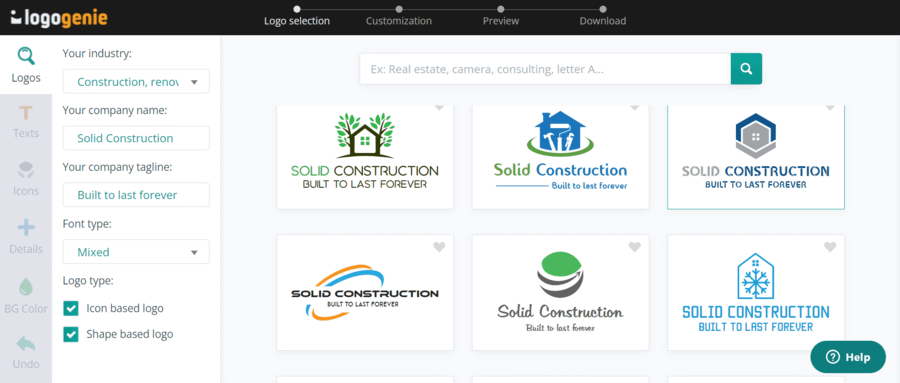 Logogenie's simple interface makes it an ideal choice for people with zero design experience.

Key Features:
Choose a design that matches your brand and industry from 1,000+ premium templates.
Simple drag-and-design editor for customizing icons, colors, tagline, spacing, and fonts.
Supports JPG, PNG, PDF, and SVG file formats.
Extensive library of icons, shapes, and pictograms to widen your logo design options.
Pricing:
The Logogenie Standard Logo Pack costs $24.90 (one-time fee).
Brand Crowd Logo Maker is a super-fast tool for creating a professionally designed logo in two minutes.
Customizing layouts, colors, and fonts is easy with the fast and smooth editor. You can preview your logo to get a glimpse of how it would look in real life and shortlist your favorites:
Brand Crowd Logo Maker is great for time-strapped startups and entrepreneurs who want to get a logo instantly.

Key Features:
Choose a template from thousands of logo designs, or use the library to get your creative juices flowing.
Unlimited customization and edits so you can edit and save your logo as many times as you like.
Supports PNG and JPG files for websites and vector logo files SVG, EPS, and PDF for print.
Pick your design from eight logo types, such as pictorials, monograms, wordmarks, emblems, etc.
Pricing:
The Brand Crowd subscription plans start at $15 per month.
Hatchful, a Shopify brainchild, also makes the best logo maker shortlist.
It's a totally free logo solution for creating a custom logo from hundreds of print-ready templates.
Hatchful empowers you to generate logos for your online or physical store, social media platforms, print and swag, business cards, and large surfaces: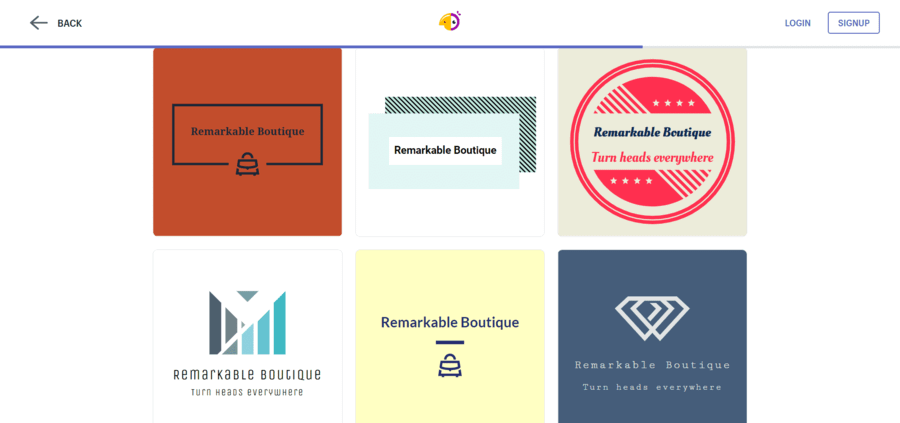 Hatchful is excellent for ecommerce brands.

Key Features:
Personalize your logo's layout, icons, fonts, and color combinations.
Create a logo that's fashioned for your specific industry or business niche.
Download your logo as a high-resolution PNG file for all social media platforms.
Design on the move using the iOS or Android app.
Pricing:
Hatchful is free.
Best logo maker: wrap up
That's our best logo maker review done and dusted.
Most of these tools are paid solutions. But the good news is they all have a free version. Therefore, you can create a professional logo without spending a dime.
In summary, here's a quick overview of the ten best logo maker tools you can use for free:
1. Themeisle: best free solution.
2. Canva: best for non-designers.
3. Tailor Brands: best for experienced designers.
4. Logo.com: best for social media marketing campaigns.
5. Looka: best for non-techies.
6. Designhill: best for industry-specific logos.
7. Adobe Express: best for branding agencies.
8. Logogenie: best for people with no design experience.
9. Brand Crowd: best for time-strapped people.
10. Hatchful: best for online store branding projects.
Take your pick and create a stunning logo for your business for free today!

Have you had any experience with any of the logo maker tools we presented above? Let us know in the comments section!
The post 10 Best Logo Maker Tools You Can Use for Free appeared first on Revive Social.
Revive Social