Looking for apps for Instagram Stories?
Over the past year, Instagram Stories have exploded in popularity. They are easy to create, fun to watch, and offer a more intimate, behind-the-scenes look into the lives of your favorite influencers and brands, not to mention your friends.
The rise of Stories couldn't have come at a better time for brands. Why? Well, the changes in the Instagram algorithm hit many brands pretty hard.
Organic reach for standard posts have dropped, but Stories, which sit at the top of the newsfeed, remain popular. In fact, they are
twice as popular as regular Instagram posts.
So, how do you get the most out of Instagram Stories, especially when you're growing your following and starting to run Instagram promotions? Apps for Instagram Stories are where it's at.
---
Top 10 apps for #InstagramStories: graphic design, #videoediting, and more!
Click To Tweet
---
The 10 best apps for Instagram Stories
Instagram Stories has tons of customization features built-in. You can change fonts, tag locations, add stickers or GIFs, even include background music. But what if you want to make your Stories more unique?
There is an app for that. In fact, there are dozens of apps for that. Which can get overwhelming. Here is my rundown of the top 10 very best apps for Instagram Stories.
1. Canva
Design app Canva helps you create a huge range of professional-looking designs including Facebook cover photos, ads, blog post featured images, and, of course, Instagram Stories.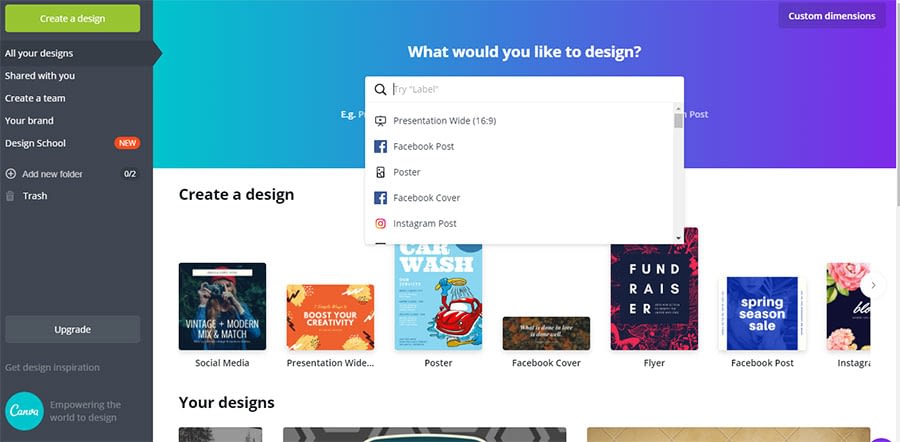 Unlike similar tools that only work on desktop, Canva works just as well in-app. Which means you don't have to switch back and forth from desktop to your phone. Win!
Top features include:
Photo straightener, to correct the angle of shots
Photo cropper, so you can zoom in on just the right portion of your image
Text editor with the ability to customize font, color, and size
Speech bubble, to add a little fun to your images
Add frames, grids, and shapes
Ability to add illustrations
Photo enhancing tools to brighten, blur, or grayscale images
A large selection of stickers
Canva also works as a drag-and-drop design tool, so you can create images from scratch or use their library of templates. Simply choose "Instagram Story" from the main page, and your creation will be automatically formatted to the perfect size.
Pricing
Many of the templates and features are free to use, but some require a fee of around $1. This makes it a great starter tool if you are on a budget since you can just pay for what you need. The Canva for Work plans, which offer access to more features, start at $12.95 per month.
Verdict
This is a full-fledged image design tool you can use right from your phone or your desktop. The pricing model makes it attractive, and the features make it super useful for Instagram Stories and all your basic design needs. However, Canva does lack video and music features.
2. InShot
If you frequently post videos to your Instagram Stories but are frustrated with your editing options, consider InShot. This tool lets you adjust the size of existing videos, add backgrounds, and so much more.
A few of the best features from InShot include:
Trim, cut, or merge videos
Rotate or flip both video and images
Blur borders
Add effects, such as black and white, adjust for skin tones, etc.
Add text and emoticons
Add animated text
Speed up or slow down videos
Add music or voice-overs
Sync sound with video
Pricing
Free to download, but you'll need the InShot Pro Unlimited account to remove ads and watermarks. Pricing for the Pro account is $2.99 a month, $9.99 a year, or $35.99 one-time purchase.
Verdict
Likely not enough features to use for all your Instagram Story needs, but extremely useful for creating amazing videos. I love the one-time purchase option, which is still quite affordable.
3. Adobe Spark
From the creators of the ever-popular Photoshop, Adobe Spark is a suite of powerful graphic design tools. Its uses expand outside of Instagram Stories, so if you need something to create awesome designs for elsewhere on the web, this is a fantastic option.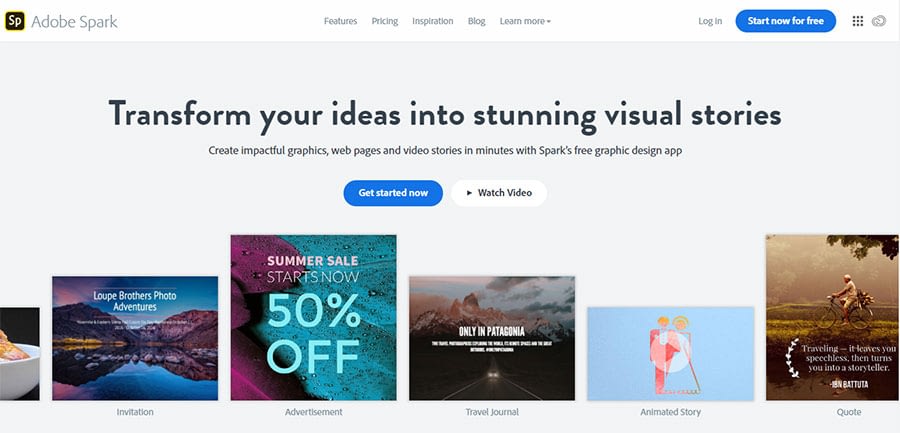 Spark provides users with tons of themed templates to choose from, including animated Stories, ads, flyers, and so much more.
Some of the best features of Adobe Spark:
Large selection of photos and themes
Intuitive, easy-to-use editing platform
Easily transition between desktop and app versions with synching
Choose from thousands of fonts
Easily swap between themes, so no fancy design degree needed
Quickly resize text
Auto-resize images to share on different platforms
Pricing
Adobe Spark has a free plan which offers limited functionality, of course, and includes an Adobe Spark logo on your images. (Which I was able to easily select and delete in-app.) Monthly plans for single users start at $9.99 a month. If you have a Creative Cloud Plan, you might already have access to Spark, so be sure to check.
Verdict
Adobe Spark is actually a combination of three tools: Post (for creating social media images), Page (for creating websites), and Video for editing videos. There is a lot you can do with all three tools, and if you already use other Adobe products, these will feel very familiar. If Photoshop feels overwhelming, you will still love Spark. It has a much lower learning curve so you can get started using it right away.
4. Hype-Type
If you really want your stories to stand out, Hype-Type might be just what you are looking for. You can easily add animated text, edit photos, pull quotes, and much more. It advertises itself, interestingly enough, as not being one of those "tired tools everyone else uses."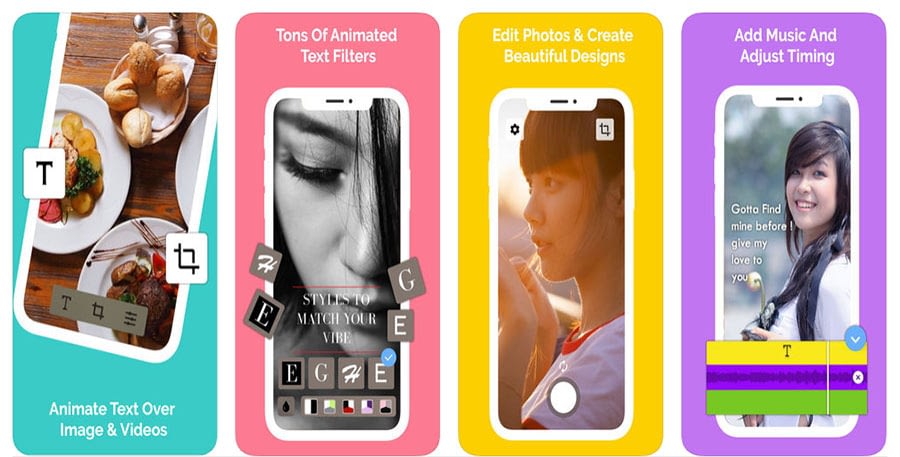 Top features of Hype-Type include:
The ability to add animated text or captions
A wide range of fonts and animation types
Random quote generator
Ability to overlay music and adjust the timing of videos
Flip or reverse videos
Easily upload right to Instagram
Pricing
Free to download, but does offer in-app purchases for some features.
Verdict
This is a much more limited as far as apps for Instagram Stories go on this list, but the animated text is pretty darn cool. This won't be your only editing app, but it is a unique one. Plus, it is (mostly) free.
5. A Design Kit
A Design Kit is an app that allows you to add brush strokes, text, stickers, textures, and other designs to your photos. It isn't as full-featured as other apps for Instagram stories, such as Canva or Spark, but it does let you add some really unique features.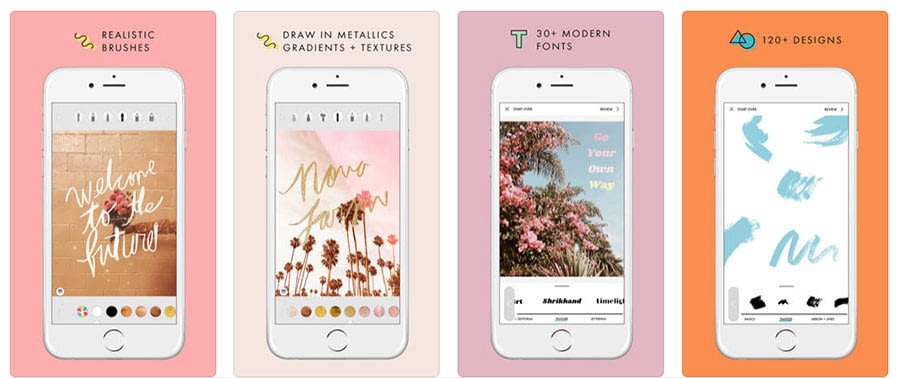 Some of the top features for this app for Instagram Stories include:
Choose from more than 30 different fonts
Wide range of brushes for writing directly on your photos
Huge selection of color palettes, including metallic colors
Over 100 different designs to choose from
Dozens of unique stickers you won't find in Instagram
Ability to add backgrounds and textures
Saves 10 most recent color options so your brand colors are always easy to find
Pricing
The app price itself is free but there are in-app purchases. For example, an upgraded texture package with 46 additional textures costs $2.99. If you're on a tight budget, there is a wide selection of free options.
Verdict
This is a niche tool and not one that will replace a full design tool. If you have an eye for design and like adding unique features, this might be the app for you. The color, texture, and font options seem to lean more towards fashion and lifestyle brands.
6. CutStory
Do you have a long video you want cut up and make into an Instagram Story? This is the tool you want. CutStory is an easy-to-use app that helps you create awesome Instagram Stories.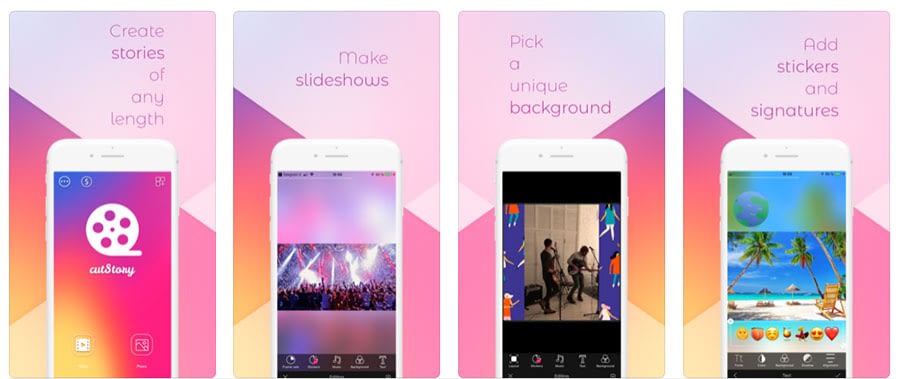 Top features of this Instagram story app include:
Ability to break up a long video into fragments to upload to Instagram Stories
Create slideshows
Add unique backgrounds to your videos
Include stickers, emoticons, and other design elements
Easily add music
Pricing
Free, with in-app purchases. Includes a decent selection of free features.
Verdict
This is another niche as far as apps for Instagram Stories go. However, what it does is really awesome. Instead of recording 15 different clips, you can upload an entire video, edit, and then export in chronological order.
7. Over
This is a full-fledged design tool created with brands in mind. They offer tons of photos, which you can easily add design elements to and edit. Where some apps for Instagram stories hold back and offer just a few tools, Over goes all out.
Top Over Instagram story app features include:
Over 10,000 templates created with brands in mind
Thousands of graphics and fonts
Easy-to-use editing tools
Ability to create designs for use all over the web or in print
Create and edit videos
Ability to post directly from the app
Pricing
Over offers a limited-feature free option. Over Pro, which gives you access to more photos, graphics, fonts, and tools, costs either $14.99 a month or $99.99 a year.
Verdict
It is a powerful tool and the pricing reflects that. If you are looking to create on-brand content for all over the web in addition to finding the best apps for Instagram Stories, Over will work for you. If you just want to add a little flair to your personal Stories, the free version will work well.
8. Font Candy
If you are looking for a powerful text editor, Font Candy should be at the top of your list. This Instagram story app features artistic fonts, powerful editing tools, and so much more. Here are a few examples of what you can build with Font Candy: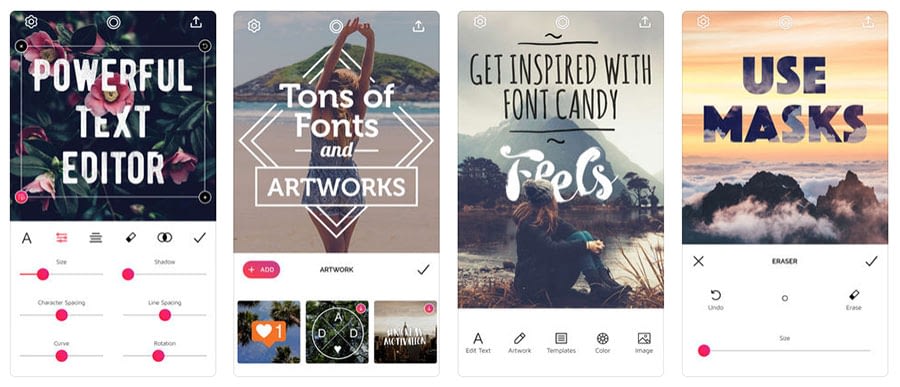 Some of my favorite features from this Instagram Stories app include:
Ability to adjust character spacing, line spacing, size, curve text, and more
More than 45 fonts to choose from
Layout templates so you can create professional looking images easily
Text animation
Integrated photo search function to find stock photos
Ability to overlay colors and filters
Easily scale or crop images to the right size for whatever platform you need
Instantly upload to Facebook, Twitter, and Instagram
Add watermarks to your images to protect your copyright
Design and order physical products, including phone cases, shirts, and magnets
Pricing
There is a free one week trial; after that, you will pay $1.99 a week or around $8 a month.
Verdict
While $8 isn't super expensive, it feels like a lot for what you get. Also, other apps for Instagram Stories tend to bill by the month, so this feels a bit underhanded. They do offer lots of neat fonts and features, particularly if you like creating text-heavy images.
9. Diptic
This Instagram Story app makes it easy to turn videos, images, and live images into collages. Diptic offer tons of different layouts and you can add design elements such as text, filters, and so forth.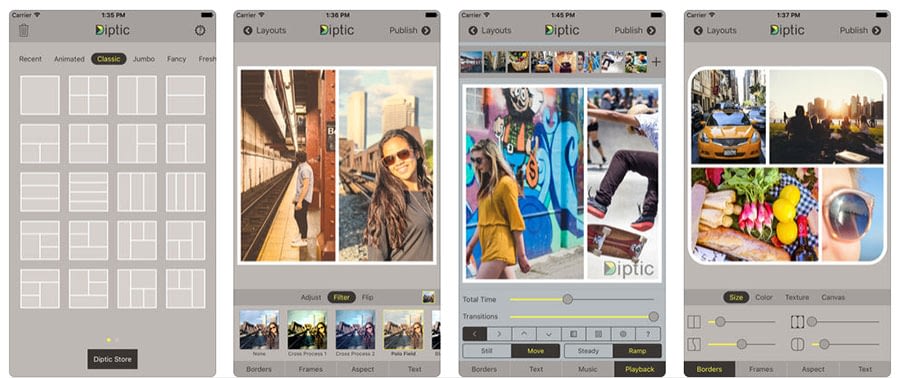 Diptic offers plenty of features for a collage app, including:
Ability to include pictures, images, and even live images in collages
Choose from 194+ template layouts, or build your own
Save custom layouts to use again and again
Add text, filters, and a variety of different borders
Pan, rotate, or flip images
Add music to videos
Upload your creations directly to Instagram Facebook, Twitter, and more
Pricing
The app costs $2.99, a one time fee. Like many other apps for Instagram Stories, Diptic offers in-app purchases for additional layouts, fonts, etc.
Verdict
This is simple, easy to use Instagram Stories app. If you sell products, this is a fantastic tool to share different views or uses. Style brands will also find it very useful. It doesn't offer a free version, but at just $2.99 it is worth the cost.
10. Unfold
Out of all the apps for Instagram Stories we've looked at, this one stands out. Unfold's site and design is very modern and minimalist. You won't be adding glitter font with this app. Take a look at some of the available examples:
Some of my favorite features of Unfold include:
Over 100 templates to choose from, all in different styles
Five fonts and advanced editing tools
Support for both video and photo
Seamless export of high-quality images
They don't require an account, you can just download and get to work
Pricing
Free, you don't even need to create an account, which is nice. Like most apps for Instagram Stories, they do offer in-app purchases if you want access to premium templates and features.
Verdict
Their culture of curiosity and dedication to storytelling is intriguing. The clean, minimalistic interface is easy to use. This isn't an app for everyone, but those who like it will love it. Highly recommend for artists, minimalistic leaning lifestyle brands, photographers, and other brands that like to keep it simple.
Start growing your business with apps for Instagram Stories
There are dozens of apps for Instagram Stories to choose from, so get ready to let those creative ideas flow! For best results, make sure your
Instagram Stories fit with your brand's personality
and
overall Instagram marketing strategy
.
When possible, use fonts, colors, and language that your followers will recognize while still honoring the "behind the scenes" feel of Stories. You followers will enjoy your content, and you will enjoy watching your business grow.
---
Start growing your business today with #apps for Instagram Stories #SocialMediaMarketing
Click To Tweet
---
The post 10 of the Best Apps for Instagram Stories: Graphic Design, Video Editing, and More! appeared first on Revive Social.