How are you leveraging Instagram ads?
Social media marketing has shifted dramatically in the past few years. Where Facebook used to be the name of the game, these days Instagram is rising to the top of most marketers' toolboxes.
But, there is a problem — with so many social media platforms, it can be a struggle to stay on top of all the trends and best practices. What works on Facebook doesn't necessarily work on Instagram or Twitter, and vice versa.
Instagram, for example, has a more casual tone. Brands tend to offer more relaxed, personal content — and users love it! Today, there are currently more than 1 billion Instagram users worldwide, and 500 million of those users log into the social media platform every day.
So, how do you get those eyes on your Instagram account?
---
14 examples of how brands are using #InstagramAds to boost conversions
Click To Tweet
---
Table of Contents:
One way is through Instagram ads. While slow growth is most effective for earning followers and building a relationship, Instagram ads can effectively help brands increase their reach or promote a specific product — if they create unique ads that stand out.
Here are 14 different examples of creative Instagram ads that work to inspire your own ads. I've broken them down by type of ad to make it easier to understand the benefits of each type of Instagram promotion.
Instagram ads: promoted posts
The easiest Instagram ad to create is the promoted post. Much like Facebook promoted posts, you can use Instagram promoted posts to increase the reach of your posts by paying to "boost" them. Unlike regular Instagram posts, you can also include links in Instagram post ads.
Here are a few fantastic examples of brands that use promoted posts.
1. National Geographic Travel
National Geographic is known for sharing touching photographs of nature, animals, and people. Here are a few of its most recent Instagram posts for comparison.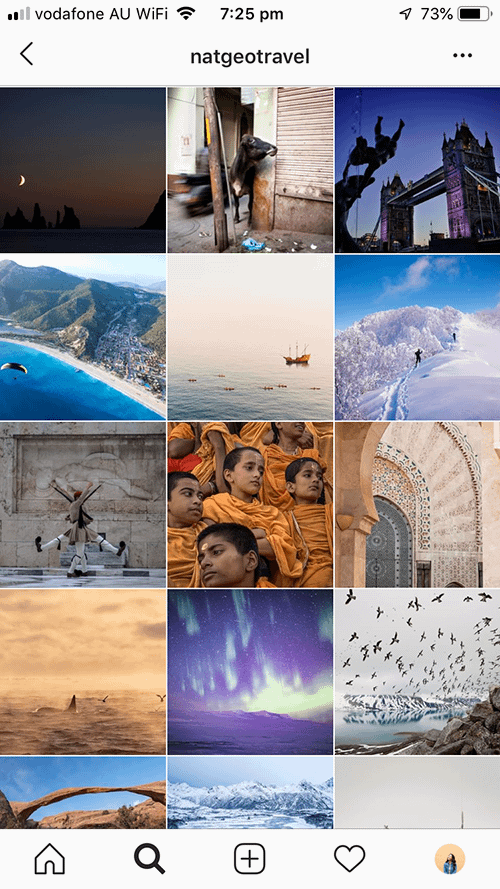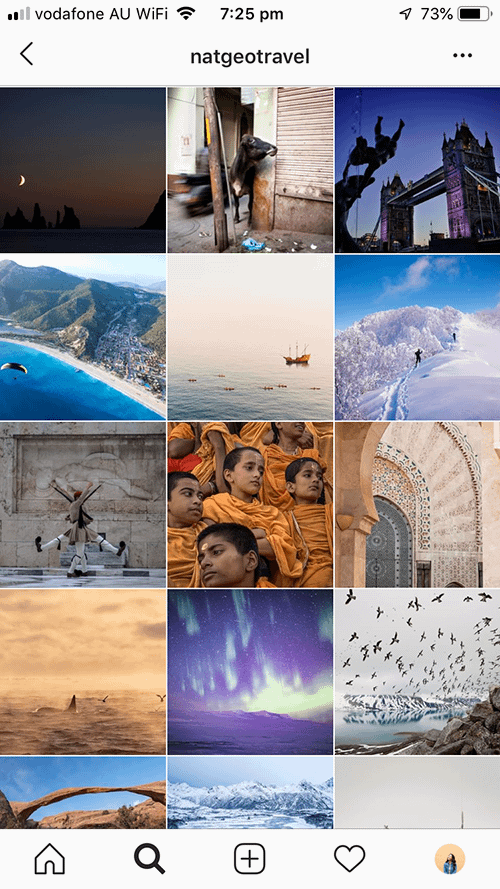 Recently, National Geographic Travel partnered with Visit Abu Dhabi to share stunning photos of the city, including the photograph below.
The photo highlights the beauty of tourist attractions in the capital of Arab Emirates while staying on brand for National Geographic.
Key takeaway: Leverage your strengths and stay on brand. National Geographic is known for posting amazing photographs, so this ad feels incredibly authentic and not at all promotional.
2. Russell Brunson
Russell Brunson, an online entrepreneur, recently used Instagram promoted posts ads to launch his newest project, a downloadable ebook.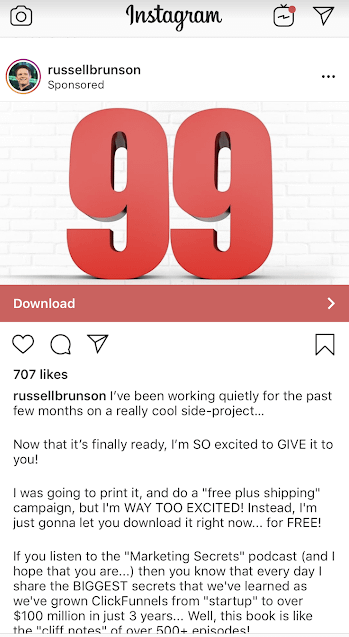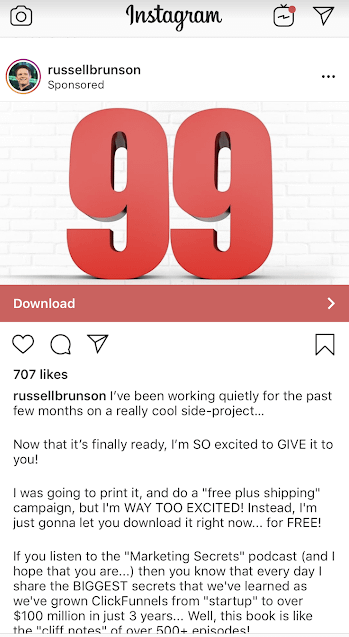 While National Geographic used a professional photograph to stand out, this one is pretty simple. Yet, the large font and striking color make the ad stand out and inspires curiosity. What does the 99 mean? Most viewers will head to the caption to find out.
From the ad, viewers can click the link to download. Simple, but effective.
Key takeaway: You don't have to spend thousands on professional photos or flat lays to create an effective ad. Pique curiosity to entice clicks; just make sure you deliver.
3. Digital Marketer
Digital Marketer, an online publication and marketing tool company, used a similar strategy to promote its blog post audit checklist.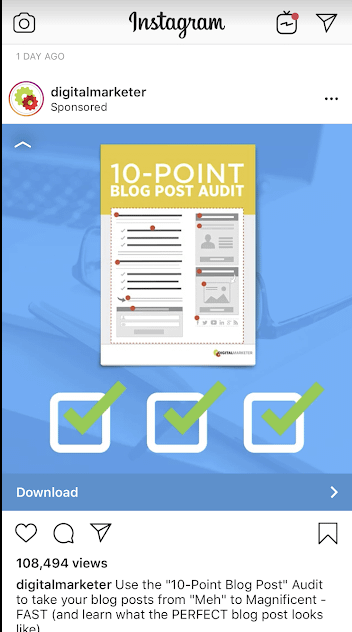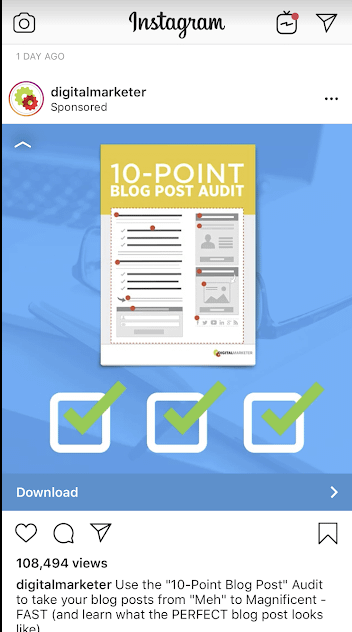 This ad is actually a short GIF, with animated checkmarks. This ad grabs viewers' attention and encourages clicks using movement, while the on-brand colors and modern icons help increase branding. These are the same colors and style Digital Marketer uses for most of its graphics.
Key takeaway: Stay on brand and consider using short videos or GIFs to attract eyes to your ad. After all, who can resist a great GIF?
4. Wordstream
Wordstream, a search marketing resource and tool company, also used Instagram ads recently to promote a downloadable guide. This is a pretty common strategy for brands looking to build email lists using Instagram.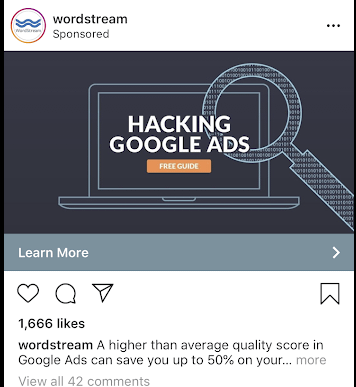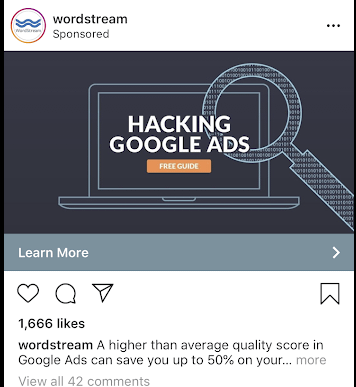 Unlike Digital Marketer, who used a vertical image, Wordstream used a horizontal image. This draws attention to the caption, where they draw viewers in by explaining how much money the guide could help them save.
Key takeaway: Consider using horizontal images to draw attention to your caption.
5. Crocs
Shoe company Crocs used Instagram ads to promote its new sale prices. The ad uses simple but effective design elements to draw viewers in.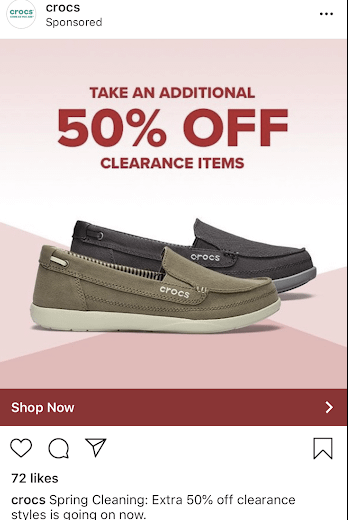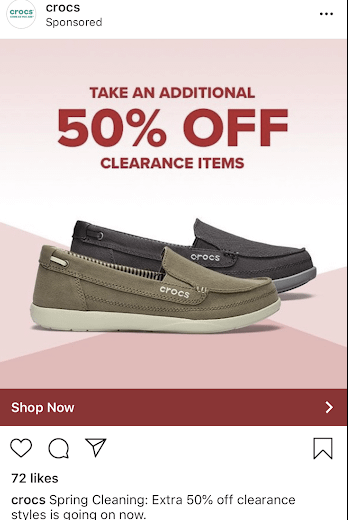 The diagonal lines draw your eye to the shoes, while the bold font and color help highlight the offer of 50% off. Crocs uses the "Shop Now" call-to-action to encourage users to make a purchase right from their Instagram feed.
Key takeaway: First, design matters! Not all Instagram posts are pretty photos and, you know, Crocs aren't exactly beautiful shoes. While a lot of brands use Instagram ads to drive email or webinar signups, you can also use it to sell products.
6. SEMRush
SEMrush is a digital marketing tool designed to help marketers use data to be more effective. A recent Instagram ad promoted a digital marketing events calendar.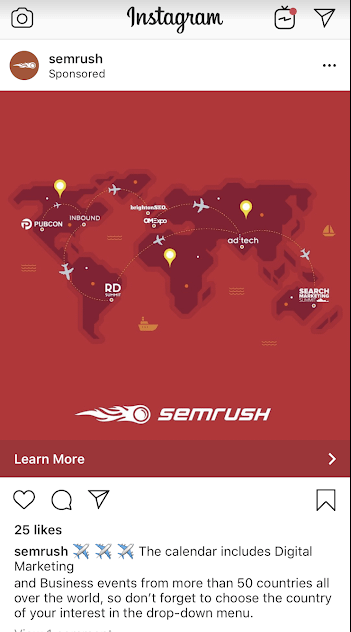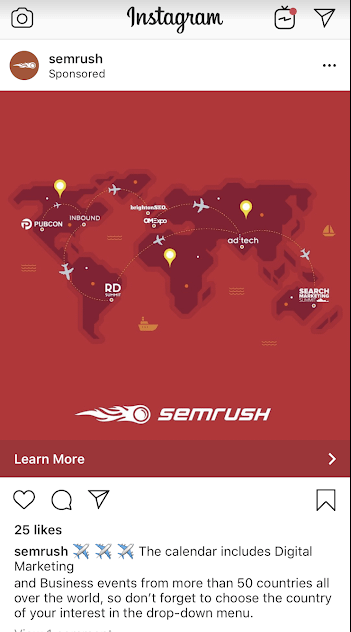 I really like this ad. While other brands use simple designs, SEMRush got creative with a world map showcasing the locations of marketing conferences around the world.
This ad stands out for another reason — it is really well-branded. I follow SEMrush, so I recognize the colors and logo immediately when they come up in my feed. By using their brand colors and accents for the entire map, I knew exactly who this was when I saw it.
Key takeaway: Don't be afraid to buck the trends and get creative. You don't have to do what everyone else is doing.
7. Smartest Guys in Marketing
Smartest Guys in Marketing is a podcast by online entrepreneurs Chris Evans and Taylor Welch. They recently used Instagram ads to promote a webinar.
If you aren't familiar with them, their brand is pretty cheeky. Hence, the image below: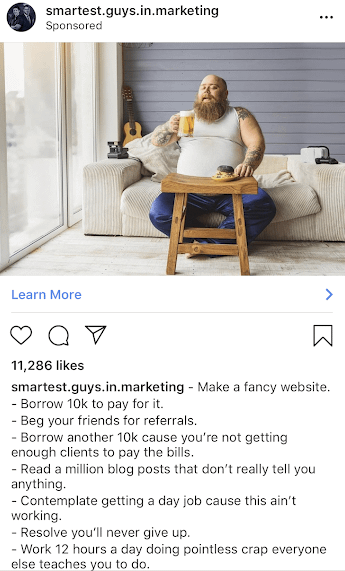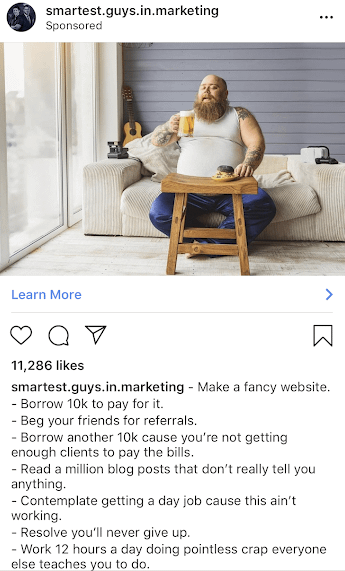 They use a unique photo that pokes fun at the classic "Instagram perfect" look many lifestyle Instagrammers use. They kept the mostly white and neutral background. Instead of a latte, the male model is sipping a beer. It is unique, but targeted to their demographic.
They also use a really long caption in their ad, which might seem ineffective.
Here is the rest of their caption:
Some might argue the caption is way too long. Maybe it is. But, the copy is amusing, which is very on-brand for them. They use very casual language, which is, again, very on brand.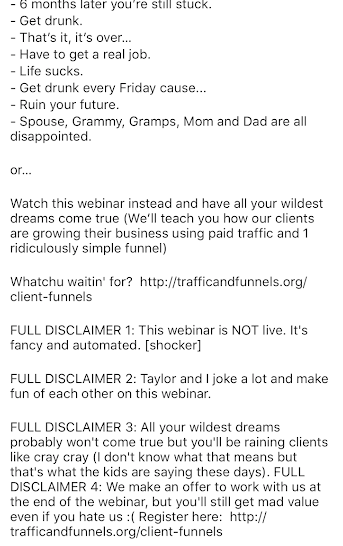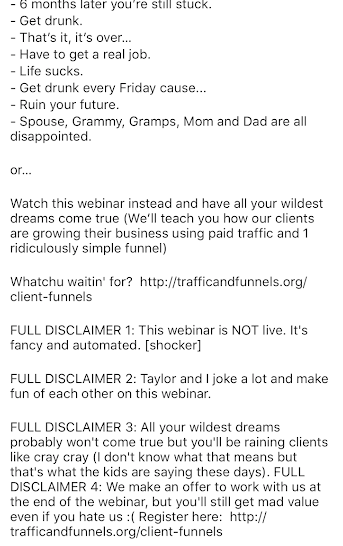 This style might not be your cup of tea, but it does serve a purpose. By highlighting who they are right off the bat, they attract the type of customers they want and repel those who take things too seriously.
Key takeaway: Don't try to please everyone. Write and create content for your ideal clients or customers; don't rely on best practices that don't fit for your brand.
8. Jenna Kutcher
Jenna Kutcher is a professional photographer and online marketer. She recently used Instagram ads to promote her email marketing course.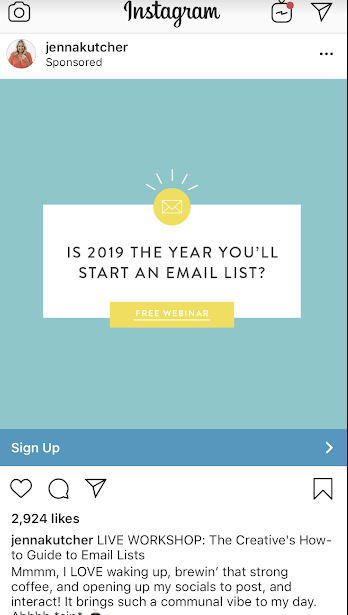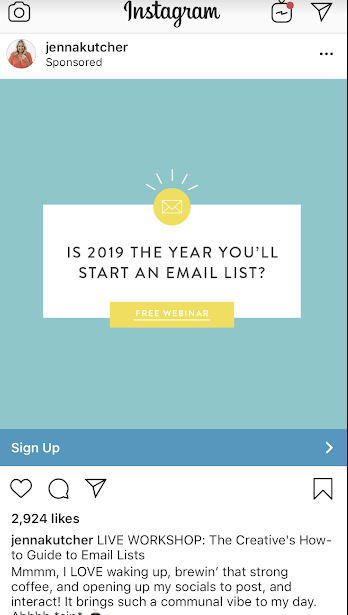 I love this ad for the simplicity — your ad doesn't need to use up every inch of space to be effective. The digital space is cluttered enough; the open space is relaxing and refreshing. Jenna uses lots of white space to draw attention to an intriguing question.
Key takeaway: Sometimes less is more.
Instagram video ads
Year over year, video consumption on Instagram increases by 80%. You can give users more of what they want through Instagram video ads.
Videos ads let you share more information in less time, and also tend to catch the eye as users scroll through their Instagram feed.
Here are a few of the top Instagram video ads to inspire you to create your own!
9. Glad
Glad Products promotes a wide range of Glad products, including trash bags, food storage containers, and other kitchen products.
Who said trash bag ads can't be cute?
This Glad video ad features a product in action with the added bonus of a cute dog. Which is the perfect addition to Instagram!
This ad is similar to Glad's TV ads, but shortened and created with Instagram in mind.
Key takeaway: You don't have to reinvent the wheel to move into Instagram ads. Yes, Instagram is its own platform with its own strengths and weakness. But, you don't have to start from scratch to create an Instagram strategy. If you have a strategy that is working well, think about how you can adjust it to work on Instagram.
10. BigCommerce video ad
Ecommerce platform BigCommerce recently used Instagram ads to promote its newest report. Where Wordstream and Digital Marketer used static images to promote downloads, BigCommerce went big with a video.
It's a short video, really just a short slide show. But it still stands out. They used on-brand colors and included a teaser stat in the caption.
Key takeaway: You don't need a massive budget to create an Instagram video ad.
11. Ebags
Ebags, an online luggage and travel accessories retail company, created this unique video ad to promote its Mother Lode mini duffel bag.
One of the selling points of this piece is the number of items that can be stored and organized using the various pockets. To highlight this, eBags used a stop motion animation-style video, which allowed them to show off the best features of the bag in a short, easy to watch video.
Key takeaway: Consider pairing video with other unique or modern techniques to create videos that stand out.
Carousel ads
In addition to video and promoted posts, Instagram also allows brands to create carousel ads. Essentially, these are posts with multiple pages users can scroll through. They allow brands to share more content than is possible in a single post.
You can also share a different link for each image, which is critical on a link-restricting platform like Instagram.
For example, if you were promoting several pairs of shoes, you could use a carousel ad to let viewers browse multiple options and click through to purchase their preferred pair.
Here is what carousel ads look like in action.
12. Marin Software
Marian Software is an online advertising company based out of San Francisco. They create reports and guides to help online marketers understand trends and leverage new marketing strategies.
A recent carousel ad promoted four different guides, all in one ad. Each photo featured a link to that specific guide. The images are most likely just graphics from each report resized for Instagram. The real benefit here is the use of the carousel ad to promote several reports all in one ad.
Key takeaway: Use carousel ads if you want to promote multiple products all in one ad.
Instagram Story ads
Finally, there are Instagram Story ads. Instagram Stories are photos and video clips that, like SnapChat, expire after 24 hours. Stories are featured in a bar at the top of users' Instagram feed and earn high views, which makes them very popular with brands.
In fact, according to Instagram, nearly 500 million accounts use Instagram Stories everyday.
Instagram Story ads harness the high engagement and viewership of Stories by placing ads between stories, like the ones below.
13. Digital Sumo
Instagram Story ads allow you to use the format of Instagram stories while also increasing your reach. The example below is from Digital Sumo, a company that offers training and events for digital marketers.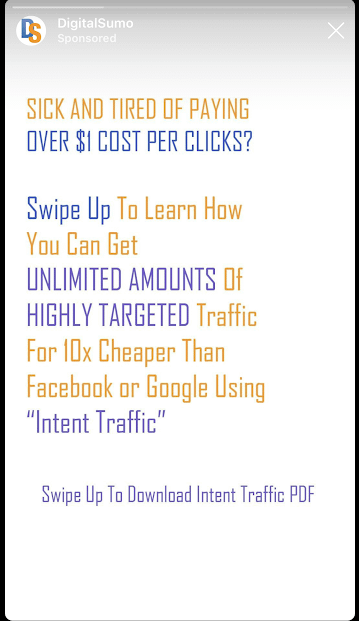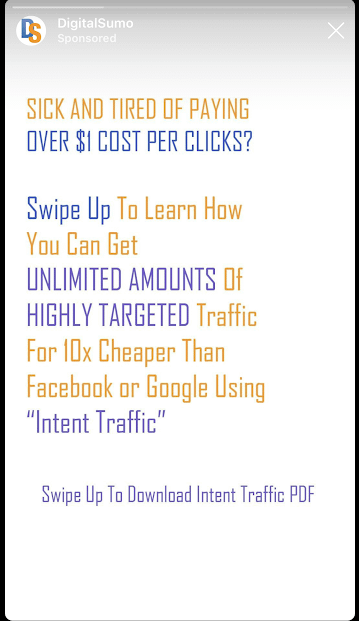 Its Story ad is incredibly simple; it is nothing more than a white background with text in brand colors. But, it appears among other Stories, which means it is likely to get plenty of views.
Key takeaway: You can keep it incredibly simple in Stories. Tell followers what you have and how to get it. Sometimes simple marketing is the most effective.
14. Promodotcom
Promo.com is a video creation platform, so it is no surprise that they created a killer Instagram story video.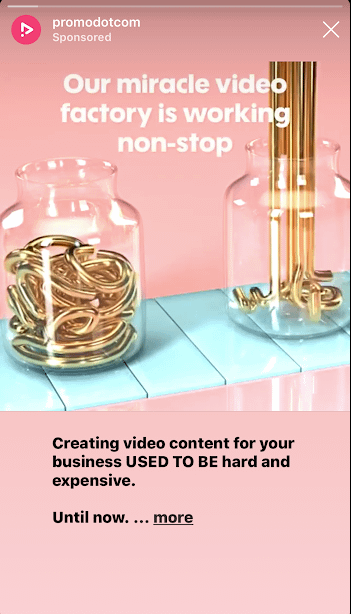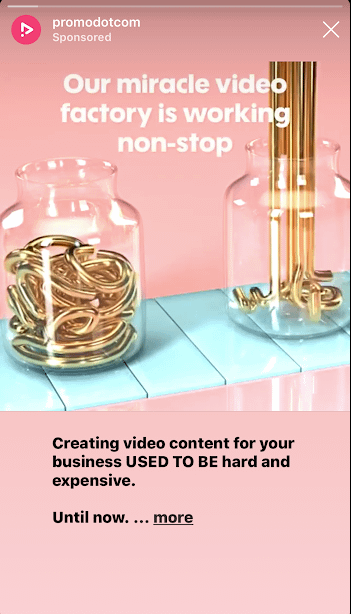 They used an eye-catching video (the gold tubes melt into the jars; it is pretty darn cool) and paired it with clever copy. By using Instagram Story ads, many viewers will start engaging with the ad before they even realize it's an ad; which is part of the point.
Key takeaway: Just because you can keep Instagram Story ads simple doesn't mean you can't get creative. Instagram features, such as filters, stickers, and tags, make it simple to be creative.
Instagram ads can be whatever you want them to be
When it comes to Instagram ads, there's no right or wrong way to go about creating them. Instead, stay on-brand and create an Instagram ad that speaks to your target audience. No matter what kind of business you run, Instagram ads can help elevate your brand, get your product or service in front of more followers, and quickly boost your following.
---
Instagram #advertising can help elevate your brand, get your #product or service in front of more #followers
Click To Tweet
---
These creative examples of Instagram ads should be more than enough to inspire you to create your first ad if you haven't shared one already! Don't forget to measure the effectiveness of your ads, and try other ad techniques to continue growing your brand.
Ready to get started? What type of ad will you build first? Share your thoughts in the comments below!
The post 14 Examples of Effective Instagram Ads and What You Can Learn From Them appeared first on Revive Social.