If you're looking to build an audience and drive conversions through content marketing, you'll need all the help you can get. This includes using the best digital marketing tools for content marketing you can find.
Fortunately, there are solutions to help you create and promote content, collaborate more effectively, save time, better target your audience, and much more. It's easier than you might think to build a flexible, powerful toolbox for all your marketing needs.
In this post, we're going to introduce you to 15 digital marketing tools for content marketing.
However, let's first talk a little about why these solutions are so important!
---
15 of the best #digitalmarketing #tools for content marketers 🧰
Click To Tweet
---
The challenges of content marketing without the right tools
On the whole, content marketing has become far more effective than most traditional marketing methods. It better serves an audience that's burned out on ads, and is looking for value and quality.
If you want to make your mark online, pursuing a strong content marketing strategy is just about essential. At the same time, competition is fierce. Let's look at a few numbers to illustrate why:
In other words, the online audience for your content is enormous, and there are a lot of businesses trying to get their attention. It's easy to get lost in all of the noise. Having a strong, defined strategy is a start, but it's often not enough.
You'll also require tools to help you create better content more quickly, and promote it effectively. Only 27% of marketers use content syndication and promotional tools, and the numbers are similar for other digital marketing solutions. If you want to stand out, you'll need to seek quality digital marketing tools for content marketing.
15 of the best digital marketing tools for content marketers
It's not particularly hard to find digital marketing tools for content marketing – in fact, there are a lot. The challenge lies in knowing which ones are worth your time and money. What follows are 15 of our favorites (in no particular order), and each can play a valuable role in your campaigns.
1. Sprout Social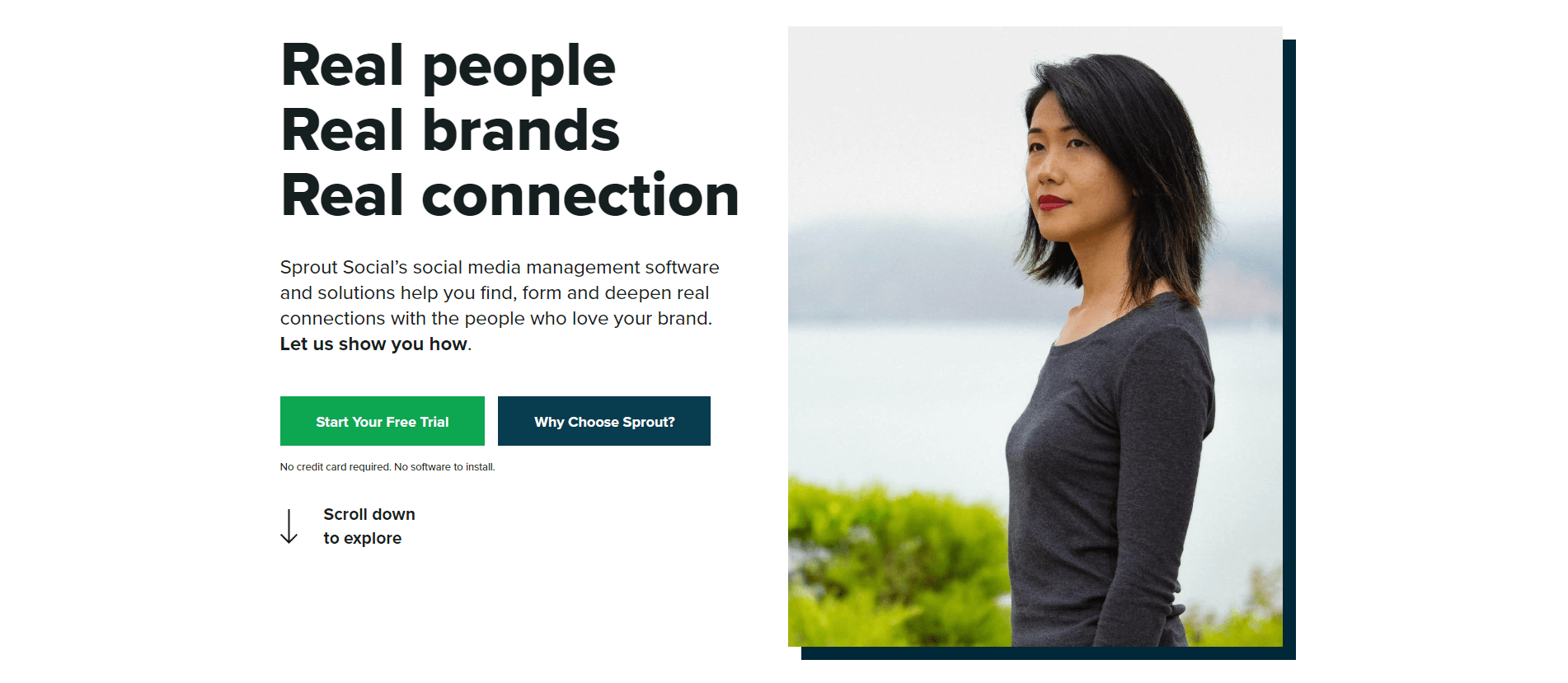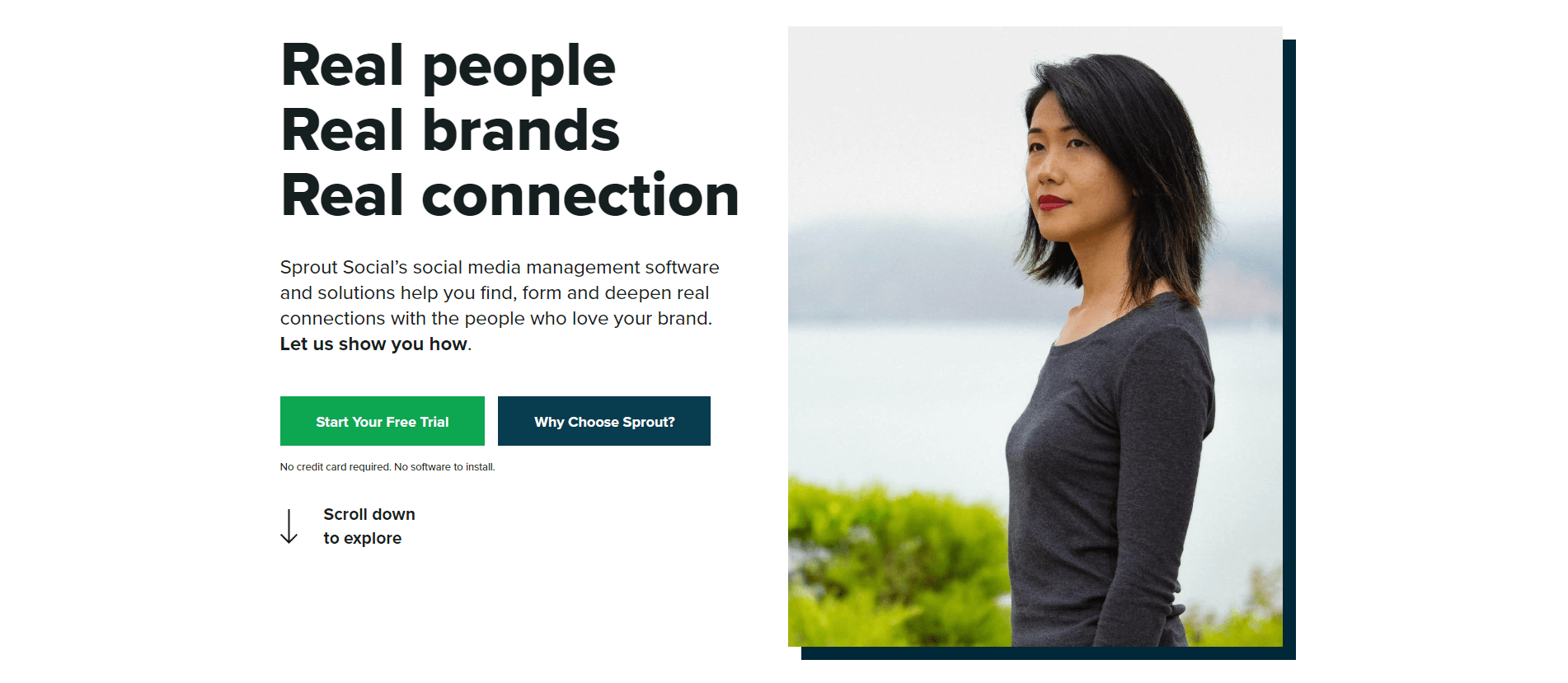 Sprout Social is all about helping you connect with your audience. To do this, it provides a number of social media management and marketing solutions. If you're looking to promote your content via social platforms, the first in our list of digital marketing tools for content marketing is a must.
Key features:
Read and respond to messages on multiple social sites, from one location
Monitor important keywords, hashtags, and other vital data
Plan, schedule, and post to social networks easily
Pricing: The starter plan for Sprout Social will cost you $99 per user, per month.
2. BuzzSumo


The key to successful content marketing is research. As such, we'll look at a number of research-focused digital marketing tools for content marketing throughout this list. The first is BuzzSumo, which enables you to analyze the performance of both your own content and that of your competitors.
Key features:
Find out what content is being read and shared most among your target audience
Identify key influencers in your field
Set up 'content alerts' to notify you when new content of interest is published
Pricing: BuzzSumo offers a number of plans, starting at $79 per month.
3. SendinBlue


When many people think about content marketing, they focus on blog posts. While blogging is valuable, so too is email marketing. SendinBlue helps you create and manage email campaigns and SMS messages, so you can reach your audience with the right campaigns at the right time.
Key features:
Collect email addresses, and use both segmentation and automation to manage your list
Build newsletters using a drag-and-drop builder
Send targeted SMS messages that can be triggered by user actions
Pricing: You can try SendinBlue out via a free tier, or eliminate the daily sending limit for 19€ per month.
4. Canva
If you want to make an impact online, visuals are crucial. Yet, not everyone is a designer (or can afford to hire one). This is where Canva comes in handy, as it enables you to easily create all kinds of visual content for your campaigns.
Key features:
Design logos, website imagery, infographics, and more
Use filters and other editing tools to enhance your designs
Work with over 8,000 templates, upload your own base images, or create from scratch
Pricing: Canva's basic features are free. For $12.95 per user per month, you get access to additional design and collaboration tools.
5. Feedly
Feedly is one of those digital marketing tools for content marketing that looks simple on the surface, but can be very powerful. With Feedly, you can track the blogs, social media feeds, and websites that matter to you – all in one place. This helps you stay on top of important content and developments in your niche.
Key features:
Follow any publication, profile, or site with an RSS feed
See all updates to your chosen feeds in a single list, or segment them as needed
Save articles for later, post them on social media, and share them with your team easily
Pricing: The free Feedly plan permits up to 100 sources and 3 feeds. With the Pro plan, for $5.41 per month you get unlimited sources and feeds, as well as some other handy features.
6. Google Analytics


No list of digital marketing tools for content marketing would be complete without a mention of Google Analytics. This is an essential tool for keeping tabs on your website. You'll get access to all kinds of data about your site and its visitors, enabling you to make targeted improvements.
Key features:
View statistics related to your site – overall traffic, page views, bounce rate, and more
Get details on your visitors, including their demographics and behaviors
See where traffic to your site is coming from
Pricing: Google Analytics is free – all you need is a Google account.
7. HotJar


The secret to creating highly-effective content is to understand how your audience interacts with it. Heat maps are an excellent tool for doing so. With Hotjar, you can see which parts of your site are getting the most attention and clicks, and which are being ignored.
Key features:
View your site overlaid with a heat map that shows the areas attracting the most user activity
Learn how users behave on your site, including their clicking, tapping, and scrolling behaviors
Watch recordings of actual visitors interacting with your site
Pricing: There's a basic free plan, while business tiers start at $89 per month.
8. Traackr


We briefly mentioned influencers already, but it's worth noting the importance of these individuals to your marketing efforts. Finding influencers and getting their attention can be challenging, but Traackr can help you accomplish both tasks.
Key features:
Use a comprehensive database to find influencers who are relevant to your brand and niche
Track and measure the performance of your chosen influencers
Keep a record of all your communications with influencers
Pricing: Traackr doesn't provide public pricing information – you'll need to contact the company for a quote.
9. Slack


Slack may be a more general-use solution, but it definitely warrants inclusion on our list of digital marketing tools for content marketing. This communication solution helps you more easily collaborate, and share key information among far-flung team members.
Key features:
Communicate with your team via multiple organized channels
Search conversations to find important information quickly
Integrate with a wide range of other tools, such as Zendesk, Salesforce, and Jira
Pricing: There's a generous free tier, along with unlimited business plans starting at $6.67 per user per month.
10. Asana
Like Slack, Asana is a tool that's invaluable to content marketers and just about anyone else whose work requires collaboration. It's a 'work management platform', which means it helps you organize and track all of your projects and tasks.
Key features:
Create projects with stages and deadlines, and track their progress
Assign team members to specific projects and tasks, so everyone knows what they're responsible for
Set up visual 'product plans' to view all your projects at once
Pricing: Asana is a premium tool, and the lower tier costs $9.99 per user per month.
11. Ahrefs


Successful content marketing doesn't happen in a vacuum. Along with managing your own campaigns, it's vital to keep a close eye on what your competitors are doing. With Ahrefs, you can perform in-depth research on your competition's search engine rankings.
Key features:
Discover what keywords your competitors are ranking for
See how much traffic is being driven to your competitors' sites, and what the biggest sources are
Compare your own rankings to theirs, to find new keywords you should be targeting
Pricing: Ahrefs plans start at $99 per month, for one user, five campaigns, and 500 tracked keywords.
12. SEMrush


Many digital marketing tools for content marketing focus on one or two specific tasks. SEMrush, on the other hand, is a multipurpose solution that helps you conduct research, locate keywords, track your competitors, and much more. If there's an analytic you're looking to measure, chances are SEMrush can handle it.
Key features:
Conduct research into your competitors' keywords, ad strategies, and more
Analyze your backlinks – including their locations, sources, and types
Research keywords you can target, find new advertising opportunities, and so on
Pricing: SEMrush's basic plan will cost you $99.95 per month, with higher tiers available.
13. Buffer


It's no secret that we're big fans of social media marketing. Of course, maintaining multiple accounts and posting regularly can be a chore. Buffer helps you automate part of the process, by letting you plan and schedule your posts in advance.
Key features:
Create posts for multiple social media platforms from a single dashboard
Queue up a string of posts, and set them to publish automatically at times of your choosing
Track analytics to see how your posts are performing
Pricing: You can use Buffer for free with up to three accounts. Alternately, you can pick up the Pro plan for $15 per month, which permits up to eight accounts (and more scheduled posts).
14. Wistia
Video is possibly the most effective type of content you can create. Enter Wistia – a platform to help you show off your videos. It provides you with a customizable player you can add to your site or share online, as well as plenty of analytics tools for tracking the results.
Key features:
Customize your video player's colors, your Call To Action (CTA), and more
Embed videos on your site, send them in emails, and share them via social media platforms
Track how viewers interact with your videos (including with detailed heat maps)
Pricing: Wistia offers a limited free version, and a Pro tier starting at $99 per month. It's also worth checking out the company's associated product Soapbox, which helps you create marketing videos quickly.
15. Optimizely


This last entry on our list of digital marketing tools for content marketing is all about experimentation. Optimizely helps you test and analyze your campaigns, so you can see what's working and what isn't. As a result, it enables you to optimize future campaigns more effectively.
Key features:
Test all kinds of marketing elements – headlines, CTAs, media, and much more
Control how many users see each version of your content (via A/B testing)
View analytics detailing the results of your experiments
Pricing: Optimizely offers a number of plans, although you'll need to contact the company for a quote.
Conclusion
Developing and carrying out a successful content marketing campaign takes a lot of work. You need to conduct research, create the content, promote and share it, then track the results. All of these tasks can be time-consuming, and challenging to do well.
However, with the right set of solutions, you can simplify key tasks and improve your campaigns' results.
All 15 of the digital marketing tools for content marketing that we've looked at can make some aspect of your job easier, quicker, and/or more effective. The final task here is to choose the right ones for your business' needs.
---
15 tools that will make your #digitalmarketing easier, quicker, and more effective
Click To Tweet
---
Are there any other digital marketing tools you find essential for content marketers? Share them with us in the comments section below!
The post 15 of the Best Digital Marketing Tools for Content Marketing appeared first on Revive Social.