Savvy marketers know that in order to produce the best results, they'll need to be strategic about the platforms they target. This means mixing up the 'old standbys,' such as Facebook and Twitter, with younger-skewing networks like Instagram. In order to use the platform effectively, however, you'll also want to consider picking up some Instagram WordPress plugins.
Like any social media site, Instagram works best as an integrated part of your overall marketing strategy. In other words, you don't want to use it in isolation. Instead, you can create a feedback loop of content between Instagram and your WordPress site, funneling your audience smoothly from one to the other (and vice versa).
---
3 Instagram #WordPress plugins to keep your audience engaged #SocialMediaMarketing
Click To Tweet
---
In this post, we'll take a quick look at Instagram and why it can be such a key platform. Then we'll introduce some Instagram WordPress plugins to help you integrate your social content with your website. Let's talk!
Why Instagram deserves a spot in your social media strategy
At first glance, Instagram may seem like a platform that's not well-suited for business use. It's more casual and informal than some of the other big social sites and is used in a very personal way by its devotees.
However, it's important not to ignore the reach and impact this platform offers. Instagram is the sixth most popular social network when ranked by number of active users. This may not seem too impressive, until you realize that the user base tops one billion. Plus, among younger demographics, Instagram and Snapchat are by far the most popular social sites.
What's more, Instagram offers a lot of potential for marketers, beyond the immensity of its audience. For example, you can:
In other words, Instagram can be a powerful and flexible way to connect with your audience and make more sales. To maximize its effectiveness, however, you'll want to make it a part of your overall marketing strategy – which includes integrating it with your website via some well-chosen Instagram WordPress plugins.
Three ways to integrate Instagram with WordPress
In previous articles, we've discussed how to develop an Instagram strategy and provided lots of tips for using the platform effectively. If you're new to Instagram, we'd recommend checking those resources out first.
However, once you've set up your business Instagram account and started creating quality content, it's time to think bigger. You can get more use out of your Instagram content by integrating it with your WordPress site – and you can drive users from each platform to the other as a part of your marketing funnel.
To do so, all you'll need are the right Instagram WordPress plugins. Let's look at three examples of how you can make Instagram and your WordPress site work together smoothly.
1. Display your Instagram feed on your website
If you have an active Instagram account filled with great content, it's worth also displaying it all on your website. This lets visitors know you have an active social media presence, provides them with added value and points them in the direction of your profile.
There are plenty of Instagram WordPress plugins that enable you to do this, but we're partial to Instagram Feed:
With this plugin, you can add your feed to your site very quickly. However, you can also fully customize how it displays, and even display multiple feeds if you like. The feed layouts are responsive, so they'll look good on both the desktop and mobile versions of your site.
After installing and activating the plugin, you'll find a new Instagram Feed section in your WordPress dashboard: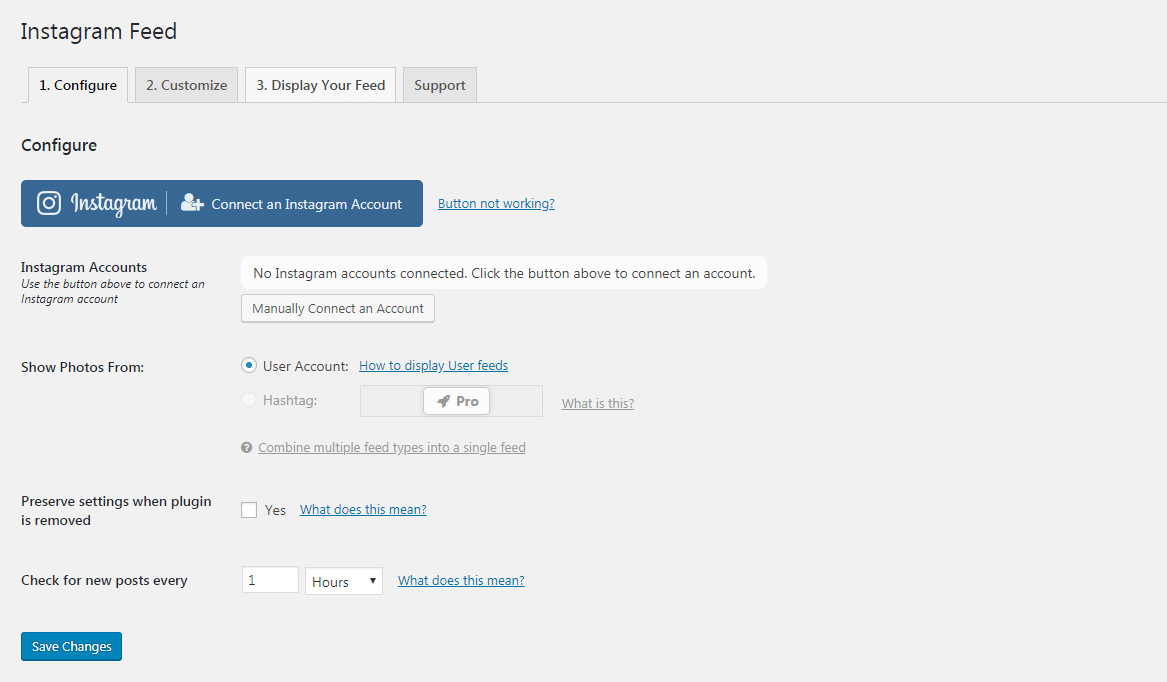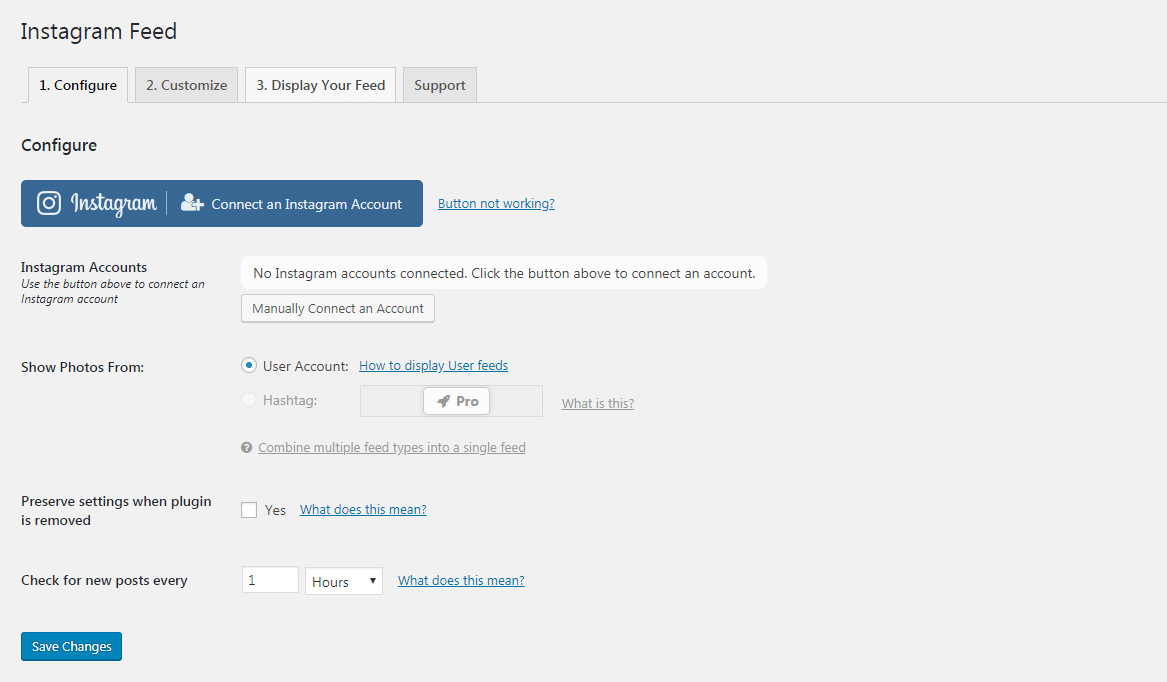 The first thing you'll want to do is connect your Instagram account using the button at the top of the page. Then, you can start configuring how the plugin works. For example, on the first page, you can set how often the plugin should check for and display new posts.
By clicking over to the Customize tab, you'll be able to determine how your feed will look. This includes its dimensions, layout (in the Pro version only), padding, and background color:
Scrolling down, you'll find additional options related to your feed's photos and headers: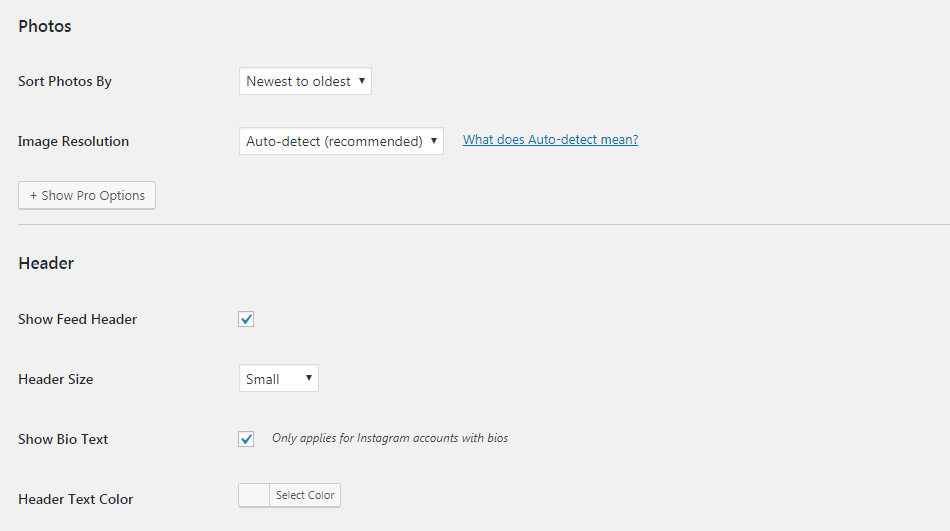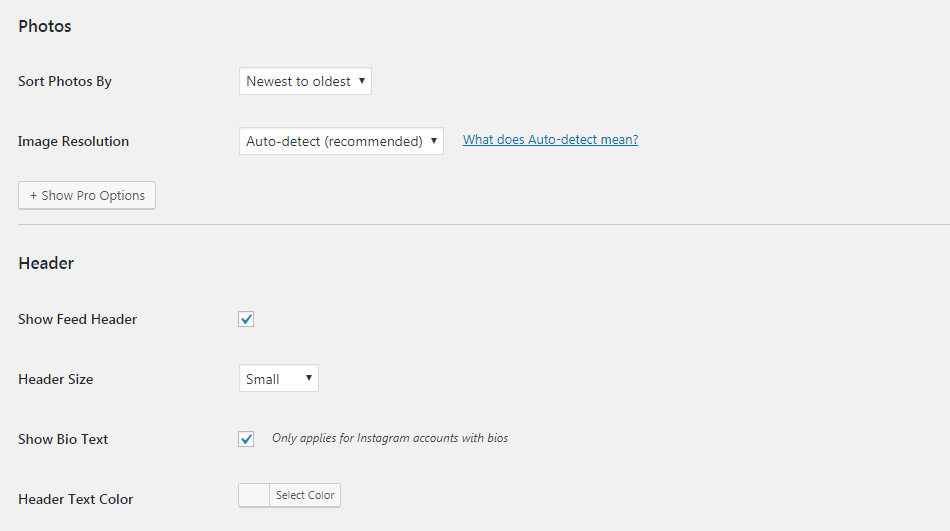 As you can see, some of the customization options are restricted to the plugin's premium version. However, even with the free version, there's quite a bit you can do here.
When you're finished customizing the plugin's settings, open up the page, post, or widget where you'd like to display your feed. Then, enter the following simple shortcode:
[instagram-feed]
One saved, your feed will show up on the front end of your site: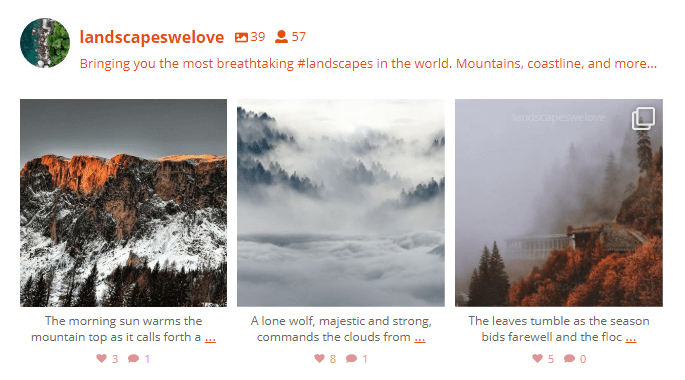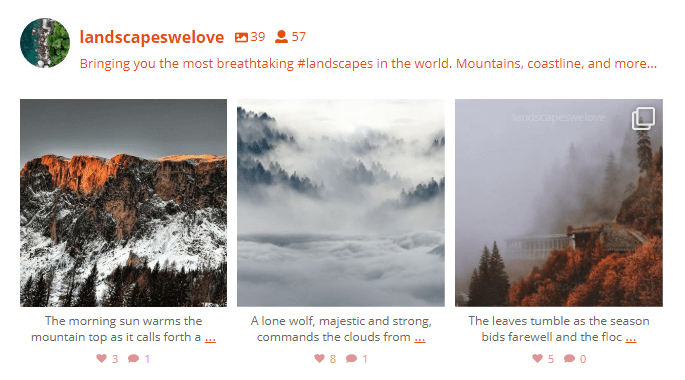 It will be configured in response to the settings you customized and will update periodically with your latest content. This way, website visitors will always be aware of your Instagram activities.
2. Import your WordPress content into Instagram
You work hard on your website's content – so it's worth spreading that content far and wide. Sharing your posts, news, latest products, and more on social media is an excellent way to get more mileage for the same amount of work and attract followers back to your site.
Fortunately, there are Instagram WordPress plugins that make this an easy task. For a perfect example, you can check out the WP Instagram Post and Widget plugin:
With this tool, you can automatically push new WordPress content to your Instagram profile, and customize many aspects of how the process works. It even works smoothly alongside WooCommerce, making it simple to publish new products and updates so your Instagram followers can see them right away.
Naturally, your first step will be to install and activate the plugin. You can pick up the free version, or opt for the premium version. The latter comes with some handy features, such as the option to connect multiple Instagram accounts and to bulk post content to the platform.
Either way, you can access the plugin's features through the WP Instagram tab: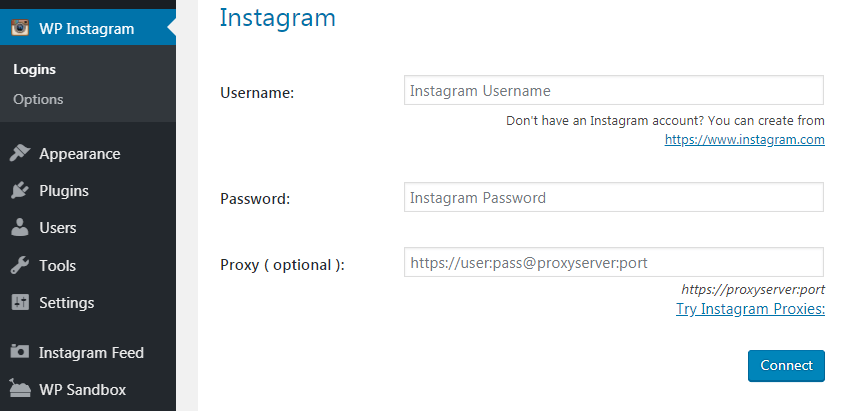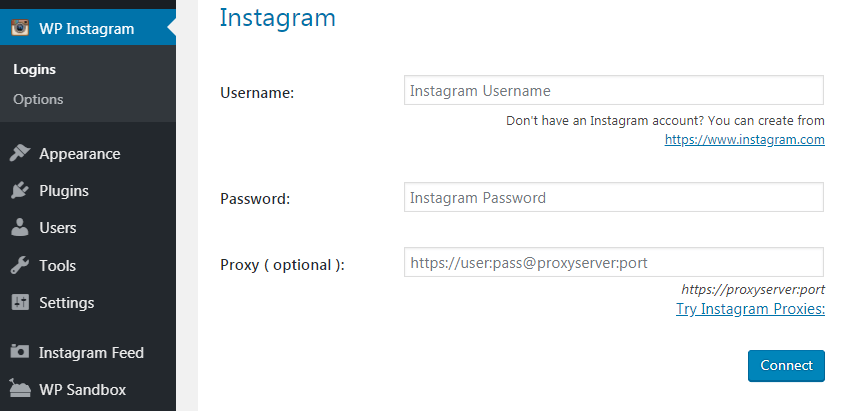 You'll first need to enter your credentials, in order to connect your account to your website. Then, head over to the Options section to configure the plugin's settings: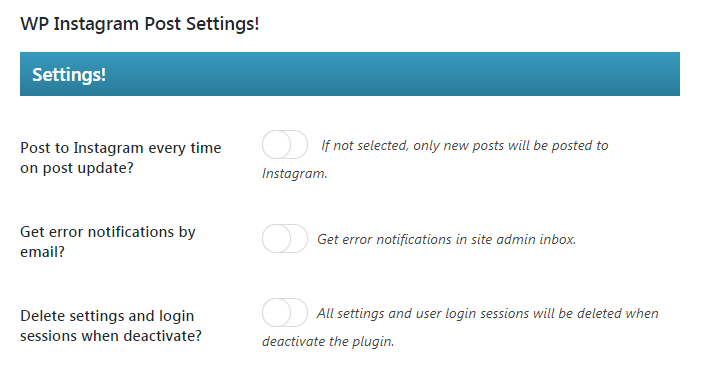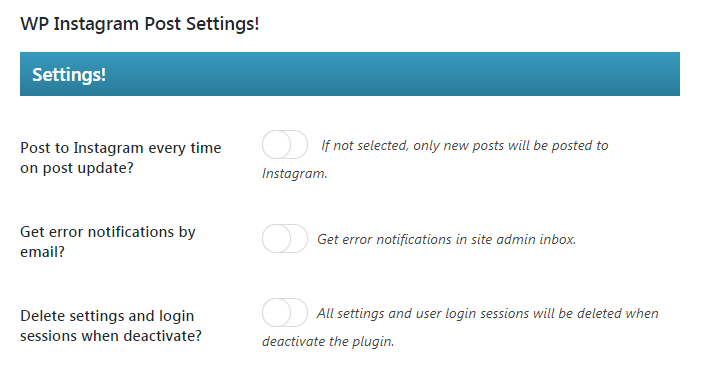 The included options are best described as 'slimline.' For example, you can decide whether only new posts will be published on Instagram, or if you want updated posts automatically to be shared as well.
You can also configure how your Instagram posts will look, and what information they will include (such as links, tags, and descriptions):
Most importantly, you can choose which types of content will be pushed to your Instagram account: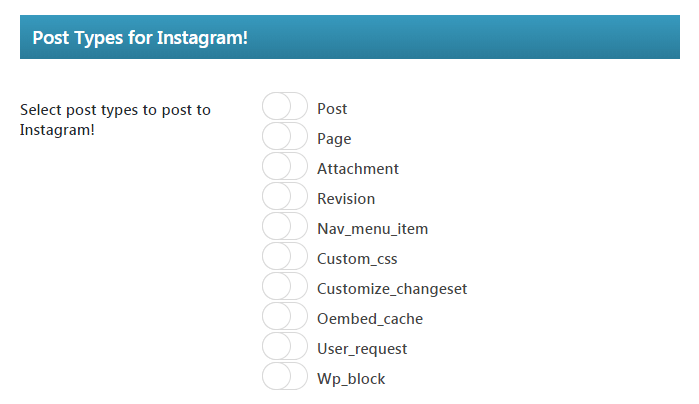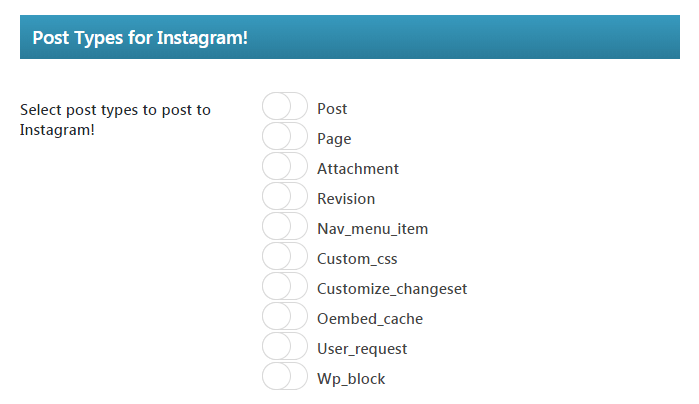 Once you save your changes, the plugin will run in the background and create an Instagram post for each new (relevant) piece of content you add to your site.
3. Enable visitors to follow your Instagram profile
Showing off your Instagram content on your website is a great start. However, it's also a good idea to encourage your website visitors to follow your account. This way, they'll get instant updates about your latest content, without having to visit your website. Plus, you'll be increasing your Instagram follower count at the same time.
The easiest way to make this happen is to add a 'follow' button to your posts and other content, using an Instagram WordPress plugin. In this case, you'll want to check out Social Media Share Buttons & Social Sharing Icons:
With this tool, you can quickly and easily add follow and share buttons to your site. As an added bonus, it works with many other platforms besides Instagram, including Facebook, Twitter, and Pinterest.
After installing the plugin, you can visit the Ultimate Social Media Icons tab to walk through a simple setup process: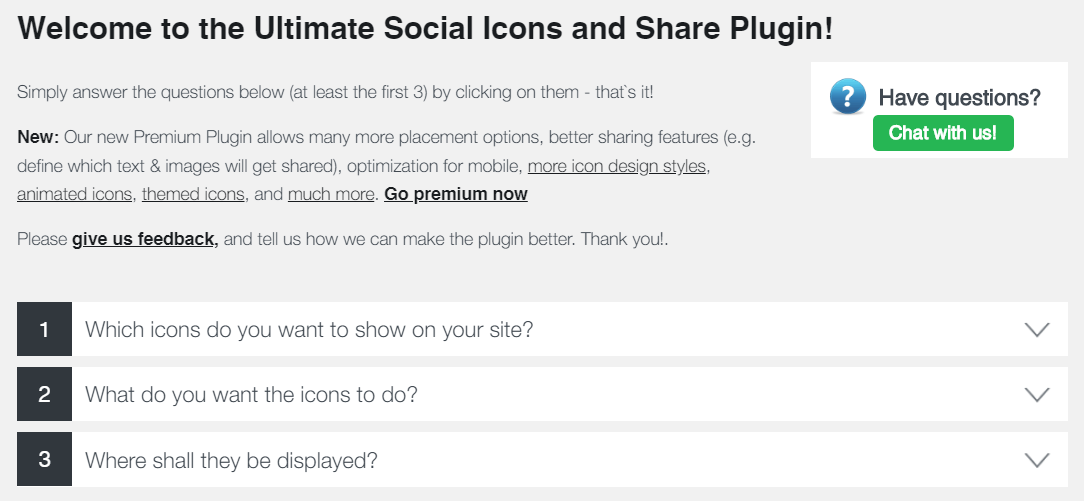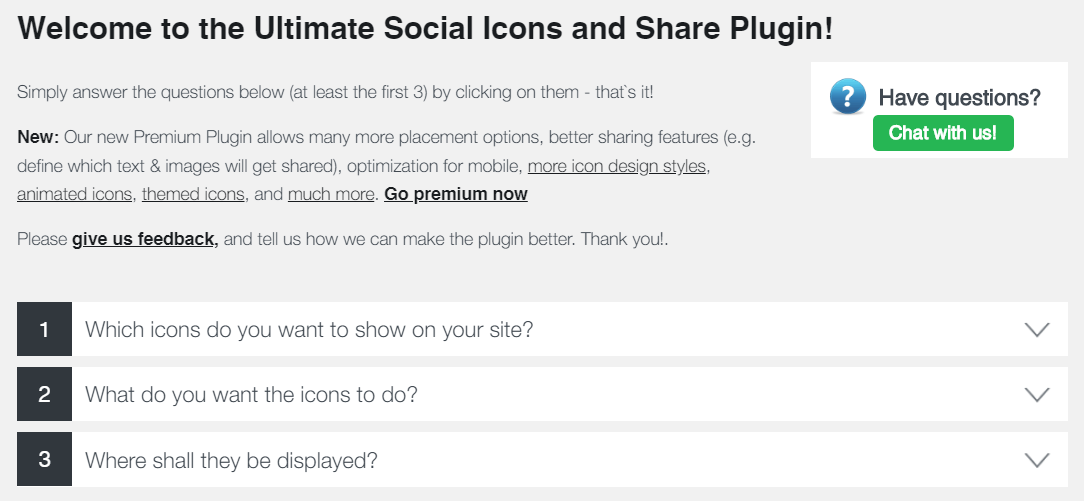 There are only three required settings. You can choose which platforms' icons you want to display, where they'll be located, and what they should do. You'll also need to enter the URL for your Instagram account:
When it comes to placing the buttons, you can add them to widgets, have them appear at a specific place on each page, or even use shortcodes. There are also plenty of optional settings here to play with as well – for instance, you can add animations to your icons, and display follower counts: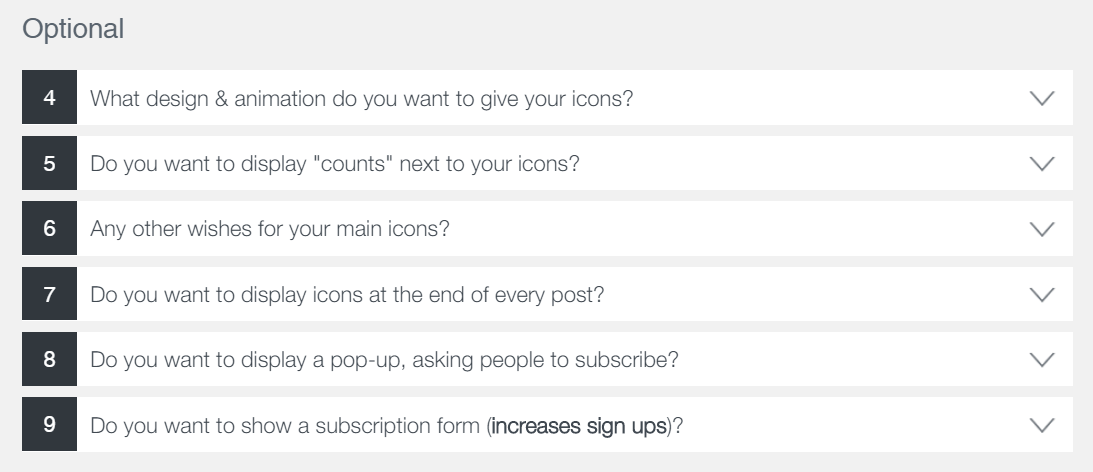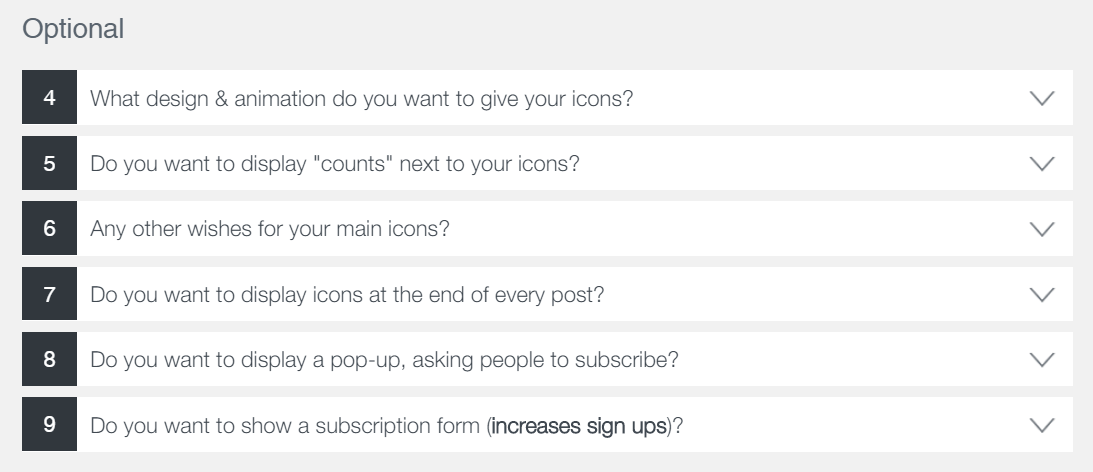 Naturally, some of these options are only available in the plugin's premium version. This upgrade gives you more flexibility in designing your social icons, although the free version should be sufficient for most sites.
It's a good idea to add your Instagram follow button somewhere highly visible, such as a sidebar or your footer. This lets visitors easily engage with your profile, no matter where they happen to be on your site.
Conclusion
Instagram is an immensely valuable platform for online marketers of all stripes. It has an enormous following, a broad and diverse audience, and plenty of options for promoting your content and products. Plus, it can be easily integrated with your WordPress website.
By using the right Instagram WordPress plugins, you can:
---
Use #Instagram #WordPress #plugins to boost engagement on both your website and your Instagram account
Click To Tweet
---
The post 3 Instagram WordPress Plugins to Keep Your Audience Engaged With Your Brand appeared first on Revive Social.