So, you've created a YouTube channel for your company, filled in all the essential details, and added some branding materials. You might have even uploaded your first few videos. However, there are still a few ways you can optimize your YouTube brand account for maximum effect.
Succeeding on YouTube isn't just about uploading videos – although the quality and consistency of your content certainly matters. It's also about designing your channel to be as compelling and useful as possible to your audience. In addition, there are some behind-the-scenes tasks you can attend to that will enable you to better manage your account.
In this article, we're going to assume you already have a YouTube brand account set up and ready to go. Now we'll offer some advice about how to optimize it, so it stays effective and manageable as it grows in popularity.
Let's get to work!
---
3 Ways to organize your company #YouTube channel to improve the viewer experience #socialmediamarketing
Click To Tweet
---
1. Create custom playlists
Anyone who's spent a decent amount of time on YouTube has likely run across the playlists feature. This functionality lets anyone with an account organize videos into collections, which other people can then access and watch all at once.
Playlists may seem like a user-focused feature, but they can actually come in very handy for a YouTube brand account. You can use them in a wide variety of ways, although some of the best applications include:
Using playlists to organize your content – essentially separating your videos into distinct subjects, genres, or types.
Promoting important content by creating a "best of" playlist and featuring it prominently.
Providing extra value to your visitors, by building playlists made up of other people's videos.
The last point here merits a bit of explanation. You don't have to only create playlists using your own videos – you can use your company's content, that of other users, or a mix.
Compiling excellent and useful videos into playlists and sharing them with your visitors is a smart way to improve your authority and strengthen your channel, especially when it's brand new. Just keep your target audience's needs and interests in mind when collating external videos this way.
Actually creating a playlist couldn't be simpler. There are a number of ways to access this feature, but the most straightforward is to simply navigate to a video you'd like to include in your playlist. Look for the Add to icon next to its Likes and Dislikes, click on it, and select Create new playlist: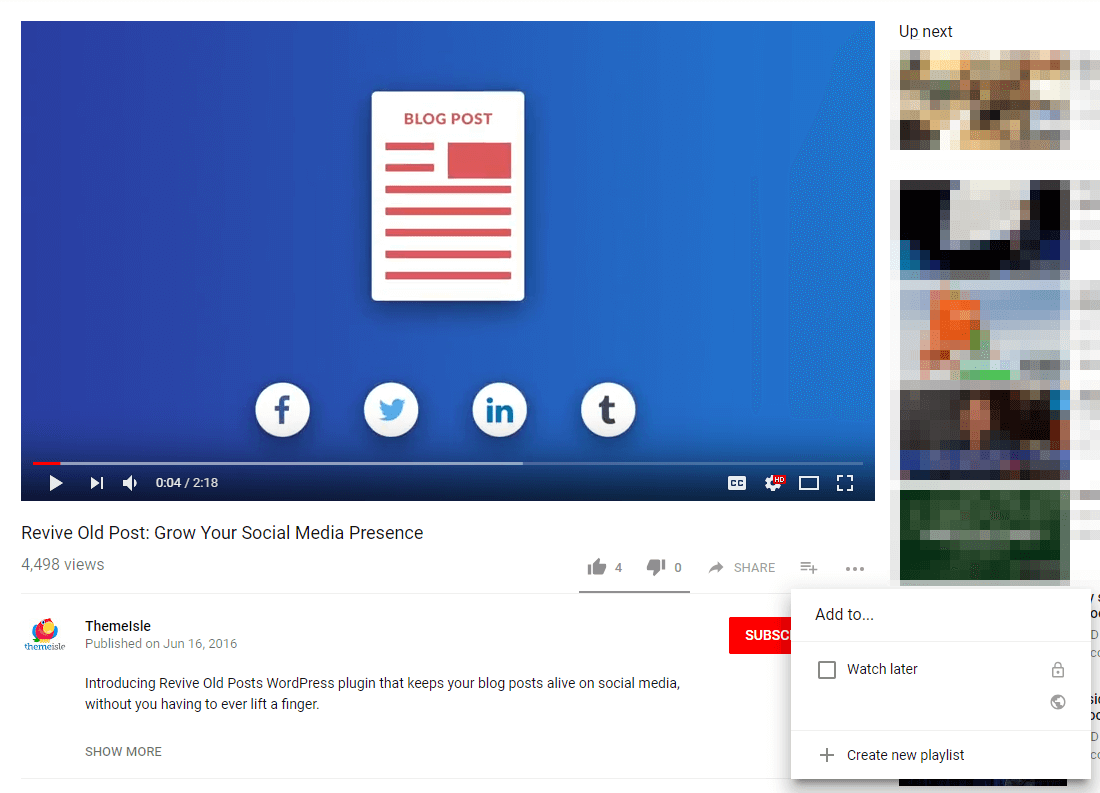 This lets you enter a name for your playlist. Since this will be seen by your audience, make sure it's descriptive and not too long. Then, set the Privacy option to Public, and select Create.
You can continue to visit other videos and add them to the playlist. After creating it, you'll find it listed as an option in the Add to menu. Then, you can head to your YouTube brand account to make changes to it. To do this, click on the Playlists tab, and select View Full Playlist:

Here you can remove videos, and set them in a specific order by dragging each entry up or down. You can also choose a specific video, select the three dots to the right of its entry, and choose Set as playlist thumbnail:

This will set the video's featured image as the thumbnail people see when they view the playlist. You can simply use the first video, or pick an image that's particularly compelling (or represents the focus of the playlist).
That's it! You can put together as many playlists as you like, and they'll all be automatically featured on your channel. However, you may also want to organize the playlists themselves – which is part of what we'll be talking about next.
2. Customize your channel layout
If you've read some of our earlier YouTube-focused posts, you know how to set up your channel and add some basic branding imagery to it. You'll even know a thing or two about attracting new subscribers. However, what you might not realize is that you can make certain changes to your channel's layout.
While you can't drastically alter the appearance of your YouTube brand account, what you are able to do is organize it. This is a more important option than you might first realize. By default, visitors to your channel will simply see a list of your videos in chronological order (with the most recent uploads first).
This is fine if you don't upload much content, or if you want your visitors' focus to always be on the latest upload. Once you have a lot of videos and playlists, however, you may find this simplistic layout lacking. It doesn't enable you to put the focus on specific content, for example, or easily show off everything your channel has to offer.
To change this, sign into your account and head to your channel's main page. Then, select Customize Channel:

This screen is probably familiar to you, and there are a lot of options here. Right now, however, what we're concerned with is the button labeled Add a section: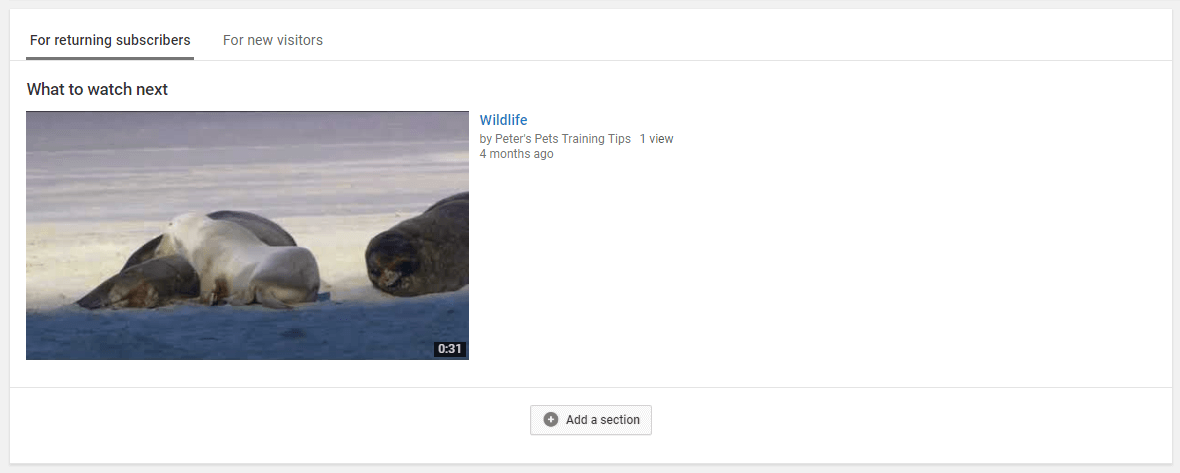 Selecting this enables you to create a channel layout consisting of various sections. You can choose exactly what goes into each section, and how they're all organized.
For example, you can create a section featuring specific types of videos. This could be your channel's most popular uploads, 'liked' videos, or even live streams: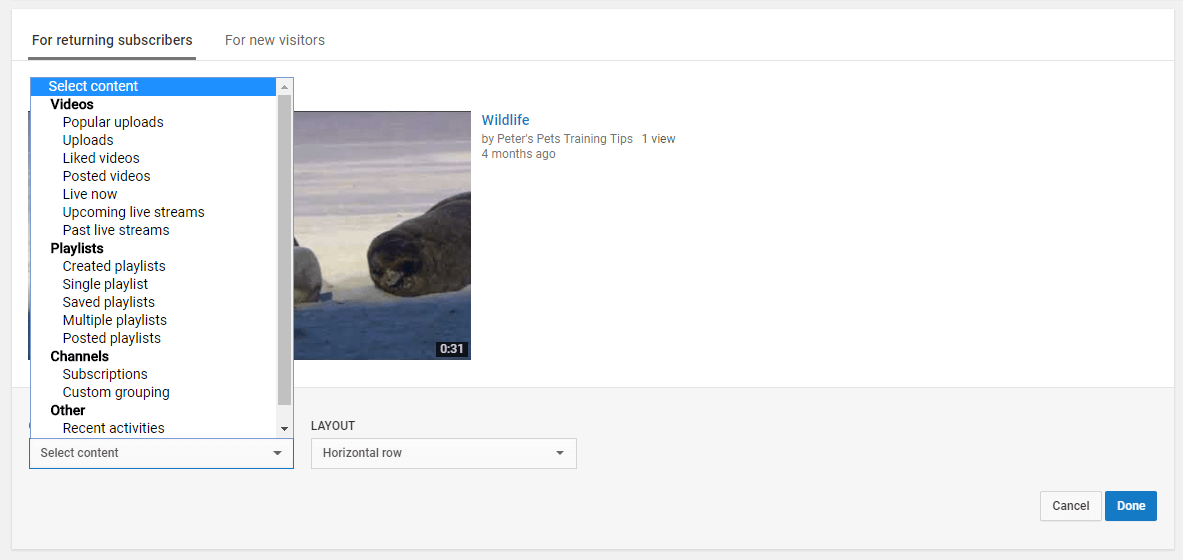 Alternately, you can add sections made up of playlists, channels your account is subscribed to, and so on. The options are self-explanatory, and some offer additional customization opportunities. For instance, if you select Multiple playlists, you can choose exactly which ones to feature:

As you may have noticed from the above screenshots, you can also set each section to have either a Horizontal row or a Vertical list layout. You can add as many sections as you like, and use the arrow icons to move them up or down: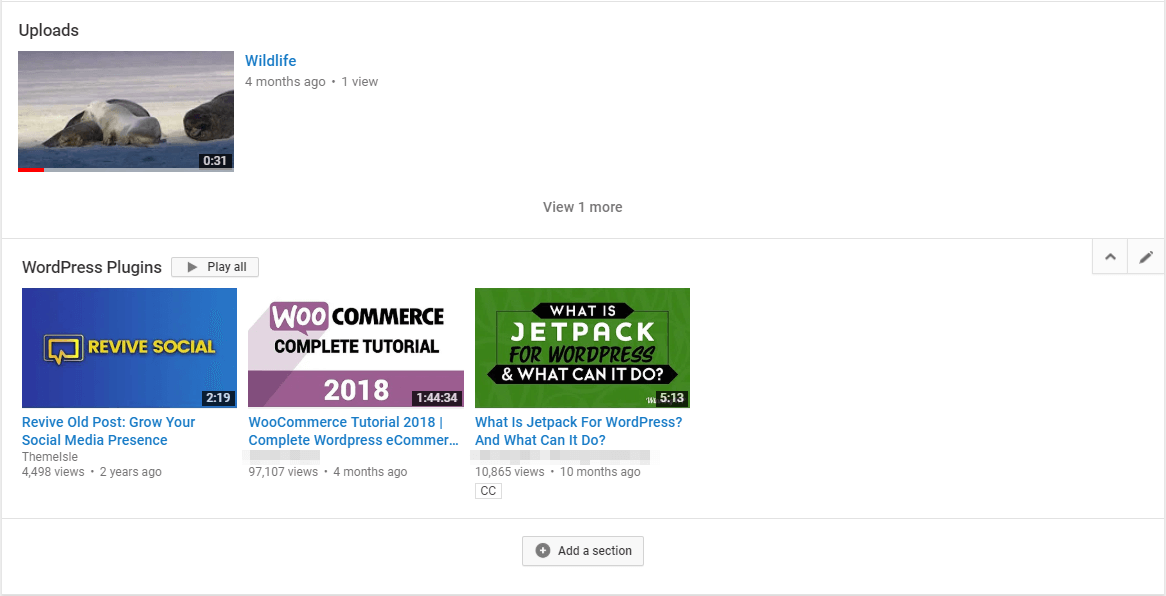 This feature provides you with a great deal of control over your YouTube brand account's appearance. We recommend experimenting with different layouts, to see what attracts the most attention from your user base. Plus, you can change things up from time to time, in order to attract more views to whatever content is most important to your business.
3. Add new channel managers to your YouTube brand account
While the previous tips have focused on the front end of your channel, this one is more practical in nature. Attracting lots of attention to your content and organizing it clearly is all well and good. However, as your channel grows, you'll also need to pay attention to the way it's managed.
You'll notice that throughout this article, we've been referring specifically to a YouTube brand account. In many ways, this is identical to a regular account, and it's just as easy to set up. However, it's connected to your company rather than to an individual user, and provides you with access to a few special features.
In particular, a YouTube brand account lets you permit more than one person to manage your company channel without giving them access to your personal Google account. Everyone on the team can use their own Google account to access the channel.
This is incredibly useful, especially if you have (or hope to build) a thriving YouTube channel. The work involved may become too much for one person to handle. Having multiple team members responsible for the channel enables you to upload content more frequently, divide up responsibilities, and make sure it can keep going strong even when someone is busy or ill.
As long as you have a YouTube brand account set up, you can add new managers by clicking on your channel icon and accessing the Settings menu: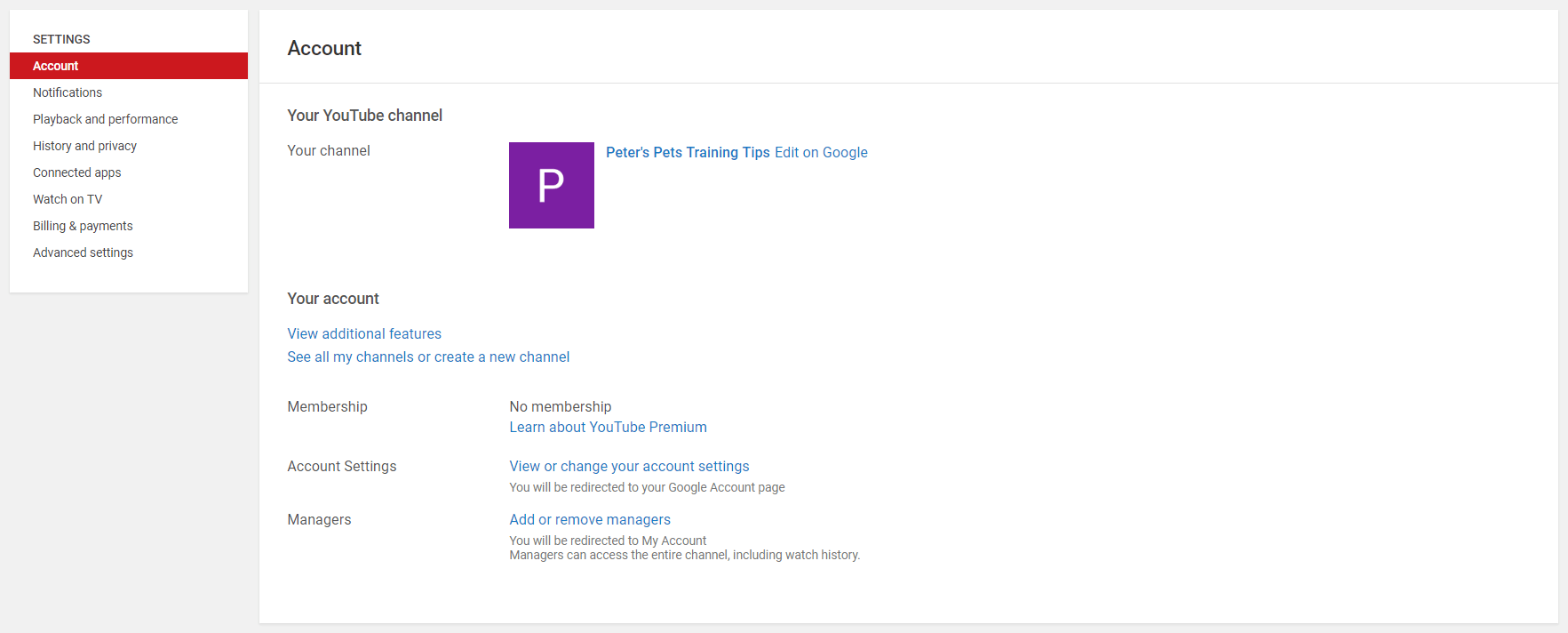 On the first page, at the bottom, you should find an option called Add or remove managers. This will redirect you to your brand account details, where you'll want to select Manage Permissions: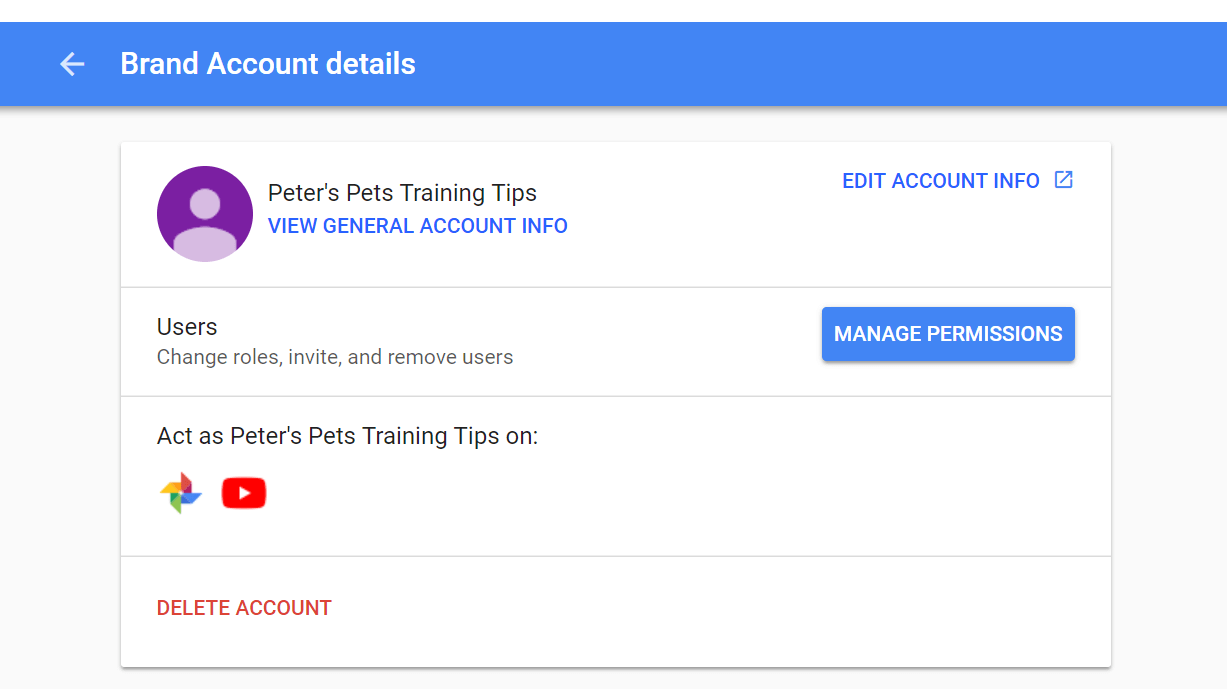 Here, you'll see a list of the currently-approved users, which at the moment is probably just you. To add your team members, select the Invite new users icon in the top-right corner.
Enter the email address associated with the new manager's email account. Then, you can give them one of three permissions under Choose a role: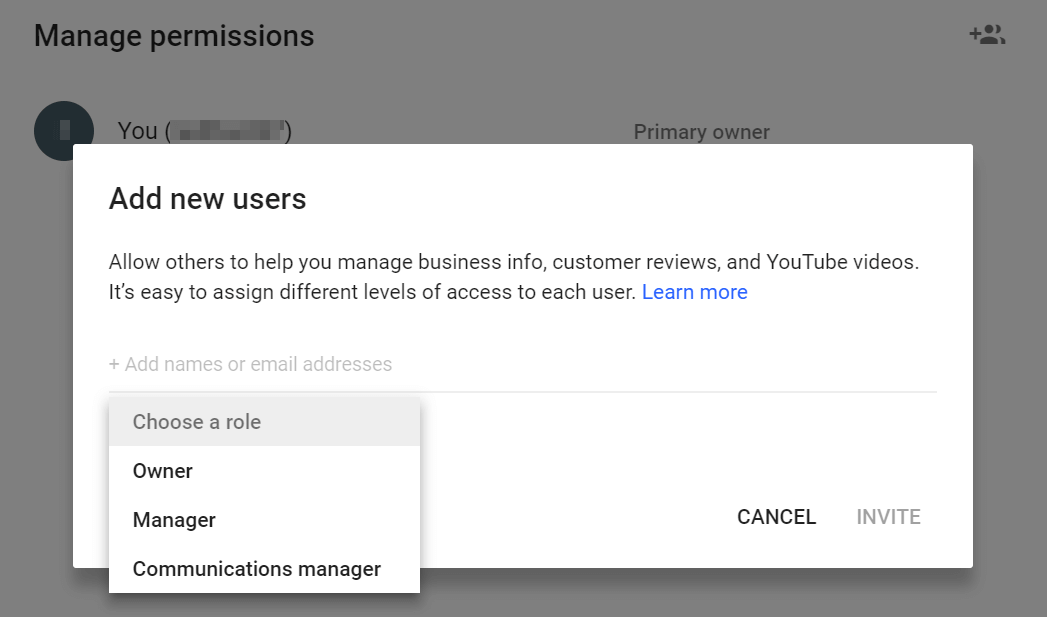 Owners can do anything they like on your YouTube brand account, including changing its layout and settings. Managers, on the other hand, can take basic actions such as posting new videos. The third option, Communications manager, is not actually relevant to YouTube – so you can safely ignore it.
Hit Invite when you're done here, and the new user will be able to access the brand account once they've accepted your invitation. In general, it's best to keep the number of owners very limited, to maintain account security and avoid having multiple people make contradictory changes. Then, a handful of trusted managers can round out your YouTube team.
Finally, it's worth noting that under the same Manage permissions menu, you can edit a user's role or remove them. This is handy for keeping your list of approved managers up to date at all times.
Conclusion
Like many content sharing platforms, YouTube is very easy to get started with. Setting up an account takes a few minutes at most, and you can start uploading videos right away. However, if you're hoping to
expand your business' presence
and reach through a YouTube brand account, you'll want to take your time optimizing it to ensure success.
---
How to set your company #YouTube channel up for success #socialmediamarketing
Click To Tweet
---
After getting your account properly set up, for example, you'll want to:
Create custom playlists, to encourage more views and provide extra value to you audience.
Customize your channel layout, organizing your content and making the most important videos prominent.
Add new channel managers, so your employees or team members can help you keep it running smoothly.
Do you have any questions about how to create a strong YouTube channel for your company? Let us know in the comments section below!

The post 3 Ways to Organize Your YouTube Brand Account to Improve the Viewer Experience appeared first on Revive Social.