Interestingly, it turns out that using the best live chat WordPress plugins could help you even make up for long support wait times.
You see, while customers are known to expect instant support when they opt for web chat, it just so happens that speed is not really their biggest priority.
In fact, a whopping 95% of them say that the quality of support and live chat experience is way more important [1].
If you're running a WordPress-based site, for instance, investing in the best quality online chat plugins would greatly contribute to improving your overall customer satisfaction rate.
Now, to assist you in this quest, we've combed through the entire WordPress marketplace on your behalf. Then upon testing out the tools
with the highest ratings, we've managed to identify the best live chat WordPress plugins for your website.
Best live chat WordPress plugins for 2023
Table of contents:
1. Sendinblue – Best omnichannel live chat WordPress plugin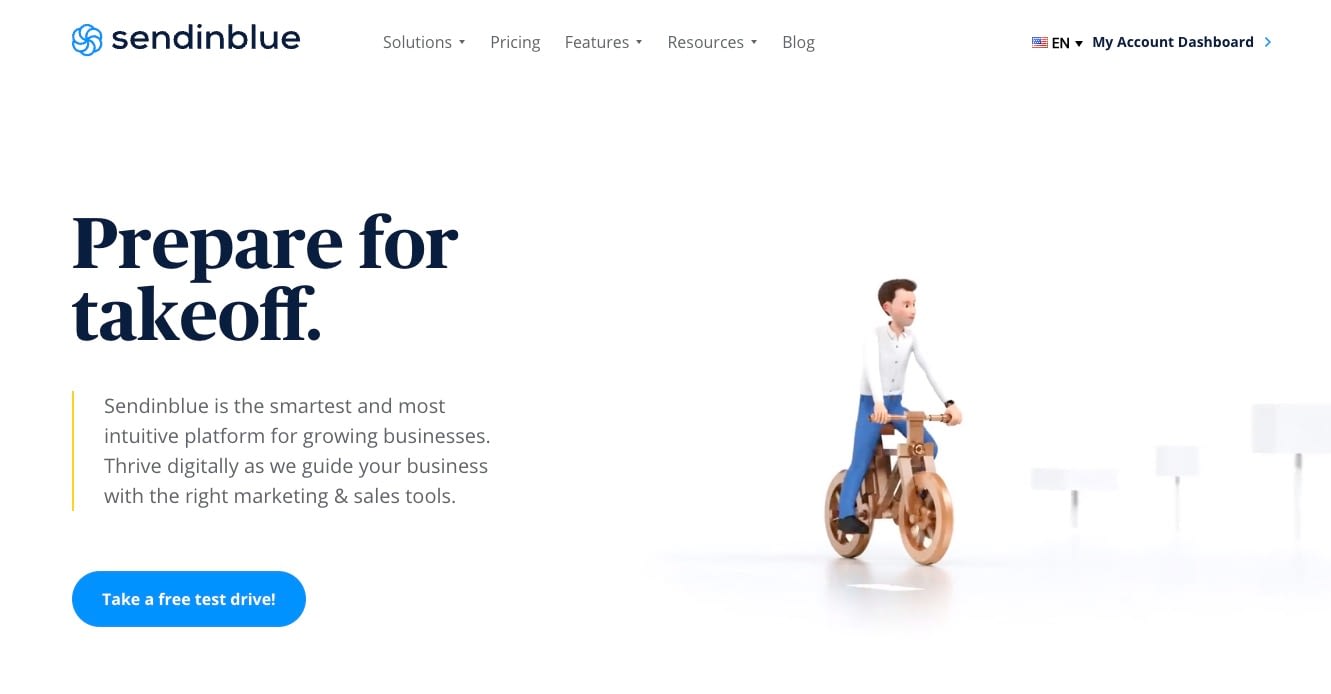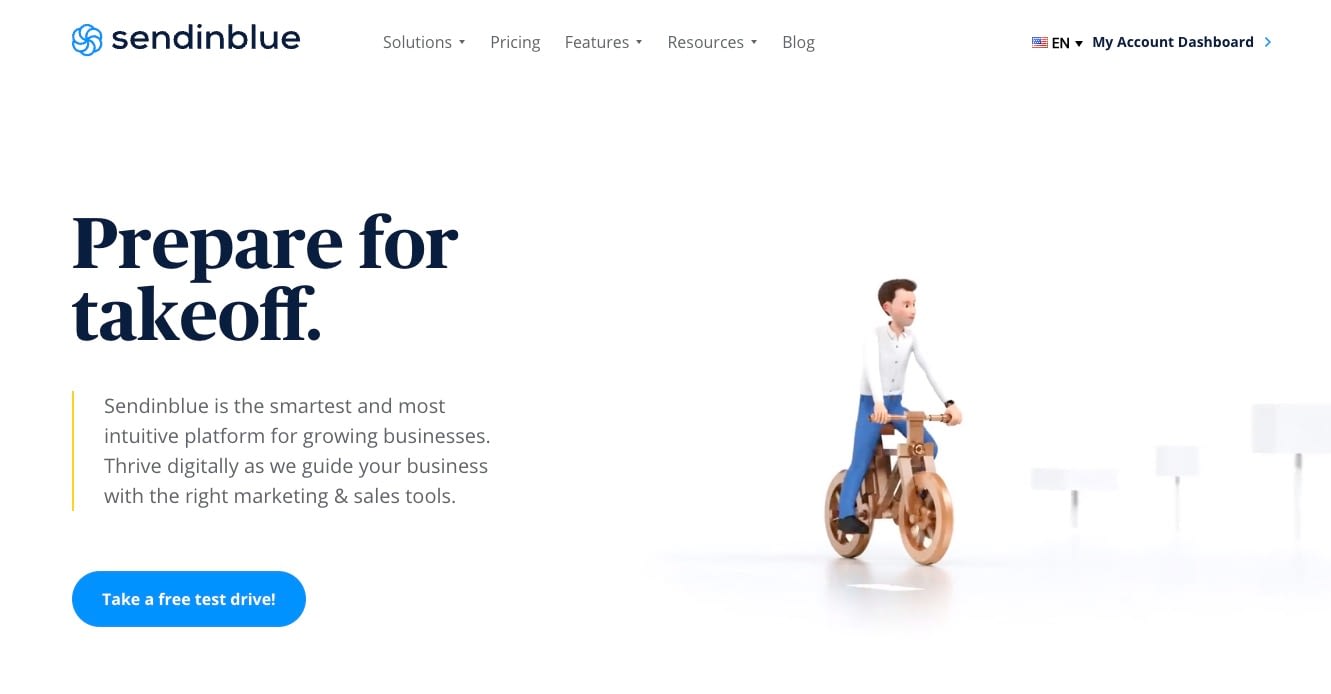 Now that leads and customers are exceedingly engaging with businesses through omnichannel experiences, Sendinblue has configured its WordPress live chat plugin to facilitate omnichannel conversations.
The web chat feature comes as part of the Sendinblue Conversations digital tool suite, which provides a centralized dashboard for tracking and managing all your real-time engagements with customers across live chat, Facebook Messenger, and Instagram DMs.
Setting up your chat widget from the Sendinblue Conversations dashboard is easy. You can customize the appearance to match your site, set up a user profile so customers know who they're talking to, and install the chat widget on your WordPress site in less than an hour.
Once you've customized the live chat widget to your site design, Sendinblue Conversations will help you assign chats to your agents, follow your customers from your website to Facebook and Instagram, set up a chatbot to provide answers to FAQs, as well as channel leads directly from live chat to the Sendinblue CRM system.
You even get a Sendinblue Conversations mobile app for iOS and Android, so you can stay on top of the chats while you're on the go.
And you don't have to always wait for customers to initiate chats. Sendinblue happens to be one of the best live chat WordPress plugins for engaging site visitors via triggered chats.
Sendinblue live chat WordPress plugin features
Triggered chats
File upload
Language localization
Customizable live chat widget
Mobile app for replying on the go
Pop-up notification
Team management
Lead capture forms
Chat ratings and analytics
Typing insights
Saved replies
Sendinblue live chat WordPress plugin pricing
Sendinblue web chat is not available as an independent WordPress plugin. You only get it as part of Sendinblue's all-in-one digital marketing suite – which should be free if you stick to less than 300 emails a day and 2,000 contacts.
Otherwise, premium packages start at $35 a month, with enterprise users forking out $1,000 a month or more.
2. Tidio Live Chat – Best all-rounded live chat WordPress plugin
Second on our list of the best live chat WordPress plugins is Tidio, a powerhouse that may have inspired Sendinblue to revamp its previous chat tool to the current well-advanced Conversations offering.
We're saying so because, as it turns out, Tidio has been running more or less the same feature set that Sendinblue went on to introduce with Sendinblue Conversations.
It's an all-inclusive online chat plugin that supports omnichannel integrations, translates to more than 200 languages, facilitates marketing automation, generates reports, blocks spammers, and doubles up as a chatbot.
Unlike Sendinblue, though, Tidio is available on the WordPress marketplace as an independent live chat plugin. And as for the extra functionalities, you only get to access them through secondary integrations.
Speaking of which, you might want to capitalize on Tidio's integrations for popular engagement channels such as Instagram and Facebook Messenger, as well as email marketing tools like MailChimp.
Otherwise, even without the integrations, Tidio is still a pretty powerful live chat plugin for WordPress sites.
You should, for instance, be able to draw real-time insights about your site visitors – and then use them to confirm their viewed web pages, IP addresses, locations, and email addresses.
Then when you're away, you could leave its chatbot to provide automatic responses, greetings, and answers. The platform even has tens of chatbot response templates that you could leverage for marketing automation.
Tidio live chat WordPress plugin features
Live typing
Chatbot
Response templates
Language localization
Desktop and mobile apps
Canned responses
Built-in analytics
Fully customizable
Integrated email marketing
Marketing automation
Tidio live chat WordPress plugin pricing
Just like Sendinblue, Tidio is in the league of the best free live chat WordPress plugins, as the entry package here is completely free of charge.
But, if you find the free plan to be too limiting, Tidio's premium packages start at $12.66 a month, while growing businesses pay upwards of $289 per month.
3. Olark – Best online chat WordPress plugin for tracking and analytics
If you're looking to understand your customers better or maybe optimize their experience, you'll, of course, need lots of actionable insights.
Now, that's where the best live chat WordPress plugins for analytics come in. And, in this case, you might want want to invest your money in something like Olark.
This is an online chat tool that has perfected the art of tracking all the key performance indicators, organizing the resultant data, and then presenting everything through highly actionable reports.
It can, for instance, monitor team performance in real-time as your agents engage website visitors.
What's even more important than that, though, are the accompanying customer data insights. You see, once you install and customize your Olark live chat WordPress plugin, it proceeds to keep tabs on not just the web chats, but also visitor behavior, customer engagement workflows, plus the subsequent actions taken after chatting.
The resultant live chat analytics will keep you updated on the chat volume, visited web pages, agent activity, and customer satisfaction levels. Then to cap it all off, the system provides live chat transcripts – on which you'll find details of your customers' profiles, chat history, and upcoming action items.
With such rich data, you should be able to set up appropriate live chat automation triggers for your target audience. You can then leave Olark to automatically engage them with greetings, custom messages, pre-chat forms, etc.
Olark live chat WordPress plugin features
Real-time reports
Automated chats
Fully customizable
CRM and Google analytics integration
Team management
Custom chatbox forms
Live chat transcripts
Web chat analytics
Olark live chat WordPress plugin Pricing
Olark is a fully premium live chat WordPress plugin that starts at $29 a month per user. You can test it out with a 14-day free trial.
4. HubSpot Chat – Best WordPress live chat plugin for managing leads
For businesses that are looking to automate their lead engagement efforts, HubSpot would be a thoughtful consideration. It comes packaged as an all-in-one CRM and marketing plugin for WordPress, within which you'll find a free live chat tool.
This web chat functionality is built in such a way that it syncs seamlessly with HubSpot's marketing automation, contact management, and analytics engines. As such, you get to maintain a continuous and homogenous lead nurturing funnel from the moment they first land on your website, through conversion, to the subsequent customer retention stages.
HubSpot's live chat essentially picks up from your signup forms by giving you a means of engaging contacts as they sail through the funnel. Every interaction is linked to a central pipeline management system, from where you can assign chats to team members, segment leads, access contact information, analyze past conversations, as well as schedule follow-up marketing emails.
HubSpot live chat WordPress plugin features
Marketing analytics
Form builder
Lead management
Integrates with HubSpot CRM
Mobile app
Chatbot builder
Meeting scheduling
Contact history
Pipeline management
HubSpot live chat WordPress plugin pricing
HubSpot's WordPress plugin is not only free to install, but also allows you to use its web chat functionality at no charge. This makes it one of the best WordPress live chat plugins for users on a tight budget.
However, it's only after you've subscribed to HubSpot's Marketing Hub that you'll experience the full power that makes it one of the best live chat WordPress plugins today.
Choosing from the best WordPress live chat plugins
Now that we've shared the best live chat WordPress plugins it's time to pick one for your site!
As you consider your options, remember the key benefits of each plugin:
Armed with this info about the best WordPress live chat plugins, you'll make an informed decision on the tool that caters best to your business, customers, customer support team, and WordPress ecosystem.
The post 4 Best Live Chat WordPress Plugins and Tools for 2023 appeared first on Revive Social.
Revive Social