Using Facebook to enhance your company's brand awareness can be a difficult task. While it's a simple platform to use, it can take much time and effort before you start seeing results.
The good news is that Facebook supplies marketers with tools to get the most out of the platform. You can use these tools alongside some simple strategies to quickly reach out to – and be remembered by – your intended audience.
In this article, we'll explore how Facebook can help grow a company's brand awareness. Next, we'll discuss some specific strategies, and talk about how to achieve them. Let's get started!
How Facebook lets companies establish and grow their brand awareness
For the uninitiated, Facebook offers various forms of ads (such as video, image, and carousel ads) and they can all be used for the purpose of growing brand awareness.
Facebook's ad formats, along with its advertising objectives, can be useful for marketers. Combined, they can let you estimate the effectiveness of a brand awareness campaign before launch.
Of course, Facebook has an immense reach – 2.5 billion users at current writing. This offers access to a wide demographic of people, segmented by age, location, interests, and more to deliver highly targeted advertisements.
For example, businesses such as OSHEE have used these advertising techniques to drive brand awareness. The company saw an 11 percent uplift in ad recall after running video ads on Facebook. There are also numerous case studies that can be read involving prominent companies achieving similar or better results.
In one study, the Malaysian bank RHB was able to generate brand awareness by advertising on the platform. The campaign reached 5.3 million people. It also led to a 7-point lift in ad recall, and a 4-point lift in intent on people becoming a customer.
Four ways to boost brand awareness on Facebook
Using Facebook to help people remember your brand does not need to be complicated, especially when the benefits are clear. Here are four ways you can leverage the platform's tools to reach out to your ideal audience.
1. Use targeted ads to increase visibility
Simply put, targeted ads let companies display advertisements to Facebook users. Ads can be shown on various parts of the site, such as the news feed, right-hand toolbar, among other areas – and they're always marked as "Sponsored:"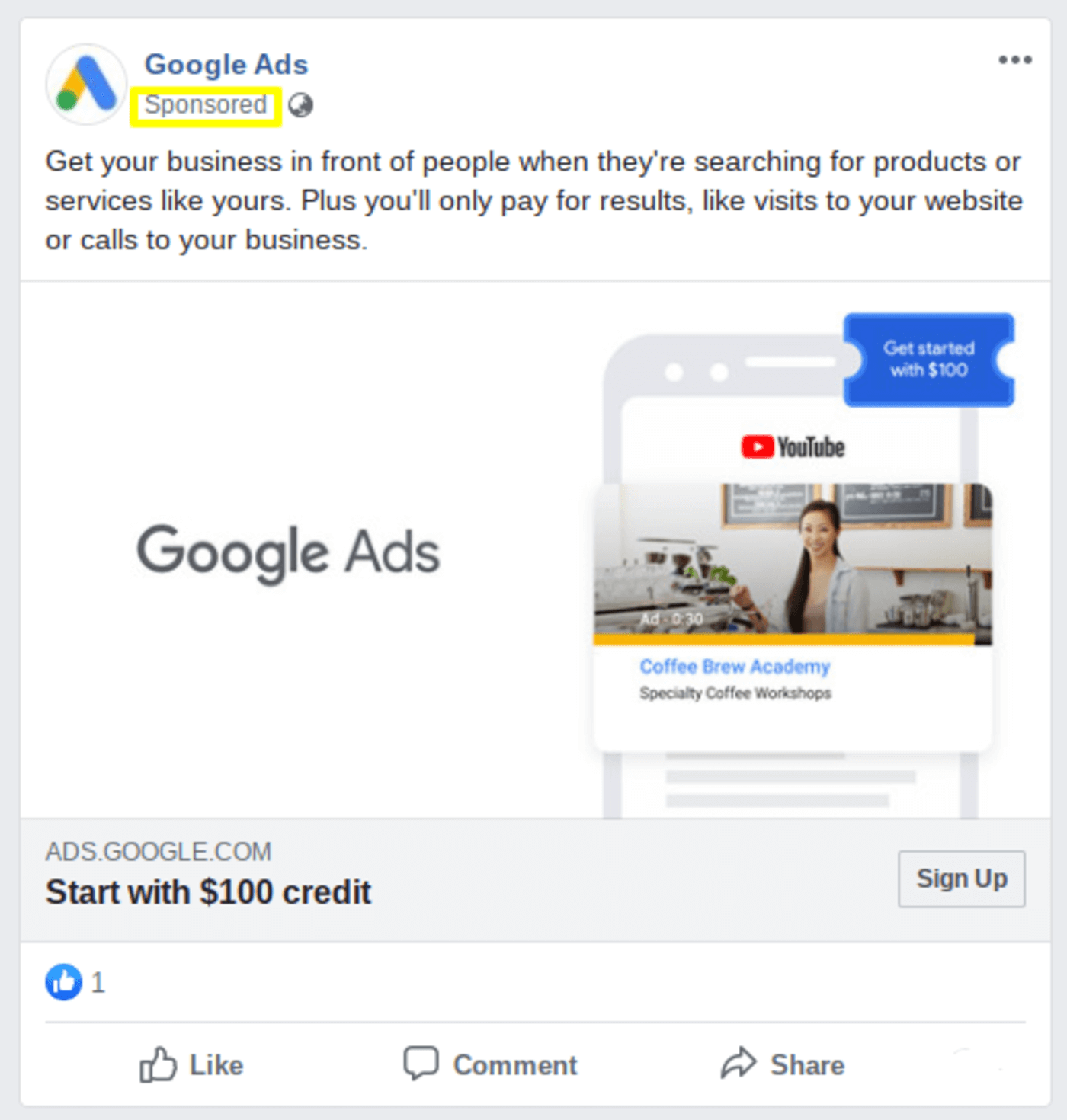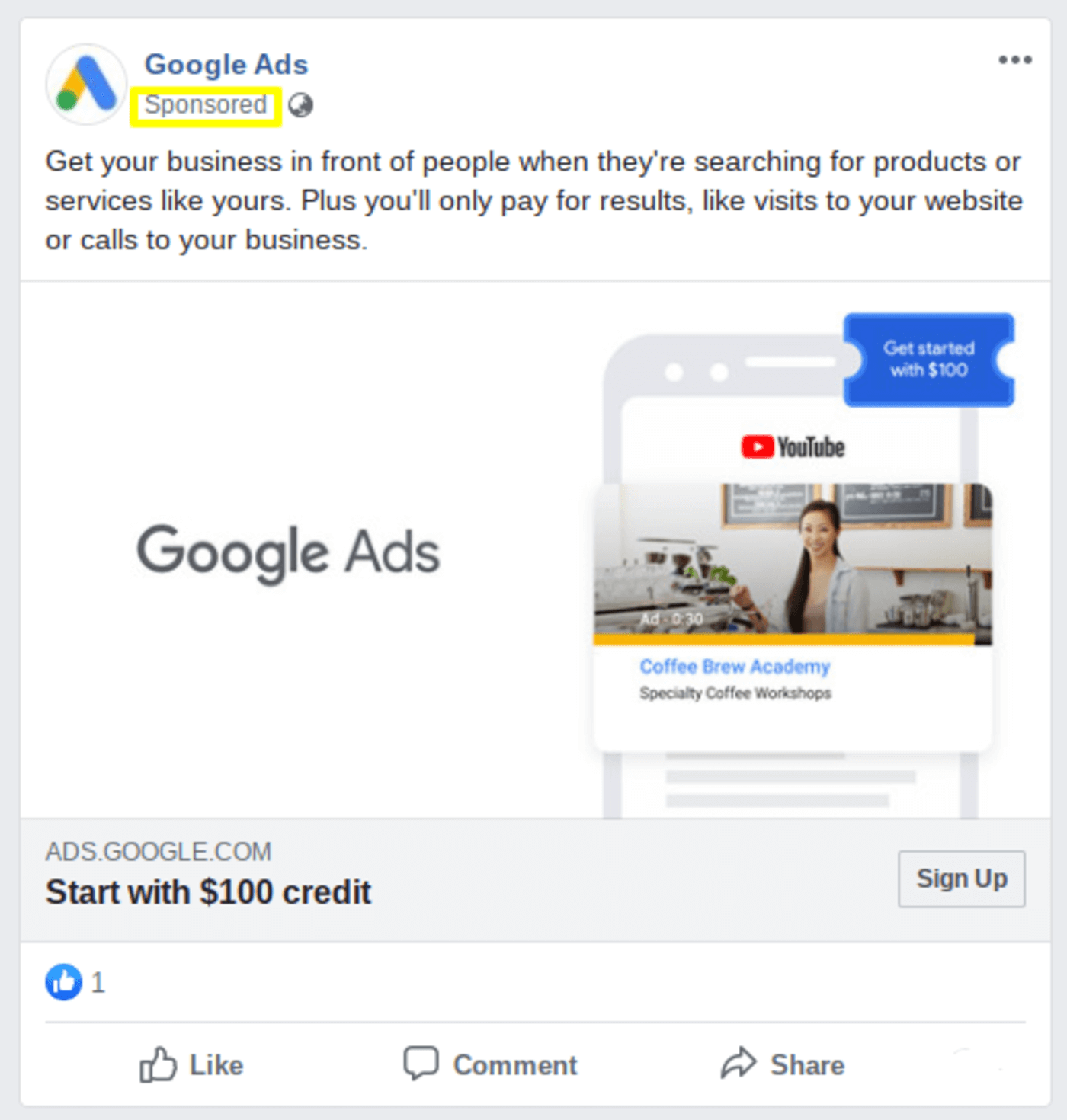 Facebook's advertising algorithm works under the hood to help display the correct ads to users. However, there are a number of customization options to enable to further refine the target market. For example, ads can be shown based on the user's location, demographics, interests, and connections.
Targeted ads are great for when you need to select specific audience segments based on user behavior. For example, you could show ads based on users' prior purchases, or a specific target device (among other criteria.)
There are other ways to target users. The Facebook Pixel is valuable for targeting those who have already visited a site containing it, while more traditional facets such as pulling from contact lists are still worthwhile.
Through audience segmentation, targeted ads can have an advantage over traditional forms of media. In a study by Adlucent, it was found that 71 percent of consumers prefer personalized ads, which is claimed to result in a higher Click-Through Rate (CTR) for advertisers, and a lower wasted ad spend. For consumers, they were more receptive to the ads, which led to higher conversions.
To create targeted ads on Facebook, you'll use the Ads Manager tool:


To access it, head to the Facebook for Business Ads Manager landing page, then click the Go to Ads Manager button.
To begin the process of designing an ad, click the green Create button. You'll then be presented with the options of starting a complete campaign or creating a shell so that you can fill in the details later.
Next, you'll be asked to choose your marketing objective that can fall under an Awareness, Consideration, or Conversion category. Then you'll name your campaign, at which point you can enable two features:
A/B testing to trial creative, placement, audience, and delivery options
The Campaign Budget Optimization tool to improve the efficiency of your ad spend.
On the next page, you'll continue to fill out details about your campaign, such as selecting a name and traffic source, before moving on to defining your ad placements. You can choose between automatic placements, or a manual approach to target Facebook, Instagram, or Messenger users.
The next step is to define your budget and advertising schedule. Here you can regulate your average cost per click, set a daily or lifetime budget, and define when you'd like to run your ads, either continuously or between a start and end date.
In the final section, you'll begin the process of designing the ad itself. You'll choose which Facebook page you'd like to use to represent your business. Next, you can choose the media, text, and links that will be included in your advertisement. Selecting your language translation and tracking options are the last steps to take before finalizing your campaign.
2. Respond to reviews to strengthen your reputation
If you have a Facebook business page, you can let customers leave ratings and reviews (now called recommendations) of your company. You'll also be able to respond with a comment: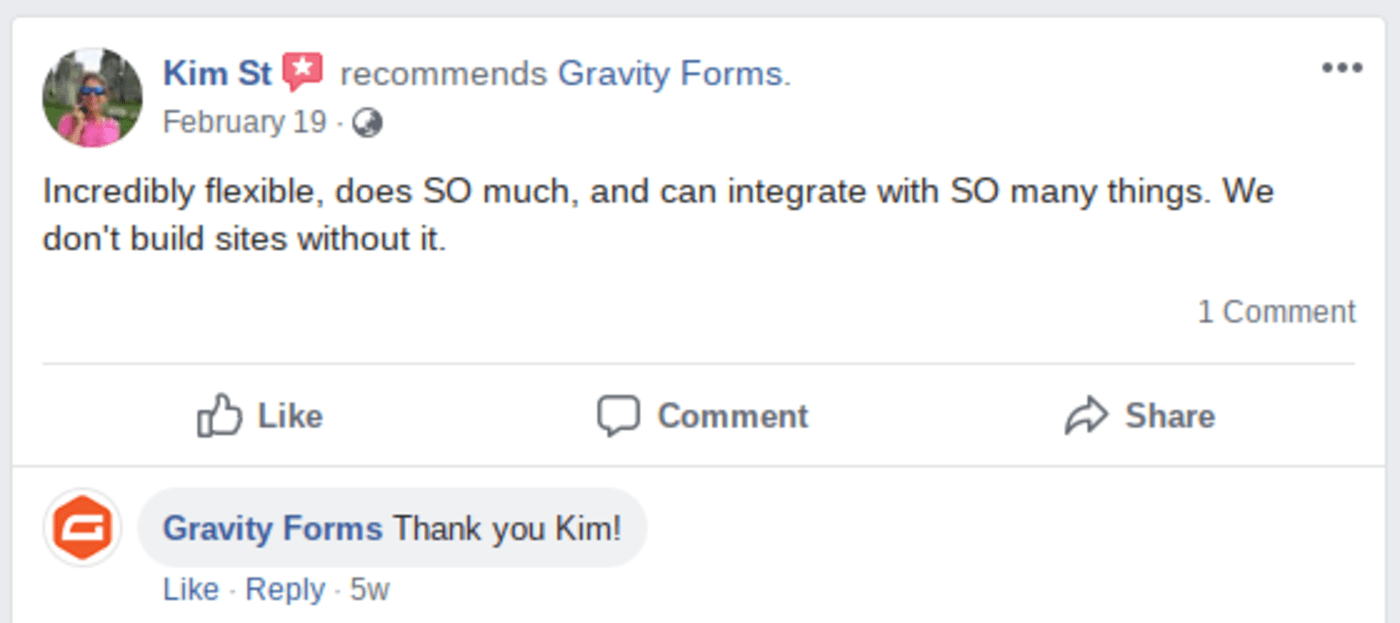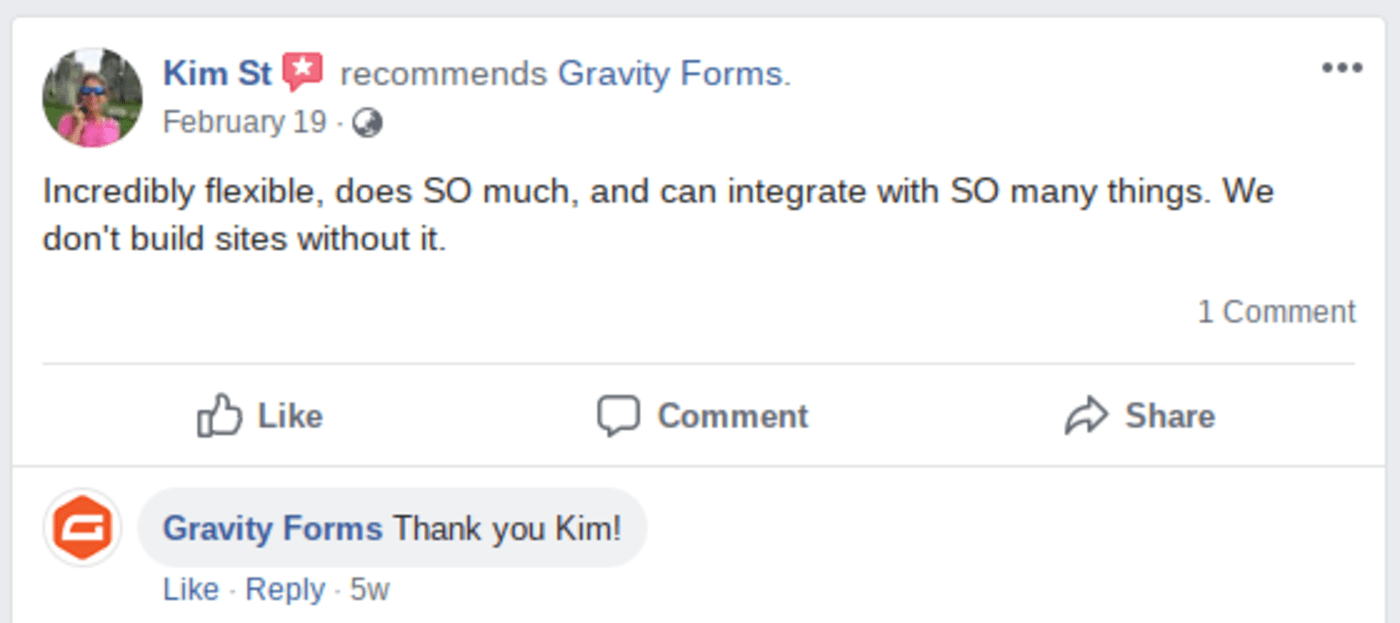 It's important to respond to reviews as it shows you're responsible when handling customer feedback, be it positive or negative. Additionally, a study conducted by Harvard Business Review found that responding to customers can lead to more positive reviews in the future.
Replying to feedback has the additional benefit of encouraging more people to leave reviews on your Facebook page over time, especially if you follow some best practices.
For positive reviews, thank the user for their feedback and paraphrase what they said to show you've listened. It's also worthwhile to include your business name and a few relevant keywords in your response if appropriate. This will help the review rank in search engines, where it may be helpful for others.
The next two steps help to leverage the positive feedback you received. You can mention a new feature or promotion of the product you are offering that the customer might not be aware of. Then you can invite the customer to act by doing something like viewing a related product or service.
In contrast, the first step in handling a negative review is to first show concern and empathy for the customer. This lets them know you're taking their feedback seriously, and are willing to help resolve the dispute. Next, if your page is weighted with positive reviews, you can point to the good feedback you're already getting as a testament to this negative review being a one-off.
Once you've done all you can do through Facebook, the next step is to move the conversation to a more private medium such as telephone or email. This will speed up the process of resolving the customer's problem, while also protecting the reputation of your brand from a public dispute.
3. Include hashtags to improve your content's reach
Hashtags on Facebook work the same as on other social media platforms such as Twitter and Instagram – you preface a word using the Pound or Hash symbol (#). It will then show up in relevant Facebook searches to other users.
There's no limit to the number of hashtags you can add to posts, so you should look to add as many as are relevant (although we'll discuss the optimal number later.)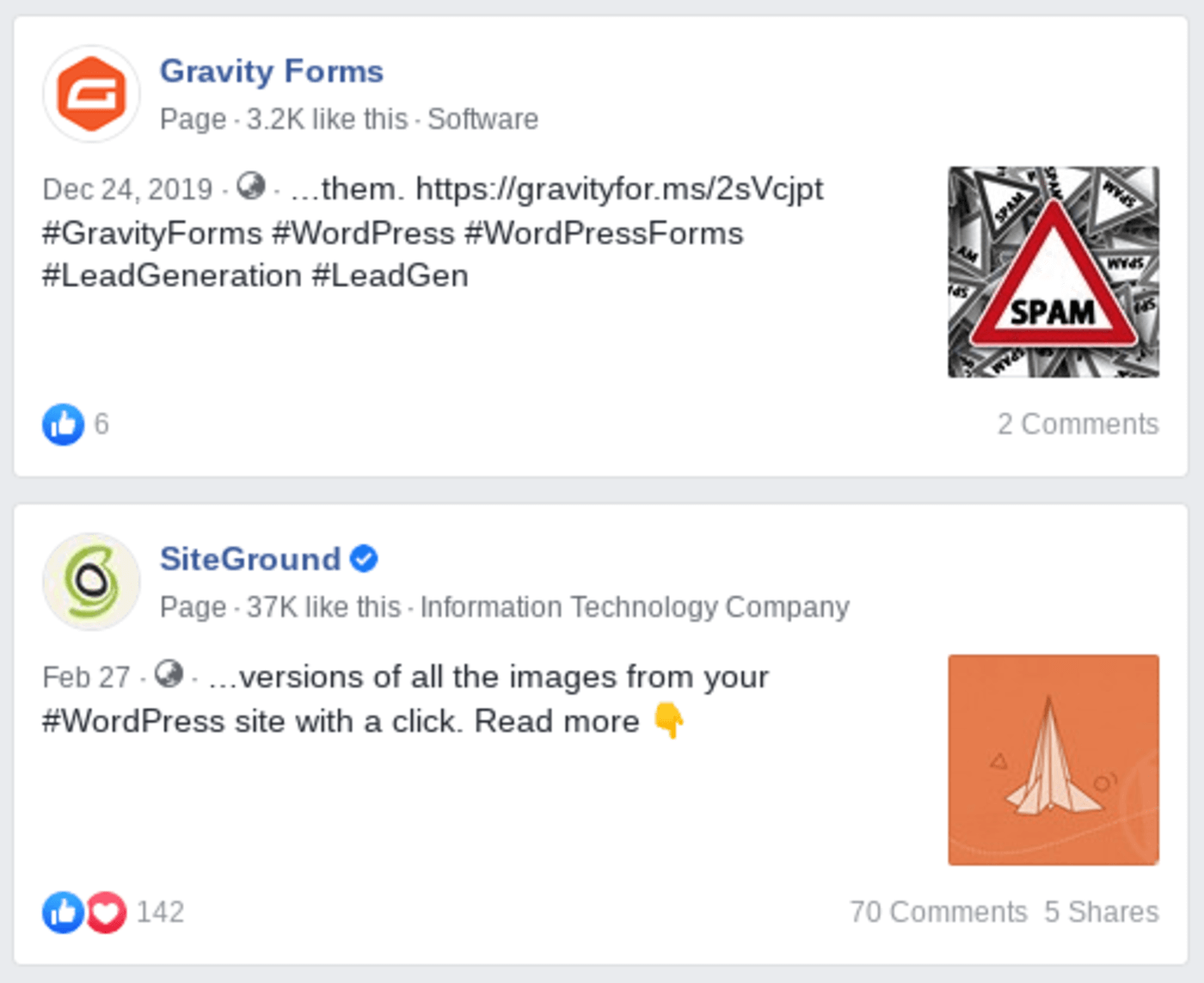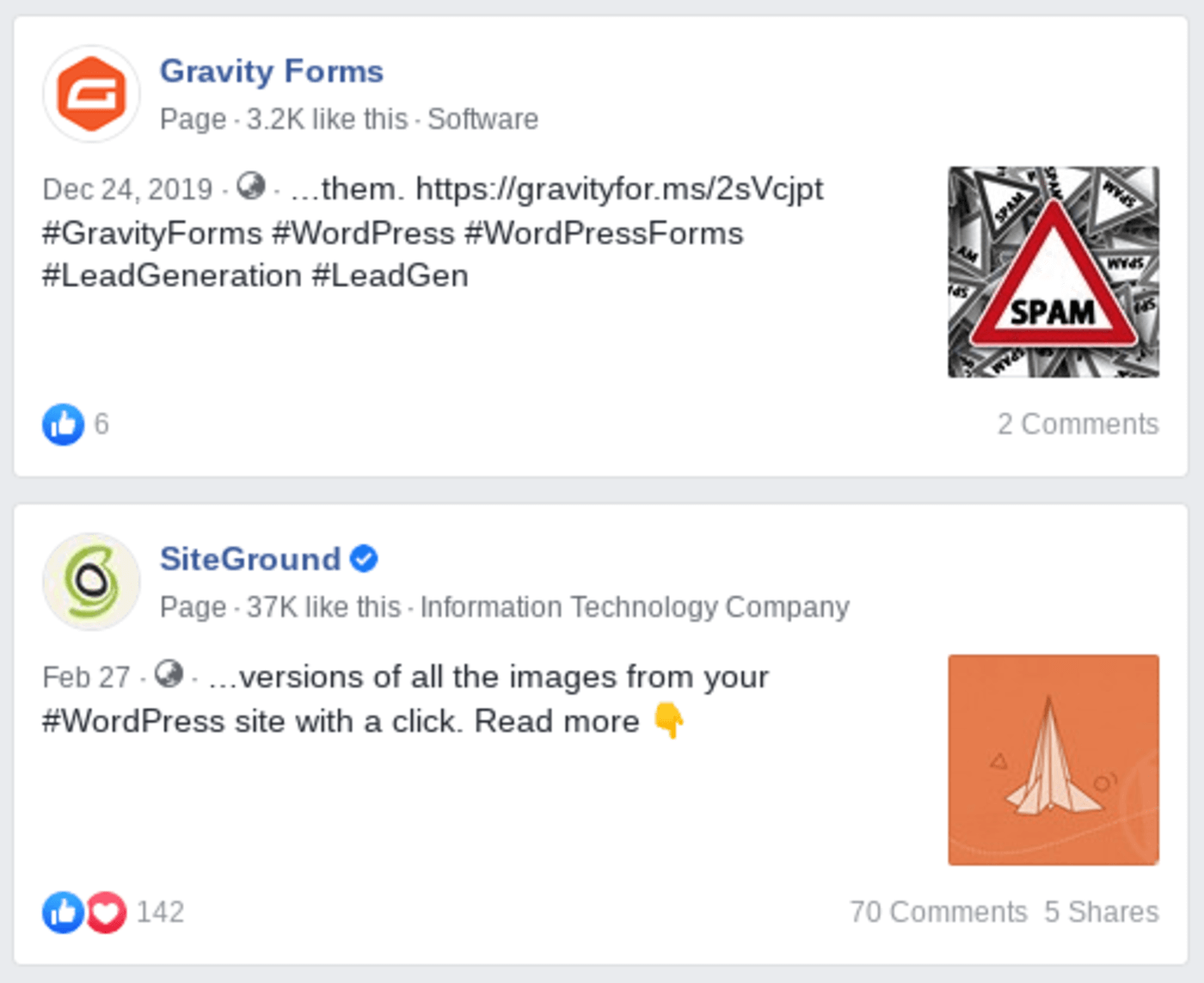 Facebook processes billions of searches per day, so hashtags are going to be valuable for increasing the reach of your content to users. Of course, there's also the added chance of receiving additional likes to your Facebook page once a user hits your content.
Given the power yet simplicity of hashtags, let's quickly summarize two best practices for using them in your Facebook posts:
Use an optimal number of hashtags. Research has shown that one hashtag is the optimal number to use, with a drop-off in user engagement the higher this number goes.
Hashtag your main keyword. It also pays to hashtag the main keyword of your content so that your post will be more visible to users when they search for content on Facebook.
Overall, hashtags can help get new eyes on your brand, and because they're so straightforward, they're a frontline tactic for generating awareness.
4. Use a call to action (CTA) to inspire engagement
If you're unsure what we mean by a CTA, it essentially asks a user to do something actionable, such as leave a comment or visit your store. CTAs are common across many genres and niches and stretch across emails, videos, and offline marketing.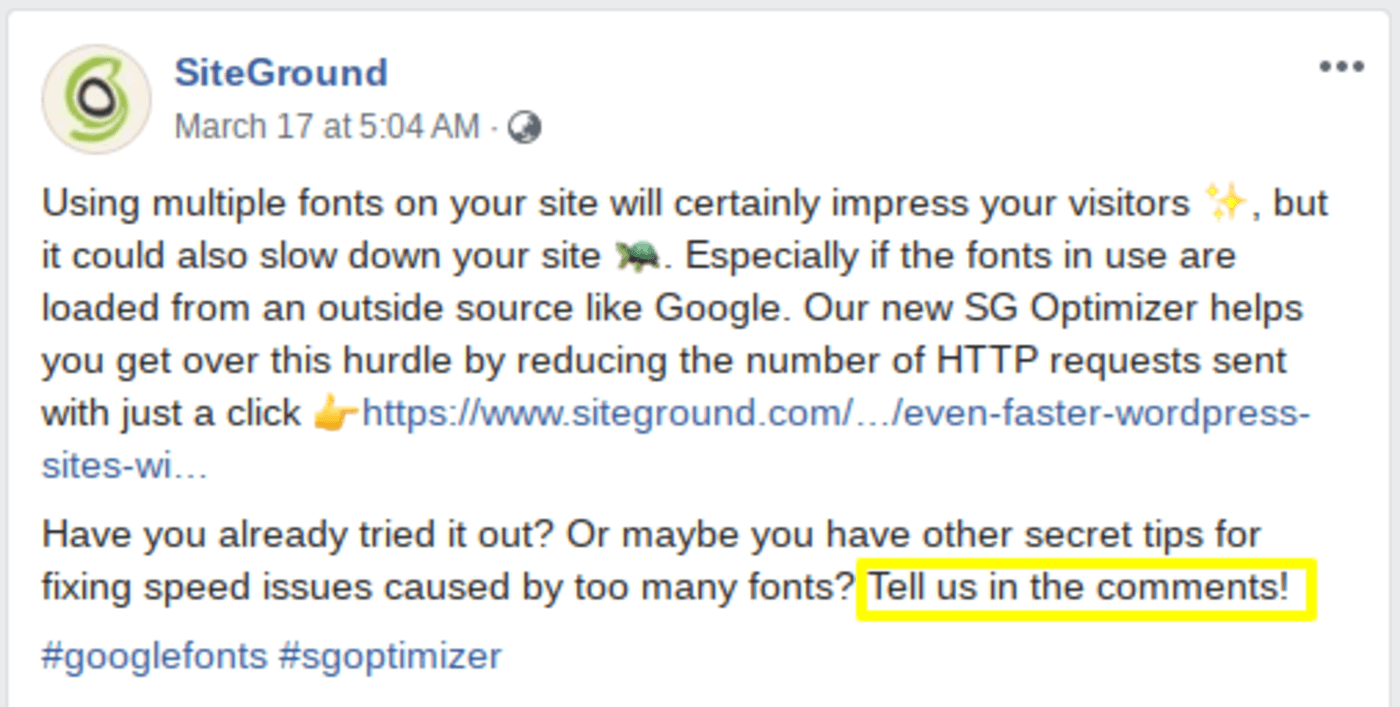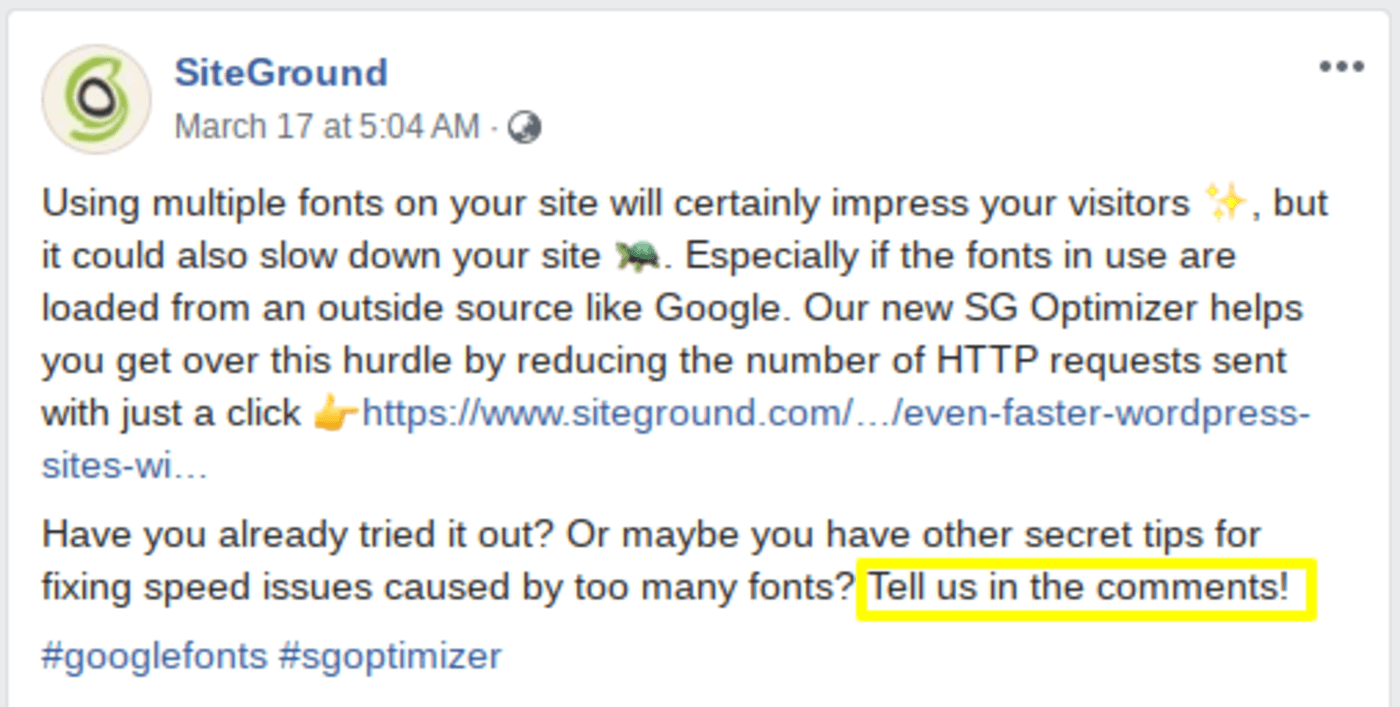 In short, CTAs work. They're a useful tool for driving conversions and increasing engagement. Furthermore, a study by the company MarketingProfs revealed that posts containing the word "share" receive substantially more likes, shares, and comments compared to posts without the word.
As you'd expect, higher engagement means an increase in the likelihood of posts showing up in a user's news feed. This is due to how Facebook's Edgerank algorithm works for prioritizing content, and will hopefully expose your brand and content to additional people.
As for how to put this into practice, simply asking your audience to engage with your post is often enough for people to take action. If you'd like to further expand your reach you could add an additional element to your CTA asking for readers to share content or "Spread the word!"
Another tactic you can implement is to include a strong benefit statement. For example, you could include "Listen to our latest podcast on Spotify and get a 20% discount on your next purchase."
You can also experiment with adding a sense of urgency to your CTAs, which can inspire people to act quickly. It can be as simple as "Click the link and get 40% off when you order today!"
Finally, using coupon codes along with a CTA may also be an effective means of improving your engagement and conversions. You'll often see many variations of "Enter code PROMO20 to save $20 when you shop at our online store" – it's a tried and tested way to get people clicking.
Conclusion
Using Facebook for marketing purposes can be frustrating if you're not sure how to capitalize on it.
Fortunately, there are some proven strategies you can experiment with to rapidly reach your audience and make a lasting impression.
In this article, we covered four ways you can boost your brand awareness using Facebook.
Use targeted ads to showcase your brand to a specific audience.
Respond to every review your business receives.
Include hashtags on each post you publish.
Include a CTA in your posts to encourage sharing.
The post 4 Simple Strategies to Boost Brand Awareness on Facebook appeared first on Revive Social.