On the surface, Facebook Ads appears to be a fairly simple method for getting the word out about your brand. But it's all too common for business owners to spend far too much money on ads, leaving them with minimal results and not enough data to make changes. In this guide we'll discuss some of the lesser talked about Facebook ad strategies for you to consider and implement.
We'll be covering both Facebook Ads and boosted posts. Even though they have differences, both are forms of advertising on the Facebook platform.
All sponsored posts on social media require a focus on understanding your customer profile, what your customers want, and how they want to interact with your brand.
After that, it's up to you to utilize Facebook marketing techniques that grab new customers and keep them coming back.
Whether you're selling tickets on Facebook or launching a new product line, this guide to Facebook ad strategies extends past most common knowledge to ensure your message and retargeting process works to your advantage.
---
5 #Facebook #advertising strategies to build more effective campaigns #SocialMediaMarketing
Click To Tweet
---
How does the process start?
Prep potential customers with awareness ads
The number of "touchpoints" in your sales funnel may end up being anywhere from six to eight, or a little more or less depending on your industry. These touchpoints include anything from emails to ads and phone calls to snail mail. But the first touchpoint typically needs to make potential customers aware of your company.
The reason this is one of our favorite Facebook ad strategies is because an awareness advertisement not only allows for massive amounts of creativity, but you'll still get some conversions even though you're not really trying to.
So, how does an awareness advertisement work?
Some online businesses may shoot for a viral sensation, but it doesn't have to be that complicated. In addition, smaller, local businesses can target the neighborhood with important, or fun, information about the company. The goal with an awareness ad is to get as many shares and likes as possible, but not necessarily any sales.
The Nomad Points advertisement has a bit of a "clickbaity" title, but it presents a quality introduction to those who have no knowledge of the blog and what deals they can find.
There are a few things we would change, like the photo and the clickbait title. It would also be nice to have more information about how the blog gets good deals on plane tickets. But overall, the ad tells users that it can help them save money on flights, and that's always a priority for travelers.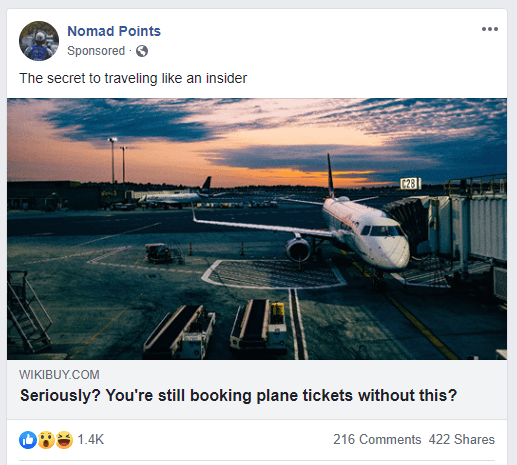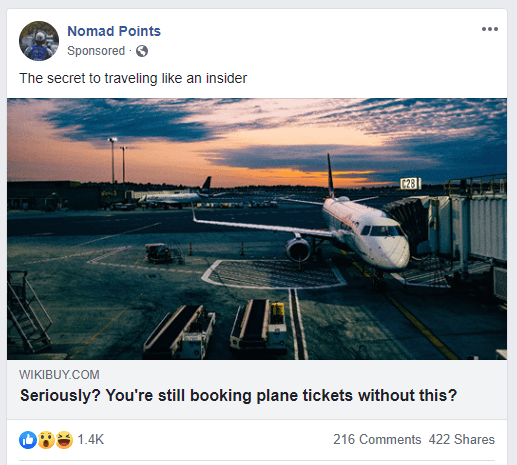 Netflix does a much better job than Nomad Points in generating awareness through a Facebook Ad. You might be wondering why we would showcase Netflix. After all, everyone knows what Netflix does.
True, but Netflix is constantly cycling through new shows (their product) and seeking out viewership for each release.
For example, below is a funny ad for the Russian Doll show on Netflix. The show was released at the time of this article, and the video shows Amy Poehler and Natasha Lyonne doing impressions of each other–which directly relates to the show.
Why does this work so well as an introductory ad for the show?
The ad has a video, which is more engaging and allows for more information.
It has two likable actors who genuinely look like they're just talking to each other and having fun. Sure, them being famous helps, but even small businesses can find likable people in their organization.
The video seems like it's only there for entertainment. The content kind of relates to the show, but the whole point is to grab user attention with the comedy.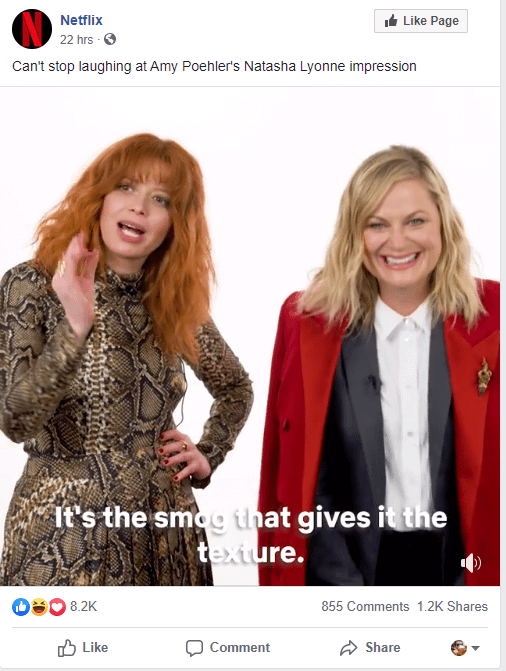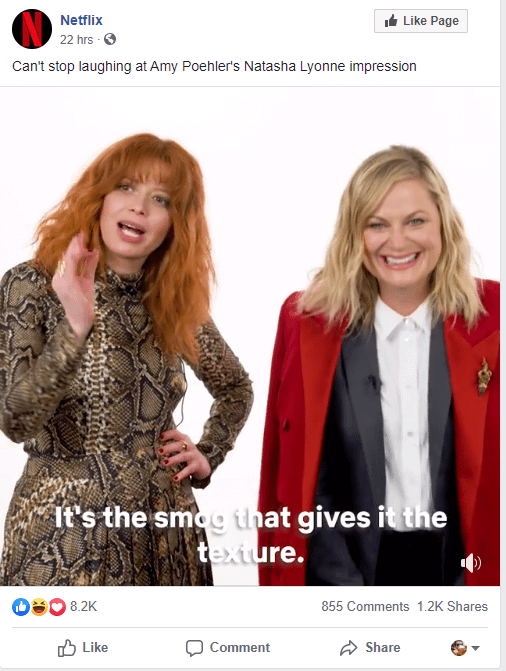 The Tonight Show also has to market to its viewers on a regular basis. The show has new guests every day, so it's almost like announcing a new product every 24 hours. Even with a name like Paul McCartney the Fallon show knows that a text ad with an image would not be nearly as effective as a video messing around and singing with McCartney backstage. This way, the awareness advertisement has immediately been turned into entertainment that some people might not even view as an advertisement at all.
Overall, the awareness advertisement can definitely have some attempts to make conversions, but the primary advantage of an ad like this is to get the word out with creativity. Videos often work well considering users see them as little TV shows or YouTube videos instead of a print ad.
Focus on immediate customer benefits
Many Facebook advertisements try to connect with customers by addressing pain points and solutions to those problems. It's common for merchants and business owners to create advertisements touching on one but not the other. An ad that addresses pain points but no solutions isn't as effective. The same can be said for an ad that provides benefits and solutions but not pain points.
Keeping words to a minimum, the Block Club Chicago handles this type of marketing rather well. The Chicago Block Club is a neighborhood news source for those in and around the Chicagoland area.
As some of you may know, the inconsistent weather is a pain point for most Chicagoans. Residents do enjoy the seasons, but when summer comes around the rain and cold is definitely not welcome.
This advertisement is in reference to a two-week long cold and rain streak in June. So, how can an online magazine gain more subscribers in an ad? By addressing the annoying rain, and letting readers know when the rain is likely to go away. There's a mention of the pain point, along with a solution.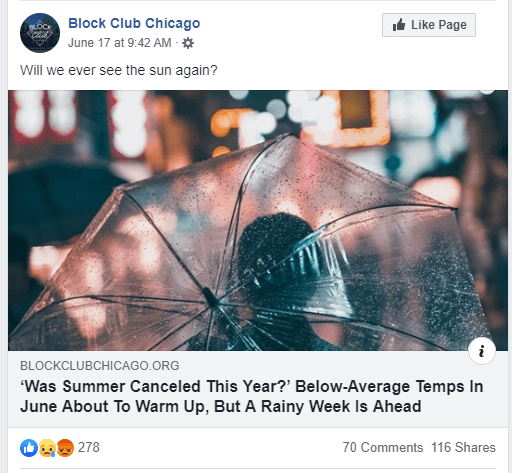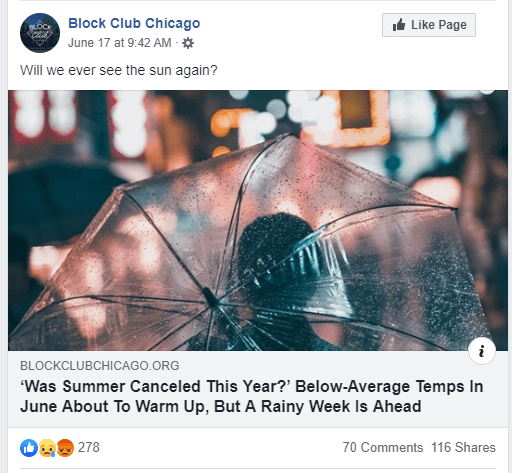 B12 generates modern websites with the help of artificial intelligence. Its ad mentions some words about how the user is working really hard. It also shows what a bad website looks like next to a revamped one. Imagine if a business owner saw this, then realized how close their website looked to the left image. The image serves as both a potential pain point (the ugly website on the left) and the solution (the completed product on the right).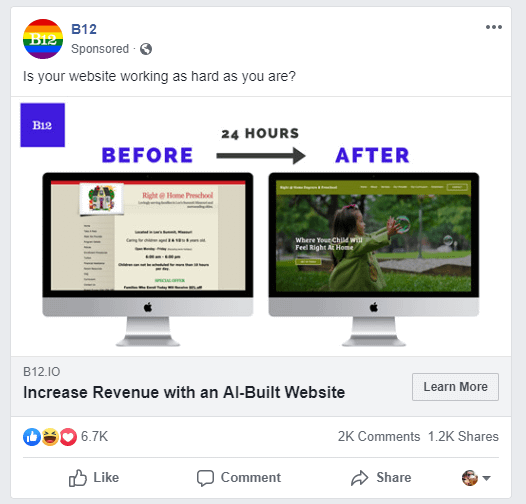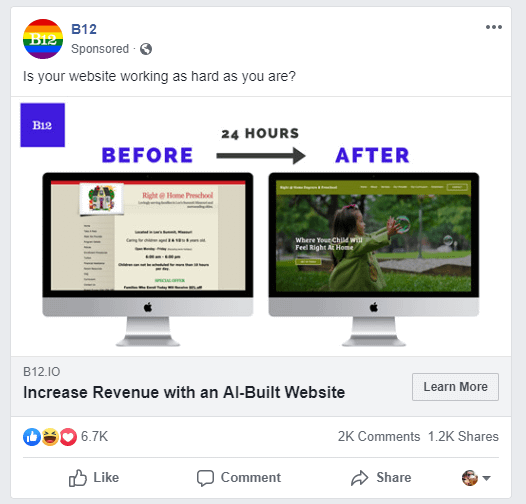 Shift is a productivity app for managing all of your apps and online accounts. The idea behind the app is that you should only have to use one dashboard for all of these products.
Although far too wordy, the ad below does a wonderful job of putting a visual in the user's mind. It suggests that the user has so many accounts, from Trello to Facebook, and it's a pain to manage all of them separately. So, the solution is to use Shift to bring all of them together.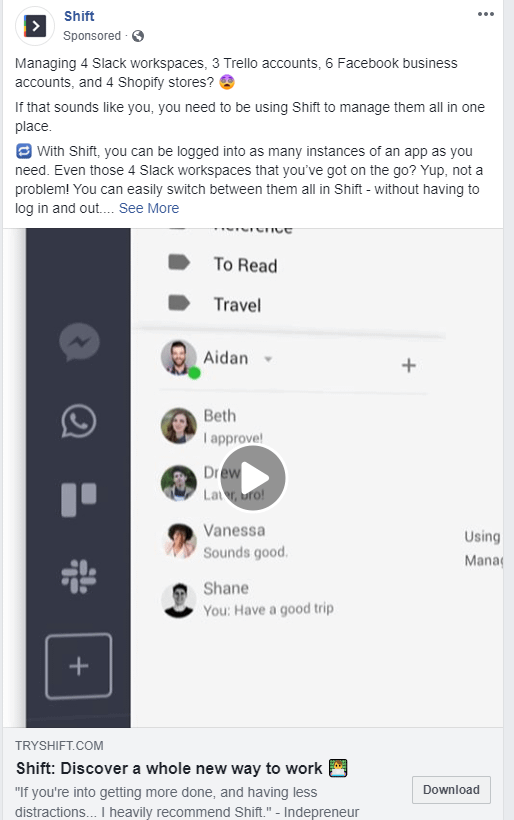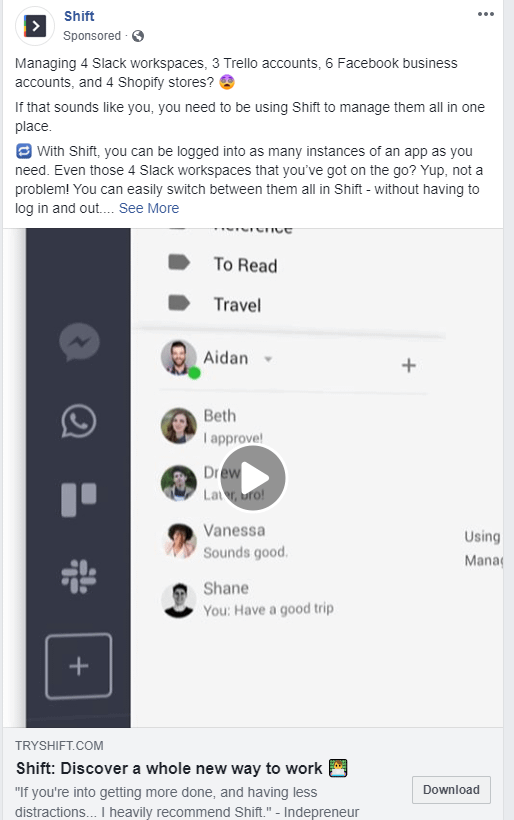 Share real numbers
Showing that your product, service, or brand can solve customer problems is only one aspect of creating a quality Facebook ad. It's also beneficial to show real numbers that either create urgency, back up your claims, or boast about immediate savings.
Take Freshly for example. It's a meal delivery service where all of the boxes are already prepared and cooked by chefs. That all sounds very familiar considering tons of meal delivery services exist like this one. So, how does it stand out?
In this Facebook Ad Freshly shows numbers that actually mean something to users in their daily lives. The three-minute meal is great for busy people, while the $40 off should do the trick for bargain hunters. Finally, Freshly mentions that the offer ends in 24 hours, creating urgency for those who feel they may miss out.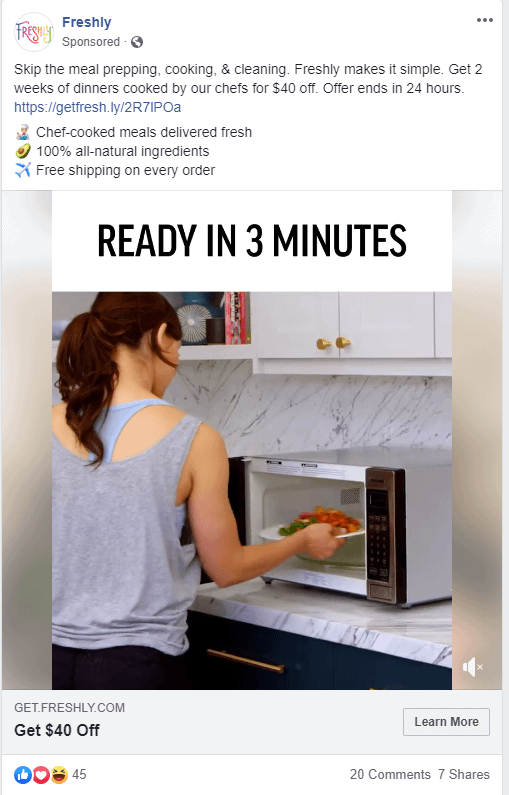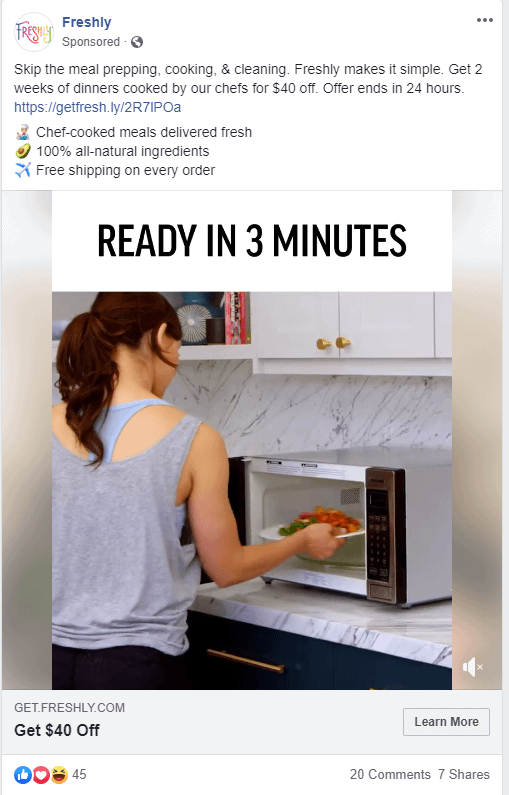 Another example is the loan company SoFi. Numbers are often the only things that make sense in an ad for a bank or finance company. It touches on how low the APY should be for average users. Then the ad tells users about a $25 reward.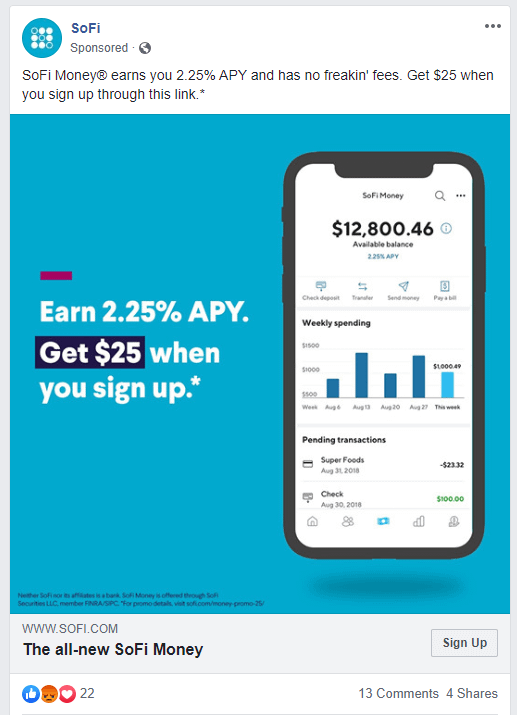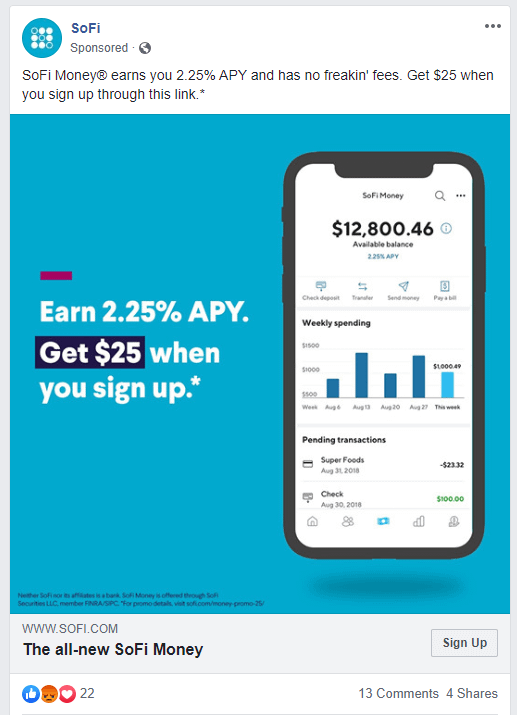 Finally, Naked Wines has been running a video ad for quite some time to build awareness and get conversions to its exclusive online wine club. The advertisement gets a bit wordy, but it has almost 1 million views, so it's obviously been effective. The video is wonderful, but we also like the list of numbers that puts thoughts of big savings in the customer's mind.
First of all, $5.84 per bottle is cheap for anyone, even if you know nothing about wine. But then the ad expands on how there's a large community of real wine drinkers who don't want low-quality wine.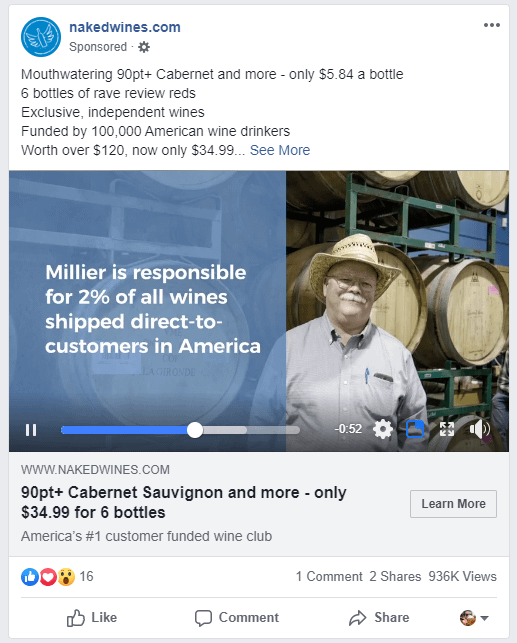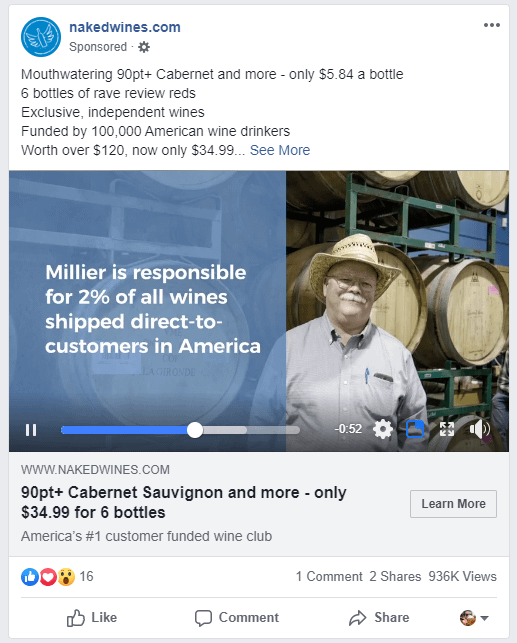 Give out a trial, then retarget
Whether it's a trial or a discount, giving savings to customers from the start is one of the best Facebook ad strategies for building your customer base. Promotions affect every step of the sales funnel, and it's been proven that the majority of consumers typically look for a bargain before buying. That bargain could be in the form of a discounted first order, or even a free trial for users to try out your product.
There's also one other key to giving items out for free: you must retarget. What's the point of giving away a bunch of free or discounted trials if you're not going to attempt to keep those people as paying customers?
For instance, the Brickell Men's Products brand gives out a free anti-aging kit to all new users that click through this ad. However, an email is required and you can even capture customer information through Facebook if you want.
Overall, this company gives out something small for free. Then, it plans on retargeting those customers in the future. This is one of the most effective Facebook ad strategies because it focuses on a long-term customer journey.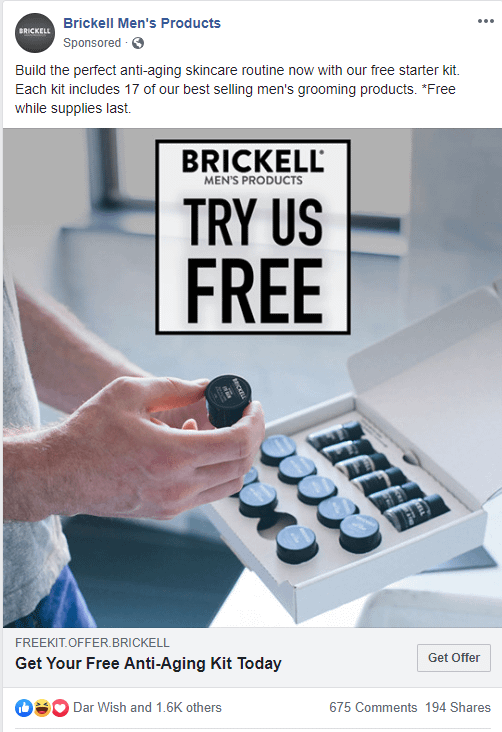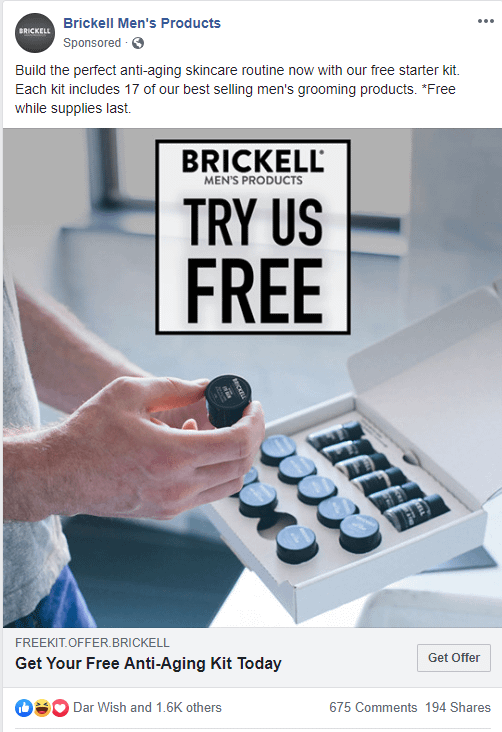 Hootsuite is one of many online app or software brands that have free trials. Anywhere from 30 to 90 days is standard for a free trial, as you can see in the ad below. This is one of the best Facebook ad strategies for subscription or software based companies.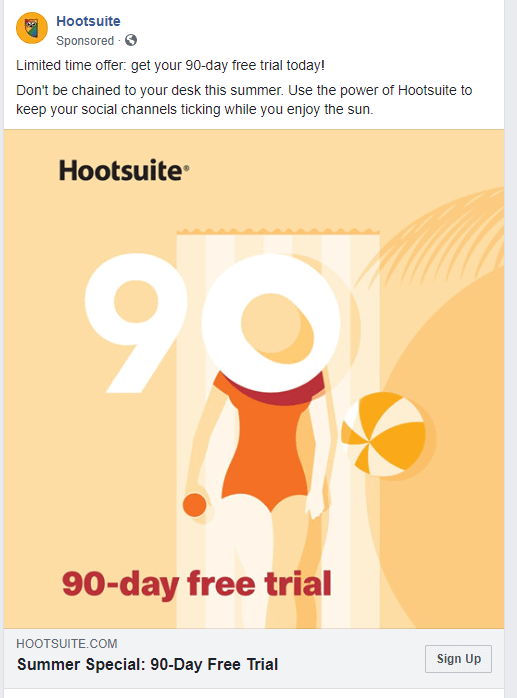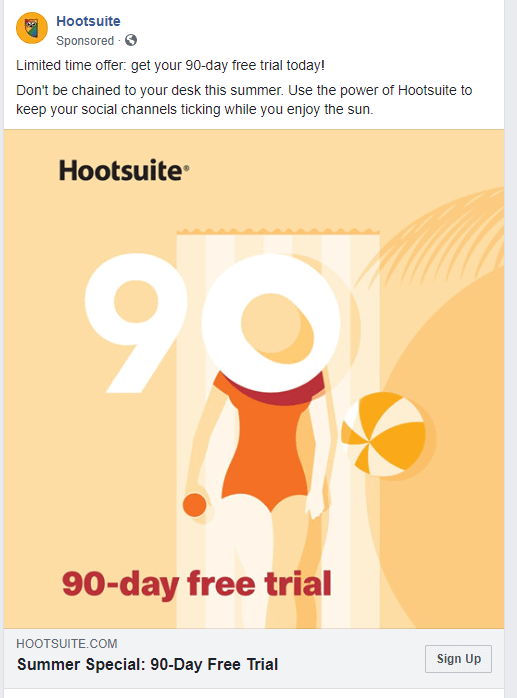 Bringing together several of the Facebook ad strategies we've talked about, the Shady Rays advertisement has a discount for new customers' first orders, real-world numbers in the caption, and a beautiful video to introduce customers to the product.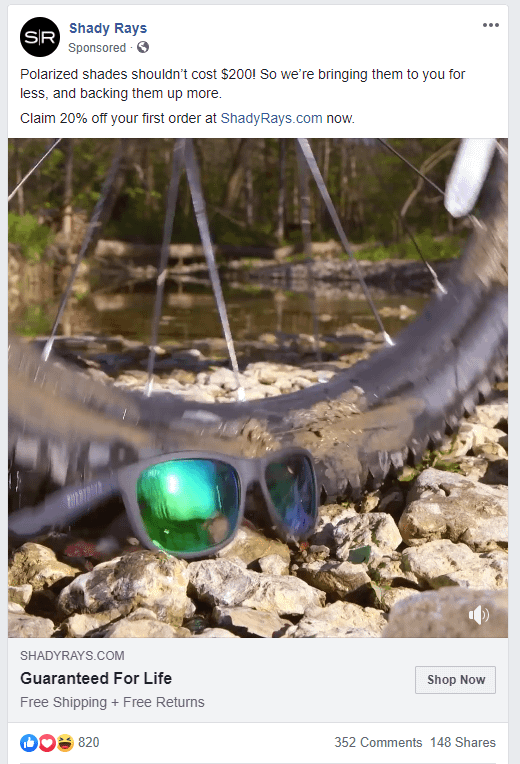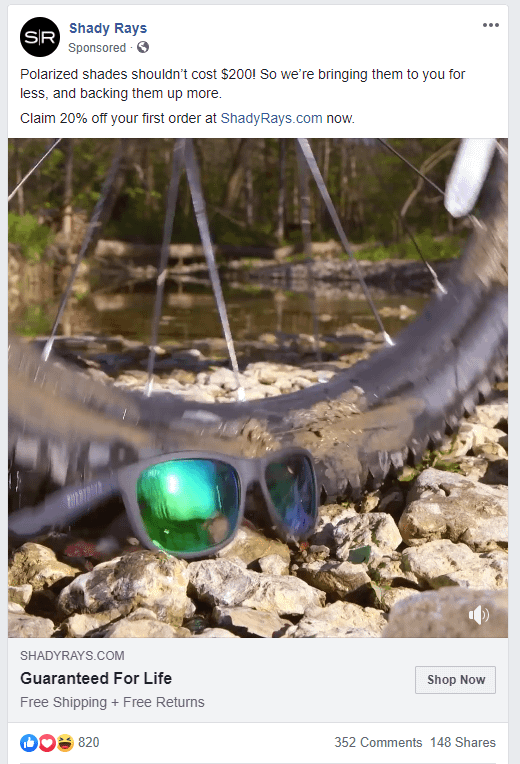 Offer free products or services at every funnel point
Don't just stop at a free trial. Continue having free, or discounted, offerings at every point in the sales funnel, even if it's something that doesn't cost much for your business. This is not only one of the best Facebook ad strategies, but one of the best strategies for every type of marketing. Even a minor discount can make a wavering potential customer choose to buy from you.
Here's an advertisement for a service containing thousands of home learning videos. I paid for and used it for several months until I no longer needed it. That being said, I continued to notice Facebook ads that included discounted monthly pricing and a free trial to come back to the service.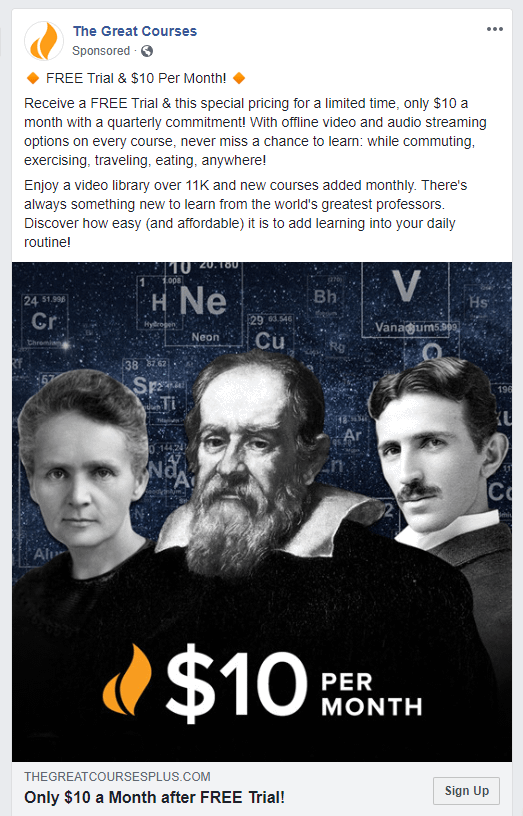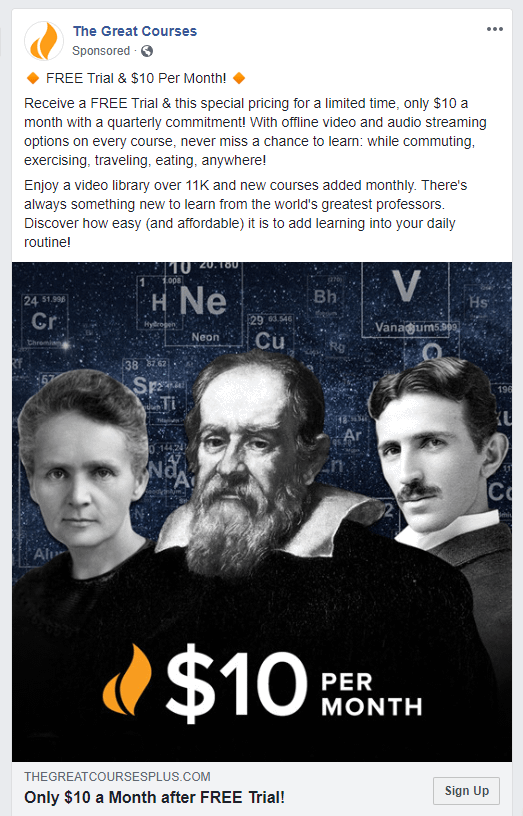 Firstleaf provides value in all ads by giving customers a promo code. This is often paired with a cute or funny picture, some details on the wine pricing, and a promo code. It's not practical to have big discounts all the time, but newly targeted ads should provide some sort of value.
Utilize campaign budget optimization paired with reports
A good rule to follow is to avoid putting all of your advertising budget into one advertisement. You're better off running multiple ads that target different people and offer varying designs. This way, you're able to test out various Facebook ad strategies at once.
So, let's say you have $30 to spend on an advertisement. You proceed to design three separate ads. In the past, Facebook would have distributed that $30 equally, or according to choices made manually during the ad creation process.
Facebook now has tools for campaign budget optimization. How does this work? Well, Facebook looks at how all three of those ads are performing, then it begins to spend more money on the ads that are performing the best. This is done in real-time so that you don't look back and say that you should have spent more money on one advertisement over the other.
The good news
Campaign budget optimization is being automatically added to all Facebook ad campaigns. This means that you don't have to configure this yourself. But because of this new information, you have a chance to learn even more about your customers.
Facebook Insights is a wonderful place to analyze how well your campaigns are doing. Many people only look at the Overview tab, but you can also take advantage of several comparison tools to see which of the ads beat out the rest and how much money was spent.
Facebook then helps merchants out by giving you buttons to promote again, especially when an ad performed well.


Final thoughts on Facebook ad strategies
Not only is Facebook Ads one of the best ways to push users to your website, but it also serves as a tool with great potential in analyzing how customers view your brand. For instance, the reports and analytics are sure to help you understand what types of people engage with your brand, and the campaign budget optimization definitely reveals information as well.
---
Employ these powerful #strategies to create successful #Facebook #ad campaigns
Click To Tweet
---
From sharing real numbers to giving out trials and retargeting, these are some of the "less talked about" Facebook Ad strategies that you can implement.
If you have any questions about these Facebook ad strategies, or if you would like to mention some of your other favorite Facebook Ads tips, let us know in the comments section below.
The post 5 Facebook Ad Strategies to Build More Effective Campaigns appeared first on Revive Social.