Platforms like Facebook, Instagram, and Twitter have become ubiquitous in western culture, but there are always new players trying to rise to the surface. In this article, we're going to examine some of the social media platforms that hope to become Instagram alternatives, and what their presence means for marketers.
Why consider Instagram alternatives
We've spent a lot of time exploring the benefits of Instagram for business and how to
build your Instagram platform
, but Instagram, like any social media platform, isn't perfect. There are a few good reasons for you to seek out Instagram alternatives:
What to consider when choosing between Instagram alternatives
As with any type of social media platform, just because these Instagram alternatives exist doesn't mean you should automatically invest your time and energy in them. You still need to consider the primary factors you considered when choosing the social media sites you're already on:
Okay, with that said, let's look at the new players on the scene:
Five of the best Instagram alternatives
1. EyeEm


EyeEm is a bustling community with over 22 million users.
EyeEm functions as both a social media platform and an image marketplace. This makes it doubly appealing to dedicated artists and photographers.
The most unique feature of EyeEm is the "missions" they set for users, challenging them to test their artistic skills by creating images based on briefs provided by brands partnered with EyeEm. Prizes for these competitions range from having your images featured in commercial campaigns and/or exhibitions to actual cash prizes.
Who should use EyeEm?
If your business is heavily focused on art, photography, or related software or equipment, you should consider EyeEm as a marketing channel.
EyeEm's marketplace functionality also makes it a useful tool for any business that uses visual elements in their marketing. Let's face it: everyone's been using the same libraries of stock photography for years already. EyeEm is a great place to find affordable images that will make your brand stand out from the rest.
2. 500px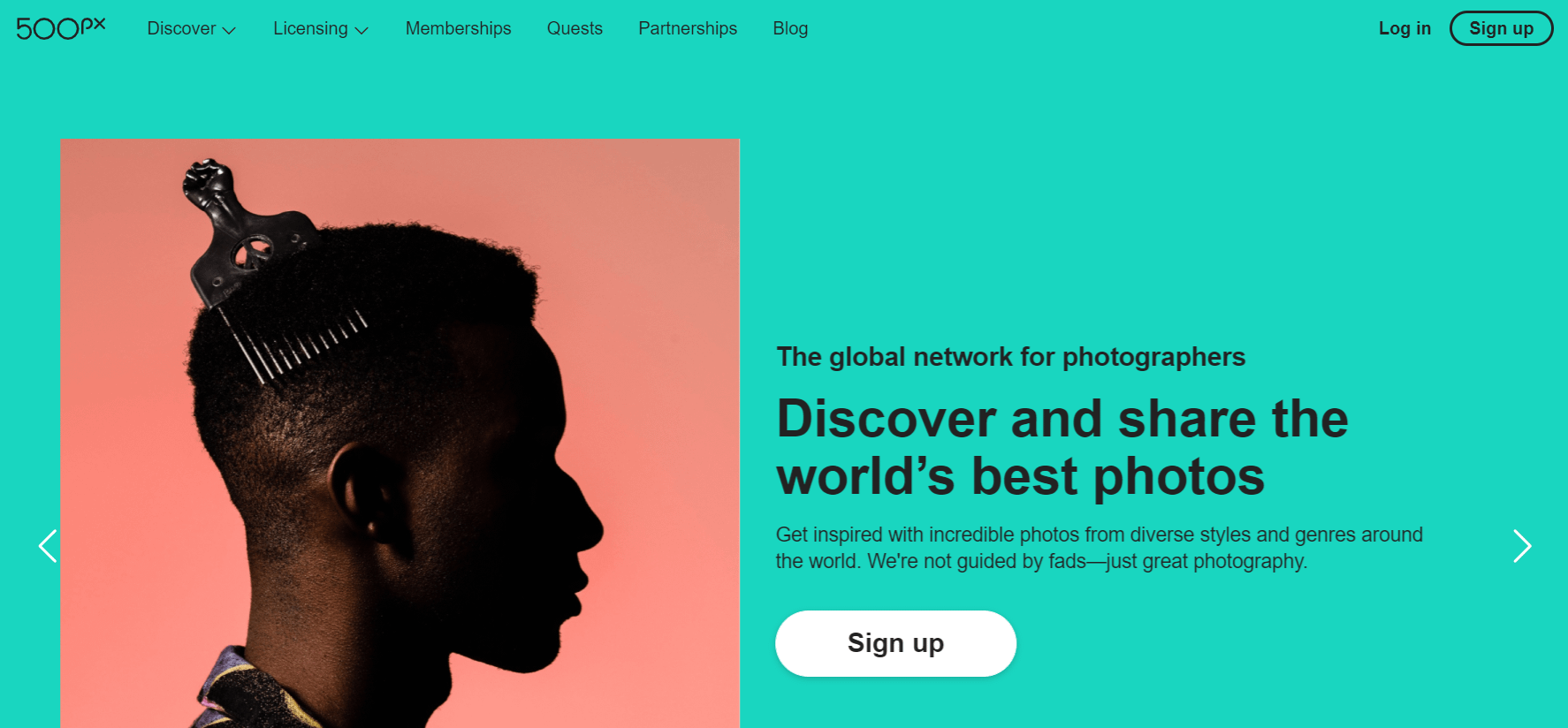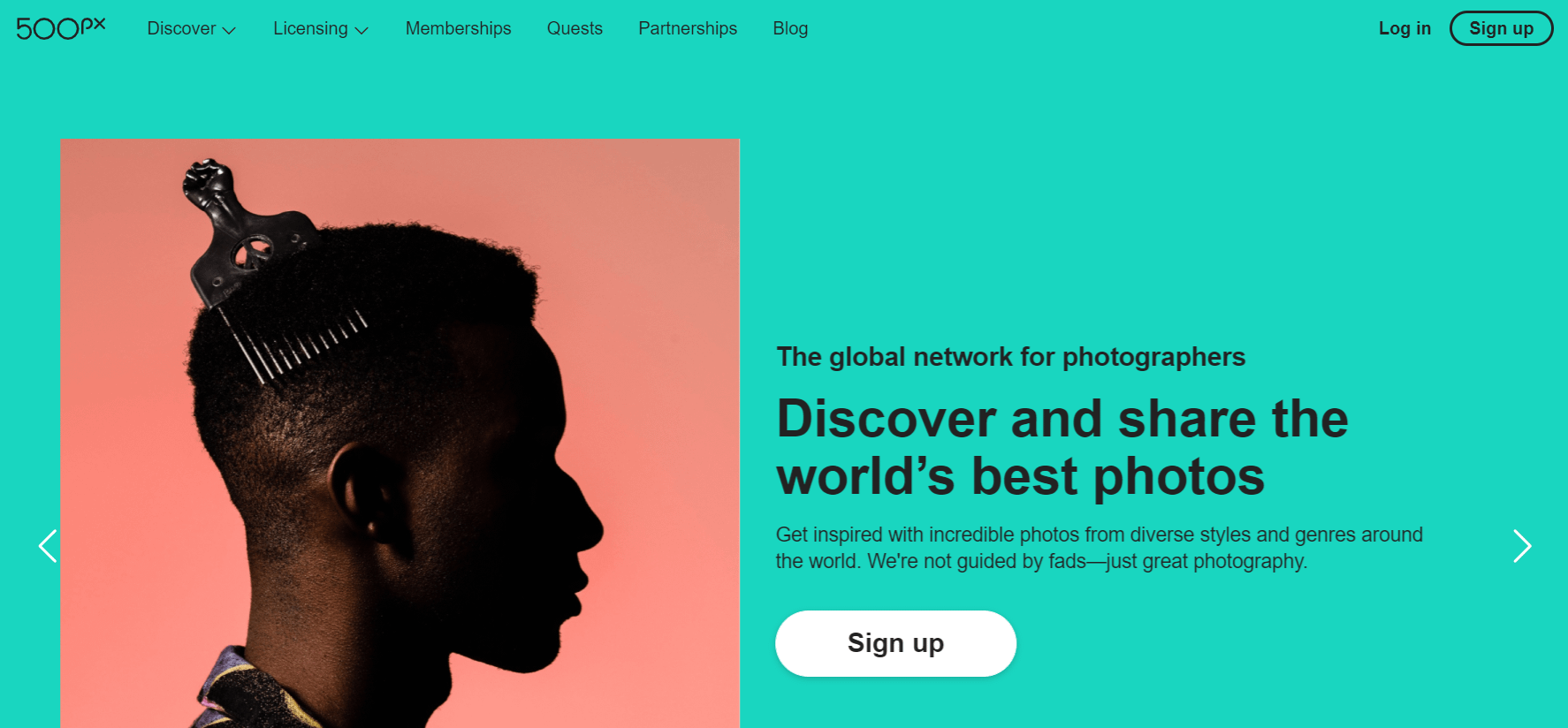 500px is a social media network truly dedicated to the "social" side of things. They have a large community of 15 million active users, and like EyeEm, they draw in high-quality photographers by allowing users to sell licenses for their images directly on the platform. They also only take limited rights, whereas many social media platforms require you to hand over all rights to an image in order to post it.
500px also offers several different tiers of membership, including multiple paid plans. Paid members get access to perks like analytics, business and event listings, and business profiles for professional photographers.
The final notable quality of 500px is the fully functional web browser version. This makes it easier to upload images directly from your computer. They also have Android and iOS apps for mobile-focused users.
Who should use 500px?
500px has long been focused around semi-pro and pro photography communities. This makes it primarily useful as a marketing tool for professional photographers and photography studios or businesses that sell photography equipment.
500px is also an excellent tool for businesses that emphasize photography in their visual marketing, as you can use it to find professional photographers to partner with or even buy images directly.
3. DayFlash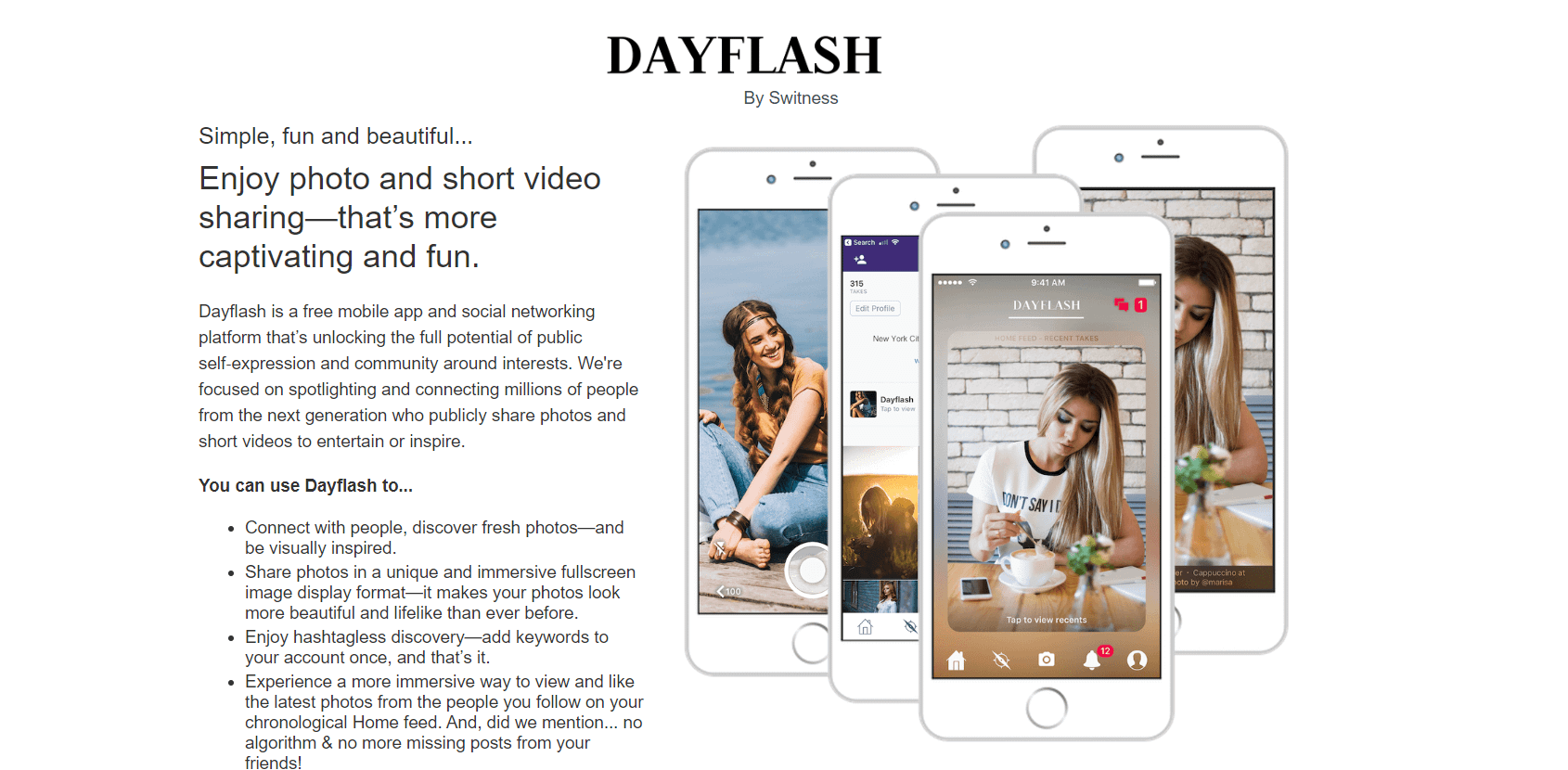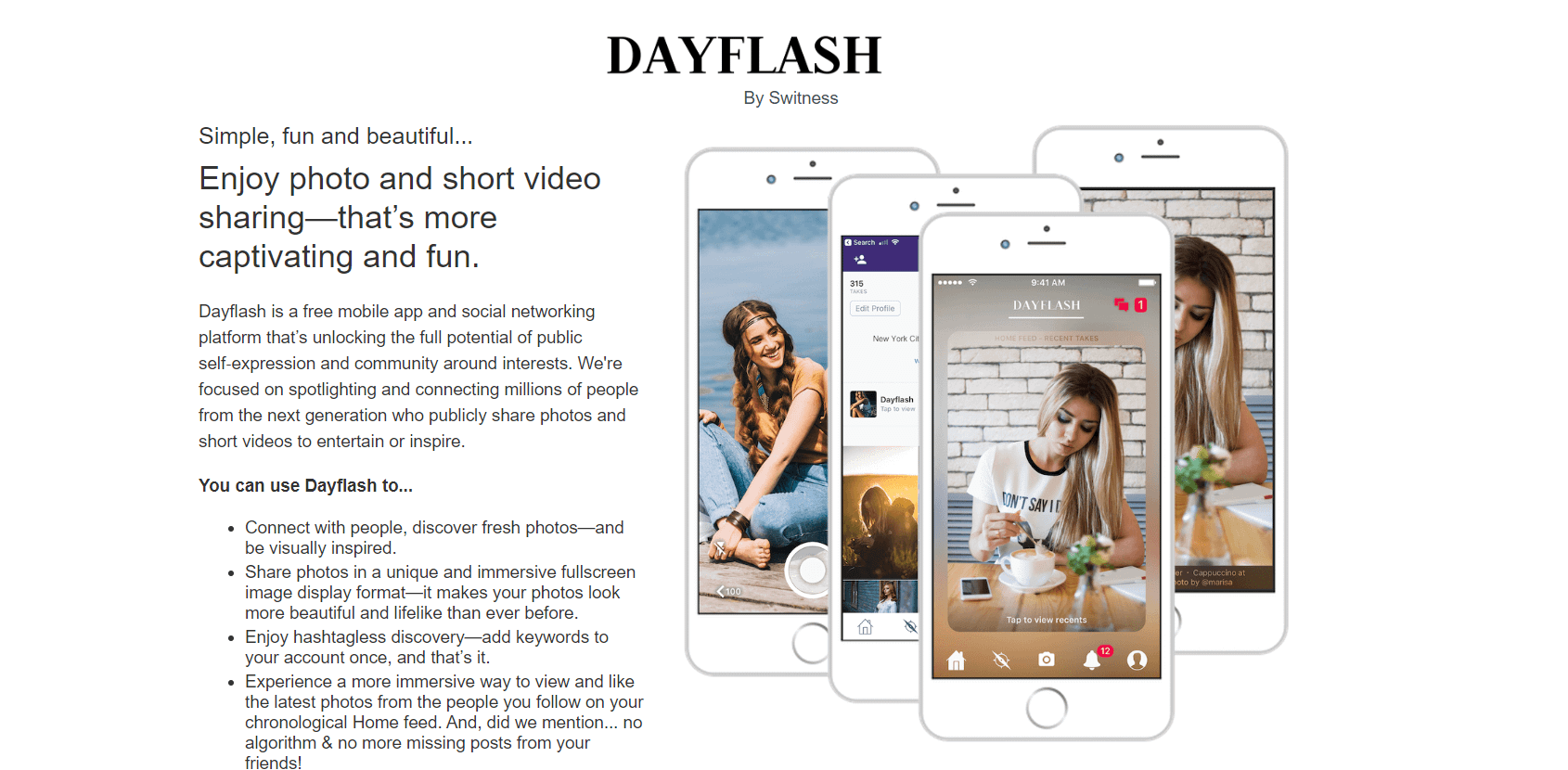 DayFlash is more like an online gallery than true social; images are automatically displayed in full-screen form, providing an immersive visual experience. This makes DayFlash an appealing option for photographers and artists who work with large scale images and are tired of cropping them down to Instagram-friendly sizes.
DayFlash is best used in conjunction with Instagram, rather than as an Instagram alternative. They even have a space in your profile where you can share a link to your Instagram profile, so people can connect with you elsewhere.
There is, however, one major drawback of DayFlash at this time: they only have an iOS app. This excludes Android's large customer base from the app by default. However, they are working on an Android app now and you can sign up to be notified when DayFlash launches for Android.
Who should use DayFlash?
DayFlash is mostly useful to artists, photographers, and other heavily creative brands who have a plethora of images suited to the full-screen format. With no current advertising opportunities and minimal communication options, DayFlash has limited appeal for other brands. However, DayFlash has great potential, and we're excited to see how it grows.
4. VSCO


VSCO offers a number of features similar to Instagram. You can take photos, edit them, and add a variety of filters through the app. But there are some key differences that make VSCO an excellent alternative to Instagram:
These features, combined with their audience of over 30 million active users, makes VSCO one of the best Instagram alternatives of them all!
VSCO also offers a premium membership plan which offers access to a greater variety of editing tools and several collections of presets. Over one million people have subscribed for this membership. This allows VSCO to remain focused on great content and photography, without becoming dependent on advertisers.
Who should use VSCO?
VSCO's primary user base consists of Generation Z, the generation after Millennials (so, people under 23 at the time of writing this). This makes it an excellent choice for businesses whose primary audience is in this age range.
5. Steller


Steller is a unique app that focuses on storytelling. Rather than focusing purely on visual mediums, Steller encourages users to use a combination of video, images, text, and built-in layouts to tell complex stories.
This focus on multimedia allows users to explore a variety of topics in depth, as a quick look at their "Featured" page reveals: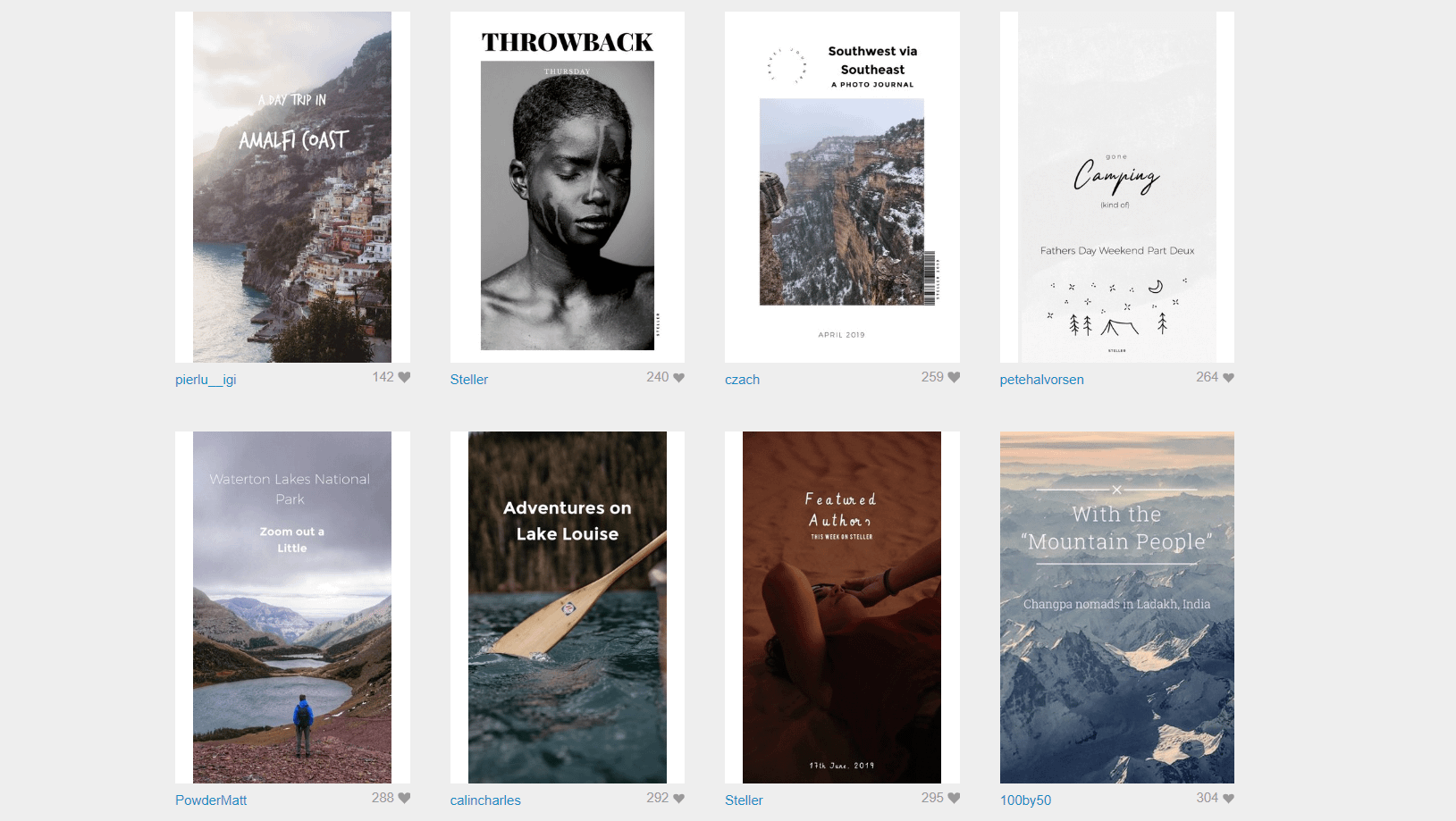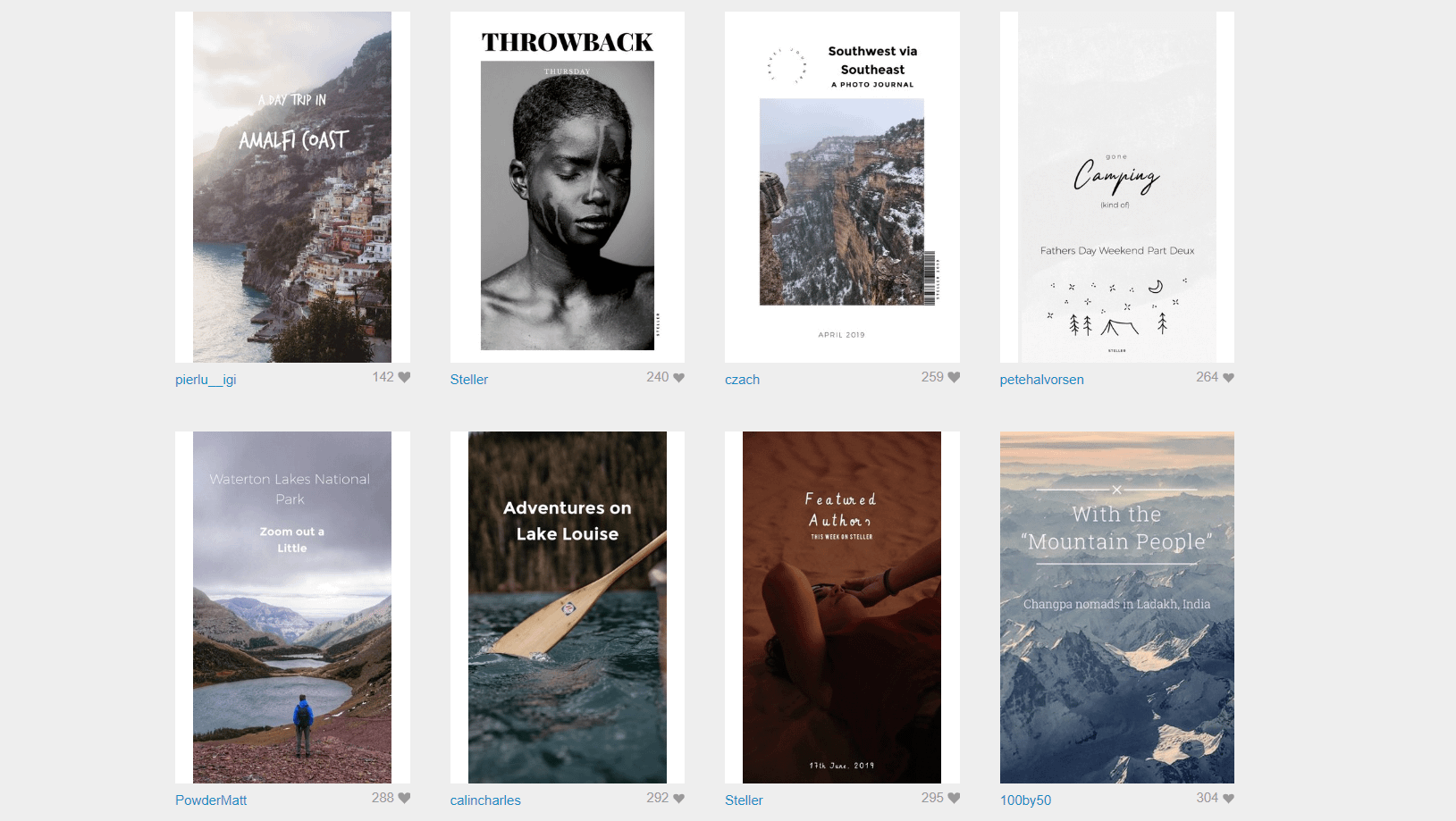 Founders have been deliberately vague about the number of users they have, but the unique format of this platform makes it an Instagram alternative worth watching. While the other platforms on this list are pure image sharing platforms like Instagram, Steller has something else to offer.
Who should use Steller?
Steller is an excellent platform for story-focused brands that want to produce high-quality content in a variety of mediums.
Which of these Instagram alternatives should you choose?
In the end, the Instagram alternative that's best for you is based on what kind of business you own and what you want to get out of social media.
---
Discover the most promising #Instagram alternatives and what they have to offer
Click To Tweet
---
Which of these Instagram alternatives sounds most interesting to you? Let us know in the comments section below!
The post 5 Instagram Alternatives for Marketers to Watch in 2019 appeared first on Revive Social.