With more than 90 percent of businesses using social media as a marketing tool, the competitiveness of these platforms is intensifying. To keep your identity on social media consistent and effective, you must develop a brand aesthetic. This aesthetic will make it easier to align your social channels, accurately reflect the tone and style of your business, and establish a memorable presence.
In this article, we'll discuss what a 'brand aesthetic' is and how it can help your social presence.
Then, we'll walk you through six tips to create one for social media.
Let's get started!
The benefits of creating a brand aesthetic for social media
A brand aesthetic refers to the visual look or appearance of your content. It helps establish a mood, tone, or style and demonstrates your personality. Creating a brand aesthetic is a way of aligning your social channels to ensure consistency. According to research, consistent branding can increase revenue by 23 percent. However, less than 10 percent of businesses consider their brand representation very consistent.
A powerful aesthetic can make your brand more recognizable. This is important considering nearly 60 percent of consumers prefer to purchase from brands they are familiar with.
A unique style can differentiate you from competitors. This is particularly useful on platforms such as Instagram that rely on visual content and messaging. Studies have found visual presentations are 43 percent more persuasive than non-visual presentations.
Demonstrating a cohesive style can create harmony across your social channels that translates to credibility. For example, if someone visits your Instagram page and sees a well-curated feed, they're more likely to perceive your business as being legitimate and organized.
Finally, establishing an aesthetic can help keep your employees on the same page about the kind of content to post. As your business grows, so will your social presence. It's important to make sure there are no questions about what's considered 'on brand' for your social content.
Six tips for creating a social media brand aesthetic
A consistent, visually appealing aesthetic makes a good first impression and may even help you attract followers. Let's take a look at six tips you can use to create a social media brand aesthetic.
1. Understand your business and audience persona
Your aesthetic stems from your brand identity. Therefore, the clearer you get on your identity, the easier it will be to establish an appropriate and effective aesthetic. Some helpful questions to ask here include:
What is the personality of our brand (playful, serious, bold, etc.)?
Is there are a certain tone we want to convey and, if so, what is it?
What do our values consist of?
Take a look through your website and marketing materials to identify existing brand styles. Perhaps there are some elements you want to move away from and update in your new aesthetic.
It's also helpful to consider your audience persona. Who is your target customer and what type of design styles would likely catch their eye? You might consider creating a persona profile to get as specific as possible about the attitudes, values, interests, and behaviors of your target audience.
To access this information, go to your business' Instagram profile and click on the hamburger menu in the top-right corner. Then go to Settings > Insights. You can use this information to learn more about your audience, activity, and content. You can search through top-performing posts to make note of any similar stylistic or design elements.
Finally, you can do some manual research on your followers and competitors by looking through their social feeds. This can help you get an idea of the type of brands they follow and the type of aesthetics they are drawn to.
2. Seek design and style inspiration from other brands
The social feeds of your followers and competitors is a good place to find inspiration. While you don't want to steal or copy another brand's style, it's okay to get a feel for what you do and don't like.
You can find design and style inspiration both on and off social media. For example, take a look through a magazine to see if there are any font styles or color palettes that jump out to you.
Be mindful of any colors, designs, or images that grab your attention. Consider what emotion you want to evoke from your audience and look for designs that elicit the desired response when you come across them.
Let's say you're drawn to bright, colorful, and cheery brands. An example of this is the StudioDIY Instagram account: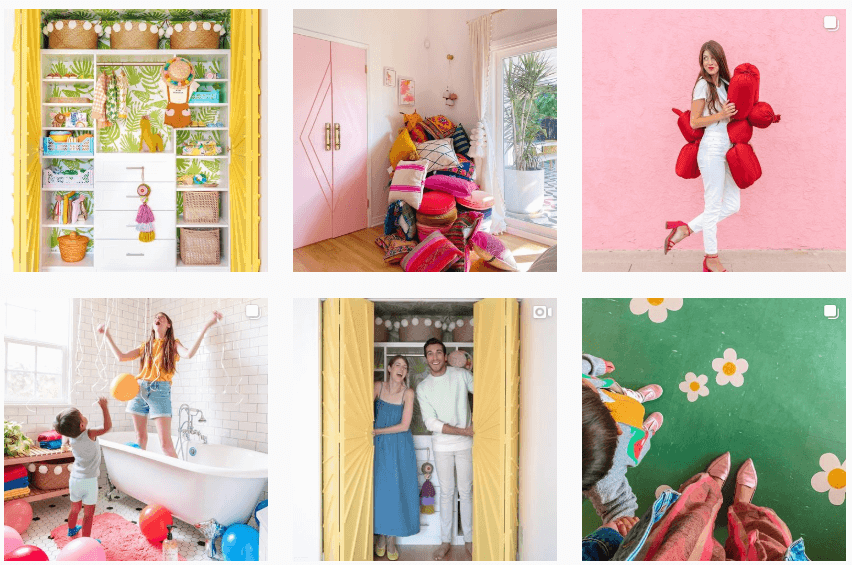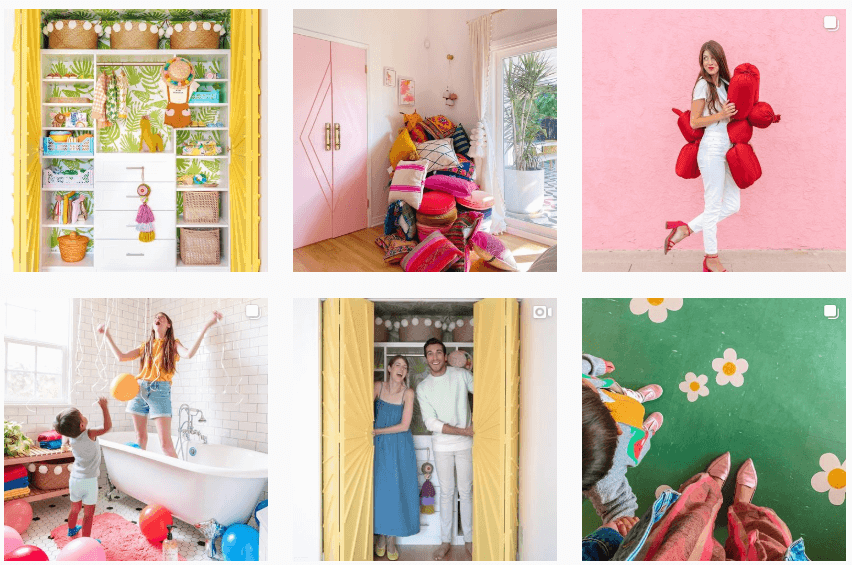 A quick glance of their feed instantly showcases the tone of the brand in a visually appealing and cohesive manner. Make note of what it is about these accounts that stand out to you and what you think specifically works well. Is it the colors or the images themselves?
Just as important as finding aesthetics you admire and want to simulate is noticing ones you want to stay away from. For example, if you're aiming for a light, bubbly tone, you probably won't want to incorporate dark hues.
3. Choose a color palette that makes a statement
The use of color in branding is incredibly powerful. In fact, research has found that color can boost brand recognition by as much as 80 percent. Also, 60 percent of the time, people decide whether they're attracted to a message based on color alone.
People tend to associate certain colors with different feelings and moods. For example:
Red is bold and elicits feelings of excitement, which is why it's often used in sales.
Blue establishes a sense of trust.
Yellow is cheerful and happy.
Green conveys health, growth, and relaxation.
You want to pick a color palette for your aesthetic that represents the tone of your brand. To make creating a color palette easier, you can use a tool such as Coolors: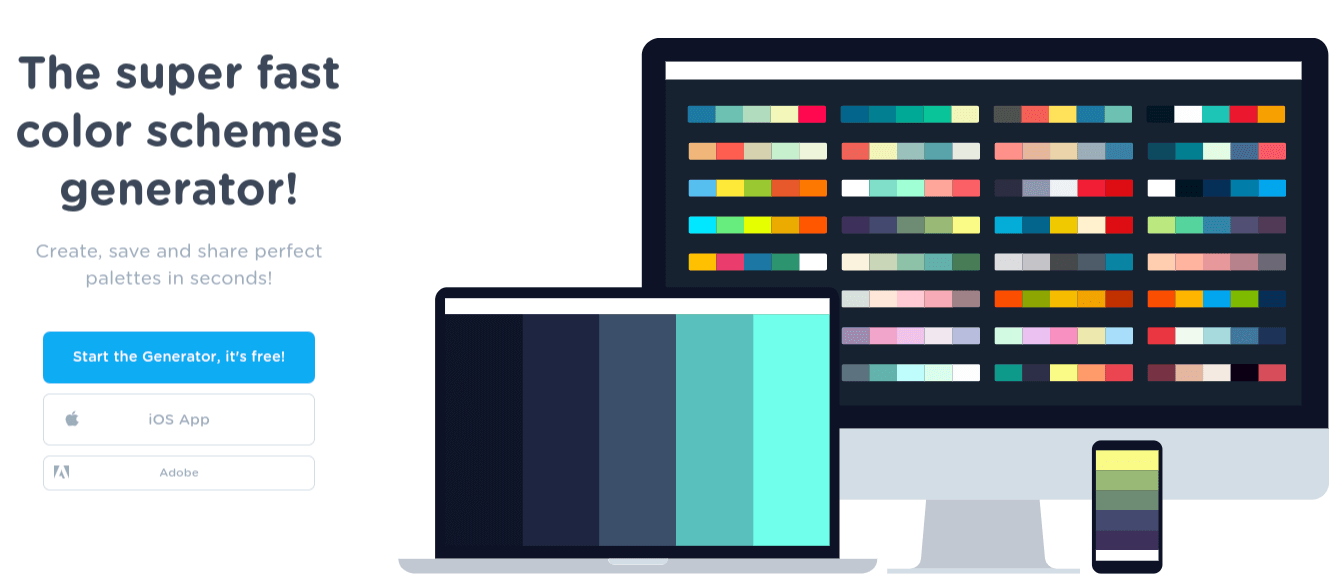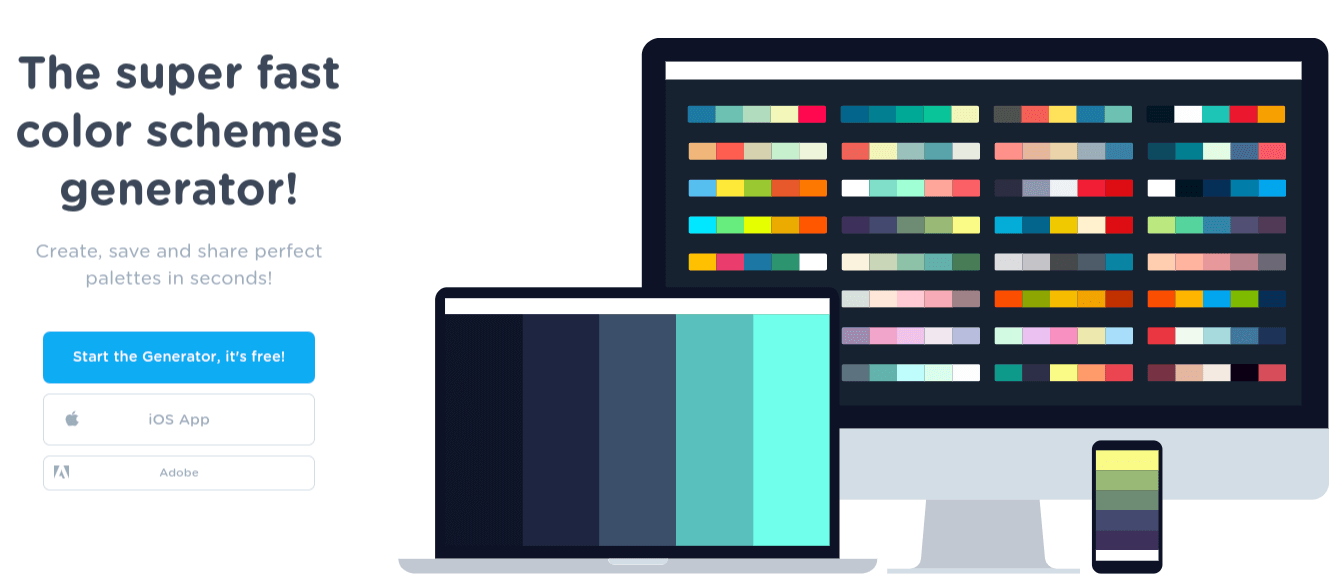 This tool is free and easy to use. You can choose from thousands of color scheme templates or use the generator tool to find ones that compliment your existing brand colors.
Once you have a color palette picked out, you can decide how you'll incorporate it into your aesthetic. For example, you may consider only posting photos that incorporate at least one of the colors in the palette.
4. Pick your favorite filters and fonts
Another way to create a cohesive brand identity is to use the same fonts and filters on your social posts. Fonts can be an effective way to help customers remember your brand. For example, think of Coca-Cola or The New York Times. Chances are you can immediately picture what their logo looks like and, specifically, the type of font used in it.
When it comes to posting on social media, having a unique yet uniform font as an overlay on images can be useful in building your aesthetic. For example, many bloggers share their blog posts on Pinterest using this method:
Another way to incorporate your brand's font is for Instagram quote images. Whether you're sharing an inspirational quote, a fun fact, or a blurb from a blog post, using the same font for text-based images can help you achieve a more consistent brand aesthetic.
There are different font classification groups you can choose from depending on the look you're going for. For example, if you're looking for a fancy font, you might consider Script styles, whereas Serif styles are more traditional.
To explore font options, you can use DaFont. This site lets you preview and choose from thousands of fonts then download them for free: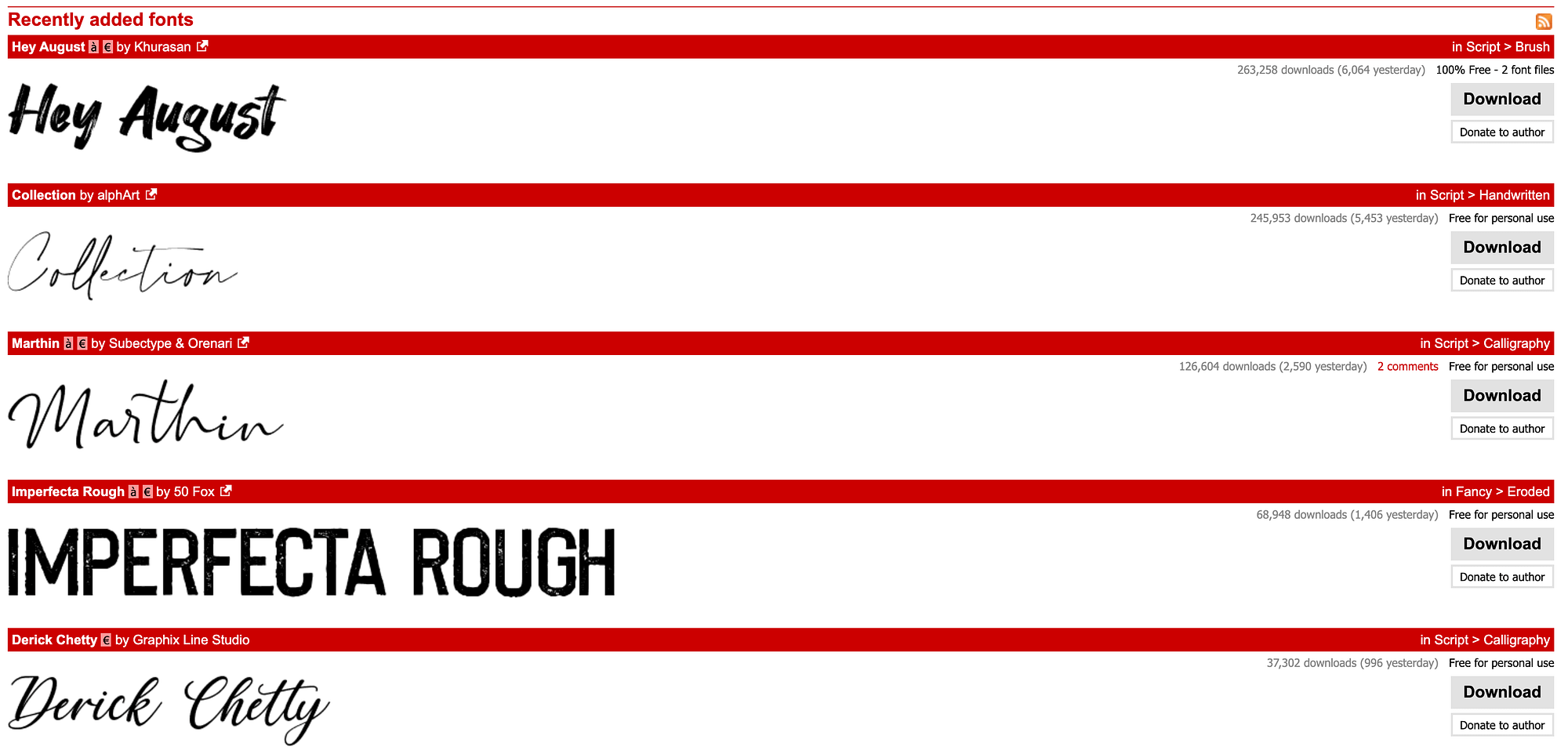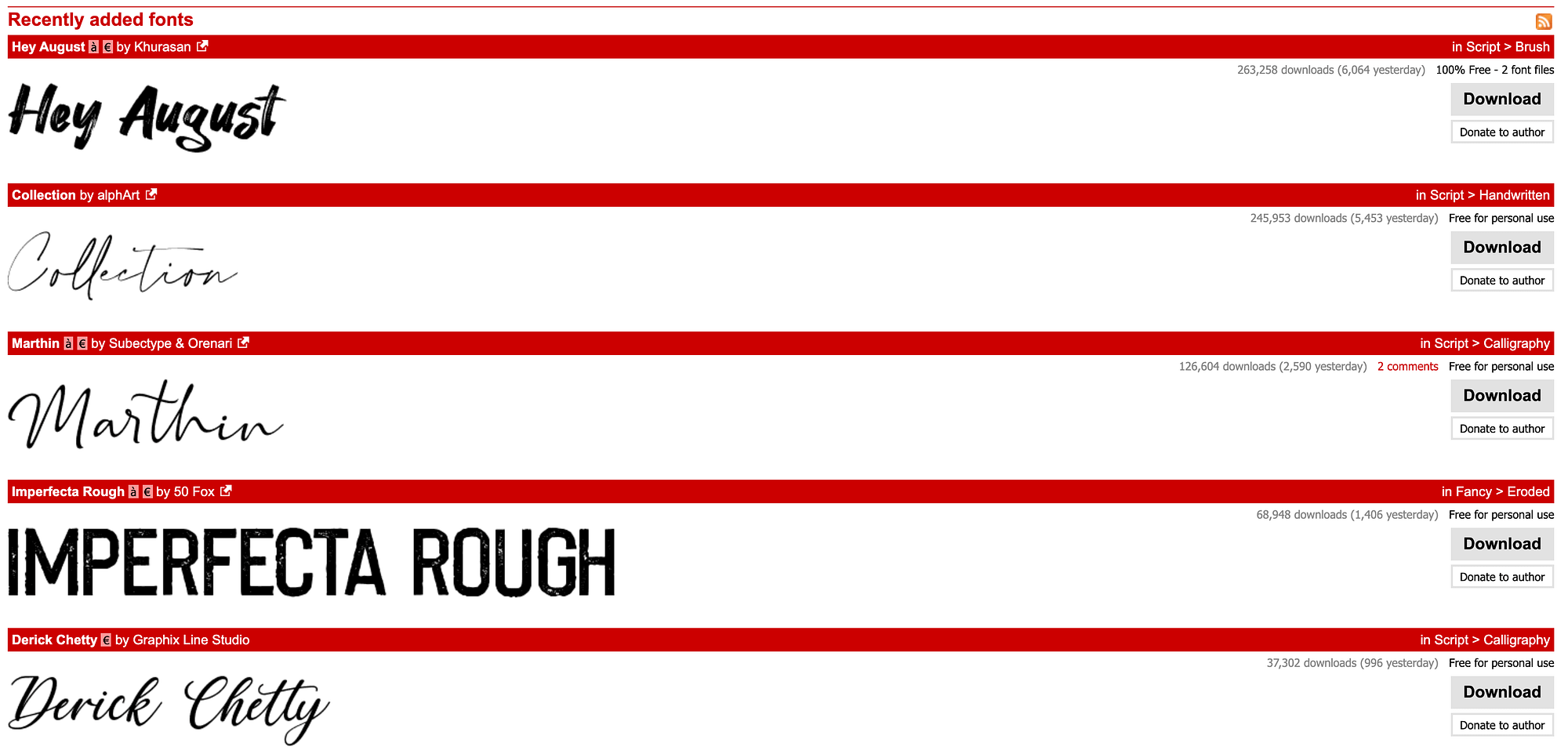 In addition to fonts, sticking to the same filters on social media can influence a consistent aesthetic. This is particularly important for Instagram. However, using the same filter on every photo ensures a uniform style across all channels.
5. Create a toolkit for your aesthetic resources
Once you decide on the colors, fonts, and filters you want for your brand aesthetic, it's important to keep them all in one place. Creating a style toolkit lets you and your employees quickly access and retrieve any fonts, filters, or templates needed for posting.
There are many platforms you can use to create this resource, such as Google Drive or Dropbox. Both platforms make it easy to build a library of images and file catalog relevant to your social media brand.
You may also consider using a tool like Canva:


This tool lets you create, design, and save templates for social images – includes header images, cover photos, and posts. Once you save the templates, you can replicate them as many times as you want for future posts.
6. Update your brand style guide to include aesthetic details
Hopefully, your business already has a brand style guide. If not, it's important to create one. Doing so helps keep all team members organized and establishes clear guidance on brand style preferences. HubSpot offers an extensive collection of style guide examples and templates: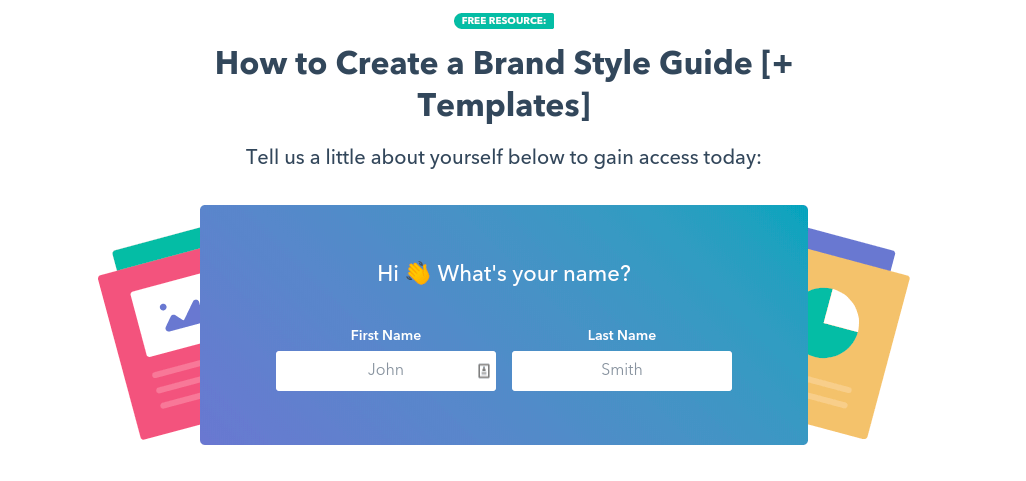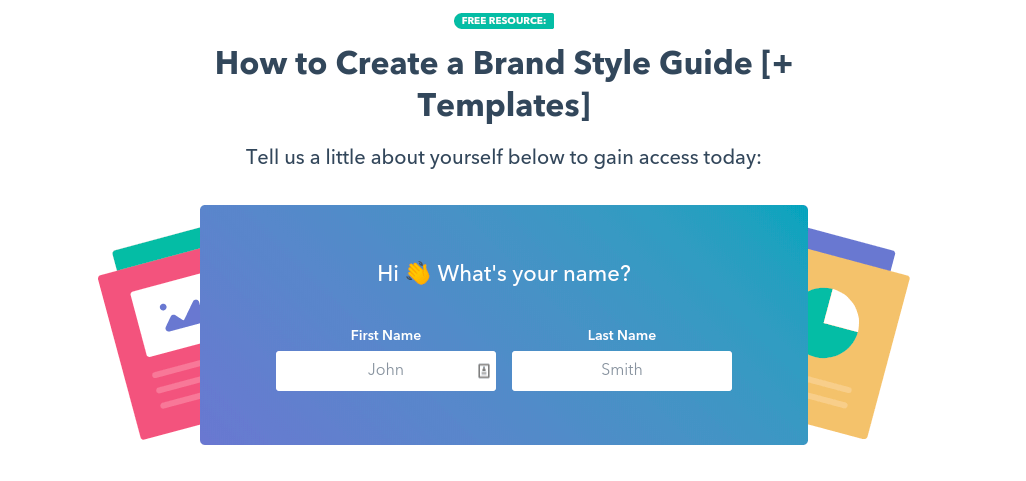 You can use this reference as guidance when creating your style guide. However, you'll always want to make sure you include details and guidance on how to use your logo, font styles, color palettes, image specifications, and writing tone.
Once you have a brand style guide, consider updating it to incorporate new information regarding the brand aesthetic for social media. It can include tips and best practices for posting, access to your aesthetic toolkit and resources, and any specifications for colors, filters, and image sizing.
Conclusion
Maintaining a consistent brand identity on social media can be challenging. However, establishing a brand aesthetic helps keep your social media channels aligned and, in turn, creates a stronger presence.
As we discussed in this article, there are six tips you can use to create a social media brand aesthetic:
Understand your business and audience persona.
Seek design and style inspiration from other brands.
Choose a color palette that makes a statement.
Pick filters and fonts that can be used across channels.
Create a toolkit for your aesthetic resources.
Update your brand style guide to include aesthetic details.
Do you have any questions about creating a social media brand aesthetic? Let us know in the comments section below!
The post 6 Tips for Creating a Social Media Brand Aesthetic appeared first on Revive Social.