According to research reports, the number of images on Instagram largely outnumbers the amount of videos. Yet not sharing videos on this platform is a missed opportunity, considering that 54 percent of consumers want to see more of this kind of content from the brands they follow. This makes posting videos on Instagram an excellent way to surpass your competition.
Understanding the value of posting videos on Instagram
Despite its start as primarily a photo-sharing platform, videos are becoming more and more popular on Instagram. What's more, research shows that of all the content types on Instagram, videos get the most engagement.
This could be attributed to the fact that they're less common than photos. Videos stand out on users' timelines and provide engaging and high-quality content. You also have a variety of options to choose from, including:
Stories that disappear
Longer-form IGTV videos
Minute-long clips that live on your Instagram feed
While useful for some aspects of social media marketing, other platforms such as Twitter and Facebook aren't as conducive to image-based content as Instagram is. In addition, whereas other video sharing sites such as YouTube are well-suited to long videos, Instagram offers a more concise channel for shorter video consumption.
What's more, Instagram is also a great way to boost brand awareness and build connections in general. For example, research has found that tagging other Instagram users in posts increases engagement. By connecting with other brands and users on Instagram, you can expand your reach, and videos are a perfect place to start.
8 tips for using video effectively on Instagram
There's clearly an opportunity to take your brand to the next level by posting videos on Instagram. Let's take a look at eight tips you can keep in mind, to help you implement this strategy effectively.
1. Explore your options on the platform
Understanding the different options available for posting videos on Instagram lets you choose the right format for your specific goals. It can also help you generate ideas for videos you can create.
The four main types of Instagram video formats are:
Story videos. Instagram Stories are one of the most popular video formats. Over 500 million active users use Stories every day, and one-third of the most-viewed Stories are from businesses. The videos disappear after 24 hours, and each Story clip can be up to 15 seconds long. However, most users post a series of clips to create a longer, continuous story.
IGTV videos. Next up, IGTV can be used to create longer videos than the feed allows. On normal accounts, these videos can be up to 10 minutes long. However, verified users can make them up to 60 minutes long.
Feed videos. These videos live on your feed, and can be anywhere between three seconds and 60 seconds long. Since they are more permanent, they are usually more thought-out and planned than other types of video content on the platform.
Live videos. Finally, Instagram live videos are streamed and can last for up to an hour. Once the live stream is done, users can replay it up to 24 hours later. Since these videos are live, they are more unfiltered than other types of content. They also let you interact with followers in real-time.
It's also helpful to consider the different dimensions and orientations each video format supports. The Instagram Story and Live features, for example, only enable vertical videos. Feed and IGTV videos, on the other hand, can be vertical or horizontal.
2. Choose an engaging cover photo
When scrolling through their feed, the cover photo used to represent your video will be the first thing a user sees. It can influence whether they decide to watch the video or not.
Whatever your own strategy might be, try to choose an engaging, eye-catching image that is both clear and accurately represents what the video is about. This cover image will live on your Instagram feed just as your photos do, so it needs to be of high quality.
Most of the time the automatically-generated cover image isn't the best option. To change it, after you upload your Instagram video and click Next, select Cover in the bottom-right corner of the screen. Slide along the video reel until you find an image that you think is well suited for the cover, and you can activate it with a single tap.
3. Share entertaining videos
Sharing funny videos is a great idea for brands that want to display a strong personality. In fact, about 51 percent of social media users follow brands because they find them entertaining.
Posting videos on Instagram is an ideal way to showcase your brand's unique style. While some posts should be promotional, it's okay to make others just for entertainment purposes.
One way you can mix up your content is by using Instagram Stories or the Live feature. For example, you could have an employee take over the account for a day, and offer a behind-the-scenes look into your office. You could also host a Q&A session with your followers. Since they don't permanently live in your feed, Stories and Live videos are perfect for less serious content.
4. Create a time-lapse video
Remember how we mentioned that about 51 percent of people follow brands because they find them entertaining? In addition, 73 percent follow brands because they're interested in their products and services.
One way you can deliver product information in an entertaining way is by creating a time-lapse video. There are many tools you can use for this, including Hyperlapse from Instagram:
This app is developed by Instagram. It lets users shoot time-lapse videos without the need for a tripod or other equipment. What's more, Instagram offers some guidance on how to shoot a time-lapse video effectively.
You can use this feature to show the stages of how a certain product was created, or demonstrate how to use it. No matter what the use case might be, this type of video is an effective way to tell a story in a concise manner. You can also make an emotional connection with users, by offering them a behind-the-scenes look into your brand.
5. Use editing apps and templates to customize your videos
Creating a consistent brand style can help attract followers, and make your content highly recognizable. One way to create a uniform brand style is by using the same filters for each post.
Editing and filters can help make both your images and videos more appealing. It also helps to establish a certain aesthetic. For example, you can make a video look like it was shot with an older camera.
There are a number of editing and filtering tools you can use when posting videos on Instagram, such as VSCO. You can also create custom templates for stories with tools like Storyluxe: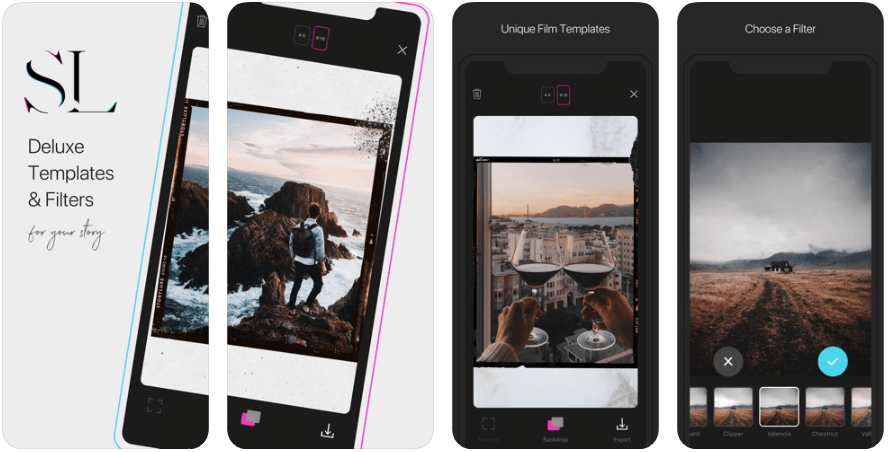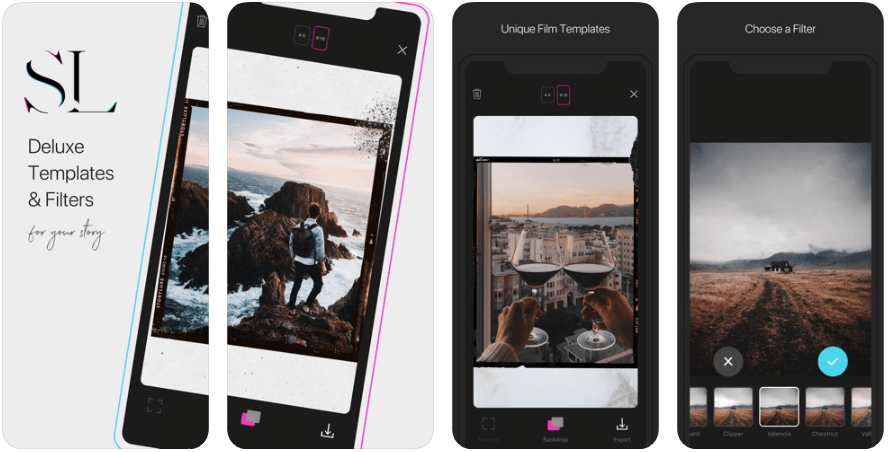 This app is free to download. However, it also offers a subscription plan that provides unlimited access to all templates, backdrops, filters, and custom branding features.
6. Use videos as teasers for product launches
According to research, branded video content is nearly three times more popular than other branded content such as eBooks or blogs. Considering that 60 percent of users say they use Instagram to discover new products, posting videos on Instagram to promote your offerings can be effective.
Instagram Stories includes a handful of stickers that you can post with your video to build anticipation for a new product launch. For example, you can use the countdown sticker to let your audience know when the product will be available.
7. Add music and captions to your videos
Similar to how you can use filters to establish a certain tone in your videos, you can also incorporate music. Adding music can help you communicate an emotion you want users to feel while watching the video.
Instagram makes adding music to your Stories easy. To do so:
Open your Instagram account, and select the camera icon in the top-left corner.
Record or upload a video to post to your Story.
Click on the sticky note icon along the top menu bar.
Choose the music sticker.
Search by song/artist, genre, or mood.
Select a song by clicking on its title.
Once you choose a song, you'll also be able to customize the style of any lyrics that will appear.
You can also add music to the videos you upload to your feed. One tool you can use for this is Lomotif: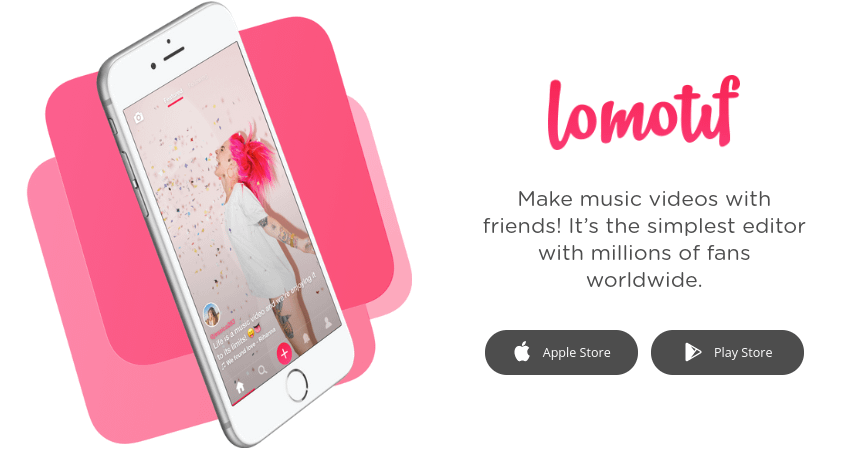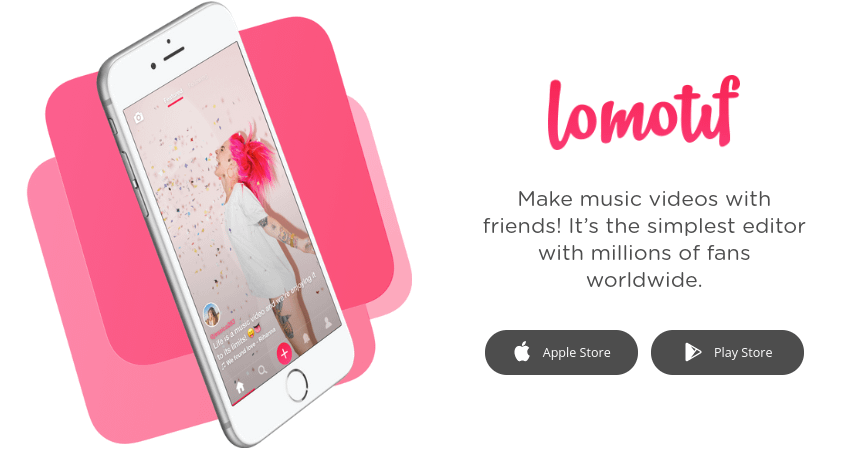 This video app is free to download. However, if you want to remove the watermark on videos, you'll need to upgrade to its premium tier.
It's important to keep in mind that Instagram doesn't automatically play video sound. Therefore, if having the sound on is critical to the watcher's experience, consider adding a reminder to that effect in the video's caption. Alternatively, you could use a tool such as Clipomatic to add captions to the video.
8. Review your Instagram Insights to see what's working
When you're trying to get better at posting effective videos on Instagram, seeing what is and isn't working is essential. Fortunately, you can use Instagram Insights to track the performance of your videos and other content.
To view Instagram Insights:
Open Instagram and click on your profile picture in the bottom-right corner.
Click the hamburger icon in the top-right corner.
Select Insights.
From there, you can explore the Content tab to see how each post is performing. There is also an option to view analytics about your Instagram Stories. Seeing which videos are performing well can help to inform your strategy for posting videos on Instagram moving forwards.
Conclusion
Businesses that aren't posting videos on Instagram are missing an opportunity to engage with and grow their audiences. Since the majority of brands on Instagram still focus on images, videos offer a competitive advantage.
As we discussed in this post, there are a variety of ways to use Instagram videos effectively. You can:
Do you have any questions about posting videos on Instagram? Let us know in the comments section below!
The post 8 Tips for Posting Videos on Instagram Effectively (2019) appeared first on Revive Social.