These days, it feels like you pay recurring bills for everything. On top of utilities, loan payments, and rent, you can get subscriptions to streaming services and even food delivery. It's easy to wind up spending hundreds each month on recurring bills without realizing it.
BillTrim is a service that says it can help you save $900 a year on bills. That's a bold claim but one that could appeal to many people. Let's see if they deliver!
BillTrim
BillTrim is a great tool for people who want a simple way to track their bills and save some money every month. They don't do anything you couldn't do on your own and at no cost, but for some, the $99 fee is worth saving the hassle.
Pros
Track and pay your bills in one place
Cons
Less incentive to maximize savings than some competitors
$99 upfront fee may be high for some customers
What is BillTrim?
BillTrim is an all-in-one bill management app. It can help you keep track of your bills, get reminders when they're due, and pay them. It also helps you save money by negotiating or canceling services.
Every tool included with the service aims to make it easier to deal with and save money on your bills.
The service is available for a simple, one-time payment of $99. Given the company's claim that it can help you save up to $900 in a year and that it will save you money within 3 hours, that can be an appealing offer.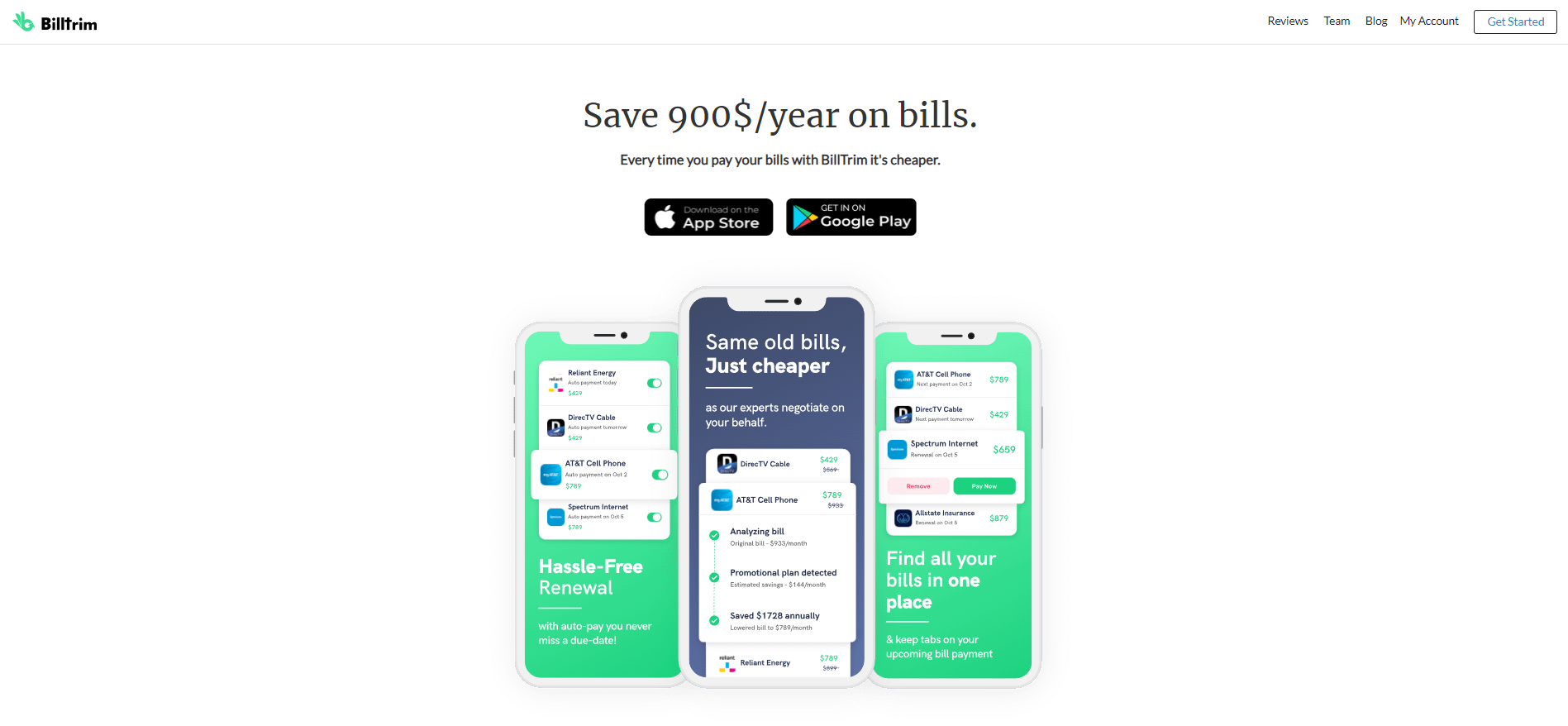 How Does BillTrim Work?
BillTrim has one core system: a single vault for your bills. As you add bills to that vault, it offers tools to help you manage them and save money.
Signing up is a simple, three-step process:
Download the BillTrim app and create an account
Link your bank accounts
Link your billing accounts
Once you've done that, BillTrim will gather all of your information and place it in the bill vault. It can track bills from the accounts you've linked and recurring payments made out of your bank account.
Though you do have to hand over your bank info, BillTrim keeps it safe with 256-bit SSL encryption and two-factor authentication. The company also states that it collects and uses customer data exclusively for bill negotiation services.
There is a $99 fee to sign up for the service but no ongoing fees or charges. That means you don't have to worry about canceling the service if you eventually decide you no longer need it. BillTrim also offers a money-back guarantee if you don't save money in the first three hours.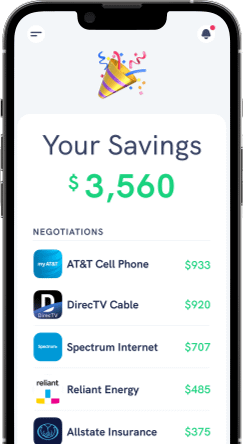 Once you've set up your account, you can start using BillTrim's services.
Features
BillTrim offers four services to make managing your bills and saving money easier.
Bill Vault
When you link your bank and bill accounts, BillTrim will monitor those accounts for incoming bills. Each time you receive a bill, the app will add it to your Bill Vault.
The Vault is a centralized location for tracking all of the bills you receive. That saves you the effort of going to four different websites to pay four different bills. It also makes it easy to track your bill history to see how the amounts you pay change over time.
Bill Reminders
Keeping track of all of your payment due dates is a hassle, and the last thing you want is to tank your credit by missing a payment. Plus, that can lead to paying late fees that just make your bills more expensive.
BillTrim will track the due dates of bills that get added to your Vault and send you automated reminders to help you pay them on time.
Pay From the App
Just like keeping track of multiple websites to find bills is a hassle, figuring out the best way to pay your bills can be annoying. Some companies let you pay your bill through their website, while others make you send a check or use your bank's bill payment tools.
BillTrim offers a secure payment system that lets you simplify the process by sending payments through the BillTrim app.
Expert Negotiations
Expert negotiation is the core service here, and it's where BillTrim can help you save some cash.
BillTrim has a team of negotiators who can work with billing companies on your behalf to help reduce your monthly bills. This can involve anything from asking a credit card company to reduce your account's interest rate to getting an internet service provider to give you a discount on service.
The team of negotiators will contact your billers on your behalf. In some cases, they can help reduce your bill with no input on your part. In other cases, you might need to be part of a three-way phone call.
Though the negotiators aim to save you money without making you change services, if the expert sees an alternative service at a lower price, they'll let you know so you can make that decision.
If you're worried about your personal data, BillTrim may be able to negotiate for you if you upload images of your bills rather than linking your bank accounts. However, linking your accounts will give BillTrim more information about your bills, giving them more chances to find savings.
Pricing
| Price | Money Back Guarantee |
| --- | --- |
| $99 lifetime subscription | Refund if you don't save money in 3 hours |
Previously, BillTrim offered a service where the company would take a 25% cut of any savings it found for customers. However, the company has adjusted its fee structure to be much simpler. Instead, it charges a one-time $99 fee when you sign up.
There are no ongoing charges, subscription fees, or other costs on top of this one-time payment.
Customer Reviews
Customer reviews for BillTrim are generally strong. It has a 4.98 out of 5 based on 63 customer reviews left with the Better Business Bureau and a 4.9 out of 5 based on 1,663 reviews with Trustpilot.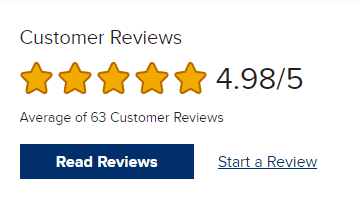 Customer reviews revolved around the amount of money that customers saved and the ease of the process.

There are some negative reviews. In these reviews, customers accused the company of using untruthful tactics, such as pretending to be the customer when negotiating with billers or that the savings aren't worth the hassle.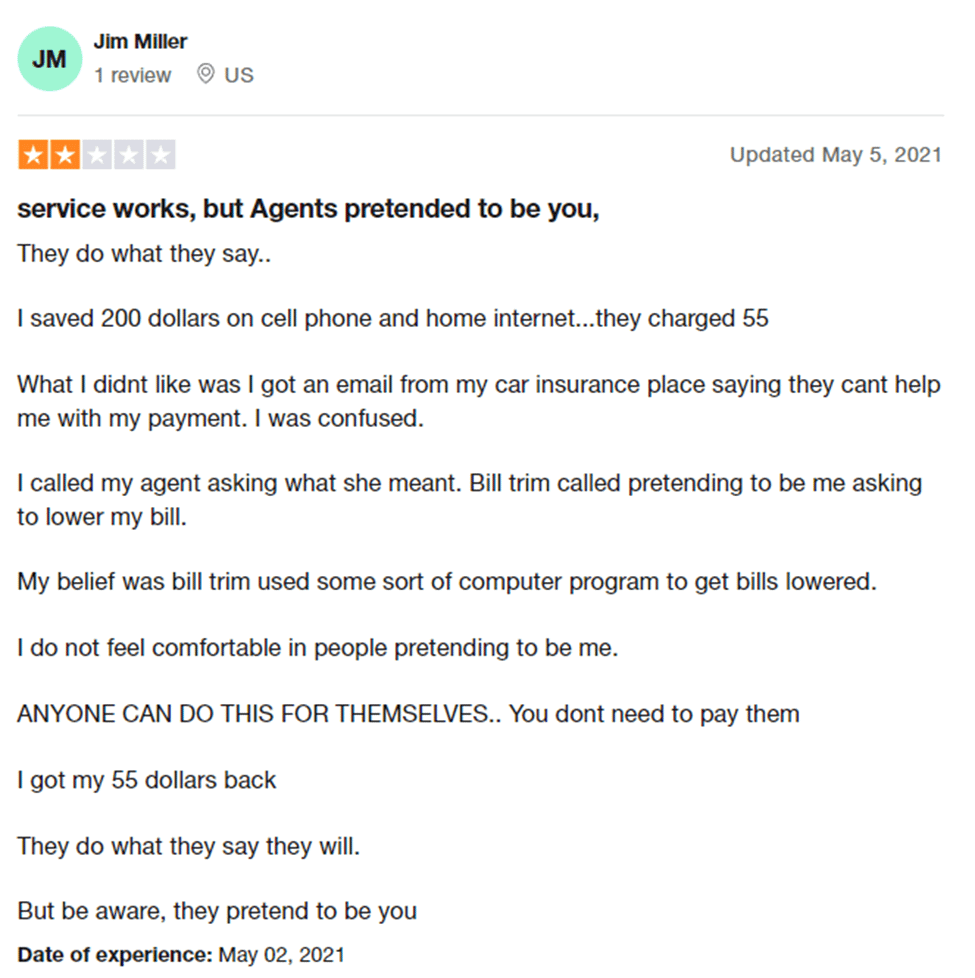 Alternatives
BillTrim is just one of many companies that claim to help people save on their bills. Before you sign up, you should look at all of your options.
Self-Driven Negotiation
The most obvious alternative is to negotiate your bills on your own. There's nothing stopping you from calling up your internet company or credit card provider and asking them for a discount, just like BillTrim does.
Negotiating on your own means, you don't have to give a company any of your bank information. You also won't have the pay the $99 fee. However, it takes time, and you may not have the negotiation ability that BillTrim's team does.
Trim
Trim is a similarly named service that works a lot like BillTrim. Make an account, link your bank and billing accounts, and let Trim do the work of negotiating on your behalf.
Trim's claims are not as lofty as BillTrim's. The company says you can save an average of $620 per year and can lower your bills by as much as 30%. However, one service it advertises, which BillTrim doesn't, is the ability to cancel subscriptions for you, saving you a lot of hassle.
One thing about Trim that might be appealing is its price structure. Unlike BillTrim's flat $99 fee, Trim charges 15% of the amount you save in the first year, with no charges if you don't save money. Some customers might prefer that to BillTrim's upfront payment.
BillShark
BillShark is another bill negotiation service that claims to cut people's monthly bills. This time, the company touts a 25% savings within 2 minutes and a 90% success rate. It also offers an automated subscription cancellation service.
BillShark charges a one-time fee of 40% of the amount saved for its bill negotiation and a flat fee of $9 per canceled subscription.
One unique feature of BillShark is that it offers rewards. When you send a bill to the company to have them negotiate, you can get up to $25 in rewards for local stores, restaurants, and more.

For more alternatives, take a look at some of the best bill negotiation services available today.
Is It Worth It?
Deciding whether BillTrim is worth using depends on two factors.
First, you need to consider how many bills you have and how much you spend on them each month. The more bills you have, the higher the likelihood that BillTrim will save you money. If you don't spend much on monthly bills, it can be hard to save much, meaning you might pay the $99 fee and save less than that amount.
Second, you have to determine the value of your time. BillTrim doesn't do anything that you couldn't do on your own by calling up your billing companies and negotiating with them directly. If you feel like that's a worthwhile use of your time, you can save money without paying BillTrim's fee. If $99 seems like a fair price to pay to save time and effort, BillTrim can be a good deal.
Most people probably aren't going to spend the time calling a bunch of companies to negotiate their bills, so trying a bill negotiation service like BillTrim is worth doing.

However, you have to consider whether you prefer BillTrim's one-time fee cost structure or the companies that charge a percentage of what they help you save.
Verdict
BillTrim is a service that aims to help you save money on your monthly bills. For a one-time fee of $99, the company will negotiate with utility companies, credit card issuers, and other businesses to help reduce your monthly bill.
They don't do anything you couldn't do on your own and at no cost, but for some, the $99 fee is worth saving the hassle. However, there is no guarantee that they'll save you more than $99, and there are other similar services that charge a percentage of the amount saved, which may appeal to people who don't want to spend $99 without a guarantee of savings.
Methodology
When reviewing this product, we looked at a few different factors.
First, we examined the features. BillTrim goes beyond being a simple negotiation service, helping you track and pay your bills, which helped it earn a solid rating here.
We also consider pricing. A one-time fee is good because it means you don't need to worry about paying a subscription to save on subscriptions or having to cancel at some point down the road. The money-back guarantee if you don't save money in the first three hours also helped BillTrim score highly.
However, the lack of apparent incentive for BillTrim to maximize your savings, which competitors have due to their compensation being dependent on your savings, was a downside.
Finally, we looked at the company's customer reviews. BillTrim has strong reviews on multiple consumer review sites, which helped it score well.
The post BillTrim Review 2023: Is It Worth It? appeared first on FinMasters.
FinMasters