Did you know you have a legal right to dispute inaccurate and damaging information that appears on your credit reports? Well, you do, and companies like Credit Versio can help you get inaccurate or erroneous information removed. 
This removal process is called a dispute and is part of the credit repair process. In this review of Credit Versio, we'll take a look at how Credit Versio's guided dispute software stacks up against other credit repair alternatives. 
Credit Versio Review & Ratings
Credit Versio Credit Repair Software
A hands-on credit repair solution for disputing negative items on your credit reports.
If you have a dozen or more negative accounts affecting your credit reports and you want a low-cost, hands-on opportunity to repair your credit yourself, then you might be an ideal candidate for Credit Versio. 
Cons
Need to physically mail dispute letters
Requires credit repair knowledge
What Services Does Credit Versio Provide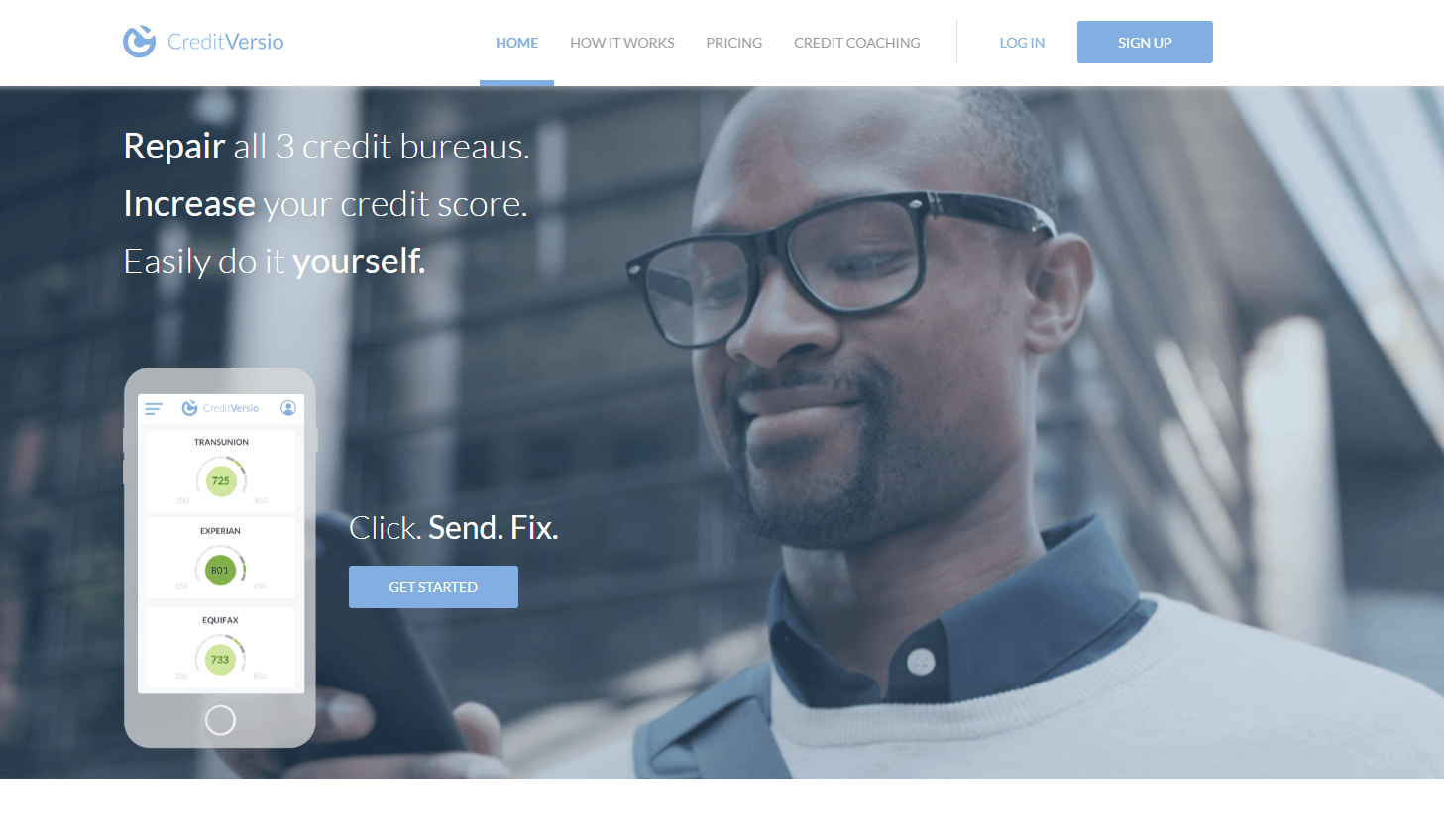 Credit Versio is a credit repair software package designed to help you navigate the credit repair process yourself without needing to hire a professional. Think of it as a guided DIY credit repair option.  
During the dispute creation process, Credit Versio will help you generate a letter with the wording needed to dispute your individual issue. For instance, how they word a dispute letter for an inquiry will be different than how they word a dispute letter for a collections account. 
If you have many items you need to dispute, this letter generation can save you some time. But you'll still have to physically print and mail the letters yourself. 
Credit Versio also tracks the dispute process by monitoring your credit. They'll note credit score changes, which items were removed from your credit reports, and which items were verified. 
They can also help you navigate the process of creating follow-up dispute letters if you didn't get the result you wanted the first time. 
This DIY approach to credit repair gives you greater control over the credit repair process compared to hiring a credit repair company, and the cost is much lower
The downside is that the DIY approach requires you to not only do some of the work but also know a decent amount about credit to ensure that your actions will help you and not hurt you. 
How Does Credit Versio Work?
Using Credit Versio's dispute letter generator, you can, in theory, dispute all of the negative information on your credit reports that is damaging your credit score.
Remember that disputes are not always successful. If an account is legitimate and does not contain errors a credit bureau has no obligation to remove it.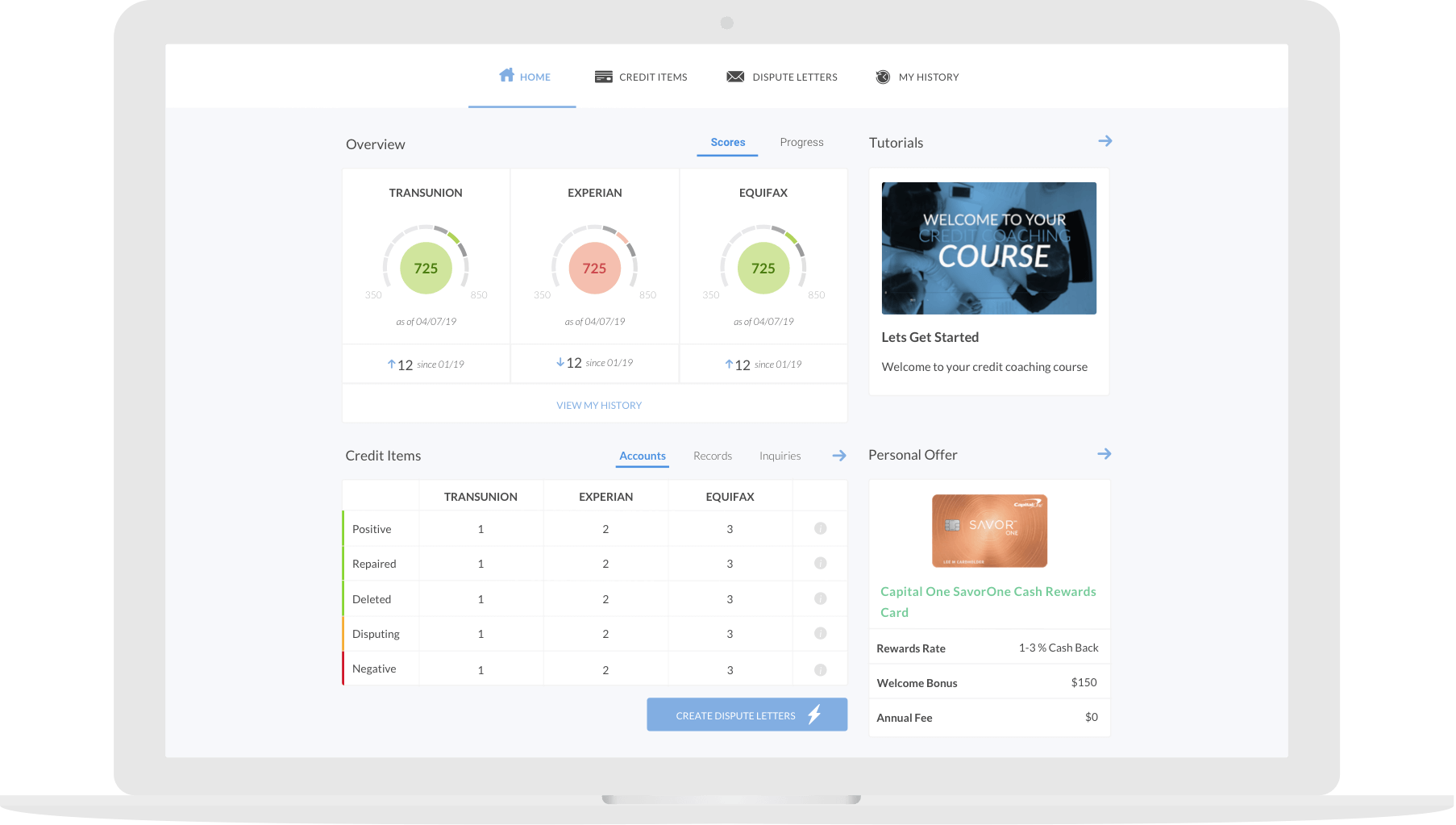 How to Setup Credit Versio
Credit Versio works closely with partners Smartcredit and IdentityIQ, both of which are identity theft monitoring services. If you already have an IdentityIQ or Smartcredit account, go straight to step 3. If you don't, you'll need to go through the entire process.
Step 1: Select the credit monitoring package you want. Credit Versio offers 3 options. 
Step 2: Enter your information, verify your identity, and specify a payment method to complete your credit monitoring account setup. 
Step 3: using your credit monitoring account information, Credit Versio will link to your credit reports for all 3 bureaus. If you already have an IdentityIQ subscription but not the Secure Max plan, you'll need to upgrade at this time.  
Step 4: Credit Versio will analyze all 3 reports, look for any information/account that is negatively impacting your credit, and flag this account/information. 
How to File a Dispute
Once you have an account set up with Credit Versio, they will automatically begin going through your credit reports to look for issues affecting your credit. For each issue they find, they will suggest the appropriate dispute action, like disputing a collection account versus disputing a hard inquiry. 
Step 1: Select the Create a Dispute option on your dashboard. 
Step 2: Choose the credit bureau that you want to file a dispute with; Experian, TransUnion, or Equifax. 
Step 3: Credit Versio will display all the issues negatively impacting your credit. Select all items (late payments, inquiries, public records, etc.) that you want to dispute. 
Step 4: You'll need to add the reason for each disputed item. Credit Versio will automatically suggest the most appropriate reason, or you can select a different reason. The reason you choose will determine the wording of your dispute letter.  
Step 5: Once you've finished, Credit Versio will generate your dispute letter(s) and email them to you. You can now go through the dispute creation process for the other credit bureaus. 
Step 6: You'll need to physically mail your dispute letter(s) to the credit bureaus. Review each letter Credit Versio generated, print it, and then send it to the appropriate credit bureau. 
Step 7: Credit Versio will track the progress of your disputes and show you which items are being disputed, which have been successfully disputed, and any that were verified as correct. And they'll show you how the changes affected your credit score. 
Step 8: Credit Versio will guide you through creating subsequent rounds of dispute letters for any failed disputes. 
You can view the entire dispute creation process in video format as presented by Credit Versio. 
How to Cancel Your Subscription
Canceling Credit Versio services is a bit complicated. Since you only get access to the dispute software through Credit Versio, contacting them to cancel services will not cancel your credit monitoring subscription. 
Credit Versio can remove your account information when you request cancellation. Still, subscription cancellation will need to be processed through Smartcredit or IdentityIQ. 
Credit Versio can help you, but you'll be able to cancel your subscription more quickly if you contact the credit monitoring company directly. 
Other Features Offered by Credit Versio
In addition to the dispute creation and tracking process that Credit Versio offers, you also get access to all of the credit monitoring tools of their partners. 
If you selected IdentityIQ, these additional features include 
$1 million in identity theft insurance
$25k for identity protection of your children
Monitoring of all 3 credit bureau reports
Monthly report and score updates
Enhanced credit monitoring (daily TransUnion checks)
Dark web monitoring
Access to a credit score simulator
If you selected a Smartcredit subscription, you'd get features like
$1 million in identity theft insurance
Enhanced credit monitoring (for Premium subscriptions)
Credit Actions (similar to disputes)
Access to a score simulator
Credit reports & scores for all 3 credit bureaus (the basic plan will charge a fee)
Money manager tool
Many of these extra features can only be accessed through the partner's websites. They are not available through the Credit Versio website. 
Pricing
Credit Versio partners with credit monitoring services to give customers credit repair tools. Because of this, you will need to signup for either Smartcredit or IndentityIQ's credit monitoring service to use Credit Versio's services. You can do this directly through Credit Versio's website. 
Each credit monitoring package offers slightly different features and resources. Below is a comparison of the available credit monitoring/repair packages. 
| | | | |
| --- | --- | --- | --- |
| | Smartcredit Basic | Smartcredit Premium | IdentityIQ |
| Actions | 5/month | Unlimited | N/A |
| SmartCredit Report Updates | 2/month | Unlimited | N/A |
| Monthly 3 Credit Bureau Reports & Scores | Yes (for a fee) | Yes | Yes |
| Report/Score Updates | 2/month | Unlimited | Unlimited |
| $1 Million ID Theft Insurance | Yes | Yes | Yes |
| $25k Family ID Theft Insurance | No | No | Yes |
| Free Trial | No | No | Yes ($1) |
| Price | $19.95/month | $24.95/month | $29.99/month |
If you already have a Smartcredit Basic or Premium account, then Credit Versio is 100% free. If you have an IdentityIQ account, you'll need to upgrade to Max (if you don't already have it) in order to use Credit Versio's platform. 
Credit Versio is able to offer their credit repair software for free as they make money from their credit monitoring partners. 
Neither Credit Versio nor their credit monitoring partners provide any money-back guarantee or refund. 
Credit Versio Customer Reviews
The reviews of Credit Versio's services are generally positive. They have a 4.3 rating on TrustPilot, with many reviews, like the one below, thanking them for helping improve their credit scores.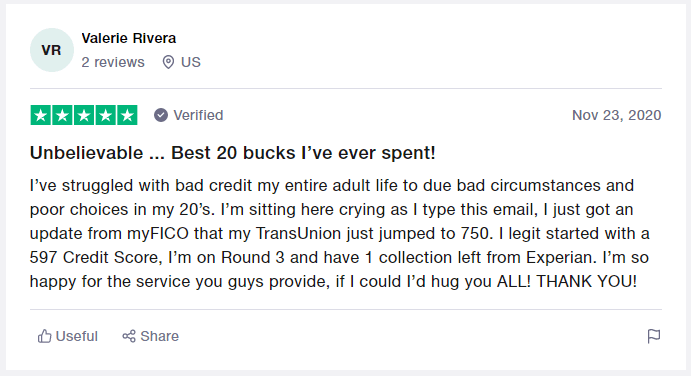 While many of the reviews are great, not everyone has success using the service. Not all negative items can be successfully disputed, and a few users point out that you can dispute items yourself for free.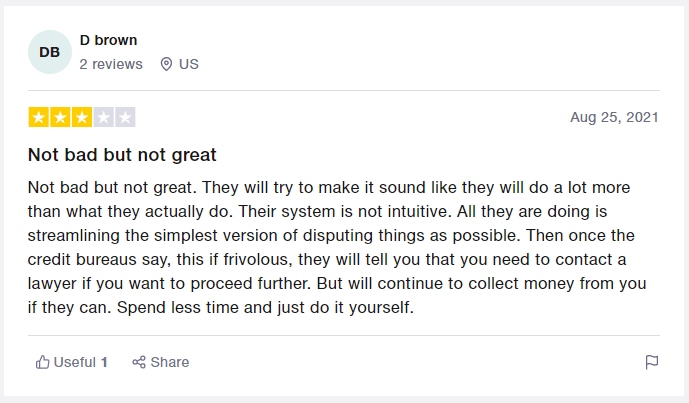 When it comes to bad reviews, one of the biggest pain points is confusion on how that platform works and whether or not you are dealing with Credit Versio or their credit monitoring partners. 
For instance, the below review voices confusion on the difference between Credit Versio's dispute service and Smartcredit's action feature. Both help remove negative items from your credit report, but in very different ways.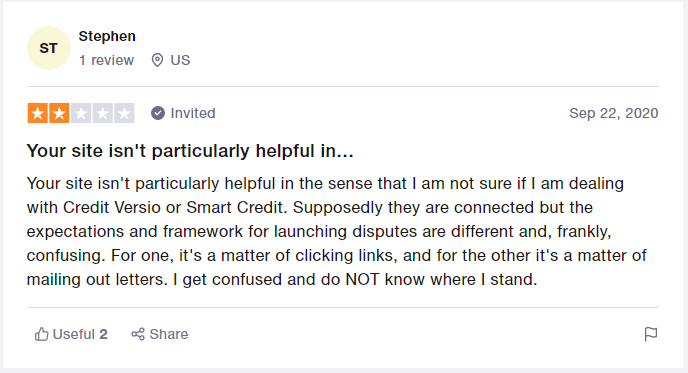 The biggest reason for negative reviews stems from disappointment or general confusion on how credit reports and scores work. I.E., how disputing an account can remove both negative and positive information from your credit report.
The below post on Facebook questions why scores decreased when using Credit Versio. And as Credit Versio points out in the comments, there are a lot of factors that impact credit. 
Credit Versio Competitors
Credit repair comes in many forms. This includes free online resources, credit repair software packages, and subscriptions to credit repair services. 
Generally speaking, the more work you are willing to do, the less you'll have to pay for the credit repair solution. And vice versa. 
To see how the level of service offered by Credit Versio compares to some of their competitors, below is a table comparing them to three of their top competitors. 
| | Credit Versio | Credit Repair Magic | Credit Detailer | Lexington Law |
| --- | --- | --- | --- | --- |
| Type of Service | Credit repair software | Credit repair software | Credit repair software/coaching | Credit repair service |
| Features | Dispute templates and dispute tracking | Letter templates and education resources | Dispute templates, tracking, & business services | Credit repair and other legal services |
| Effort Involved | High | Very High | Medium (if you purchase coaching) | Low |
| Cost | $19.95 – $29.99/month | $97 one-time purchase | $399 one-time purchase | $89.95 – $129.95/month |
In the short term, Credit Versio is an affordable credit repair option if you are familiar with how credit works and want to take a hands-on approach. 
But in the long term, their monthly subscription model isn't good for your wallet when compared to some of the credit repair alternatives. If you plan to use a service for an extended period of time, it may not be the best choice.
Check out our review of credit repair software solutions for a full breakdown of Credit Versio's closest competitors. Or, if you are leaning more towards a credit repair service, take a peek at our list of top credit repair companies. 
Is Credit Versio Worth It?
If you have a dozen or more negative accounts affecting your credit reports and you want a low-cost, hands-on opportunity to repair your credit yourself, then you might be an ideal candidate for Credit Versio. 
But, this software is not for everyone. If you don't clearly understand credit and how disputes work. In that case, it might be better to hire a full-service credit repair company. 
Or, if you only have one or two negative items on your credit report, you would probably be better off trying to fix these yourself, for free. 
Another thing worth considering is whether or not you currently have a paid-for credit monitoring service. If so (and it is not through Smartcredit or IdentityIQ), then it doesn't make much sense to purchase Credit Versio's credit monitoring as well. 
Verdict
Credit Versio is a credit repair software service that you can use for free if you have a credit monitoring subscription with one of their partners. With a subscription, you can monitor your credit, protect your identity, and use Credit Versio's user-friendly, free software to file and track disputes. 
But it is important to keep in mind that there are a lot of factors that impact credit. Credit Versio can only help with one of these; filing disputes. Disputes are only effective if an entry in your credit report is incorrect.
You'll still need to tackle other credit repair actions like paying off collections, sending goodwill letters, etc. 
To use Credit Versio's service properly, you'll need to know how credit repair works. Or you could find yourself doing more damage to your credit (i.e., reviving old debts) than good.  
How We Reviewed Credit Versio
We rate all the products we review using a key set of criteria. This allows us to fairly compare products that are not identical.
These are factors we looked at when evaluating credit repair software.
Ease of Use: Is the credit repair software easy to use and navigate? 
In Credit Versio's case, yes. Their platform guides users through the dispute process from start to finish. And they offer helpful tutorial videos. 
Only a handful of users report confusion on how to navigate the process. 
Effectiveness: Does the software deliver on its promise? 
Yes, most customers have been able to use Credit Versio's software to successfully repair their credit. 
That said, some of the process lies outside the software. You'll need to physically mail letters. And, if you don't understand how credit works, you could end up disputing the wrong things and further damaging your credit. Not all damaging records can be successfully disputed.
Support: When you encounter problems with the software, is someone available to help?
There are only a few negative reviews of Credit Versio's customer service, and most revolve around the slightly confusing aspect of canceling membership.
Otherwise, Credit Versio is very responsive on Facebook and offers their office phone number and email freely. I was able to personally test this out when I messaged them with a question, and they were very quick in replying back with a detailed response. 
Cost: Is the software affordable when evaluating all of the features?
Yes, if you consider that many disputes can be resolved in a few months. If it only took you 90 days to resolve most of the issues on your credit reports, then you would only be out about $60. 
The subscription model, however, is less affordable if you retain the service for 6+ months. 
The post Credit Versio Review 2022: DIY Credit Repair appeared first on FinMasters.
FinMasters