Esusu Rent is a rent reporting service that helps landlords attract tenants and renters build credit by sharing their monthly housing payments with the major credit bureaus. Esusu also provides limited relief for renters experiencing financial hardship.
This Esusu Rent review will explain how their services work and help you decide whether or not it makes sense for you to sign up for them.
Esusu Rent Review & Ratings
Esusu Rent
Esusu Rent partners with landlords to share their tenants' rental payments with the credit bureaus. It helps landlords attract quality renters and renters build credit. Esusu also gives 0% interest loans to renters experiencing financial hardship.
Pros
Reports to all three credit bureaus
Report up to 24 months of history plus ongoing payments
Missed payments won't be reported
Proactive customer service
Access to free rent relief loans
Cons
Requires landlord purchase to sign up
Significant mobile app glitches
New company with limited history
What is Esusu Rent?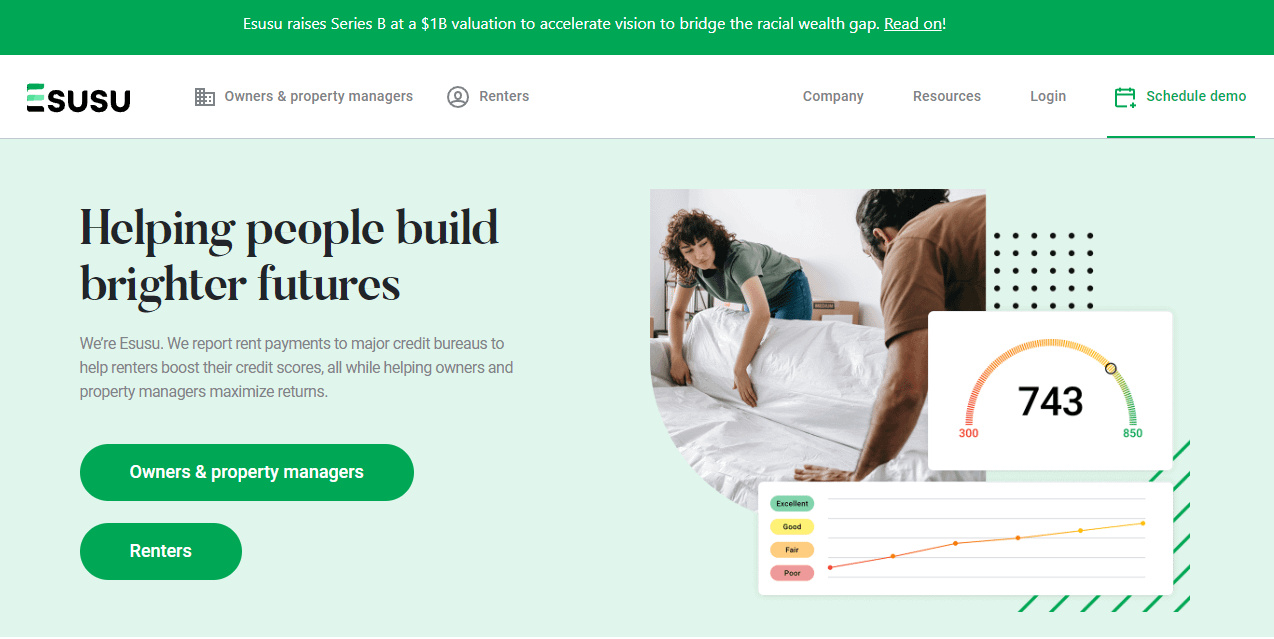 Esusu Rent was founded in 2018 by Abbey Wemimo and Samir Goel, an immigrant and a child of immigrants, respectively. Wemimo and Goel's mission is to "dismantle barriers to housing for working families." To help eliminate delinquencies, housing evictions, and homelessness, Esusu provides the following services:
Rent reporting that shares up to 24 months of rental history and continuing rental payments with the three major credit bureaus
Rent relief that covers between one and three months of rent for people experiencing financial hardship while living in properties Esusu works with
The business's name comes from a Nigerian practice where a group of individuals regularly contributes in fixed amounts to a group fund, then distributes the total to each member on a rotating basis.
How Does Esusu Rent Work?
Esusu is a rent reporting service that property managers can buy. It shares your monthly payment activities with Experian, Equifax, and TransUnion. That gives you an opportunity to improve your credit by paying on time. It also helps your landlord attract credit-conscious tenants.
Esusu works directly with your landlord to access your payment data, so there's nothing you need to do to facilitate the process besides opt-in. You can do so using the Esusu website or their mobile app.
Either way, you'll be able to monitor your VantageScore 3.0 with Equifax data from your dashboard. Esusu claims you should expect your rental payment data to show up on your credit reports between two and eight weeks after the onboarding process.
Esusu can report up to 24 months of previous rental payments to the credit bureaus, but only if you've held your current lease for that long. If you've recently moved to a building using Esusu, they won't be able to access historical data from your previous leases.
Traditionally, rent payments haven't had any impact on consumer credit. Landlords don't report them to the credit bureaus by default. Even if they did, previous versions of FICO scores ignored them as a credit scoring factor.
However, the VantageScore algorithms and most recent FICO scores will consider any rental payments in your credit reports. As a result, rental reporting services are becoming more popular. You should still be aware that FICO 8, the score most popular with lenders, will not include rental data even if it's on your credit report.
When rent payments show on your credit reports, you have an additional incentive to make your payments on time. That benefits your property manager since it reduces the need to chase down late-paying tenants.

Warning: The Esusu independent renter program lets you report your monthly payments even if your building doesn't use their services. It's not live currently, but you can sign up for the waitlist on their website.
Will Late Payments Be Reported?
Sharing your monthly payments through Esusu Rent is almost risk-free since they never share harmful data with the credit bureaus. Typically, data-furnishers report you once you're delinquent by more than 30 days, but Esusu promises they never will.
Instead, Esusu will generally stop sending your data to the credit bureaus entirely and close your account. If that happens to you, you'll have to wait at least six months before you can sign up for their services once again.
Learn More: Missing even a single monthly payment can cause your credit to suffer, but it might not be too late to fix the issue. Here are some ways to get them off your credit report early: How To Remove Late Payments From Your Credit Report In 3 Easy Steps.
How Much Will You Build Your Credit?
Esusu Rent claims that renters who used their rent reporting services in 2020 saw their credit scores increase by 51 points on average during the year. However, they say your actual increase could be anywhere from 20 to 100 points, depending on your other financial activities.
Esusu can also benefit you if you're credit invisible, meaning your credit history is too limited to generate a credit score. In these cases, Esusu claims that using their services usually results in a score in the mid-600s. 
Of course, there's no way to know for sure how much using Esusu Rent will benefit you, if at all. There's little chance it could hurt your score since they won't report any negative data, but mishandling your credit in other ways could cause your score to drop despite your rent reporting efforts.
Rent Relief
In addition to their reporting services, Esusu provides limited rent relief to households experiencing financial hardship. Only those living in buildings that Esusu already works with are eligible.
If you're selected, Esusu will pay your landlord directly to cover between one and three months' rent, depending on factors like your total monthly rent and loss of income. However, it's a loan, not a gift, and you must pay back the balance over time. Esusu follows this policy to keep their fund evergreen.
To receive relief, you must fill out a brief pre-screen form online. If you meet the initial criteria, Esusu will follow up with additional questions to confirm your eligibility. Presumably, they'll want to see some proof of your financial struggles.
Eligibility Requirements
Unfortunately, you can generally only sign up for Esusu's rent reporting services if your landlord already has an arrangement with them. If they don't use Esusu already, you can suggest it to your property manager by namedropping Freddie Mac, but it'll probably be easier to go with a different rent reporter.
If your building uses the software already, you should be eligible for their rent reporting and rent relief programs, assuming you're 18 years of age and pay the rent for your residence.
Esusu Rent Pricing
Unlike other rent reporting services, Esusu is free, as long as your building already uses the program. Esusu makes money by charging the property manager for the rent reporting services instead of the renter. If your landlord buys Esusu Rent's software, you need only opt-in to start sending your data to the credit bureaus.
Some customer reviews claim that they signed up as independent renters in the past, paying $50 for 24 months of historical rent reporting and $50 for ongoing payments. However, this option is no longer available on the Esusu website, and the reviews mentioning this seem somewhat outdated.
As for their rent relief service, Esusu generally sets you up with a 0% interest loan with no fees that follows a 12-month repayment plan. You usually have to start paying your balance back the month immediately after you receive your loan.

Warning: Some customers have reported their property managers for passing on the cost of Esusu's rent reporting services to tenants, which is against the company's policies. If your landlord uses the software and charges you for it, contact Esusu directly. They can help you get a refund.
Esusu Rent Customer Reviews
Because Esusu Rent is a relatively new company founded in 2018, the customer reviews online are limited. However, they're still valuable points of reference.
Unfortunately, Esusu Rent's current customer reviews are mixed. Some consumers report no difficulties using the service. They praise its benefits for people who might otherwise struggle to build credit.

However, just as many, if not more, complain that Esusu doesn't deliver on its promises. That's expected to some degree since customers are more inclined to leave reviews when things go wrong, but the negative comments are still concerning.
Some complaints are about the mobile app itself rather than Esusu's services. Customers report issues like an inability to log in and a lack of a user-friendly dashboard or interface.

However, customers also complain about much more worrying problems. Multiple reviewers report that Esusu failed to share their data with the credit bureaus on time. Others say their payments showed up for a few months, then stopped updating.

Notably, a significant number of the negative customer reviews seem to be from individuals who paid $100 for their independent renter service, which their website shows as currently unavailable.

It's possible that Esusu encountered too many issues with it and removed the option so they could improve their systems. However, there's no guarantee that the same problems aren't prevalent in the landlord-sponsored program.
Fortunately, there's at least one consistently positive thing to note. Esusu's customer service seems to be responsive and proactive. They answer customer complaints across all platforms with apologies for any difficulties and solutions to move issues forward.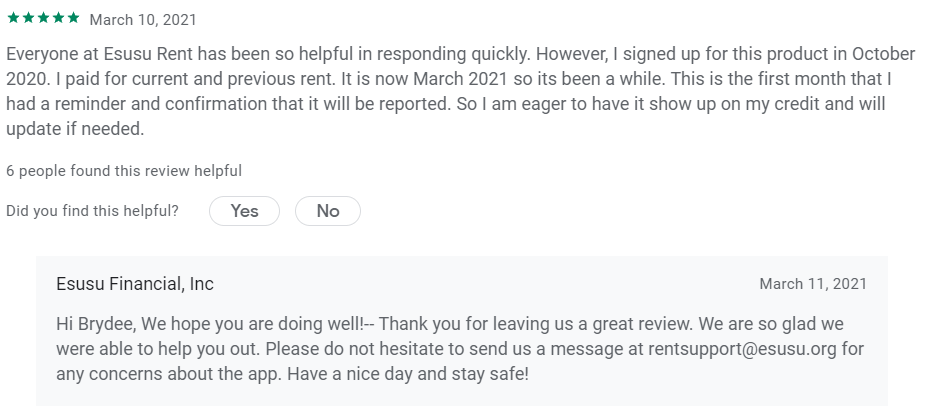 Warning: Always take customer reviews with a grain of salt. Businesses can falsify positive ratings to increase their scores, and customers often leave negative reviews after misunderstanding products or services.
Esusu Rent Alternatives
Fortunately, Esusu Rent is far from the only rent reporting service on the market. If your property manager isn't interested in the software, you have plenty of other great options. Many are better established than Esusu and have greater flexibility for independent renters.
For example, Rent Reporters was founded in 2012, making it one of the oldest rent reporting services. They're only average in their prices and the flexibility of reporting options, but they've maintained a reputation for excellent customer service all these years.
Credit Rent Boost is another sensible option, receiving glowing customer reviews and an A- rating from the Better Business Bureau. Their prices are among the lowest available for individual renters, they have more reporting options than most, and you get a nice discount if you and a roommate sign up together.
Boom is a relatively new app-based option that reports to all three credit bureaus and also allows split rent payments.
If you're considering a rent-reporting service, you should understand that there are two types of rent reporting.
Landlord-enrolled services get their payment information from your landlord. They require your landlord's cooperation, but they can report cash payments.
Non-landlord-enrolled services get their payment information from your bank. They don't involve your landlord, but they will only work if you pay by check or automatic withdrawal.
Learn More: If you'd like a more in-depth explanation of the best rent reporters on the market, check out our comprehensive guide: 12 Best Rent Reporting Services In 2022.
Other Ways to Build Credit
Rent reporting services are a great way to improve your credit score without taking on more debt. If you have an extensive, positive rental history that you can report all at once, they're also one of the rare ways to get a quick boost to your score safely.
However, they're far from the only way to build credit. Here are some other great ways to increase your score, even if you have bad credit:
Get a secured credit card: You need to provide a cash deposit equal to your credit limit to qualify for secured credit cards, making them much safer for lenders. As a result, they're attainable even with a poor credit score.
Use a credit builder loan: Credit builder loans are like secured installment loans. Your lender keeps the proceeds until the end of the repayment term. As a result, many providers don't even check your credit when you apply.
Become an authorized user: If someone close to you has a credit card with excellent payment history, they can add you to the account as an authorized user for free with no credit check. It'll put their card on your credit report.
Even if you sign up for rent reporting services, you'll want to take advantage of other credit-building options. Rental payments aren't enough to build a well-rounded credit history and optimize your credit score. You'll also need a diverse mix of credit accounts, manageable debt levels, and a long record of timely payments.
Learn More: If you're looking for more ways to improve your credit score, check out some of our favorite suggestions: 5 Most Effective Ways to Start Building Credit in 2022.
Is Esusu Rent Worth It?
Ultimately, your decision to Esusu rent is probably more in your property manager's hands than your own. If they've purchased the software for your building, Esusu Rent is probably worth using, assuming you're confident in your ability to pay on time.
However, if your landlord hasn't purchased the software, it'll probably be more work than it's worth to pitch it to them. You'd likely be better off choosing a different rent reporting service or focusing on other ways of building credit.
Our Methodology
The ratings we applied above are built on comparisons to other rent reporting services that compete with Esusu Rent. They are not intended to compare Esusu Rent to other types of credit building tools.
Here's an explanation of the rating criteria.
Cost
We compared the initial fee, monthly reporting fee, and past rent reporting fees with those of similar services. Esusu Rent is effectively free for tenants – payment is from the landlord's side – so the score is high.
Effectiveness
The primary criteria here are the number of credit bureaus reported to and the length of the credit history reported. Most rent reporting services will report up to two years of back rent, but only three in our database (Esusu Rent, Rent Report Team, and Boom) report to all three credit bureaus.
Customer Support
No service goes right all the time, and when problems do arise you want to be able to get them addressed. Esusu Rent has an excellent record of responding to reviews that report problems and issues, and many customer reviews note that customer service is fast and responsive.
Ease of Use
Ease of use is a measure of how easy the service is to set up and use. Esusu Rent is a new service, and there are substantial numbers of complaints about setting up and using the app. These may improve with time, and it's possible that some users are simply having a hard time adapting to the system, but you should be aware of the potential difficulties.
The post Esusu Rent Review (2022): Rent Reporting and Relief appeared first on FinMasters.
FinMasters