Most people aren't familiar with Facebook's work collaboration service. However, Facebook Workplace offers a lot of the same features other big-name tools do.
You can use it to set up multiple communication channels, keep track of project progress, set up events, and more. Plus, it's very easy to pick up if you're already a Facebook user.
In this article, we'll dig deeper into what Facebook Workplace offers and how it works. Then we'll discuss some of the benefits it can bring your business. Let's get right to it!
---
#FacebookWorkplace: How it works + how it can benefit your business
Click To Tweet
---
An introduction to Facebook Workplace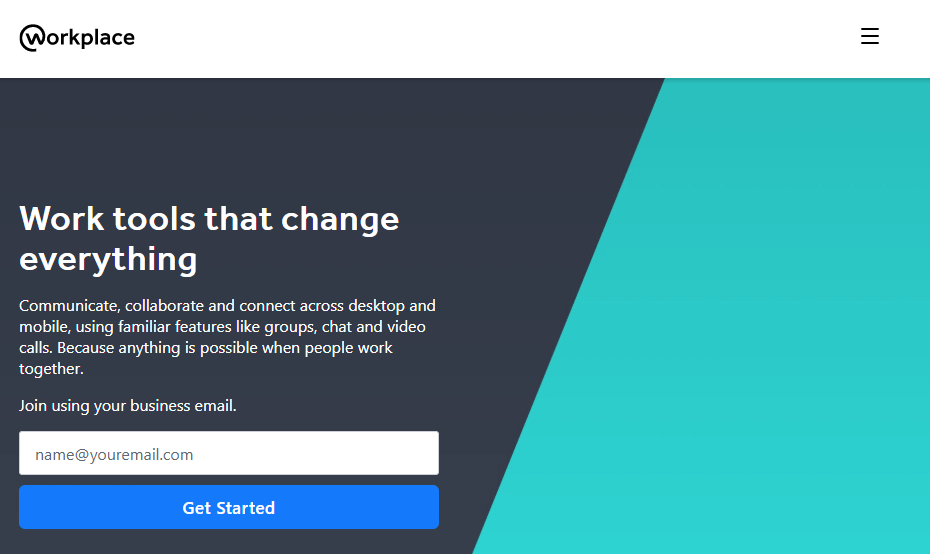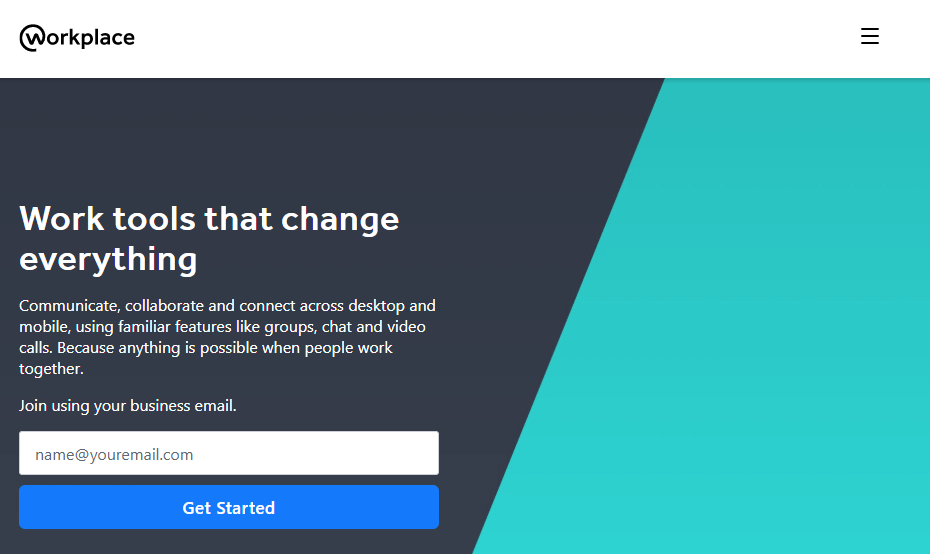 You probably know Facebook as 'just' a social media platform. Workplace, on the other hand, is a platform built with companies in mind (although not the same as regular business pages!).
Surprisingly, Facebook Workplace has been around since 2015. We say "surprising" because, despite its parent's popularity, Workplace is not as popular as some of its competitors. However, it does boast a nice roster of big-name clients, including Chevron, Heineken, Spotify, and Starbucks.
In numbers, more than 30,000 organizations use Facebook Workplace. It boasts around two million paying users, although they don't disclose how big its user base is in total.
As for features, Workplace includes all the big hits you'd expect. It offers multiple communication channels including messaging, video calls, regular posts, and more. You can also use Workplace to store and share files, configure work notifications, and myriad other tasks.
Finally, it's important to note that Workplace integrates with over 50 third-party collaboration services. This means you can use it alongside all your team favorites, including (but not limited to) Google Drive, Trello, and Dropbox.
Key Features:
Set up a unique Workplace for our organization.
Create individual sub-groups for smaller teams.
Store and share files.
Contact anyone on your organization using multiple communication channels.
Manage your company's news feed and set up notifications.
Categorize posts using a taxonomy system.
Integrate your Workplace with dozens of third-party services.
If you're looking to try Workplace out risk-free, there's a free version offering most of the features we've discussed so far. In practice, Workplace could be a great option if your team is on a budget.
However, if you want access to more advanced functionality, such as the Workplace API and some specific integrations (such as with the G Suite), you'll need to pay $3 per member per month. However, Facebook does offer the premium tier completely free to non-profit organizations.
Three ways using Facebook Workplace can benefit your business
There are, of course, plenty of cool options available when it comes to online collaboration tools. However, at their core, many share much of the same functionality. With this in mind, let's focus on what sets Facebook Workplace aside.
1. It enables you to streamline communications
Online chats, regular calls, and video conferences to communicate with your team are commonplace. Workplace knows this and as such, makes each channel simple to use. At any point, you have quick access to your Chats tab, and you can hop in and out of calls rapidly.
You can also communicate directly with specific team members or entire groups. The call quality is pretty decent in our opinion, even if you don't have the best connection.
Overall, Workplace is a great option if you don't have an internal communications system set up for your workplace yet. It's even better if part of your team is remote since it removes the need for physical meetings.
2. You get access to a business news feed and upcoming events calendar
If you're part of a Facebook group, you'll know one of the things that makes it feel close-knit is its main feed. The interaction rates directly correlate with how active the feed is, and high numbers cultivate more of the same.
The same applies to Workplace – the larger your team is, the more activity there will naturally be in your feeds. It gives everyone the perfect opportunity to communicate and engage with people they might not otherwise converse with.
In most cases, your General and group feeds won't be all about work, which is okay. The more fun discussions there are in public, the more encouraged your team might feel to join in and stay active on Workplace beyond scheduled chats and calls.
Moreover, Workplace also provides you with a built-in calendar. You can use it as your company's central hub to keep members informed about upcoming events and take advantage of notifications to send automatic reminders.
3. It integrates with plenty of other collaboration tools
There's no single online work collaboration tool that can do everything. However, Workplace excels in a few specific areas, including:
Streamlining communication within your company.
Enabling you to create team and project-specific groups.
Keeping everyone in the loop about what's going on.
Uploading and storing files.
Scheduling events.
Those are all important features, but for almost any type of modern company, you'll need to use other services to complement Workplace. For example, take using an online platform that enables you to submit and sign documents online. You might use an online survey tool to collect employee data, a Customer Relationship Management (CRM) service, and more.
However, you may end up constantly jumping from one platform to the next. This is what makes integrations that enable you to share data between platforms so useful.
Out of the box, Workplace integrates with over 50 third-party services, which you can browse within their directory: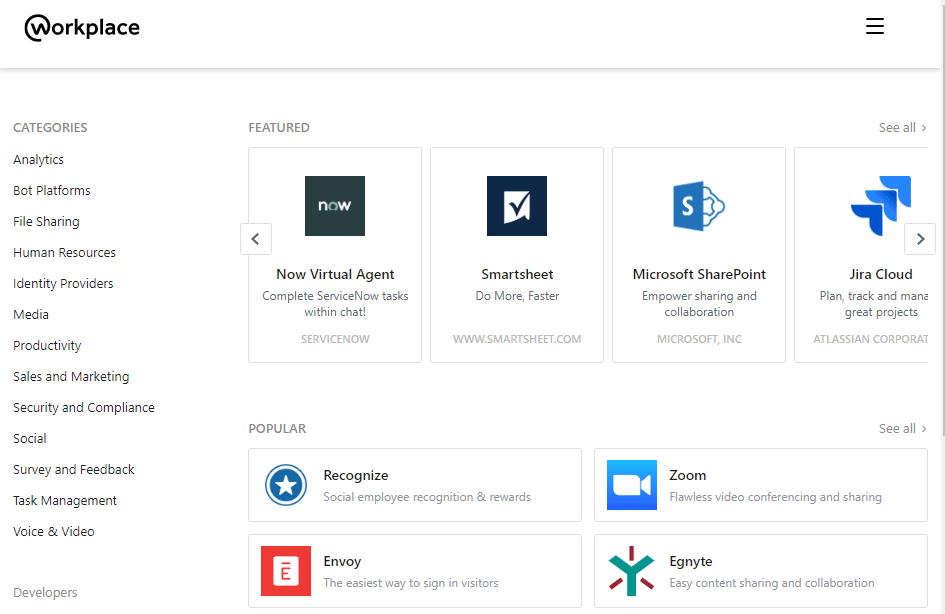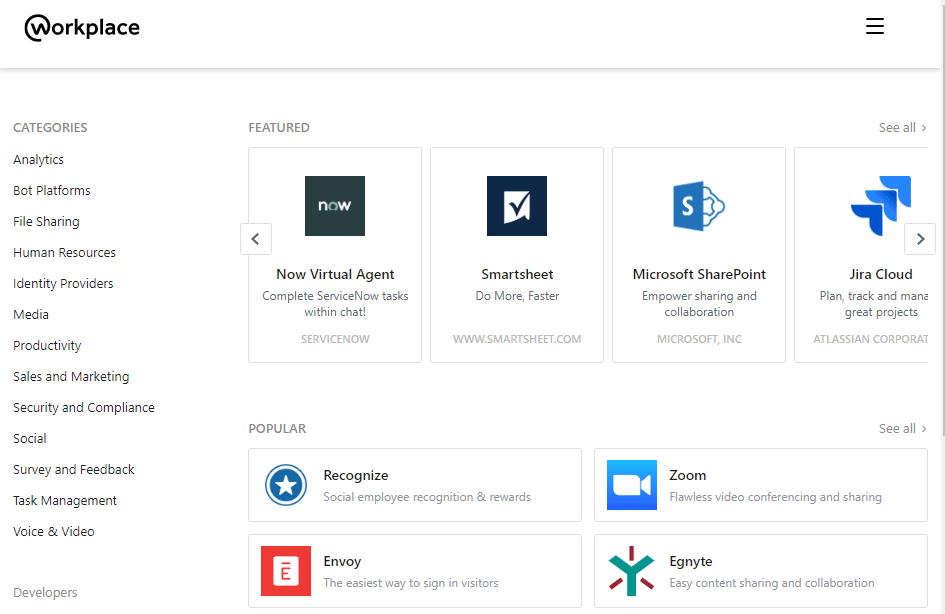 Every integration works differently but in short, connecting other platforms to Workplace enables you to review data without having to jump back and forth. Think of it like a WordPress plugin or the If This Then That (IFTTT) application. In addition, Workplace offers its own API that enables you to develop integrations of your own, although this is only available for premium users.
How Facebook Workplace works
Signing up for Facebook Workplace is simple – enter your email in the field on the Workplace home page, and you'll receive an email confirmation message. It will contain a code, and once this is entered into the authentication field, you'll be able to access your new Workplace:
As you can see, the style is very reminiscent of Facebook itself. In fact, the entire suite of basic functionality should feel very familiar if you've used Facebook before. Take messaging, for example – you can take a look at the current open conversations by clicking on the Chats tab at the bottom of the screen:
Right now, the tab is empty, so we'd need to invite some of our team members. To do so, click on the 'three-dots' button at the top of your dashboard and select the Add Members option:


You can now send an invitation to anyone you want using their email, and once there are more people inside your Workplace, you can start using some of the more fun features such as voice and video calls by clicking on the respective menu items.
Voice and video calls in Workplace are very flexible – beginning one means anyone within your group can join in: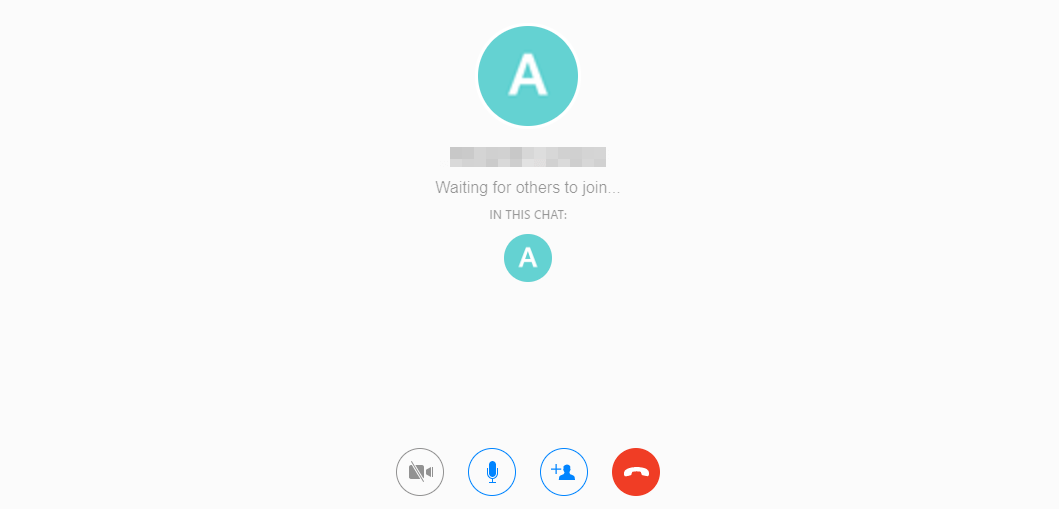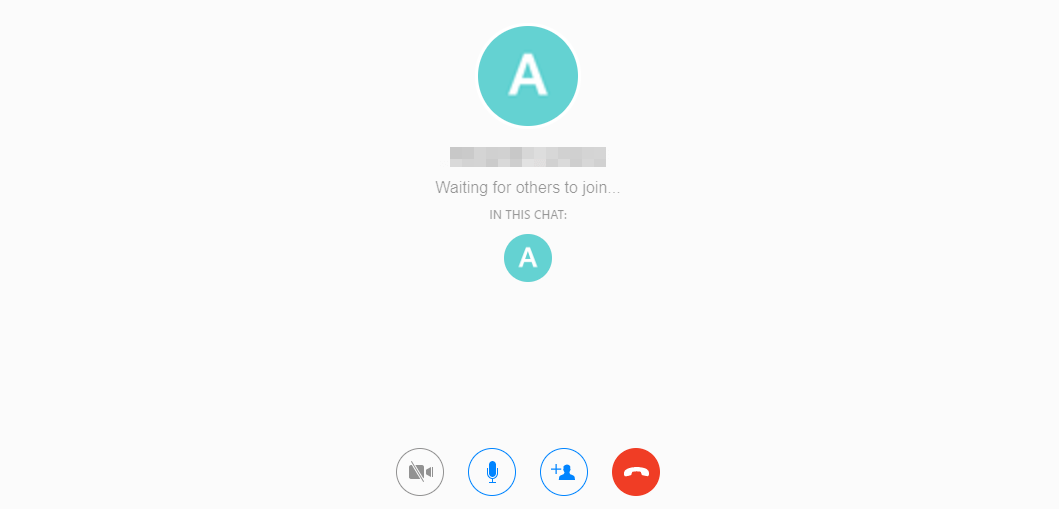 If you want more private communications, you can create additional sub-groups beyond the default General option. To do this, open your Workplace sidebar and look for the Create Group option.
Workplace enables you to create several types of groups. You have project channels, company-wide discussions, announcements, social chats, and even cross-company groups: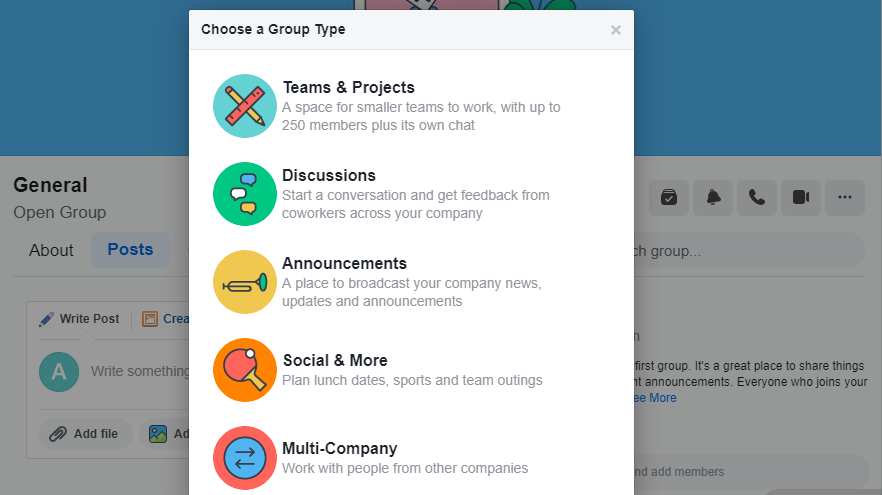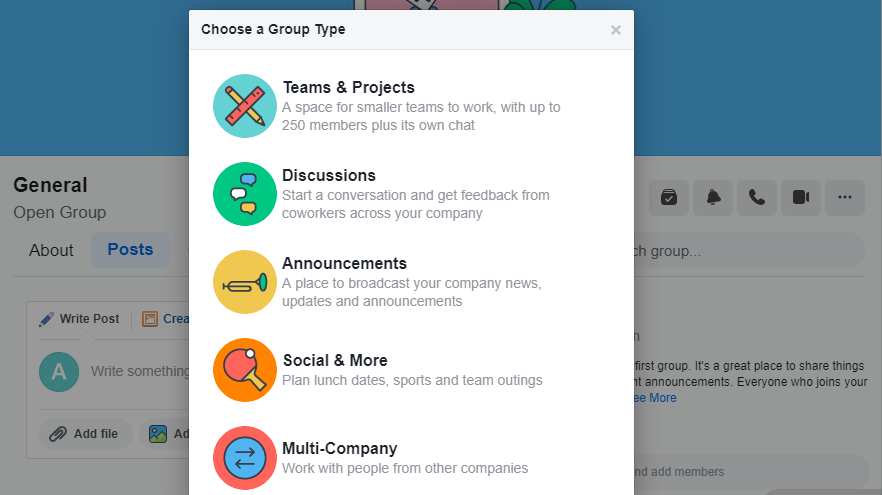 Once you select what type of group you want to set up, choose a name and define whether it's open, private, or secret: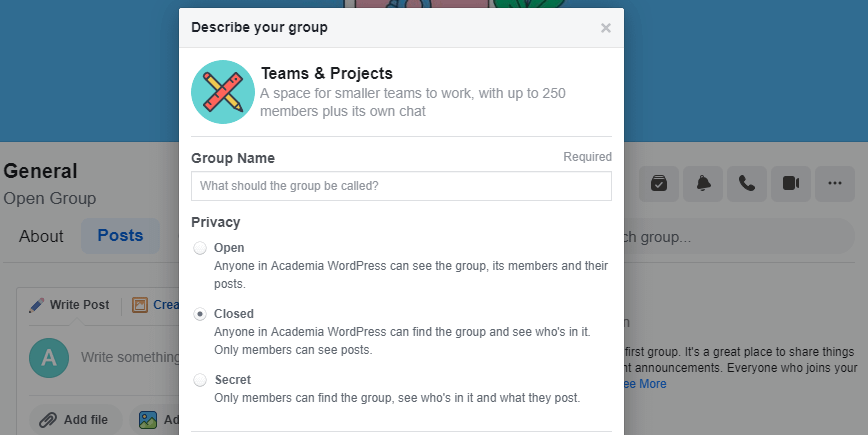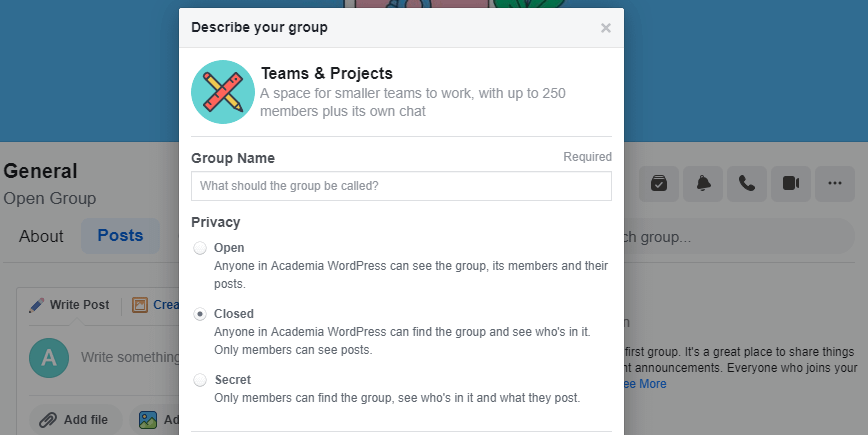 You can have as many groups as you want, so feel free to be as specific as possible. For each, you can upload files that won't be available to other chats using a simple uploader: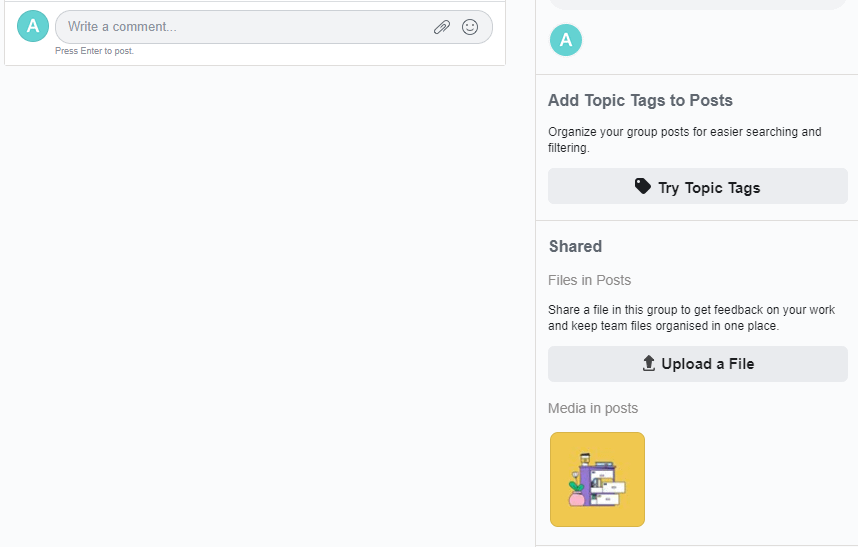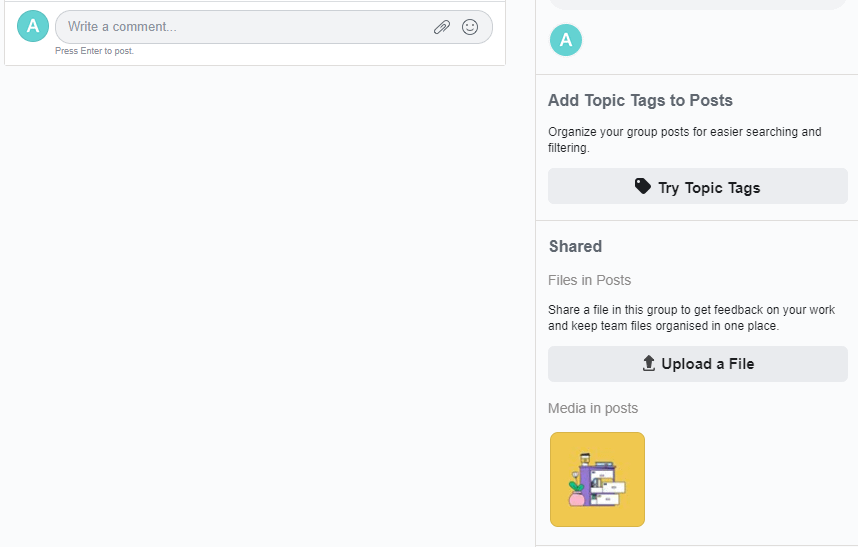 On top of the features we've discussed so far, you're also able to schedule company activities over from the Events tab. This looks similar to the social media events manager – fill in a few basic details and even configure recurring activities:
Once you set an event, it'll show up in the Upcoming and Calendar tabs. If someone subscribes to an event, they'll get notifications as reminders and can even share events to specific Workplace chats.
The features we've covered so far are part of Workplace's free tier. They're pretty straightforward, but their value really begins to rise based on how big your Workplace team becomes. Using groups, in particular, can bring in a lot of organization to teams.
All in all, Facebook Workplace is an office-wide intranet that uses Facebook's data centers and functionality to make your life easier. The base tier doesn't offer any bleeding-edge functionality, but it's more than good enough for small businesses.
Conclusion
There are plenty of workplace collaboration tools vying for your attention now. Workplace might not get a lot of attention compared to competitors like Slack, Basecamp, or Asana, but it's definitely not lacking in features. Using Workplace you can communicate with your entire team via multiple channels, collaborate on projects, track company events, and more.
---
Is #FacebookWorkplace the right office collaboration tool for you? Find out here
Click To Tweet
---
Moreover, Facebook Workplace has the advantage of the ecosystem of its parent company. Pretty much everyone has a Facebook account and knows how to use the platform. This means getting your team up to speed on how to use Workplace should be remarkably simple.
Do you have any questions about how to use Facebook Workplace? Ask away in the comments section below!
The post Facebook Workplace: How it Works + How It Can Benefit Your Business appeared first on Revive Social.