Choosing your Instagram profile picture might seem like a small task. After all, it is a small photo. And how much does it really get noticed?
The truth is, your profile photo is the first thing people will notice on your Instagram profile. It is how people will recognize you in their Instagram feed, and it sets the stage for your branding.
If you want to make a great first impression on Instagram, it is crucial that you choose the right photo, not just slap up a picture from last year's New Year's Party.
So, what photo should you choose to represent you on Instagram?
Read on to learn how to pick the perfect Instagram profile picture, get it uploaded to Instagram, and find the answers to frequently asked questions about Instagram profile photos.
---
How to choose the perfect #Instagram profile photo #SocialMediaMarketing
Click To Tweet
---
Choosing an Instagram profile picture: Keep the focus on your face
Your face should be the first thing people see when they look at your Instagram profile picture. It helps to reassure them that they found the right account, and it keeps your branding consistent if you use your face on other social platforms, or when you run Instagram promotions.
As humans, we tend to fixate on faces. We look for faces in clouds, in coffee foam, and even on burnt toast.
People don't buy from brands. They buy from people, so let people get to know you! Keep it personal by making sure your Instagram profile picture is cropped to keep the focus on your face.
Here are a few examples of face-forward brands:
Kelly Rizzo, the creator of Eat Travel Rock TV and website, keeps her face front and center on Instagram. She stars in a show, making it likely that people recognize her, so it makes sense that her face is the face of Eat Travel Rock.
The contrasting colors make the Instagram profile picture pop, but don't distract from her face.
While many bakeries would choose to use a logo or even a picture of one of their creations, Vegan Treats, a quirky vegan bakery located in Pennsylvania, uses a headshot of owner Danielle Konya to keep their Instagram profile personal.
The photo might seem plain, but her serious look is actually quite on-brand. Here are a few examples of their treats below. Definitely not your typical bakery!


The lesson here? There is no one-size fits all answer to what type of Instagram profile picture you should use.
But, what if your face is not the face of your business? If your branding is more commercial, then consider using a simplified logo for your profile photo. This will still help with brand recognition and reassure followers that they have found the right account.
For example, Williams Sonoma uses its iconic pineapple as its Instagram profile picture.


Convince and Convert, a content marketing company, keeps it super simple with its bright, recognizable logo.


Email platform Mailchimp combines both strategies by using the face of its mascot and logo, which is both on-brand and clever.
Keep the background simple
Keep in mind that Instagram profile pictures show up very small in Instagram feeds.
Take a look at how tiny Georgia Love from Australia's version of The Bachelorette looks when her posts show up in a standard Instagram feed.
Tennie, tiny!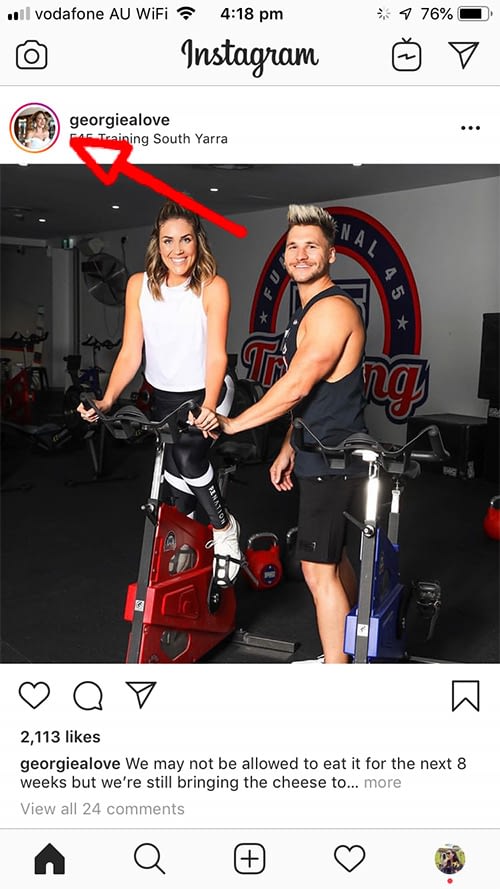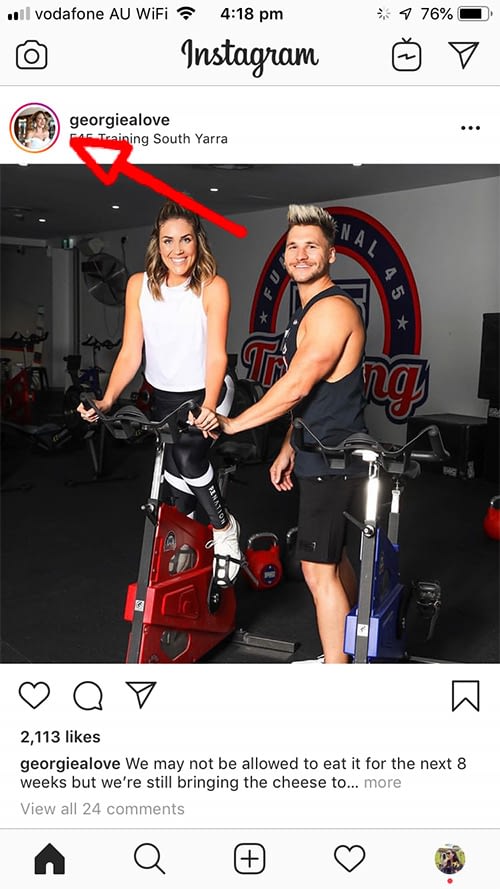 Keeping the background simple makes your face easier to distinguish and helps your Instagram profile picture stand out in crowded feeds.
Ann Handley, a marketer and author, has a fantastic profile photo. It shows off her personality while keeping the focus on her face with a simple, neutral background.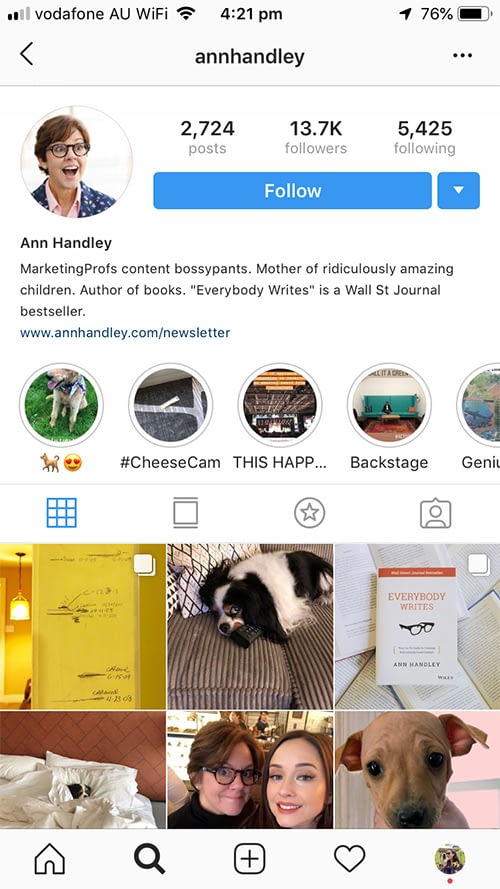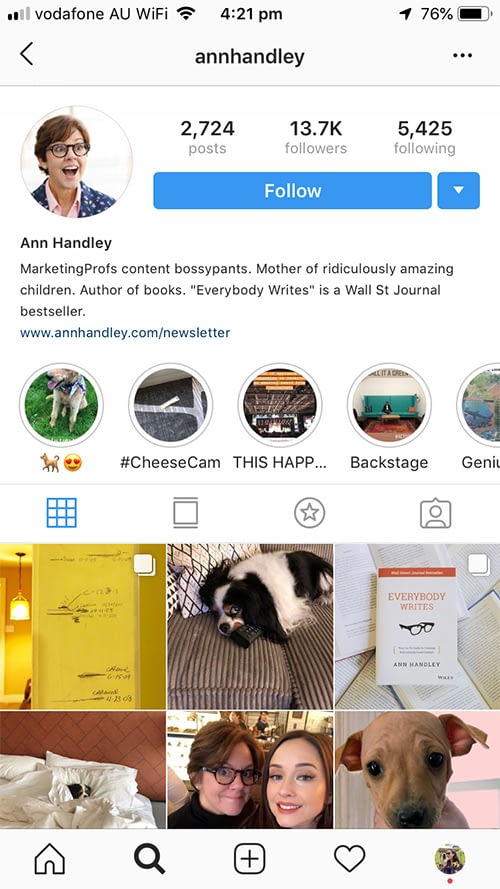 Another strategy is to blur the background, so it is less obtrusive like Shelly from Creating Creatives, a brand dedicated to inspiring imagination and creative exploration in children.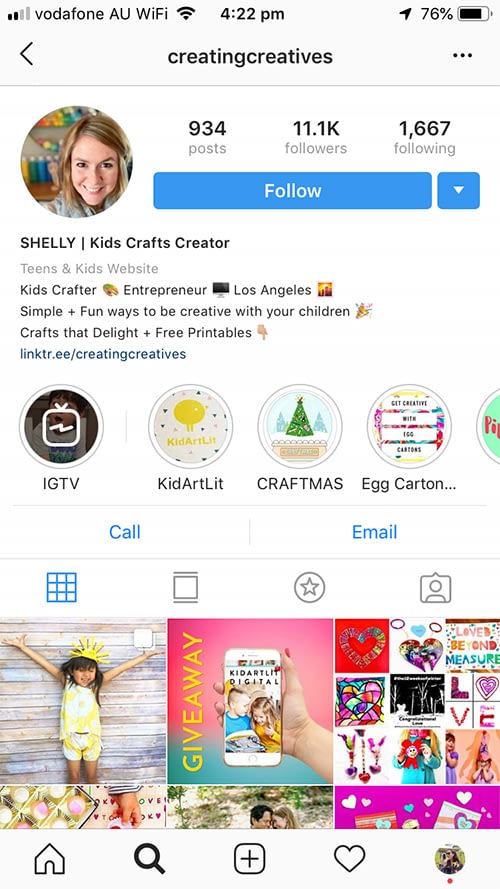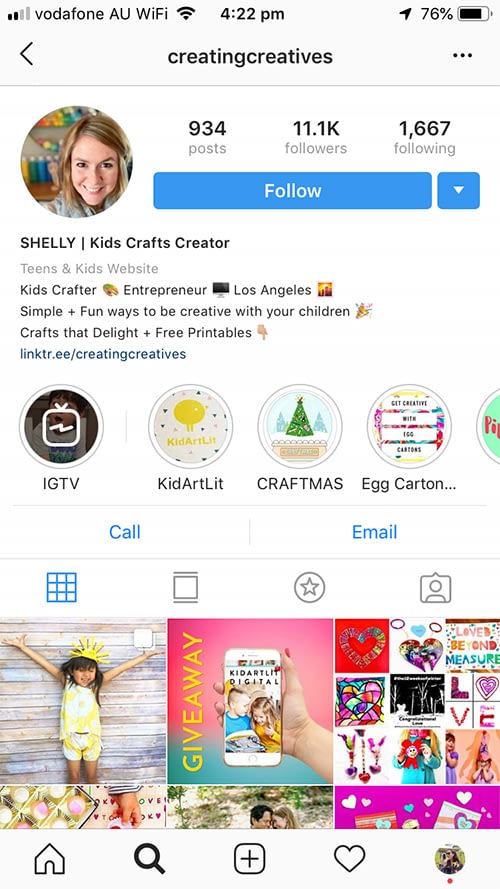 The bright colors are on brand with her company's creative vibe, but the blur helps keep the focus on Shelly's face.
Use a soft, natural light source
When possible, use a soft, natural light source, like from an open window. Avoid direct sunlight or harsh overhead lights. Bright lights create contrast, which can highlight creases and wrinkles.
If you are outside, avoid facing the sun, which makes most people squint. Instead, look for a slightly shaded area near a light color wall which will reflect the light.
Barack Obama's Instagram profile picture uses bright, outdoor lighting, which draws attention to his face and doesn't overly emphasize creases. He is slightly squinting in the bright light, but the photo still works well because he looks happy and relaxed.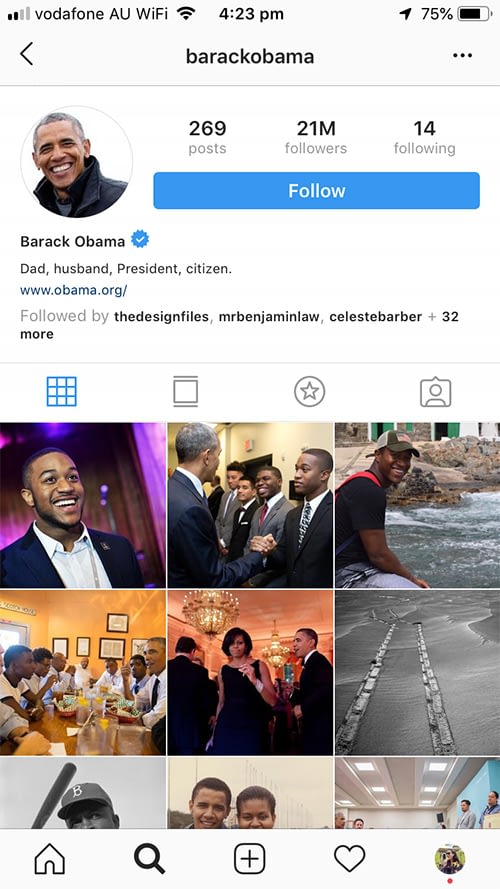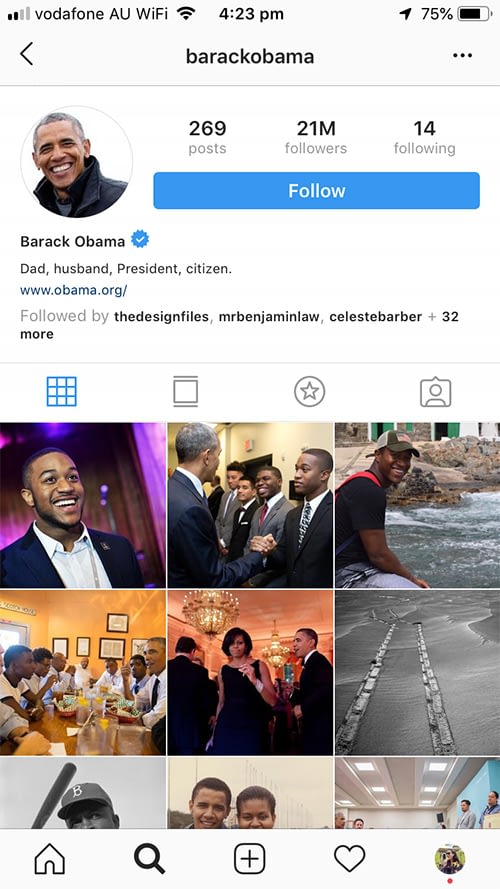 Audrey Holst, of Fortitude and Flow, a brand dedicated to helping people overcome burnout and grow creatively, offers a fantastic example of how to use natural light well. The high angle of the Instagram profile picture and natural light create a clean, refreshing look.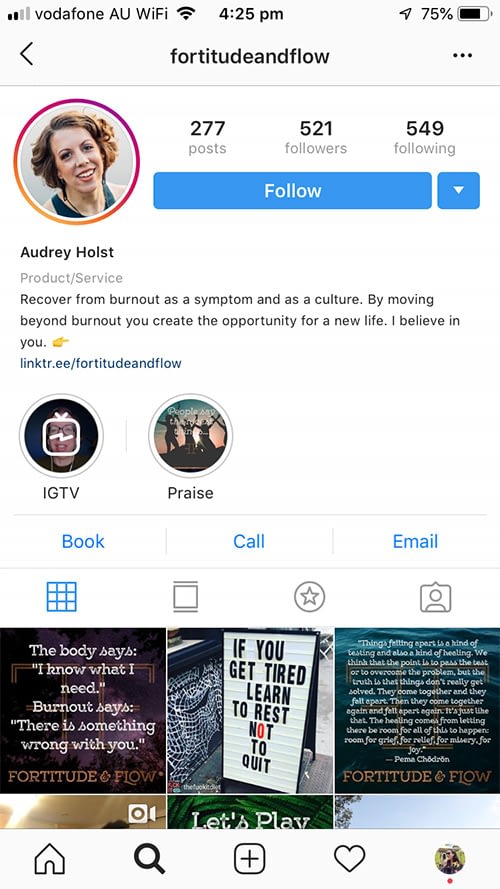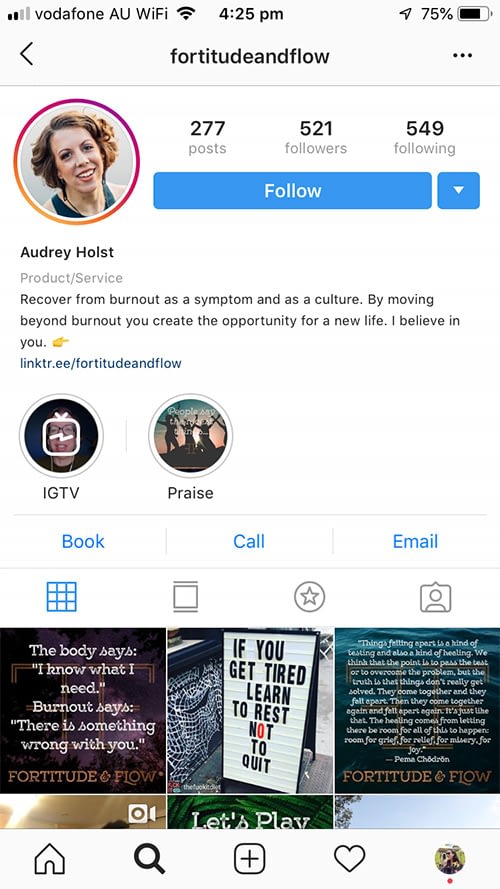 Tread lightly with filters
Filters may well be the legacy of Instagram, but you want to tread lightly with them in profile photos. They can result in an over-edited look, which is rarely flattering and reduces authenticity.
Clarendon is a good Instagram filter option, as it increases saturation and contrast. It tends to have a smoothing effect on the skin, but the increased contrast can also make wrinkles or creases more pronounced.
If you can help it, avoid filters in favor of adjusting your photo manually in a photo editing app like VSCO.
Consider a prop
A prop can be a fantastic way to show off your personality and stay on brand. But, keep in mind how small your profile image will be displayed. Keep the focus on your face, and let props accentuate instead of detracting.
Yoga teacher Sarah Beth balances the use of props, such as a yoga mat and her yoga pose, by keeping her face front and center. Normally, we would suggest focusing more on your face, but this image works well for her brand.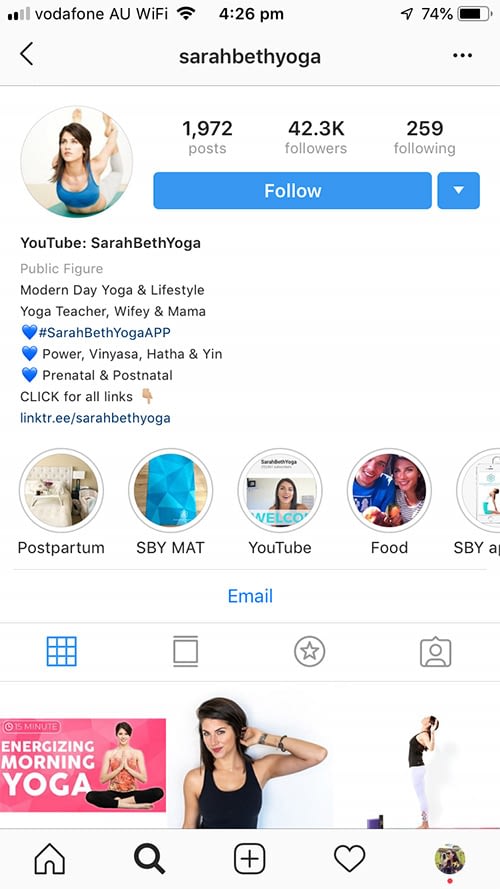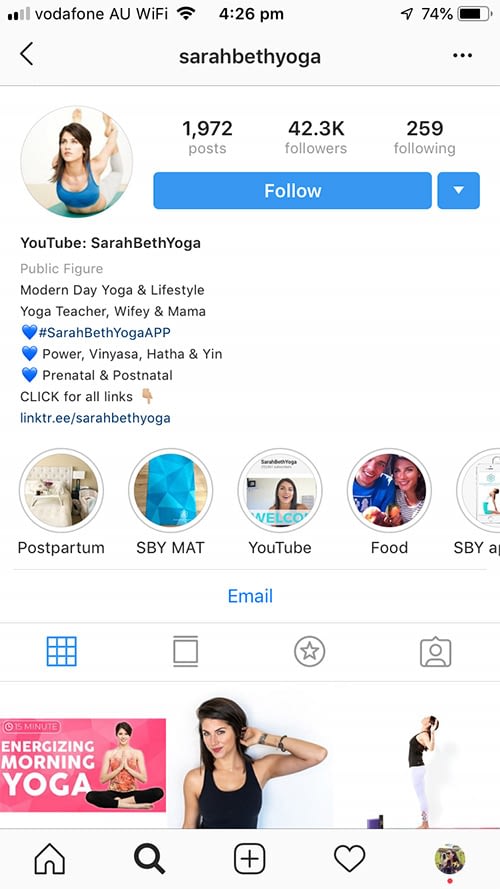 Experiment with angles
Everyone has a "good side" right? Experimenting with angles in photography can help boost the creativity of your photo and even change the mood of your Instagram profile picture.
Marie Kondo, the author of "The Life-Changing Magic of Tidying Up", is looking slightly to the left of the camera, which stands out. This works particularly well because the background and her shirt are very light, almost blending together. A bright or busy background and a different angle would be overwhelming.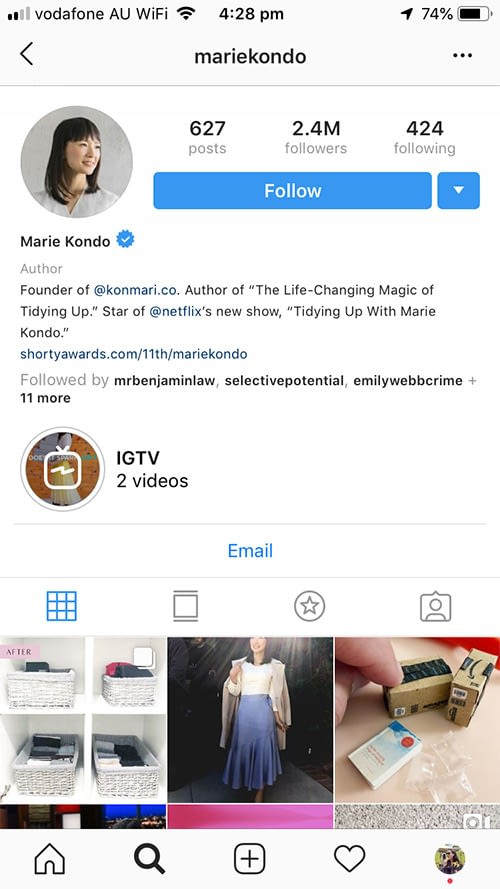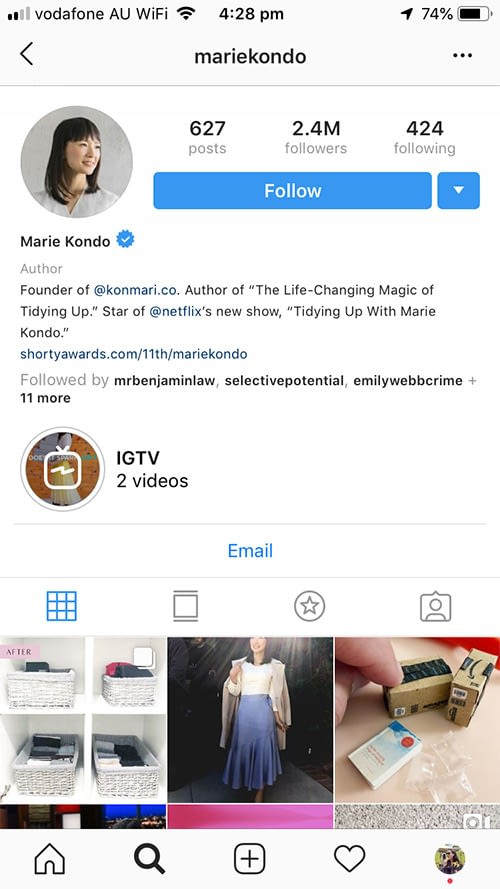 Trevor Noah, of The Daily Show, uses a unique photo in his profile. The picture is taken over his shoulder, his face visible in a mirror. It is a unique angle that wouldn't work for everyone, but it definitely stands out.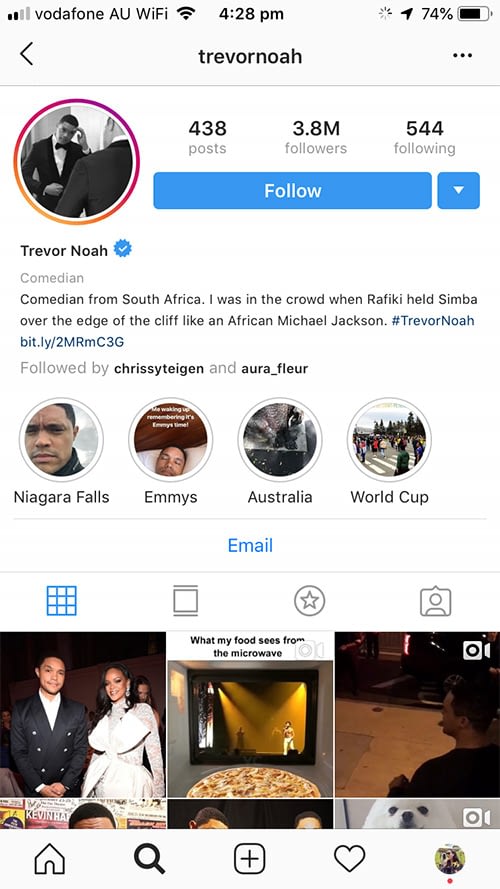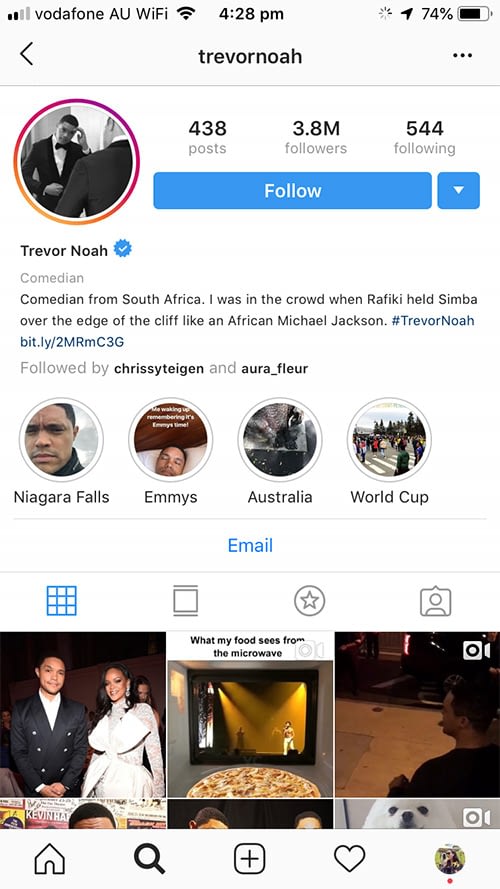 A few other angles to consider:
A high angle, where you are looking up at the camera.
Three-quarter facial view, where your face is turned at a 45-degree angle
A low angle, where the camera is positioned slightly below you.
Edit & crop!
There is a good chance you won't get the perfect shot every time. Luckily, there are plenty of tools you can use to turn an okay photo into the perfect Instagram profile picture!
Here are our favorites:
PicMonkey: This online photo editing and design app is seriously powerful. Adjust lighting, add fade, use filters and so much more. You can also crop your Instagram photo to just the right size!
Canva: Similar to PicMonkey, but with a heavier emphasis on design templates. You can still, crop, rotate, adjust lighting, add filters and more.
VSCO: The perfect mobile editing app! You can apply filters, adjust contrast, change the temperature of your images and much more–right from your phone.
Just remember that subtlety is the key when using filters!
Best practices for Instagram profile pictures
Ready to swap your Instagram profile photo? First, let's go over some best practices.
Try to use the same photos across all platforms, so people recognize you from platform to platform.
Don't use really old photos, this looks ingenuine and interferes with brand recognition! If they see you at a conference, for example, they might not even recognize you.
Use a high-resolution image so your photo doesn't look grainy on desktops. Just because the picture looks tiny on mobile doesn't mean it is always that size. Aim to upload a higher resolution photo at least 500X500 pixels.
Keep your photo on-brand. Use colors, props, and lighting that makes sense for your brand. It wouldn't make sense for Marie Kondo, an organizing consultant known for her minimalism, to use a photo with a bright, busy background.
Need some tips on how to take a great photo? Check out How to Take Good Instagram Photos on Your Phone: The Ultimate Guide.
How to upload your new Instagram profile picture
Once you have taken and edited your lovely new Instagram profile photo, it is time to upload it. Here is how to do it!
Go to your profile and click "Edit Profile."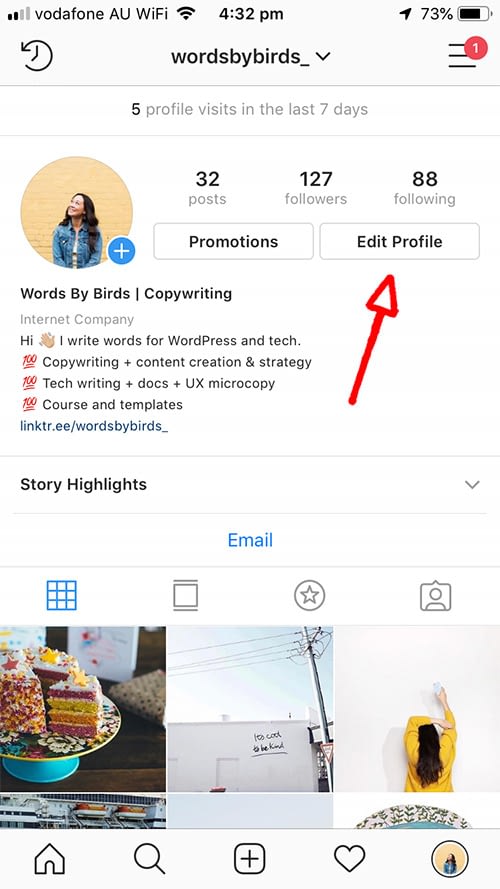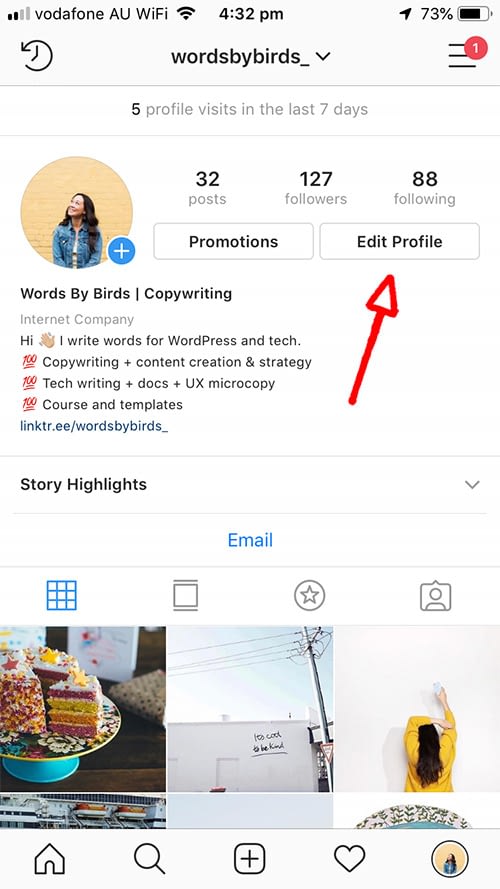 On the next screen, choose "Change Profile Photo" and you'll see options for removing your photo, importing a picture from Facebook, taking a new photo, and choosing one from the photo library on your device.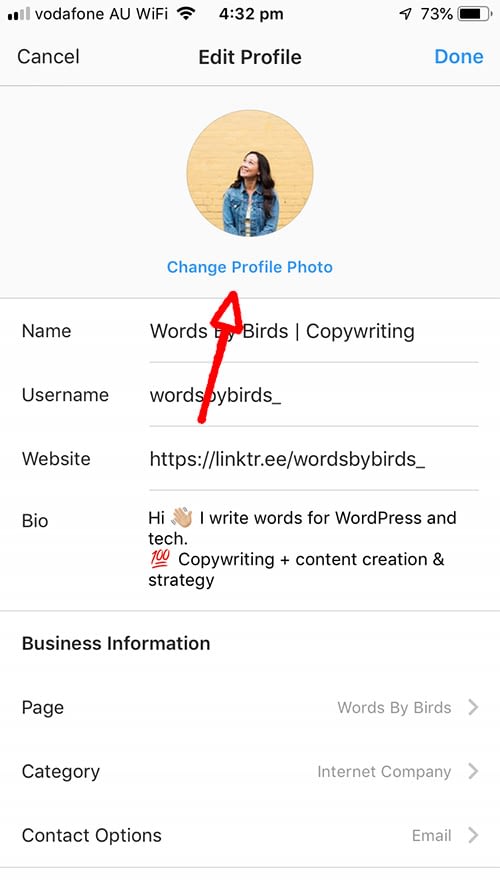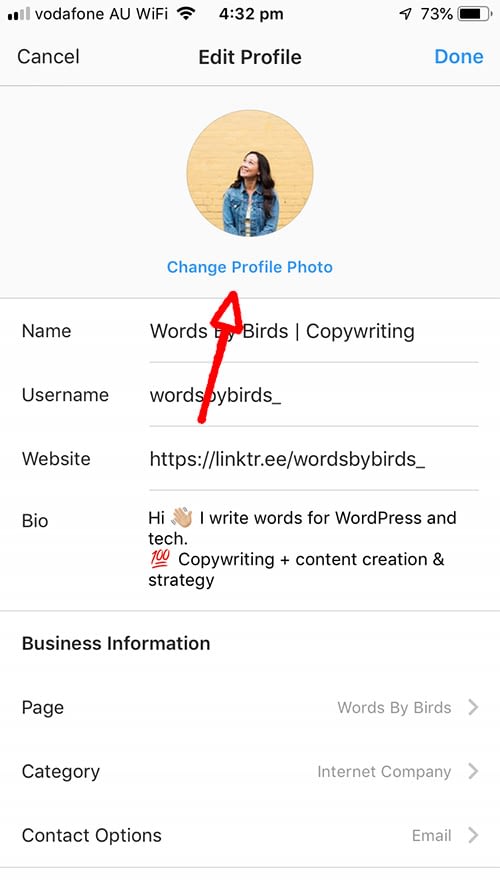 Make sure your photo is clear and centered before you hit save!
Frequently asked questions about Instagram profile pictures
We tried to cover most of the questions you might have above, but if you've still got questions, we've got you covered! Here are answers to a few of the most asked questions about Instagram profile photos.
Should I use a picture of myself or a logo as my Instagram profile photo?
If your brand is based on who you are as a person, use your photo as a profile picture. For example, if you are a single blogger, coach, artisan, etc. This helps create a personal connection with your followers.
If your branding is broader, or if you have a team of several people, use a simplified logo with two to three main brand colors. Make sure the logo fits well within the Instagram profile photo circle.
What size should my Instagram profile photo be?
Instagram displays your photo in a circle that is 152 pixels in diameter. However, for best results aim for a photo sized 500 x 500 pixels. That way your profile photo will be clear and unpixelated on mobile and desktop. Keep in mind the corners will be cut off.
How often should I update my Instagram profile picture?
Aim for once every year or two, or any time you do a major rebrand. If you update your profile image too often, your followers won't recognize you. But keep in mind that outdated photos won't look professional.
Wrapping up
Choosing the right Instagram profile photo isn't something you should take lightly. With more than 1 billion users (around 1/7th of the earth's entire population!), Instagram is one of the fastest growing, most powerful social media platforms today.
Keep in mind that your Instagram profile picture is just one part of your overall strategy — you also need to keep in mind writing great captions, analytics, and automation. Choosing the right profile photo is just one small element of your overall Instagram strategy.
---
The right #Instagram profile photo will help you find your tribe on one of today's fastest-growing #socialmedia platforms
Click To Tweet
---
The post How to Choose the Perfect Instagram Profile Picture appeared first on Revive Social.