Image-based social media channel Instagram is the perfect place for eCommerce stores to market their products. However, there is no guarantee of success on any social media platform. So if you are looking to promote an eCommerce store on Instagram then you need to ensure you are using the right tools and strategies.
In this article, we discuss how to promote an eCommerce store on Instagram. We cover how to:
Create an Instagram Business Account
Write an Instagram Bio
Use Instagram Live
Produce Instagram Ads
Share Discounts and Coupons
Analyze Instagram Insights
By the end of reading, you will be ready to grow your eCommerce business using Instagram.
Create an Instagram business account
Creating an Instagram business account for your eCommerce store gives you access to advanced Instagram features. There are currently over 25+ million business accounts, with 200+ million Instagrammers visiting at least one business profile daily.
Here's what you can do with an Instagram business account:
Display your contact info – add email, phone number, location and opening times (if applicable) to your Instagram bio so your audience can quickly get in contact with you.
Easily share posts from Instagram to Facebook.
View analytic insights on how your posts and ads are performing, learn who your audience is, and find out how they are interacting and behaving on your Instagram profile.
An Instagram business account will give you more control over your Instagram profile, and help you better connect and engage with your audience. Upgrading to 'business' is a must if you are serious about promoting your eCommerce store on Instagram.
Add a call-to-action and URL in your Instagram bio
An Instagram bio should promote your brand and encourage your audience to visit your shop, a specific product page, or landing page. It is here you should display a compelling call-to-action, telling your audience what to do and where to go.
There is only one place where you can share your eCommerce store's URL on Instagram, and that is in your bio. Write an effective call-to-action that is linked to driving people to the URL on display. And use emojis to help highlight your URL and make it stand out from the rest of the text.
Here you can see the UK brand' Marks and Spencers' displaying their call-to-action 'SHOP NOW' in capitals, with a finger emoji pointing to their URL, that will take users straight to their online shop:

Ensure your content gets noticed
Your Instagram content must stand out and engage with your target audience. Display beautiful, colorful, and inspirational photos of your products. Telling a story through your images can be a great way to help your audience connect with your brand and products. And make sure your content isn't too promotional. A combination of images with your products in the background as well as displaying them center stage will help will prevent your channel becoming too salesy.
Here is a post from Puma, with their products subtly displayed, not as the main focus of the image…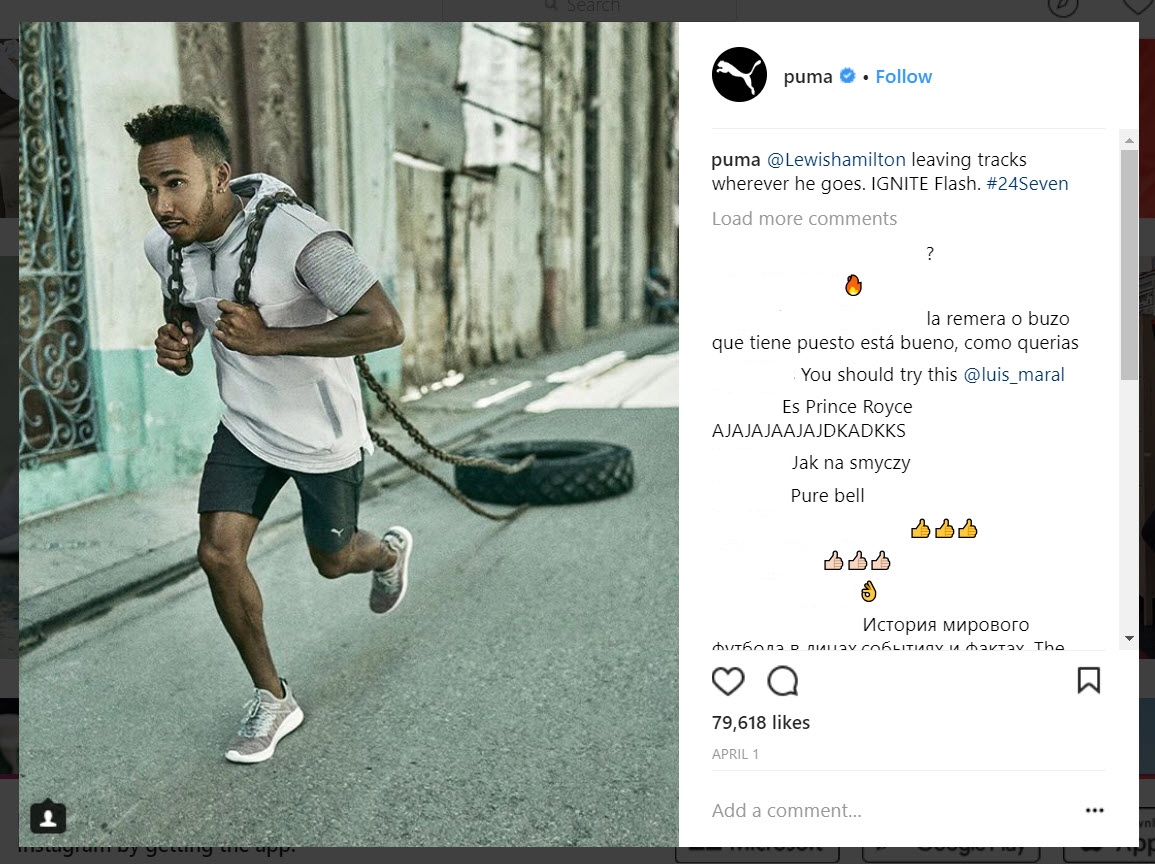 Every image you create should be consistent and identifiable as your brand. Consider using the same filters and effects on each photo, so your visuals are always recognizable to your audience. Using an app like PicLab to display a watermark on your images is also worth considering. By adding a creative text overlay sharing your store name or domain name, you will help remind Instagrammers how to find your store, and increase site traffic.
For more info on how to create a successful Instagram content strategy, check out our article How to craft an Effective Instagram Marketing Strategy.
Use Instagram Live
Instagram Live is an extremely effective way of connecting with potential customers on Instagram and promoting your products. This tool will enable you to share a live video with your audience, allowing them to see and hear in detail about the product/s you are selling.
Often customers hold back from making a purchase if the images or information provided about a product are lacking. Instagram Live gives you the perfect opportunity to discuss every aspect of your product. Try and display a product from every angle, as well as showing it in use.
Instagram Live also has a comments section at the bottom of the screen. This enables you to converse with your potential customers and answer questions in your live recording as they arise. Therefore, using Instagram Live is not only a great way to promote an eCommerce store on Instagram, it also helps to build a community around your brand.
Take advantage of Instagram ads
Another option for those wanting to promote an eCommerce store on Instagram is to use Instagram ads. This feature helps improve the chances of your Instagram content being seen by the right audience, increasing conversion rates for your online shop.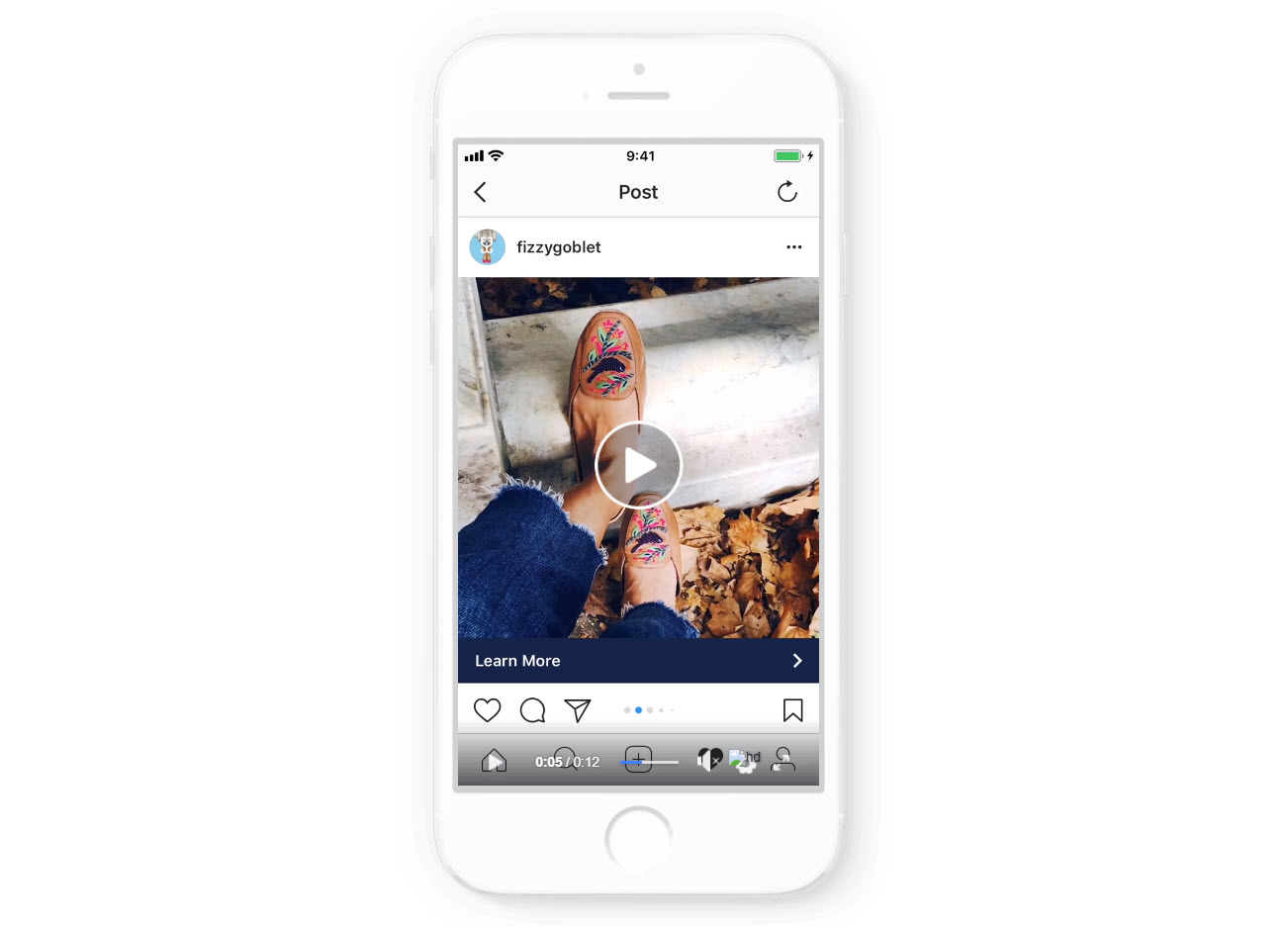 eCommerce footwear company Fizzy Gobblet, ran an ad campaign on Instagram and saw impressive results. Targetting ads at old and new potential customers, in just over a month Fizzy Gobblet saw a 40% increase in website traffic and a 50% increase in sales.
There are a number of important aspects to consider when creating an Instagram ad for eCommerce stores. Let's take a look…
Choosing a goal
When creating an ad campaign you should be clear on what you want your ads to achieve. Possible goals for your ads could be:
Brand awareness – reach new potential customers, or people that have already shown an interest in your brand, or made a purchase from your eCommerce store.
Increase Instagram followers – a large Instagram following gives you a platform and audience to whom you can showcase your products.
Conversion – increase product sales by sending users to your online shop.
All of the above are appropriate goals for an eCommerce store. So the objectives you choose should represent the aims for your individual brand.
Select an ad type
There are four different Instagram ad types to pick from.
Photo ads – use a creative canvas to showcase one or more products from your eCommerce store.
Video ads – create inspirational videos up to 60 seconds long to grab the attention of your audience.
Carousel ads – display a product from different angles or a number of products form the same range in a carousel form.
Stories ads – ads on Instagram Stories can compliment your Instagram feed and appeal to the 300 million who are using Stories daily.
For those new to Instagram ads, it may be worth trialing each ad type to see what works best for your products and audience.
When creating the content for your Instagram ads, you should bear in mind the points made earlier (under Ensure Your Content Gets Noticed). Keep ad content relevant to your brand whilst ensuring it stands out from the crowd and inspires your audience.
Target the right audience
Instagram provides a variety of targeting options for your ads that will enable you to connect with the right audience. Targeting options include:
Location – Show ads to people living in a specific country, region, or city.
Interests – Narrow your audience based on their interests, such as the apps they use and the accounts they follow.
Demographics – Reach people based on age, gender and language.
Behaviors – Display ads to people based on activities they do on and off Instagram and Facebook.
These options are extremely useful. For example, if you are a US based company selling sports clothes, you can target people who live in the US, who have an interest in sports, and who already follow other sports apparel brands.
There are also two other types of audience that you can create that are worth noting…
Custom Audiences – Create a Custom Audience based on data you have collected, such as email addresses. By showing ads to a Custom Audience, that is made up of people who have already expressed an interest in your brand or products, your ads are more likely to convert against their goals.
Lookalike Audiences – Lookalike Audiences are created based on your pre-existing customers. Instagram will find people who have similar backgrounds and interests as your target audience and display ads to them. This will help you to target a new audience that has been picked especially to help increase your ad conversions.
Instagram provides analytics on your ads so you can see how they are performing, how your audiences are interacting with them, and if they are achieving their goals. (Analytics is covered in more detail further on in the article).
Offer discounts and coupons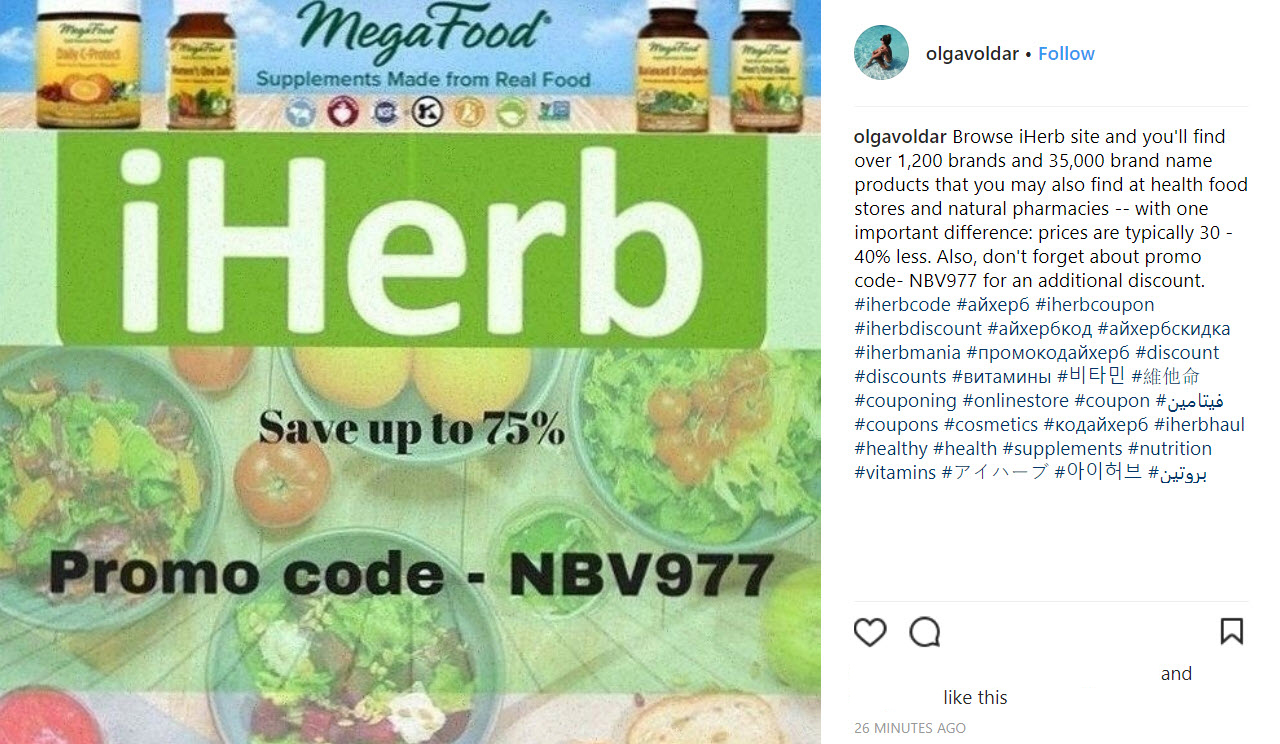 Driving traffic from Instagram to your eCommerce store can be difficult. So offering a discount, coupon, or free shipping for your online shop can be a good way to entice your followers to your website.
Try displaying coupons as images, or add a discount code as text overlay on particular photos. This could be the incentive your Instagram followers need to visit your site and make a purchase.
Track your analytics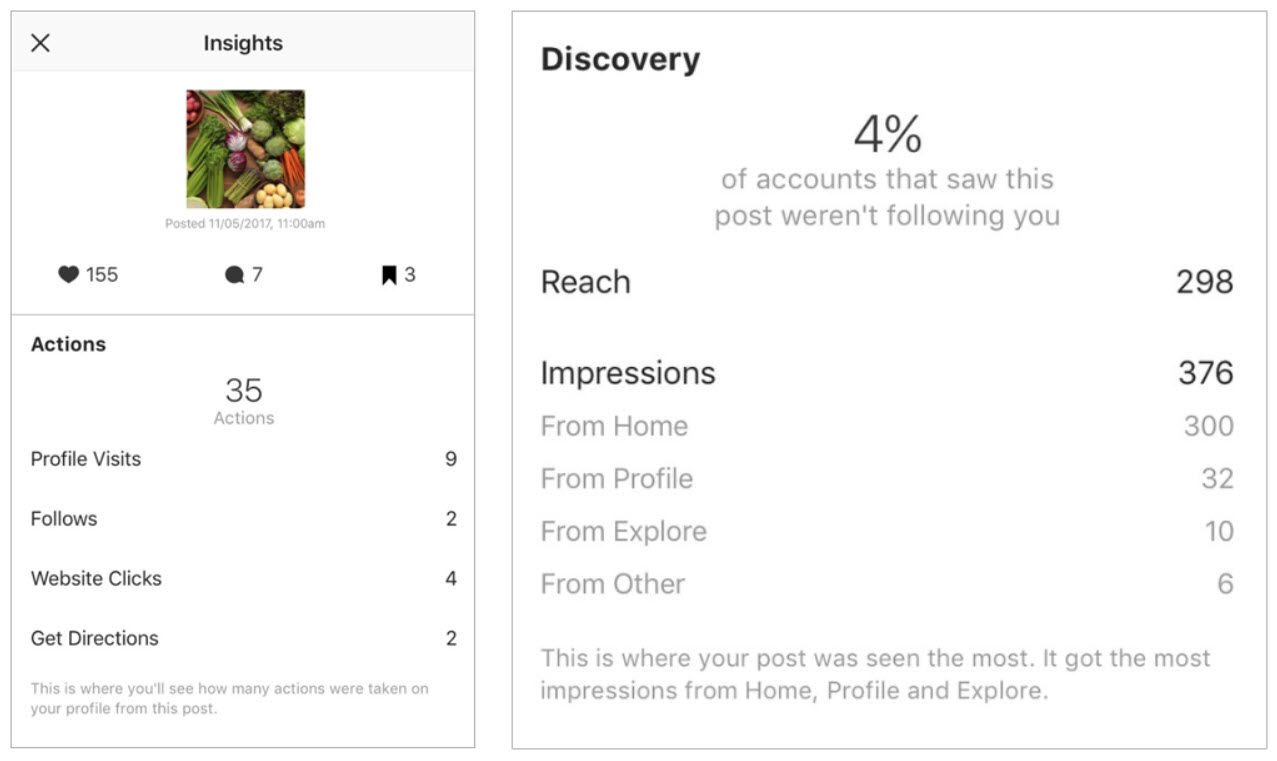 If you want to successfully promote an eCommerce store on Instagram then you need to know what is working and what isn't. Instagram Insights (available with a business account) enables you to dissect your Instagram performance and help you understand how your audience is interacting with your content.
So what can Instagram Insights tell you? Here are just a few of the of the reports you can access…
Posts – Find out which posts perform well, and how many likes, comments and saves they receive.
Audience – Learn who your audience are with information about their age, gender, and location.
Actions – View how many profile visits, follows, and website clicks you receive.
Discovery – Understand post Reach (the number of unique accounts that saw your posts) and Impressions (the number of times a post was viewed).
Final thoughts on how to promote an eCommerce store on Instagram
All of the above strategies are useful options for those looking to promote an eCommerce store on Instagram. The key to success is a consistent approach to Instagram. This will ensure that, long-term, the methods you have chosen boost your following, drive traffic to your eCommerce store, and increase sales. Good Luck!
---
Consistency is the key to successfully promoting your #eCommerce store on Instagram #socialmediamarketing
Click To Tweet
---
Have you got any advice on how to promote an eCommerce store on Instagram? If so, please share in the comments below…
The post How to Promote an eCommerce Store on Instagram and Boost Sales appeared first on Revive Social.