YouTube is a good place to build a following, but there are many other effective locations to do so, and they can even amplify your subscriber count on YouTube. In fact, one of the best ways to promote your YouTube channel and attract new audiences to your videos is by sharing them on other social media sites.
To help you get started, we'll introduce four ways to promote your YouTube channel online by sharing videos. Plus, we'll offer some advice to help you get the best results possible. Let's get to work!
---
How to share your #YouTube videos for maximum exposure #socialmediamarketing
Click To Tweet
---
Why it's vital to promote your YouTube channel
YouTube is an incredibly popular platform. In fact, people collectively watch over a billion hours of video on YouTube every day. This has both positive and negative results for marketers. On one hand, your potential audience is massive. In contrast, it can be very difficult to get the attention of your target demographic amid all the noise.
There are plenty of things you can do to improve your chances of making an impression. You can create high-quality videos, optimize your channel, and so on. Still, your chances of standing out from the millions of other channels aren't great if you're confining your efforts to just one platform.
By sharing your YouTube channel and videos in as many places as possible, you can dramatically improve their reach. What's more, you'll be using content you've already created to further your company goals and increase conversions. 76% of businesses who use video marketing have reported seeing an increase in both traffic and sales, and a whopping 97% say it's helped them increase knowledge about their products and services. Those are impressive results.
How to share your YouTube videos for maximum exposure (4 key platforms)
So it's clear that the benefits of sharing your company YouTube videos far and wide are twofold. You'll bring in a larger audience for those videos, and improve your business' marketing potential at the same time.
All that's left is the practical element. With this in mind, we'll share four places to promote your YouTube channel online. Let's start with the basics!
1. Your company website

If you have a website for your business (and you really should!), it can play a key role in all types of marketing strategies. After all, it's essentially your company's 'home' on the internet. Among other things, this means you'll definitely want to use it to promote your YouTube channel.
How exactly you do this is up to you. However, given the many benefits of video content, we'd recommend integrating both your channel and videos prominently into your site. You can include relevant videos in blog posts, documentation articles, and even on key areas of your site such as your home and contact pages.
As for your channel, embedding it into your site can be simple if you're using certain platforms. For example, if you're a WordPress user, your options are varied. You could add your entire channel to a page or sidebar, and customize how it appears. Just don't forget to include a noticeable link back to YouTube, to lead your website audience back to the channel itself.
2. Facebook

Facebook may not seem like the obvious candidate for video content. Traditionally, this social media giant has had a greater focus on text and images. However, over 8 billion hours of video are now watched on Facebook every day, and levels of engagement with those videos are high.
In a nutshell, Facebook has become one of the biggest and most important markets for video content. This makes it a perfect place to promote your YouTube channel – both its older and newer videos.
Actually sharing videos on Facebook is pretty easy. Just go to a video's YouTube page, and click on SHARE next to its views and likes: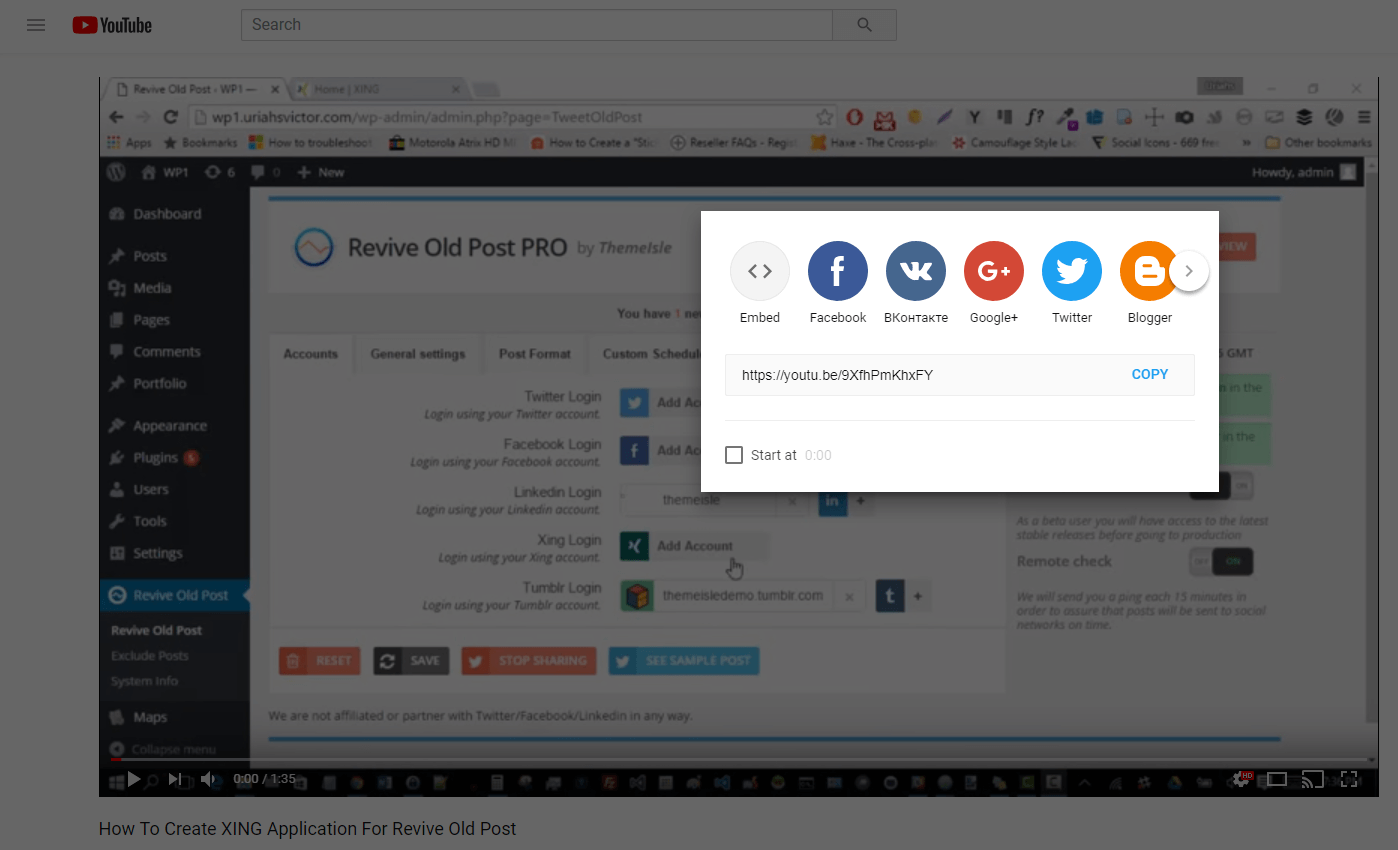 In the resulting pop-up, you can navigate one of two paths. You can copy the link provided, and paste it into your Facebook feed. Alternately, you can just click on the Facebook icon. You'll be taken to your account, where you can share the video right away: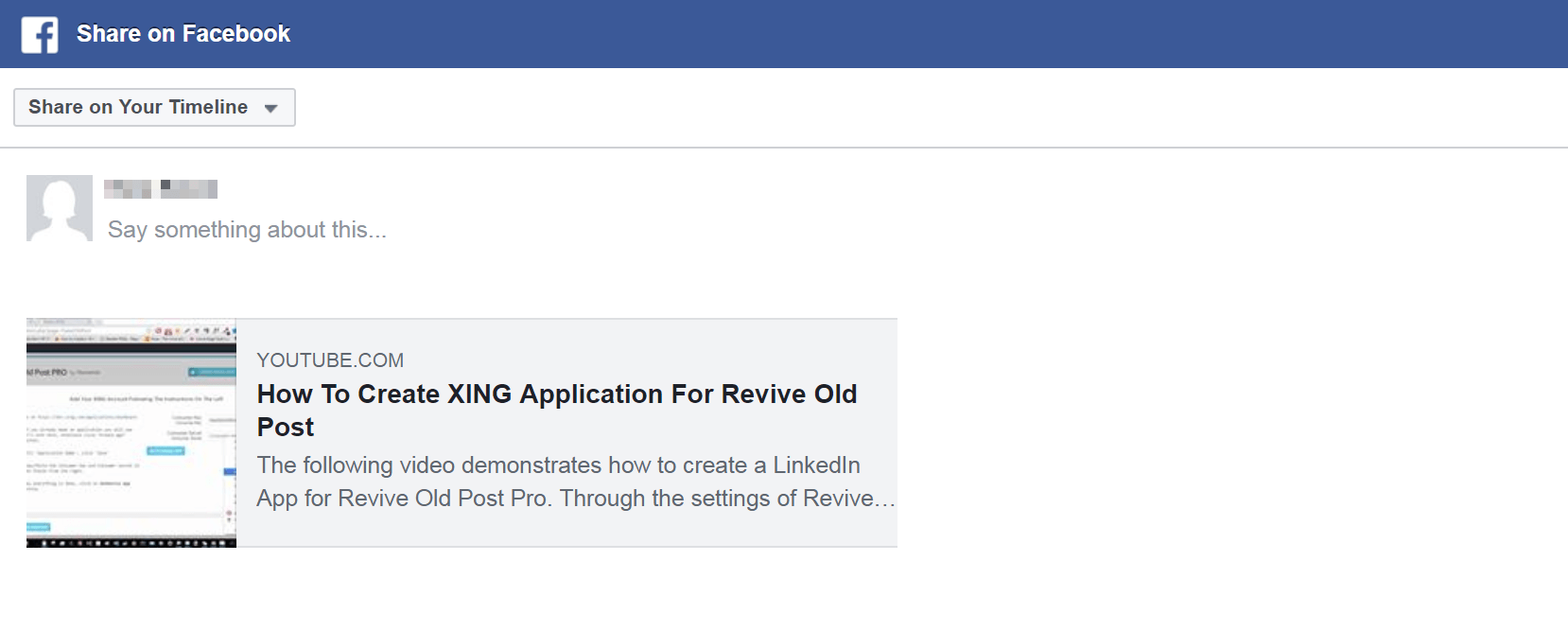 Although this process is simple, there are a few special considerations you'll want to make:
Unlike more video-focused platforms, Facebook users don't always have their sound turned on when using the platform. In fact, somewhere around 85% of video views are silent on Facebook. This means you'll want to share highly visual videos that don't rely on audio or narration in order to make their point.
Particularly for marketing content, videos generate the most value in the first three seconds. So you'll need to make an impression fast. When it comes to Facebook, you'll want to share videos that have immediately compelling opens, and include your messaging and branding right off the bat.
Of course, it doesn't hurt to share as much video content as you can on Facebook. However, focusing on short, visually-based videos is your best bet for making a strong impression.
3. Twitter

Twitter is another natural candidate for promoting your company YouTube videos. Just like with Facebook, it's seeing a growing emphasis on video content. In fact, the company itself has reported a shift towards video content and advertisements, both of which receive high levels of engagement.
Even better, it turns out your video tweets are very likely to be noticed and shared. Again according to Twitter, videos are 6 times more likely to be 'retweeted' than photos, and 3 times more likely than GIFs.
You can share one of your YouTube videos on Twitter using the same process we described earlier. Navigate to the video's page, choose SHARE, and select the Twitter icon:

When it comes to tweeting out your YouTube content, here's what you'll want to keep in mind:
Multimedia and contextual content tends to get the best results on the platform, so include a textual message along with each video.
93% of video views on Twitter occur on mobile devices. So you'll want to ensure you optimize your content for viewing on phones and tablets.
The self-reported primary reason people go on Twitter is to "discover something new and interesting". So you'll get the best results with videos showcasing new products, services, and ideas.
Finally, don't be afraid to retweet the same videos a few times. Content moves fast on Twitter, so you're likely to miss a big chunk of your audience the first time you share a video. Repeats will enable you to reach as many of your followers as possible.
4. Instagram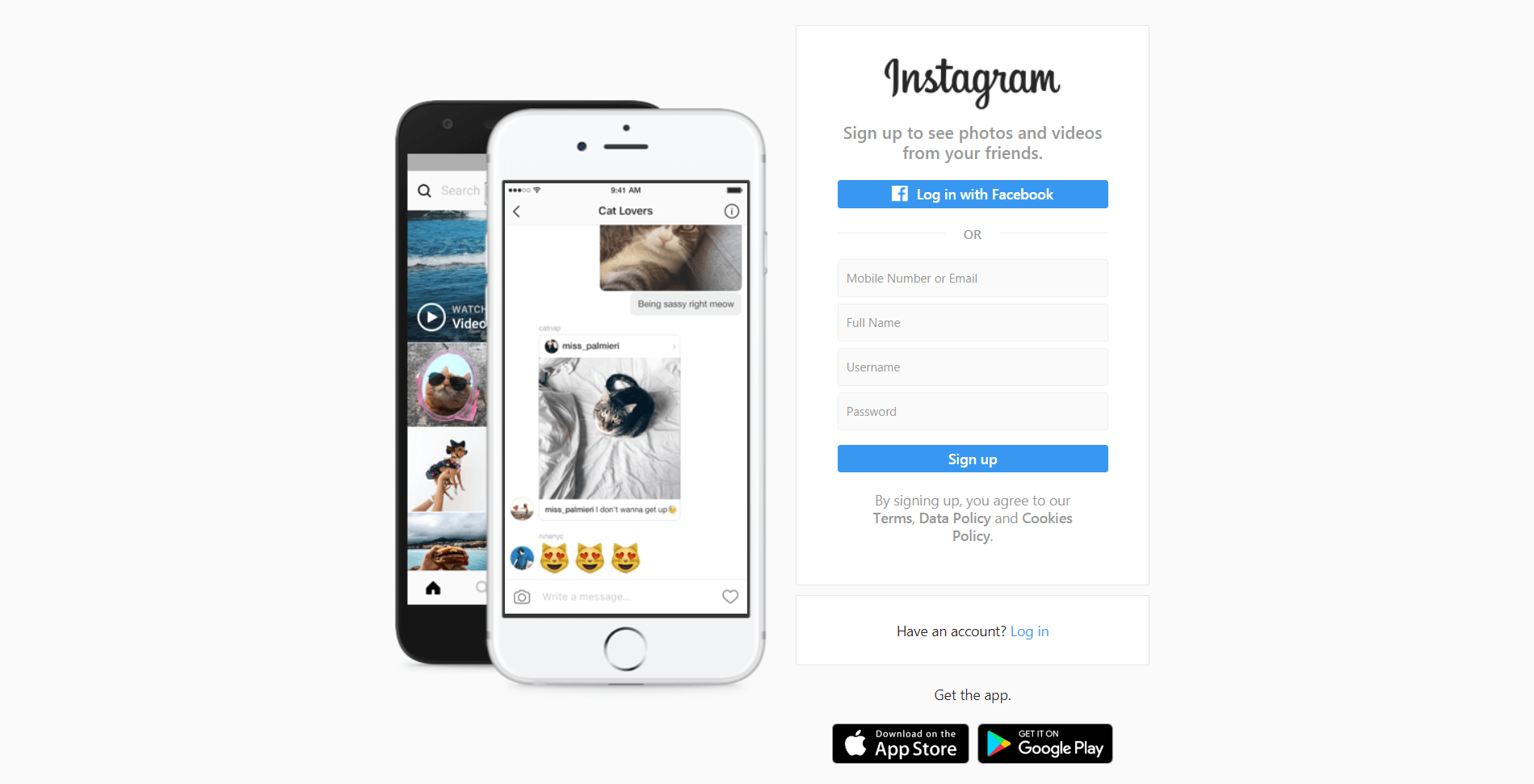 Finally, we come to Instagram. While not as old as the other platforms on this list, it's quickly become one of the giants in the social media landscape. Plus, it has a total focus on visual content – more so than Facebook or Twitter.
Some of that content is made up of images and GIFs, but a growing amount is devoted to video. Instagram reports that time spent watching videos on the platform regularly increases by about 80% each year, and that the number of videos uploaded each day increased four times from 2016 to 2017.
The downside is that it's not quite as simple to promote your YouTube channel on Instagram. The app doesn't let you embed videos from YouTube by default. However, with a little extra effort you can share whatever video content you like.
What Instagram does do is let you post a video stored on your smart device. Since you should have easy access to the files for any videos on your company YouTube channel, this isn't a problem.
Still, there are a few things you'll need to do before posting:
Familiarize yourself with Instagram's video requirements, particularly in regards to the resolutions and supported file types.
Trim down your video. Instagram only supports videos up to 60 seconds long. In most cases, therefore, you'll need to cut your YouTube videos down to size using whatever software you created the video with originally. Look to pick out the most informative or entertaining segment, or even splice important parts together into a new, shorter video.
Once the video is edited and saved to an Instagram-compatible device, you can upload it from your library and share it. Don't forget – you can also make additions within Instagram to improve the video's 'shareability', such as by using filters and captions.
Conclusion
YouTube videos can only do so much for your company if they're confined to one location. If you really want to grow your audience and promote your YouTube channel, you'll need to think bigger. In other words, you'll want to share your channel and videos everywhere you can.
---
If you really want to grow your #YouTube audience, you need to share your videos everywhere you can
Click To Tweet
---
To get you started, we've covered four of the best places to post YouTube content. You can:
Embed specific videos and feature your full channel on your company website.
Share videos that are attention-grabbing and reliant on lots of visuals through Facebook.
Include new and interesting videos in Twitter posts, alongside captions.
Select short snippets of your videos, and upload them to Instagram.
Are there any other places you like to share your company YouTube content online? Tell us about them in the comments section below!
The post How to Promote Your YouTube Channel and Attract New Audiences appeared first on Revive Social.