'Geotags' are the geographical locations added to a post, picture, or status update on social media. By incorporating geotagging in your social media strategy, you can boost brand visibility and increase engagement.
In this article, we'll discuss what geotagging is and the benefits of using geotags. Then, we'll walk you through four tips for using geotagging to boost your social media presence. Let's get started!
An introduction to geotags and their uses
Have you ever noticed someone 'checking in' on Facebook? That's a geotag. Perhaps you've used a filter on Snapchat that adds a location stamp to the bottom of the picture. That's another example of a geotag.
True to its name, a geotag refers to the tagging of a geographical location online. Geotags are used on most social networks, including Facebook, Twitter, Snapchat, and Instagram. They're a way to let people know where a particular photo or status was posted from.
Let's say you're out to dinner and want to show off the fancy presentation of your meal. So you snap a picture and share it to Instagram, adding the location of the restaurant: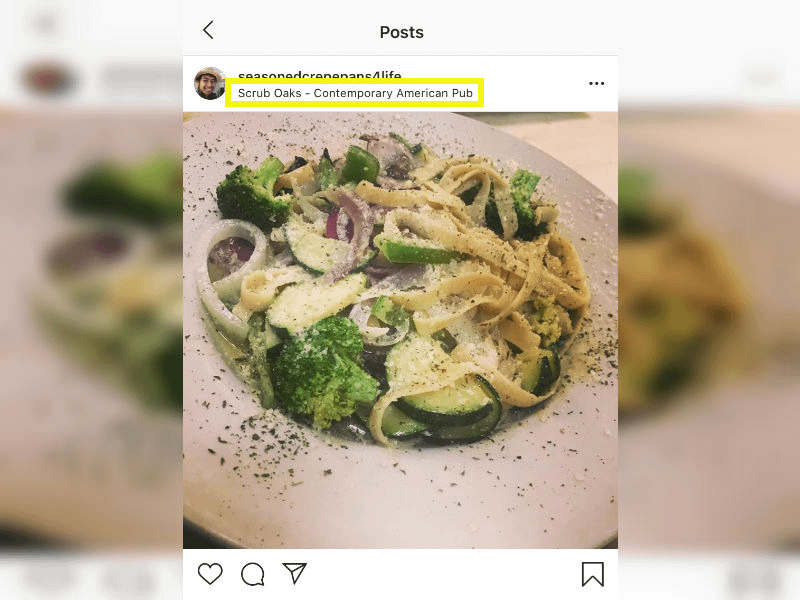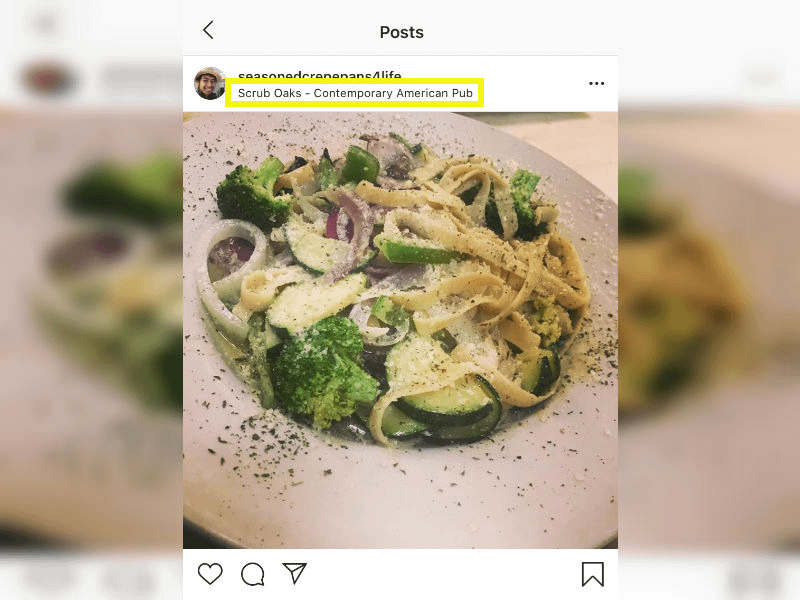 Your followers will come across your post on their feed and notice the name of the restaurant you're at. Whether they plan to go there or not, you've indirectly helped boost brand awareness for the restaurant.
This is just one of many examples of how you might use a geotag as a consumer, but what about as a business owner? From a marketing standpoint, geotags can do much more than simply inform followers where you are.
The benefits of using geotags
Adding geographical information to your content can be an effective way of boosting your online presence. In fact, research has found that geotagged posts get 79 percent more engagement. Geotags can also improve brand visibility, expand your reach, and even boost your revenue.
When users geotag themselves at your business, it's a form of free advertising and user-generated promotion. This can be particularly effective because consumers today rely heavily on social proof when making decisions.
The more people who tag your business in their social posts, the easier it is to be found in the search engines. Similar to your website, adding location-specific data helps search engines connect users' photos on social media to your physical business location.
You can also look at who is geotagging themselves at your business to learn more about customer experiences. For example, is there one area in particular that people seem to like photographing? You might want to take some of your own Instagram photos in this area to show people the potential for great photos.
How to use geotags to boost your social media presence (4 tips)
We've discussed what geotags are and how they can benefit your business. Now let's take a look at four tips for using them to boost your social media presence.
1. Use the 'check in' feature on Facebook
One of the oldest forms of geotags originated from Facebook via the 'check-in' feature. Considering the social network has 2.41 billion active monthly users, it's still a relevant and popular tool for businesses to utilize today.
When someone clicks on the check-in of someone's post, they can see a handful of useful details, including the location, phone number, and ratings. They can also quickly visit the Facebook business page:
You (and your employees) can geotag posts from your business' Facebook page as well as from personal accounts. To do this, go to the page you're posting from and click on the box saying Write a post. If you're posting from a personal account, the text in this box will read What's on your mind?
Click on the ellipses icon, then click on Check in: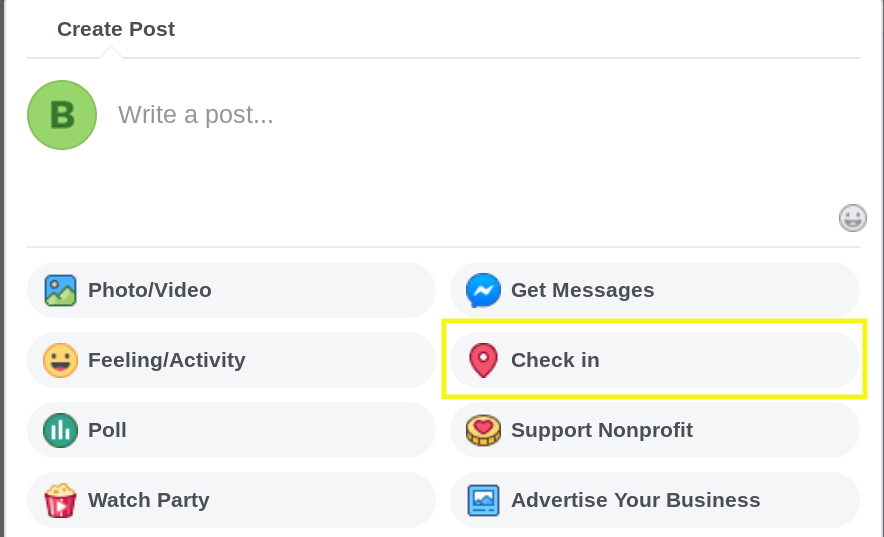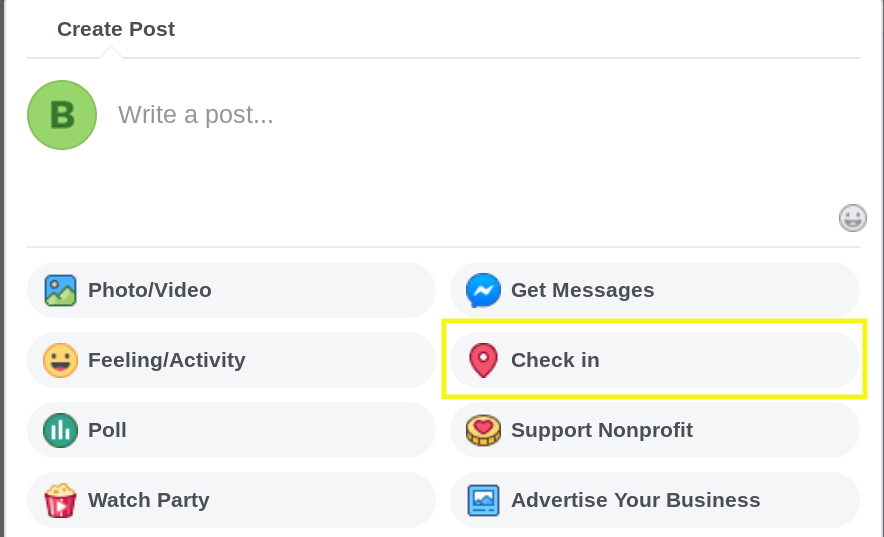 You'll then be able to choose from a list of locations: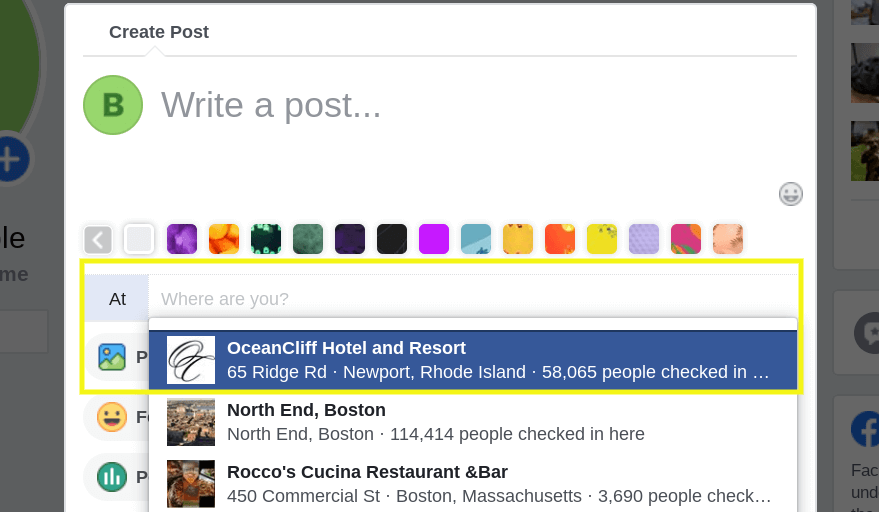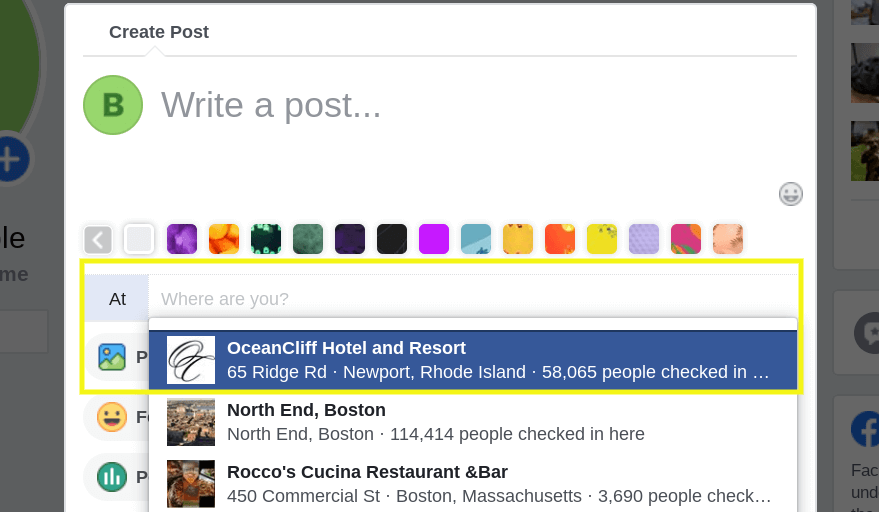 Once you select your business's location, you can publish the post. It will then become a clickable link that others can use to learn more about your business.
It's important to make sure your Facebook business page is configured to use check-ins. You can make sure this feature is enabled by going to your business page and clicking on Settings in the top-right corner.
Under Page Info, scroll down to Location, and check the box next to Customers visit my business at my street address (unchecking this box will hide your street address and check-ins):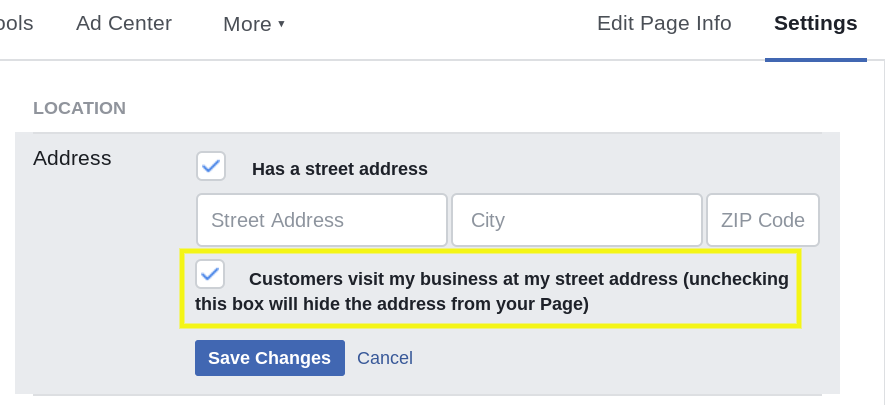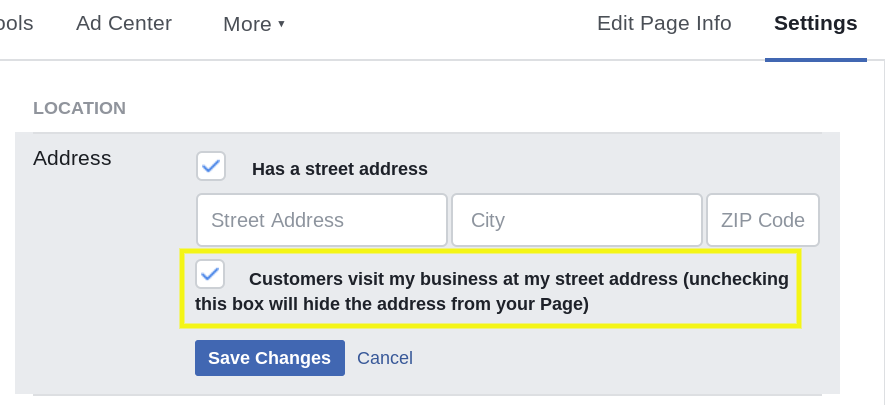 When you're done, click on Save Changes. Of course, if the box was already checked, you don't need to do anything!
2. Add a location to your Instagram posts
Similar to Facebook, you can use Instagram geotags to strengthen your online presence and discoverability. However, with Instagram, there are multiple ways to add a geotag.
Once a location is tagged for your business in a post, your business name becomes clickable on Instagram. As such, if someone clicks on your business location, it will show other posts and photos from users who used the geotag:
If someone is considering paying your business a visit, browsing through images can help give them a better idea of what to expect. If you're a restaurant, for example, photos of meals and what the overall setting looks like can be a selling point for consumers.
Adding a location to your Instagram posts is quick is easy. Once you've uploaded and edited your photo, click on Add Location before sharing it: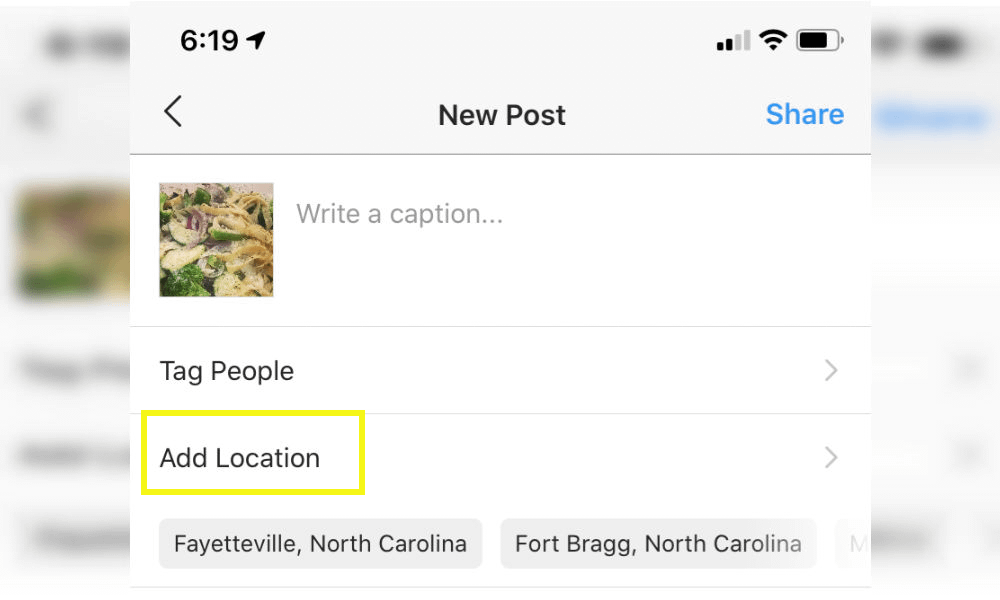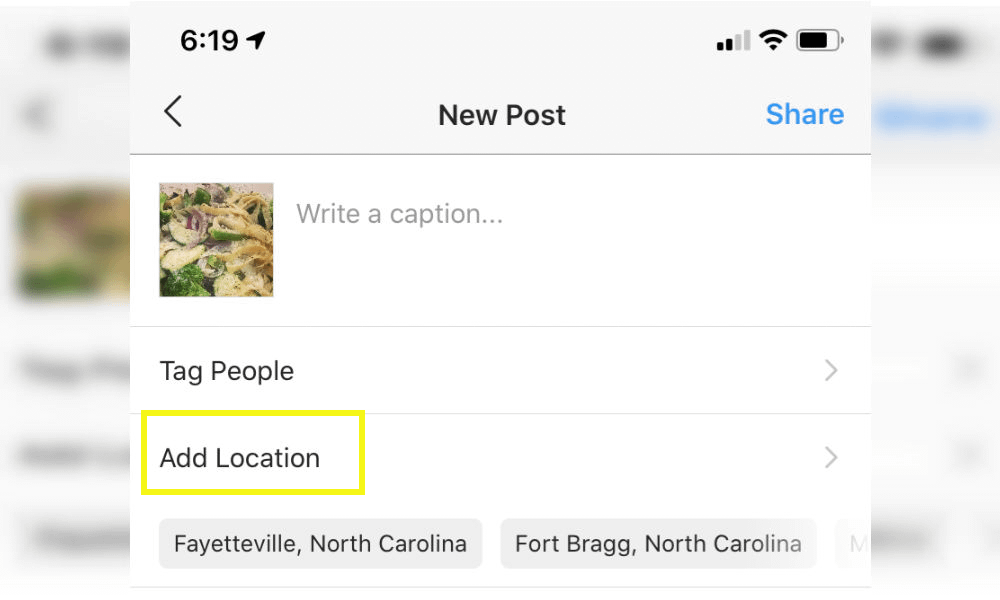 You can also use geotags on your Instagram Stories. This lets you add a location in real-time, which can be helpful for event promotion. You can use the geotag feature on Instagram Stories via 'stickers.'
Once you upload the image or video you want to share to your story, click on the sticker icon in the top-right hand corner. Next, click on the Location sticker:
It's worth noting that Instagram geotags can be helpful even if you don't have one set location. For example, if you're an e-commerce site trying to target consumers in a specific city, you can geotag the area to boost brand awareness and visibility there.
3. Experiment with geotag filters on Snapchat
Snapchat is another social network where you can use geotagging to benefit your business. Unlike other channels, Snapchat uses geotags in the form of filters or 'geofilters.'
To use this feature, open Snapchat and take or upload a photo. If you swipe left, it will introduce a series of filters you can use as an overlay on your picture: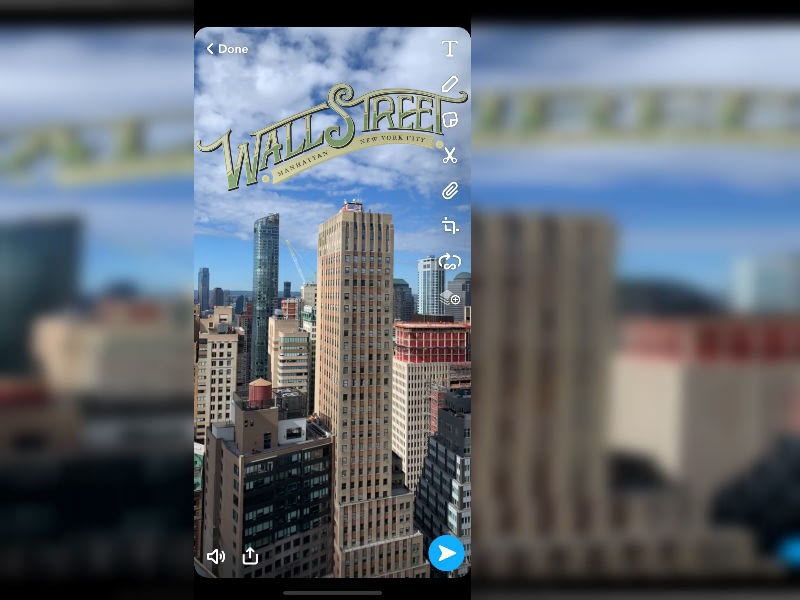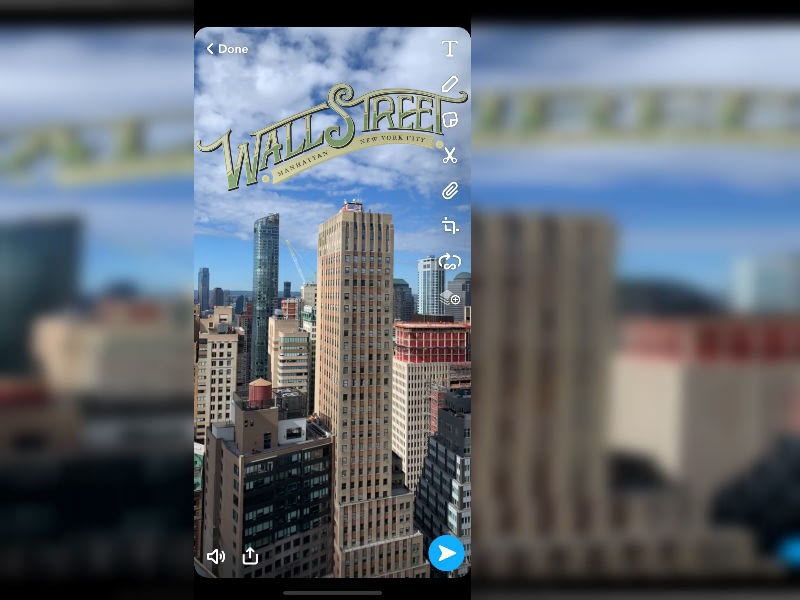 It could include a specific neighborhood (if it's well known) or simply the name of the city and state. To enable geotagging on Snapchat, click on your profile picture, followed by the settings icon in the right-hand corner.
Under Additional Services, click on Manage. Then, toggle the switch next to Filters to enable location filters: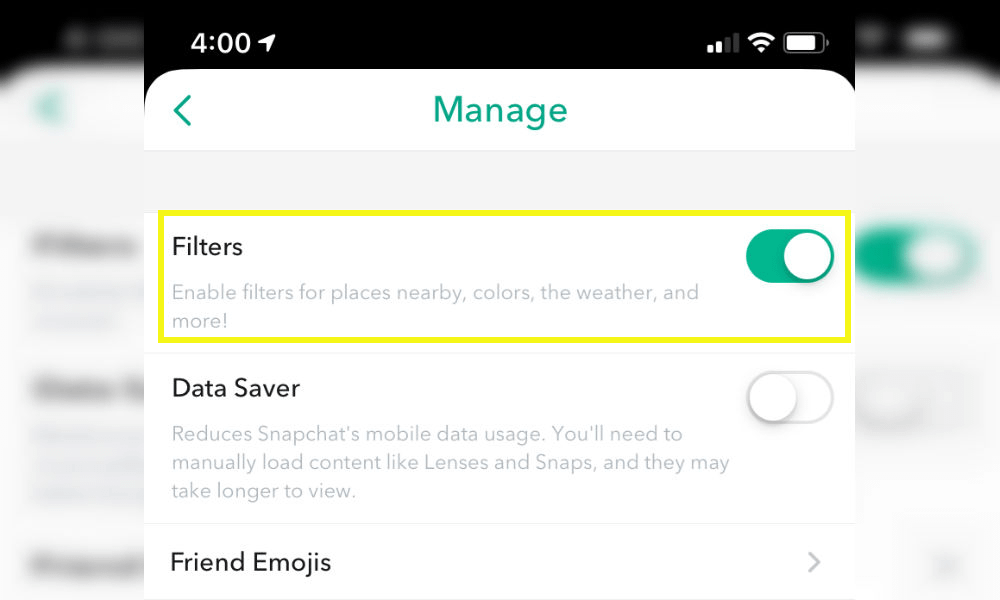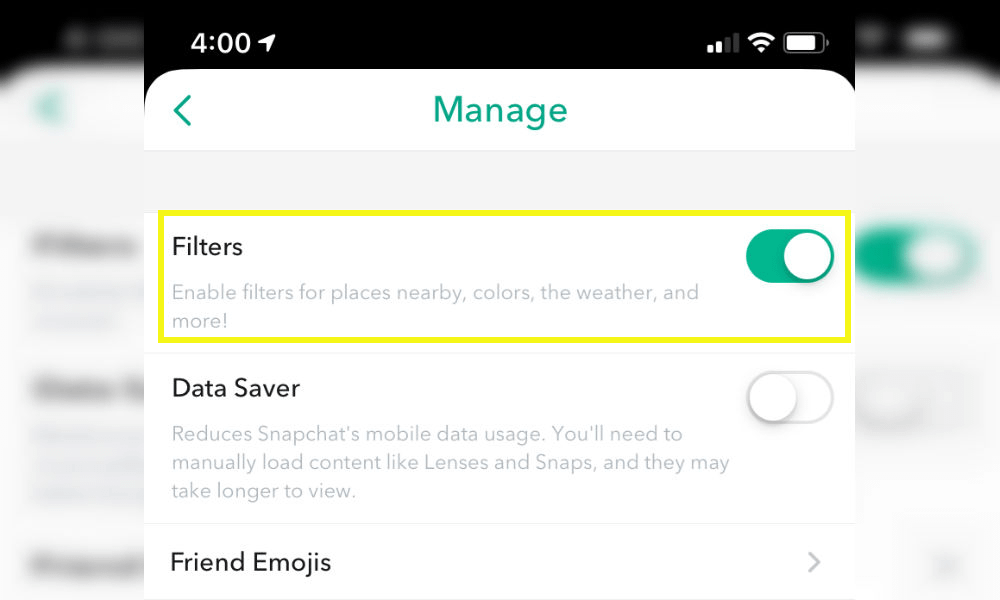 You can also add a geotag as a sticker, similar to Instagram. On the Snapchat camera screen, after you add the photo, click on the sticker icon followed by the Location sticker: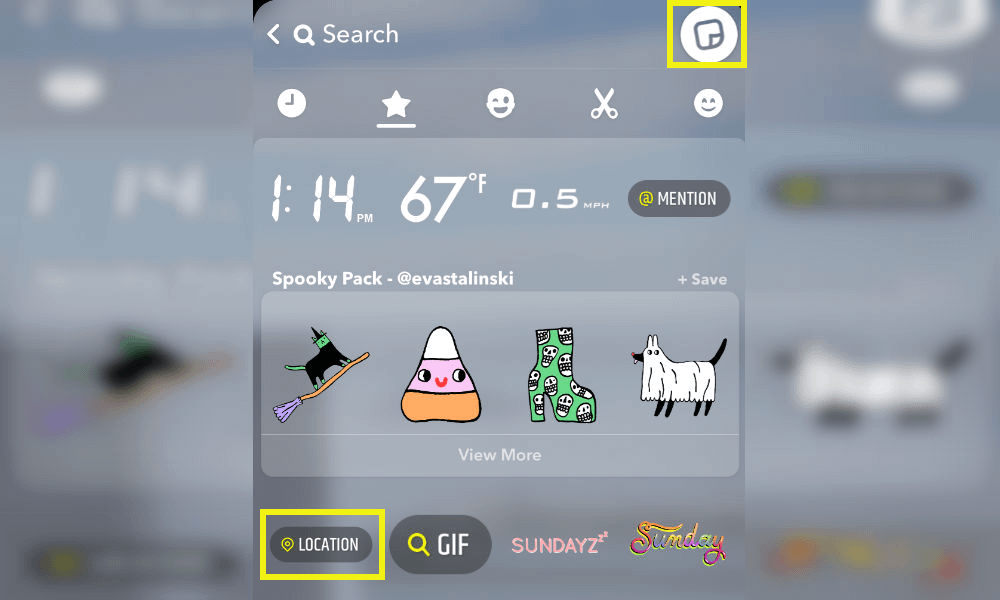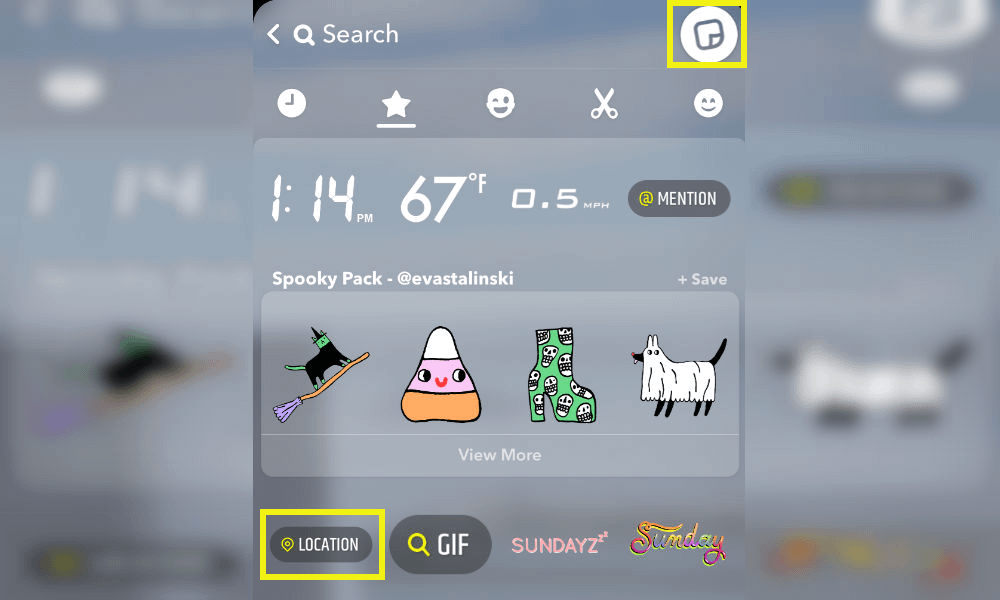 A final way Snapchat geotags can help boost the online presence of your business is through the Snap Map. Snapchat users can explore this feature to discover where their friends are or local places to visit.
To view the Snap Map, open Snapchat, go to the camera screen, and swipe down: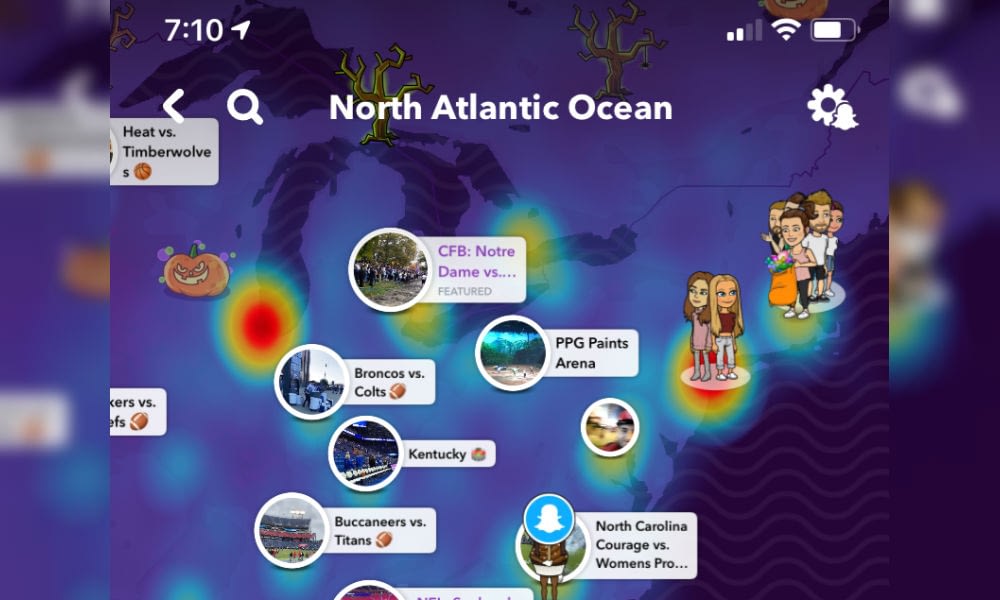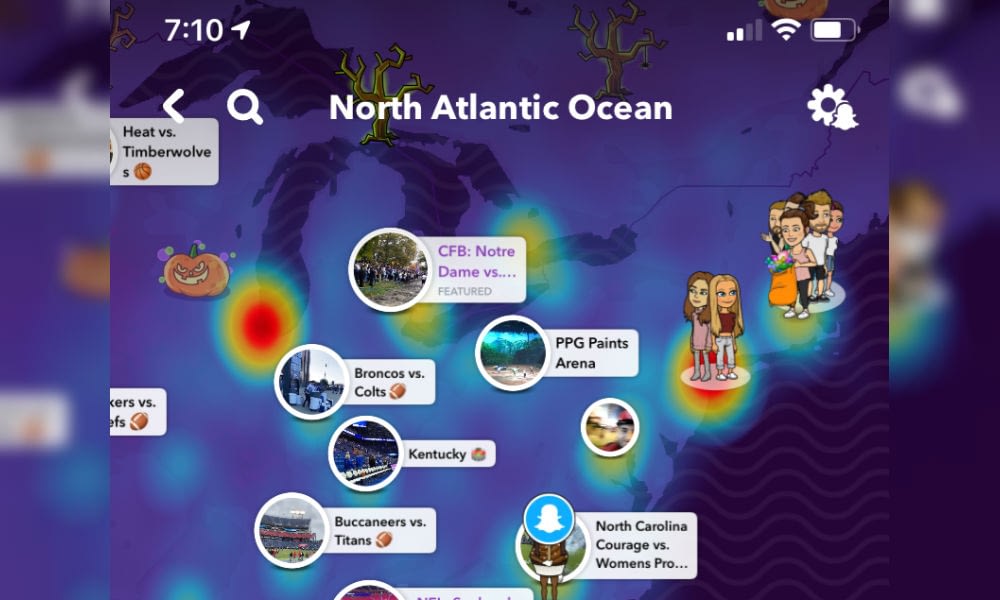 When someone clicks on an area on the map, they can view Snapchats from people who tagged themselves around those locations. Therefore, by adding geotags on Snapchat, you can make it easier for users to discover your business.
4. Enable precise locations on your tweets
Twitter isn't quite as heavy on visual content as the platforms mentioned above. However, you can still add geotags to your tweets to help promote your business and reach new audiences.
To add location information to a tweet, you want to start by clicking on the map marker located underneath the tweet text box: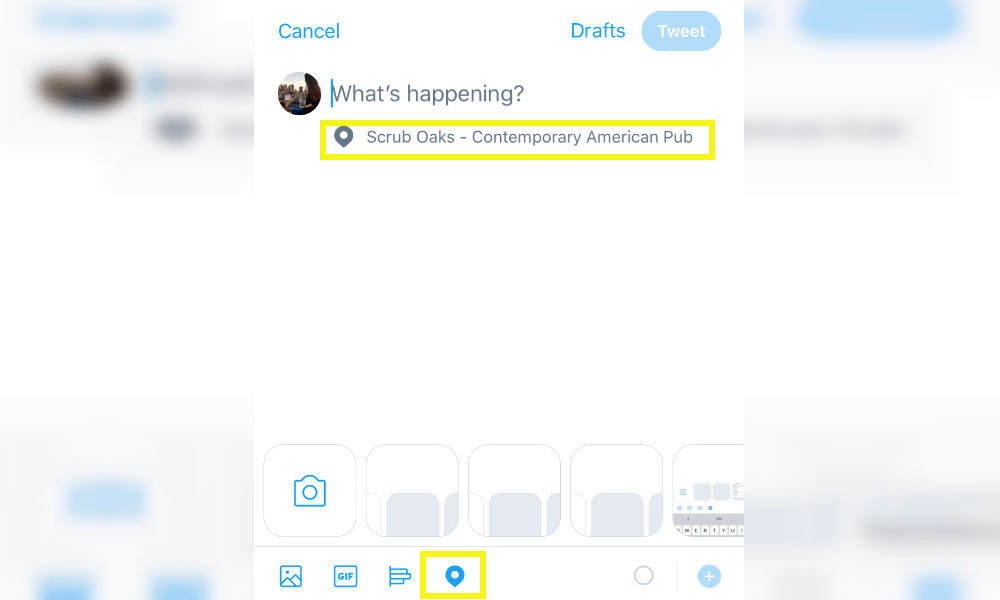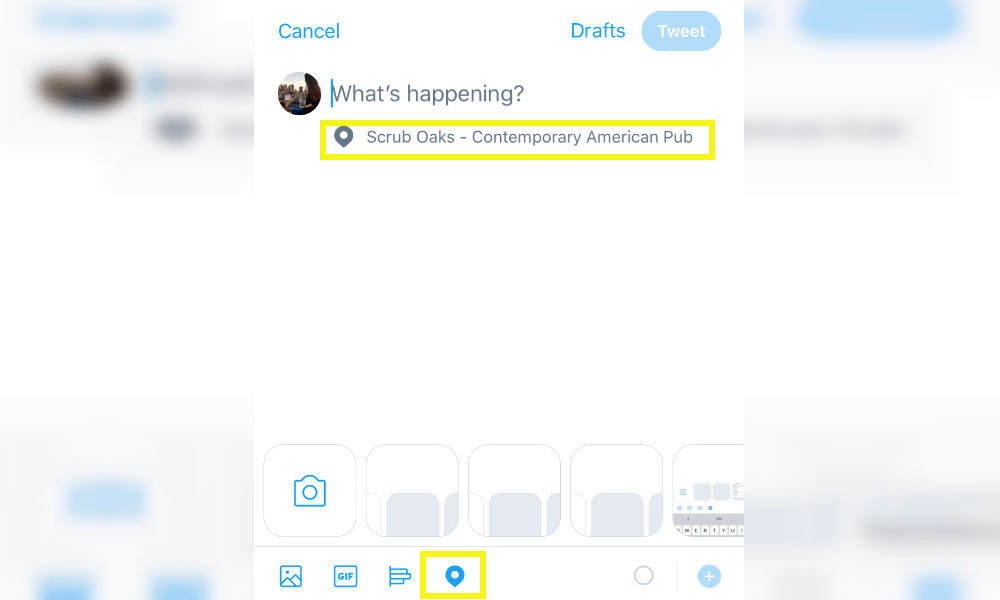 Once the location is added to your composed tweet, it can be edited – you can search for nearby locations or add your own. By default, locations on tweets are turned off. If you want to attach location information to your posts, your account needs to be configured to enable precise locations. You can do so by clicking on your profile photo, then Settings and privacy. Next, click on Privacy and safety. Under Location, there will be a section for Precise location. If it's disabled, click and toggle the switch to enable it: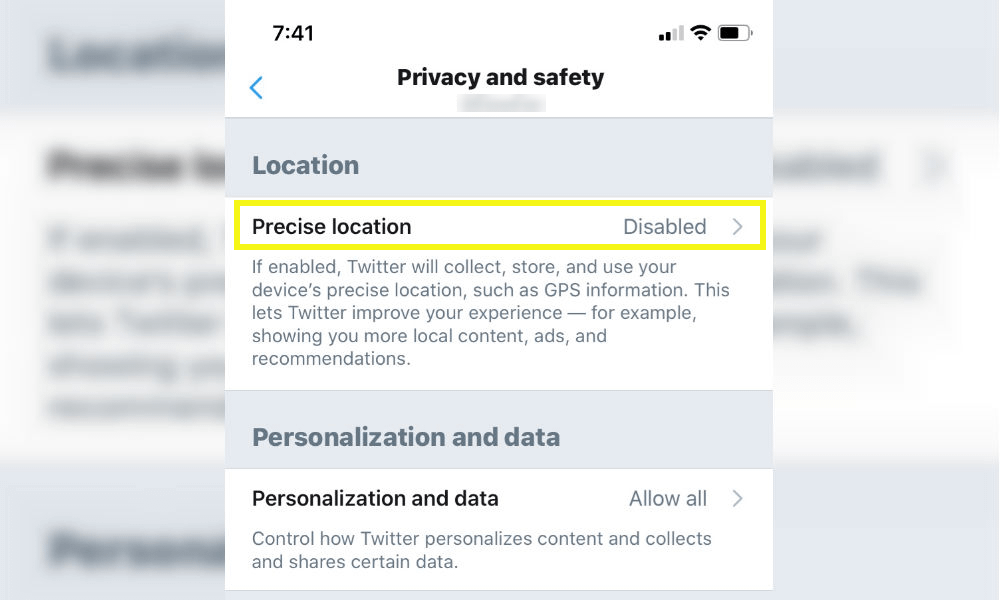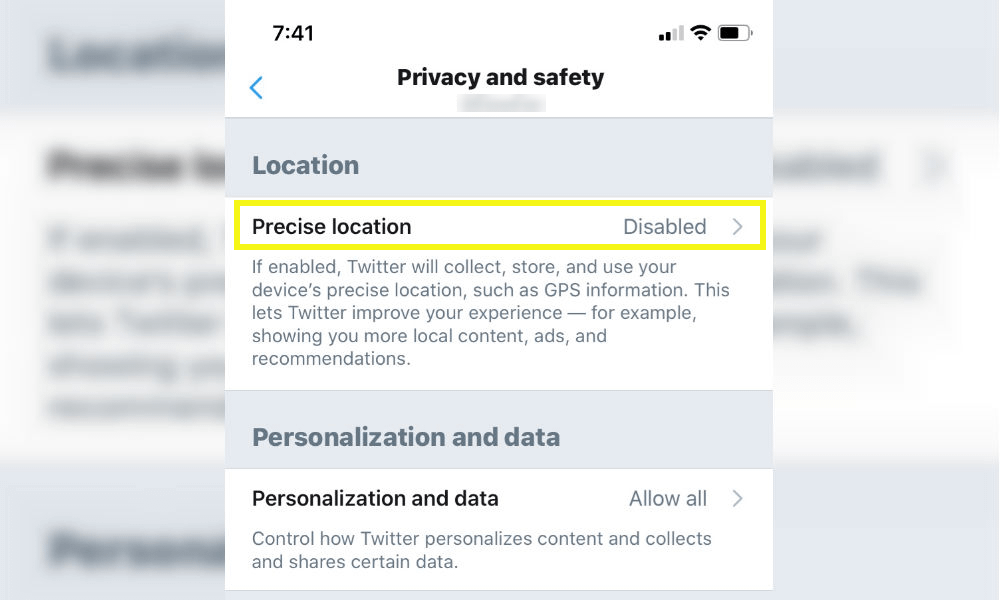 As with other platforms, you can use geotags on Twitter to help boost local visibility. You can also use it to discover information about your target audience and area.
Conclusion
Creating a strong social media presence is an effective way to increase brand awareness and boost conversions. However, many businesses forget to add geotags to their social media posts. In turn, they're missing out on an opportunity to target new customers and expand their reach.
As we discussed in this article, there are four geotagging tips you can use to boost your social media presence:
Use the check-in feature on Facebook.
Add a location to your Instagram posts.
Experiment with location filters on Snapchat.
Enable precise locations on your tweets.
Do you have any questions about using a geotag? Let us know in the comments section below!
The post How to Use Geotags to Boost Your Social Media Presence appeared first on Revive Social.