Are you thinking about using influencer marketing for your business? Working with online content creators such as YouTubers and Instagrammers can increase your brand awareness and drive more sales. However, if your business is small or new, the thought of reaching out to influencers can seem daunting.
The good news is that you don't need a popular brand to find influencers who are willing to collaborate with you. With the right campaign strategy, you'll be able to form successful partnerships with individuals who align with your brand and can help you reach your goals.
In this article, we'll take a closer look at influencer marketing and its benefits for businesses. Then we'll show you how to plan your first influencer marketing campaign. Let's get started!
An introduction to influencer marketing
The popularity of influencer marketing has skyrocketed in recent years. In fact, the value of the market reached $13.8 billion in 2021[1], and this figure is predicted to grow as more and more companies are choosing to work with online content creators to promote their brands.
By marketing products on their channels, influencers across various industries are able to impact the buying decisions of their audiences.
Companies of all sizes leverage this influence to reach their marketing goals, often compensating content creators with monetary payments and free products.
Businesses enjoy several benefits when they work with influencers. In a survey by MediaKix, 89 percent of marketers[2] reported that their Return On Investment (ROI) from influencer marketing was better than from other marketing channels. These collaborations can increase brand awareness and therefore drive more sales. They also help businesses reach new audiences and build trust with consumers.
How to use influencer marketing to drive brand awareness and sales (in 5 steps)
Working with content creators can be beneficial to nearly any business, no matter its size and niche. Let's take a look at how you can get started with influencer marketing.
1. Plan your marketing campaign
The first step is to flesh out the details of your marketing campaign. It's important to have a clear strategy, so both you and your influencers know what to expect from this collaboration.
We'd recommend that you start by setting clear, concrete goals. For example, perhaps you want to work with content creators to increase brand awareness, or to promote a particular product.
Next, you'll want to plan your budget. This will help you determine the duration of your campaign and the sort of compensation you can offer influencers for their endorsements.
Finally, it's smart to come up with a theme for your campaign. You could pick an aspect of your product that you wish to highlight, or reflect on a message you want to put across. Additionally, you could come up with a catchy hashtag for your campaign. When used effectively, hashtags can help you increase your reach and draw more attention to your brand.
2. Choose the right social media channel
Once you have your campaign laid out, you'll need to identify the most suitable platform for it. Instagram is the most popular social media channel for influencer marketing, followed by YouTube and Facebook. However, the most popular option might not necessarily be the right one for your business.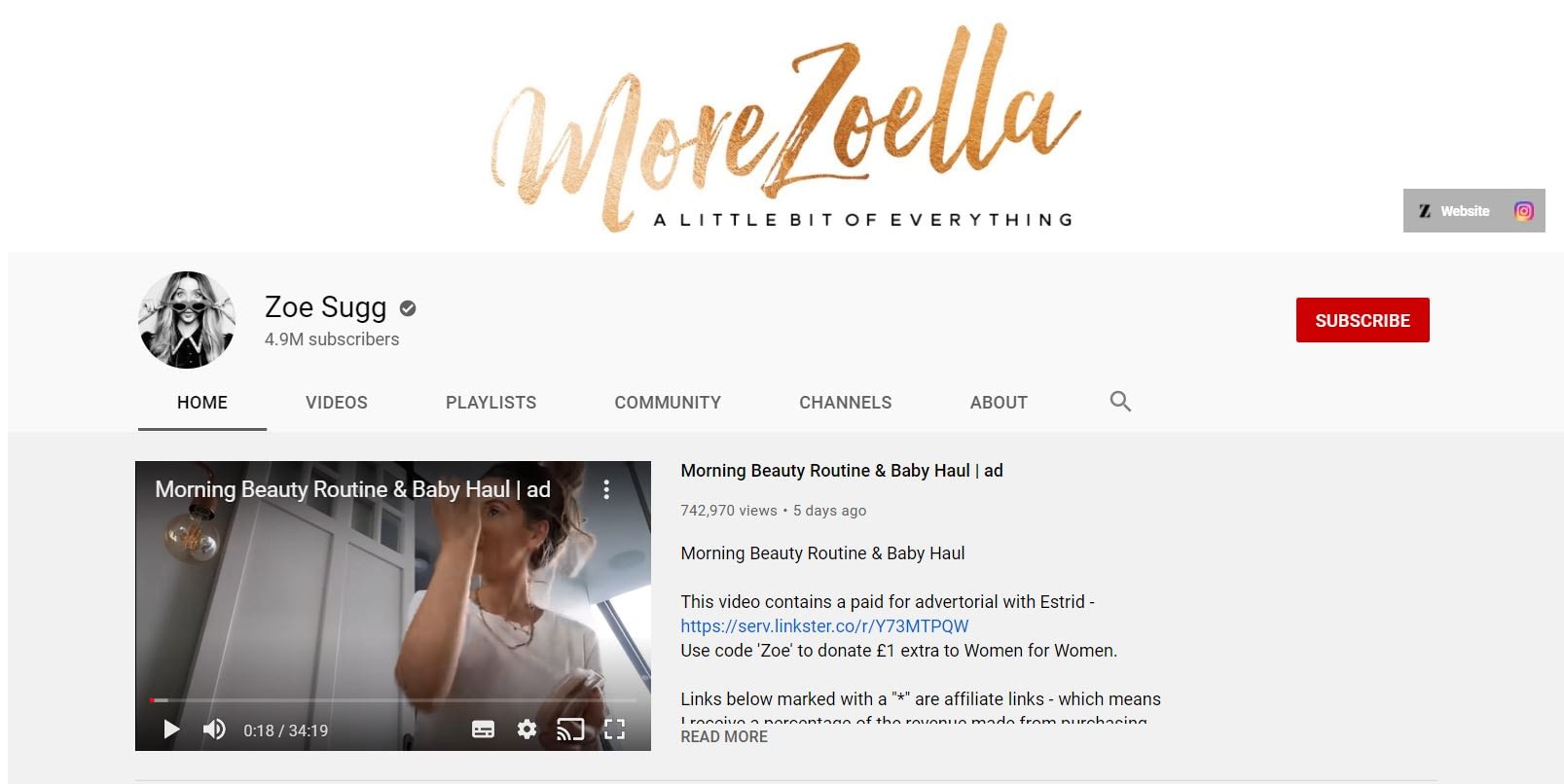 There are a few things to consider when choosing the best channel for your campaign. The first is your own online presence. For instance, if you have an active Instagram account, it would make sense to work with an Instagrammer so they can tag you in their posts, effectively directing their followers to your page.
Second, your chosen platform should reflect the type of content you want for your campaign. YouTube could be the best option if you want to work with influencers who can create videos with product reviews and demonstrations. Meanwhile, Instagram is the ideal platform if you're after content that encourages participation. For instance, many influencers use Instagram Stories to engage followers with interactive features such as polls and question boxes.
You might also want to consider the level of visibility and accessibility afforded by each platform. YouTube permits publishers to embed product links directly into their videos. On the other hand, Instagram doesn't allow clickable links within posts. Therefore, the best influencers can offer on that platform are temporary links in their biography sections.
Additionally, YouTube videos are more searchable than Instagram posts. They can show up in search engine results and are accessible via direct searches on YouTube. Meanwhile, Instagram posts tend to get buried with time. Of course, if Instagram has a particularly strong reputation with your target audience, that may outweigh these downsides.
3. Create a profile of your ideal influencer
The next step is to build a profile of the perfect influencer for your brand. This profile can be based on the specifics of your campaign and chosen social media channel, though there are also other factors to consider.
First, you should consider the type of influencer you wish to work with. If you have a big budget, you might want to partner with macro influencers, who have hundreds of thousands of followers and can help you reach a large audience. On the other hand, micro and nano influencers have a much smaller following, and for this reason, they tend to be more affordable.
Next, you'll want to think about their niche and the type of products they promote. For instance, a lifestyle blogger could be the perfect fit for your zero waste beauty brand, especially if they endorse sustainable and eco-friendly products.
Finally, make a list of the traits and skills your ideal influencer must have. For example, you may be looking for creative individuals who are also eloquent speakers, and can therefore create interesting videos about your product.
As a small business owner, you may want to consider working with publishers who have a modest following. This is not only cost effective, but can also yield better results for your business. In fact, studies have shown that micro influencers have better engagement rates than macro influencers.
4. Scout out the right influencers
The next step is to look for content creators who meet your requirements. If you're using Instagram, you can use hashtags to find influencers that fit your niche and preferred demographics (e.g. #femaletravelbloggers or #usabloggers). Likewise, if you're using YouTube, you can enter keywords in the search bar to find creators who post videos about products similar to yours.
You want to gather some information about each influencer and create a database for future reference. Things worth noting include their follower counts, the average number of likes on their posts, and their frequency of posting. You may also want to analyze the activity on their posts. Influencers who reply to comments often can offer better engagement for your campaign.
When scouting out influencers, you'll also need to determine if they can help you reach your target audience. For this, you might want to check out the profiles of people who comment on their posts. This will help you get a clear picture of their average followers. It will also give you a general idea of the things their followers are interested in, and therefore you should be able to tell if your product or service will appeal to their audience.
Finally, you can make a shortlist of the influencers you wish to work with. Since some of them might not get back to you or turn down your offer, you might want to have a few names as backup options.
5. Start building relationships with influencers
Finally, it's time to reach out to the influencers on your list. Many will have contact addresses on their profiles. Alternatively, you can send them direct messages via Instagram or Facebook.
When contacting content creators, there are a few important things you should include in your first message:
First, state your campaign goals and expectations. This way the influencer will be able to determine if they are the right person for the job, and if they can help you reach those objectives.
Secondly, you might want to let them know what your budget is and what you can offer them, even if you're only able to provide free products at this stage. Many influencers will appreciate the honesty, and might still be willing to work with you for a small payment.
Additionally, you may want to discuss the possibility of a long-term partnership. Depending on your budget and campaign goals, it might be more worthwhile to work with the same influencer on a regular basis, rather than using them for a one-time project.
Before committing to an agreement with an influencer, it's smart to take your time to get to know them, so you can ensure that they're the right fit for your brand. Once you launch a campaign with your chosen influencer, you can keep track of their posts by using a tool such as our Revive Network plugin. This also enables you to share influencers' content directly to your social media accounts.
Conclusion
However big or small your business is, partnering up with influencers can be an effective way to increase your brand awareness, drive more sales, and build trust. Plus, it's more achievable than you might expect, even for smaller organizations.
In this article, we covered five main steps to help you get started with influencer marketing:
Plan your marketing campaign.
Choose the right social media channel.
Create a profile of your ideal influencer.
Scout out the right influencers.
Start building relationships with influencers.
Do you have ideas for your first influencer marketing campaign? Let us know in the comments section below!
The post How to Use Influencer Marketing to Drive Brand Awareness and Sales appeared first on Revive Social.