Do you use Instagram Story templates? Instagram Stories are one of the fastest growing trends on Instagram. Right now, creating beautiful, creative Instagram Stories on a regular basis is the best way to engage with your Instagram audience in addition to your regular Instagram feed and Instagram IGTV. Instagram templates make this easier by helping you maintain a consistent look across Instagram, especially when multiple people on your team access your account.
In this post, I want to show you how to use Instagram story templates and the best places to find them.
---
How to use #InstagramStory Templates to create better content
Click To Tweet
---
What are Instagram Stories templates?
Instagram stories templates are editable image layouts created with a variety of features including text and captions, shapes, and graphics. You can adjust colors, add text, change background images, and more.
You then upload them to Instagram Stories, where you can add stickers, more text, GIFs, filters, buttons, and so much more. There is a lot to love about Instagram Stories, and templates make it easier to create awesome content your followers will love.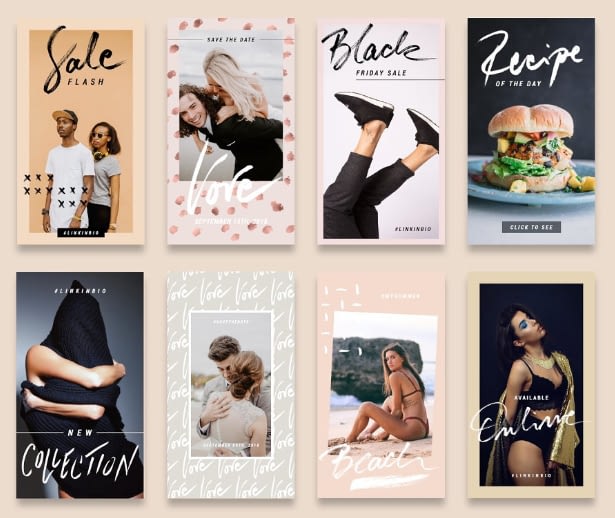 You can download Instagram story templates and use them in software like Adobe Spark, use built-in templates found on many design platforms like Snappa and Canva, or create your own and save them.
Regardless of whether you find or create your own template, you will need a software platform to edit your template, whether it's an online app like Canva or software like Photoshop.
What are the benefits of using Instagram Stories templates?
Using a template allows you to carry brand colors, fonts, and even logos throughout your Instagram Stories. Just like you want your website, social media, and email list to be recognizable, you want your Instagram Stories to have a cohesive look.
Consistent branding helps your Instagram Stories make an impression on customers and gives them insight into who you are as a brand and what to expect from you.
For example, if you own a website selling natural toddler toys, you might use primary colors and school-related fonts. Carrying those branding elements over into your Instagram Stories tells customers they are in the right place. It also sends signals to new followers about who your brand is and what you stand for.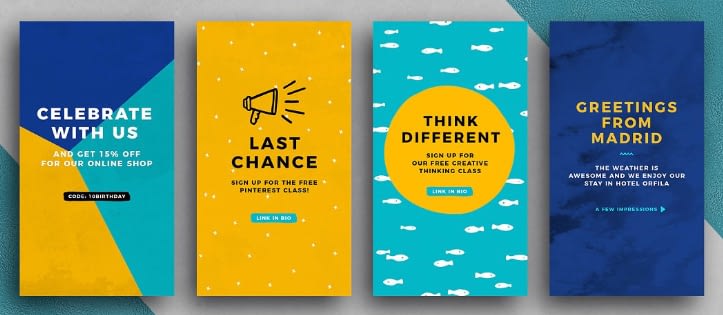 In addition to the benefits of branding, using a template makes it easier to create dozens of stories or posts at one time, since you aren't starting from scratch every time. You can easily halve the amount of time it takes to create your stories.
If you want to create Instagram Stories that stand out, tell customers who you are, and make it easier to create engaging social media content faster, Instagram story templates are a no-brainer.
Are there any cons to using Instagram Stories templates?
There are a few drawbacks, but they won't apply to most users.
Using the same template over and over again could make your Instagram Stories boring, lowering engagement. But, if you find a handful of similar templates, or adjust several templates to fit your branding, then your stories are likely to be more engaging and take much less time to create.
If you are a professional designer, you might find the limits of templates to be a bit frustrating. If that is you, then you may want to stick with a program you are comfortable with, such as InDesign.
However, if you are a business owner, social media manager, or otherwise not a professional designer, Instagram Story templates are about to make your life a whole lot easier.
How to use Instagram Stories templates
Ready to get started creating amazing Instagram stories? Here is how to use Instagram Stories templates.
Source (or create) your template.

I've listed some of the best places to find templates at the end of this article. There are tons of options and themes to choose from, including lifestyle, seasonal, and business templates.

Edit the template.

Edit the features in the template, add more text, include stickers, add links, etc. (The exact process will depend upon the platform your template is in.)

Upload your images to your phone, social media planning tool, or share directly from the app.

For example, if you create your story in Snappa, you can email the images to yourself, then download them from your phone and save them to your phone's photo album.

Create your story on Instagram just like normal!

You can even use the native Instagram story tools to add stickers, GIFs, etc.
Now that you know how to create an Instagram story using a template, here are a few Instagram story ideas for inspiration. Think about how easy these would be to create if all you had to do was add the text and your own photos!
Launch a new product:

Start with a few sneak peeks of your newest product, then share a link where followers can buy.

Use a fillable template to start a conversation with your followers:

Ask questions, and leave a blank space for followers to answer. They can screenshot your story (with your branding!), use a drawing app to write, and share their answers with their followers.

Show followers behind the scenes:

Show them where you make your handcrafted leather purses, show off where you write those brilliant blog posts or share pictures of your marketing firm's Halloween costume party. Followers expect unscripted, intimate content in Instagram stories.

Share user-generated content:

Use a template to share posts from your customers saying why they love your brand. Be sure to ask permission, of course, and tag the Instagram handle of the original poster. The template could include your brand colors, logo, or even a link to buy the product they love.

Host a takeover:

Let an influencer or team member take over your brand Instagram account for the day. Using a template during a takeover keeps your brand's look while still sharing unique content.

Pre-launch teasers:

Are you releasing a new course, publishing a new book, or releasing a limited edition product? Use Instagram Stories to get your audience excited about what is coming.
Where can I find Instagram story templates?
Now you know what Instagram story templates are, why they are so amazing, and how to use them. But, where can you find the perfect Instagram story template?
Here are a few of my favorite places to find the best templates for your Instagram story.
1. Easil
Easil is an easy-to-use design tool aimed at making it easier to create beautiful images for the web. Their Instagram story library includes single-image and multi-page templates so you can create a beautiful, on-brand story every time.
Here are a few examples of their templates:
You can choose from a wide range of modern styles. And remember, you can edit just about any feature. Love the mystery flash sale template but hate pink? Swap it out for your brand colors.
To get started, create your free account, click "Create New Design," then choose Instagram Stories. Choose the template theme you like and start editing. The editing portion is pretty intuitive to use, just click on the elements you want to edit.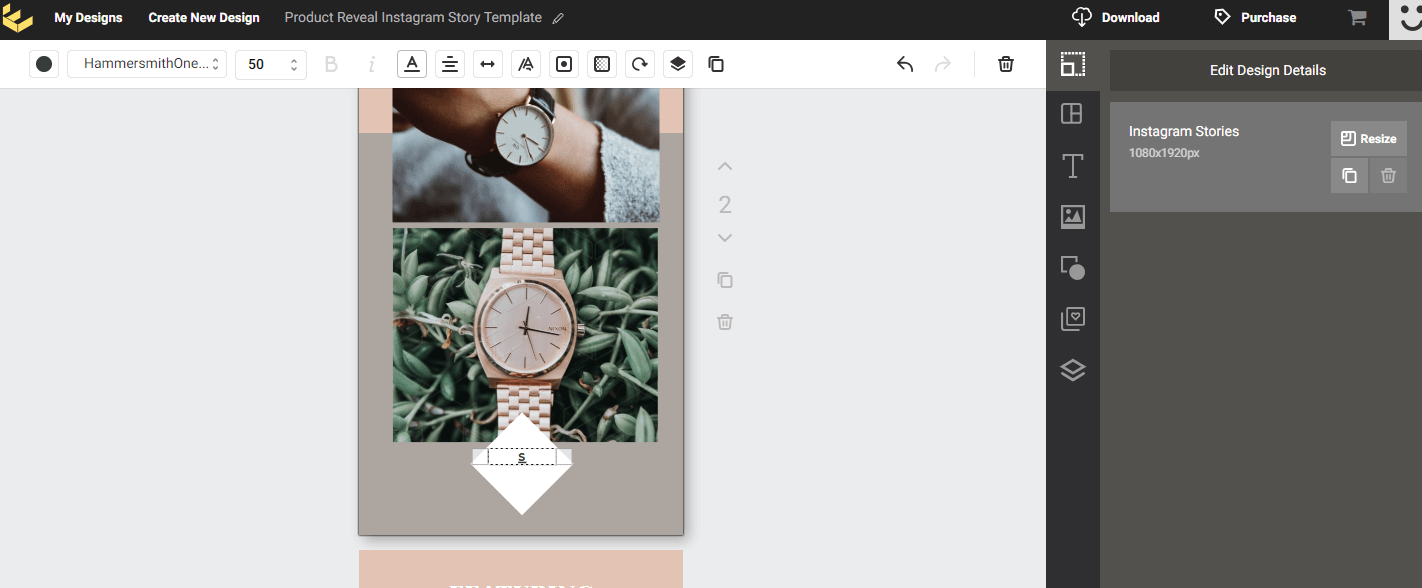 You can also edit layers, swap out photos, duplicate slides, and more. There is a bit of a learning curve, but hovering over the icons in the black bar will tell you what each item does. While it isn't the most straightforward tool to use, the learning curve isn't excessive.
Cost: Easil offers a free 30-day trial, so you can try out their templates for free. The base plan is just $7.50 a month.
Why We Love Them: The multi-image templates mean you can create stories that capture your audience's attention—no need to use the same boring template over and over again.
2. Snappa
Snappa is a web-based design tool for creating beautiful images for blog posts, ads, social media, and more. They offer templates for nearly every social media platform, but their Instagram Story templates are particularly beautiful. Here is a peek: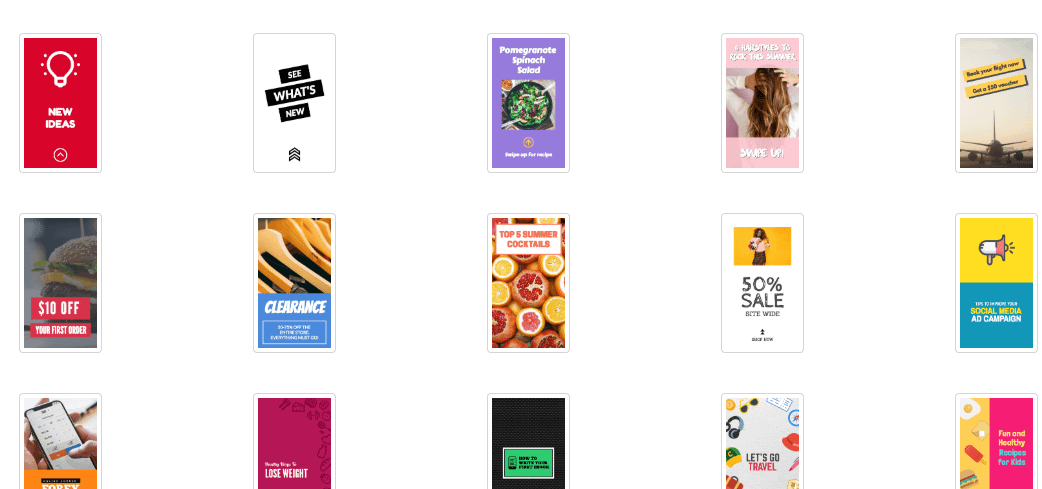 You can edit fonts, add an image, swap out photos, find free stock photos to use, and so much more. They even make it easy for you to save your own version of a template. So, if you find a layout you like, you can tweak it and then save it for your next story.
Editing mode is pretty simple to use, though a few of the features feel a little buried. They have a nice selection of icons, logos, patterns, and photos to use.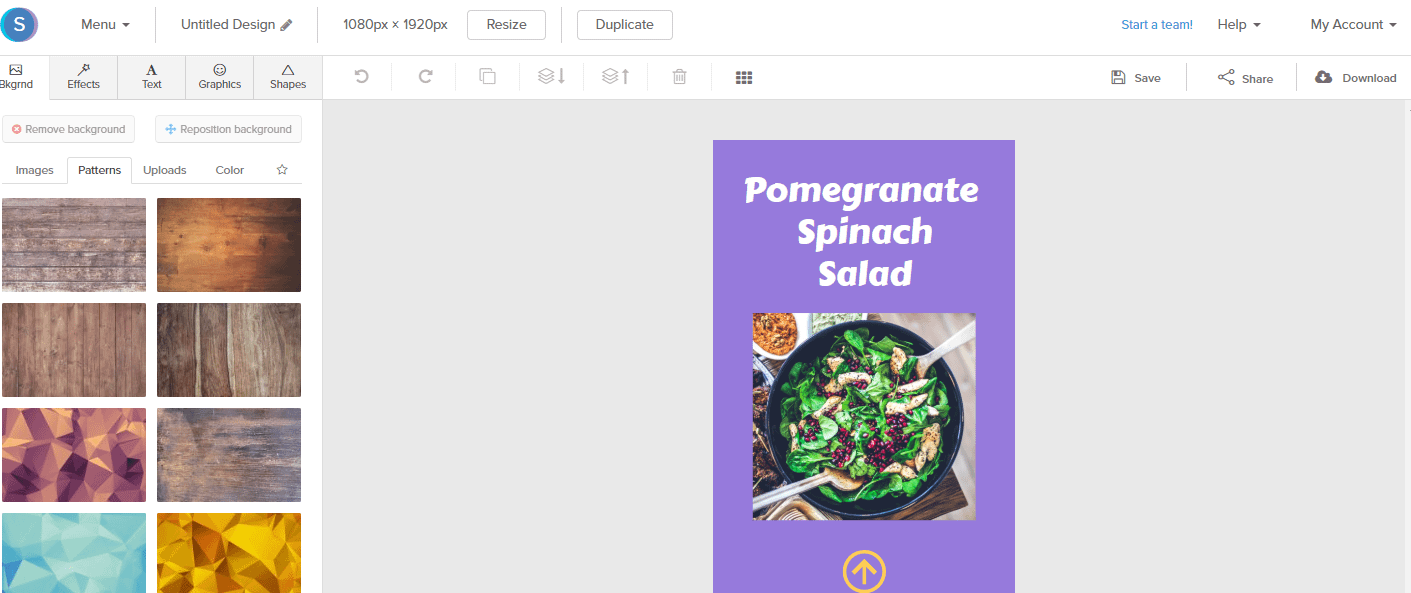 The team feature is fantastic, as it lets multiple people use a joint account and save images they've created. This is great if you need to access an image someone else on your team has created, or if you need to quickly swap out text on an image without recreating it.
Cost: They have a pretty limited free account, their Pro account (with unlimited downloads) is $10 a month
Why We Love Them: Snappa has a vast library of professional-looking templates for Instagram Stories, blog posts, Facebook, and more. The wide range of templates means you can create a cohesive look everywhere–from your website to your Insta story.
3. Canva
Canva is one of the more popular web-based design software companies, and they don't disappoint when it comes to Instagram Stories.
They offer themed templates for Instagram Stories, including quotes, sales, minimalist, travel, animals, and holiday. While some of their templates require pay, there is still a good number of free options.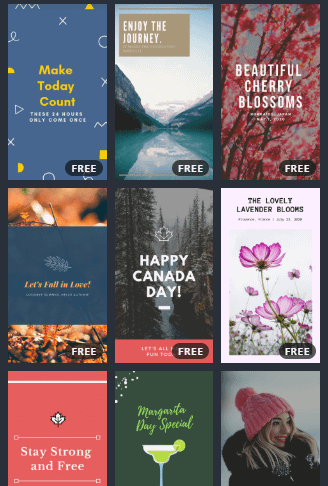 If you've used Canva before, then you will be right at home designing your Instagram Stories. The editing mode is easy to use, simply click on the element you want to change.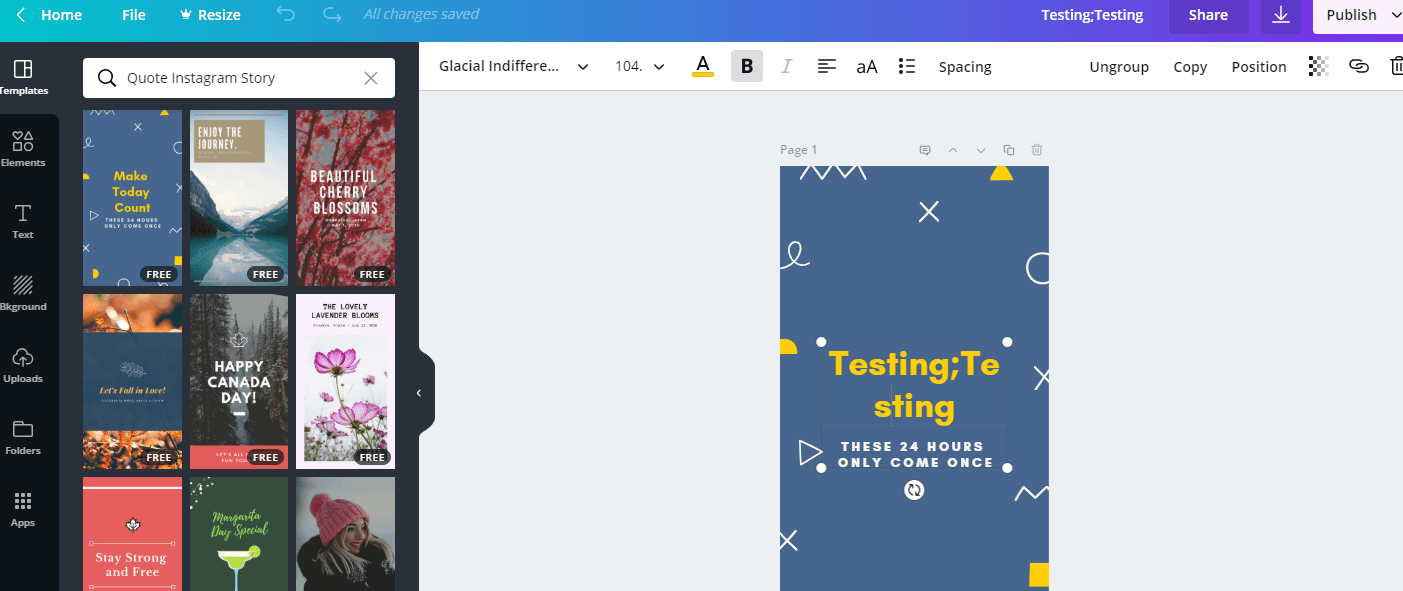 The left sidebar gives you access to more features, and you can swap out templates easily. There isn't a way to directly share to Instagram, so you will have to download your creation then upload it to Instagram manually.
Cost: Canva offers three plans, the lowest tier is free, though there are in-app purchases for additional fonts, templates, and photos. The next tier is $12.95 a month.
Why we love them: The templates are simple but beautiful. Since similar templates are available for Facebook, featured images for your blog, and even presentations, keeping your branding similar is easy across the web.
4. Buffer
The templates from social media scheduling tool Buffer are not my favorite on this list, but if you are already using Buffer, then it is a super handy feature to have.
They offer five bare-bones templates you can use through their story creator. Here is one of their templates: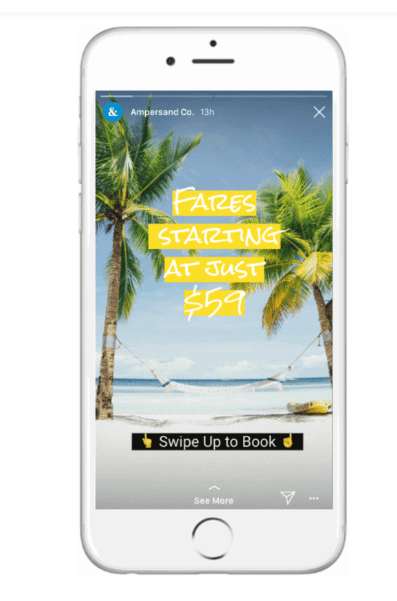 Nothing fancy, but if you are already in Buffer to schedule the rest of your social media, then you will appreciate this tool. You, of course, have the option to choose another tool and just upload your images to Buffer. But if you are looking for a basic template that fits right into your current social media workflow, Buffer's tool fits the bill.
Cost: Free with a Buffer account. The lowest tier Buffer account is free; the higher tiers range from $15 to $200 a month for business accounts.
Why we love them: There is something to be said for a tool that fits right into your current process. If you are already using Buffer, check their templates out.
5. Adobe Spark Post App
Adobe Spark offers a full suite of design tools, including Spark Post, Spark Page, and Spark Videos. Unlike Photoshop or Indesign, which are expensive and come with a huge learning curve, the Spark Post app is simple to use right from your phone. And, it is seriously powerful.
Here are a few examples of their templates: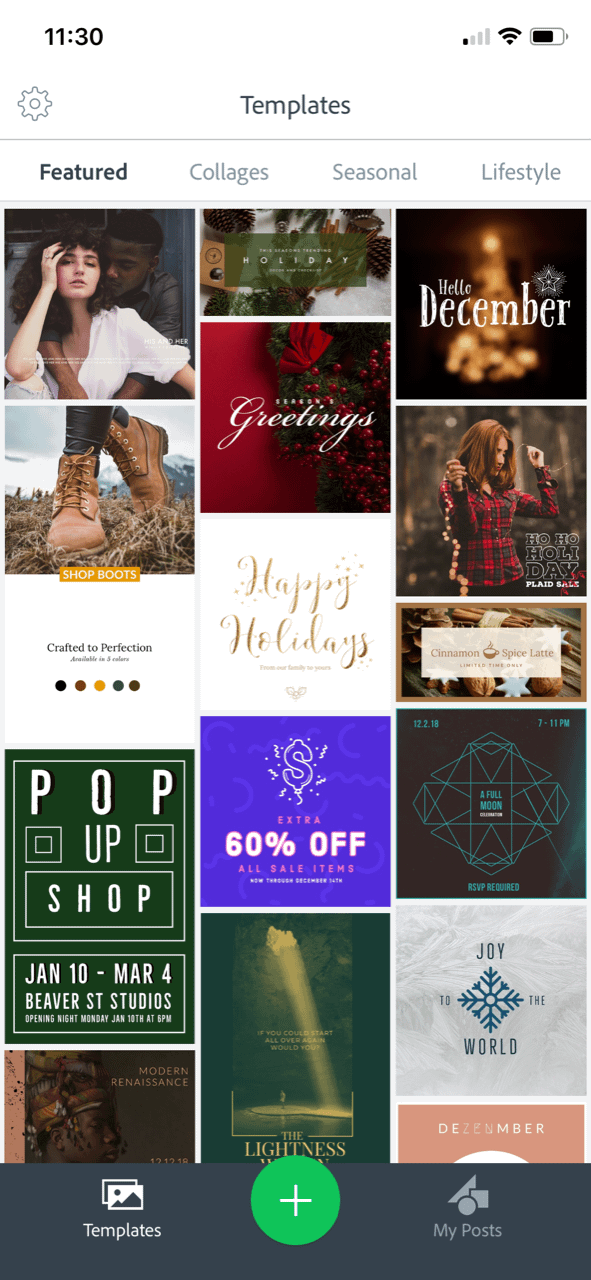 There are no Instagram story specific templates; however, they do offer a huge selection of themes, including collages, seasonal, lifestyle, business, school, travel, food, and craft. The templates are simple to customize. Just choose the one you like, click "remix," then double tap the features you want to change.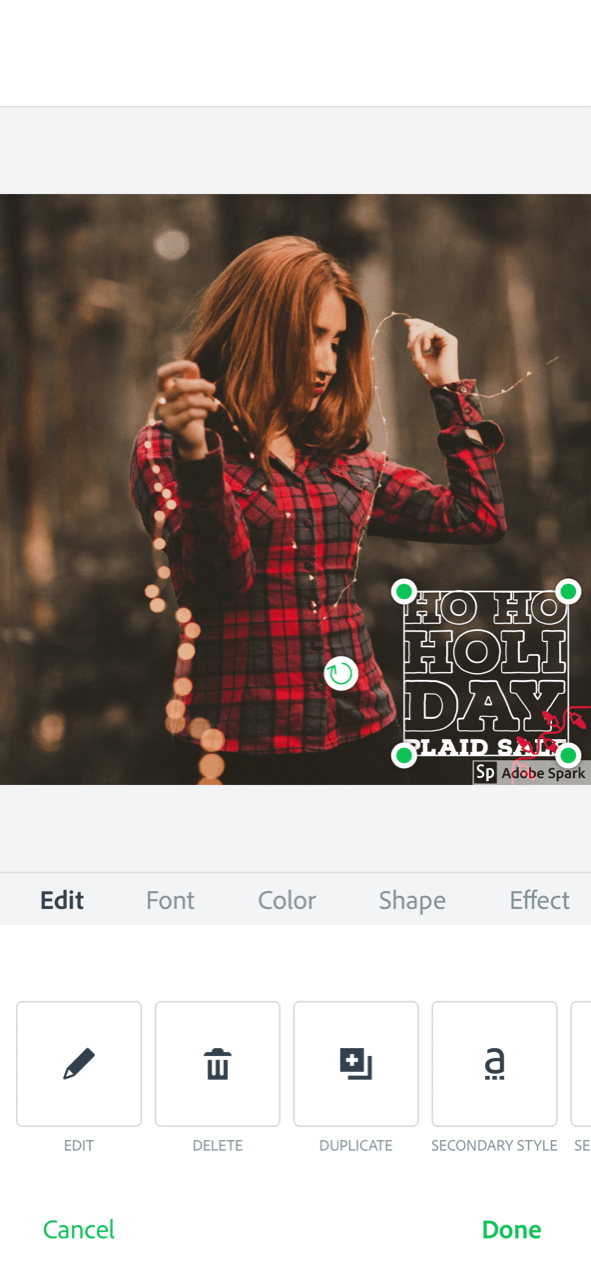 You can edit the text, change the image, add icons, or even your logo. Once you are done, you can easily upload to Facebook, Twitter, or Instagram right in the app. And you can do it all right from your phone. (Can you tell we love this app?)
Cost: Spark Post is free to use, though they do offer a premium plan for $9.99 (which gets you to access to all of Adobe Spark). There are in-app purchases for stock photos.
Why we love Spark Post: The cost, features, and the ability to use it from your phone make this a powerful Instagram story template tool.
6. Creative Market
A favorite of mine—not to mention an easy place to spend hours drooling over the beautiful designs—is Creative Market. There are thousands of Instagram Stories templates available, which you can buy and edit using Adobe Photoshop or Illustrator.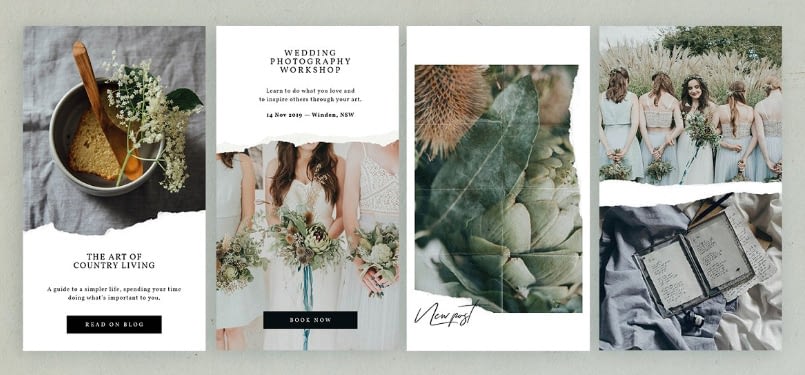 Since Creative Market is a marketplace, there is a huge diversity in the designs on offer so you'll never run out of options.
Tip: If you're interested in displaying an Instagram puzzle—you know, those layouts that interconnect—on your regular feed, then look no further. There are hundreds of puzzle designs on Creative Market. All you need to do is buy and download the puzzle you want, update your images and text in Photoshop/Illustrator, and start sharing your layout on Instagram.
Cost: Templates starting at $18 for simple packs up to $70 for bundles that contain multiple packs of templates. Pricing is one-off and you can download your templates right away.
Why we love them: The huge variety of templates for sale offers so much choice. No matter your branding, you're bound to find templates that suit your style—and if not, you can easily update your brand colors in Photoshop.
7. Instagram
Shocking, I know. Search Instagram for the hashtag #instagramtemplate, #instagramstorytemplate #storytemplate, or #instagramstorytemplates. You will find hundreds of templates and see what they look like in use.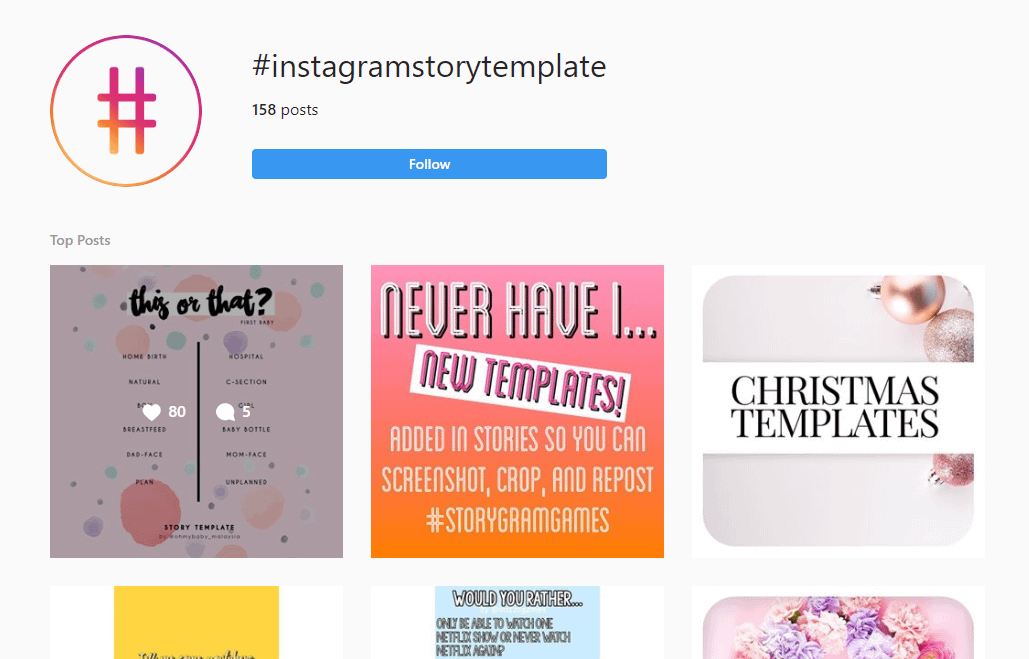 These will just be flat images, so you will need to find their source if you want to edit them. Check the comments or look at the bottom of the image for information about where the template came from. If nothing else, you might find some inspiration to make a template in one of the other tools even more awesome!
Final thoughts on Instagram story templates
Instagram stories are extremely popular, and many brands are seeing high engagement rates. Followers love the unique content brands share, and the expiring feature seems to add to their popularity.
Whether you are just getting started with Instagram or have been creating stories for over a year, Instagram story templates will make creating the authentic, intimate content your followers are craving much easier.
---
Templates for Instagram Stories can help you create the authentic, intimate content your followers crave #SocialMediaMarketing
Click To Tweet
---
The post How to Use Instagram Story Templates to Create Better Content appeared first on Revive Social.