Writing good Instagram captions is hard.
I mean, it's easy coming up with funny captions for your personal account. After all, your friends and family don't really care too much about what you write.
But once you start using Instagram for your business, it introduces all kinds of things you need to think about, from the types of captions you share to emojis, hashtags, mentions, calls-to-action, and sponsored content.
To help get you started—or kick-start your existing efforts on Instagram—I've put together this handy guide to writing good Instagram captions.
Let's dive in!
Why are Instagram captions important?
"Um,… Last time I checked, Instagram was a photo-sharing platform…"
Yep, Instagram is all about sharing beautiful images. But don't be fooled into thinking your words don't count.
Writing good Instagram captions is incredibly important. They give your images context, they let you show off your brand's personality, connect with your audience, and compel followers to take action.
There's also a lot to say about the power of storytelling. Our brains are hard-wired for stories. We tell stories when we catch up with friends for drinks or relay a funny joke at dinner.
Stories engage people, drawing you in and help users make sense of brand's and products that at first might be confusing or feel overwhelming.
On Instagram, images draw people in. But it's the captions that help businesses form connections with your users and build a community around your brand.
Why is it important to connect with your followers? Because it helps fuel engagement. The Instagram algorithm favors posts that get a lot of likes and comments. Basically, engagement sends a strong signal to Instagram that you've got quality content, your followers love it, and other users might want to see it too.
Ultimately, good Instagram captions give you the words to tell your brand's story, build relationships with your followers, and expand your audience.
How to write good Instagram captions
Firstly, let's get one thing straight: you don't need to be a literary genius to write good Instagram captions.
There's also no secret formula or template that works every time. How successful your captions are all comes down to your audience. You need to understand who they are, what they like, and what kinds of content resonates with them.
It's important that in your captions you come across as authentic. Use your words to give your images context, and always include a CTA to inspire your followers to take some sort of action (more on this later).
Most importantly, show off your personality! Whether you run a yoga studio or an architecture firm, your captions give you the opportunity to tell your business's unique story.
Captions are limited to 2,200 characters and are truncated after the first three lines of text. This gives you a lot of room to get creative with what you write. While some businesses take advantage of all this space, others post very short captions.
Length-wise, according to CoSchedule, captions perform best at 241 characters.
It can be hard to know what to write. Should you be funny? Serious? Promote some aspect of your brand? Don't have a caption at all?
There's no silver bullet. What works for your audience will take some experimentation.
What I do recommend is taking your time when writing your captions. Rather than write a quick caption in 10 seconds, write and rewrite your captions. It often helps to write a bunch in bulk when you've got the time and you're in the right headspace.
Using a consistent brand voice
It's important to work out your brand voice early on as this will influence not only how you write your captions, but also what kinds of images and videos you share.
If you don't already know what your brand voice is, think about the qualities and values you want your business to represent. Try writing down a few words that you think best describe what you offer. For example, a business that sells hiking gear might be "adventurous," "bold," and "friendly."
Your brand voice should be consistent across your website and social accounts, i.e. if you use fun and quirky language on your website, use this, too, for your Instagram account.
It's best to keep your tone of voice light and friendly. It's not often you use formal or serious-sounding Instagram captions, though it all depends on the industry. For your own account, put your personality on display.
A great example of brand voice is MailChimp. The company's style guide details how their "voice doesn't change much," and their "tone adapts to our users' feelings." MailChimp's fun voice carries through to its Instagram captions.
Using emotion
Your emotions heavily influence what you buy. Tapping into your followers' emotions by using the right kind of language in your captions can help evoke particular feelings and increase sales.
1. Fear
Fear of missing out, aka FOMO, can drive followers to purchase your product. Simply by saying you have limited stock, or your products are on sale for a limited time only, you can stir followers to action.
2. Belonging
People crave connection and want a sense of belonging. Using language that speaks directly to your followers like they are part of your community can help foster relationships that help sell your brand.
3. Inspiration
Aspirational captions that showcase how to use your product can inspire your followers to make a purchase, even if they can't physically see or hold your product first. Lorna Jane inspires its community to be healthy and active while wearing its clothing.
Using calls-to-action
Including a call-to-action in your caption is a simple way to inspire your followers to action, whether it be leaving a comment or clicking the link in your bio.
To create a call-to-action, all you need to do is ask your followers to do something! It's that simple.
For example, you could ask your followers to answer a question, tag a friend, click the link in your bio, or use your branded hashtag.
Asking a question, like "red wine or white wine?" encourages followers to weigh in with their opinion and leave a comment, which is a great way to drive engagement.
Likewise, asking people to tag their friends in the comments can help increase your brand awareness and increase your follower count. It's also a great way to draw attention to contests and giveaways.
If you want to drive traffic to a new blog post on your site, or just your website in general, you can ask followers to click the link in your bio. When you include the 👉 emoji just before a link, it makes it obvious that you want followers to click it.
Again, captions are cut off in users' feeds after three lines of text, so you need to convey your key point or call to action right away.
It's a good idea to include one or two words at the start of your caption to highlight what it's about, such as "giveaway" or "travel tips" to grab people's attention.
As far as writing your calls-to-action go, try and use action words like "free," "now," and "hurry" in your captions. Action language is more likely to spur followers to take action than passive words.
You only get one link in your bio, so use it wisely! Many brands regularly rotate their link, but services like Linktree let you display a landing page to followers who click your link.
Using hashtags in captions
Using hashtags in your captions is a simple way to highlight important words and help followers discover new content and communities around your business.
There's a limit of 30 hashtags, but there's no reason you need to use so many. Track Maven research recommends including no more than 11 hashtags to maximize engagement.
Figuring out what works for your brand will take a bit of experimenting. It's best to do your research and see which hashtags people in your niche are using and which ones are most active.
A lot of people dump all their hashtags at the end of their captions, but there's no reason why you need to do this (and you certainly won't win any brownie points from Instagram for doing so!)
Including hashtags throughout your captions can help with readability and add context to your words.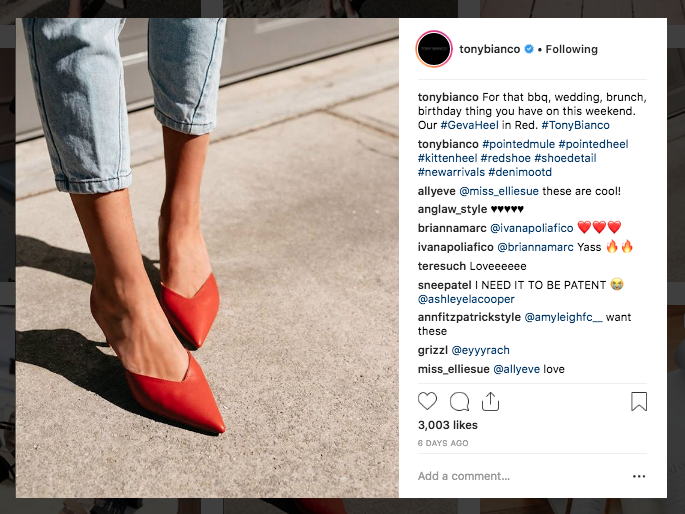 It's common practice to post the bulk of your hashtags in the first comment of your post (or after a few empty lines). This ensures followers don't get distracted and instead focus on reading your caption and acting on your CTA rather than clicking through to another hashtag and leaving your account.
Using emojis
There are no hard and fast rules to using emojis, except that it's a good idea to use them because they can draw attention to important information in your captions and at the same time show off your personality.
Including an emoji at the start of your caption can set the tone. For example, using a 🚨 tells people there are important details in your caption or you're running a giveaway.
Feel free to sprinkle as many or as few emojis in your captions as you like, even replace whole words! They're a great way to add personality when writing good Instagram captions.
Mentioning other Instagram accounts
Whenever you're posting images that feature other people or brands, it's nice to give them a shout out.
Including other Instagram accounts in your captions is a great way to connect with other users and build your audience through (hopefully) some cross promotion.
Using branded hashtags
Branded hashtags are a great way to promote product launches, promotions, contests, and sponsored events.
To create a branded hashtag, just go ahead and invent one! You might want to include your brand name, your products, or the name of a specific campaign.
Interestingly, 70% of hashtags on Instagram are branded.
Always check if others are using the hashtag before you start using it. The last thing you want is to find out it's been used in some weird or wonderful way after you start your promotion!
Disclosing sponsorships and endorsements
It's important to let your followers know when your posts are sponsored. With the rise in influencer partnerships and endorsements on Instagram has come an increased interest by the Federal Trade Commission (FTC).
To avoid a warning letter, always disclose sponsored posts simply include "#ad" or "#sponsored" near the start of your captions. This lets followers know that you've been paid to promote a product or brand.
You can still disclose sponsorships without a hashtag but you need to make it clear that the post is an endorsement. For example, in the post above, photographer Emilie Ristevski includes "Thanks to @americanair for this new adventure!" in her caption.
Remember, the goal is transparency. Your followers should be able to clearly tell the difference between your regular and sponsored posts.
Types of good Instagram captions
Now that you're up to speed with how to write good Instagram captions, let's look at some of the different types of captions you can use.
1. Minimalist
For Tesla, less is more. The company's captions are usually short, usually featuring just the model of a particular car, and sometimes just an emoji.
A post shared by Tesla (@teslamotors) on
2. Informative
National Geographic often includes long captions with detailed information, providing context for its stunning photography while educating followers.
3. Ask a question
With more than 10 million followers, personal trainer Kayla Itsines is incredibly popular in the fitness world. When she posted recently asking her followers to share their best piece of advice, she got more than 2,000 comments and 30,000 likes.
4. Quote
Using images with quotes is popular on Instagram. But using quotes in your captions can be powerful, too, especially when the person or group in your image has something special to say.
5. Story
The New York Times' captions usually feature information and facts taken from recently published stories. This type of caption gives followers a sneak peek of what they can expect to read in a full article.
6. Instructional
Pinch of Yum includes recipes in their captions so users can follow along as they watch a dish being made. This type of post is ripe for bookmarking!
7. Giveaway / contest
The folks who run the Instagram account for the Empire State Building regularly run contests encouraging followers to share their photos of the famous landmark.
8. Behind the scenes
Creative agency Smack Bang Designs regularly shares photos of its beautiful Australian headquarters. These behind-the-scenes images let users see how they work with clients.
9. Link in bio
Lastly, if you want to point your followers to your latest blog post, do what The Design Files does and simply tell people to click the link in your bio.
Conclusion
No matter what you're promoting on Instagram, whether it's your business or a product, following the tips in this post will help you write good Instagram captions that get more engagement and, ultimately, build your online community.
Writing good Instagram captions does take a bit of practice. Rather than writing your captions in a rush, take the time to consider what type of caption you want to publish and include a CTA where possible. It's always best to do a couple of rewrites until your satisfied that your caption perfectly captures what you want to say.
Doesn't forget to include Instagram captions in your overall marketing plan for the platform.
---
Take your time and rewrite your #Instagram caption until it perfectly captures what your #socialmediamarketing is trying to say
Click To Tweet
---
And if you have any questions about writing great captions, let us know in the comments below!
The post How to Write Good Instagram Captions (With Lots of Examples) appeared first on Revive Social.