Do you use Instagram Insights? Because when it comes to marketing on Instagram, data is your friend. Data helps business owners and marketers better understand how to be successful on the photo-sharing platform based on their specific audience.
For example:
Should you post at 9 a.m. or 3:45 p.m.?
Was your last Instagram story successful?
Should you post how-to videos or inspiring quotes?
Data can answer all of these questions and more. But, where do you find all that awesome data? Instagram Insights is the way to go.
What is Instagram Insights?
Before we dig into the details, let's start at the beginning. What, exactly, is Instagram Insights?
Instagram Insights is the native data collection and analytics tool of Instagram. It tracks who follows you, what they do, your reach, and much more. With Instagram Insights, you can learn more about your audience and how they engage with the content you share on your profile.
This data is critical to building a successful Instagram strategy because every account is different. What works for one brand won't necessarily work for all brands.
Here's the thing: social media best practices are based on what works best for most accounts. They don't take into account specifics about your Instagram profile.
For example, the best time to post on Instagram is between 2 and 3 PM central time. But, this is an average based on all industries. What if your audience is restaurant workers who work nights? What if your audience is made up of teens who are in school at that time?
This is why you need to look at the data for your specific account, rather than rely on averages and best practices.
If you want to figure out what works on Instagram for your specific account, Instagram Insights should be your first stop.
How to access Instagram Insights
Accessing Instagram Insights is quite simple, but there is one important step you'll need to take first. If you don't already have a business account, you'll need to convert your account before you can access Instagram Insights.
If you already have a business account, skip the next section.
How to convert to an Instagram business account
To convert your current profile to a business Instagram account, start by logging in, then follow the steps below.
Tap the hamburger icon in the top-right corner of your profile.
Tap the gear icon for "Settings."
Next, hit "Account."
Then hit "Switch to Business Profile."
Connect to your business Facebook profile if you have one, and add additional business details as directed by Instagram.
Tap "Done."
Now, you can view your Instagram Insights using the steps below.
To view your Instagram Insights, tap your profile picture in the bottom-right of the app. Then, tap the hamburger icon in the top-right and select "Insights."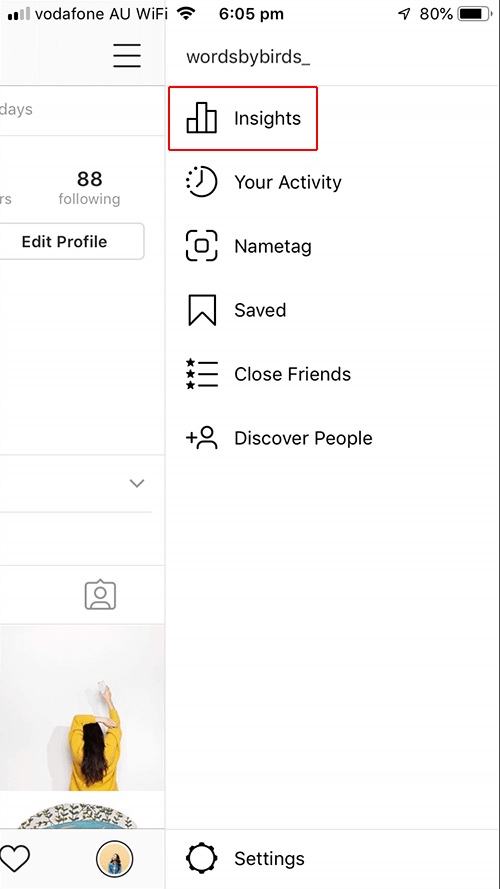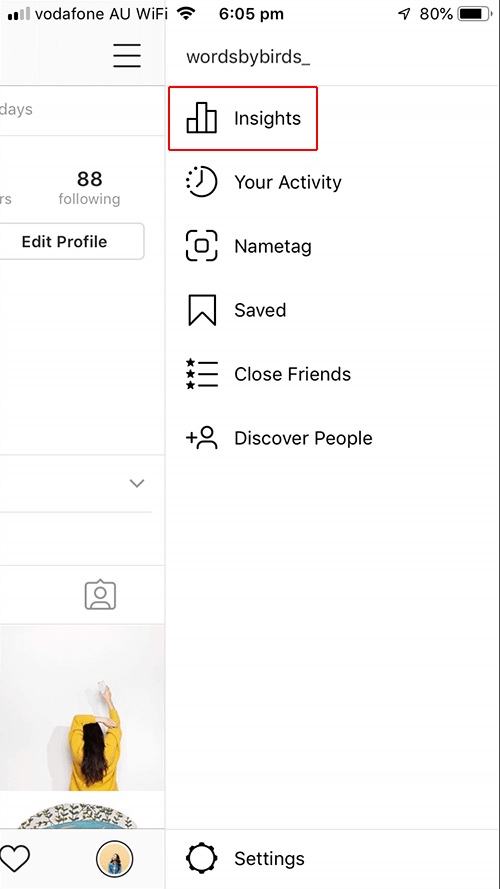 Now you have access to tons of information about who your followers are when they are online, and what actions they take on your account. You can also sort posts by engagement, comments, or when they were posted.
In the next section, we'll dive into how you can use all that fantastic Instagram data to create a successful Instagram marketing strategy.
How to use Instagram Insights to inform your social strategy
Move over Facebook — Instagram is one of the most effective social media platforms for social media marketing. It's growing fast, and — unlike Facebook — Instagram users like, expect and actually want to interact with brands on the platform.
Worried Instagram is just another fad? Here are stats to prove the staying power of Instagram:
If you have been on the fence about Instagram, now is the time to dive in. If you are already using Instagram, but worry you aren't getting the most out of the platform, now is the time to improve your strategy.
No matter where you are in your Instagram journey, Instagram Insights can help you find and reach success faster.
1. Use Instagram Insights to find the best time to post on Instagram
Understanding the best time to post on Instagram is even more critical now that you can schedule posts directly to Instagram. (Yay for no more push notifications for single posts!)
Why does the time you post on Instagram matter? The Instagram algorithm is why.
Instagram's algorithm gives preference to posts with more engagement. This means users see posts that are popular, not in chronological order the way they did in the past. However, Instagram does give a slight edge to recent posts, which is why you want to post when your audience is online.
Here is how to figure out when your audience is most active:
Navigate to the Instagram Insights tab by following the instructions above. You will see three tabs at the top, labeled Content, Activity, and Audience. Select Audience.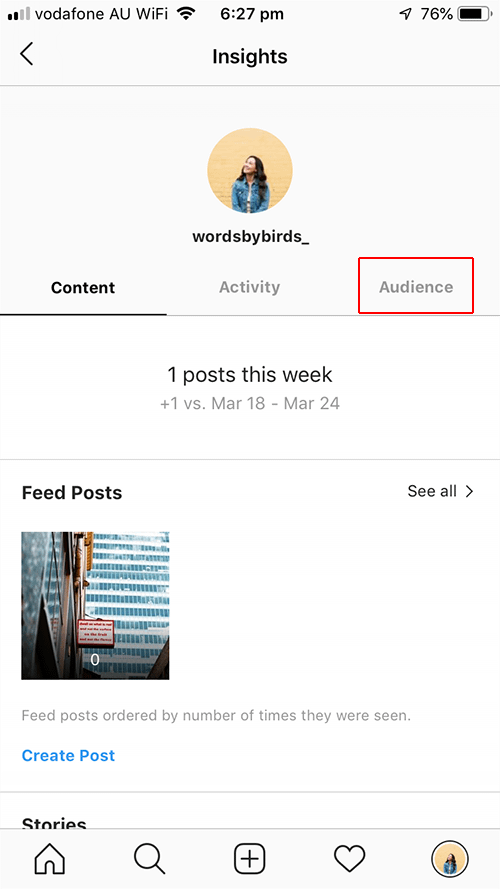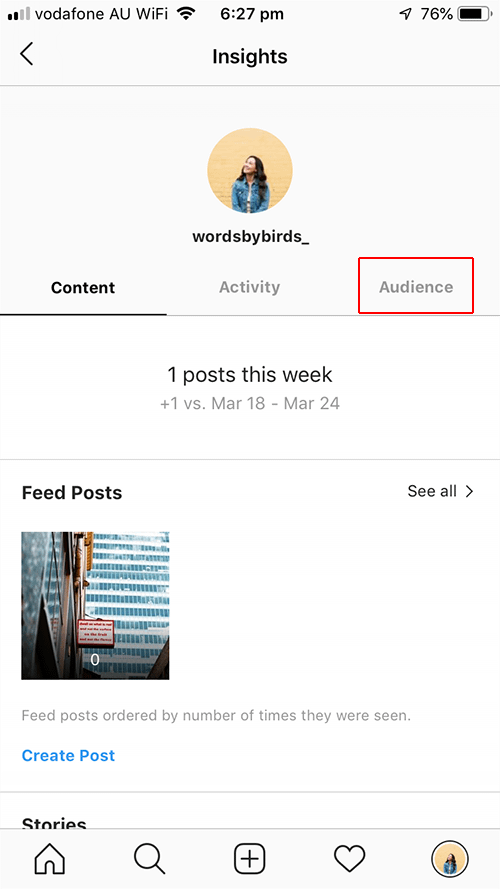 Scroll down, and you will see information about your audience's age range and gender. At the bottom, you will see a heading titled Followers with a bar graph of days and times your followers are online.
Tap Days to see the days your audience is most active, and hours to see what times they are most active on each day. Darker blue indicates more activity, while lighter blue indicates less activity.
For example, for my business account, Sundays and Wednesdays are the days when most of my followers are online. This makes these two days the best days to post.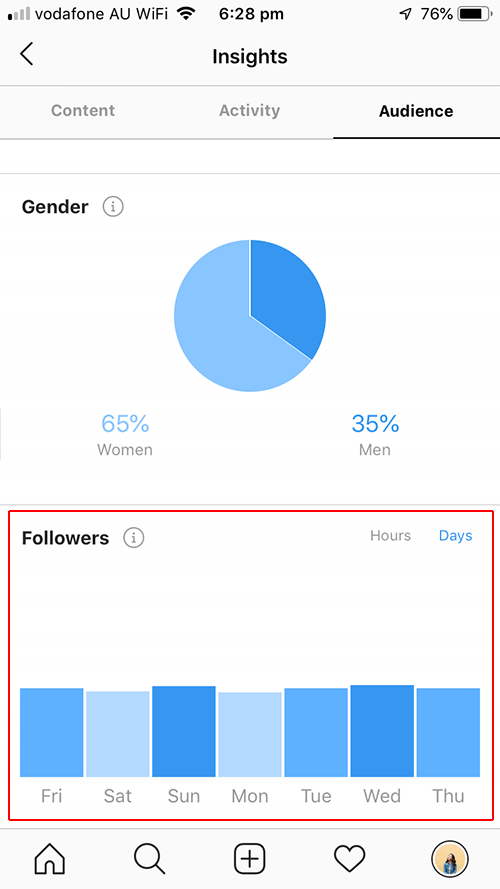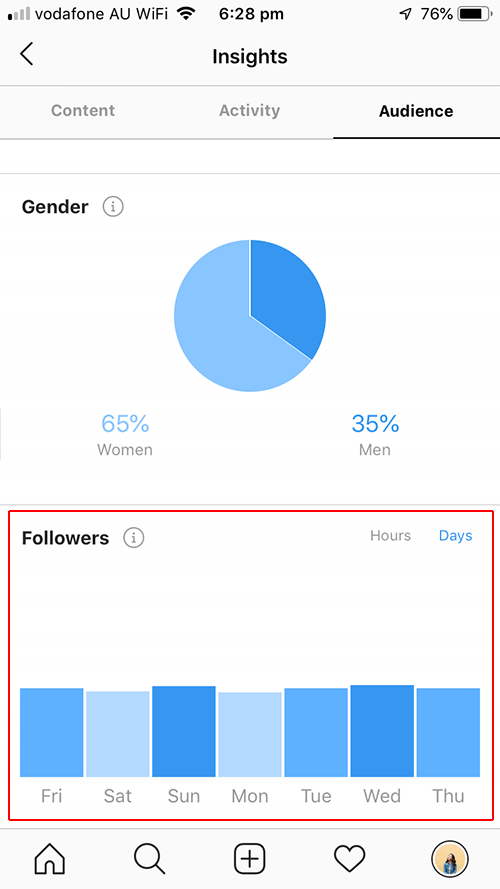 Clicking Hours lets you see the best time of the day to post. For my account, the highest number of followers are active at 9 PM on Sunday.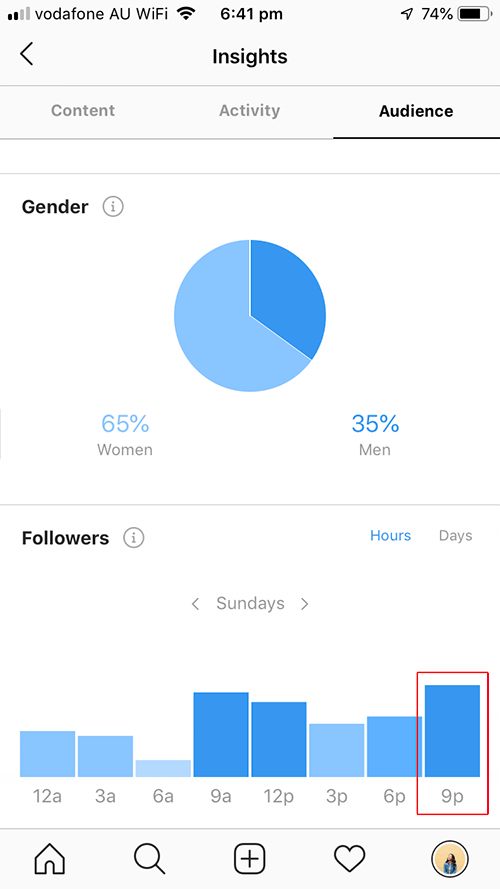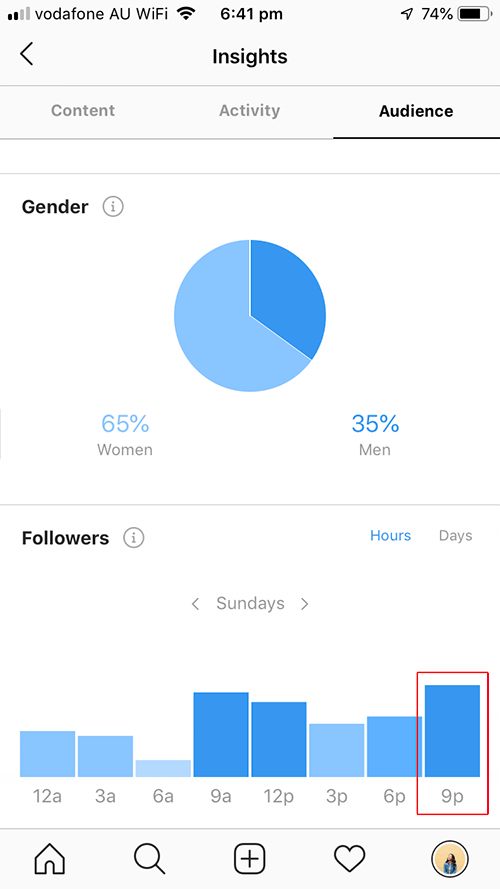 But, there is also a lot of activity at 9 AM and 12 PM. For best results, I should be testing a few different times on Sundays and Wednesday to see when posts get the most engagement.
2. Better understand your audience
Who is your audience? According to Omnicore, 68% percentage of Instagram users are females and 59% of Internet users between 18 and 29 use Instagram.
But, those overall stats might not be reflective of who your audience is. To find out more about who follows you, navigate to Insights > Audience.
There, you can find out where most of your audience is located, their age, gender, and more. You can also drill down to see age ranges specifically for men and women.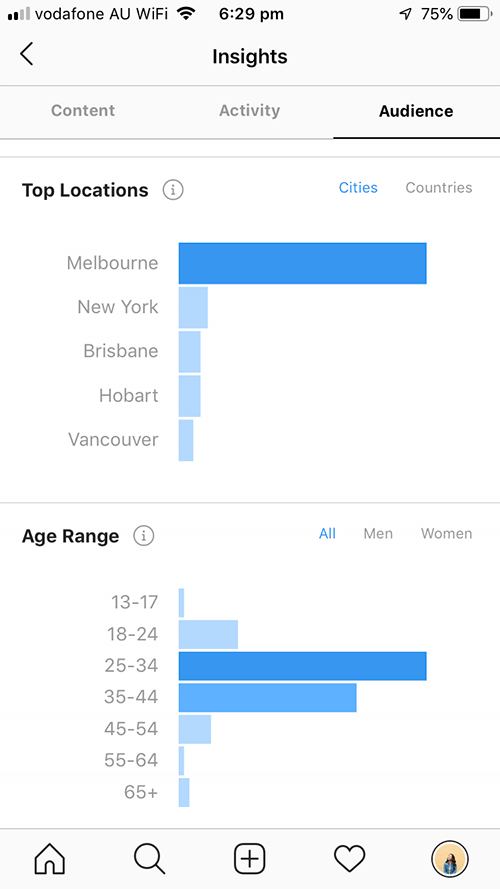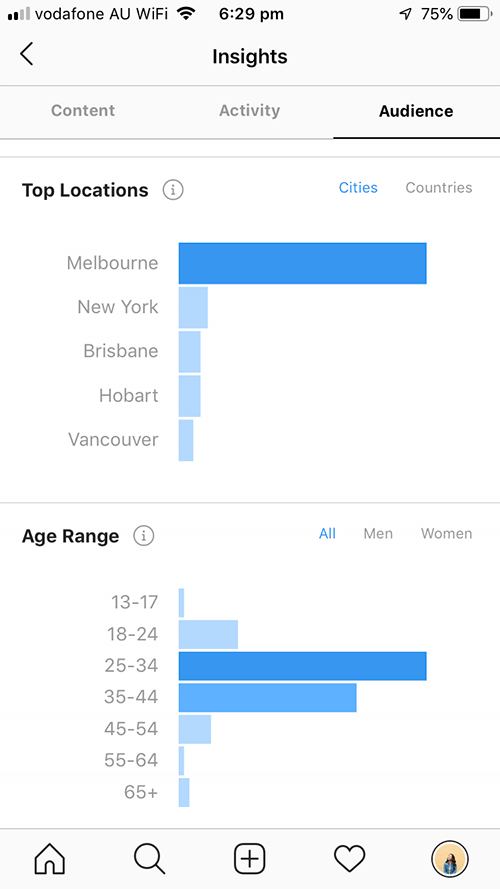 You can use this information to create content that better connects with your audience. For more detailed demographic information, consider doing a poll using the Poll feature in Instagram Stories to gain more insights into your audience's likes and dislikes.
3. Determine what type of posts do well
How do you know what types of posts your audience likes? You could build a strategy based on what you think your audience is into or you could look at the data and get solid stats that tell you what your audience is actually into.
Data > Gut feelings, every time.
To see what type of content your audience is interested in, navigate back to your Insights page, then click on the Content tab.
Here, you will see information about how many posts you have posted in the past week as well as feed posts showing which posts were viewed the most.
If you click See All in Feed Posts, you can view and sort all your posts based on engagement, comments, etc. You can also change the time period you view.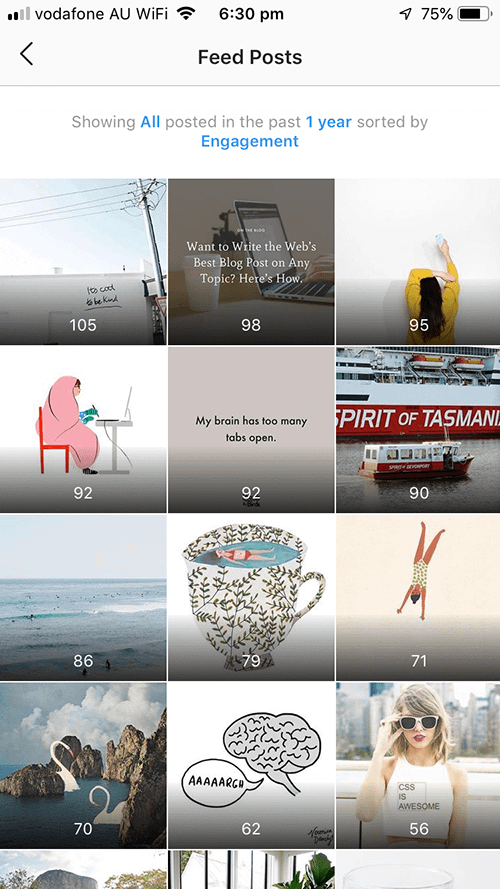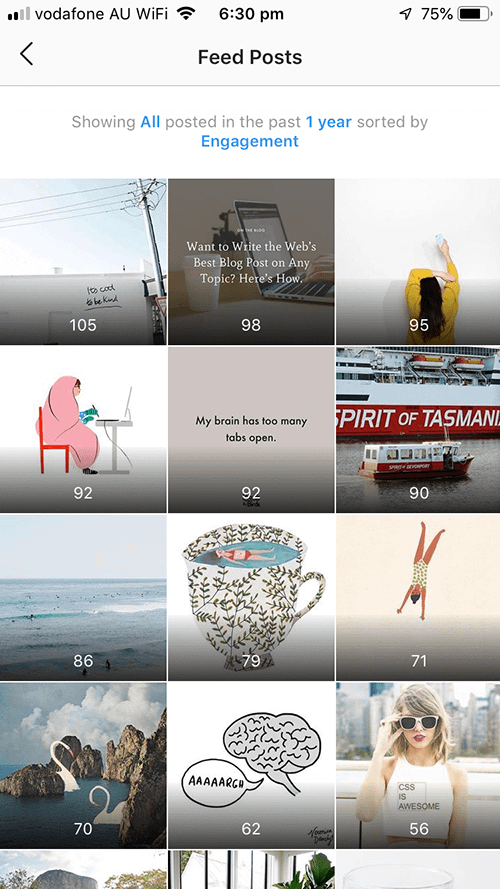 For example, you could see which posts got the most comments in the past 30 days and use that information to create a strategy for the next 30 days of content for your account. Or, if you see that videos are doing well, you could plan to include more videos.
Clicking on each specific post will give you statistics about reach, likes, comments, messages, and profile visits.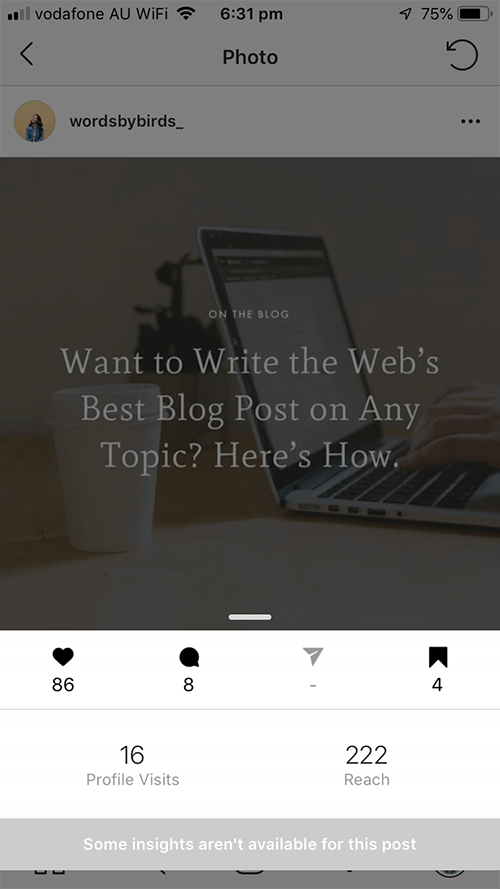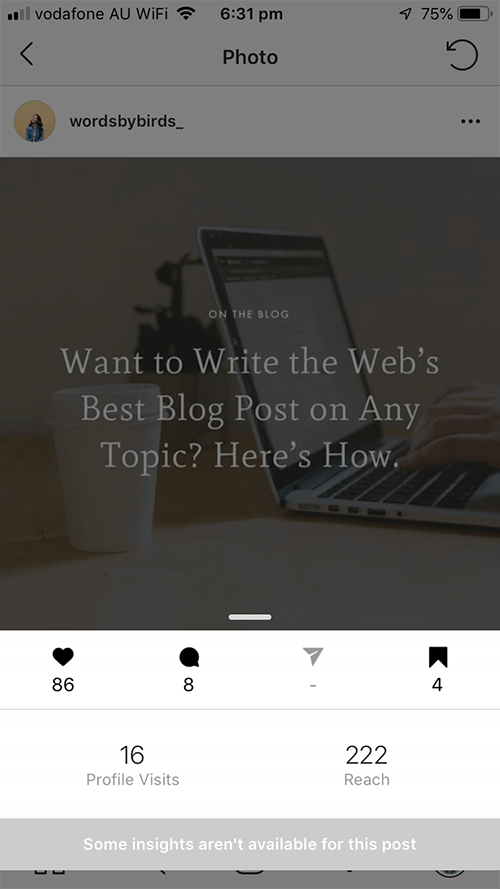 Once you understand what types of content trigger specific actions, you can then use that information to help you reach your broader Instagram marketing goals. For example, if you know product photos trigger a significant increase in reach, you know to post product photos when you want more people to see your posts.
4. Track your most successful Instagram Stories
Instagram Stories are a feature of Instagram similar to Snapchat. You can post images or short video clips that expire after 24 hours.
Many brands are using Instagram Stories to tease about upcoming launches, to connect with their audience, or share behind the scenes information. A recent study found that 1 in 4 Gen Z and Millennial shoppers actually look for stories created by brands and products they are considering purchasing.
Brands that verify their accounts or have more than 10,000 followers can post links in stories, which makes stories more actionable and even shoppable.
Williams Sonoma, for example, uses Instagram Stories to announce in-store classes, share recipes, and share updates on events and expos their staff attends.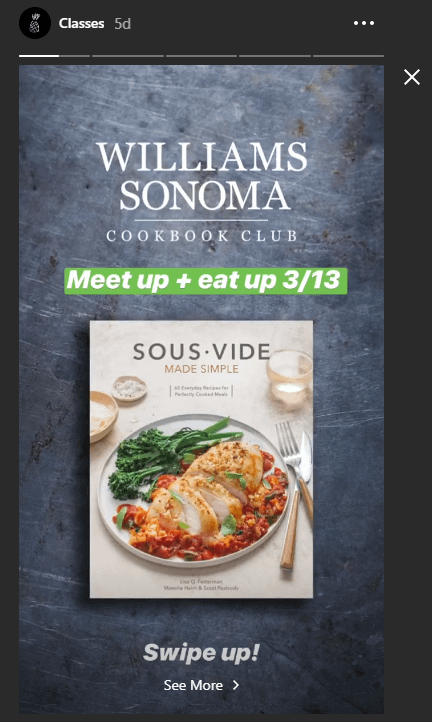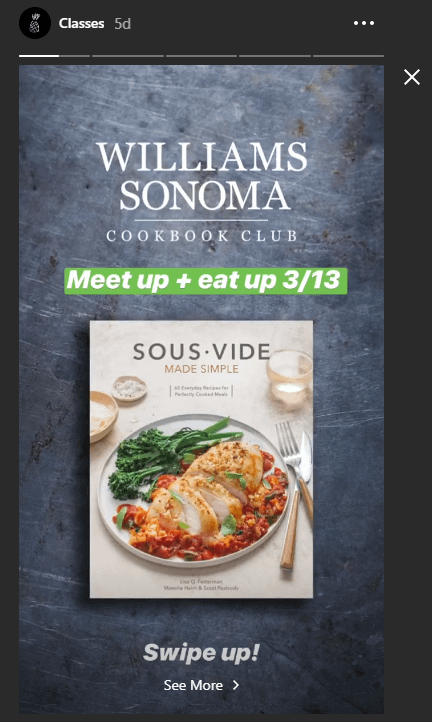 Through Instagram Insights, you can view much of the same information about Stories that you can see about posts, including reach and impressions.
To view Instagram Insights about your Stories, navigate to Insights > Content, then scroll down to Stories.
Pro tip: You can turn your best Instagram stories into Instagram Highlights and have them live on your profile forever!
5. Track website clicks and profile visits
In addition to engagement metrics, Instagram also tracks website clicks and profile visits. These metrics can be particularly important since Instagram gives most users just the one link — the bio link.
So, what is the purpose of tracking website clicks? For starters, it is a way to see if posts with captions like "Click bio link to read more" actually work. Or, if you decide to use an Instagram link tool, like Linktr.ee, website clicks can show you if those tools are effective at driving more traffic.
To view website clicks through Instagram Insights, navigate to Insights > Activity > Interactions. Here you can see how many actions were taken by users on your account, including website clicks and profile visits. You can also see what days most actions are taken, which allows you to plan your posts on days with more engagement.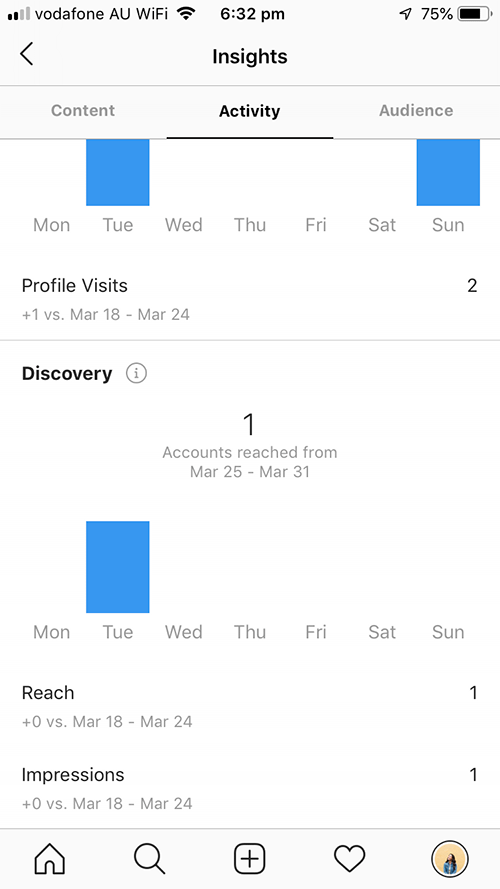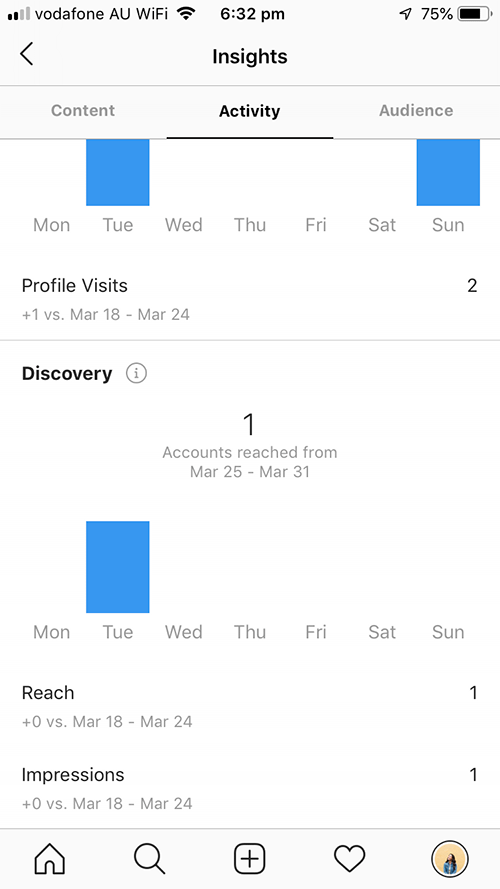 As you can see, my account's looking a little lonely because I've been neglecting it! However, using the insights I've gathered while putting together this article, I've got a lot of data to help me plan my next posts. That's the beauty of Instagram Insights — you don't need much data to help you brainstorm how to improve your account.
The activity tab also displays reach and impressions. Reach is the total number of people who have seen your content, while impressions are the number of times your content is displayed. This information gives you insight into the overall health of your Instagram strategy.
Instagram Insights can help you build a social strategy based on data
Data can help you better understand your customers. What do they like? When do they spend most of their time online? How can you better reach them? These are critical questions you need the answers to when you're trying to market your product or service.
The more data and answers you have, the more tailored you can be in your marketing approach, and the more likely you are to share content that engages with your followers and compels them to convert.
---
Build more successful #InstagramMarketing campaigns with help from #InstagramInsights
Click To Tweet
---
While there are many analytics tools available for Instagram, Instagram Insights is free and you can use it without ever leaving the app. It's a great place to start if you're interested in finding out more about your followers and can help you glean valuable insights so you can make better decisions based on data, not gut feelings.
What Instagram metric is the most important for your account? What does it tell you about your audience? Share your thoughts in the comments below!
The post Instagram Insights: What They Are and How to Use Them appeared first on Revive Social.