Imagine your digital persona having a beer with friends somewhere on Mars. At the same time, another version of you is discussing investing in the metaverse with your financial adviser. All this happening while you're sitting on a couch in your pajamas at a real-world home with a VR headset on.
That's what the metaverse could look like. Some of us may have already experienced it, with multi-player video games or augmented reality-enabled shopping websites. But with high-speed internet and an entire ecosystem dedicated to it, metaverse will likely bring a more fascinating, immersive experience for users in the next few years.
What Is The Metaverse?
Most of us have heard the term "Metaverse", but there's often confusion about what it actually is, other than a marketing buzzword.
In short, the metaverse is an integrated network of 3D virtual worlds, typically accessed through virtual reality headsets that generate what is known as "presence": the sensation of actually being there.
Initial applications of the metaverse concept have come from the gaming industry and social media. Other possibilities include virtual presence at concerts or sporting events, virtual classrooms for online learning, government services, and much more.
The metaverse is, in concept at least, a virtual world outside our physical world, offering a potentially unlimited variety of virtual experiences.
The Business of the Metaverse
While the metaverse is a big theme, it will be based on several subthemes, creating a whole new industry. That's why Facebook, the global poster child of social media, changed its name to Meta last October.
There will be plenty of opportunities for investing in the metaverse, from hardware to content and from building platforms to data privacy. Even if widespread adoption of metaverse takes time, billions of dollars are already flowing behind this trend.
The metaverse market is in an embryonic stage today. But it won't be a surprise if this industry ultimately delivers multi-bagger returns, just like today's internet giants did. The question will be where those returns are found and which players will generate them.
Here are some of the top companies that are aggressively expanding their presence in the business of the metaverse.
Roblox
Roblox is a $23 billion company that provides an online entertainment platform. It was the first company to mention the term "metaverse" in its prospectus, even before Meta. Roblox developers can create experiences for friends and fellow users using the tools on the platform. Users can customize their experiences, which makes it more immersive and interactive. Remember the Roblox-hosted David Guetta metaverse concert in his DJ avatar this January?
Roblox claims that it has 29 million experiences and 45.5 million daily active users as of the end of 2021. And if you think Roblox is for kids and teens, that's not true. More than 35% of its users are 17 and above.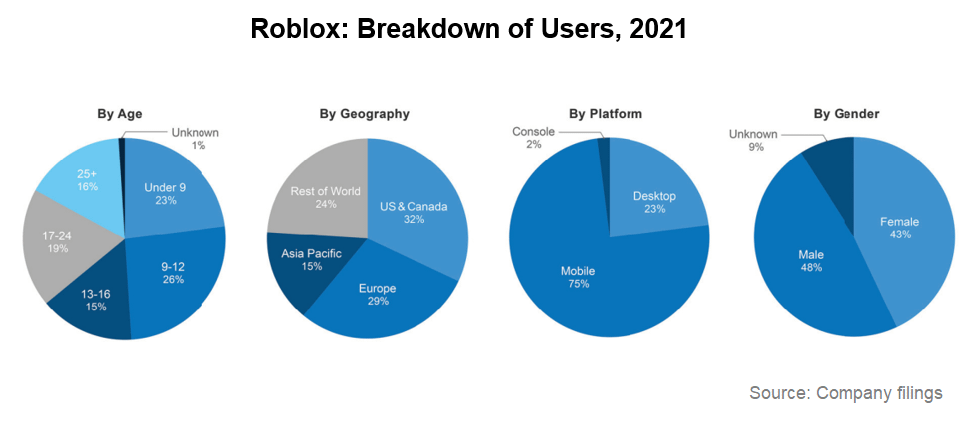 There is more than one revenue source for Roblox. While advertising, licensing, and royalties do contribute to its topline, Robux transactions form a major chunk. Users can use Robux – the in-game currency – to purchase accessories and clothing for their unique avatars from the Marketplace. The company retains a portion of Robux transactions, which can only be purchased at a price set by Roblox.
While much innovation is currently going on in the metaverse, Roblox certainly seems like a precursor to it. However, its financials do not seem that pretty at the moment. Although the company saw its revenues double in 2021, its losses have consistently widened year after year.
As a result, RBLX stock has fallen more than 70% since November last year as future-focused growth stocks fell out of favor in a market contraction.
Meta
Facebook, now Meta, has massive scale, exceptional innovation capabilities, and deep pockets, placing it in a highly influential position in this emerging industry. The company has announced its plans to build an entire ecosystem around the metaverse. It launched a virtual reality online video game called Horizon Worlds last year. Moreover, apart from the platform, Meta can jump into the hardware business with its Oculus headsets.
Mark Zuckerberg, the CEO of Meta, called AR (Augmented Reality) glasses "one of the hardest technical challenges of the decade."
According to Credit Suisse, the global AR/VR headset revenue will reach $12.6 billion in 2025[1], representing a 36% CAGR over 2020-25. What the internet did to the smartphone industry a decade ago, metaverse will likely do the same or even more for the VR headset market. Sensing the big business potential, Facebook acquired Oculus VR for $2 billion in 2014.
Meta is also developing Horizon Workrooms, where you can work online collaboratively. It will be a combination of virtual and augmented reality where users can interact in real-time. The pandemic changed the way we work. That could fast-track developments in this particular sub-area and increase the acceptance of working in the metaverse.
It is now no secret that Meta is going all-in in the metaverse. The Reality Labs, Meta's R&D arm shaping metaverse hardware and platforms, spent a massive $10 billion last year[2]. The large cash burn notably weighed on its quarterly profits last year, leading to an enormous stock price fall. However, that indicates the company's commitment to its long-term goal in the metaverse.
And Meta is not the only tech giant that's pouring in billions of dollars. Peer tech titans like Apple, Microsoft, and Google are also upping the game in the domain to capture the pie of this hot market.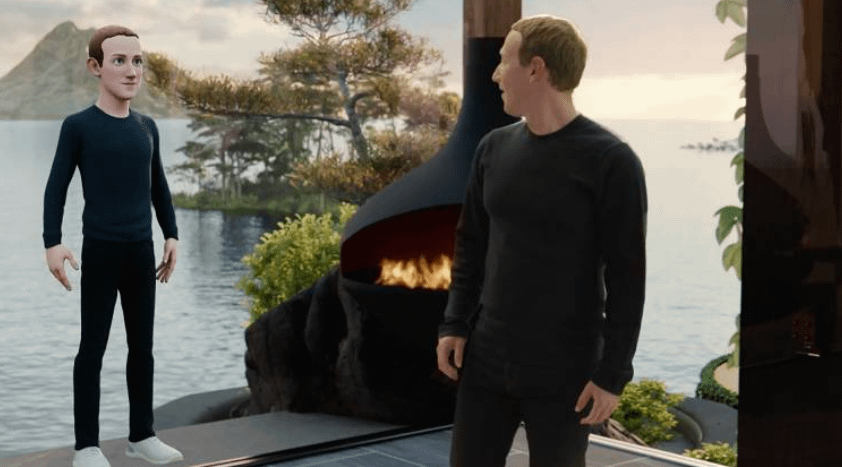 Like many high-growth tech names, Meta Platforms stock has had a weak 2022. It has dropped 47% year-to-date and is trading close to its two-year lows.
Only time will tell how the social media behemoth expands in this billion-dollar opportunity in the long term. It could be years of heavy cash burn before achieving what Meta is aiming for. However, as stated earlier, years of innovation and strong financial capabilities offer Meta a vital edge.
Microsoft
Meta is not the only one that's putting in hot dollars against the internet's next hot iteration. Tech major Microsoft is also aggressively investing in the metaverse. Its plans became clearer when it announced to buy gaming giant Activision Blizzard early this year.
Microsoft announced a buyout of "World of Warcraft" and "Candy Crush" maker for a jaw-dropping $69 billion. The deal will likely give Microsoft scale with potential growth opportunities in metaverse gaming.
Microsoft Mesh is another pioneering innovation that enables people to collaborate digitally with a real-world feel. Users can create their 3D avatars using both digital and real-world inputs. Microsoft Teams was among the saviors for us during the pandemic days, but Mesh will take the game to a whole another level. So, if you ever get bored with those long video office meetings, they will now be more fun and immersive with our avatars playing the emoji themselves.
Besides gaming and office meetings, Microsoft is also foraying in the third, probably the most important, metaverse subtheme—HoloLens. These are mixed-reality smartglasses that were first launched in 2016. HoloLens 2 is claimed to be much more comfortable to wear than those bulky AR glasses and is already used in manufacturing, military, and even surgical applications.
Like Meta, Microsoft also has sound financial capabilities and more room to invest in growth projects like the metaverse. It has $105 billion of cash and cash equivalents as of March 31, 2022. Thus, more financial bandwidth will allow more spending on R&D and, thus, more CAPEX on growth projects.
Interestingly, Microsoft's aggressive efforts in several subthemes will likely bode well to take up a higher market share of the metaverse ecosystem.
Metaverse ETFs
The metaverse will be based on its subthemes, and its future will not be dominated by a single company. That's why we see money flowing across the space in content, platforms, infrastructure, and more. Exchange Traded Funds (ETFs) allow diversification across the sector without excessive concentration in one company. 
Several ETFs address this concern. For example, ProShares Metaverse ETF tracks the performance of the Solactive Metaverse Theme Index. Meta, Apple, and Alphabet are among the top 10 holdings and collectively have a 13% weighting in the fund. This ETF has an expense ratio of 0.58%.
ETFs are a basket of stocks that offer diversification benefits. So even if one stock in the fund falls, the rest of the holding could compensate to some extent.
Even if you are an aggressive investor, investing in the metaverse through an ETF makes more sense rather than playing one name. The potential gain is lower than that of picking the long-term metaverse winners, but the risk will also be evened out across the holding.
Roundhill Ball Metaverse ETF is another fund that offers an all-inclusive exposure to the internet's next big successor. It is a relatively bigger fund in size and has a higher average trading volume compared to ProShares Metaverse ETF. Roblox, NVIDIA, and Apple are its top three constituents and collectively form 27% of the fund. It has an expense ratio of 0.59%.
Note that both these ETFs have been weak this year as their underlying stocks pulled back. Notably, valuation concerns amid rising rates remarkably weighed on these stocks in 2022. That's a problem for people who bought at 2020/2021 highs, but it's a potential entry point for people who believe the metaverse has the potential for massive medium to long-term gains.
Because these funds are relatively specialized, they typically have higher expense ratios than simple index funds.
Investing in the Metaverse
So, how should you play the metaverse? Should you play it at all?
This decision depends largely on your risk tolerance and return requirements. Investors should remember that the industry is still in the nascent stage. Even the experts are divided on how and when the metaverse could shape up.
There is a tremendous amount of risk and opportunity cost involved in investing in the metaverse at this point. Even if you are sold on the concept, it would be prudent only to invest a small portion of your portfolio after thorough research.  
At the same time, even if you find a strong proxy company for metaverse, pay close attention to its valuation. Companies and stocks in this particular space have seen large hits to their share prices during the current bear market, mainly due to the towering valuations they achieved during the recent boom. 
Markets will always fluctuate, and this is an industry for investors with a high risk tolerance and an extended investment horizon. If you aren't expecting significant returns for several years, a bear market may be the best time to begin investing in the metaverse!
Just remember that this is a speculative industry. There's little doubt that what we now call the metaverse will play a major part in the future, but nobody knows what form that will take and what companies will dominate it. Do thorough research, consult a professional investment adviser, and stay aware of the risks!
The post Investing in the Metaverse: All You Need to Know appeared first on FinMasters.
FinMasters