SaverLife is a non-profit organization founded originally as EARN in 2001. Its current mission is to facilitate and incentivize consumer saving using a combination of gamification techniques and cash rewards.
This SaverLife review will explain how the charity works and help you decide whether or not it makes sense to sign up for their services.
SaverLife Review & Ratings
SaverLife
SaverLife is a legitimate charitable organization that pays you to save money.
They share the donations they receive with consumers who complete their savings programs, creating an incentive to build an emergency fund. They also provide educational resources to help members learn good financial habits.
Pros
Effectively incentivizes saving
Straightforward, easy-to-follow programs
Cons
Potentially poor customer support
Occasional funding delays
What is SaverLife?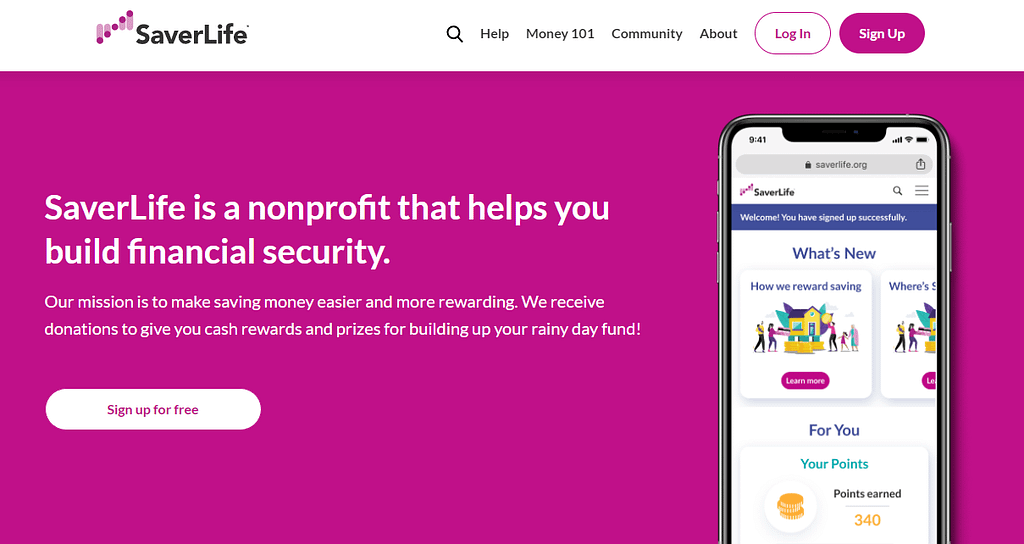 SaverLife is a qualified 501(c)3 non-profit organization whose primary purpose is to encourage consumers to save money. They specialize in helping lower-income households develop an initial emergency fund to escape the grind of the paycheck-to-paycheck lifestyle.
Unfortunately, American savings rates have been low for many years, leaving many to conclude that we're bad at saving money. The average personal savings rate has consistently fallen short of the 15% to 20% minimum that most of us need to retire at a reasonable age.
As a result, a significant minority of Americans have less than $400 in cash savings. Though the latest data shows that minority is at a record low, it's still a whopping 32% of Americans. That means roughly one in three adults can't afford a $400 emergency.
SaverLife has acknowledged the seriousness of these problems and taken on the mission of combatting them with savings programs and educational resources.
How Does SaverLife Work?
SaverLife's primary offering is a six-month program that gives you $10 for every month you successfully save $20. At the end of the term, you should have $180 in cash savings while having only contributed $120.
To earn the reward, you have to give SaverLife the ability to view your bank account activities. Every Monday, they'll verify that your linked account balance increased by at least $5 during the prior week.
Each time you meet the requirements, you'll earn $2.50 toward the maximum $60 available. However, they prevent you from accessing your reward until the end of the program to keep you motivated.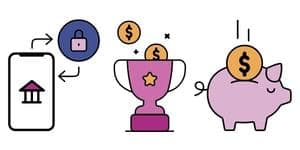 In addition to the six-month program, SaverLife lets you earn points that you can redeem for chances to win even more cash. You earn points through various good behaviors, including the following:
Saving $5 in your linked account
Reading their financial article of the day
Recording your weekly budget
Taking surveys
Logging into SaverLife once per week
Once you accumulate enough points, you can trade them in for a "Scratch & Save" card, each of which gives you a chance to win $5. Currently, you can collect up to three of these cards per week.
SaverLife also offers one-off savings challenges that you can complete for a chance to win larger cash prizes. For example, they often sponsor Race to 100 challenges. That gives everyone who increases their linked account balance by $100 before the deadline a chance to win another $100.
Finally, SaverLife occasionally distributes lump-sum cash payments to random members in times of hardship. For example, they gifted a limited number of $500 and $1,000 payments during the height of the COVID-19 pandemic.
How Does SaverLife Make Money?
SaverLife is a non-profit organization, not a business, so making money isn't its primary purpose. In fact, you don't have to pay any sign-up or monthly subscription fees to access their services. They're entirely free to use.
Instead, SaverLife survives off of donations. They receive grants from the other foundations they partner with, corporations who want to associate themselves with the brand, and individual consumers who believe in their cause. 
I was concerned that SaverLife might be profiting by selling the financial data they glean by monitoring your linked bank account activity, but that doesn't seem to be the case. At least, SaverLife claims that they don't share your data with advertisers or any other third parties.
Eligibility Criteria
Fortunately, SaverLife accounts are available to virtually everyone. To sign up, earn points, and claim cash rewards, you only need to meet the following criteria:
Have a valid email address
Be a resident living in the United States or the District of Columbia
Be 18 years or older (19 in Alabama and Nebraska, 21 in Mississippi)
The same eligibility rules apply to SaverLife's six-month reward program. In addition, you can't have participated in the program or any other EARN or SaverLife program since June 2016. It's worth noting that participation in this program may affect your ability to participate in any of SaverLife's future offerings.
Is SaverLife Legit?
SaverLife is a legitimate 501(c)3 charitable organization. That means they meet the rigorous Internal Revenue Service (IRS) requirements designed to confirm that their motivations are philanthropic and have nothing to do with financial gain.
As far as I can tell, they genuinely exist to promote better savings rates among consumers, not to line their own pockets. Let's look at some reviews from SaverLife users to give you a better idea of what you can expect if you sign up.
Customer Reviews
While you should always take online reviews with a grain of salt, SaverLife receives positive scores and consistent praise on all the review sites I could find. That includes 4.7 out of 5 stars on Facebook from 93 people and 4.7 out of 5 stars on Google from 27 people.
Most of the comments people make on both pages praise SaverLife for the effectiveness and generosity of their programs. They usually express gratitude to the organization for the cash rewards they've received and compliment the utility of the educational resources.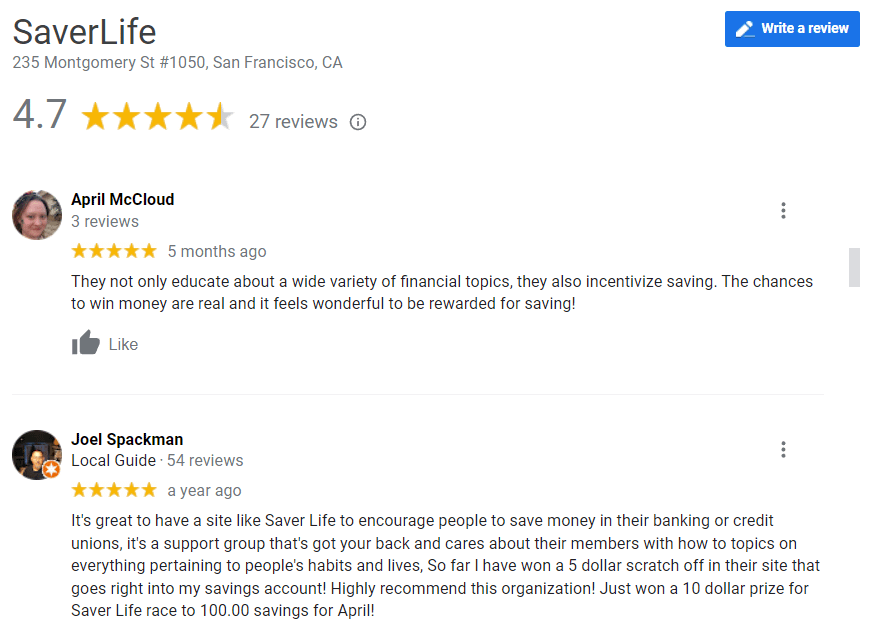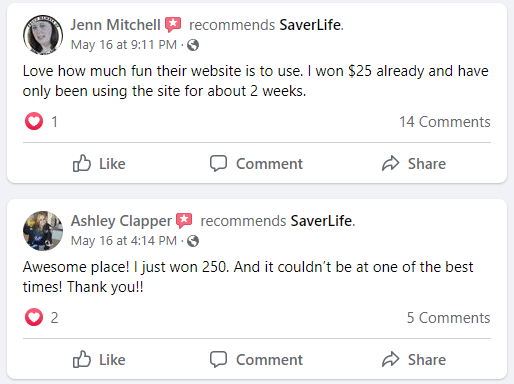 There are also some complaints, but most seem to be about glitches and misunderstandings. For example, some people claim that SaverLife promised them a $25 sign-up bonus that they never received. However, other comments explain there's a two-week waiting period for the bonus that may be causing the issue.
The most concerning problem I noticed is that there are multiple reports of SaverLife failing to respond to people's emails on time. You may struggle to reach someone for help if you ever have issues while using their services.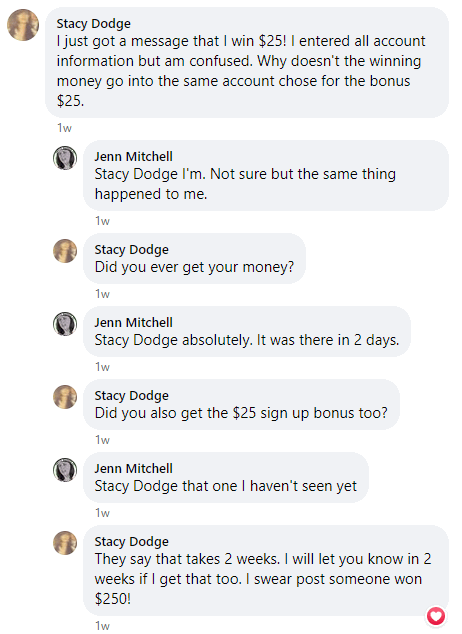 When in doubt, I like to check Reddit for more in-depth discussions on providers like these, and I found the same general opinions there. There are multiple threads with people confirming that they completed the six-month program, received their $60 reward, and won an extra $5 here and there through raffles.

Finally, SaverLife receives a 96.30 out of 100 on Charity Navigator. That's not a user review website, but it does speak to the organization's legitimacy as a non-profit with your best interest at heart.
SaverLife Alternatives
SaverLife is a pretty unique organization. For obvious reasons, there aren't many businesses out there looking to give money away to people just for saving some of their own cash. That said, there are other ways you can get rewarded for saving money.
Here are a few options you may be interested in pursuing:
LOQBOX: When you sign up for LOQBOX, you make an annual savings goal that they deposit into a locked bank account. Next, you make monthly payments toward the amount that LOQBOX reports to the major credit bureaus, helping you build credit and save money simultaneously.
Credit builder loans: These accounts function just like LOQBOX, helping you save money while you build credit. However, credit builder loans cost you some amount of interest and fees, either upfront or during the payment term.
Saver's tax credit: This is a tax credit that rewards you for putting money into your retirement accounts. It's most beneficial for lower-income households. For example, if you're married with an adjusted gross income below $68,000, you can claim a tax credit for 50% of your contributions.

If all else fails, you can design a program for yourself that incentivizes responsible financial behaviors and helps you build better savings habits. For example, you could make an agreement with a close friend to treat yourselves each month you reach a savings goal and hold each other accountable.
Is SaverLife Worth It?
I'm as cynical as anyone when I hear somebody claiming to give away free money. After all, many of today's most popular scams begin with the promise of a quick and easy buck. Fortunately, SaverLife is the real deal. They might not be perfect, but they are a legitimate organization that pays you to save money.
Even if their program only helps you build your first $200 in savings, that's a significant step in the direction. It can mean the difference between affording your bills and resorting to a predatory payday loan.
Ultimately, there are few things more empowering than a healthy cash cushion, and I'm a fan of anything that helps people build one. As a result, I'd recommend SaverLife to anyone who struggles with saving or needs help creating an emergency fund.

Learn More: Saving money is essential for your short-term financial health and your eventual retirement. Learn why it's so important and get our favorite tips for reaching your savings goals: Saving Money 101: The Road to Financial Independence.
The post SaverLife Review (2022): Cash Rewards for Saving Money appeared first on FinMasters.
FinMasters