Founded in 2019, SeedFi provides credit-building and loan products to people who have poor or no credit and may have limited incomes.
SeedFi provides two products. Credit Builder Prime is a credit-builder loan and Borrow & Grow is a hybrid between a personal loan and a credit-builder loan. All SeedFi products are designed to leave the borrower with both improved credit and money on hand. All you have to do is make your payments on time.
This SeedFi review will help you decide whether these products are a good fit for you!
SeedFi Review & Ratings
SeedFi
SeedFi provides credit and credit-building opportunities to regular Americans with low credit ratings. Both SeedFi products have a savings component, which enables borrowers to begin establishing credit and save money at the same time.
Pros
Accumulate savings and build credit concurrently
Borrow & Grow provides immediate cash
Provides you with a loan and helps you establish an emergency fund
Builds credit with low cost and low risk
Cons
Borrow & Grow loans have higher interest rates than other credit-builder loans
$10,000 in annual take-home pay required for Borrow & Grow
It may take a few days for cash to be received
Users receive only a fraction of the Borrow & Grow loan amount upfront
What Is SeedFi?
SeedFi provides financial services to borrowers with no credit history or compromised credit. 
It is an entirely respectable business licensed in 32 states, plus the District of Columbia, and has direct relationships with several banking institutions. 
SeedFi reports your payment history to all three credit bureaus – TransUnion, Equifax, and Experian.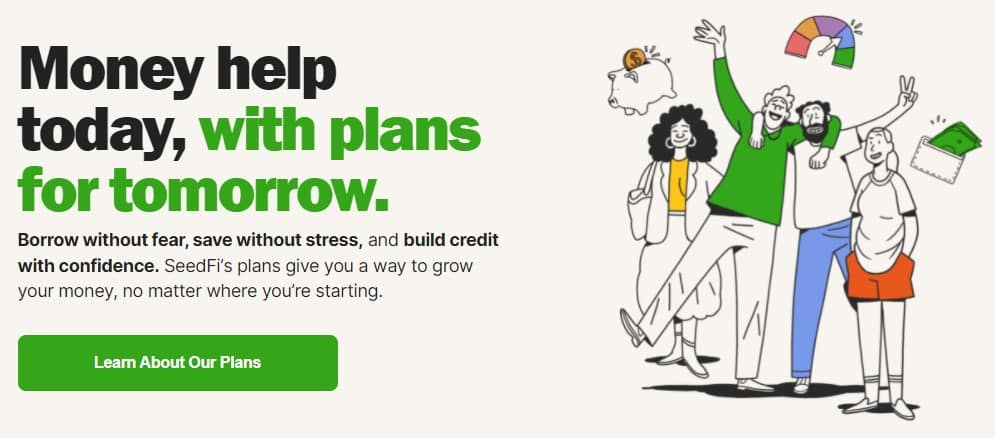 How Does SeedFi Work?
SeedFi offers two distinct loan products. Both products have a savings component, which enables borrowers to begin establishing credit and save money at the same time.
Credit Builder Prime
Credit Builder Prime is a credit builder loan. It's available with no credit check, making it an ideal choice for people who have yet to establish a credit score.
The plan provides customers with a standard $500 loan. The money is immediately transferred to a savings account, where it remains until the loan is repaid.
Borrowers can select a payment amount between $10 and $40 every payday. The loan term is determined by the amount of the installments, with higher payments resulting in shorter loan terms. Payment schedules are matched to customers' paycheck cycles. When the loan is paid off, the full sum is available for you to use.
Unlike many credit builder loans, SeedFi does not charge interest or fees. A flat monthly fee of $1 is collected from your payments. This lets you start building credit with as low as $12 a year in out-of-pocket spending.
Credit Builder Prime allows a continuing credit builder loan. When your first loan is paid off the money will be transferred into a second account that's available for you to use. Another $500 will be transferred into the first account and you'll keep making your payments. When that $500 is paid the cycle repeats.
This system allows you to keep a continuing installment loan with on-time payments on your credit report and save from $20 to $80 a month, for a $1/month fee. That boosts the credit-building potential of the project: the account stays open and adds to the length of your credit history.

Closed accounts affect your credit less than open ones!
SeedFi offers some flexibility if you are having financial difficulties. Even if you do not contact customer service, if you are 29 days late, SeedFi will assume financial distress and automatically shut down your account. That means SeedFi will never report a late payment to the credit bureaus.
Eligibility Criteria
To be eligible for Credit Builder Prime you must:
Be a resident of one of the states where SeedFi is licensed to operate.
Be at least 18 years of age or 19 years in Nebraska and Alabama.
Provide your birth date and Social Security number.
Provide a phone number and email address that is verifiable.
Have an electronic payment option.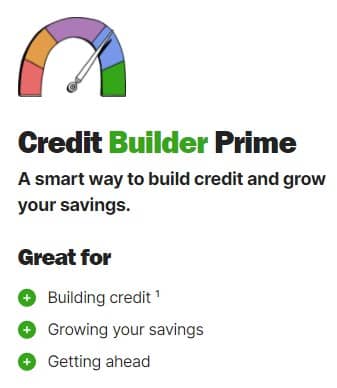 Keep in mind that individual results may vary. Using Credit Builder Prime is not guaranteed to increase your credit score. It's important to make on-time payments but other factors can affect your credit score, including performance on other credit accounts.
The Borrow & Grow Plan
The Borrow & Grow Plan is a hybrid between a credit-builder loan and a personal loan. You'll get cash upfront, and SeedFi will deposit a second sum in a locked account. You'll make bi-weekly payments, and when the total amount is paid the deposited sum will be released to you.
This plan provides quick access to a portion of the loan, and the loan amount can be much greater than $500. The Borrow & Grow Plan charges interest rather than a flat fee. It also requires a soft credit check.
Time Required for Funding: 1 – 2 working days
Loan Term: 5 – 44 months
Estimated Annual Percentage Rate (APR): 6.25% – 29.99%
Loan Amounts: $300 – $4000
Savings amount: $650-$4000
Payment $40 – $60 every 2 weeks
Here's an example Borrow & Grow loan with immediate access to $2,000.
| | |
| --- | --- |
| Amount Financed | $4,000 |
| – Access now | – $2,000 |
| – Savings for later | – $2,000 |
| Payment | $80* |
| APR | 26.99% |
| Plan length | 33 months |
| Finance Charge | $1,670 |
| Total of Payments | $5,670 |
* 70 biweekly payments of $80 and one final payment of $70
Payments are due twice a month and are synchronized with your pay schedule to ensure you avoid a maximum late fee of $15. Besides that, there are no fees charged!

The low cost and relatively easy availability of a Borrow & Grow loan make it an excellent alternative to a payday loan.
Eligibility Criteria
To be eligible for the Borrow & Grow Plan you must:
Have a minimum annual take-home pay of $10,000.
Minimum credit score of 520, but individuals with no credit can apply
Must be a resident of one of the states where SeedFi is licensed.
At least 18 years of age, or 19 in Alabama and Nebraska.
Provide your Social Security Number and birth date.
Maintain a valid bank account.
Own a text-messaging capable phone.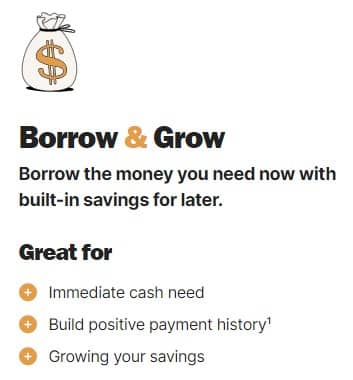 The One Bill Plan
This is a debt consolidation loan plan that SeedFi is developing. The purpose of this plan will be to establish credit and simplify bill payments by consolidating several accounts into one.
This Plan will enable you to bundle several debts into a single loan with a fixed monthly payment, usually with a lower interest rate. When used prudently, a debt consolidation loan can help you save money on interest and accelerate your debt repayment.
This plan will work by giving you a loan to repay all of your other debt. You will simply make payments to SeedFi from there.
There is no official statement from SeedFi on the specific terms of this product or on when this product will be available to its customers.
SeedFi Customer Reviews
SeedFi's ratings on Trustpilot are mostly positive, standing at a solid 4.8/5 and an A+ on the Better Business Bureau website.
The majority of reviews praise SeedFi's customer care service and emphasize how simple and convenient it is to use.
However, some negative reviews indicate that the company is not always straightforward with how they handle their customer's accounts.

A majority of SeedFi clients report that customer care service providers are thorough in their explanations of SeedFi's services and that loans are processed quickly and efficiently. Some reviewers expressed dissatisfaction with the product's functionality or the loan cancellation process.
It is common for relatively new companies to experience some problems with both their technology and their customer service systems. The generally strong reviews indicate that these cases are rare but you should be aware that they have happened.
SeedFi Alternatives
Many credit unions and community banks offer credit-builder loans. Several national lenders also provide these loans. Credit Strong and Self, for instance, both offer credit-builder loans.
SeedFi's cost of $1 per month, on the other hand, is much lower than the costs of both of these competitors. Furthermore, SeedFi was among the first big corporations to offer a "credit builder" loan with an "access now" provision. These loans address a critical demand for affordable lending in times of need. 
You can find the detailed price comparisons and guides on how to pick the best option for you in our guide to the best credit builder loans.
Naturally, individuals with excellent credit will have other options. SeedFi caters to individuals who lack access to credit and provides an excellent alternative to a high-interest title or payday loan.
Let's look at how SeedFi compares to its main competitors, Credit Strong and Self. In order to understand how to compare these costs you might want to read up on all the factors that influence the cost of a credit builder loan.
| Lender/Plan | Cash in Advance | Max Loan Amount | Set-Up Fee | Term (months) | APR* |
| --- | --- | --- | --- | --- | --- |
| Credit Builder Prime | $0 | $500 | $0 | 7 – 27 | 4.03% – 5.26% |
| Borrow & Grow | Up to $4,000 | $7,000 | $0 | 8 – 44 | 6.95% – 29.99% |
| Credit Strong | $0 | $10,000 | $8.95 – $25 | 12 – 120 | 5.85% – 14.89% |
| Self | $0 | $1,663 | $9 | 12 – 24 | 15.65% – 15.97% |

Before you start comparing the costs, be sure to get familiar with the ins and outs of how credit builder loans work.
Is SeedFi Worth It?
SeedFi loans are reasonably priced and simple to pay off. They leave you with money in a savings account, which can help you meet your financial goals.
SeedFi's products are intended for a specific market: people with no credit or poor credit.
Credit Builder Prime provides an easily accessible, low-cost credit building product that also leases the borrower with savings. It's a great option for people with no credit score or a thin credit file who want to add accounts to their credit histories.

If you have a more complicated credit history and you're looking to repair credit rather than build it, the impact may be less visible.
The Borrow & Grow Plan combines credit building and saving with immediately available cash that you can use to meet immediate financial needs, making it a solid alternative to expensive payday or title loans.
SeedFi offers easily available low-cost, low-risk credit-building options. They are solid options for adding an installment loan to your credit history and building a strong payment history.
How We Rated SeedFi
We rate credit-building products by comparing their key features with those of similar products. These products are rarely identical, so you'll need to compare closely to determine what best fits your needs.
These are the criteria we used here.
Effectiveness
It's never possible to accurately predict the impact of a new account on your credit score. A person with a thin credit file will see a greater impact than a person with an extensive credit record.
We gave SeedFi a positive effectiveness score because it reports to all three credit bureaus and the Credit Builder Prime product eliminates the possibility of late payments. 
Ease of Use
Different users often have different experiences with a product. New products may have glitches that mar some users' experiences. Some other users may have difficulty with products they don't fully understand. We rank ease of use with an assessment of procedures and a cross-section of reported user reviews.
Cost
SeedFi products are not free, but they are generally less expensive than those of their main competitors.
Support
Nothing works perfectly all the time, and when things go wrong you want to know you can get them made right. Support scores are based on reported user experiences. 
The post SeedFi Review (2022): Build Credit & Save Money appeared first on FinMasters.
FinMasters