Thinking about whether to buy Instagram followers? Consider this:
It's Friday night, and you decide to try a restaurant you've never been to before. You walk in the door, and the place is empty.
What is your first thought? Something along the lines of "What's wrong with this place?" right?
We rely on other people's positive experiences to inform our own choices. You expect a busy restaurant to have delicious food, a blog article with tons of shares to be more interesting, and an Instagram profile with thousands of followers to be more legitimate.
Right?
Well, not always.
A higher Instagram follower count might seem beneficial to establishing legitimacy, but it might not have the benefits you are hoping for.
The truth is, when you buy Instagram followers as part of your social media marketing strategy, it's a quick way to boost your follower count, but it could actually hurt you in the long run.
This post will cover how buying Instagram followers works, why it's a really bad idea, and how you can gain followers in a more positive and sustainable way.
The problem when you buy Instagram followers
Buying Instagram followers is easy. In fact, several companies will sell you thousands of Instagram followers for barely more than the cost of a latte. All you have to do is select how many followers you want, set your profile to public, send over your handle, and pay their fee.
In just a few moments, you could gain thousands of followers. And all for just a few bucks.
It's easy to be tempted by the quick win, but is it worth the cost?
How much does it cost to buy Instagram followers?
The cost of Instagram followers varies by site and the "quality" of followers. One site I found offers 2,500 "high-quality" followers for just $29.99. At least they are high-quality, right? (So they say…)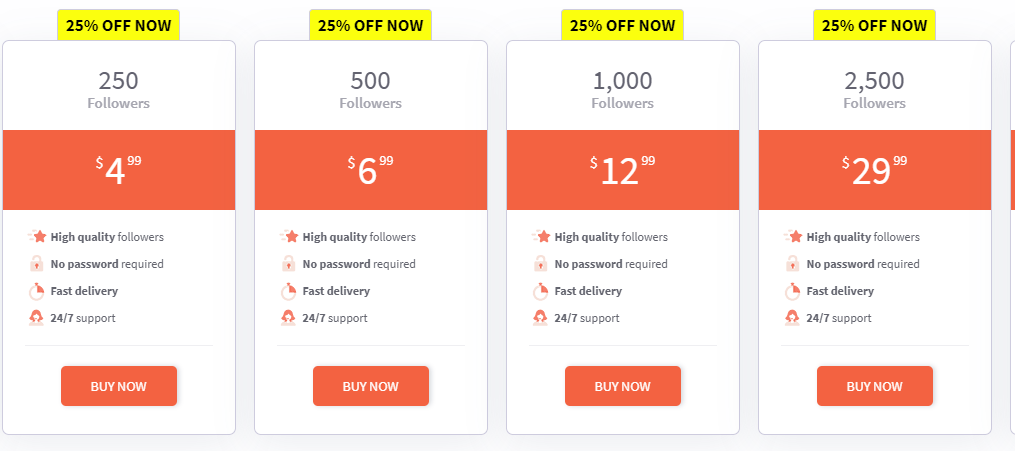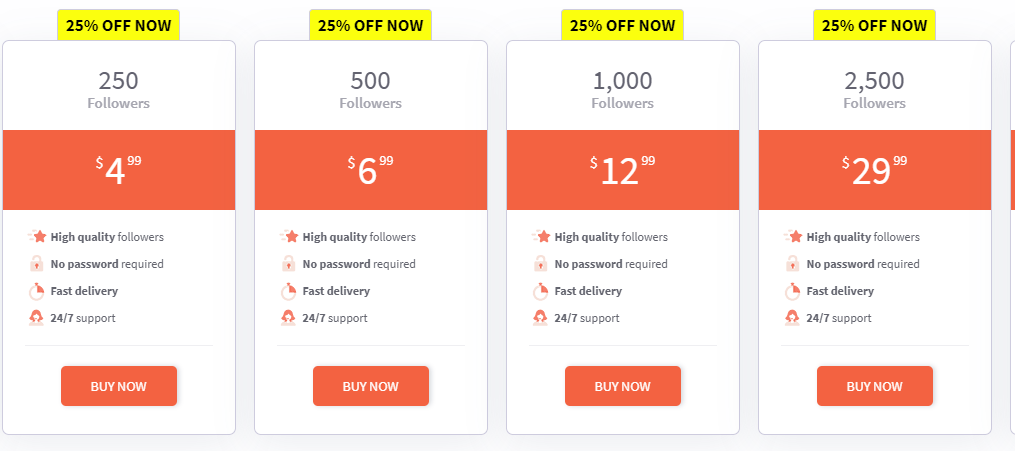 Other sites I found offer as many as 10,000 followers for less than $100.
It sounds like a steal! You could build a legit Instagram account for a few hundred bucks and then start raking in the endorsement dollars.
Here's the thing — these aren't real followers. One company even brags that your follower number will never drop because they provide "real looking artificial users." Yay…?
These sites claim that they can help encourage other (real) people to follow you because your account looks popular after you buy Instagram followers, which encourages real people to engage with you.
In fact, several fashion bloggers have been called out for buying followers in an effort to stand out in an oversaturated market. Some of these Instagrammers make millions of dollars a year, and a few hundred dollars may seem like a small price to pay for a chance to join their ranks.
So, why is buying Instagram followers a bad idea?
For starters, it's dishonest. In fact, entire sites have been built around calling bloggers and Instagrammers out who buy Instagram followers.
Think that if you buy Instagram followers it will get you closer to your dream of being a famous Instagram influencer? Think again. Sites are cracking down on influencers who try to pump up numbers and even offering tools that analyze accounts for fake followers.
Even if you do manage to get that juicy influencer role, you will get caught.
Most importantly, having more followers does not result in higher engagement. Cheap fake followers don't usually like, comment, or — more importantly — buy products. It is worth noting, you can buy fake comments, too. They won't be any more effective than fake followers, though.
What are the pros and cons when you buy Instagram followers?
So, let's lay it out — what are the pros and cons of buying fake Instagram followers and is it actually worth it?
Pros of fake Instagram followers
👍 Fake followers are cheap
👍 Can be purchased with a few clicks
👍 May give your account a false sense of credibility
Cons of fake Instagram followers
❌ Fake followers don't convert, making them worthless
❌ Won't help you gain endorsements
❌ Undermines your real followers' trust
When it comes down to it, buying fake Instagram followers is not worth the quick boost.
What about automated Instagram follower tools?
Automated follower tools are services that strategically follow and unfollow other Instagram accounts based on factors like your location, industry, and popular hashtags. The idea is that by following other accounts, they are more likely to follow you back.
These services often also automate unfollowing accounts that don't follow you back or don't engage with your account.
It sounds good on the surface. After all, you are getting real followers, not buying them. The problem is that many of these accounts are still not going to engage with your brand.
That lower engagement rate can hurt you because real followers are going to wonder how it is you have, say, 100,000 followers but only get a few dozen likes per post. And before you sign that million-dollar influencer contract on your way to stardom, you can bet they are going to want to see your engagement rates.
If you are looking to drive traffic or purchases with your Instagram account, don't buy Instagram followers, you need real followers who are actually interested in what you have to offer.
Any other method is simply not worth the cost or the risk.
The right way to grow your Instagram followers
You want to grow your Instagram followers and now you understand why if you buy Instagram followers it's a terrible idea. So, what are your options?
The first step is to understand how the Instagram algorithm works, which is how Instagram decides what content to show to users.
The Instagram algorithm shows users content based on types of content they have previously engaged with and the amount of engagement that each post receives.
For example, if you follow and engage with a bunch of sites related to knitting, you are far more likely to see popular posts about knitting, like this one: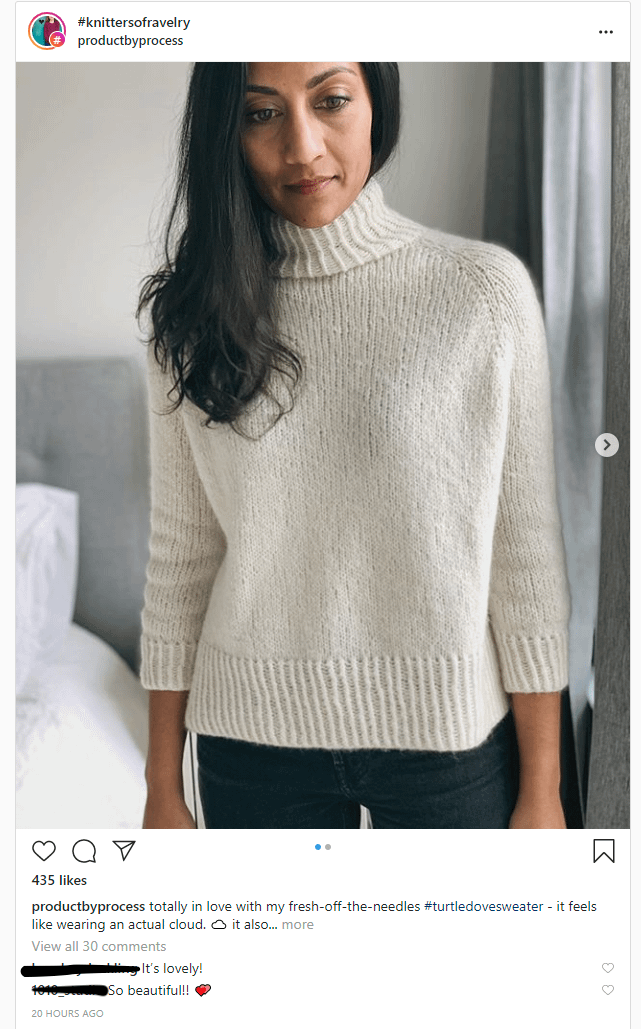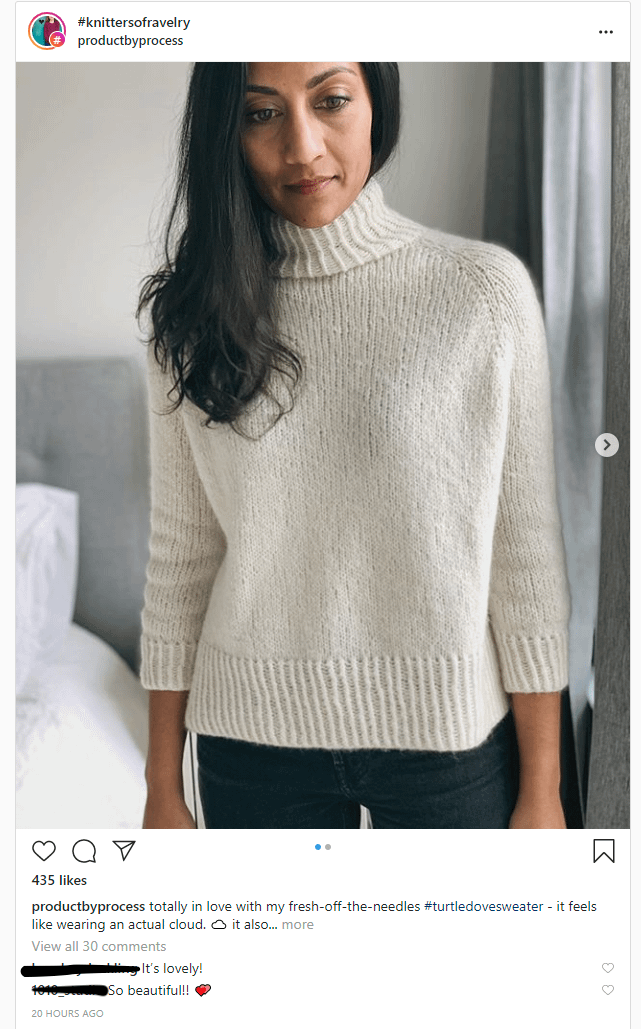 So, if you want more followers for more engagement, you need more… engagement?
Not very useful, I know.
Here is how to gain real followers who are actually interested in your content and your brand.
1. Create an engagement schedule for yourself
If you want other people to be social with you, you need to be social with them! Make time to search for and engage with accounts in your industry. Follow other Instagrammers, like their posts, and leave thoughtful comments.
You know, be social.
Make a schedule to ensure you are consistent. You can set up the schedule however you like, for example:
15 minutes of liking, commenting, and engaging a day
20 minutes of engaging twice a week
Follow X number of accounts and leave X number of comments a day
Whatever schedule you set for yourself, aim to be authentic. You don't need to write a book, just share your thoughts or opinion in a way that contributes to the conversation.
For example, this post for Zero Waste Collective has a ton of comments, many of them are questions about where to find similar containers or asking about how to reduce waste in the kitchen.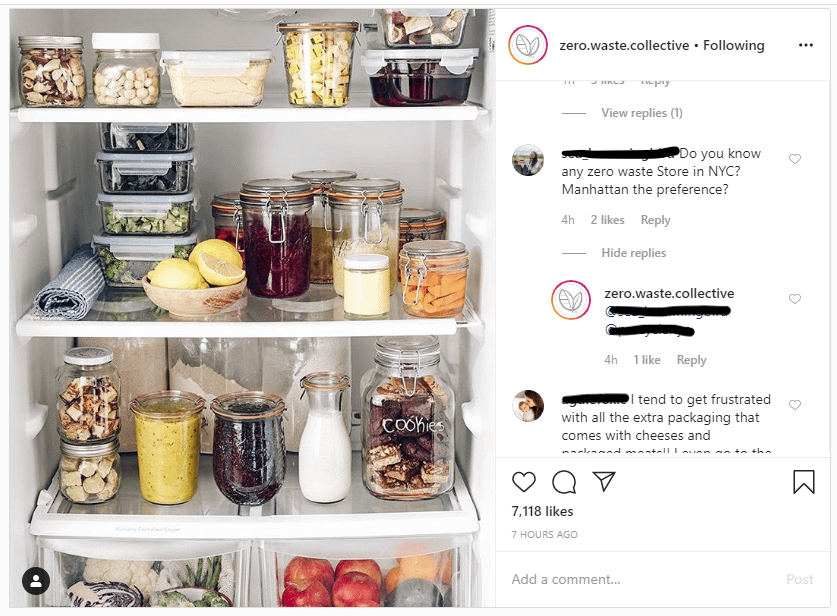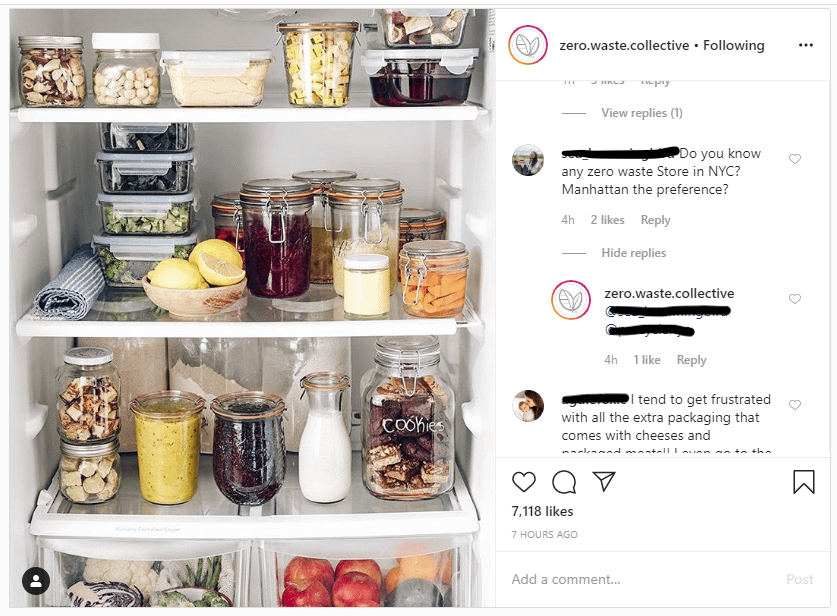 Comments should be part of a conversation. Say why you like the post, how you handled a similar situation or share resources. Don't just say, "Great post!"
2. Post interesting Instagram Stories
Instagram Stories are time-sensitive posts that disappear after 24 hours. And they are big news. According to Instagram, the platform has more than 500 million active story users every day.


Stories allow users to get a behind-the-scenes look and are often more personal than regular Instagram posts. Plus, because they show up at the top of users' feed, Instagram stories tend to get a lot more engagement.
So, what should you post on Instagram Stories to drive more followers?
Questions that users are likely to comment on
Behind the scenes content, such as "how it is made" or employee spotlights
Quizzes or polls
User-generated content, such as reviews or DMs (with permission, of course)
To see what stories your users are finding interesting, make sure to check your Instagram Story Insights by tapping your active story, swiping up, then tapping the bar graph icon. There you can see who viewed the story and what actions they took.
Once you understand what type of content your audience reacts to, you can focus on creating more of that type of content and not buy Instagram followers.
3. Use a variety of hashtags
Hashtags are a way to sort content on social media sites like Twitter and Instagram. When you tap a hashtag, you can see all the other content posted that used the same hashtag. For example, a food blogger might use the hashtag #veganblogger.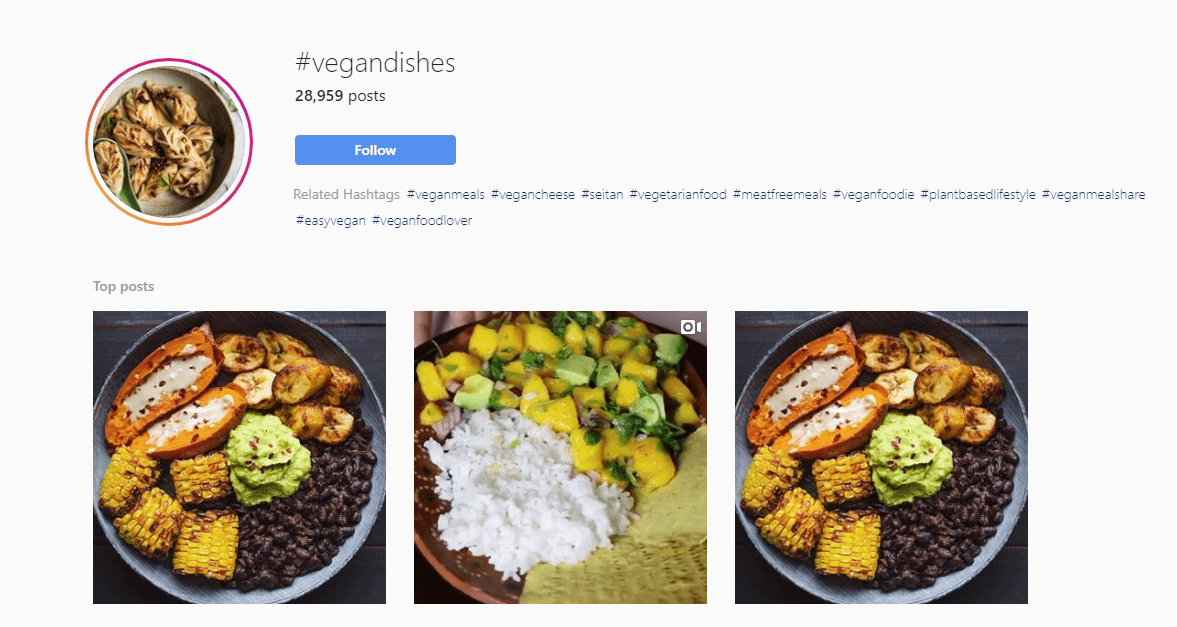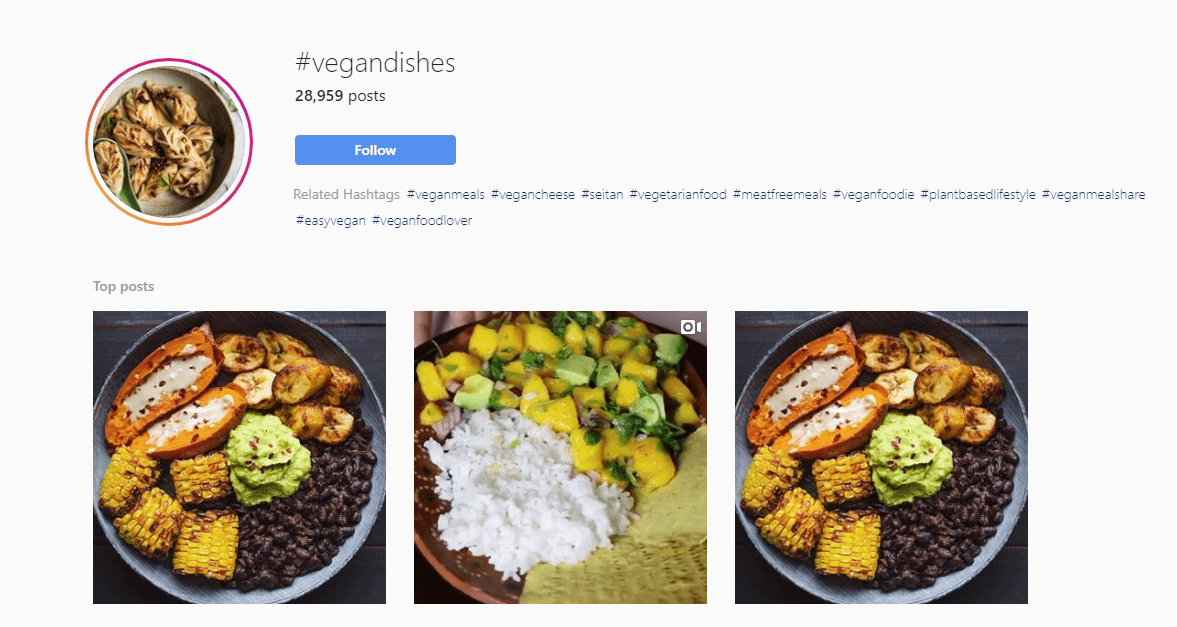 Tap on that hashtag, and you can see all the other posts users have shared using #veganblogger.
Hashtags tend to drive engagement, which can help you expand your content's reach. Users can also follow hashtags they are interested in, which can help your account get found by people interested in your industry.
Here are a few ways to find hashtags that will increase your followers:
Use Instagram's search function to search for terms related to your industry
Look for "related hashtags" and make a list of ones that are relevant to your business
See which hashtags have the most posts, then look at the posts to see how much engagement those posts are getting
Follow a few popular hashtags (this will help you engage with other accounts in your industry as well!)
See what hashtags your competitors use on their most engaging posts
Look for relevant, but less popular hashtags where your content might stand out
Then, make a list of these hashtags and test them on your posts. Keep using hashtags that drive engagement.
Just keep in mind that Instagram tends to punish profiles that overuse hashtags or use spammy tags. Make sure all of your hashtags are actually relevant to your content and avoid using the same hashtags over and over again.
4. Promote your Instagram account on other channels
When you want to grow your followers fast, some of these strategies can feel a bit frustrating. Waiting for people to hopefully, maybe find your account and tap that like button doesn't feel very proactive.
In addition to building engagement with the strategies above, you can also get a bit more proactive by inviting your audience to like you on Instagram.
For example, if you have a strong website, Facebook page, Twitter profile, or email list, you can use those connections to drive more Instagram followers.
Try these strategies:
Add an Instagram feed to your website that shows off your most recent posts
Add a Follow Instagram button to email and your website
Host an Instagram contest and promote it on Facebook
In addition, try running an Instagram promotion to attract more real Instagram followers who will be interested in your brand and your content.
Conclusion: Engage and don't buy Instagram followers
Buying Instagram followers might feel like an easy way to inch a bit closer to your Instagram goals. The truth is, it is spammy and, more importantly, it simply does not work.
Instead of risking it all by dropping cash on Instagram bots, take the time to build a strong following of Instagram followers and do some creative advertising or promotions to find people who are interested in what you do, and – hopefully! – willing to buy the products or services you have to offer.
The post Should You Buy Instagram Followers? Pros and Cons 👍👎 appeared first on Revive Social.