Trying to decide if you should upgrade to an Instagram business account?
The photo-sharing app Instagram debuted back in 2010 and for the first few years, it was mostly used by regular folks who shared selfies, photos of dogs, and food. The feed was in chronological order and ads were nowhere to be found.
Clearly, things have changed! Today, we have access to Instagram Stories, ads, video, and even Instagram TV.
In the past few years, the platform has gained traction as a powerful place for businesses to connect with followers, build their brands, and even directly make sales with features like the Instagram shopping button.
---
Should you upgrade your personal #Instagram account to a business account? #SocialMediaMarketing
Click To Tweet
---
The power of Instagram for businesses
If you are looking to grow your business online, Instagram should be high on your priority list. With more than 1 billion users (that's an eighth of the entire world's population, in case you were wondering!), there is no better place to connect with your audience than Instagram.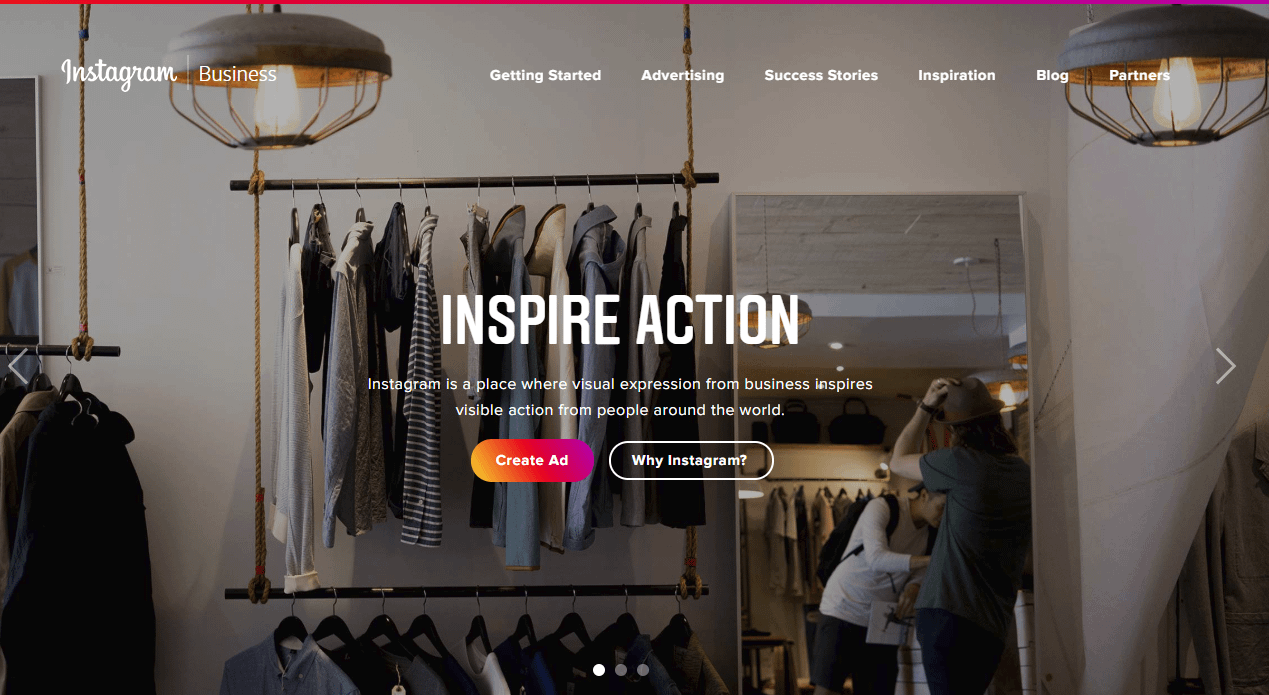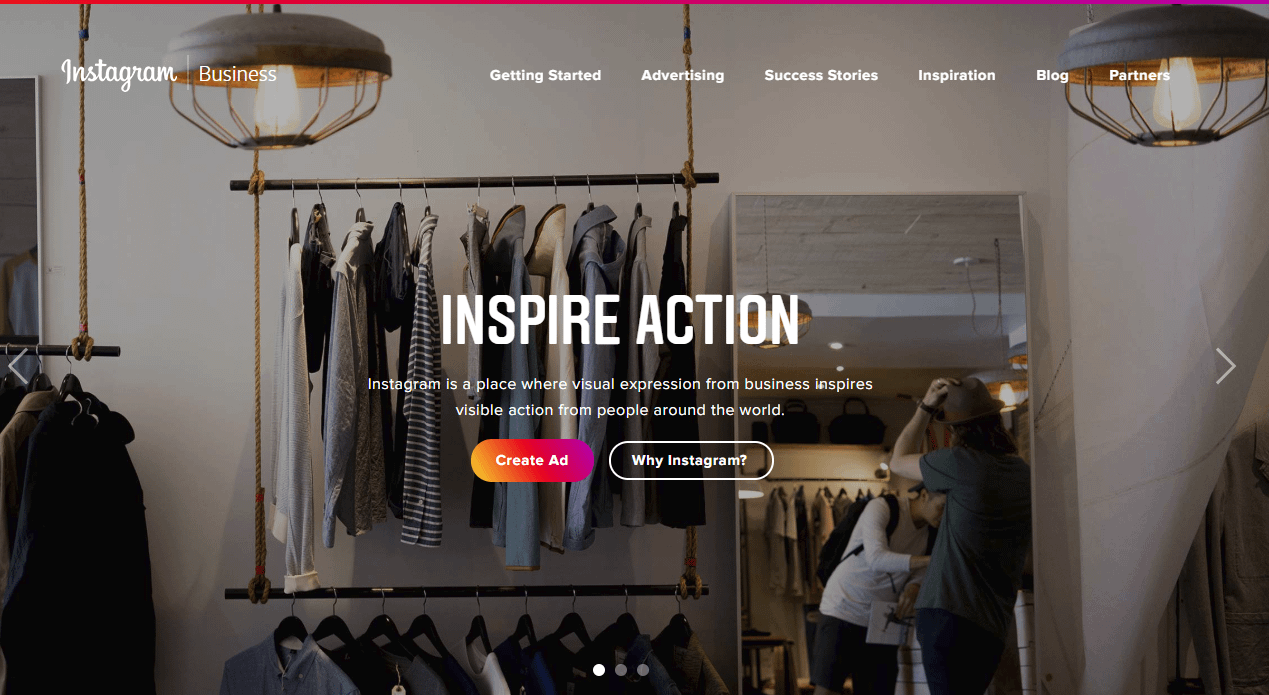 Besides just being so dang popular, the platform is pretty good to brands, too. Eighty per cent of Instagram users follow at least one brand, and 60% of users report they discover new products on Instagram.
As of 2017, more than 25 million businesses had an Instagram account, up from 15 million just four months prior.
One of the major factors in drawing in new brands is likely that Instagram keeps rolling out new features, such as Instagram Stories, the ability to schedule posts, and, most recently, the Creator accounts. The new feature rollouts make the platform even more valuable as brands and their followers gain access to additional functionality.
It is pretty clear that Instagram is the way to go if your business is looking to build connections and make sales online. But, there's one question that gets asked over and over: Should I switch to an Instagram business account or keep my personal account?
Is there really a big difference between the two types of accounts? Will your posts get buried if you choose to switch to a business account?
The truth is, whether or not it makes sense to switch depends on your market and how you use the platform. But for most users, the pros to having an Instagram business account outweigh any cons.
So before you make the switch, let's take a deeper look so you can decide what is right for your business.
What is the difference between personal and Instagram business accounts?
First, let's talk about the differences between the two types of accounts. Are there any pros and cons of switching to an Instagram business account?
On the surface, the two types of accounts look pretty similar.
Anyone can create a personal business account, but businesses, in particular, are encouraged to switch over to the business profile. Anyone can switch to a business account, including influencers, brands, brick and mortar stores, service-based businesses, and crafters.
Why does it matter which account you choose? Well, the business account gives you access to more features, including analytics, ads, buy now button (for some), and the ability to add more contact information.
From the outset, things don't look much different. Here is an example of an Instagram business account and a personal account on the profile page.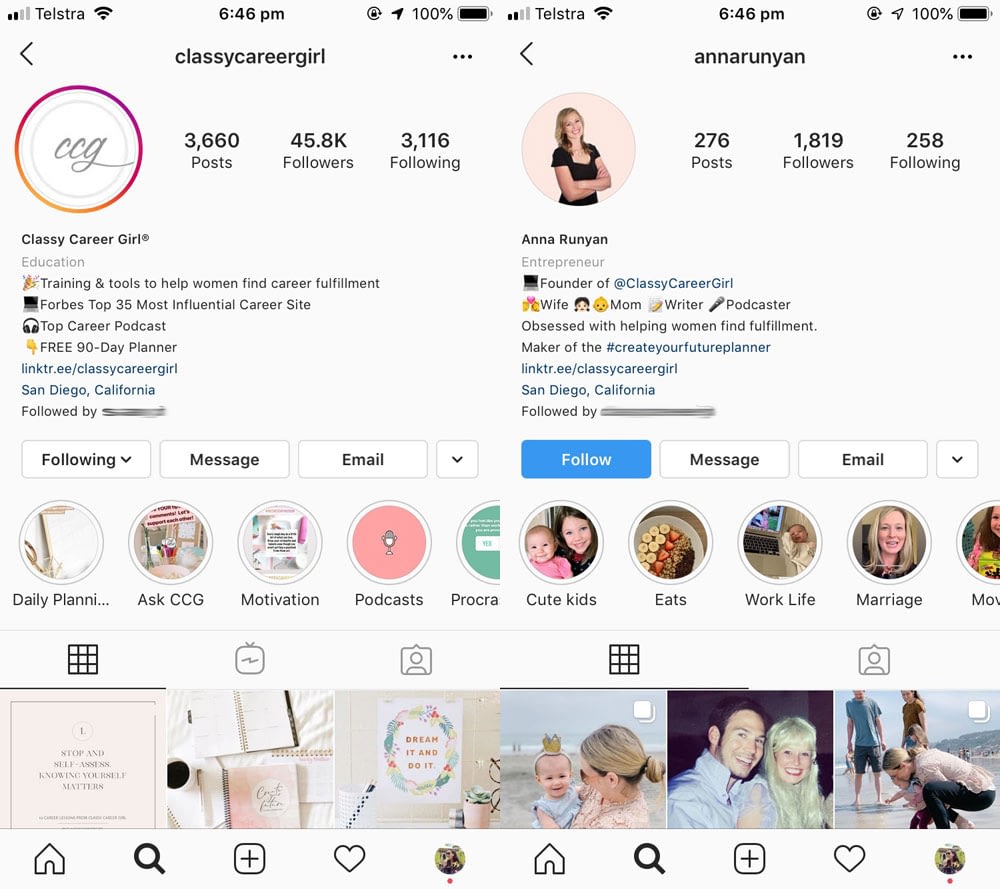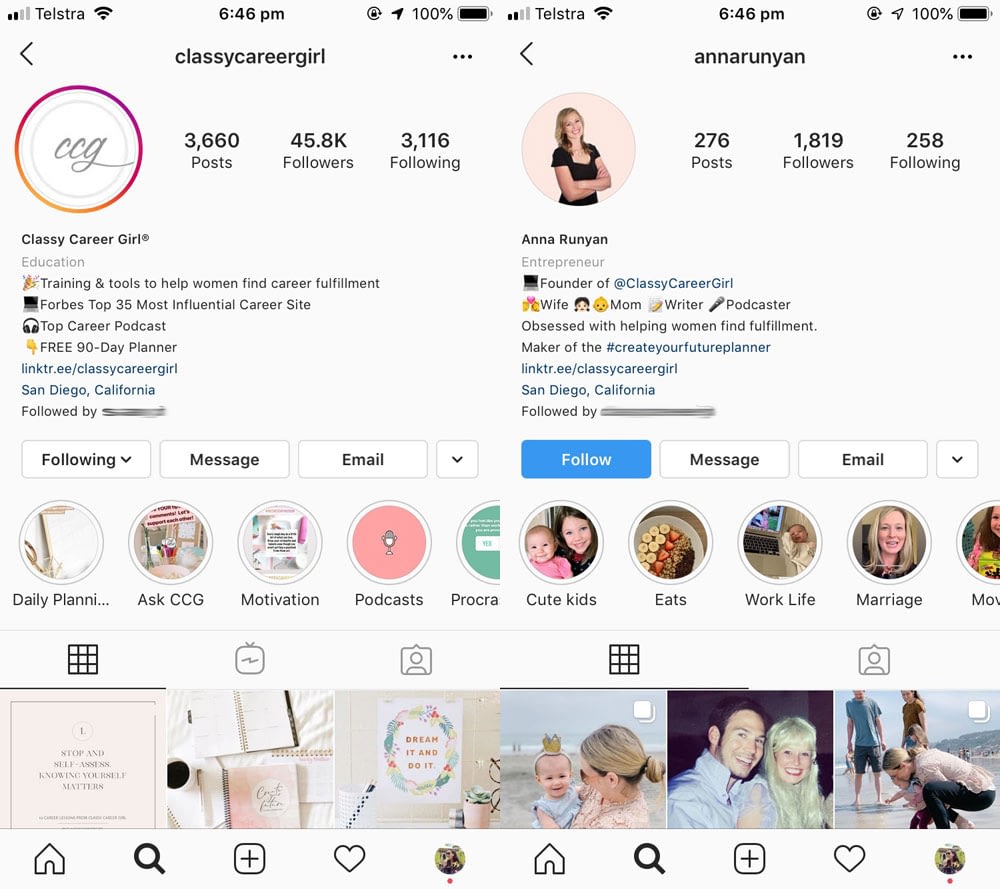 Overall, they mostly look the same, right? Each type of profile has a link, a bio, and the ability to save Instagram Stories in the Highlights section (those round photos just under the bio.)
So, what's the big deal?
Well, behind the scenes is a different story.
When you upgrade to an Instagram business account, you gain the ability to:
Access Instagram Insights, which allows you to see data about followers, profile visits, Story views, and more.
Add a Call to Action button (There may still be a limited rollout on this feature)
Add a physical address to your profile
Include links to Instagram Stories (but only if you have +10K follower or get verified)
Promote posts and run ads through Facebook's ad manager
Instagram Insights alone is really worth the switch. The Instagram native analytics dashboard gives you access to a massive amount of data that can help you target your audience better by sharing more of the content they like when they are likely to be online.
What are the cons of switching to an Instagram business account?
So, the pros sound good. But what about the cons? Are there any drawbacks to switching from your personal account to a business account?
One drawback to a business account is you cannot set your profile to "private," which means other users can always search for your profile and follow you when you have a business account. When you have a personal account, you can choose to hide certain posts and only show content to followers you approve.
However, if your goal is to reach prospective customers, this shouldn't be an issue. You want people to see all your content, right?
Another con many users worry about is a decrease in organic reach; that is, the number of people who see a post that does not use ad spend. This fear is likely based on a similar shift when Facebook introduced its business pages and algorithm. Many businesses were shocked to see their organic reach plummet.
Will Instagram reduce my organic reach if I switch to an Instagram business account?
This is one of the main fears most businesses have when making the switch from a personal to a business account. You've spent months, or even years, building your brand's Instagram account. Now you might risk losing all that hard work!
The reality is, so far, that does not seem to be the case on Instagram.
It's hard to say for sure if your organic reach will see a noticeable dent. Instagram insists that the algorithm places value on relationships, meaning that users will see more content from people (or brands) they interact with the most.
Based on an interview in Vox, Instagram does not rank businesses or verified users higher than regular users. Julian Gutman, the product lead for Instagram Feed, insists, "We treat everyone the same" when it comes to businesses and people on Instagram.
Which, to be fair, is not the same as saying they do not repress the reach of business accounts.
There is some anecdotal evidence that Instagram does, in fact, reduce the organic reach of Instagram business profiles. However, the other benefits — Insights and access to Stories and promotional features — tend to outweigh the possible dip in reach.
If you are worried about losing reach after switching to Instagram business, make a plan to leverage the information you gather in Instagram Insights to offset any minor dip. Post content regularly, comment on other posts, and use hashtags related to your industry to prevent a dip in organic reach.
What is the Instagram creator profile?
Instagram users have had the option to switch to a Business Instagram Account for a while now, but now there is a third option— the Instagram Creator Account. This one is relatively new, so it's worth covering alongside this discussion of Instagram business profiles.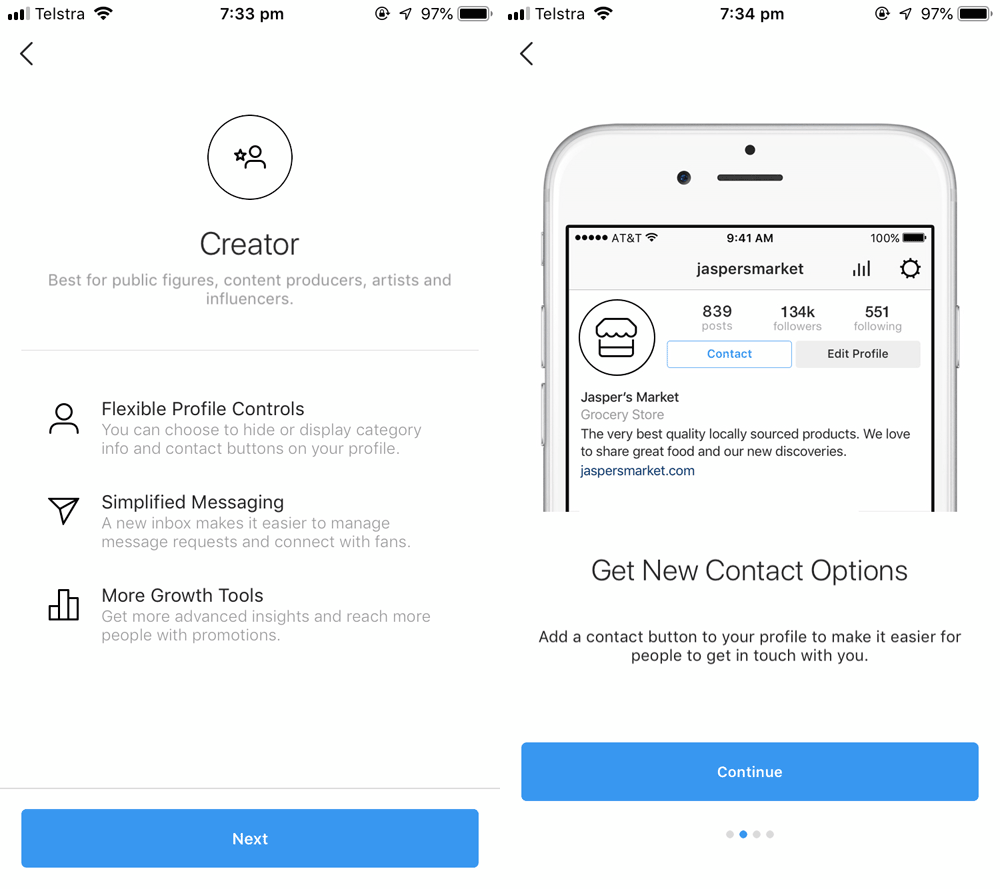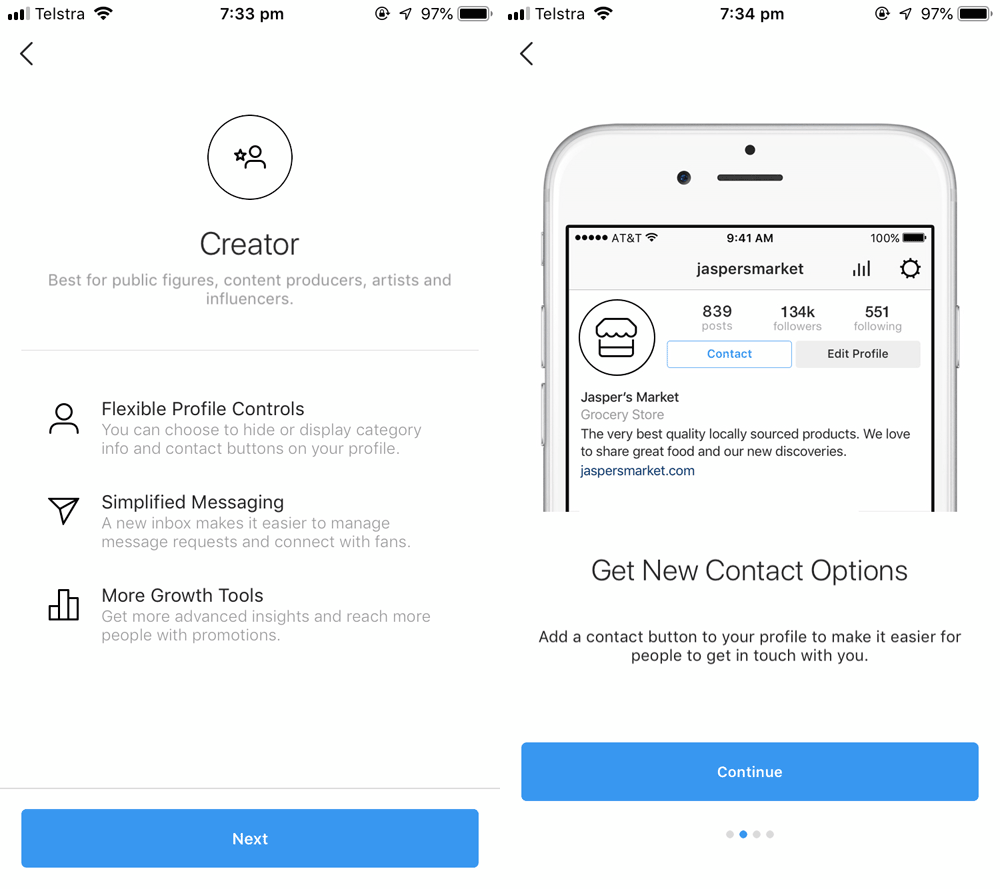 Released in early 2019, the Creator profile is designed for Instagram influencers, artists, and public figures. It offers features such as in-depth follower insights, a filtered DM inbox, and additional category and contact information options.
You can convert to a Creator account from either a Personal or Business Instagram account. Just like the Business account, you cannot have a private account if you upgrade to a Creator profile.
Are you interested in switching to a Creator Profile? This guide on Instagram's website will walk you through the process.
Questions to ask before upgrading to an Instagram business account
I would recommend not over-thinking this process for several reasons. First, you can always switch back if you don't like the new profile. Second, the tools and functionality ensure making the switch is a good choice for most brands and influencers. Because without tools like Insights, you have no access to demographics of your followers or data about how recent stories or posts performed.
Still not sure if upgrading to an Instagram Business account is the right choice for you? Here are a few things to consider before making the switch. Keep in mind, you can always switch back if you decide the features aren't worth it.
Are you running a business? Pretty self-explanatory, but if you are running a business, the pros of having access to Insights and Ads outweigh the minor cons.
Are you worried about privacy? You cannot have a private account if you switch to a Business or Creator account. Any Instagram user can see and follow your account after your switch. The Creator account does allow you to switch off contact info, however.
Do you struggle to understand what content works best? Switching to a business profile will give you access to Instagram Insights, which gives tons of data about who likes your posts, who follows you, etc.
Do you want to promote posts or run ads? You'll need a business or creator account and to connect with a Facebook page to run ads.
Do you want to add a CTA or contact button? You'll want to switch to the Business or Creator account.
Do you want to use Instagram's shopping button? To use the shopping button, users must have a Business or Creator account, have a connected Facebook page, and be in an approved market to use this feature.
Do you want to avoid connecting a Facebook page to your Instagram account? Businesses must connect a Facebook account to get the most out of Instagram business. Without connecting a Facebook page, you won't be able to promote posts or run ads.
Switching to an Instagram Business account gives you access to far more features than a personal account. If you want to do business, such as run ads or sell products on Instagram, you should absolutely consider making the switch!
How to upgrade your personal Instagram account to a business Instagram account
Now that we've covered the pros and cons of switching from a personal to a business Instagram account, let's talk about how to actually make the switch. The process is quite simple and only takes a few minutes.
Log in to your Instagram account.
Tap the profile photo in the lower right corner of your account, this will take you to your profile.
Tap the hamburger icon in the upper right corner (it looks like three horizontal lines stacked on top of each other).
Tap Settings at the bottom of the new menu.
Tap Account
Tap Switch to Professional Account
Now you can choose between Creator or Business. Both gain access to Ads and Insights, but Creator accounts have more flexibility to turn contact info on and off and sort messages.
Once you select the type of professional account you want, add the information Instagram requests. You can change this later if needed.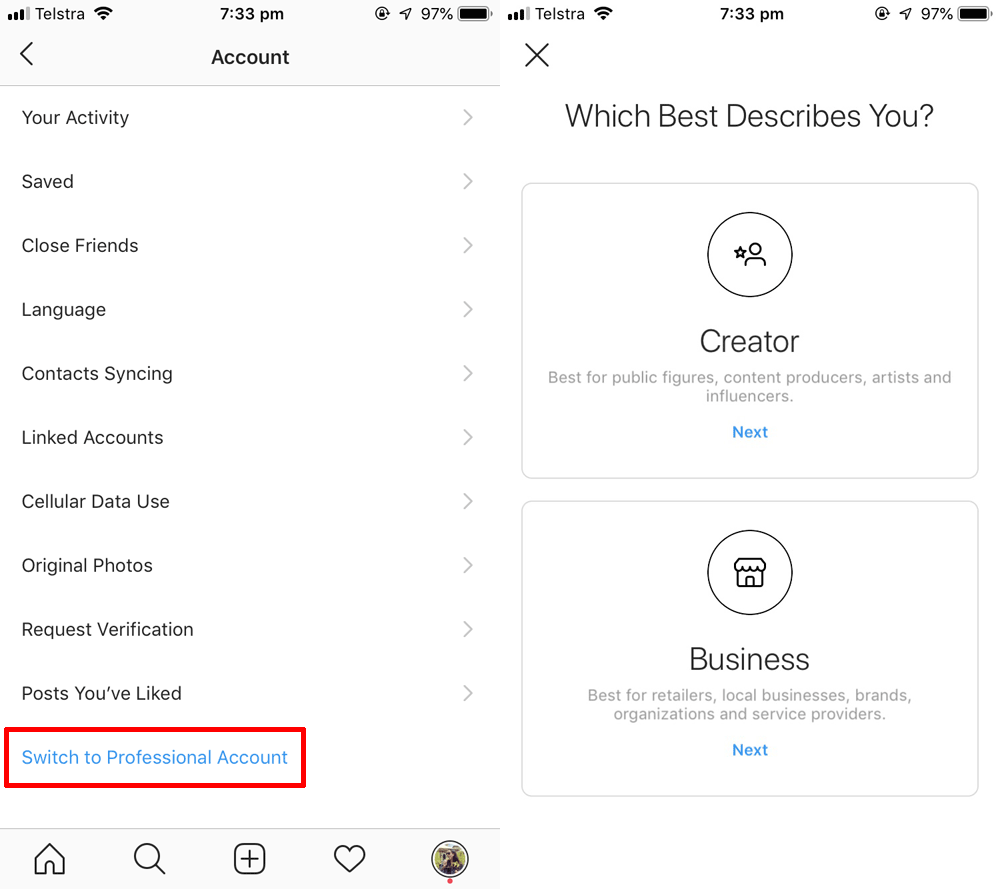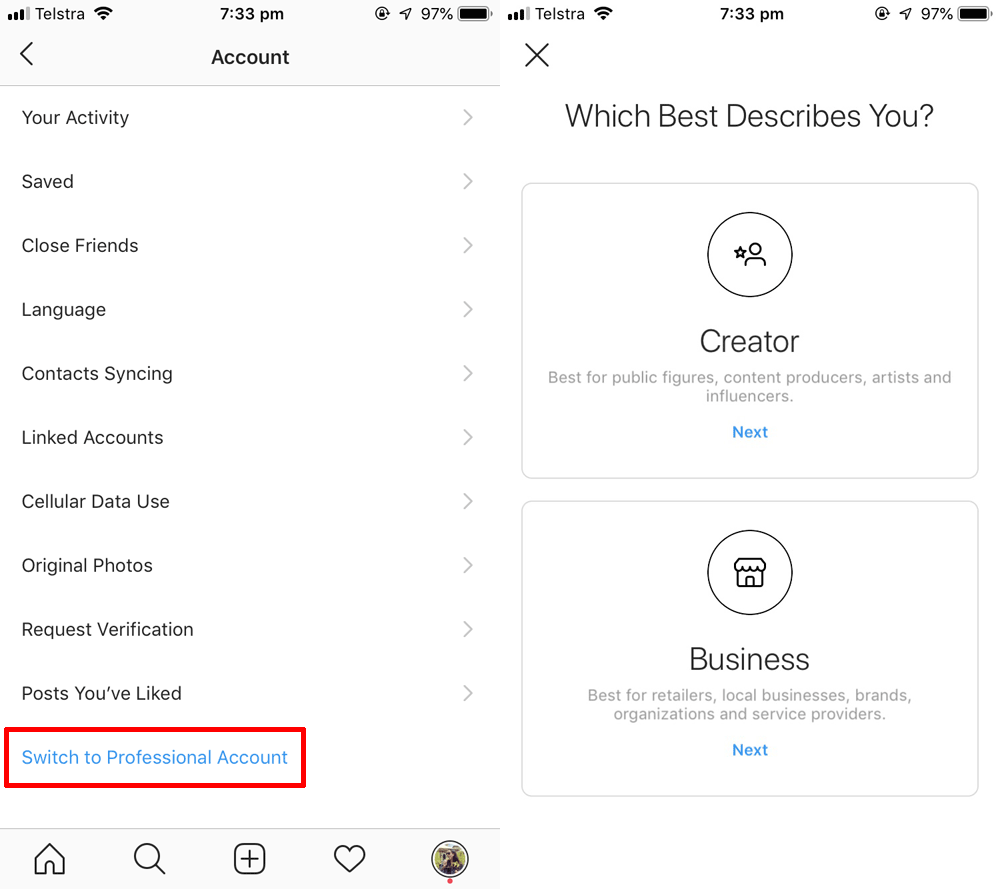 There are a few things to keep in mind. Your account will no longer be private if you switch to either a Business or a Creator account. If you switch to a creator account, all follow requests will be automatically approved. If privacy is a concern, you may be better off sticking with a personal Instagram account.
If you change your mind, no worries, you can switch back to a personal account in just a few steps. In the meantime, use the features that come with your Instagram Business Account to grow your following and improve your engagement rate.
---
The pros and cons of transitioning to a business account on #Instagram 👍👎
Click To Tweet
---
The post Should You Upgrade to an Instagram Business Account? appeared first on Revive Social.