Can Snapchat advertising actually help your business, or are they a waste of time and money?
Snapchat Ads may not seem like your first choice when looking for a place to promote your business, but it definitely offers improved and simpler advertising and design tools compared to the complicated ad interfaces you see from sites like Facebook and other social networks. The Snapchat advertising platform takes advantage of the social network's rabid fanbase, rapid media delivery, and simple, mobile-oriented design.
Therefore, we want to teach you about Snapchat advertising and walk you through the quick steps required to publish your own ads.
Table of contents:
An overview of Snapchat advertising
The Snapchat Ads system provides mobile, full-screen ads that pop up between images and videos sent between friends on Snapchat.
They're rather easy to configure (it's a nice reprieve from the more complicated Facebook Ad Manager) and you can target Snapchat users based on things like interests, locations, and age.
Snapchat ad types and targeting options
The basic ad types from Snapchat include full-screen videos and pictures with overlaying text and images. You can then specify your goals for the ad, such as more website visits or app downloads.
However, Snapchat provides many other social products like stories, collections, and filters. Once you get the hang of regular ads, you can generate ads for all of these separate areas of Snapchat.
For example, you can set a series of videos or images to appear within the Story feature of Snapchat. It's also possible to incorporate fun and brand-relevant filters and AR (augmented reality) Lenses to add some personality and flair to your ads. All of these features combine to provide an incredible mix of options, all of which help personalize your ads and stray away from the stiffness that tends to occur with company ads on social media.
How to launch a Snapchat advertising campaign
Go directly to the Snapchat website and click the Ads menu item. As an alternative, you can go to the Snapchat For Business page to learn more about using ads on Snapchat, and to make an ad from scratch. Keep in mind that although Snapchat is primarily a mobile app, most advertising features are only accessible on the regular website, so you'll need a computer.
Note: You must log into a previously created Snapchat account to begin the ad creation process. If you don't have one, it's required to make one.
Once logged into Snapchat, the website brings you to the Ads Manager, which asks for a Business Name, Business Email, and Your Name.
Fill in all this information, and click on the Next button.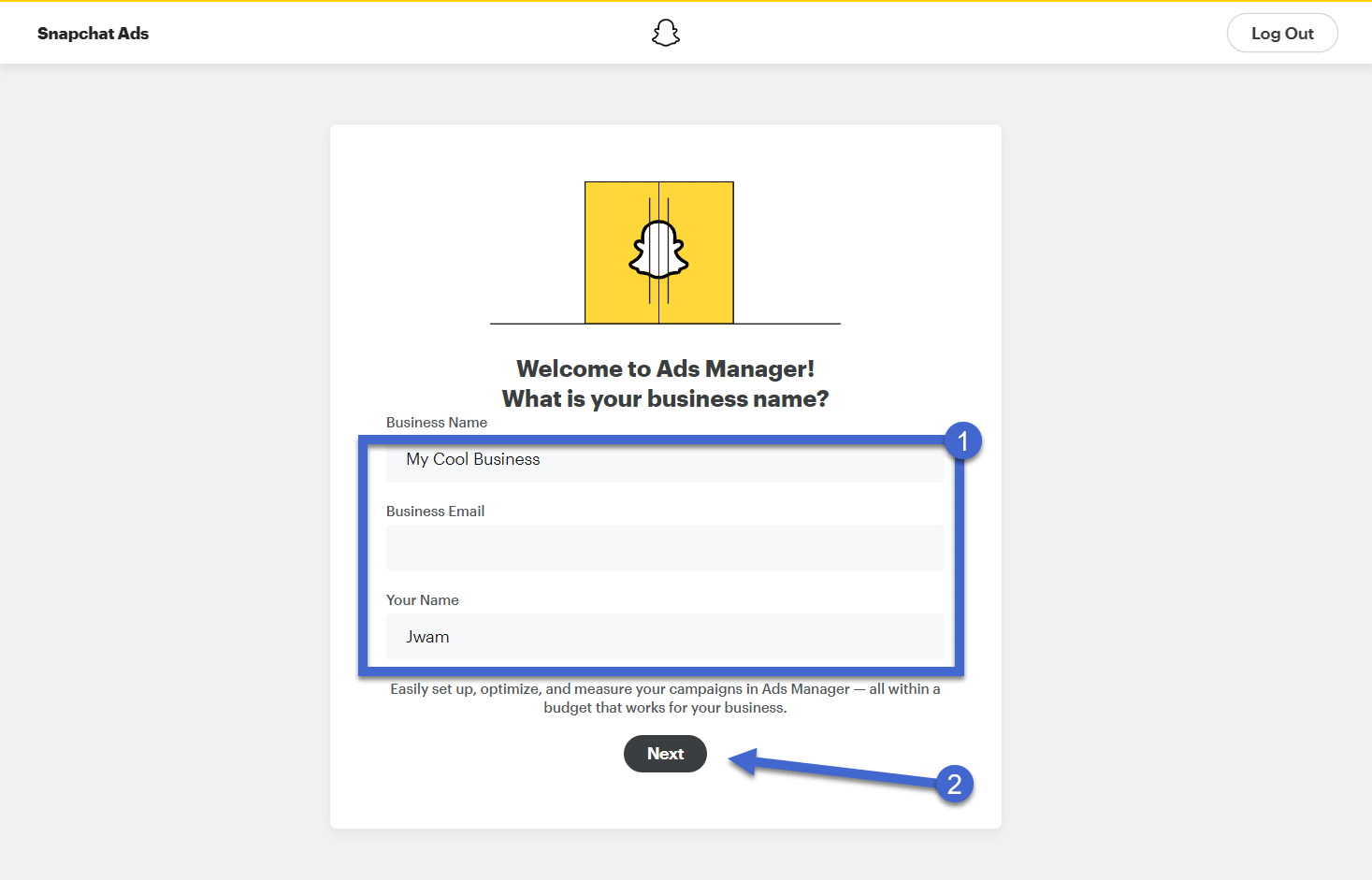 Next up, complete the "Where Do You Do Business" section with your Country, Currency, and Business Phone Number. I noticed the phone number is optional, so only type that in if you want a support call from Snapchat.
Click Next to proceed.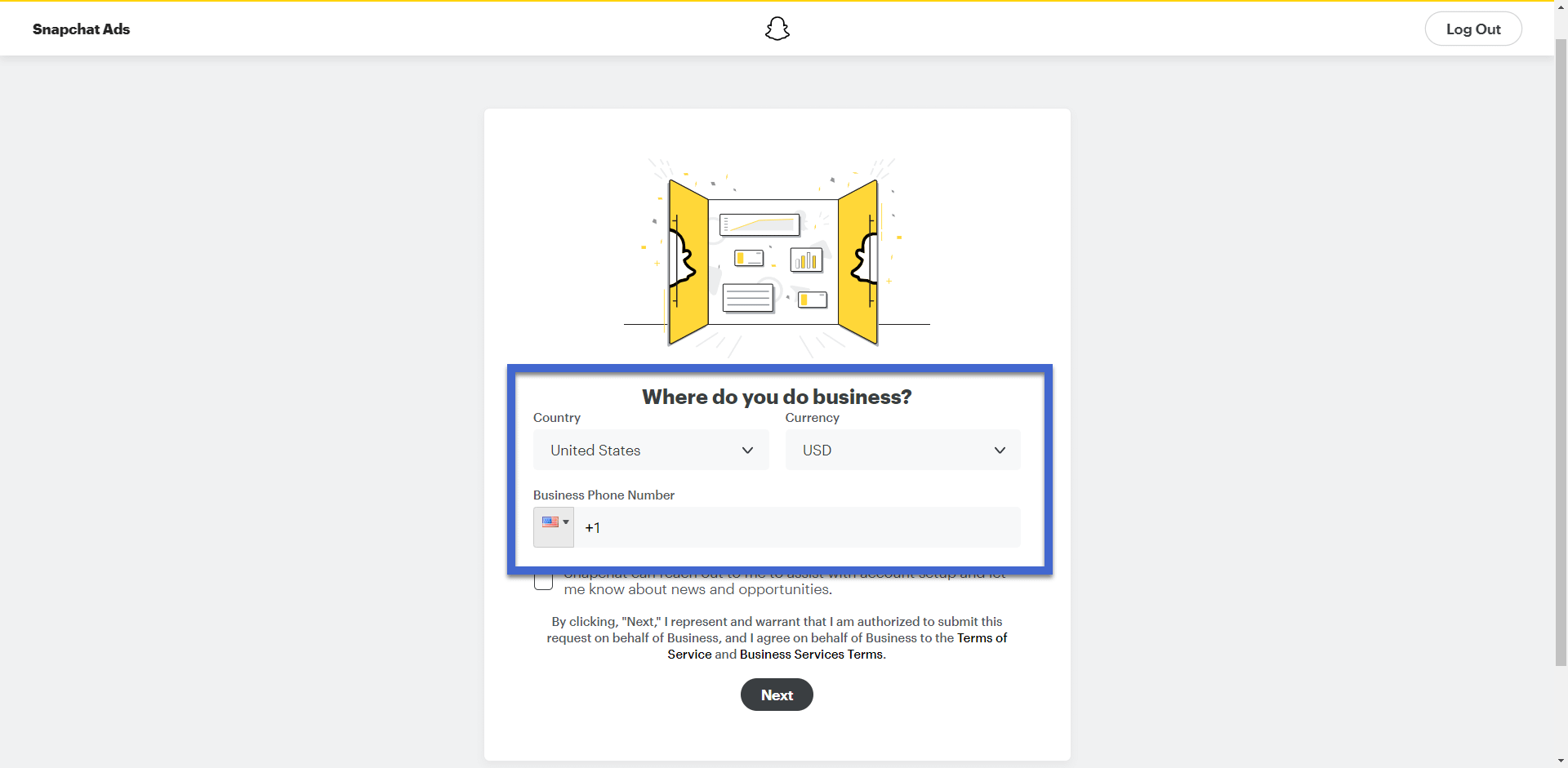 Pick a Snapchat advertising goal
The goal for your Snapchat advertising campaign changes how Snapchat presents your ad and the settings provided to you.
As of this article, you can choose from four advertising goals:
Website visits
Calls and texts
App installs
App visits
For this tutorial, we'll go with Website Visits, but we encourage you to explore them all.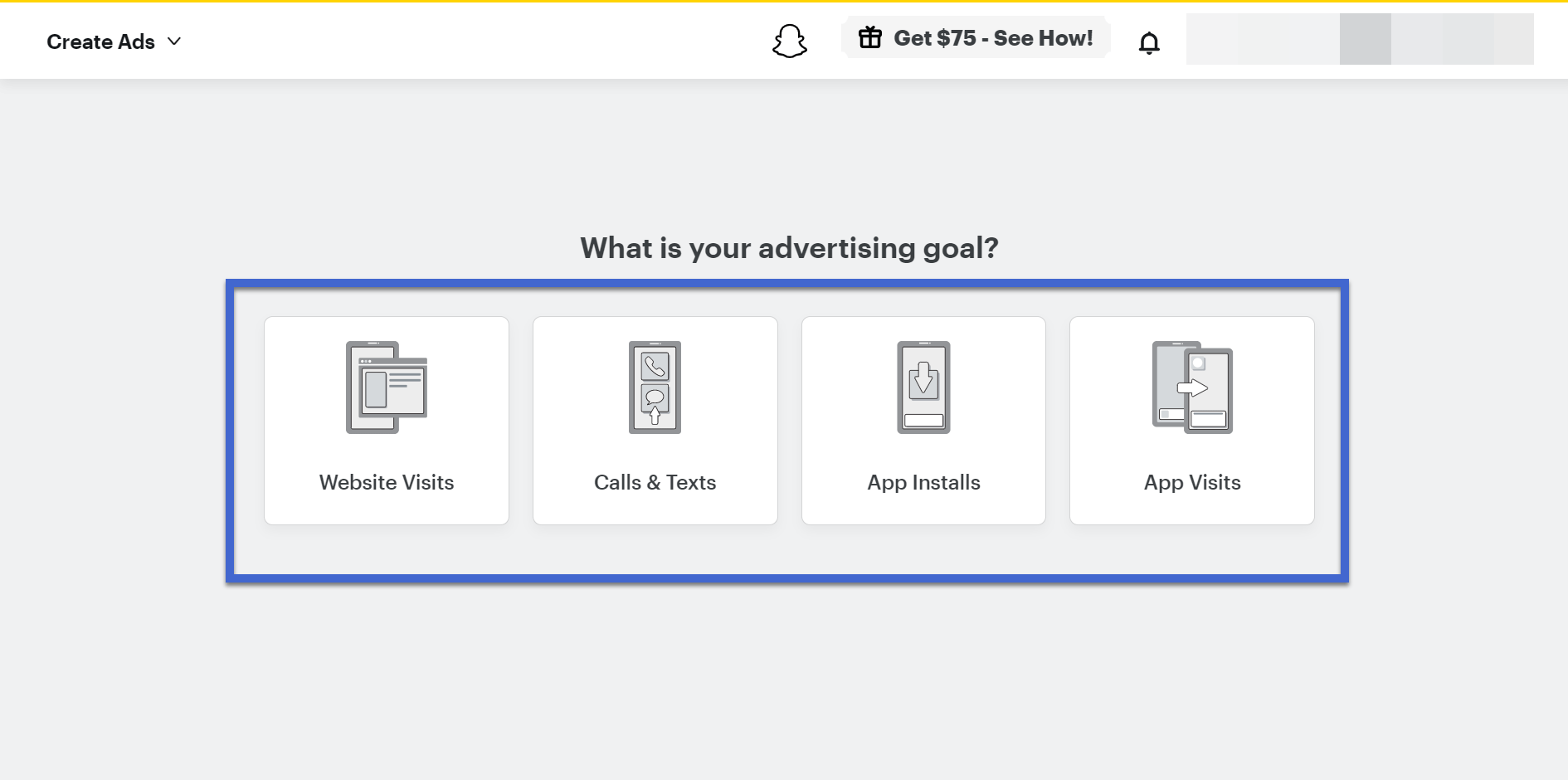 The Website Visits goal asks for you to type in a website URL to link to your ad. This is the website Snapchat users get sent to when they click the ad.
You can also check the box to import photos from your website to help with ad creation. You might as well test this out to see if any photos from your site work well as ads. However, don't expect anything presentable. Most of my tests produced poor results.
To move forward, click the Next button.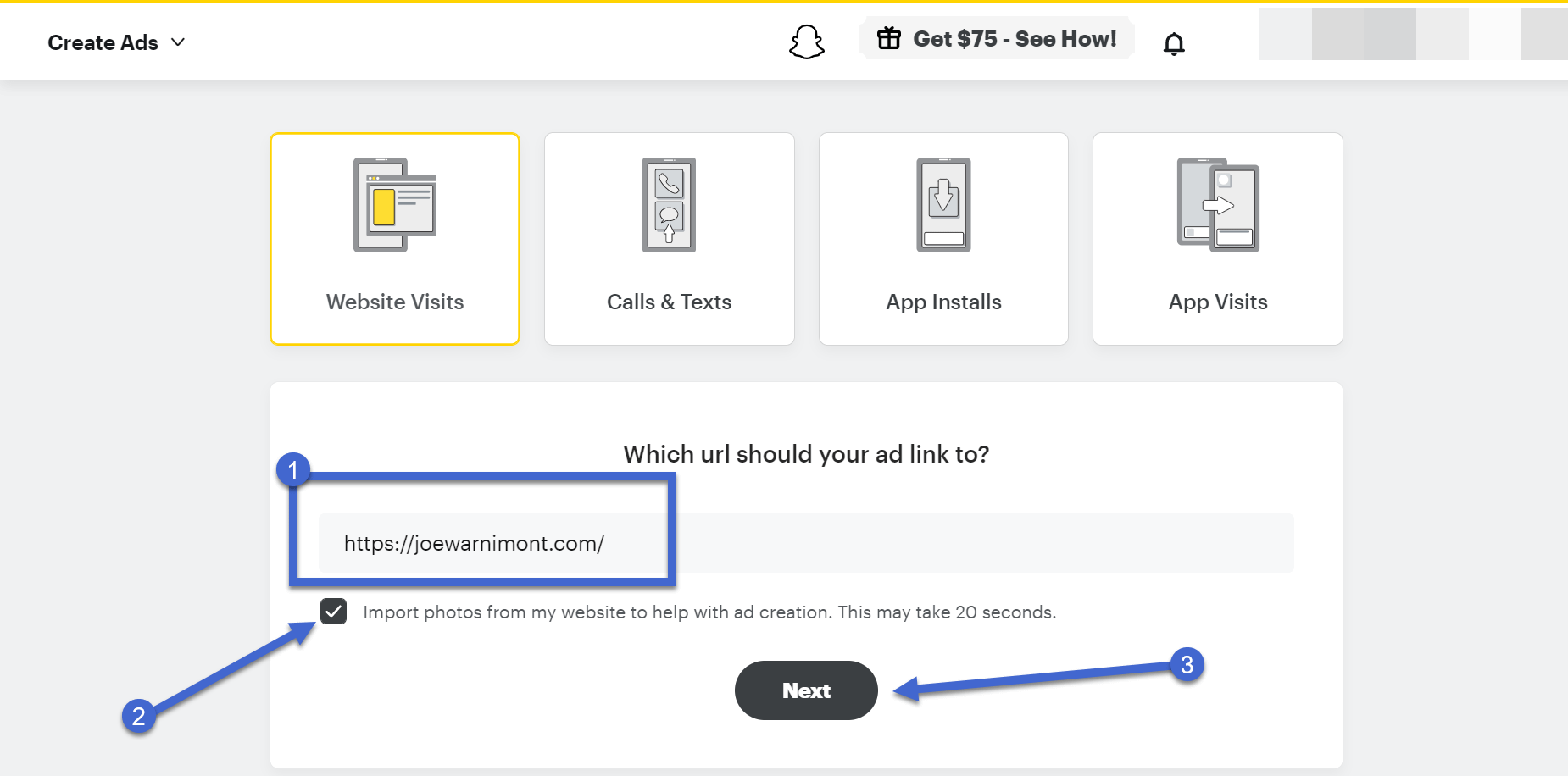 Design the Snapchat advertisement
The Snapchat Ads designer is one of the easiest builders to use when compared to ad systems from other social media sites. It's only a few steps to complete, saving you time while allowing you to produce effective ads.
To begin in the designer, fill in the Name of Business field and the Headline. Both of these appear in the upper left-hand corner of your ad as a way to introduce the name and basics of your brand.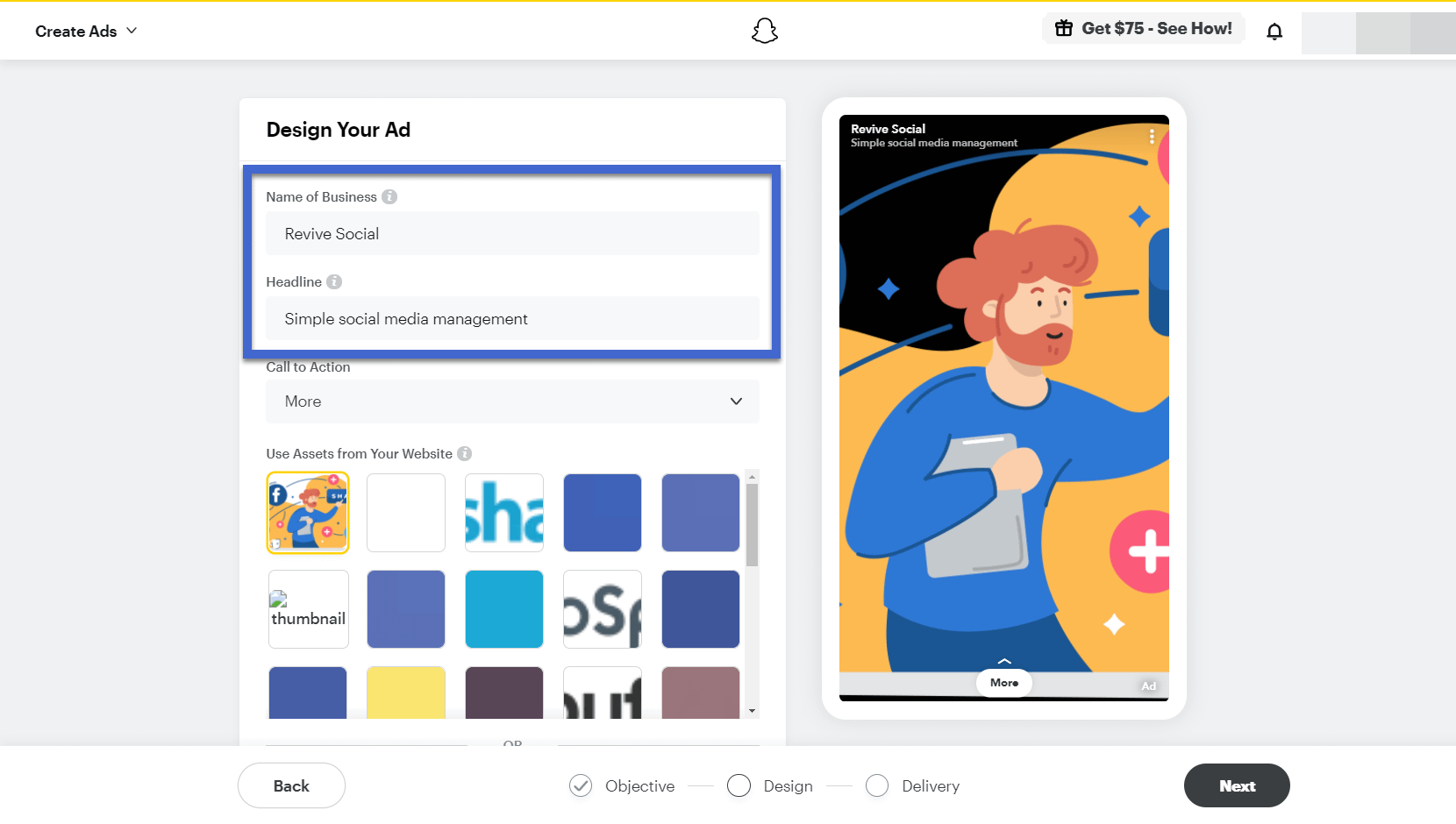 Click the Call To Action dropdown button to select a button with text. It offers a long list of buttons with options like Showtimes, Order Now, View, and Read.
Since we're making a mock advertisement for the Revive Social blog it makes sense to use the Read button.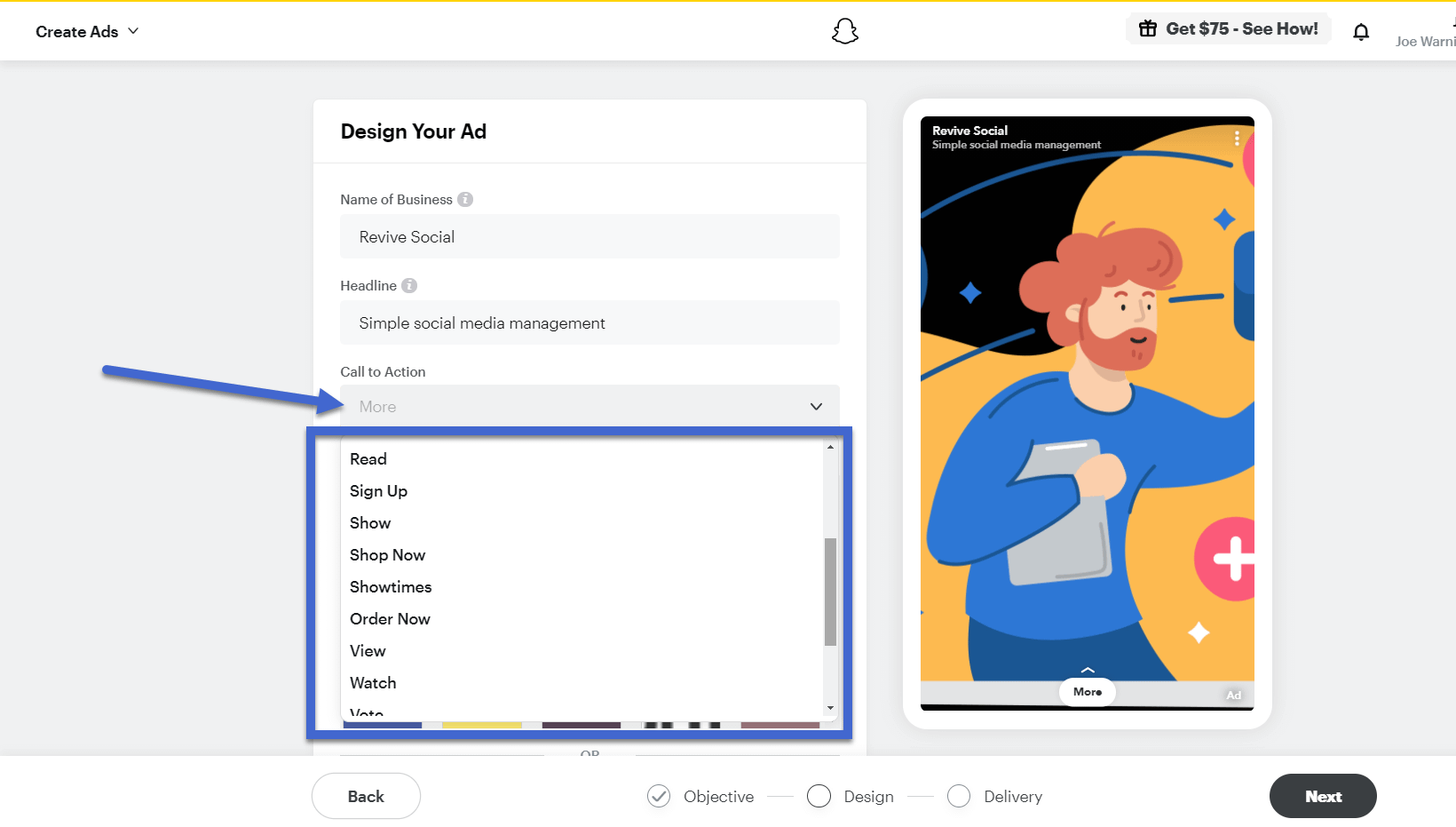 As talked about before, you have the option to tell Snapchat to automatically pull media assets from your website.
Most of those images and videos won't look good as ads, but you may find one or two.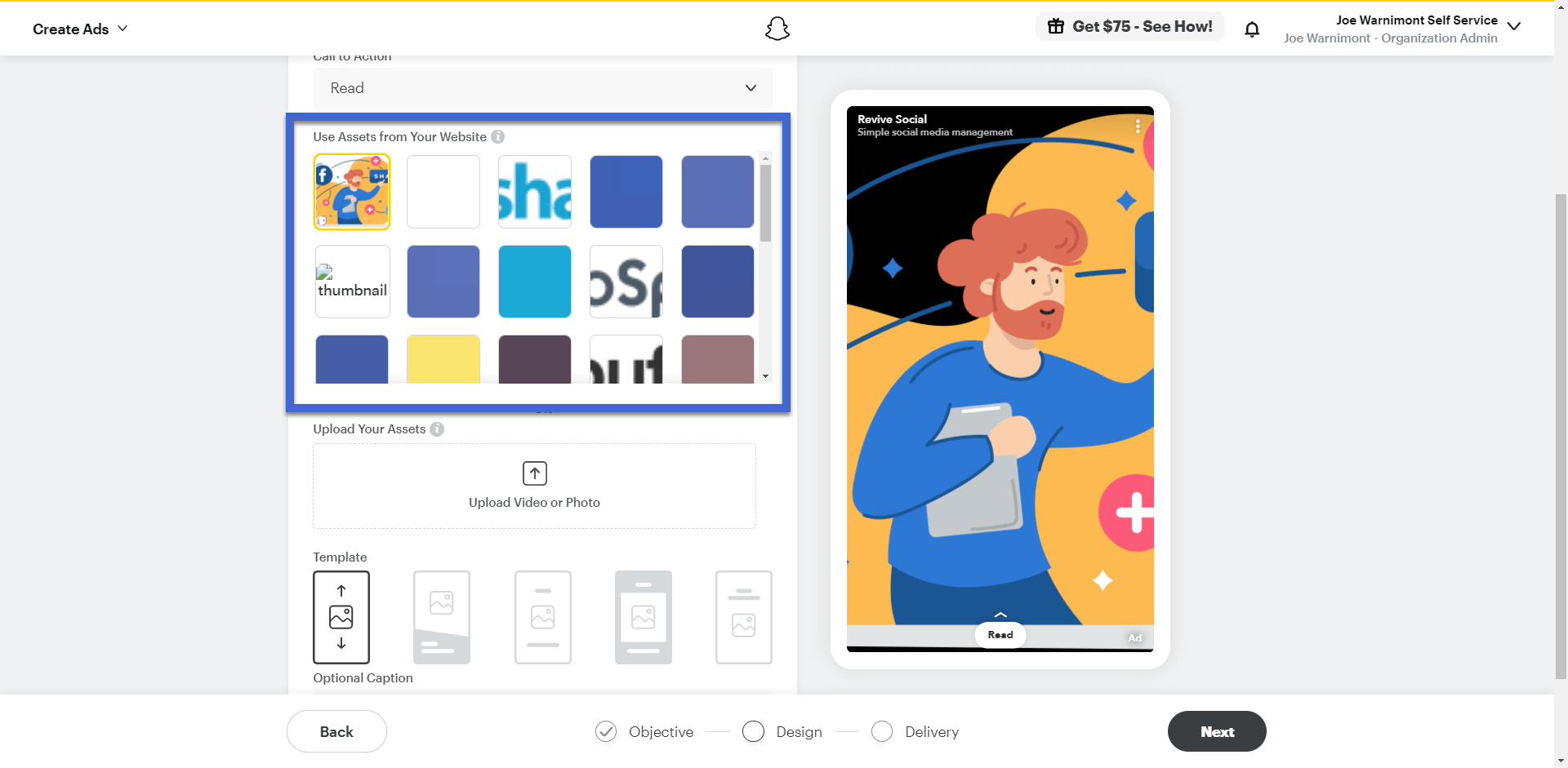 As an alternative, use the Upload Video or Photo button to add an asset from your computer.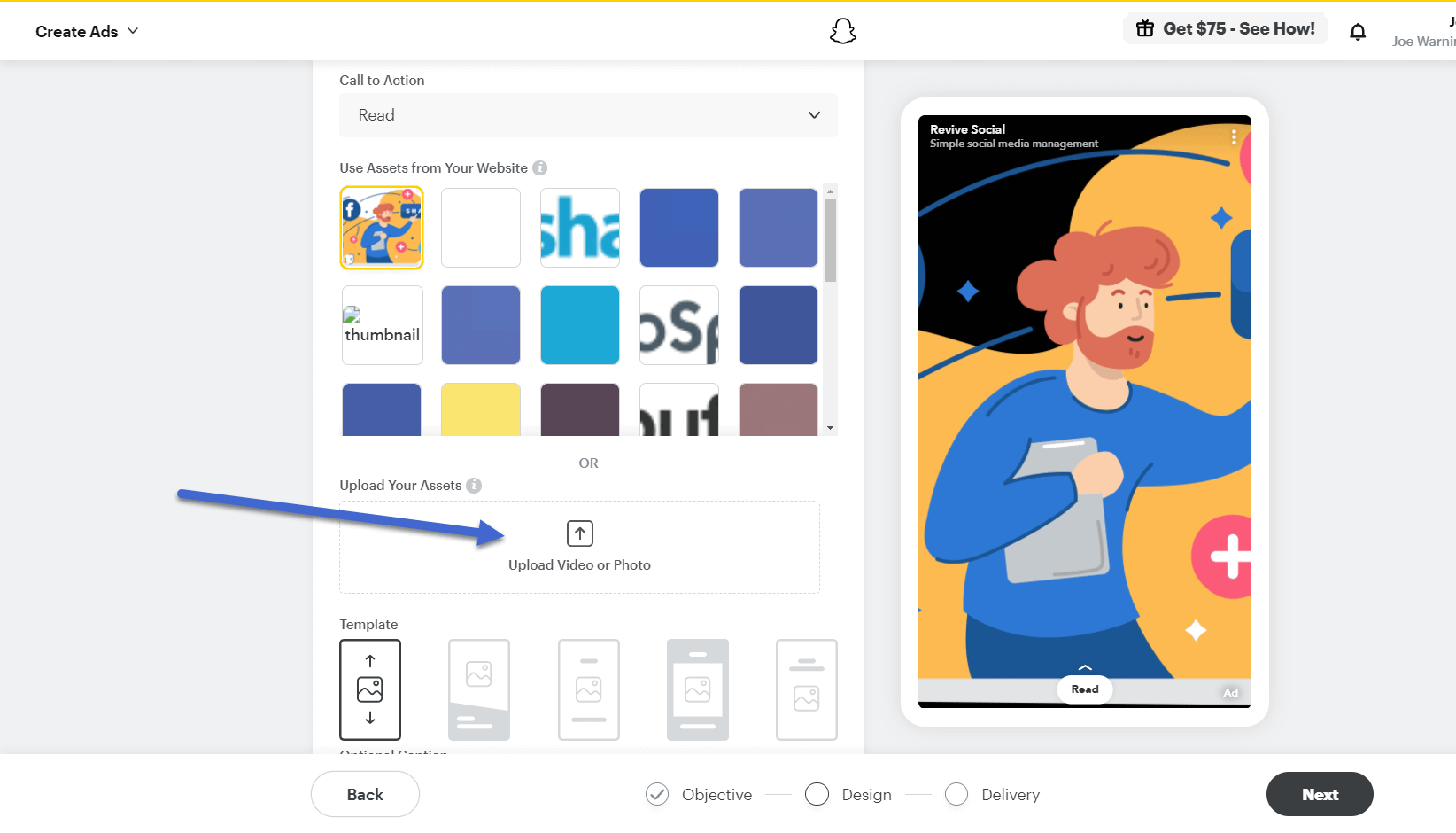 The Template area provides flexibility for moving around your content, improving the look of buttons, and helping users read the text.
We recommend clicking all Template buttons to ensure you find the right design for this particular ad. All of these are premade templates, so although you don't get much design control it makes for a simple and fast design process.
As you can see in the screenshot, our original photo comes into full view, which allows for more writing room with a different template.
There's also a field for typing in a caption, which lets you add a long string of text compared to the Headline and should be used as your attention-grabber.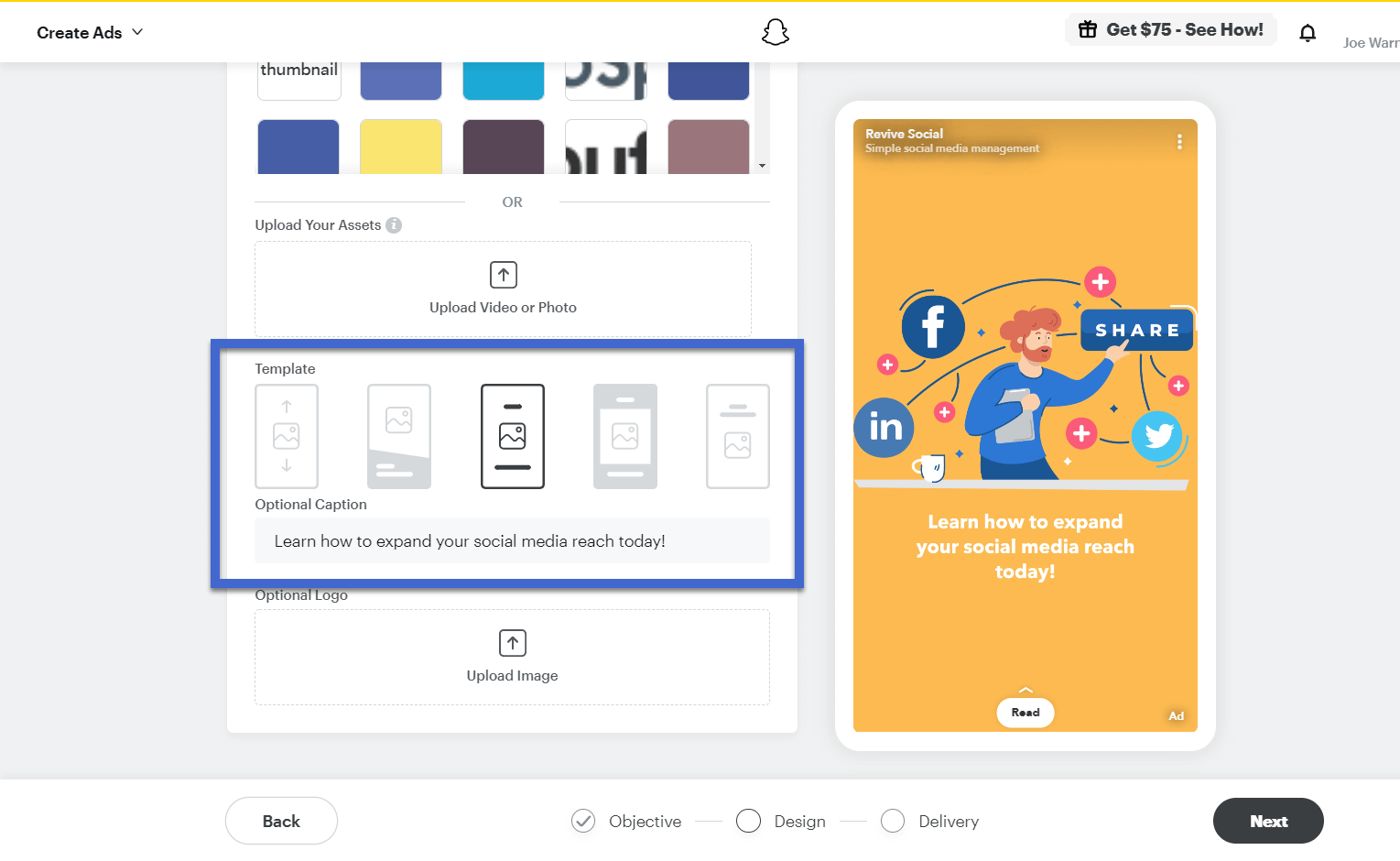 Finally, the Snapchat design module offers a button to upload your logo. Although it's not always necessary to have a logo on a social media ad (logos often make social ads look far less organic), you can drop your brand's logo into the design to see how it looks.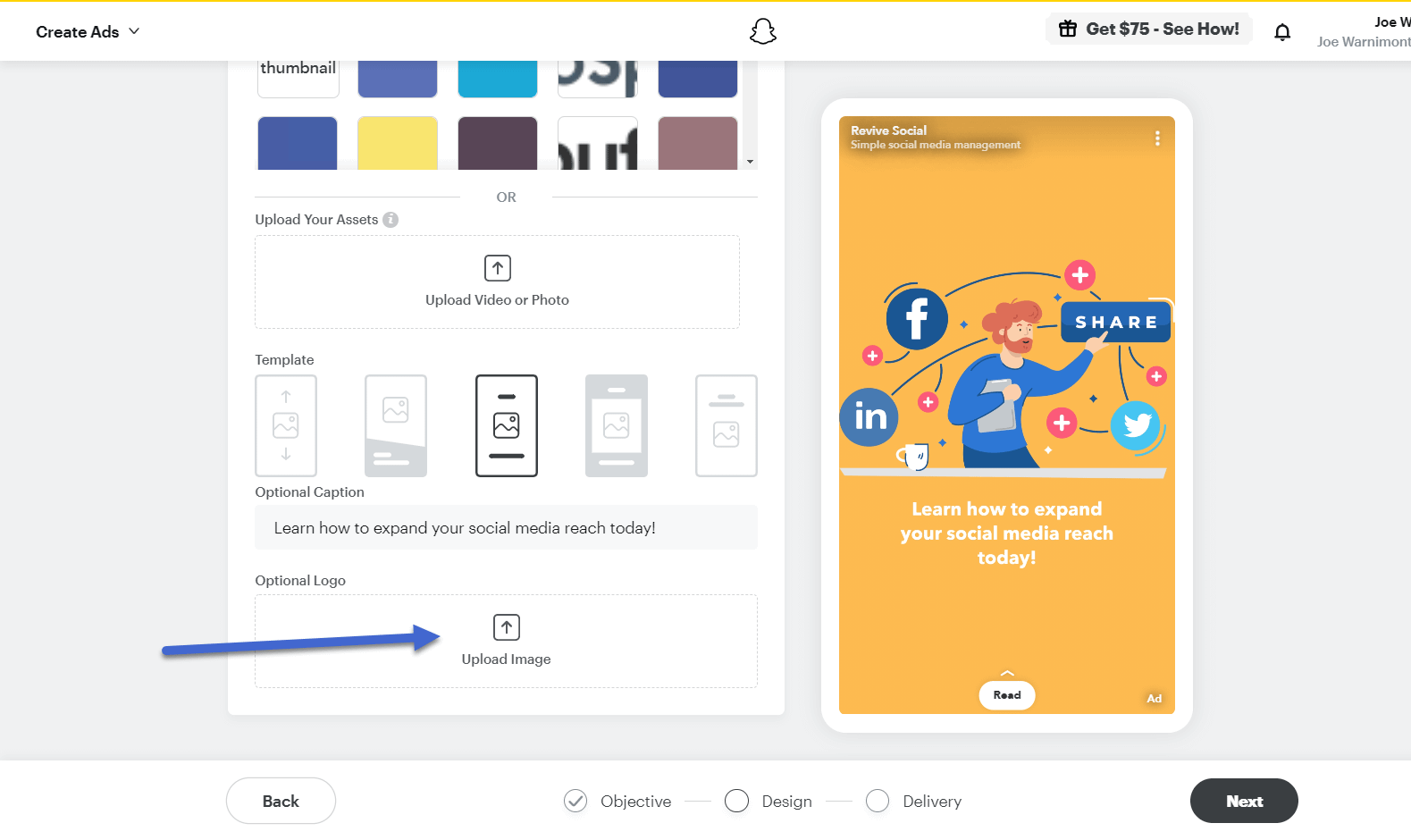 Again, it's necessary to adjust the templates whenever you incorporate new elements like logos or captions.
After uploading the Revive Social logo you can hardly see it when on top of the orange background.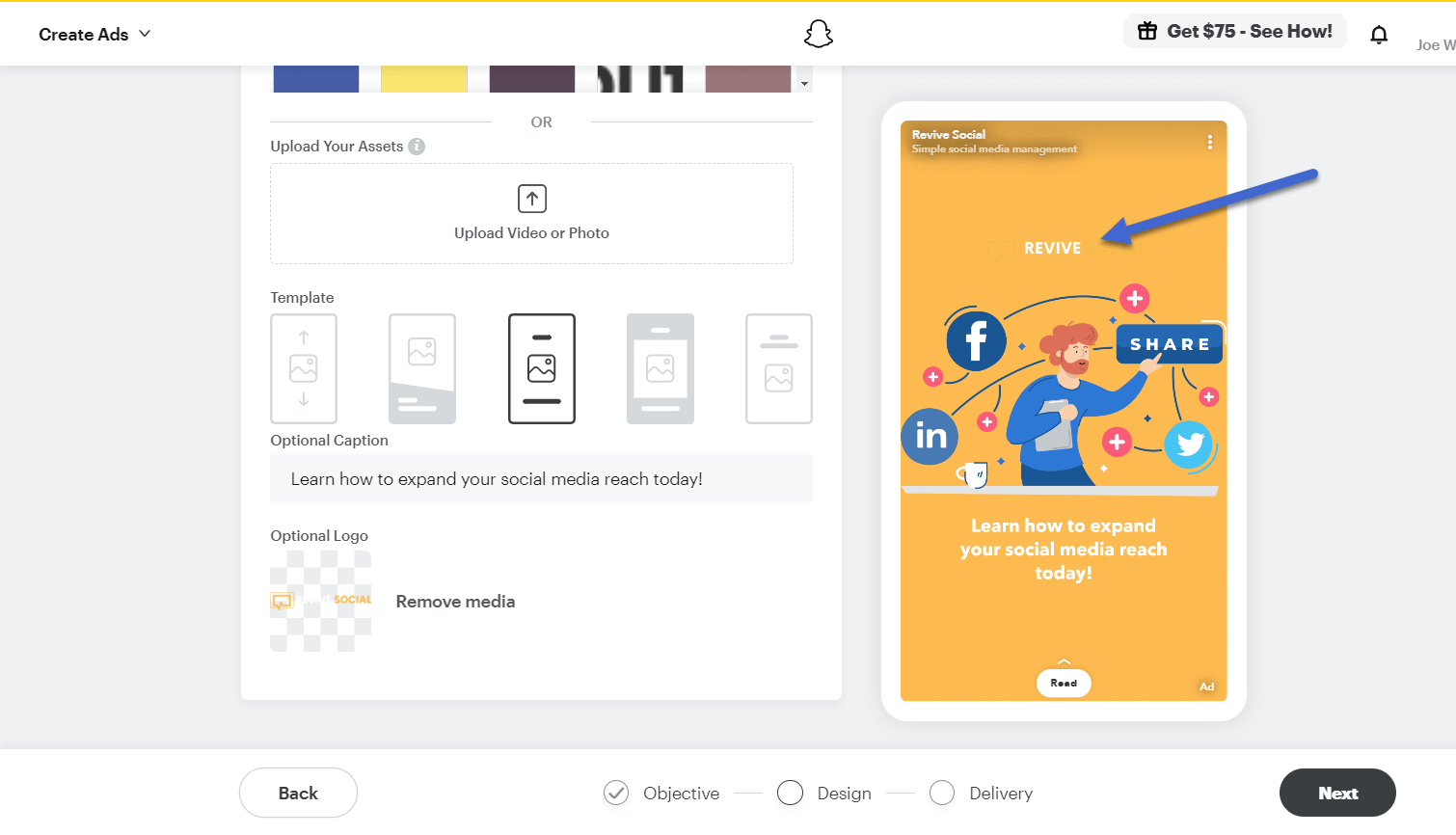 With a quick switch of a template, the logo comes into clear view.
If all looks good in the design department, click on the Next button to proceed.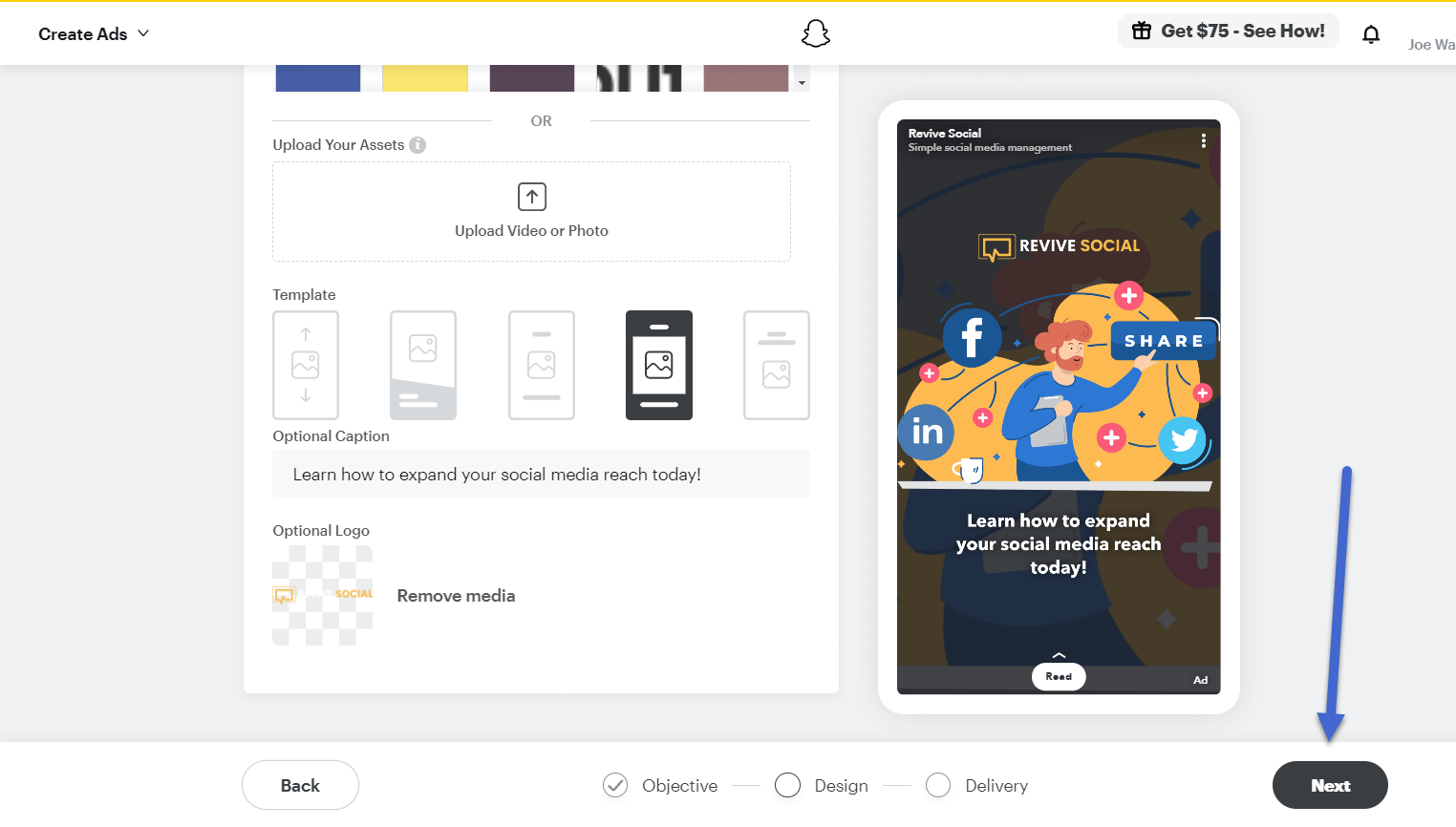 Targeting Snapchat ads with demographics and locations
To make your Snapchat advertisements more effective, consider targeting based on things like demographics, locations, and user interests.
The first page for targeting includes a Demographics panel, which offers some of the simpler targeting options like Gender, Age, and Language.
Choose the demographics that make the most sense for your advertisement. This may be all of your customer demographics or a segment of your target audience.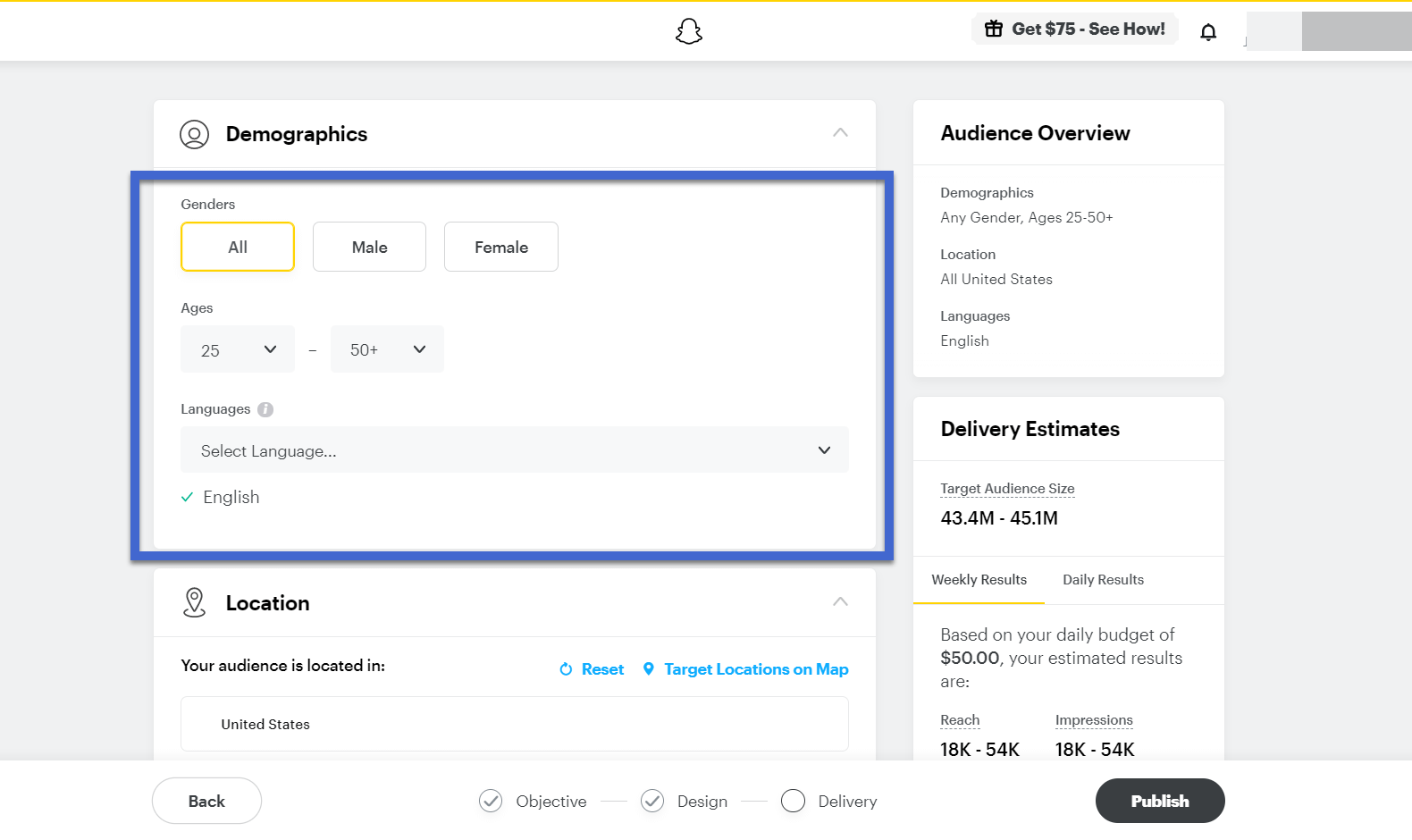 Scroll down to open the Location tab.
Here, you're able to take your targeting up a notch, with fields for typing in specific countries and cities.
You can also target predefined locations or use the map to drop pins and modify the mile radius around that pin.
This all depends on your type of company. For instance, a larger brand, or an online store, may go with a full country or the entire world. However, a company like a local store, or a physical event company, may think about narrowing down that geographical location target. This way, you only spend money on ads that appear to people who are close enough to your business.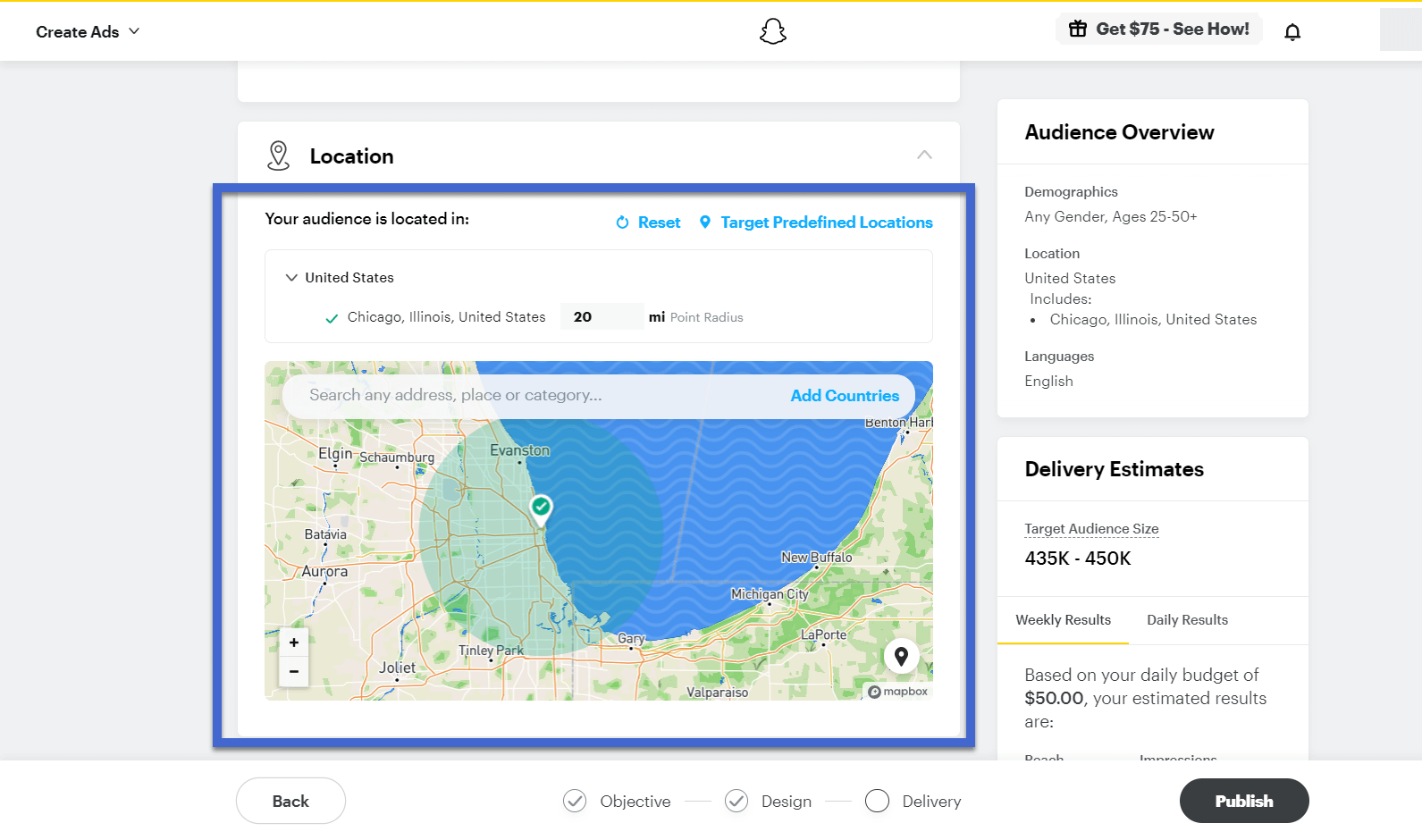 You can also open the Advanced Targeting section to reveal options to target based on interests, custom audiences, and devices.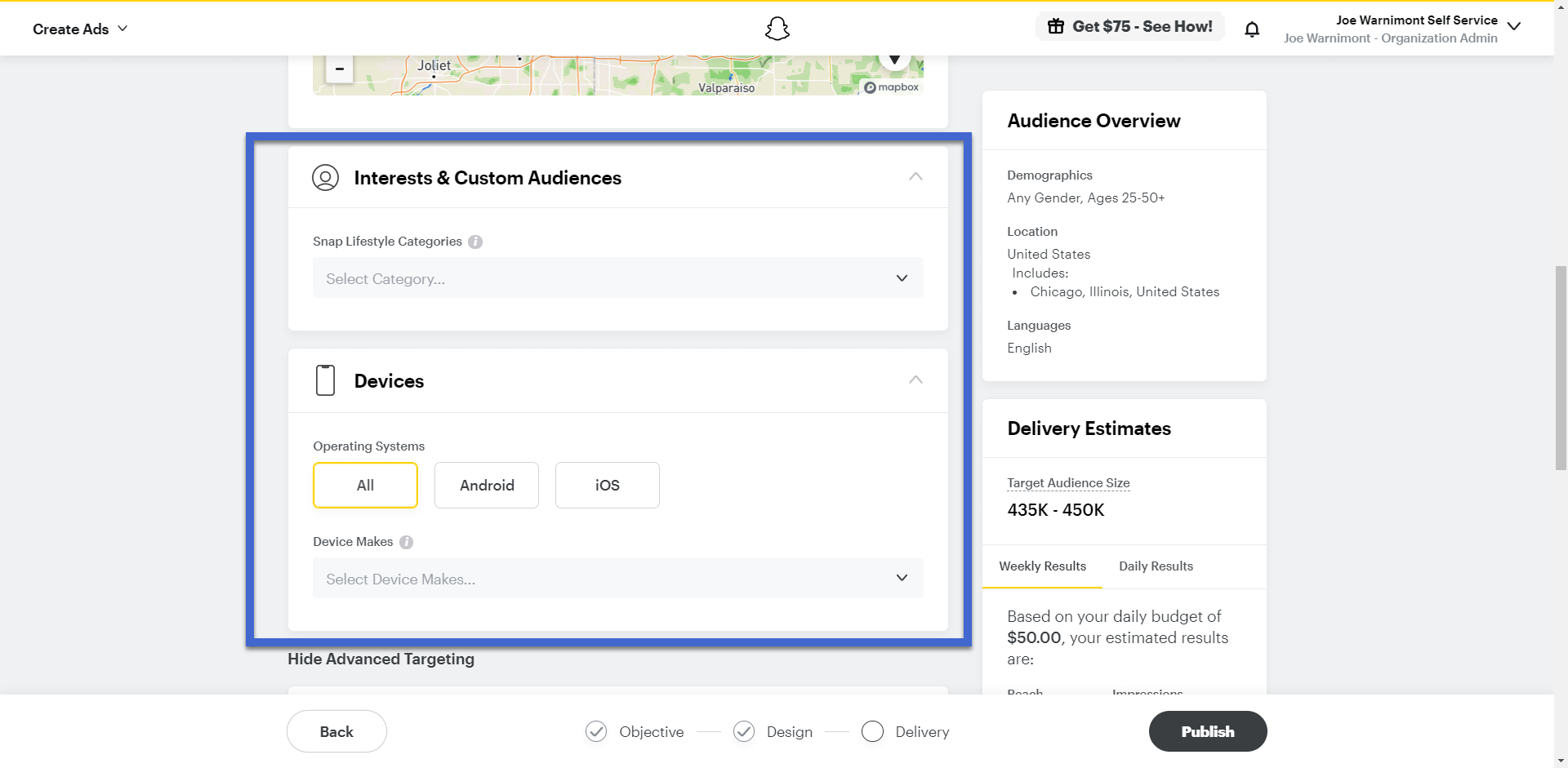 The Interests targeting section on Snapchat comes with a long list of tendencies, hobbies, and professions, making for a rather powerful tool when targeting people who may find your product or service useful.
For instance, you may only choose to target photographers, or business news-watchers, or pet and animal lovers. It's possible to select multiple interest categories, so complete your due diligence and scroll through all potential categories before hitting that Publish button. You don't want to miss out on a group of potential customers.
Note: Snapchat Ads provides a Custom Audiences feature for building your own target audiences based on uploaded contact lists and other metrics.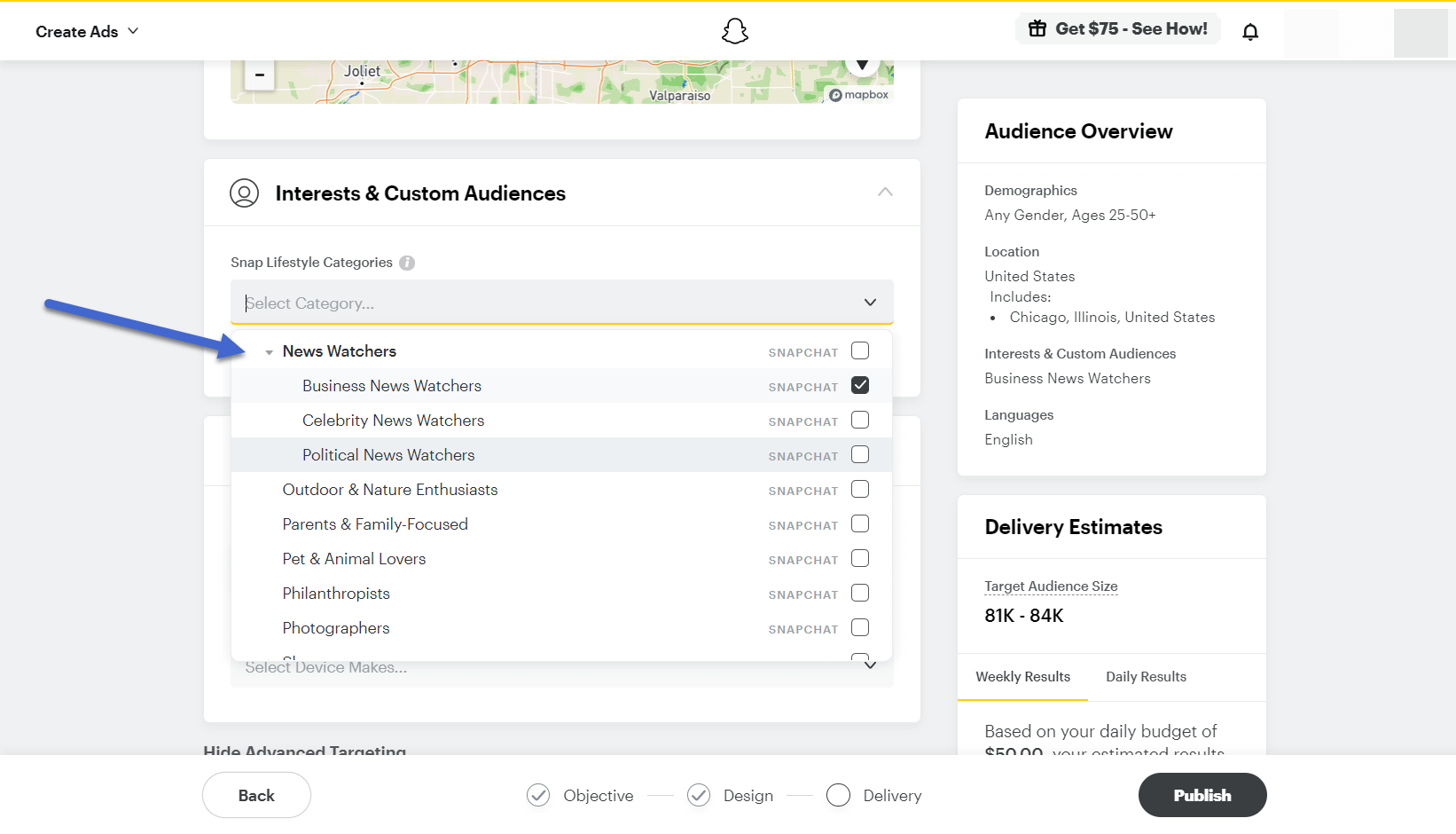 Set your ad budget
The final step before launching your ad entails setting your budget and typing in payment information.
The Budget and Duration section includes several fields to tell Snapchat about your budget and how long you'd like the ad to run.
For the first two fields, type in the desired start and end dates. It's also possible to make an open-ended ad as long as you go with a daily budget.
Moving on, type in a dollar amount in the Budget field. Make sure you set the right timing in the next field, seeing as how you can either go for a lifetime budget or a daily budget.
Every change within the targeting and budget sections adjusts the Delivery Estimated box on the right side of the page.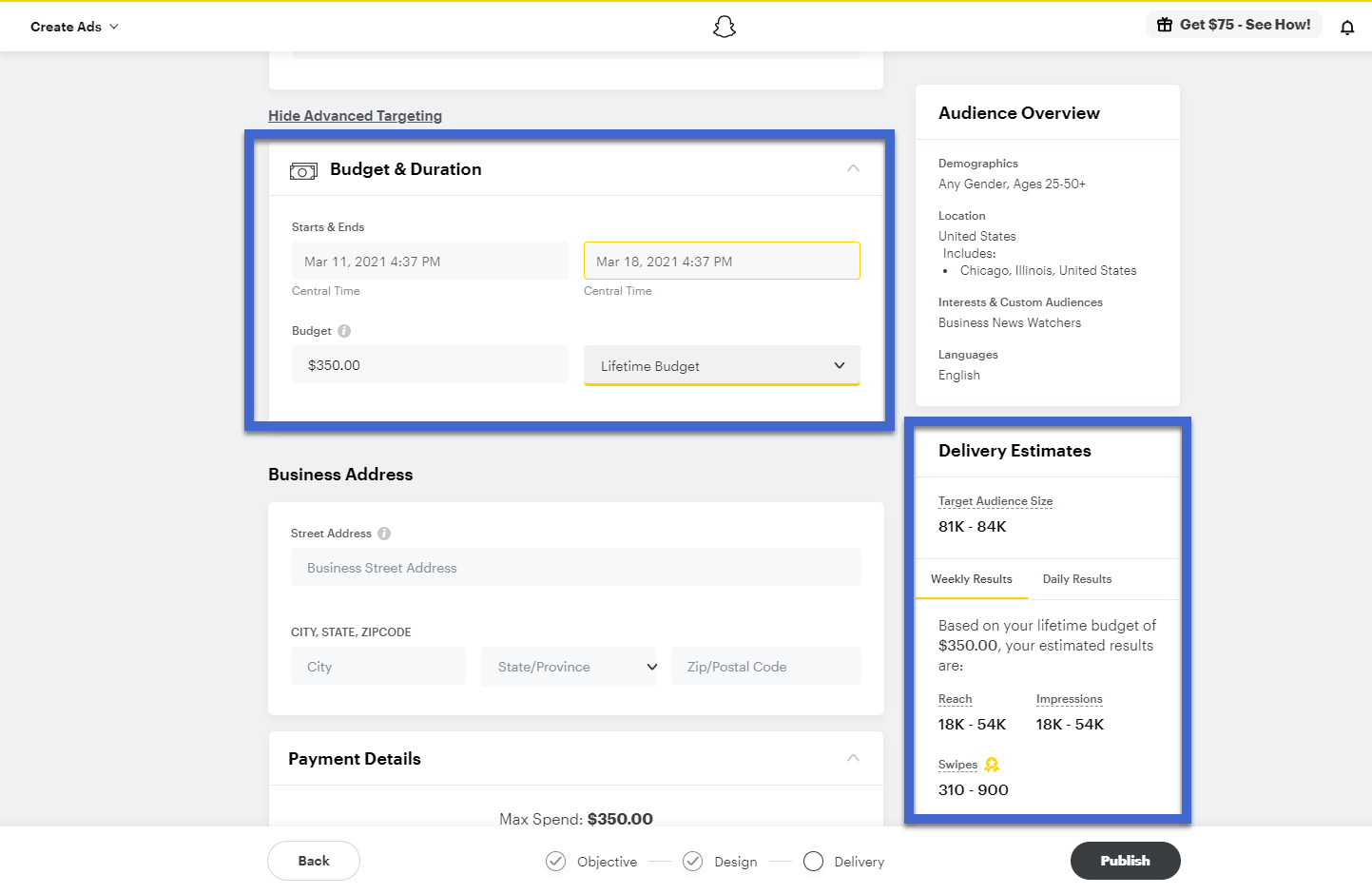 For instance, you can see the target audience size go up or down when you add new categories or different budgets. The box also provides weekly and daily projected results, along with estimated Reach, Impressions (clicks), and Swipes (not clicks, but the user sees your ad).
Launch your Snapchat advertisement
Before publishing, type in your business address and payment information so Snapchat can bill your card or PayPal for the advertisements.
Once everything is ready to go, click the Publish button to launch your Snapchat advertisement for all to see (or at least those in your targeted group).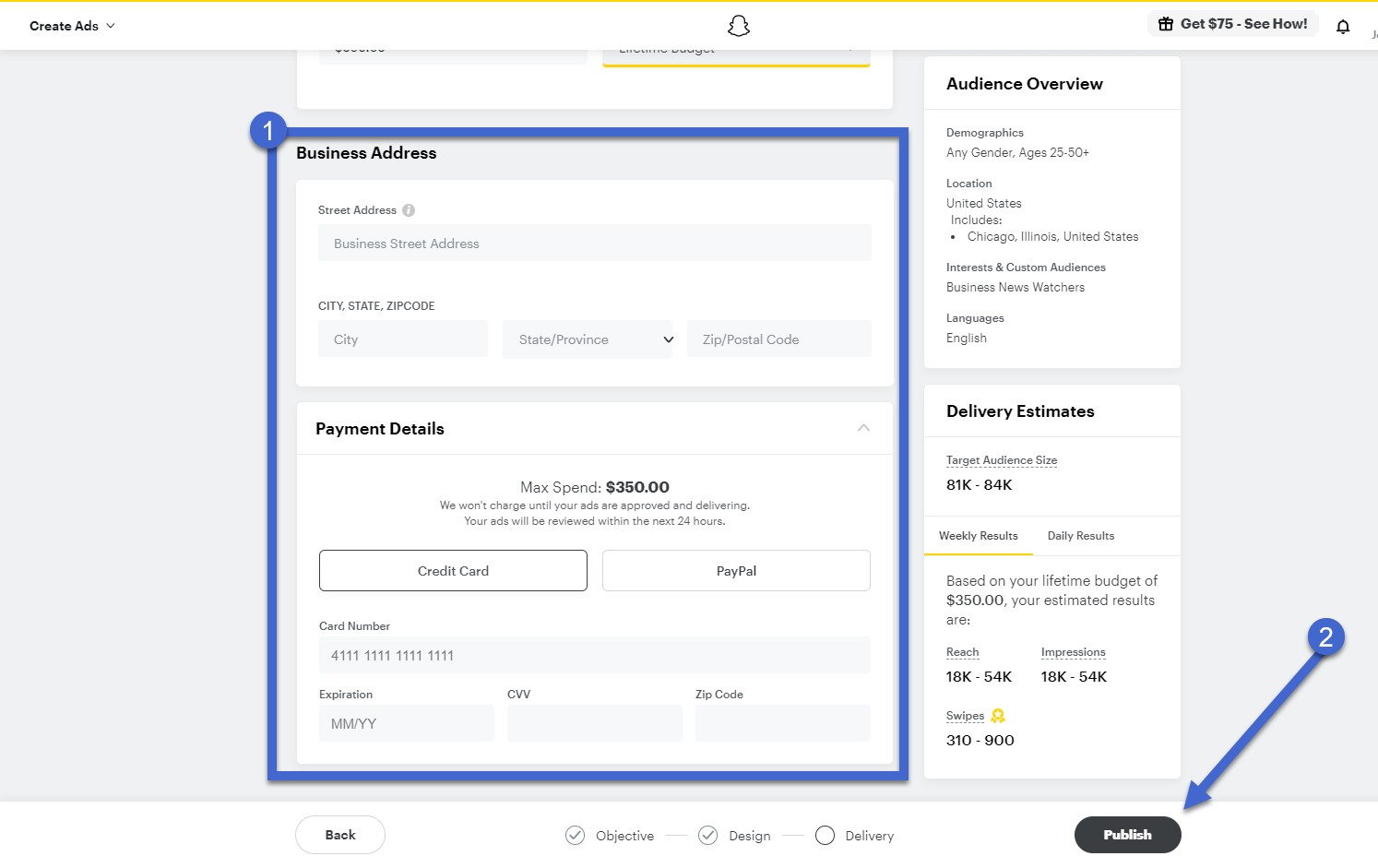 Manage your Snapchat ads and check insights
What happens after you publish a Snapchat advertisement? Most of the management and analysis tools reside under the Manage Ads button.
Click on that to show buttons for advertising, assets, creative tools, and analysis.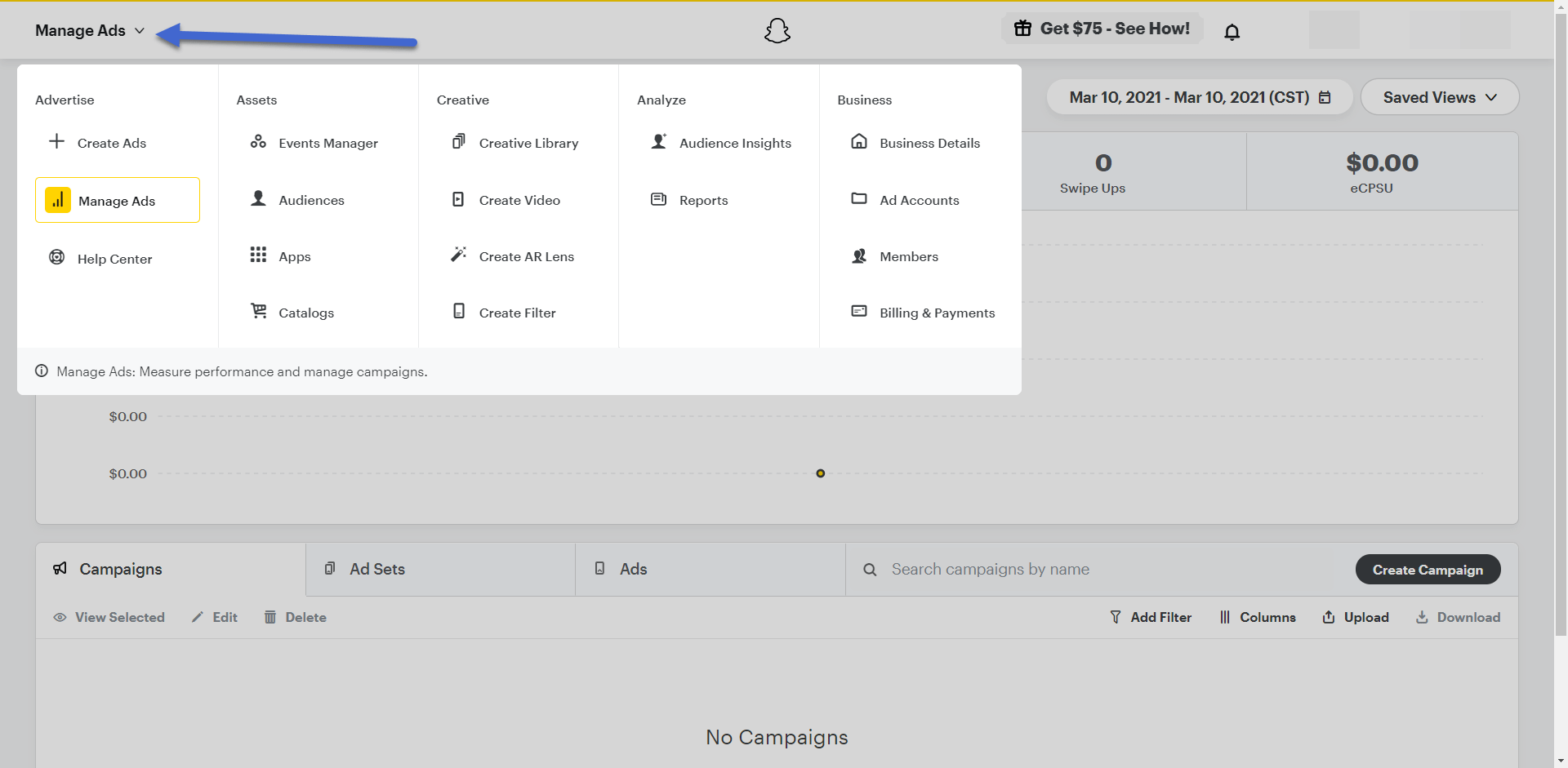 For example, the Audiences tab allows you to build your own groups of users based on custom inputs or past information you know about your customers. There's also the option to make a lookalike audience using information from other data collection sources.
The primary Manage Ads area provides a list of your advertisements, both past and current. The tables present data like the amount spent, paid impressions, swipe-ups, and more. You can search by campaign name and check out all ad sets and how they performed in the past.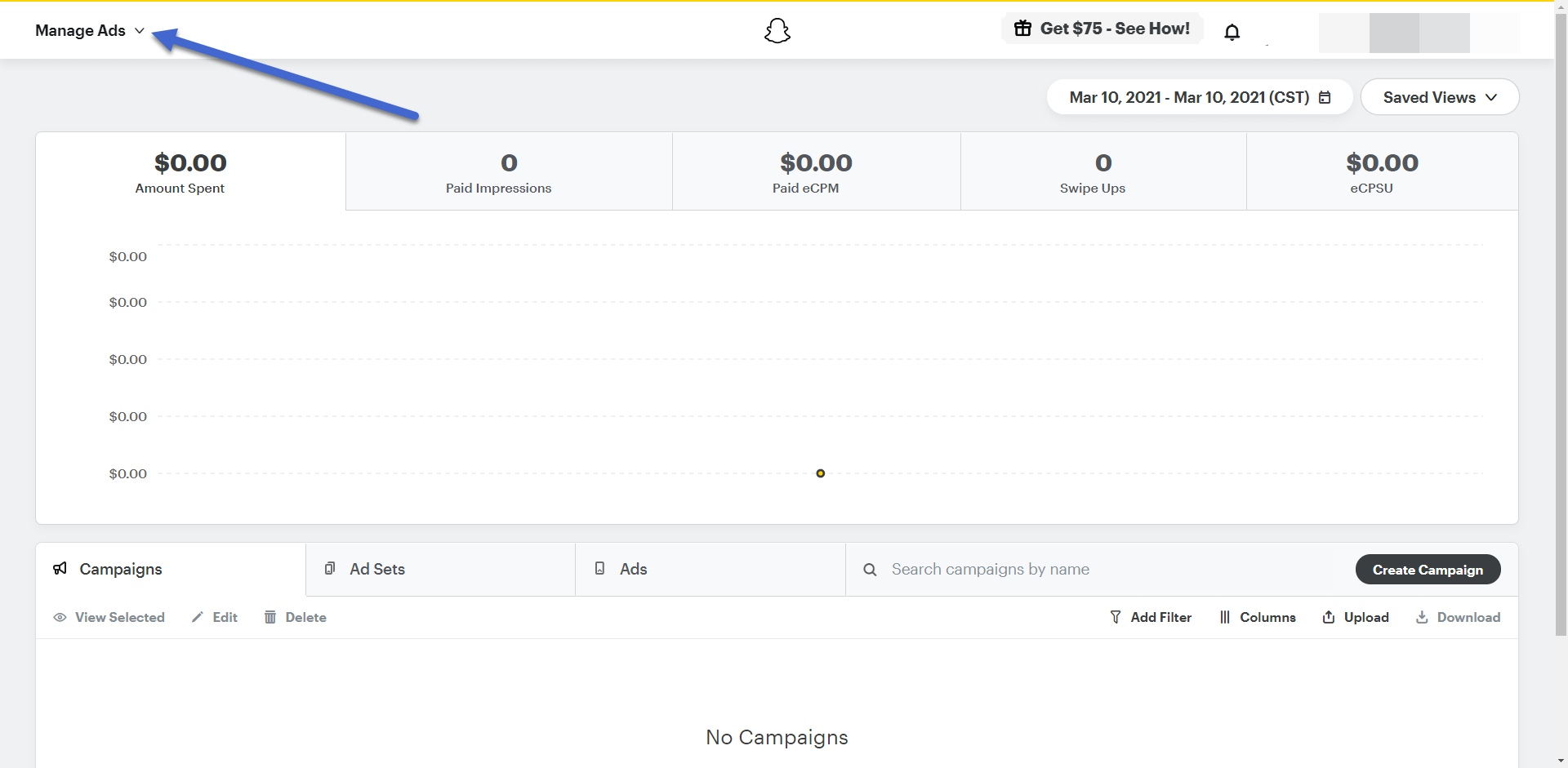 For further metrics and data from your ads, go to the Analyze tab to view areas for Audience Insights and Reports.
The Reports page lets you run custom reports by setting your own filters.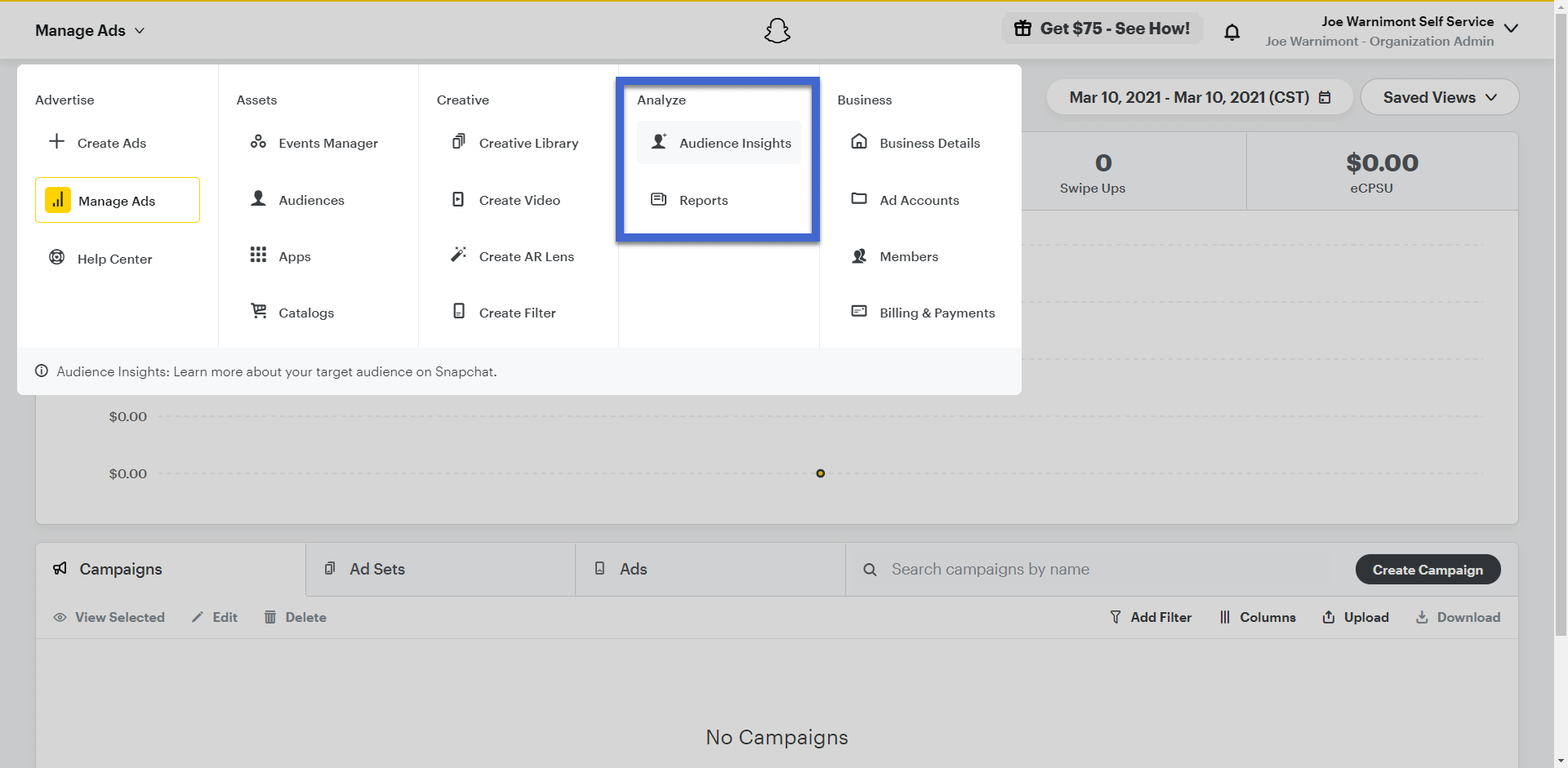 More creative ad options
Another area to consider is underneath the Creative header.
You can choose from options like:
Creative Library
Create Video
Create AR Lens
Create Filter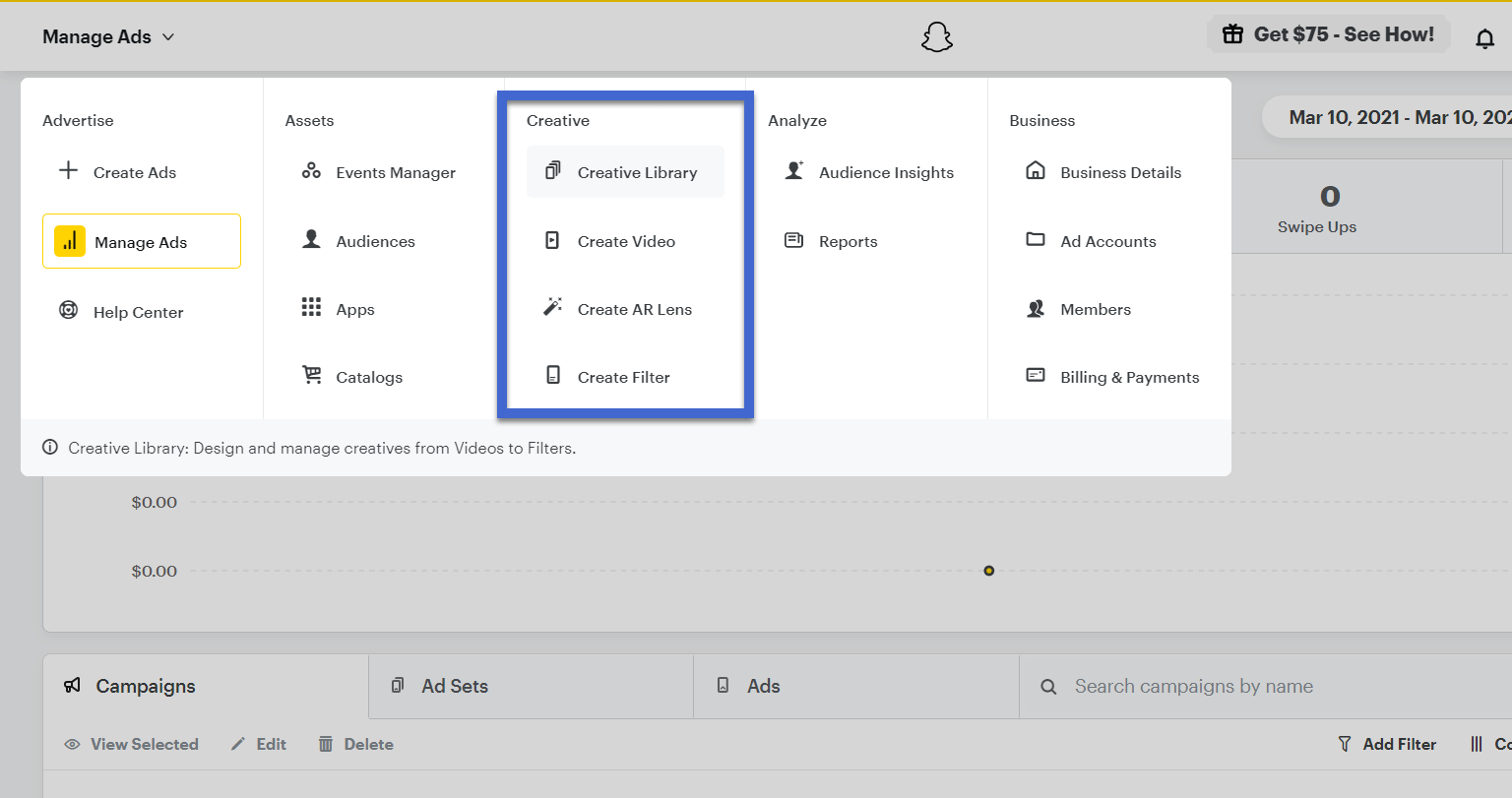 The Creative Library serves as a wonderful next step after you begin to understand the basics of Snapchat advertisements. It offers more advanced ad solutions like videos, story ads, collection ads, and filters.
There's even an AR Lens ad for filming a selfie video and inserting a lens, like an animal or sunglasses lens.
Each creative ad type has its own designer and a preview on the right to review your creation prior to publishing.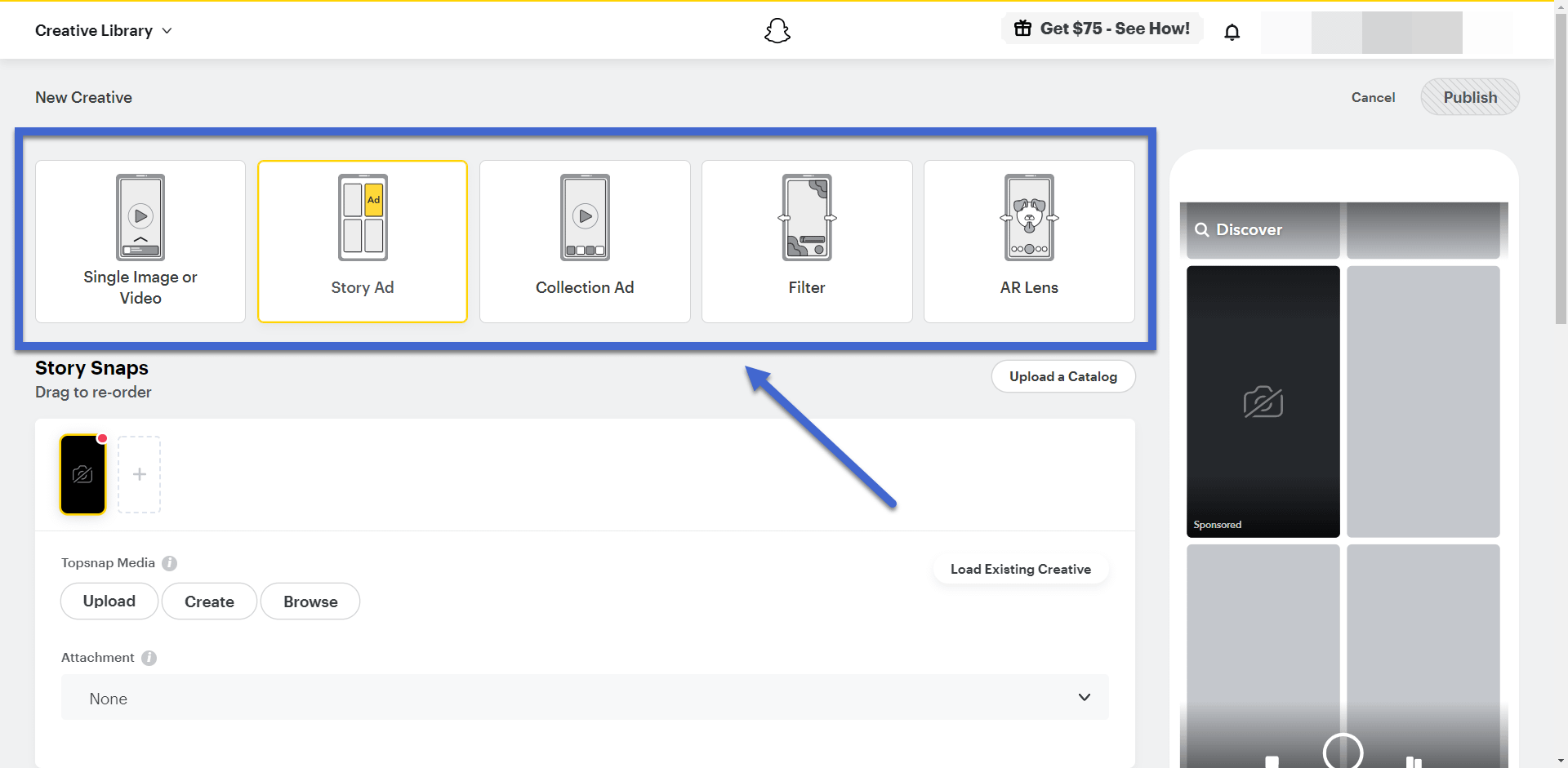 Is Snapchat advertising right for your brand?
Not everyone has Snapchat, and it's not nearly as popular a social network as options like Facebook or Twitter. However, Snapchat does have a growing userbase of over 238 million[1].
It also opens up opportunities to target users you may not be able to reach on the other networks.
In addition, Snapchat offers an intimate, personal platform that reaches directly into the pocket of your target users, with quick ads, affordable payments, and one of the easier design modules you can find when it comes to social ads.
We recommend trying out Snapchat advertisements for their simplicity and potential for growth. If you don't see the results you want, you can always go right back to Facebook or Instagram.
The post Snapchat Advertising: How to Create Your First Campaign – Beginner's Guide appeared first on Revive Social.