I can't be the only one who's always looking up the correct dimensions for Instagram photo sizes. It used to be simple; there was only one square size, which was used for both photos and videos.
Now, there are multiple orientations, including square, landscape, and portrait. Plus, there are way more formats: photos, videos, stories, IGTV, and Instagram Live.
The average user might not care about making sure their images look perfect. However, if you use Instagram for your business, you need to make sure your content looks amazing as part of your marketing strategy.
---
Here are your ideal #Instagram #photo dimensions for 2019 🖼️
Click To Tweet
---
Poor quality photos reflect poorly on your brand, and no one wants that!
So, how are you supposed to keep the dimensions straight? With this handy guide, of course.
In this post, we'll take a look at what the current dimensions are for Instagram photo sizes, as well as videos, Stories, and IGTV, what to use for high resolution/retina, and offer tips for publishing images and videos that are clear and in focus.
Note: For tips on photography, you might be interested in How to Take Good Instagram Photos on Your Phone: The Ultimate Guide.
Why does using the right Instagram photo sizes matter?
For brands, Instagram is a powerhouse for increasing brand awareness, launching new products, and even selling products.
For all the new Instagram features, it remains primarily a photo sharing app. This means it is doubly important to make sure you pay attention to the correct Instagram photo sizes and dimensions for your content.
Uploading the wrong size image could:
Cut off part of a product in a product image or ad
Result in a blurry or out of focus image because Instagram stretched your image to fit
Draw attention away from your content or make it impossible to watch
Make your brand look unprofessional or worse, spammy
If you want to get the most out of Instagram, you need to make sure your Instagram photo sizes look good. Here's how.
What is the best size for your Instagram profile photo?
On mobile, Instagram profile pictures are 110 by 110 pixels. However, on a desktop, profile photos are displayed slightly larger.
For best results, aim for a profile picture with 180 X 180 resolution, or larger with a 1:1 aspect ratio. This will ensure your image looks good no matter where users view it.
Keep in mind that Instagram profile pictures are circular, so make sure you center your face or logo.
What's the difference between size and aspect ratio on Instagram?
Size refers to the number of pixels across the length and width of a photo. For example, a 1080 x 600 image is 1080 pixels across and 600 pixels vertically.
Aspect ratio, on the other hand, is a ratio that describes the relationship between the length and width of an image. So, a 1080 by 600 image would have an aspect ratio of 2:1.
What are the best Instagram photo sizes?
In the beginning, Instagram only allowed users to post photos in their iconic square format. Many brands stick to this format, like denim company Madewell.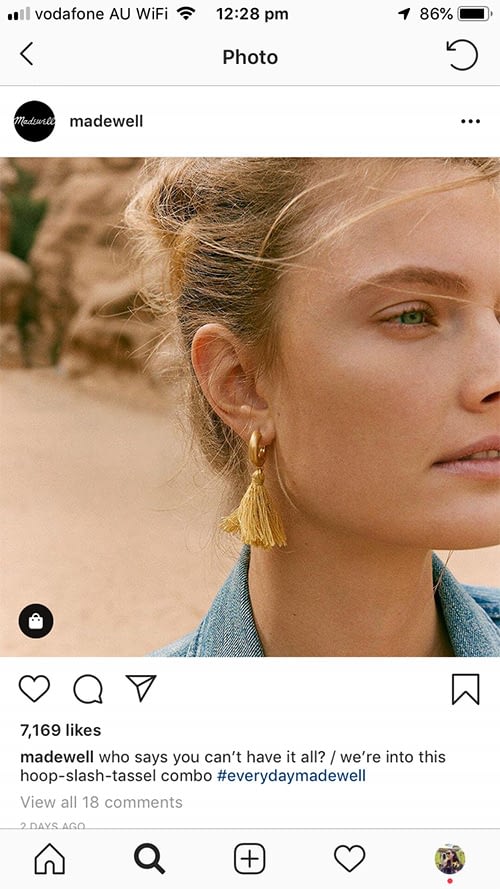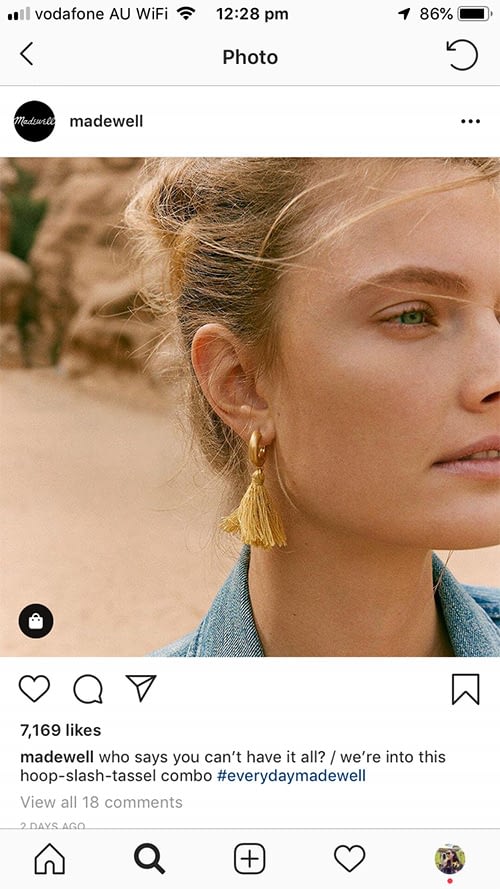 However, Instagram now allows you to post photos in three different formats:
Square
Landscape (horizontal)
Portrait (vertical)
Here is an example of a landscape image, from the Instagram account of Patagonia, an outdoor apparel and accessories company.
Using a horizontal image allows viewers to see more comments before they need to scroll. In this image, the horizontal orientation serves as an artistic choice. However, it does mean you are taking up less space in your viewer's newsfeed, so tread carefully with this option.
The Shedd Aquarium, the Chicago aquarium dedicated to conservation and research, used portrait mode to post a photo and story of one of their Aquarists. Due to the portrait orientation, viewers have to scroll to see the caption.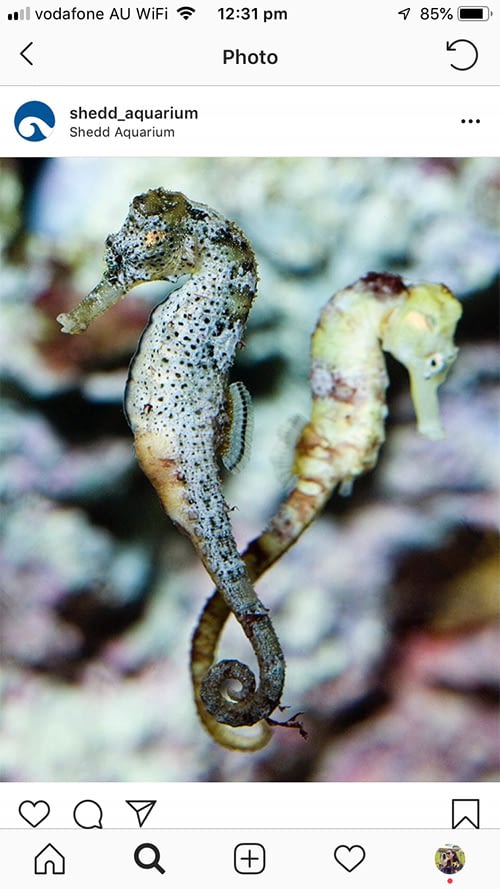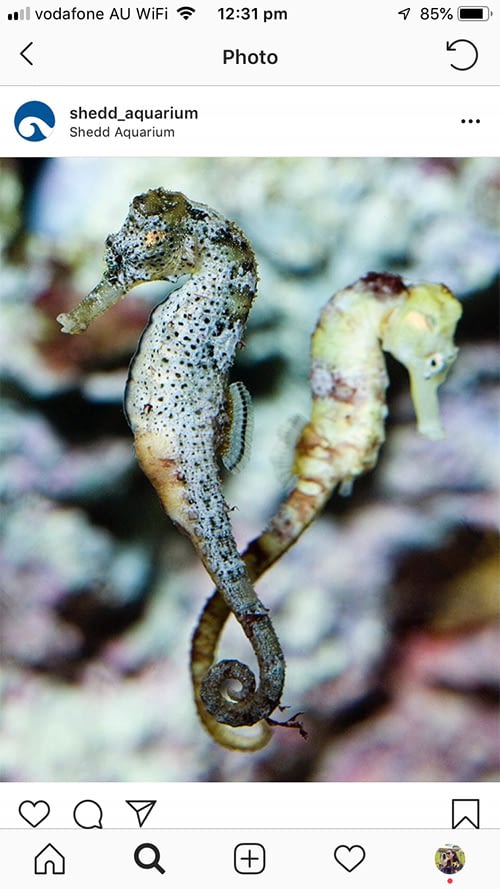 However, if you are looking to keep the focus on your image, portrait can be a great option.
Keep in mind, portrait images will still appear as a square in your grid.
Standard Instagram square photos are displayed as 600 x 600 pixels. However, to ensure your Instagram photo sizes are clear, your best bet is to upload a photo that is 1080 by 1080 pixels.
Instagram displays portrait-oriented photos at 480 by 600 pixels (or, for retina displays, 960 by 1200). For best results, upload an image that is at least 1080 by 1350.
Landscape photos display around 600 x 400 pixels on Instagram. For brands, landscape photos aren't really the best choice, as they take up less space in the feed. If you want your image to pop, aim for square or portrait size.
Here are the best dimensions for clear Instagram photo sizes:
Square Photos: 1080 x 1080 pixels
Portrait Photos: 1080 x 1350 pixels
Landscape Photos: 1080 x 608 pixels
To be sure your images look crisp, aim to upload higher resolution Instagram photo sizes than required.
If your image is too small, Instagram will stretch the image to fit. This results in pixelated or blurry photos.
Which is not a good look.
What is the difference between resolution and size?
Size refers to the number of pixels in an image, for example 1080 x 600 pixels. However, not all pixels are created equal. Larger pixels (at a lower DPI or dots per inch) result in less detailed images, while smaller pixels (a higher DPI) allow for more detail and can also result in larger file sizes.
Resolution describes the size of each pixel. This picture from Metova offers a clear visual explanation:
What is the best size for Instagram videos?
When uploading Instagram videos, you have two options: horizontal or vertical (almost, but not quite, square). If you are using your phone, how you hold the phone will determine which orientation will work best.
Here is an example of how a horizontal video displays, from the account of actress Kristen Bell.
Here is how a vertical/almost square video display looks in the newsfeed, from Justin Timberlake's Instagram account.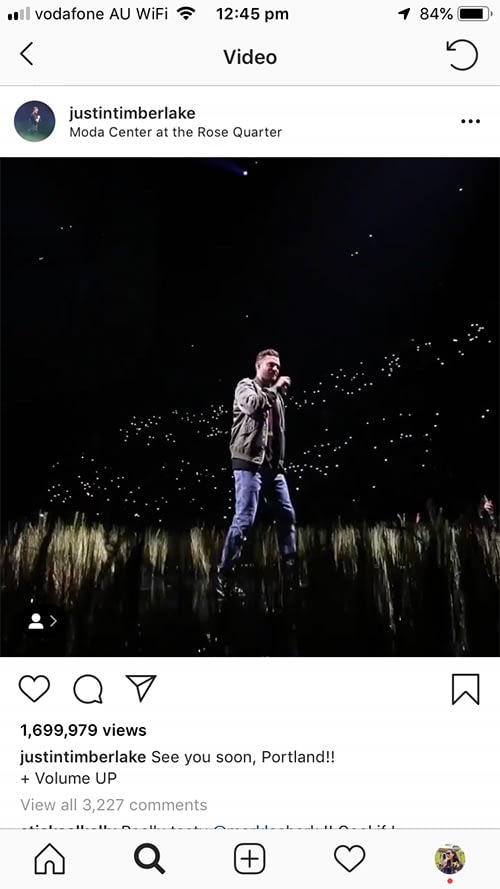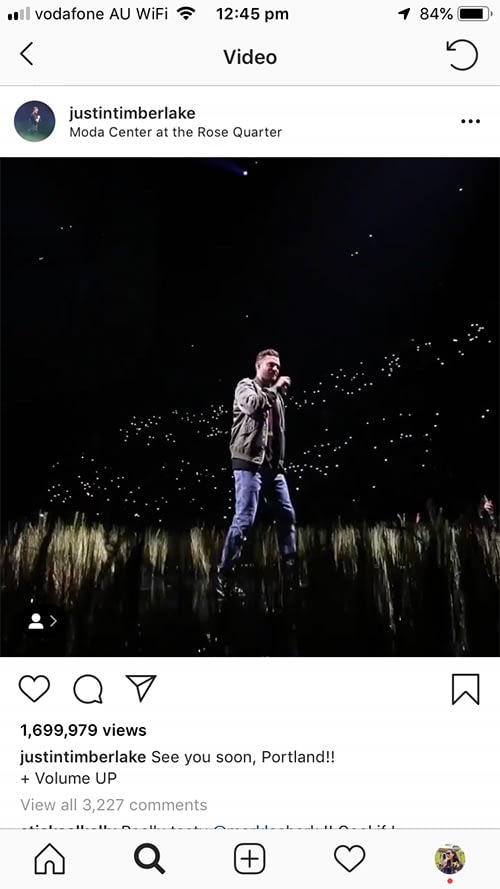 For videos, the best size is:
Horizontal Videos: 1080 x 608
Vertical/Almost Square Videos: 1080 x 1350
The aspect ratios for Instagram videos are 1.91:1 for horizontal and 4:5 for vertical.
Is horizontal or vertical orientation better for Instagram videos?
In the past, vertical videos were the mark of an amateur. Take a look at this old Adidas video. See all that blank space to the left and the right?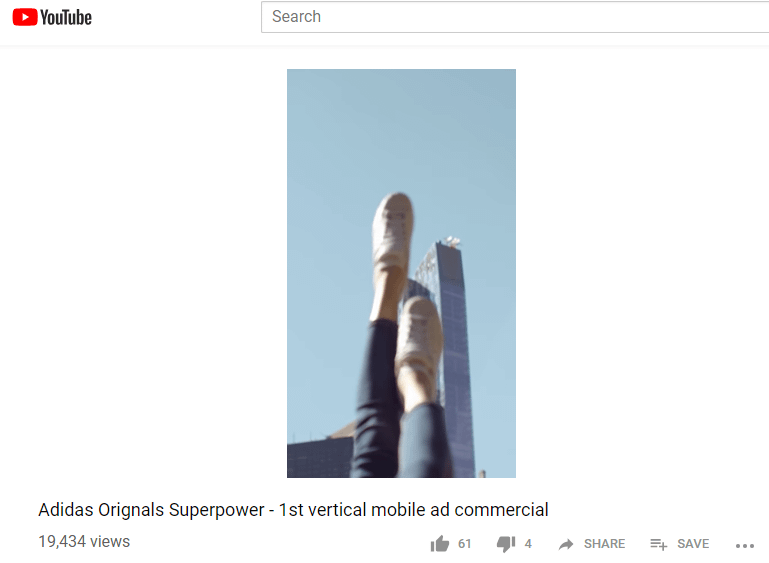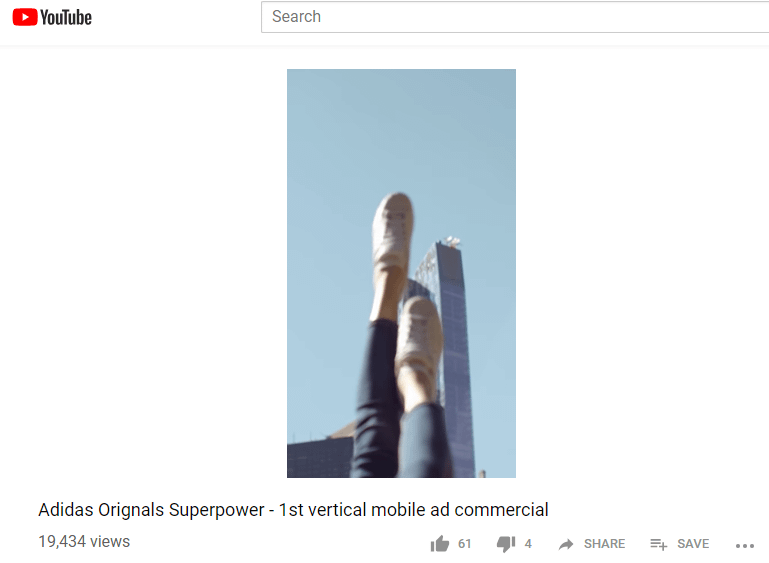 No good, right? Well, times are changin'. Today, vertical video is totally acceptable. Also, keep in mind, vertical will still look good on Instagram; you won't have to worry about lots of extra space on the sides.
So which is best? Really, it depends on your subject. For a cooking tutorial, landscape will give you more counter space in frame, while if you are recording a speaker, vertical will keep viewers focused on the speaker, not an empty stage.
What are the best dimensions for Instagram Stories?
Just like video and photos, Instagram Stories supports both vertical and horizontal images.
For stories, vertical is the most common size choice. It takes up the full mobile screen. Here is an example from career and entrepreneur website Classy Career Girl.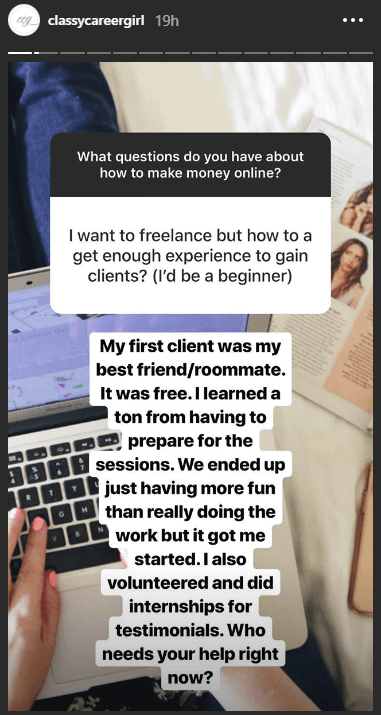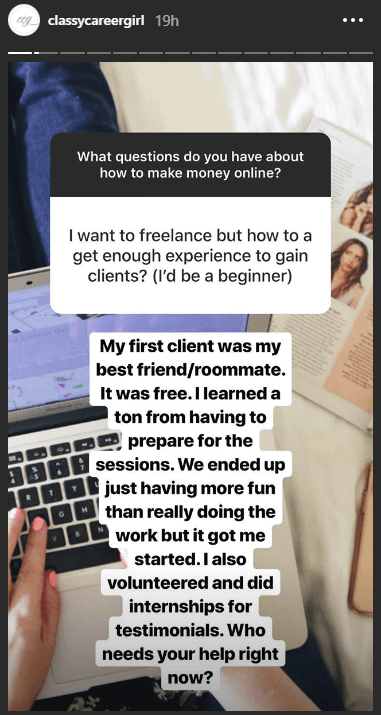 If you use a photo that doesn't quite fit in stories, Instagram will create a neutral background.
Here is an example from Urban Canopy, an urban farm and composting company based in the south side of Chicago.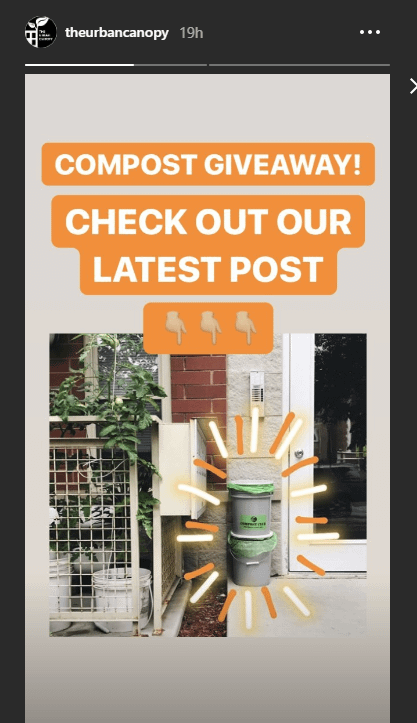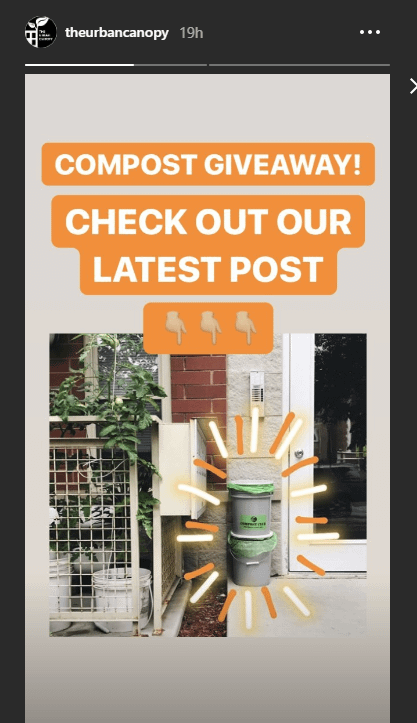 For the best displays, your Instagram stories should be:
Horizontal Stories: 1080 x 608
Vertical Stories: 1080 x 1920
What is the Aspect Ratio for Instagram Stories?
The aspect ratios are 1.91:1 for horizontal and 9:16 for vertical Instagram stories.
What are the best dimensions for IGTV?
IGTV is a newer feature on Instagram that allows users to post content up to one hour long. Like YouTube, content creators can create 'channels,' where they can post videos about whatever topics they choose.
Note: Most accounts can post videos up to 10 minutes in length. To post 60 minute-long videos, you must be verified or a "larger" account. (This is via Instagram's website. Most other features require at least 10K followers.) Longer videos must also be uploaded via computer.
To access IGTV, tap the "TV" icon in the upper right corner of the app, located next to the message icon.
For Instagram TV, all videos should be shot vertically (aka portrait.) For best results, IGTV videos should have a 9:16 aspect ratio.
IGTV videos should be:
Instagram also recommends a frame rate of 30 frames per second and a minimum resolution of 720 pixels.
What size should my IGTV cover photo be?
According to Instagram, your IGTV cover photos should be 420 X 654 pixels, or have a 1:1.55 aspect ratio.
What are the best dimensions for Instagram Live videos?
Instagram Live allows you to "go live" with a live video through Instagram Stories. You can answer questions from viewers, respond to comments, and more.
To start an Instagram Live video, tap the Camera Icon in the top left of your feed, or swipe to the right from anywhere in your Instagram feed.
Then tap "Live" and "Go Live." During your video, you will see the number of viewers watching live and have the option to add comments to your video.
When you finish, tap "End" in the top right corner of your phone, then confirm.
Here is an example of an Instagram live video: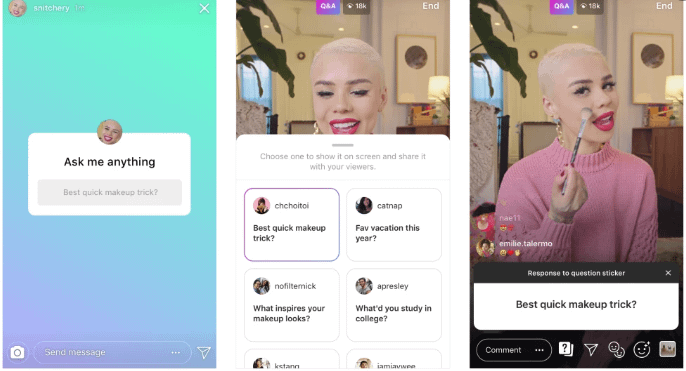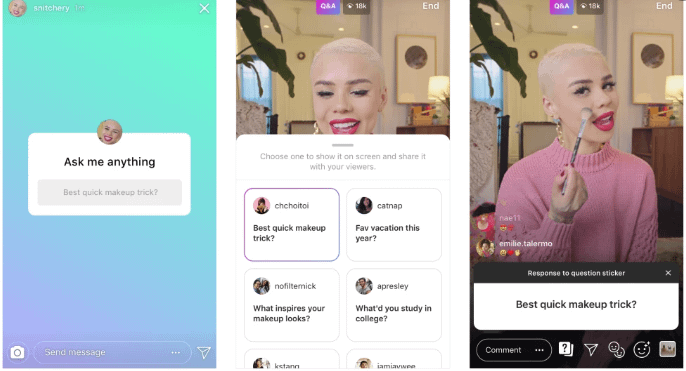 Live videos can be up to one hour long and will stay in your stories for 24 hours.
Instagram live videos should be shot vertically and have an aspect ratio of 9:16.
The minimum size of Instagram live videos should be 1080 x 1920 pixels.
What is the difference between Instagram live and IGTV?
Instagram Live is a feature that allows users to go live through Instagram Stories. Followers will be notified that you have gone live, and the videos will disappear after 24 hours, just like all other Stories.
Tips for taking clear Instagram photos and videos
If you are using a newer smartphone, you shouldn't have any issues making sure your Instagram photo sizes and videos upload correctly.
However, if you upload images to your desktop from a camera or if you shoot video with an external camera, you may run into issues.
Here are five tips to ensure your Instagram photos and videos will be clear on Instagram:
Before recording a video using your phone, make sure you are set to record in 1080p at 30 fps (frames per second). On an iPhone, go to Settings > Camera to check your camera settings. (iPhones default to this setting, but double check to be sure.)
Save images and videos in a high-quality format. For example, if you email a photo from your phone, send it in the largest file format. Don't compress video files unless you have to.
Make sure you have enough lighting. Dark images are hard to see, and you can't always improve poor lighting via editing apps. Natural, indirect lighting tends to be the most flattering. If you use an external flash, verify it looks good before going live or recording a long video.
Make sure your photo or video meets the sizing or aspect ratio for the format you plan to post in. Remember that larger is better than too small; Instagram will size down a larger photo but stretch a smaller one. This will result in grainy or blurry images or videos.
Final thoughts
Your Instagram photo sizes matter. Using the ideal size for the format and orientation you choose will ensure you put your best foot forward on Instagram. In fact, high-quality images and videos can be the key to building an engaging, successful Instagram brand account.
Ready to get started? Use the tips above to start creating Instagram content your followers will love.
---
Using the ideal size and resolution for your #Instagram photos and videos is essential to #InstagramMarketing success
Click To Tweet
---
The post Your Complete Guide to Instagram Photo Sizes and Dimensions for 2019 appeared first on Revive Social.