Many coupon sites offer store-specific or manufacturer's coupons, allowing you to purchase items from particular brands or shops. Others help you get cash back on every dollar you spend. You can also find printable coupons for in-store purchases and coupon codes for online shopping.
Here are the best sites to find coupons, cashback deals, and promo codes and save money with couponing.
---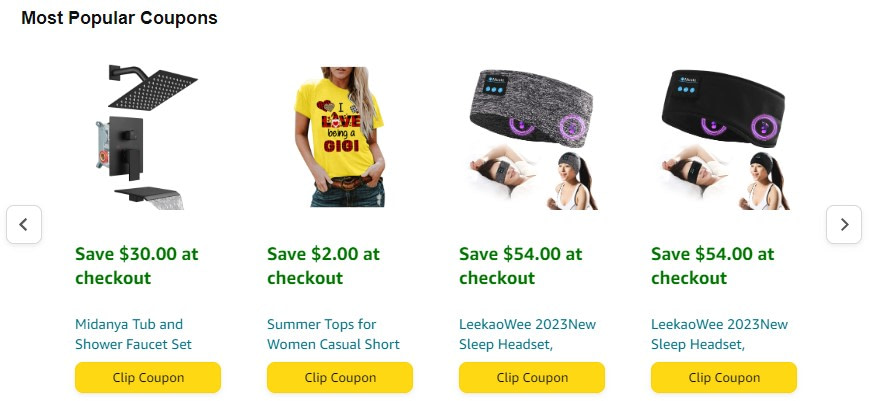 Did you know that Amazon offers coupons for shopping on the platform? The Amazon Coupons section on the website features manufacturer's coupons in dozens of categories, including Home & Kitchen, Electronics, Health & Personal Care, Smart Home, and Fashion.
You only need to click "Clip Coupon" next to the product you like, add it to your cart, and proceed to checkout, where you'll see the applied discount. You'll also see the Subscribe & Save option, which lets you schedule monthly auto-deliveries of specific products with up to a 15% discount.
Some coupons are exclusive to Amazon Prime members, unlocking discounts of up to 50%.
---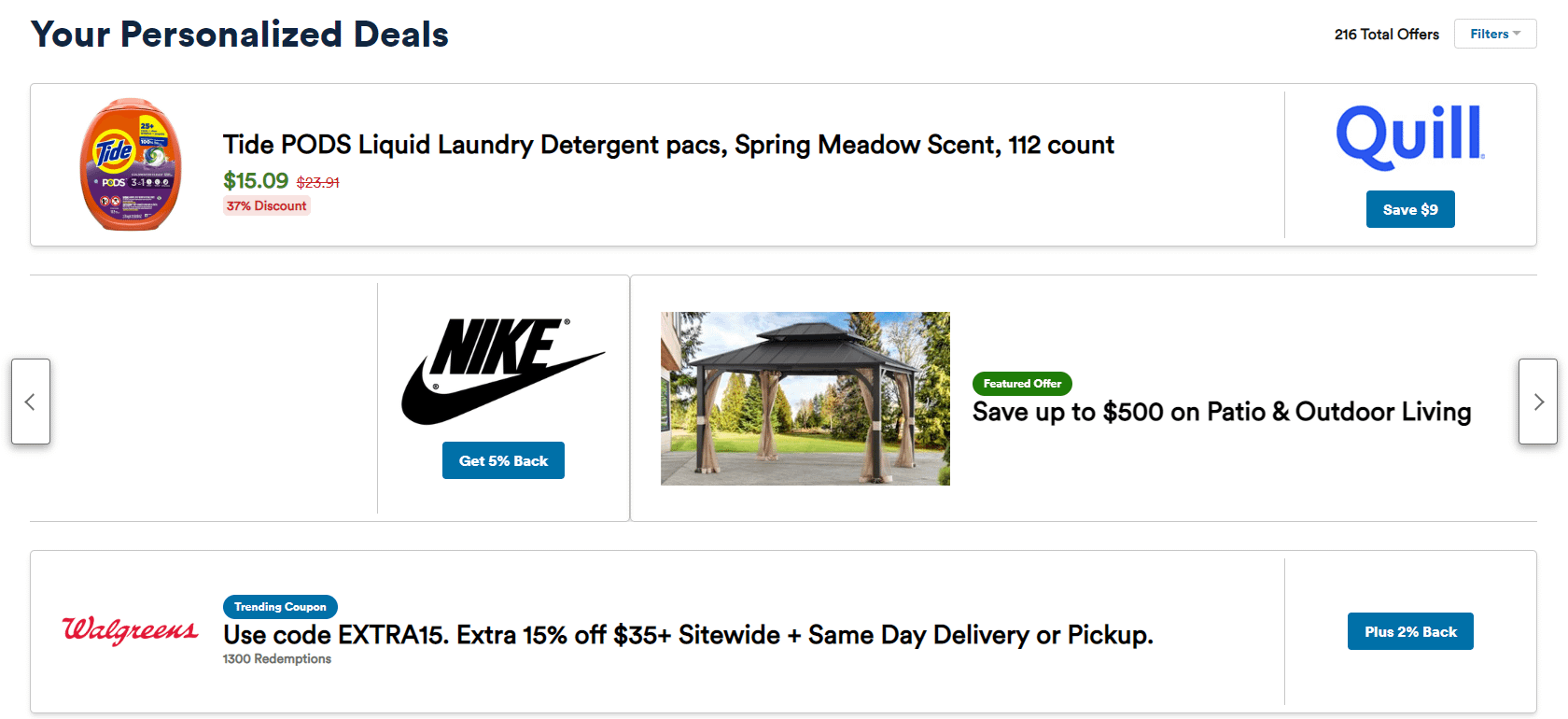 Capital One Shopping aggregates the best deals, rewards, and coupon codes from 30,000+ sites, including Amazon, Target, Walmart, Best Buy, eBay, Booking, Adidas, Hertz, Verizon, LG, AT&T, and Microsoft. It also provides limited-time deals for earning cash back on purchases at numerous merchants and personalized offers across multiple categories.
It searches for the best prices as you shop, notifies you once it finds better deals, and instantly applies coupon codes at checkout. It also gives shopping credits for every purchase, which you can redeem for gift cards at various merchants.
Capital One Shopping is free and available as an online shopping portal, mobile app (iOS and Android), and browser extension. It doesn't require a Capital One card.
---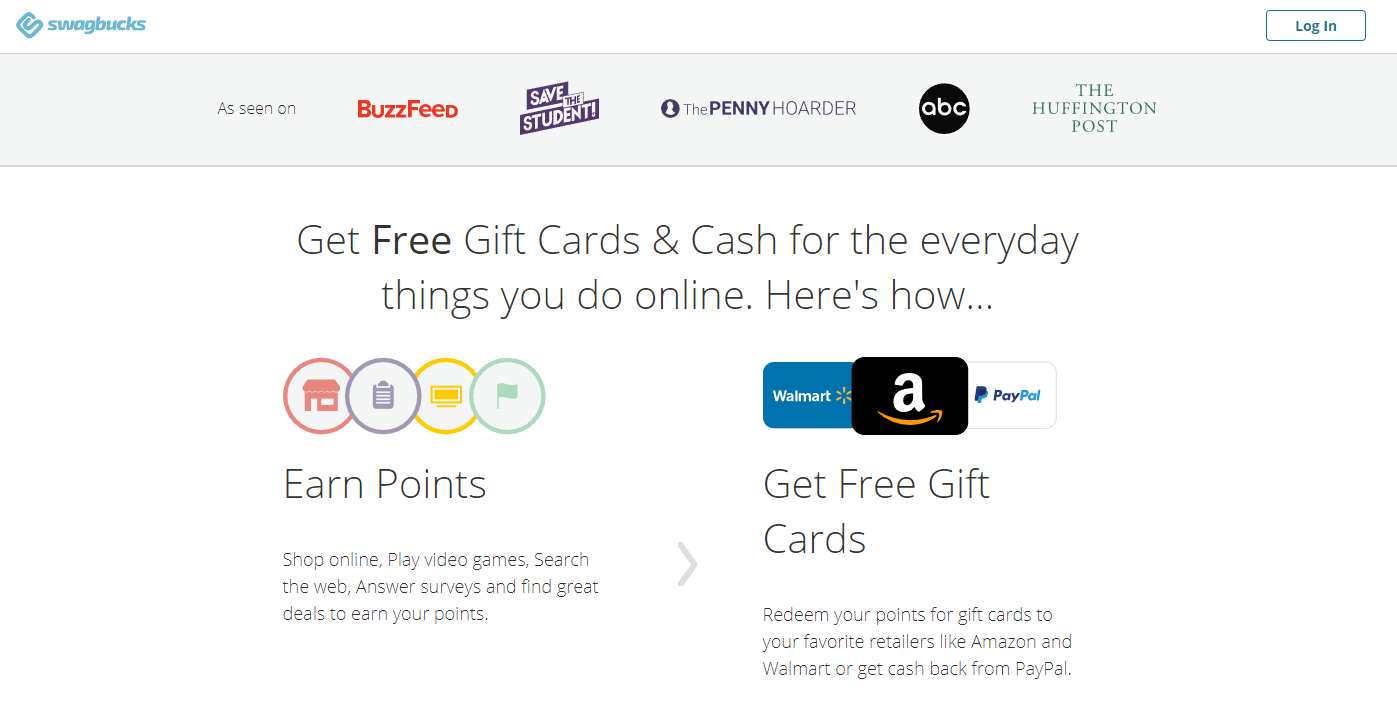 Swagbucks is famous for paid surveys, but it's becoming an increasingly popular online shopping portal offering printable and online coupons for thousands of merchants. You can print 50 coupons daily, get one Swagbuck ($0.01) per each, and earn 25 Swagbucks per used printable coupon.
Besides snatching excellent deals, you can earn points for shopping through the platform, answering surveys, playing games, and using the site's search engine. You can redeem them for gift cards at partner retailers like Amazon, Target, and Walmart or cash them out via PayPal.
You can also get cash back at participating merchants (e.g., Home Depot, Macy's, eBay, Lowe's, and Best Buy). However, you receive it in Swagbucks, which doesn't usually exceed 12% of the transaction.
---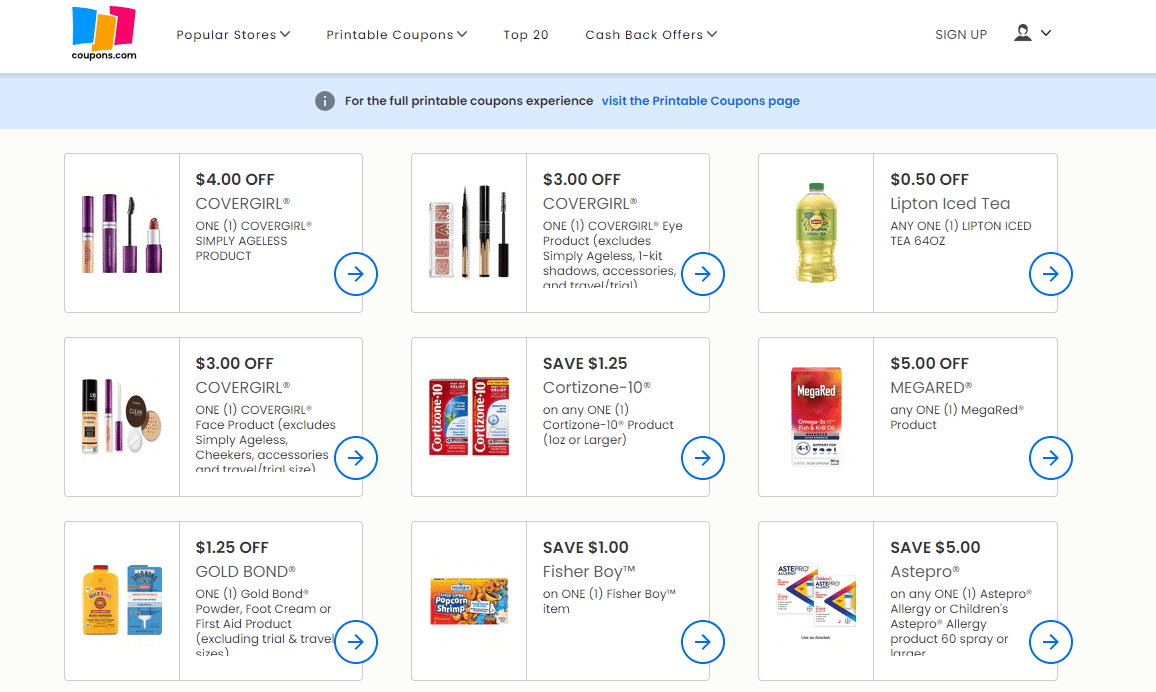 Coupons.com offers digital and printable coupons in 80+ product categories across thousands of stores, including Walmart, Target, Pizza Hut, Lowe's, Adidas, Home Depot, and Nike. You can also find cashback offers for groceries, household supplies, and products for personal care, babies, kids, and pets.
You only need to provide your zip code to get the latest deals and promo codes in the area. There's also an iOS and Android mobile app for earning cash back on grocery shopping. It lets you redeem it at the checkout by connecting your store loyalty card or submitting a purchase receipt.
---
What better way to save money than to visit the aptly-named coupon site, Savings.com? The website offers discounts, promotions, and coupons for thousands of online retailers, including Home Depot, Lowe's, Target, GAP, Verizon, Macy's, AT&T, Ashley Stewart, Turbotax, and Trip.com.
You can search printable and digital coupons by category or retailer and find local deals by providing your ZIP code. You'll also love seasonal deals like Easter or Christmas coupons.
---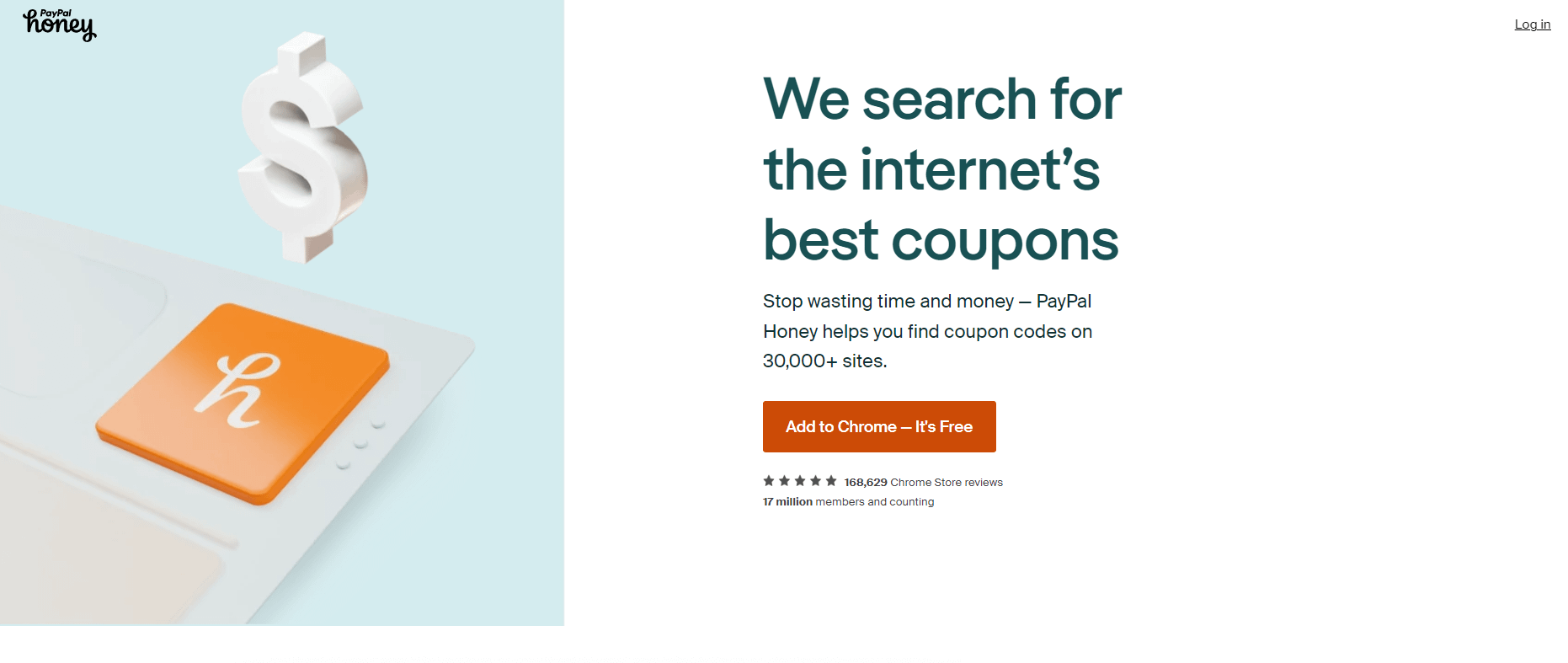 PayPal Honey (formerly Honey) is a free browser extension aggregating the latest coupons from 30,000+ global retailers, including Amazon, eBay, Etsy, Pizza Hut, Best Buy, Costco, Nike, Adidas, and IKEA. It automatically applies valid coupons at checkout, saving you time and money.
You can earn Gold Rewards on eligible purchases at participating stores, even without applying coupons. You can redeem them for cash, PayPal shopping credit, or gift cards at 5,000+ partner merchants, including Microsoft, Target, eBay, Walmart, Home Depot, AliExpress, Lowe's, Udemy, Sephora, Samsung, and HP.
---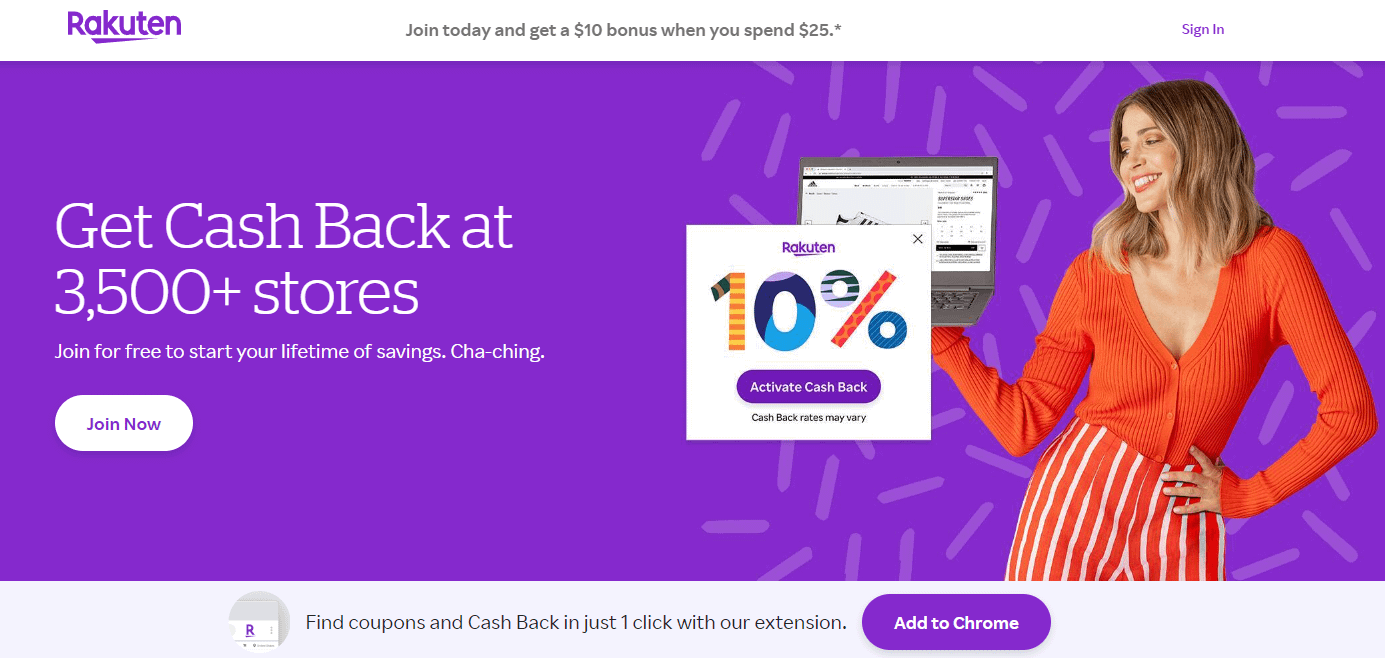 Rakuten offers a coupon site for finding valid coupons and getting cash back at 3,500+ stores, including Walmart, Kohl's, Macy's, Target, Lowe's, Old Navy, and Nike. You can seamlessly withdraw your earnings via PayPal or checks.
The site also offers a mobile app (iOS and Android), but you'll benefit the most from its free browser extension. It instantly notifies you if a website you're viewing has a cashback offer or coupon, helping you seize excellent deals.
---

Coupert is another free browser extension that finds working coupons from 100,000+ sites across the US and beyond, including eBay, Walmart, Booking, Kohl's, Udemy, Expedia, Booking, Ulta Beauty, and AliExpress.
Once it finds valid coupon codes for any online retailer you visit, it automatically applies them at checkout. It also helps you maximize savings with cashback offers and discover deals in search engine results (Google, Bing, Yahoo, and AOL). You can withdraw your balance via gift cards or PayPal.
That's not all! Add items to your Droplist to know when their prices drop (currently applicable to 100+ stores). If you prefer mobile shopping, download the iOS or Android app for mobile-exclusive cashback and coupon deals.
---
Smarty is a free browser extension sourcing coupons, promo codes, time-limited deals, and cashback offers from 24,000+ sites. These include Microsoft, Walmart, Target, eBay, Amazon, Home Depot, Best Buy, Lowe's, AT&T, Macy's, Experian, Booking, Hulu, Verizon, and HP.
Smarty compares prices as you shop, automatically applies coupons and promo codes at checkout, and lets you withdraw cash via PayPal.
Want to maximize your savings? Get the premium SmartyPlus service for $19/month (a seven-day trial is available for only $3). Signing up provides order tracking, price-drop alerts, free food delivery, fuel and air travel rebates, car rental price protection, and 2x cash back on purchases at 5,000+ retailers.
---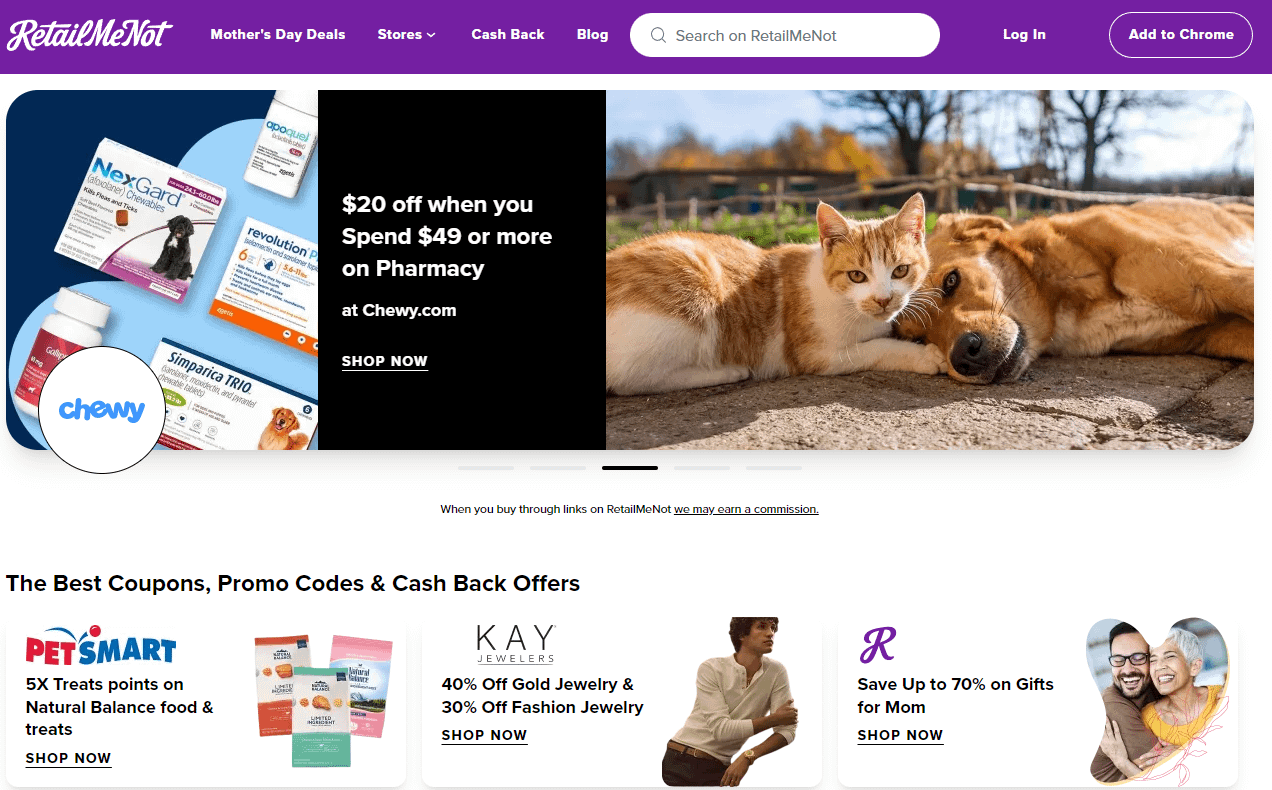 RetailMeNot is a coupon site that features offers from 15,000+ brands, including Target, Verizon, Best Buy, Papa John's, Macy's, Home Depot, Nintendo, Booking, and Expedia. It lists the latest coupons, promo codes, and cashback deals and lets you withdraw savings via PayPal or Venmo.
Its Exclusive Deals section is ideal for maximum savings. It lets you sort the deals by category, store, coupon type (promo codes or online sales), and discount type (e.g., gift, a specific dollar amount or percentage off your purchase, or free shipping).
RetailMeNot is also available as a mobile app for iOS and Android and offers a free browser extension called Deal Finder. It scours the web for top deals and automatically applies codes and cashback percentages.
---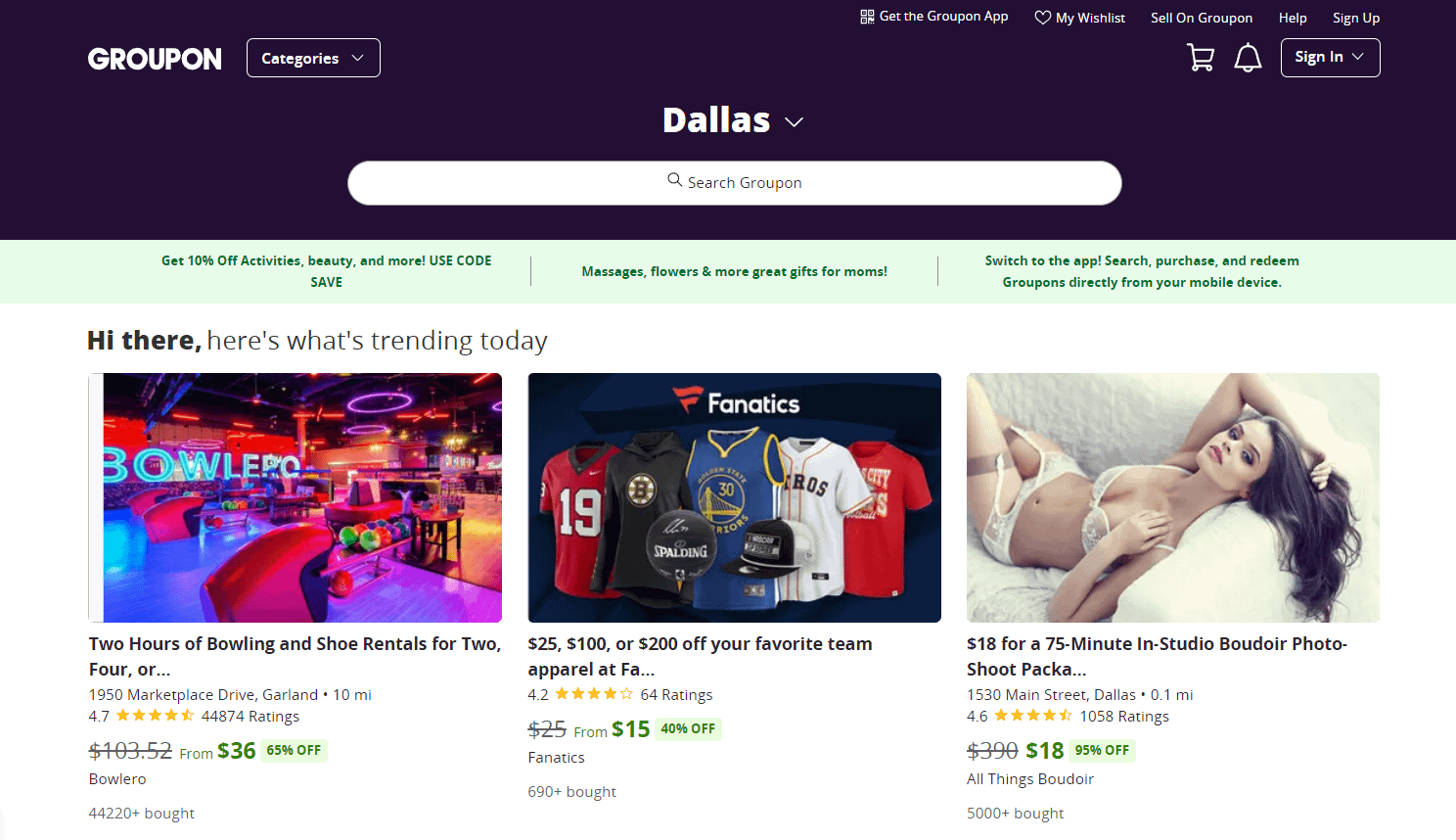 Groupon is an online marketplace and mobile app with thousands of daily and exclusive local deals (including Black Friday offers), discount codes, and coupons.
You can find cheap tickets for events, activities, and museums, coupons for spa centers and salons, and many other discounted services for places in your area. Some featured retailers include Nike, Amazon, Target, Walmart, Airbnb, Sephora, and Sam's Club.
Creating a Groupon account unlocks the Groupon+ service. This allows you to get up to 30% cash back at participating local restaurants whenever you swipe your connected credit card (Visa, Mastercard, or AmEx). You can also find cashback deals in the app.
---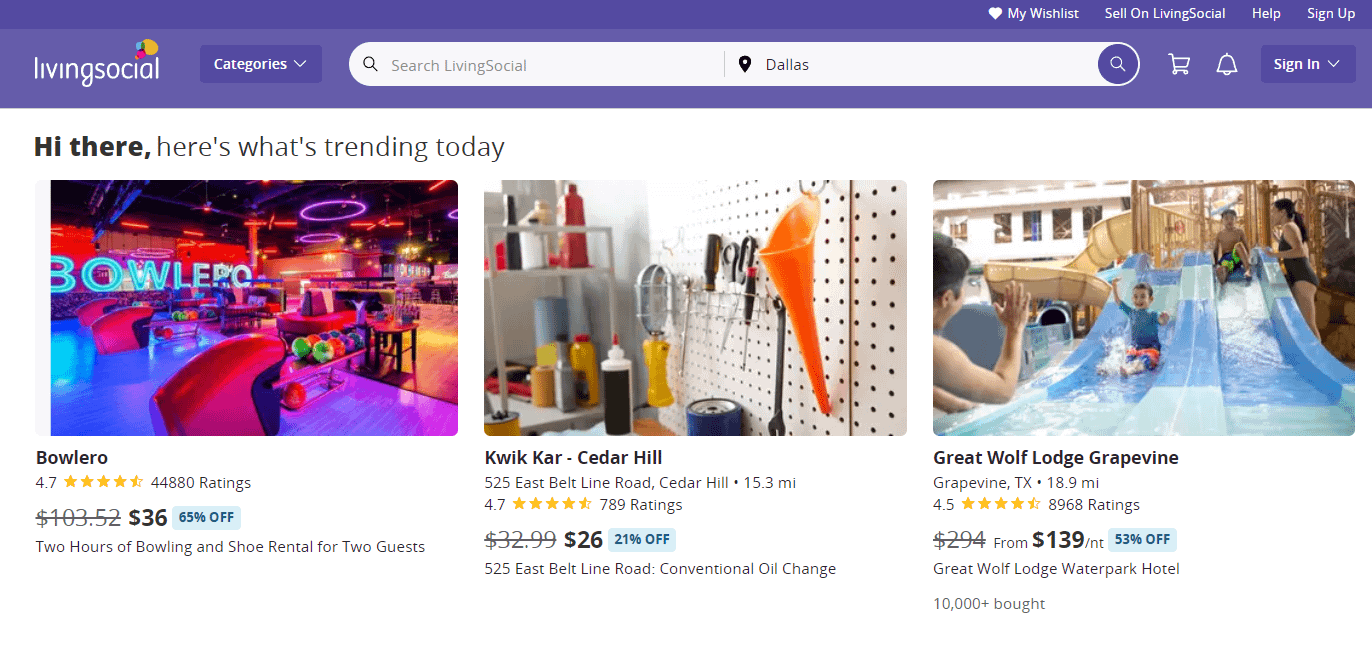 LivingSocial is an online marketplace and mobile app similar to Groupon, featuring nearly the same web design. It has thousands of local deals, coupons, and promo codes offering up to 80% off the regular prices.
It has fewer categories than Groupon and no cashback deals. Still, it's an excellent choice for saving on sites like Amazon, Home Depot, Target, Walmart, Adidas, Verizon, Turbotax, and eBay.
---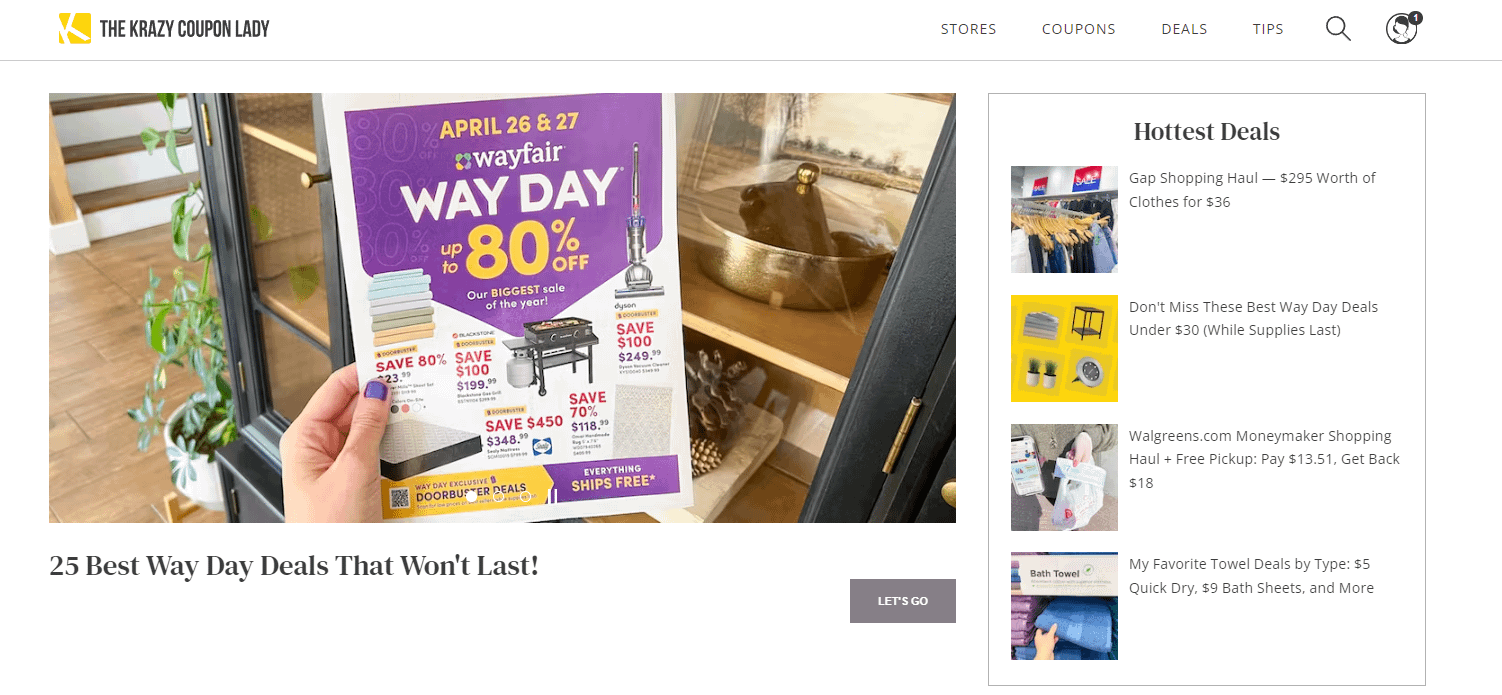 The Krazy Coupon Lady is a popular site for finding coupon codes, printable coupons, and deals for online purchases at retailers like Amazon, Walgreens, Walmart, Kohl's, and Target. It also has a blog with money-saving tips, including how to make the most of couponing.
Download the mobile app for your iPhone or Android device to access the latest online and in-store deals on your favorite products.
---

Hip2Save is a versatile website providing in-store and online deals (e.g., Amazon, Target, Walmart, and Best Buy), freebies, toy bargains, lifestyle advice, money-saving tips, and even food recipes. As for coupons, they're available only for restaurants in the area, such as Domino's, Subway, McDonald's, and Pizza Hut.
Download the ad-free mobile app to find deals and promotions on the go and save your favorite recipes in the Hiplist or MyCookbook.
---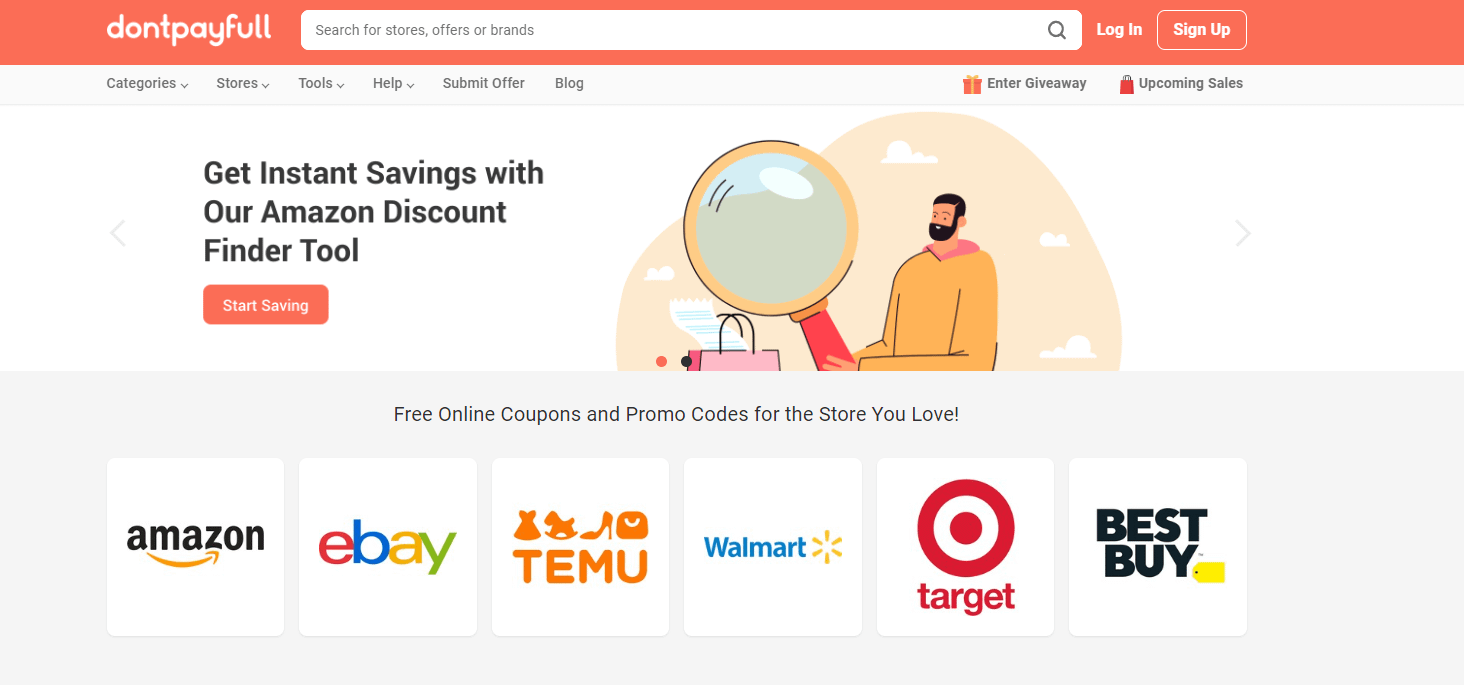 DontPayFull is a coupon site with verified coupon codes for numerous retailers, including Amazon, eBay, Best Buy, Target, Macy's, Walmart, and Adidas. It also features the newest online deals, upcoming sales, and giveaways, such as a chance to win a $100 Amazon gift card.
You can search by category, store, or offer to discover daily coupon codes and online deals and subscribe to an email newsletter for the latest information.
DontPayFull does not have an app, but its Amazon Discount Finder takes your savings to the next level when shopping on Amazon. Available as an online tool and browser extension, it helps save up to 75% on Amazon products.
---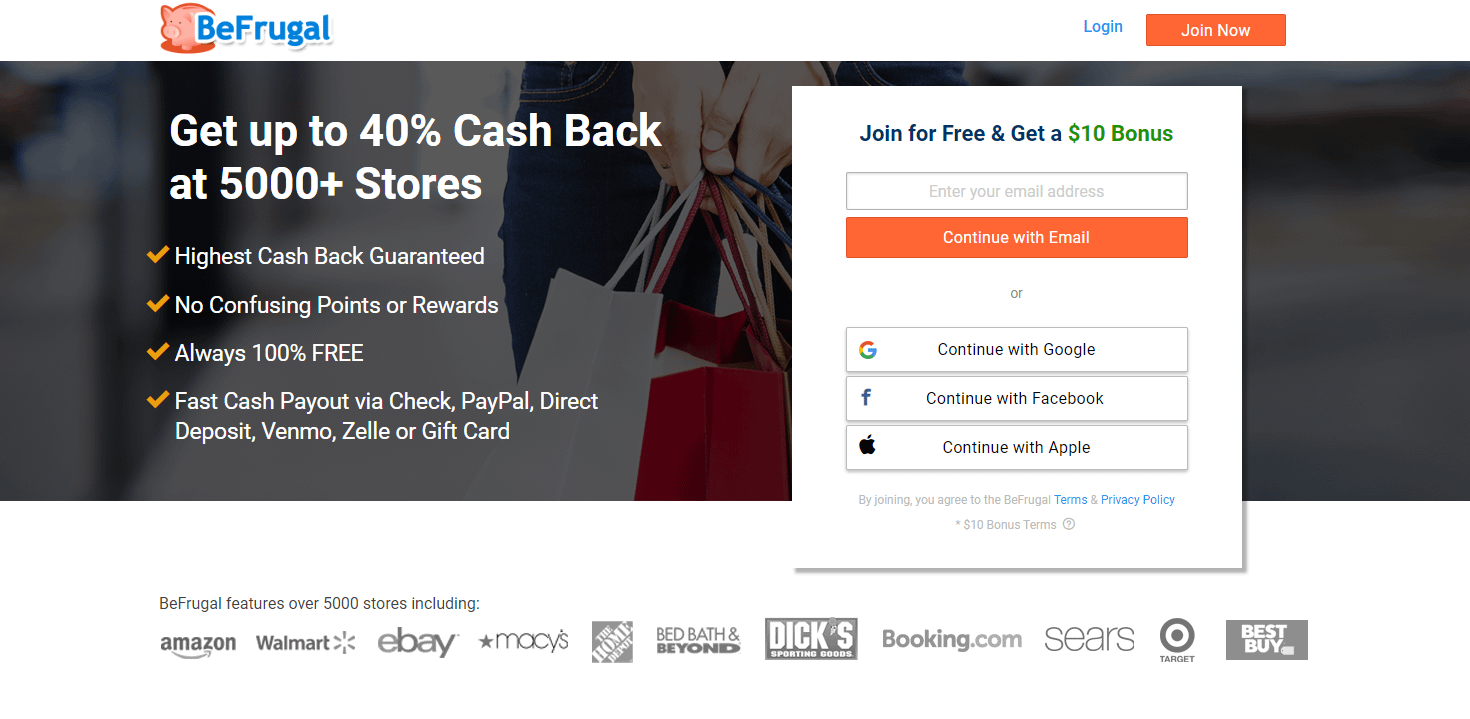 BeFrugal unlocks deals at 5,000+ retailers, including Amazon, eBay, Walmart, Macy's, Booking, Home Depot, Target, Sephora, and Best Buy. It requires a free account to use its online shopping portal, browser extension, or mobile app.
It sources discount deals, digital and printable coupons, and cashback offers. The browser extension automatically applies coupon codes at checkout, showing how much cash you've saved with each. You can withdraw your savings via check, direct deposit, gift card, PayPal, Venmo, or Zelle.
---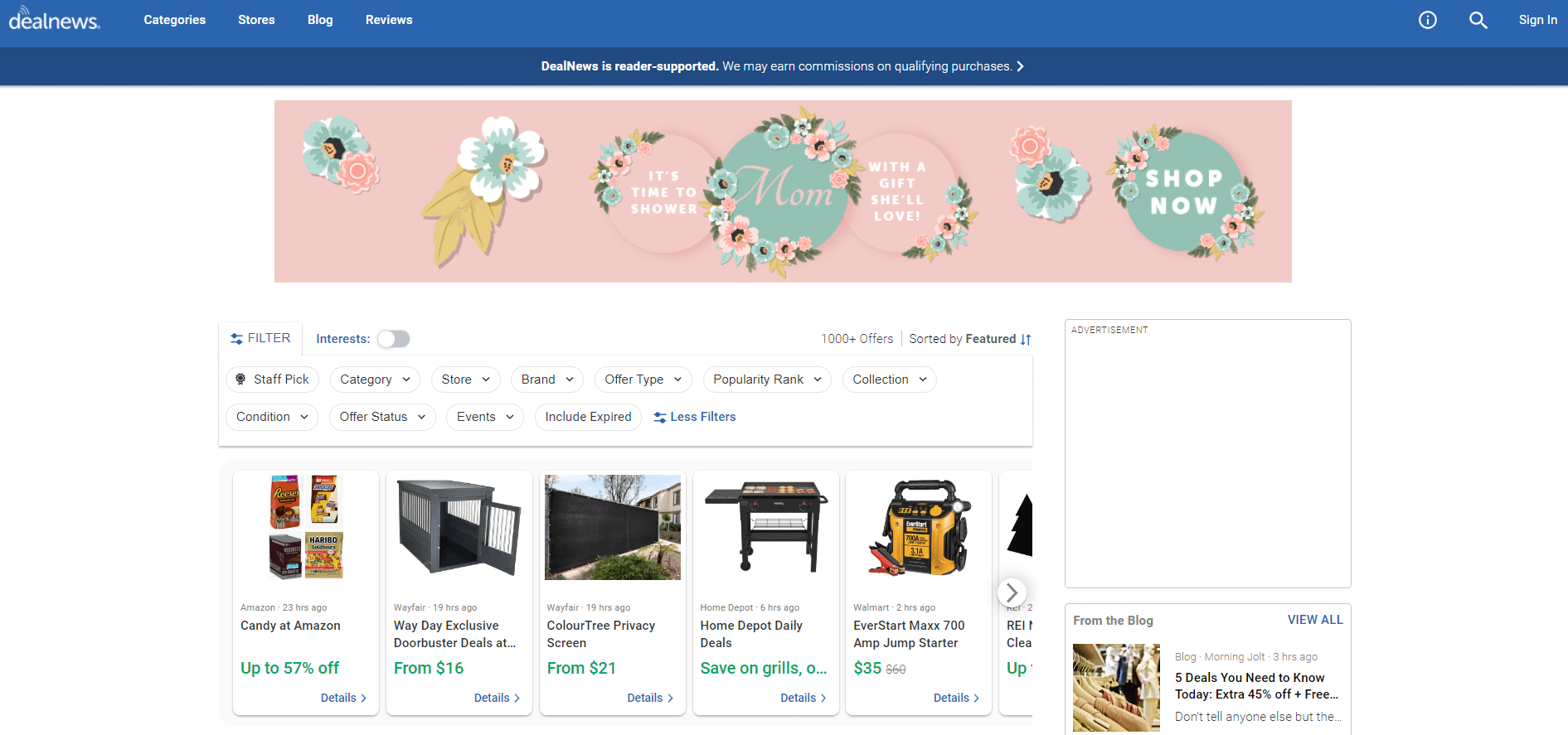 DealNews has been around since 1997, becoming one of the most trusted coupon sites in the US. Its team curates the hottest deals and coupon codes for 6,000+ online retailers like Amazon, Costway, Home Depot, Walmart, Macy's, and eBay.
Multiple search filters make finding coupons a breeze. You can search by category, store, brand, collection, condition, offer status, popularity, event (e.g., Spring Cleaning, Mother's Day, or Back to School), and deal type (e.g., product discounts, in-store sales, and promo codes).
Sign up for free to personalize offers, save searches and deals, and get alerts. You can also download a free Android or iOS app to stay on top of the latest offers.
---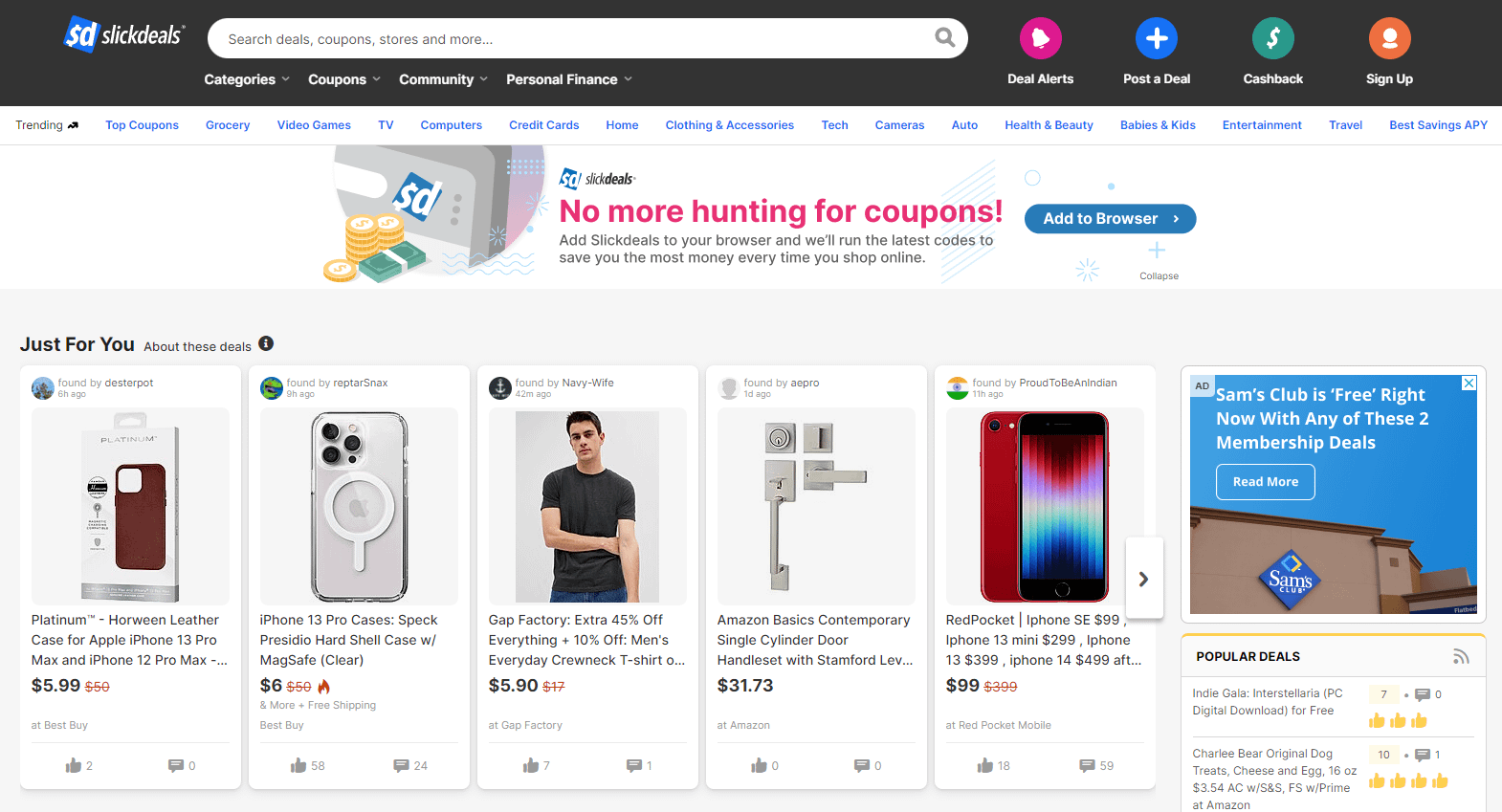 Slickdeals is an online shopping portal, browser extension, and mobile app. It lets users post and upvote deals and coupon codes, helping the editorial team provide the best, up-to-date offers after verifying them.
Add the browser extension to find the best offers as you shop on Amazon, Walmart, Best Buy, eBay, HP, Dell, Expedia, Nike, Target, and many other sites. You can also sign up or download the app for deal alerts and cashback deals at select stores, which you can redeem via PayPal or gift cards.
---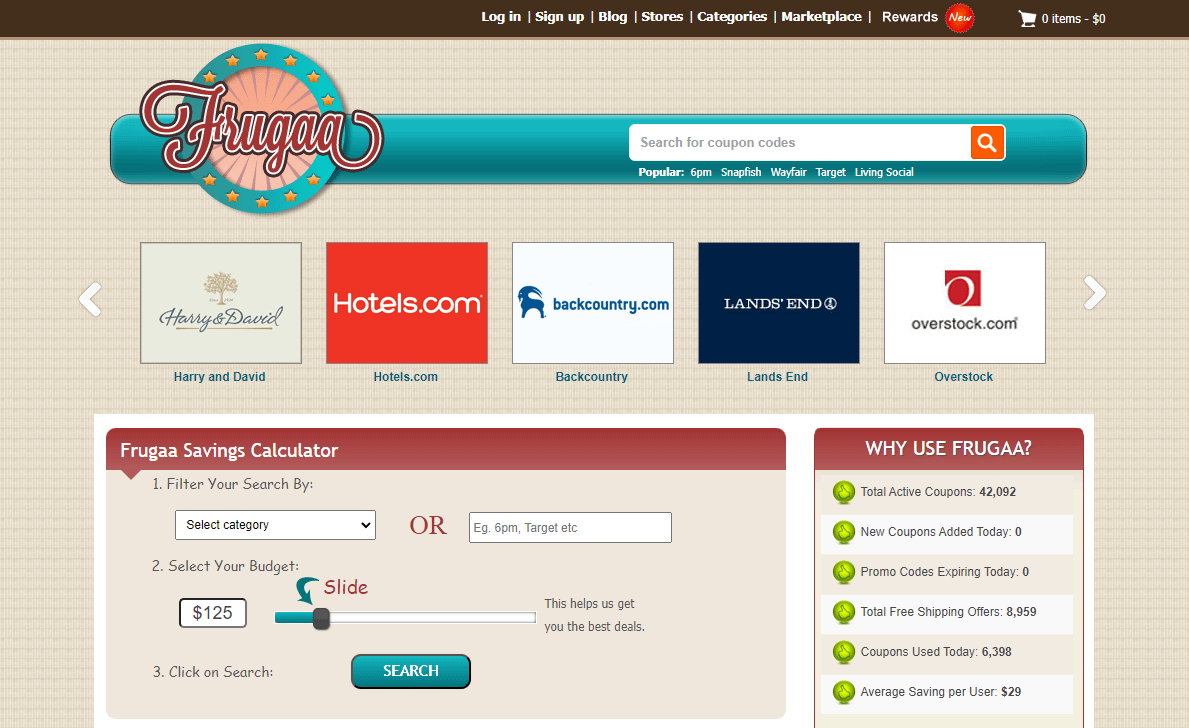 Don't let Frugaa's old-school design trick you into thinking its offers have expired. This site displays the latest daily discount coupons for retailers like Old Navy, Disney Store, Target, Wayfair, Rakuten, and Hotels.com. It even provides LivingSocial and Groupon deals.
It doesn't have a mobile app, but the site has everything you need to find the best deals and coupon codes. You only need to select a category, store, or product and specify a budget range.
---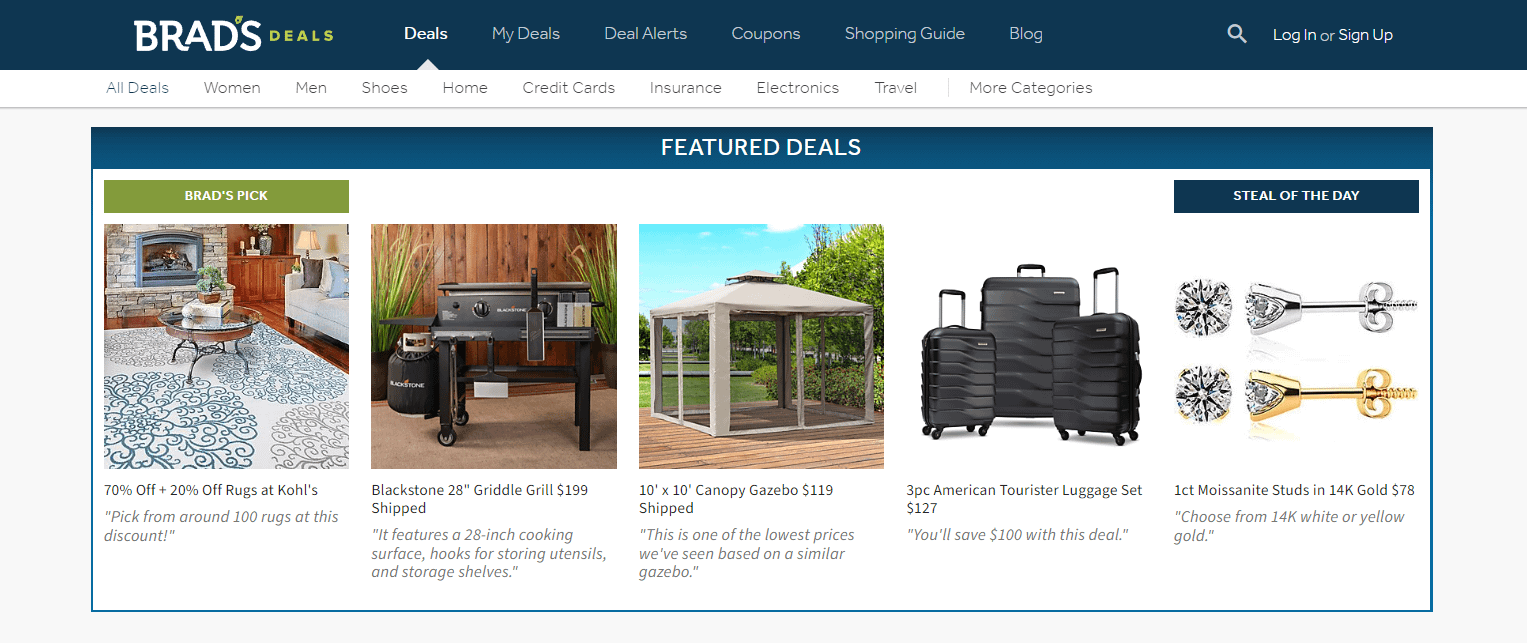 Brad's Deals offers trending and exclusive deals for thousands of retailers, including Amazon, Best Buy, Expedia, Home Depot, Macy's, Target, Nordstrom, and Walmart. You can also find verified coupon codes and discounts for online sales.
This site stands out for its detailed descriptions of every deal. The editorial team hand-picks them and provides helpful information, such as the latest price changes and shipping details.
An intuitive mobile app is available to set deal alerts, create a personalized shopping list, and get the newest offers in your inbox.
---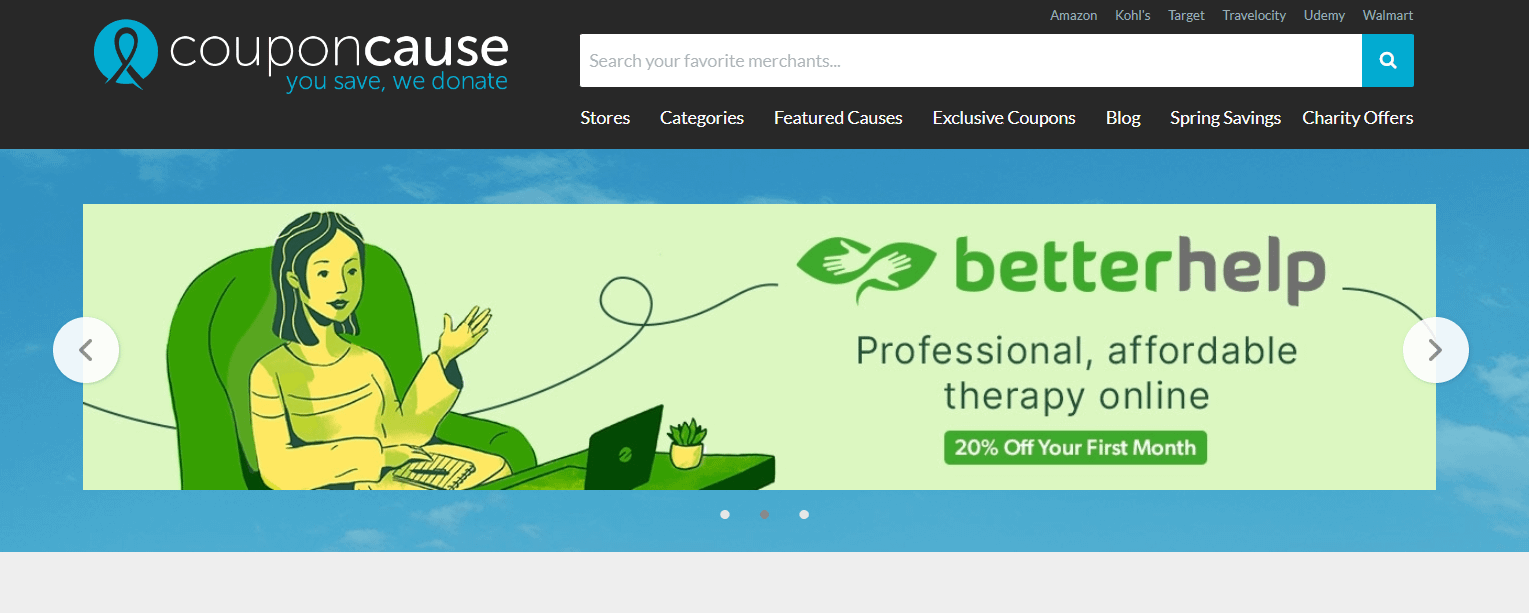 Want to save money while supporting various organizations and causes? Head to CouponCause, a site that donates a portion of every commission to charities. It doesn't have an app, but its online platform does impressive work.
It provides coupon codes, discount deals, and exclusive daily coupons for maximum savings. Some of its participating merchants include Booking, Home Depot, Sam's Club, Samsung, Verizon, Target, Best Buy, Amazon, and Nike.
---
Conclusion
Coupons can be an effective way to save money, but only if you use them strategically. Using a coupon to save on something you needed to buy anyway is smart. Buying something you don't need because you have a coupon is not smart!
You'll find these coupon sites beneficial only if you don't go overboard with coupons and buy the stuff you don't need. Discount deals can be tempting, making you overspend if you aren't careful. Resist the urge to splurge, and leverage these sites to save wisely!
The post 20+ Best Coupon Sites to Save Money in 2023 appeared first on FinMasters.
FinMasters