Identity theft is financially and emotionally devastating. Many victims need months or even years to recover, especially when theft is detected late. Identity theft protection services help avoid these scenarios by providing tools that help to prevent or quickly detect identity theft.
Best Identity Theft Protection Services
We looked at several prominent identity theft protection services, comparing their identity monitoring features, identity theft insurance coverage, and credit protection tools to find the best options. Here's the list:
---

Compare Identity Theft Protection Services
The Reviews
Let's look at those identity theft protection services in more detail.
---
1. Aura
Aura is a new arm of Identity Guard, another veteran identity theft protection service, with a greater focus on digital security. Each plan includes VPN, antivirus, and password manager software.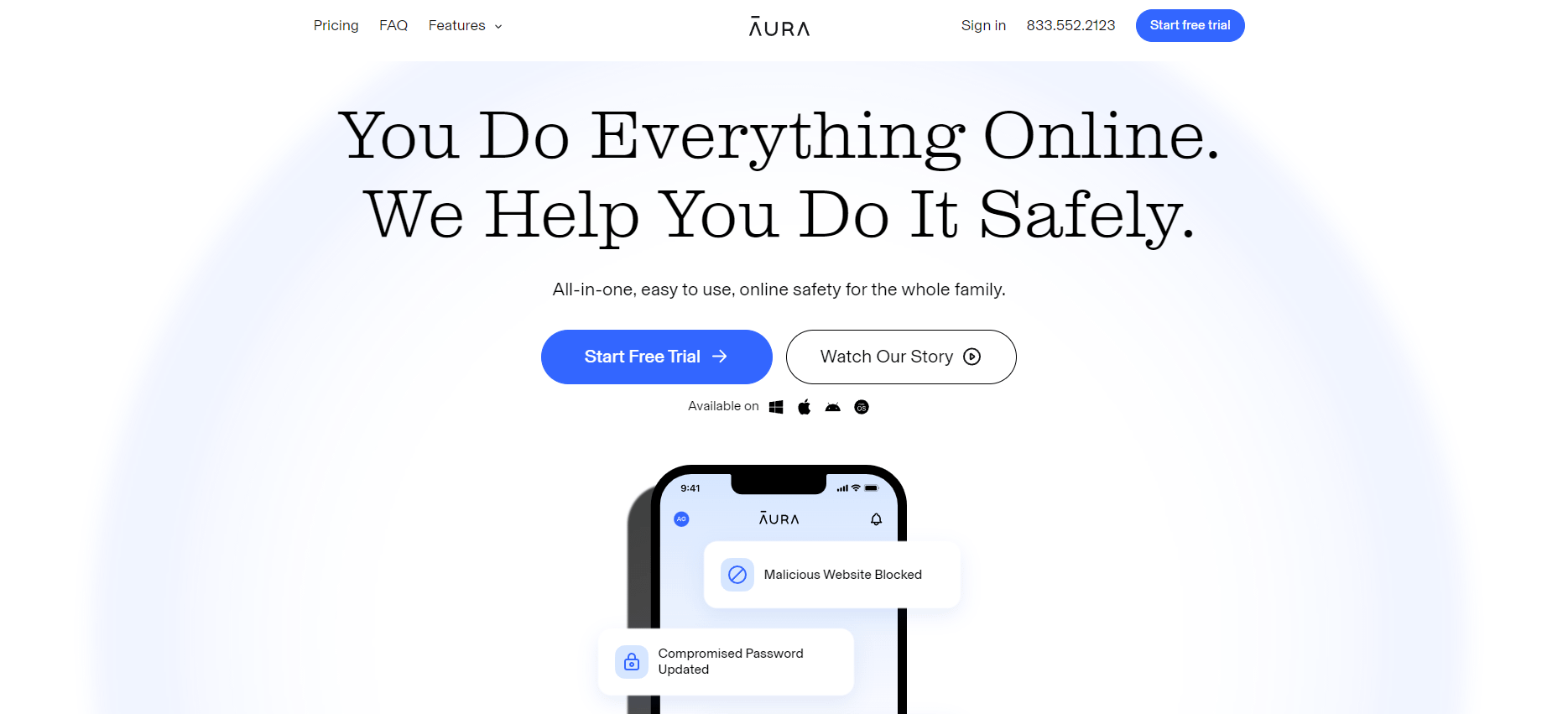 Aura includes automated protection against spam emails, texts, and robocalls. In contrast to other identity protection services, you also benefit from free online data removal services. Aura will scrap personal data from the web to minimize ID theft risks.
Even on the lowest-tier account, you get three-bureau credit monitoring and monthly credit score reports from Experian. Aura sends real-time alerts about suspicious financial activity, such as new bank account openings, credit card applications, and high-volume transactions.

Pros:
Transparent pricing 
Convenient mobile app
Online and device security 
Family plans include parental controls
Comprehensive SSN monitoring 
Identity restoration and recovery assistance
14 days free trial
60-day money-back guarantee
$1 million insurance per adult
Cons:
No tax-refund fraud alerts
No social media monitoring 
Public information removal from data brokers can be slow 
The Family plan is on the expensive side 
Pricing Plans
| | Individual | Couple | Family Plan (5 adults, unlimited kids) |
| --- | --- | --- | --- |
| Monthly billing | $15/mo | $29/mo | $50/mo  |
| Annual billing | $12/mo | $22/mo | $37/mo  |
---
2. LifeLock by Norton 
Norton has transformed their cybersecurity knowledge into a full ID theft protection service.  They're so confident in their product that LifeLock CEO once posted his SSN number online. He got it stolen 13 times and then saw it rapidly recovered by the company's specialists.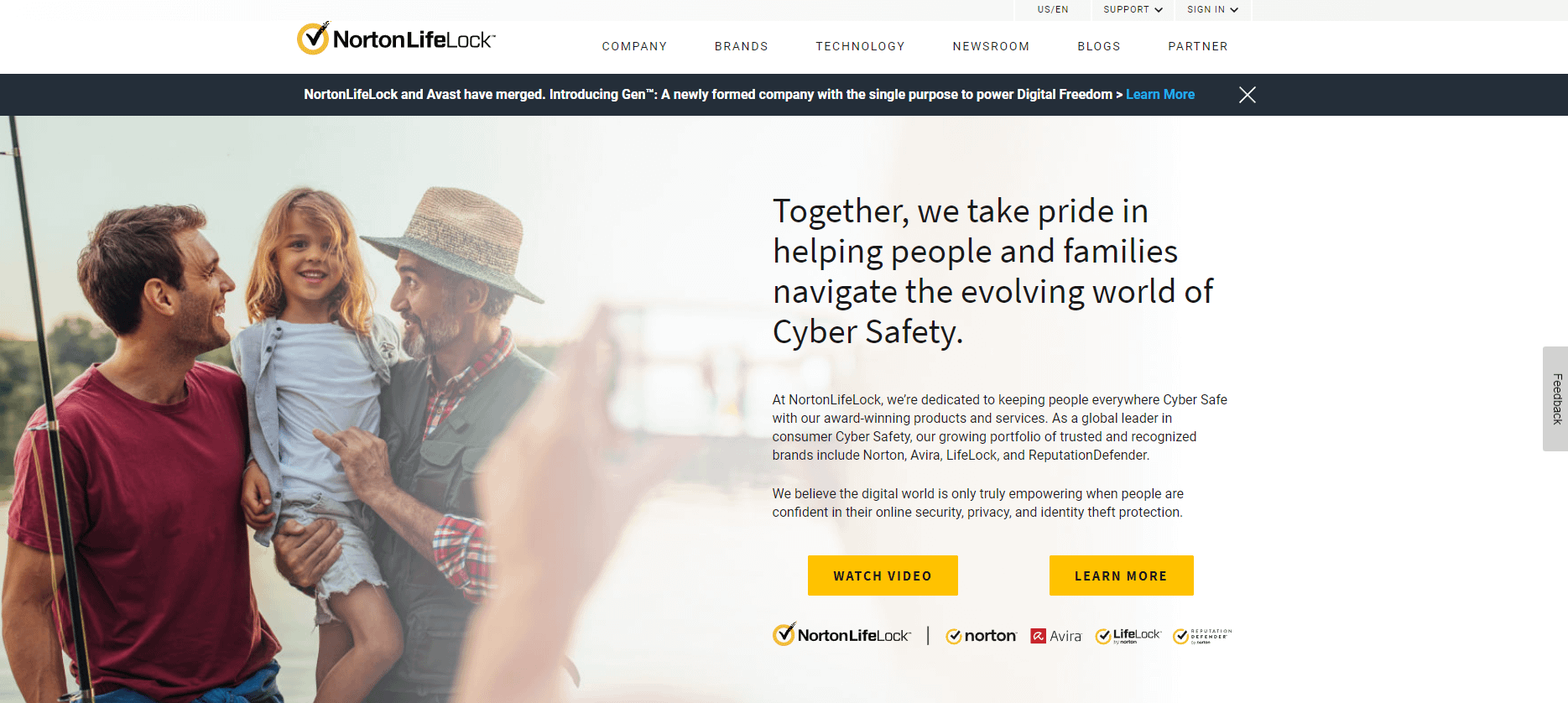 LifeLock's best identity theft protection relies on a patented ID monitoring system for tracking users' names, addresses, dates of birth, and SSNs across all web, financial, and court records. When combined with Norton's online security tools, LifeLock becomes the best identity protection coverage you can get. 

Pros:
Great value for money with regular discounts 
Stolen wallet protection with funds recovery
USPS address change verification
Fictitious ID monitoring online 
Up to $1 million for legal fees compensation 
Excellent US-based customer service
30-day free trial
60-day money-back guarantee
$1 million insurance per adult
$25K in stolen wallet funds reimbursement per adult/child
Cons:
VPN and anti-malware software not included 
Sometimes over-report regular transactions
Pricing plans increase after one year
Pricing Plans
Standard
Advantage
Ultimate Plus
Individual
$8.99/month
$90/year
$9.99/month
$99.48/year
$19.99/month
$203.88/year
Couple
$14.99/month
$149.88/year
$15.99/month
$155.88/year
$33.99/month
$335.88/year
Family
$19.99/month
$191.88/year
$21.99/month
$215.88/year
$27.99/month
$371.88/year
---
3. ID Watchdog by Equifax
Comprehensive credit report monitoring is the most attractive feature of ID Watchdog. You get monthly credit reports from one bureau on a Standard plan and three bureaus on a Premium. Each package includes free credit score tracking, subprime loan monitoring, and dark web monitoring. Premium users also enjoy high-risk transactions and investment account alerts.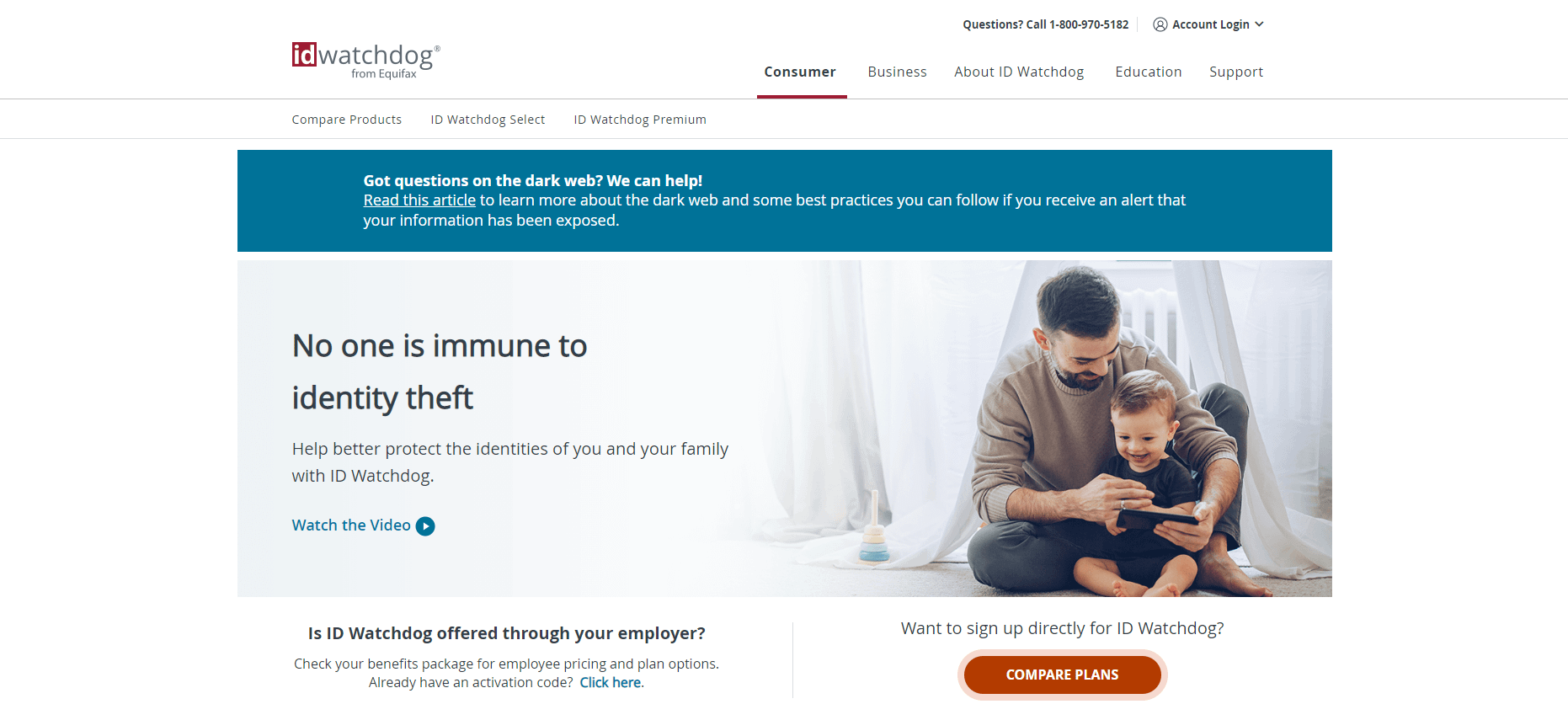 ID Watchdog guarantees 100% identity theft resolution if you get hit by a crime. However, the insurance policy doesn't cover retroactive incidents. ID Watchdog doesn't guarantee you'll get all your money back, but they'll do their best to help you navigate an identity crime. 

Pros:
Stellar credit history monitoring capabilities 
Multi-bureau credit report lock with the Premium plan 
Integrated credit score tracker and annual reports 
401k/HSA stolen funds reimbursement on the Premium plan 
Social media accounts monitoring and protection from a takeover
Cons:
No free trial plan
No partial monthly refunds 
Premium plan is superior to Select 
Real-time financial account monitoring is only available with Premium 
Pricing Plans
ID Watchdog Select
ID Watchdog Premium
Individual
$14.95/mo
$150/year
$21.95/mo
$220/year
Family 
$23.95/mo
$240/year
$34.95/mo
$350/year
---
4. IdentityForce
IdentityForce is an identity theft protection company launched by TransUnion. It boasts an excellent credit monitoring service for one or three credit bureaus (depending on the plan). A higher-tier plan includes monthly credit score reports from Vantage, annual credit reports from 3 bureaus, and a credit score simulator.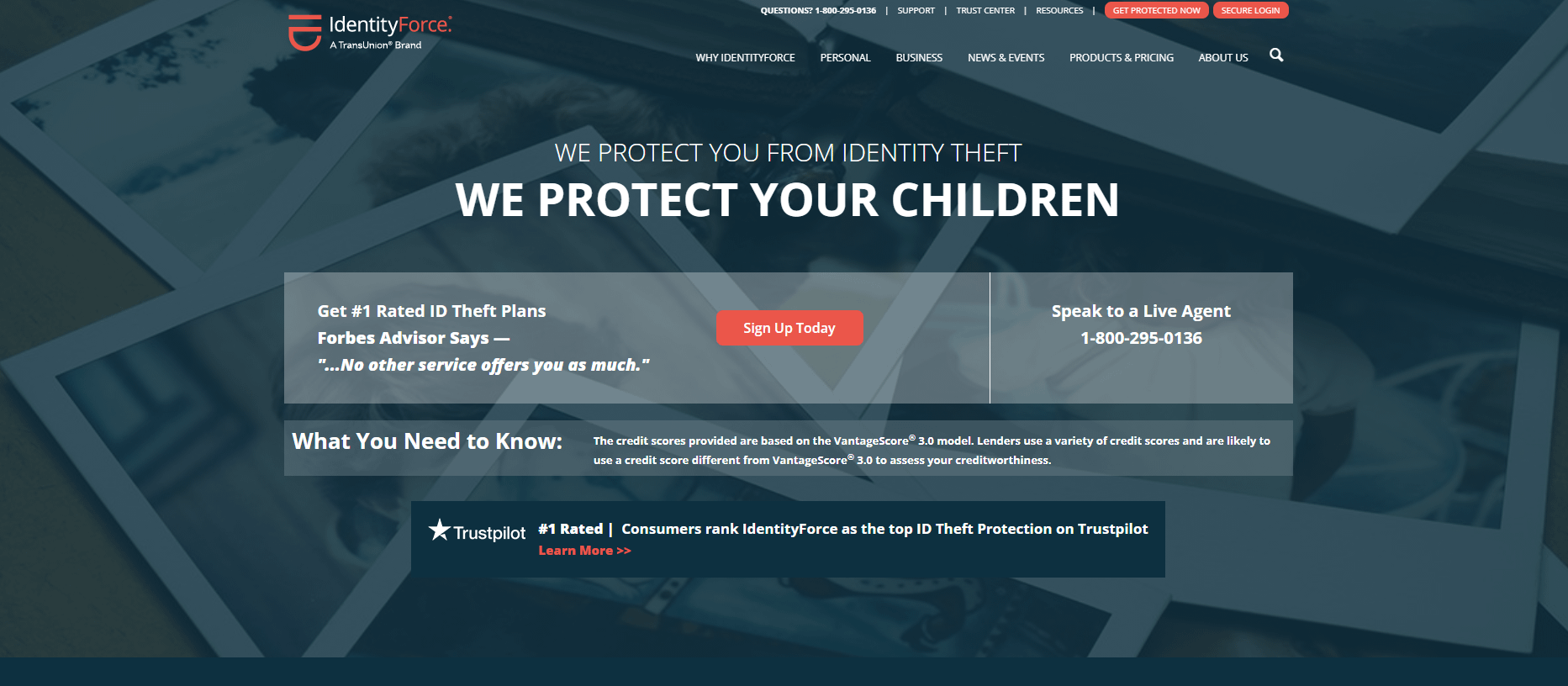 IdentityForce constantly evolves its product. Unlike others, they protect against COVID-related scams, tax, and medical fraud. On a family plan, you can also access advanced child ID protection with social media identity monitoring suite and parental control app.
They also have the best ID recovery services and compensation scheme. Get $1 million in ID theft insurance plus $2,000 for each of the following:
Travel expenses
Lost wage
Elderly/childcare 
IdentityForce specialists will thoroughly deal with your ID restoration and even replace stolen funds. 

Pros:
Fully managed restoration ID restoration 
Daily credit report and monitoring with three bureaus 
Sex offender search for fraud alerts and neighborhood monitoring
Dark web monitoring and online data analysis 
Online security tools (VPN, password manager, safe browsing)
Extra protection against medical ID fraud
30-day free trial
Add a child for $2.75/mo
Cons:
No home title monitoring available 
Doesn't provide FICO credit scores
Canceling an annual subscription can be complicated 
Pricing Plans
UltraSecure
UltraSecure+Credit
Individual
$17.99/mo 
$179.50/year
$23.99/mo
$239.50/year
Family 
$24.90/mo
$249.90/year
$35.90/mo
$359/year
---
5. ReliaShield 
ReliaShield is a Tennessee-based ID theft protection service with local support and ID protection specialists available 24/7. The company offers comprehensive credit history monitoring (including non-credit loan monitoring) with credit report reminders. It also covers your bank and investment accounts.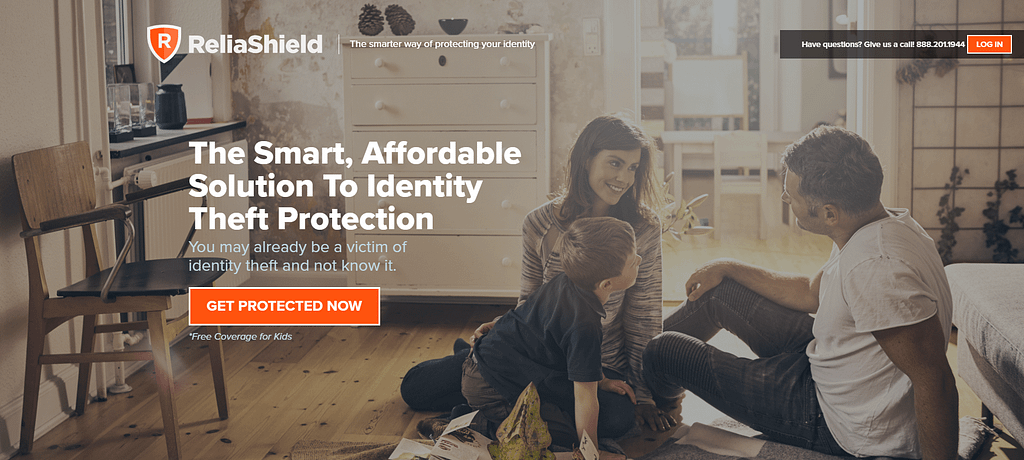 Unlike competitors, court records monitoring and address change monitoring are available on all plans (even the basic one). You also get notified whenever your personal details come up in a data breach.
The biggest boon is ReliaShield's affordable family plan. You only pay for two adults, and children get protected automatically. Parents also like the neighborhood predator monitoring feature, alerting you to any offenders in the area.

Pros:
Credit monitoring and non-credit loan monitoring
Stolen wallet protection and recovery service
New bank account opening notifications
Social media monitoring for your personal details
SSN, name, and address monitoring
Free plans for kids
Up to $1 million in expense reimbursement
Cons:
No free trial or money-back guarantee
Prorated refund if you pay for a year of coverage upfront
Bank account takeover and notifications are only available with the highest tier
Pricing Plans
Essential
Prime
Elite
Individual
$7.99/mo 
$$87.99/year 
$14.99/mo
$164.99/year
$21.99/mo
$241.89/year
Family
$14.99/mo
$164.89/year
$24.99/mo
$274.89/year
$34.99/mo
$384.89/year
---
Comparison Table of Best Identity Theft Protection Services
Aura
Lifelock
ID Watchdog
IdentityForce®
ReliaShield 
ID fraud monitoring and alerts
yes
yes
yes (on the highest tier)
yes
yes
Credit monitoring and reports
yes (3 bureaus on lowest tier)
yes (1 bureau on lowest tier)
yes (1 bureau on lowest tier)
yes (3 bureaus on the highest tier)
yes (3 bureaus on the highest tier)
Credit score reports
yes
yes
yes
yes (on the highest tier)
yes (on the highest tier)
Credit lock
yes (only on Experian)
yes (only on TransUnion)
yes (on the highest tier, multi-bureau)
no
no
Financial activity monitoring (transactions and takeover)
yes
yes
yes (on the highest tier)
yes
yes (on the highest tier)
Personal information & SSN monitoring
yes
yes
yes
yes
yes
Change of address monitoring
yes
yes
yes
yes
yes
Dark web monitoring
yes
yes
yes
yes
no
Home title monitoring
yes
yes (on the highest tier)
no
no
no
Data breach monitoring and notifications
yes
yes
yes
yes
yes
Court records monitoring
yes
yes
no
yes
yes
Fictitious identity monitoring
no
yes
no
no
no
Stolen-funds replacement 
(up to $1 million)
yes
yes
yes
yes
yes
Online security tools (VPN, antivirus, password manager)
yes
no (with a separate subscription)
yes (on the premium plan only)
yes
no
White-glove ID recovery services
yes
yes
yes
yes
yes
Stolen wallet protection & recovery
yes
yes
no
yes
yes
Neighborhood predator monitoring
no
yes (on the highest tier)
no
yes
yes
Parental control app
yes
no (only as a separate product)
no
yes
no
Social media monitoring
no
yes (on the highest tier)
yes (on the highest tier)
yes
yes
Online personal data removal services 
yes
no (only as a separate service)
no
no
no
Medical ID fraud protection
no
no
yes (on the highest tier)
yes
no
How to Pick the Best Identity Theft Protection Services
If you're convinced that identity theft protection is necessary, take these steps.
Check which other online security tools you already own to avoid paying for redundant features (e.g., credit score reporting, VPN, or parental control).
Pay attention to the number of tracked credit bureaus on each plan and the types of reported credit scores since these differ greatly.
Always read the fine print to understand what expenses are covered by insurance policies and what type of assistance you'll get in the worst-case scenario.
Stay safe and sound!
Our Methodology
To come up with this list of best id theft protection services, we analyzed several key factors:
Cost
We looked at the costs for all offered packages and compare them to the level of protection offered.
Types of ID Crime Supported
From SSN fraud and medical ID misuse to child identity theft and tax fraud, we selected companies that offer protection against all of the most common crimes.
The Number of Supported Credit Reporting Agencies
We prioritized companies with three-bureau credit monitoring plus bonus features like credit simulators, monthly credit reports, and other perks.
Underlying Technology
We ensured that advanced analytical algorithms power each service for real-time parsing of public and private record databases. Each company on the list offers real-time alerts and low false-positive rates.
Managed Identity Recovery Services
All contenders offer 24/7 support and access to a specialized task force for dealing with the stolen ID aftermath. Each provider also offers state-mandatory $1 million insurance and extra compensation for stolen wallets, legal expenses, and document recovery.
Public Reviews and Ratings
Finally, we looked at what long-term users have to say about their experiences with identity monitoring services, advertised degree of theft protection, and credit report monitoring to cross-validate marketing claims.
The post 5 Best Identity Theft Protection Services for 2023 appeared first on FinMasters.
FinMasters