Buy now pay later (BNPL) apps like Klarna let you fund unexpected or even luxurious purchases without exceeding your monthly budget or tapping into a credit card. But Klarna isn't the only game in town. There are a number of respected Klarna alternatives that you can download and try today.
How Does Klarna Work?
You can use Klarna to complete a purchase at a participating merchant. There's no upfront payment required, and there's no hard credit check for most plans.
When you pay using the app, you can choose from three financing options:
Pay in 4: Pay in four interest-free installments, one every two weeks
Pay within 30 days: Pay within a month, interest-free
Financing plans: Make monthly payments for up to two years, with interest.
Merchants have learned that a buy now, pay later (or BNPL) option can boost the average sale by as much as 50%, which means that this payment method is offered at an expanding number of locations[1].
Remember that while boosting the average sale is great for merchants, it may not be so great for you! You'll have to control your buying to use these apps effectively.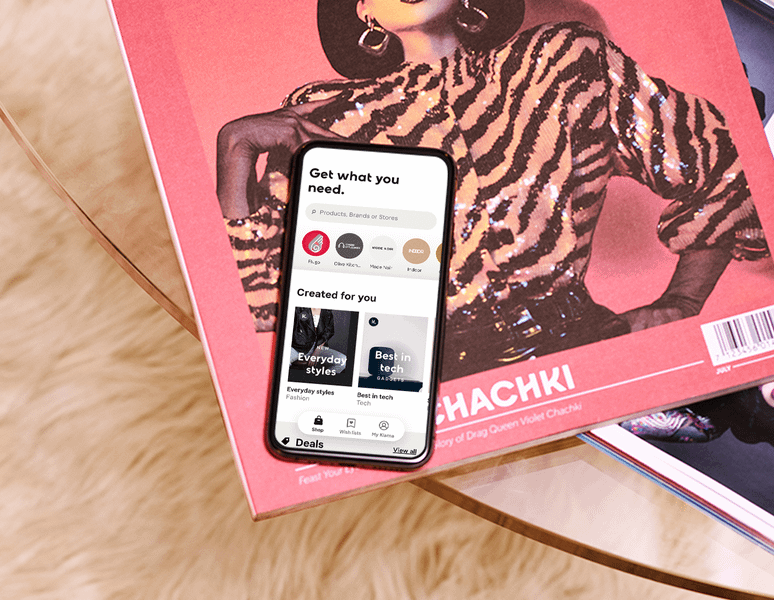 Advantages of Klarna
It's easy to see Klarna's appeal. Users of the app appreciate its convenient features:
A flexible way to make larger purchases.
Funding without a hard credit check (longer-term plans may require a credit check).
Interest-free loans like Pay in 4.
No membership or subscription fees.
Klarna can be used as an alternative to a credit card. The installment options tend to have lower interest rates than credit cards, and many of them are interest-free.
Disadvantages of Klarna
Why might you consider looking for an alternative? Klarna has some drawbacks:
Low financing amounts compared to other loan types
High fees for returned payments and late payments
A hard credit check is required for longer financing terms
Remember, a hard credit check can affect your credit score, so using an app like Klarna may affect your future ability to secure funding for major purchases. For all of these reasons, consumers might consider one of several Klarna alternatives.
---
Top Klarna Alternatives
What are the best alternatives to this service available today? With buy now, pay later options rising in popularity, you won't have to look far for companies offering this feature. Here are five of the most reliable apps on the market.
App
Loan Terms
Platform
APR
Fees
Afterpay
Four payments (biweekly)
Longer-term plans are available with credit checks.
iOS; Android
None for the four-payment plan. Longer-term plans will carry interest.
Late fees of 25% or $8 (whichever comes first)
Sezzle
Four payments (biweekly)
iOS; Android
0%
Late fees of up to 25% of the total value
Zip (Quadpay)
Four payments (biweekly)
iOS; Android
0%
Late fees of $7; fees can double to $14
Splitit
Four payments (biweekly)
iOS; Android
Depends on your card issuer
Depends on the card issuer
Affirm
Four payments (biweekly); Loan terms of 3, 6 & 12 months
iOS; Android
None for 4-payment plans, up to 30% for longer-term loans.
Not indicated
1. Afterpay

Best for Zero-Interest Financing

Afterpay ranks highly among buy now, pay later options for its zero-interest financing options. You can use Afterpay to complete a purchase at many online and in-person retailers, including such popular merchants as Target, Sephora, and Foot Locker.
With Afterpay, you'll make your first payment at the time of checkout, then send three additional payments every two weeks (for four total payments). Assuming you keep up with your payment schedule, you'll be able to complete your purchase with no interest or added fees.
Afterpay also offers longer-term plans with 6 or 12 monthly payments. These require a credit check, and you will pay interest, with the rate based on your credit record.
Advantages of Afterpay
Here's why you may like Afterpay:
Flexible purchasing power
No interest charges
No fees for using the service
Basically, Afterpay offers a no-cost option that increases the flexibility of your purchasing power. And once you've completed your first purchase using Afterpay, your eligibility for future loans will increase, allowing you to make larger future purchases with no interest charges.
Disadvantages of Afterpay
Afterpay has some drawbacks:
No guarantee of approval at the time of purchase
Late payment fees of up to $8 (cannot exceed 25% of purchase)
Credit or debit card information is required to use the service
However, these drawbacks are relatively minor, and as long as you make on-time biweekly payments, you'll complete the purchase within six weeks and never pay a penny of interest.
---
2. Sezzle

Best for Rescheduling Payments

Based out of Minneapolis, Sezzle has earned its place among Klarna alternatives due to its increasing popularity among younger consumers. Sezzle also boasts a variety of participating retailers, including Bass Pro Shops, Thursday Boot Company, and Target.
You make a series of four payments every two weeks. Your first is due at checkout, which means you'll make your remaining payments over the course of six weeks.
Like other BNPL apps, Sezzle provides the option for interest-free financing — as long as you repay your loan on time. But what makes Sezzle more noteworthy is the option to reschedule your repayment. You can reschedule a payment for free the first time, though you'll be charged a late fee for any additional missed or rescheduled payments.
Advantages of Sezzle
Sezzle offers such advantages as:
Flexible repayment plans
No interest is required for six-week financing
No hard credit check
These benefits make Sezzle a highly competitive financing app, and the ability to reschedule loans gives it added flexibility compared to other Klarna alternatives.
Disadvantages of Sezzle
Sezzle has some drawbacks, which include:
Lower financing amount for first-time users
Refunds are not available through the app (the user must contact the retailer)
Late fees for missed or rescheduled payments
Again, you can reschedule a payment for free if it's your first time, but after that, you'll be charged up to 25% of the purchase amount for late or rescheduled payments.
---
3. Zip (Formerly Quadpay)

Best for Multiple Merchants

If you're looking for a simple BNPL option, Zip (formerly known as Quadpay) offers transparent pricing and simplified repayment options. You'll divide your purchase among four equal payments, the first of which is required at the time of purchase.
What makes Zip unique is the way you complete the purchase. When you use the app, you'll generate a virtual Visa card that you can use on your phone. You can use this card at any retailer that accepts Visa payments, giving you a broader range of merchants than other Klarna alternatives.
Advantages of Zip
Zip offers benefits that include:
Accepted at a wider range of stores
Availability of zero-interest financing
Accepted at online and in-store retailers
The virtual Visa card serves as Zip's truest selling point. Because you can use it just like a credit card, Zip gives you wider options than other apps on this list.
Disadvantages of Zip
Zip isn't without its drawbacks:
Potentially high interest fees on the card you link to Zip
High late fees
Every purchase requires a separate approval process
If you stick to your repayment schedule, you can avoid late fees. Otherwise, you'll pay $7 for your first late payment. If you don't pay within seven days, the fee doubles to $14.
---
4. Splitit

Best for Linking to Your Existing Credit Card

Splitit offers a slightly different approach to the buy now, pay later process. Like other Klarna alternatives, you can split your purchase into four payments with a biweekly repayment schedule.
But Splitit doesn't require you to pay using the app itself. Instead, you'll use your existing credit card, after which the app will put a hold on your card equal to the total amount of the purchase. As you complete your repayment schedule, this hold is reduced.
You can use Splitit anywhere that accepts your card. This not only gives you a wide range of options but also allows you to continue gaining reward points on your preferred credit card. The only drawback is that you might owe interest charges and late fees, depending on your card issuer. However, Splitit will never charge these fees directly.
Advantages of Splitit
Splitit has some great benefits:
The ability to use your existing credit card
A wider range of stores where you can use Splitit
The ability to continue gaining card rewards
These features may be ideal for those who want to make large credit card purchases but want to divide their payments into installments.
Disadvantages of Splitit
What are the drawbacks of Splitit? They include these:
Fees and interest can vary by the credit card issuer
Can only be used by existing cardholders
Some card users may find an installment plan like Splitit unnecessary. Many card issuers offer 0% interest for new customers, eliminating the need for a middleman like Splitit. Still, some consumers can benefit from the convenience of a buy now, pay later plan, along with the chance to accumulate card rewards.
---
5. Affirm

Best of the Klarna Alternatives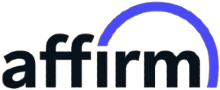 Why is Affirm the best Klarna alternative? Its core features are identical to other apps on this list: You can finance your purchases with an interest-free Pay in 4 option, though you can also split larger purchases (up to $17,500) into monthly payments.
While longer loans require interest payments, the Pay in 4 installment plan does not. In fact, you'll never pay fees of any kind, even late fees.
American consumers may find that Affirm can be used at a wider range of retailers than other Klarna alternatives, including Best Buy, Expedia hotels, Nike, and Peloton.
Advantages of Affirm
Affirm offers advantages that include:
No interest fees or late penalties for the Pay in 4 plan
Financing options for purchases up to $17,500
A wide range of participating retailers
These features alone make Affirm one of the best Klarna alternatives, especially for those who want an installment option that never charges a fee.
Disadvantages of Affirm
Unfortunately, Affirm is not without drawbacks:
Long-term financing options may have high interest payments
No refunds on interest paid for items you've returned
Long-term financing may require a high down payment
You might have noticed that the biggest drawbacks apply to the long-term financing option. Those who stick with the Pay in 4 plan should benefit most from the Affirm app and enjoy greater flexibility and increased purchasing power.
---
Is Buy Now, Pay Later a Good Option?
Buy now, pay later apps will likely rise in popularity among both retailers and consumers. Even PayPal offers a popular Pay in 4 plan for its users.
If you budget accordingly, these plans can be an effective way to make large or unexpected purchases without eliminating the cushion of your monthly budget or forcing you to tap into your savings.
Although installment plans are convenient, users who don't keep track of their purchases could face late fees and other penalties. But that's true of many payment options, including consumer credit cards.
In the end, you may discover that apps like Klarna and its alternatives provide an efficient, helpful way to work within your budget and make the purchases you need on a timetable that fits you.
The post 5 Top Klarna Alternatives: Features, Fees, Pros & Cons appeared first on FinMasters.
FinMasters