Are you considering Venmo as your preferred digital payment platform? Thinking of moving away from Venmo, or adding to it. Consider these Venmo alternatives before making a decision.
Given the explosion in payment platforms in recent years, it's easy to forget that just a few short years ago, the only real player in the field was PayPal. Today, one of the most popular options is Venmo. Its revenue has consistently trended upwards over the last several years, from $160 million in 2017 to $850 million in 2021 with over 70 million users.
However, consumers and small businesses are increasingly concerned about privacy and data security in payment-related technology. Many are reconsidering which digital payment apps they choose to use and how they use them. If you're among those users examining your available digital payment options, consider these six alternatives to Venmo.
The Pros and Cons of Venmo
Originally intended as a simplified way to help friends split a check or send money back and forth, Venmo has evolved quite a bit since its public debut. The peer-to-peer functionality is still free if you use your Venmo balance. You can use the Venmo debit card or the app itself to make purchases at millions of retail businesses. You can also use a credit card to fund purchases.
Because money changes hands instantly and is accessible for use through the Venmo debit card or the app itself, you don't necessarily have to replenish your balance in order to send money or make a purchase. And true to its origins, it remains a very popular way to split a check or share a bill with others, such as roommates or friends.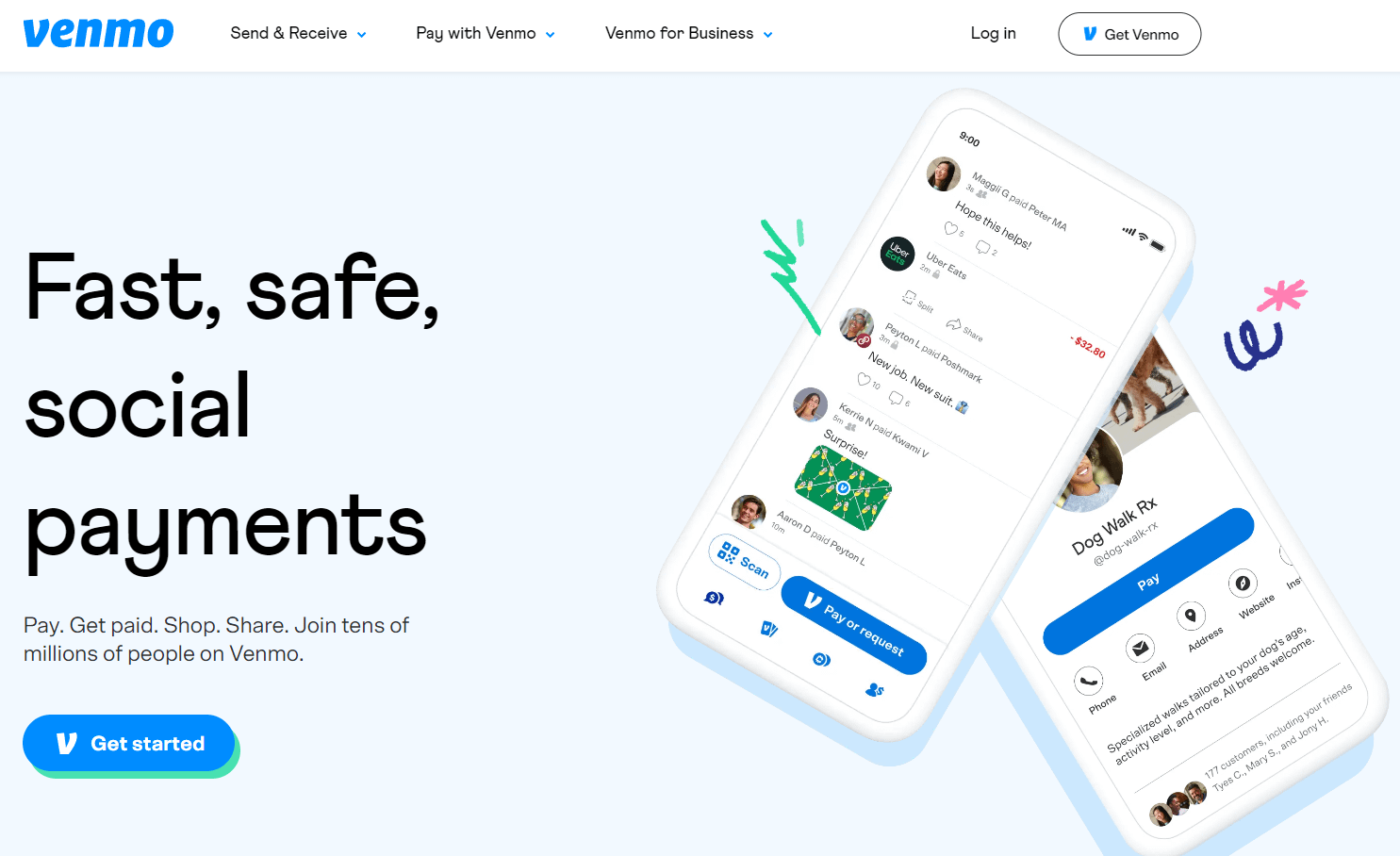 Spending Limits
Venmo sets an initial spending limit of $299.99. However, users can verify their identities to enjoy an increased limit of $50,000 every seven days.
Fees
Venmo doesn't charge fees for sending money between friends and other individuals, but it does assess a 2.9% transaction fee for purchases and other business-related payments. If a user wants to instantly transfer funds from Venmo to a linked card, Venmo charges a 1.75% fee.
Privacy Concerns and Venmo
The signature feature of the app is its social feature, which is the underlying source of the privacy debate over the app. By publishing a constantly updating feed of users and transactions, Venmo perhaps unwittingly created an opening for a determined person to trace connections and even snoop out private accounts, potentially opening up users to fraud and identity theft. Outlets such as Wired began calling out Venmo's security and privacy concerns as early as 2018. 
That potential vulnerability was publicly revealed in dramatic fashion during the summer of 2021, when, less than six months into the Biden administration's first term, Buzzfeed reporters discovered the secret Venmo accounts of the President and First Lady, as well as a number of people in the couple's private social network. That revelation sent many users out on a search for alternatives to Venmo.
Originally, Venmo user account settings defaulted to "public" so that if the user didn't mark transactions as private, others could monitor their transactions on the app. In response to the discovery of the Biden's accounts, Venmo made some changes. For instance, the app added user controls to set the friends list to private, public, or visible only to friends.
You can also help protect your account by setting your transactions to private, making your Venmo user ID anonymous (i.e., not your actual name), and limiting who you connect with on the app.
6 Best Venmo Alternatives
If the privacy issues or other features don't seem right for you, consider these alternatives to Venmo.
#1
PayPal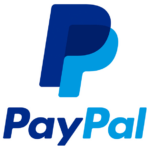 Available On: Web; Android; iOS
Fees: No fee for P2P transfers or purchases for consumers; 2.99% for businesses
Spending Limits: None (though your bank may set limits)
#2
Zelle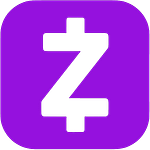 Available On: Within bank apps and sites; Android; iOs
Fees: No fees
Spending Limits: Unverified users: $500 for withdrawals, and $10,000 for payments. Verified users: $60,000 per transaction
#3
Apple Pay/Apple Cash
Available On: Built into iOS Wallet app
Fees: No fees
Spending Limits: $10,000 per message and per week; maximum balance on hand of $20,000
#4
Cash App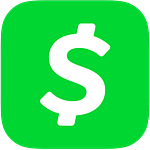 Available On: Web; Android; iOS
Fees: No fee for personal transfers funded by debit card; 3% fee for credit-card funded transfers; 1.5% fee for one-day withdrawal
Spending Limits: Unverified users: $250 in a 7-day period, $1,000 received every 30 days. Verified: send up to $7,500 every 7 days, with no receipt limits
#5
Google Pay
Available On: Web; Android; iOS
Fees: No fees for personal transfers; 1.5% to withdraw funds to a debit card
Spending Limits: Unverified users: $300 per payment. Verified: Up to $10,000 per payment and per week. 
#6
Meta Messenger Pay
Available On: Available inside Messenger on desktop, Android and iOS apps
Fees: No fees
Spending Limits: Sending funds from Visa or MasterCard debit card: up to $10,000/transaction. Sending funds from PayPal: $3,000/transaction. 
1. PayPal
One of the most popular alternatives to Venmo is its parent company's signature service, PayPal. It's not just a way to send money to friends and family members with PayPal accounts of their own. It's also a popular checkout option for millions of online merchants.
Signing up for a PayPal account is free, and you can also request a debit card to access funds in your account. Once it's set up and configured, PayPal is fairly simple and direct to use. It accepts multiple kinds of payment, including crypto and Venmo among other funding sources. What's more, if you use PayPal to make a purchase that turns out to be fraudulent, PayPal can assist you in getting a refund.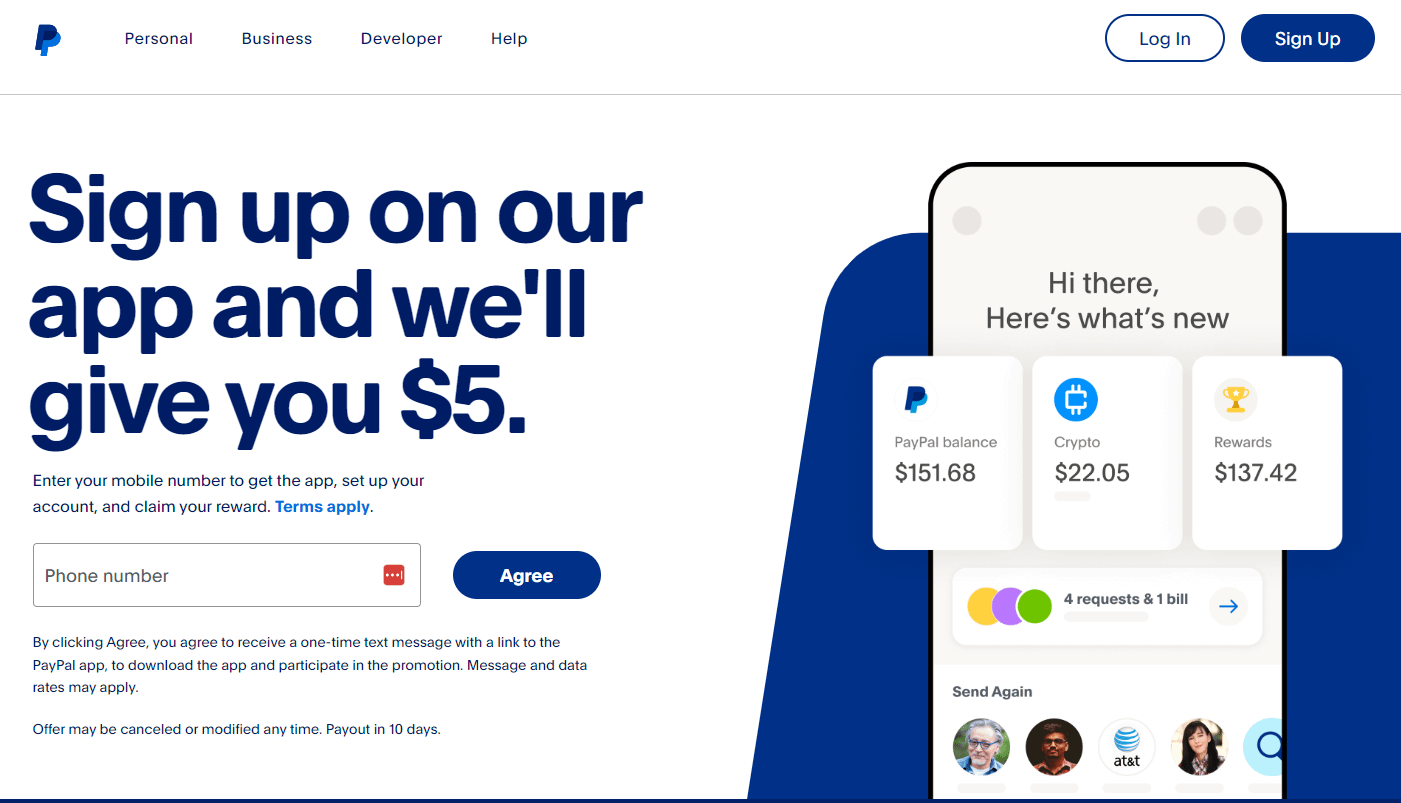 Spending Limits
Verified users can send unlimited total amounts of money or up to a maximum of $60,000 in any single transaction. Unverified PayPal account holders are limited to $500 for withdrawals and $10,000 for payments. Users who don't have a PayPal account are limited to $4,000 for one-time payments.
Fees
Recently announced changes to the PayPal fee schedule for goods and services took effect in late July 2022. Currently, the seller fee for goods and services is 2.99%; this amount comes out of the seller's revenue and is not added to the total price for the purchasing user. Transfers to friends and family members are fee-free, but you can expect to pay a 1% fee for instant transfers to your bank or credit union account.
Privacy and Security
PayPal collects certain user data, including GPS location data and IP addresses. The company reserves the right to use user data for its own internal uses, as well as to share it with other entities owned by PayPal, such as Venmo. In 2021, it was disclosed that using Twitter's Tip Jar feature through a personal PayPal account showed the recipient the account holder's address.
---
2. Zelle
If you're mainly interested in bank-to-bank transfers, Zele will be one of the leading alternatives to Venmo.
Zelle is a simple, straightforward way to transfer funds from one person to another. It works inside your bank's website or app interface (although there's also a mobile app for Android and iPhone mobile devices). Funds you receive from others go straight into your bank account. However, you won't be able to use it for a purchase at a brick-and-mortar store. Despite the stripped-down functionality, it might be the perfect solution for peer-to-peer transfers.
Zelle is a bank-to-bank service owned by a consortium of major banks. Not all banks provide the service.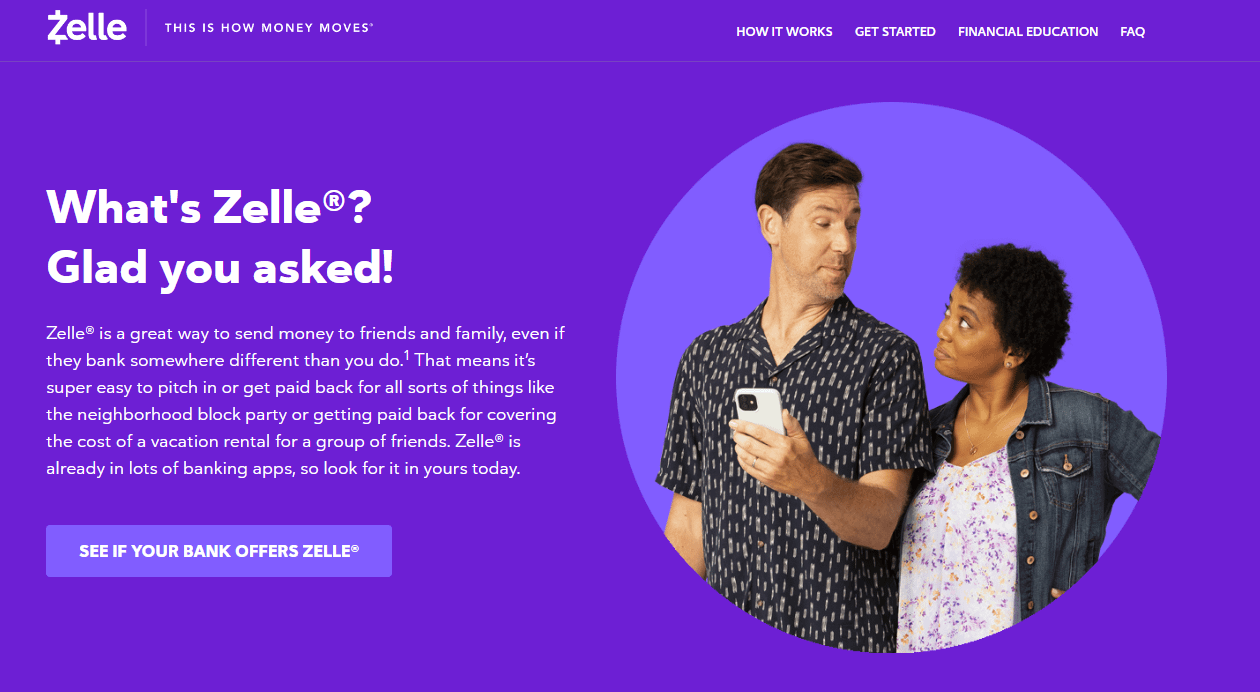 Spending Limits
Your sending limits are set by your bank, not Zelle, although generally, you'll see those limits rise the more you use Zelle.
Fees
Zelle doesn't charge any fees to send or receive money, although it recommends checking with your bank, which might assess additional fees.
Privacy and Security
Zelle uses authentication and fraud monitoring, although it doesn't require two-factor authorization for peer-to-peer transfers. However, according to one recent NY Times report, fraud involving Zelle is spreading and increasingly common. What's more, your bank may or may not assist you if you find out you've been scammed using Zelle in connection with your bank account. Make sure to send money to and accept funds only from people you know.
---
3. Apple Pay/Apple Cash
If you're fully committed to the Apple universe of smartphones, watches, and other devices, you might appreciate the appeal of Apple Cash as these tools integrate smoothly into the familiar interface, making paying for purchases and sending money to friends fairly fast and easy.
Apple Pay handles your retail and website purchases, while Apple Cash lets you send peer-to-peer payments using Messages on any enabled iOS device. Apple Cash for peer-to-peer transfers is available on the web and via iPhone/iOS app access, but only for U.S. residents so far.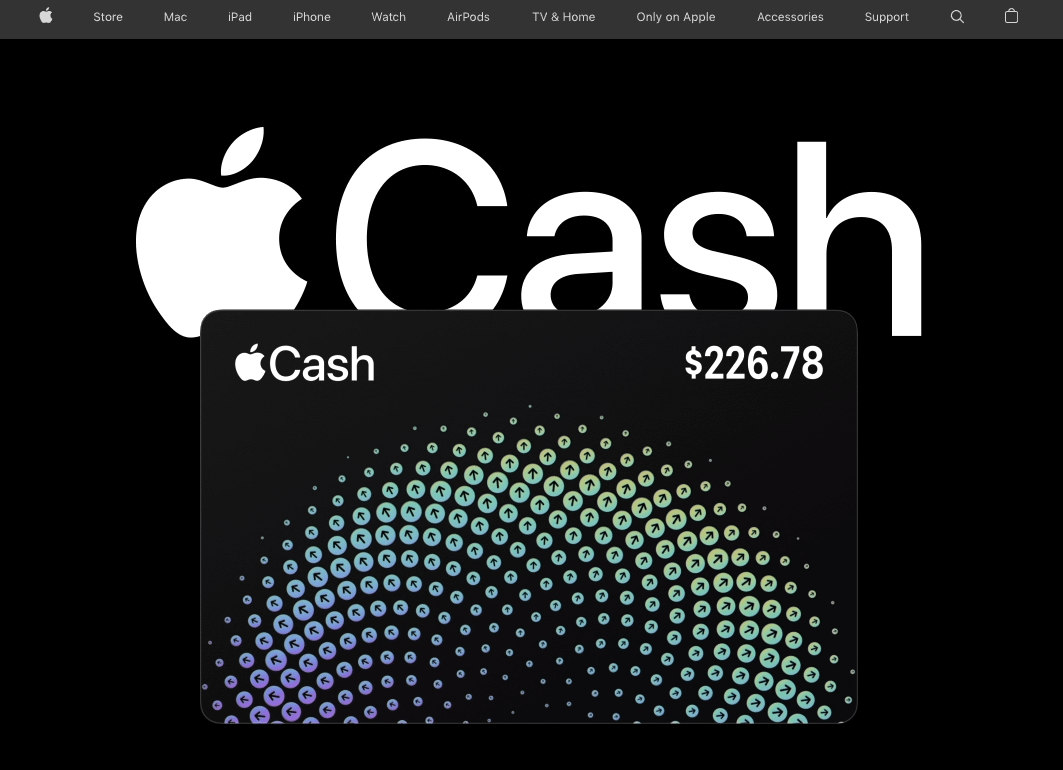 Spending Limits
Users can receive or send payments as low as $1 and as high as $10,000 per message. There's also a seven-day sending and receipt limit of $10,000. Additionally, the maximum Apple Cash balance verified users can have on hand is $20,000.
Fees
Apple Cash charges no fees for sending funds to other individuals if you use a debit card. Since you can't currently use credit cards to add money to your Apple Cash account, you won't incur any additional credit card-related fees with the service.
Privacy and Security
Apple Cash uses NFC, a mobile-based technology that enables businesses to accept funds from customers quickly and easily, without having to hand over or manipulate physical cards. In addition, Apple uses Touch ID and FaceID in conjunction with anonymized digital tokens to protect your card and other sensitive data. A 2018 Consumer Reports study found that Apple Cash exceeded the performance and security of other peer-to-peer platforms, including Venmo.
---
4. Cash App
Cash App is a free mobile payment platform for peer-to-peer payments between friends. You can also use the Cash App debit card to make online and in-store purchases. One of the value-added features of Cash App allows you to purchase both stock and Bitcoin through your account. It also offers access to some tax preparation and filing tools.
Currently, Cash App is only available for US and UK users. If you need to make international transfers to other countries or in other currencies, PayPal is probably a better option.
Spending Limits
You can send up to $250 with Cash App in any seven-day period, and receive up to $1,000 every 30 days. Verified users can send up to $7,500 each week, with no limits on received funds.
Fees
As with other platforms, Cash App offers fee-free transfers if you use a debit card to fund the transfer. If you're receiving funds, you'll generally have access to the funds within three business days. However, if you use a credit card, you'll be assessed a 3% fee. Choosing a quicker one-day turnaround will cost you 1.5% of the total.
Privacy and Security
Cash App combines encryption and fraud monitoring technology to keep your user data secure and private. Any detected fraud will lead the platform to cancel the suspect transaction. Single-use login codes are sent via text or email. You can also include an additional layer of protection by enabling a Security Lock setting, which requires you to re-enter your password for a completed transaction.
---
5. Google Pay
If you're a fan of Google products, Google Pay is a good alternative to Venmo for peer-to-peer and business transactions, especially if you're an Android user (although iPhone users can use it, too). One app handles all your payment needs. It's easy to use and fairly streamlined, given the fact that it supports so many transaction types. You can also use the platform to receive business payments for services or goods if you run a small business or have a freelancing side gig.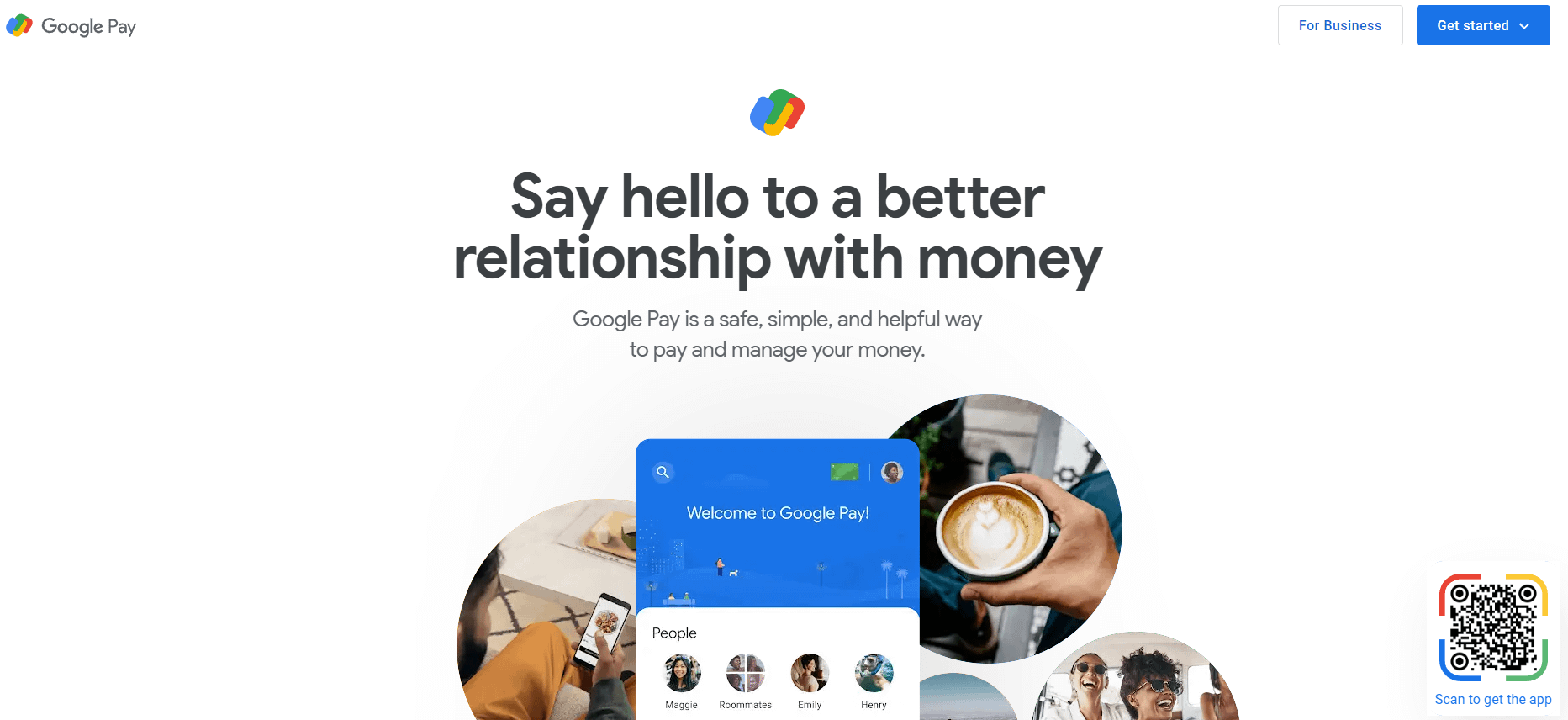 Spending Limits
Verified Google Pay users can send up to $10,000 per transaction as well as per week. Unverified users are limited to $300 per payment.
Fees
As with many of its competitors, Google Pay charges no fees to send money to other individuals. If you use a debit card for transfers, you'll be assessed a 1.5% fee.
Privacy and Security
Google uses NFC technology to enable contactless transactions. Sensitive card data is protected by encryption, although further details on Google's commitment to protecting your personal data are somewhat lacking. Unlike PayPal, Google Pay does not offer buyer protection, leaving each user to negotiate disputes with merchants on their own.
---
6. Meta Messenger
Meta, the company that owns Facebook, has fully embraced the metaverse. It's also embraced digital payments, offering its own alternative to Venmo. Users of Meta Facebook's Messenger app can send and receive money directly within the Messenger app itself. Formerly Facebook Pay, Meta Pay connects you financially through all of Meta's platforms, including Instagram, WhatsApp, Facebook, and of course Messenger. You can use it to send money to individuals or businesses and to make charitable contributions.
It's the same app and mostly the same experience that existed before, but with some new developments and more in the pipeline to make sending money to friends and businesses more frictionless and straightforward. For example, U.S. users can now split payments, send cash for birthdays, and use QR codes to both send and ask for money from others. In other countries, Meta is rolling out additional upgrades and features to address those countries' specific needs.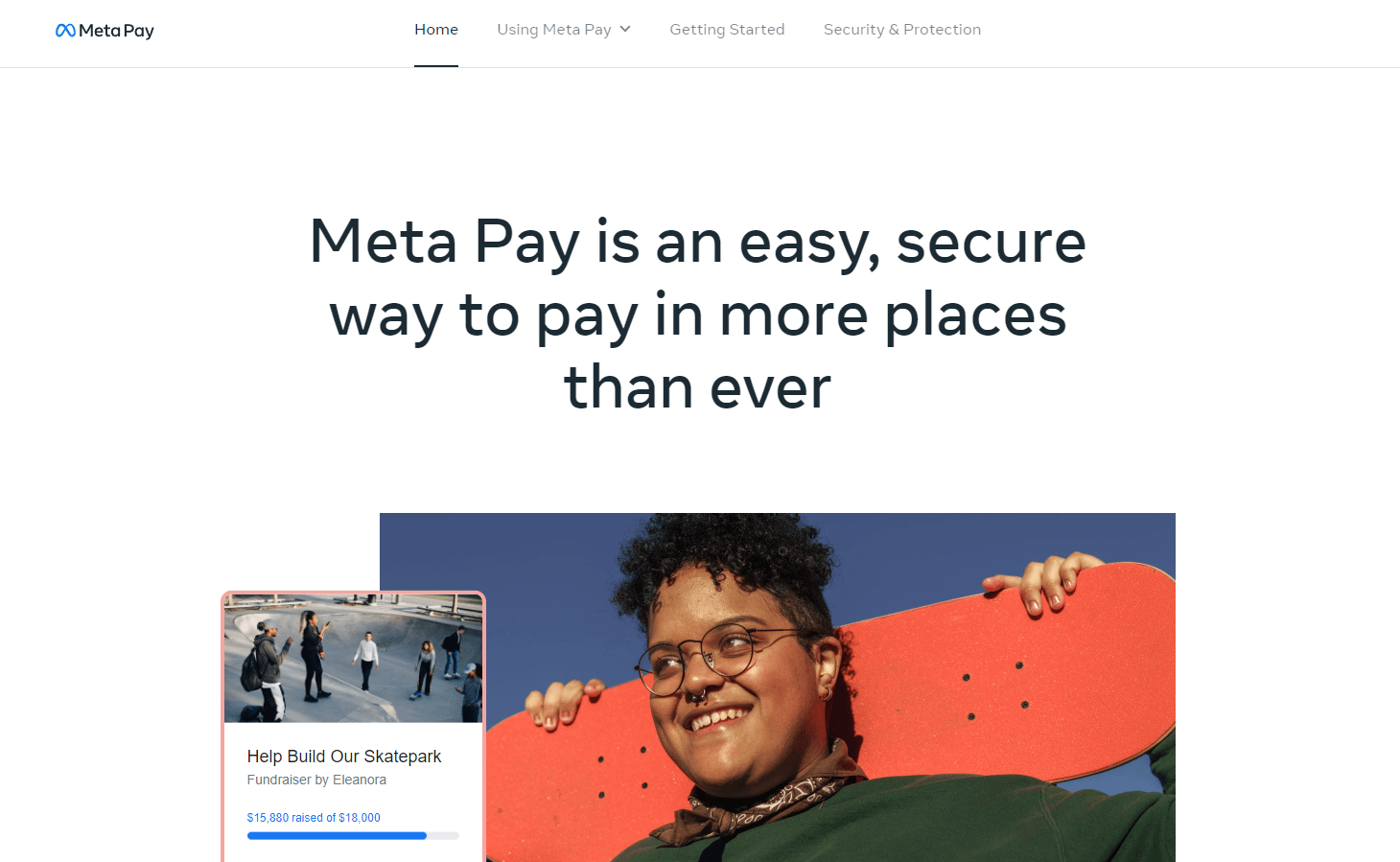 Spending Limits
If you use a Visa or MasterCard debit card, Meta limits you to $10,000 per transaction and per 30-day period. Transactions funded by PayPal accounts are limited to $3,000.
Fees
Meta Pay assesses no fees for sending and receiving funds.
Privacy and Security
Meta encrypts your payment data and stores it securely. The company also states that it conducts routine monitoring to identify and root out fraud and unauthorized activity and proactively contacts users who might be affected. You can add an additional layer of security by creating a PIN or using your smartphone's native biometric security tools, such as fingerprint and face ID.
---
Which of These Venmo Alternatives Is Right for You?
Digital payments are so well established that almost anyone will want a presence on at least one platform, possibly more. Venmo might be right for you, or one or more of these alternatives to Venmo.
Each of these platforms has advantages and disadvantages, and each is aimed at a specific type of user. You'll need to assess your needs, review your options, and choose the best combination of platforms for you!
The post 6 Best Venmo Alternatives in 2022 appeared first on FinMasters.
FinMasters