However, qualifying for credit cards can be difficult with limited or poor credit. The classic catch-22 is that you need good credit to qualify for credit accounts, but you need credit accounts to build good credit.
One way to get around that trap is to open credit cards that don't require a credit check when you apply. They're less common, but there are enough that you should be able to find one that meets your needs.
To help you get started, let's review some of the best credit cards with no credit check.
5 Best Credit Cards With No Credit Check
When compiling this list, we primarily considered the following factors:
Annual fees
Cashback rewards
Means of underwriting
Customer review trends
Security deposit requirements
Annual percentage rates (APR)
Based on that research, here are our top picks for the best credit cards with no credit check:

These cards don't require credit checks, but that doesn't mean you're guaranteed to qualify for them. Several have alternative eligibility requirements, and the card issuers may reject your application if you don't meet them.
1. Tomo Credit Card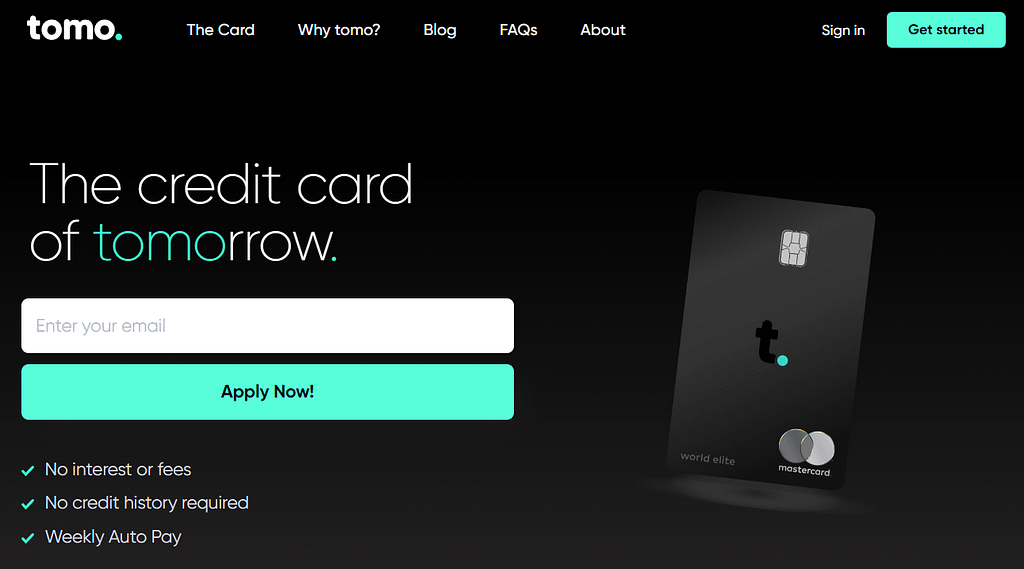 The Tomo Credit Card is one of the more favorable credit cards you can get without a credit check. There are no annual fees or interest charges, and it has a decent rewards program for a card accessible with a bad credit score.
You earn discounts and benefits on Doordash, ShopRunner, HelloFresh, and Lyft. Most importantly, the account doesn't require a security deposit, which is rare for credit cards with no credit check.
That said, Tomo has some notable drawbacks. For one, there are no interest charges because the card won't let you carry a balance for more than a week. It automatically debits your bank account every Monday to pay off your current balance, no matter when you incurred the charges.
If you want to use your credit card to defer payments, this will be a serious problem, and the Tomo Credit Card might not be your best choice. If your main objective is to build credit, those weekly payments could be ideal, as they will keep your credit utilization low.
In addition, Tomo uses an alternative underwriting method that involves reviewing your bank and investment account activity. As a result, you can still fail to qualify for the account, even though Tomo doesn't check your credit.
Finally, the company receives consistent complaints from previous applicants and cardholders. Users report encountering glitches and problems throughout their customer journeys, with little assistance from customer support. Tomo is a relatively new company and they may sort these problems out, but you should be aware of them.
Unfortunately, there are very few unsecured credit cards that you can get with no credit check. If you're not willing to compromise on those two factors, you'll need to make other sacrifices and take calculated risks.

Learn More: Tomo Credit Card Review (2022): Unsecured Card With No Credit Check
---
2. OpenSky Secured Visa Credit Card

Besides its lack of a credit check, the OpenSky secured account's primary appeal is that it doesn't require a bank account. You can qualify for the card without one and pay the security deposit using a money order, check, or Western Union transfer.
That's highly beneficial to the 6% of American adults who are unbanked, especially since it's not always easy to rectify that issue. Unpaid overdraft fees, bounced checks, and bank account closures can damage your banking history, making it difficult to qualify for new accounts.
Otherwise, the OpenSky Secured card is a typical starter card. There's a $35 annual fee, and you won't earn any cashback rewards on your purchases. It also requires a traditional security deposit, starting at $200.
The APR is relatively low compared to other accounts on this list at 20.39%, but that's still too high to be affordable. Carrying a balance on even the cheapest of credit cards is a losing strategy.
Unfortunately, reviews indicate that the credit card company's customer service may leave something to be desired. Apparently, the phone line is often unavailable, and representatives aren't always as helpful as they could be.

Learn More: OpenSky® Secured Visa® Credit Card Review
---
3. Chime Credit Builder Card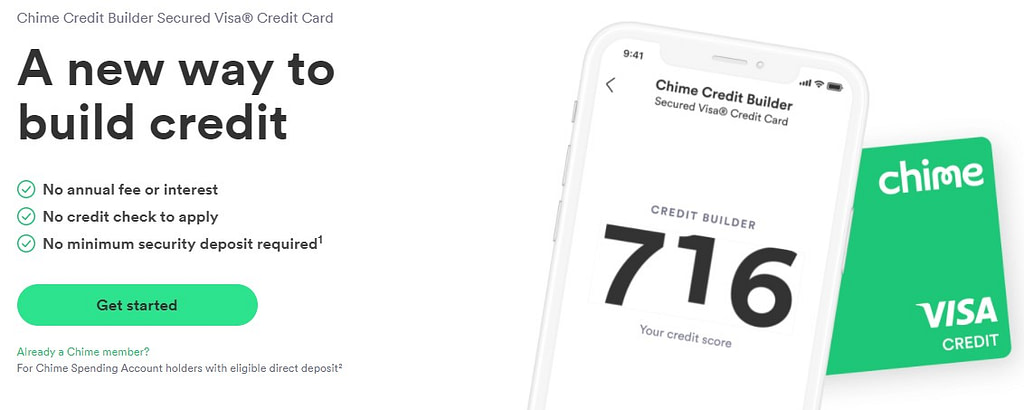 The Chime credit builder card's unique draw is its revolving security deposit system. Instead of requiring a large lump sum upfront that's inaccessible for months at a time, you make a new deposit each month.
The amount becomes your credit limit for the period, and the funds you provide go toward your balance at the end of each month. Fortunately, there's no minimum, so you can forego the deposit entirely when cash is limited.
An interesting result of that system is that Chime doesn't affect your credit utilization ratio because there's no fixed credit limit. You don't have to worry about damaging your score by running up a balance on the account.
Otherwise, the Chime card has fairly average terms. There's no annual fee and no interest because you can't carry a balance, but you won't be able to earn any cashback rewards.
There are no alternative means of underwriting instead of a credit check, but you need a Chime bank account to sign up. The provider won't accept your monthly deposits from any other account.
Fortunately, Chime generally receives positive customer reviews. Comments indicate that the card is effective at building credit, the mobile app is easy to use, and the customer service is reasonably responsive.

Learn More: Chime Credit Builder Visa® Card Review (2022)
---
4. GO2bank Secured Card

GO2bank offers a traditional secured credit card with no credit check. You'll need to provide a security deposit upfront to qualify, but you get to determine the amount and set your credit limit. The minimum amount is only $100, which is lower than average.
In addition, you must have a GO2bank account with direct deposits of at least $100 in the last 30 days to qualify. The provider requires that you fund your security deposit by transferring money from the GO2bank checking account.
GO2bank's secured card is pretty rudimentary otherwise, like most credit cards with no credit check. There's no annual fee, but the APR is high, and you won't be able to earn any cashback rewards.
The most notable downside is that reviews suggest you may encounter account problems and struggle to receive adequate assistance. Previous customers report that there's often a language barrier with the support team. However, many complaints are about the company's prepaid debit cards, not the secured card.
---
5. Self Visa Credit Card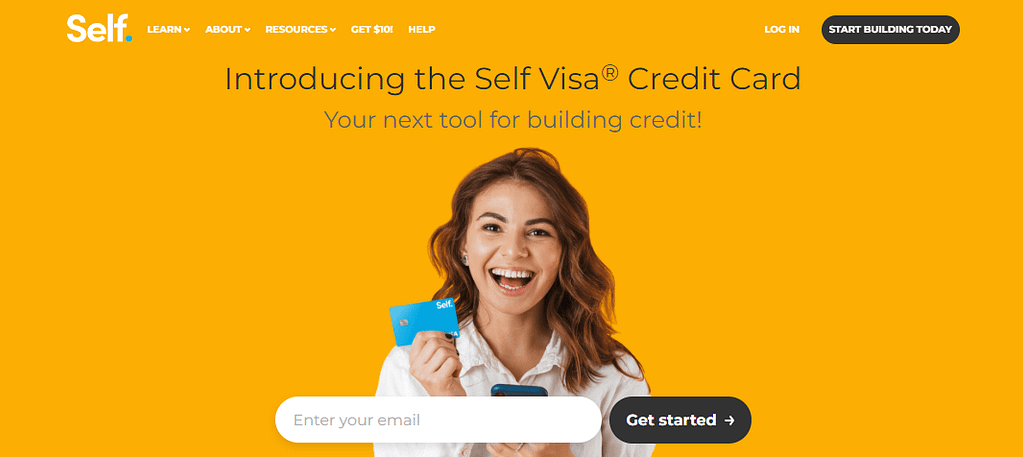 The Self Visa credit card is a great way to build a foundation for your credit mix. To qualify for the account, you must first open a Self credit builder loan. It's a unique type of installment debt that uses your proceeds as collateral, keeping them in a locked account for the life of the loan. As a result, it doesn't require a credit check either.
During the repayment term, you make monthly payments as you would for any other loan. Once you've made three on time and paid off $100 in principal, you can open the Self Visa credit card using the amount as your security deposit.
Other than the unusual process for opening the card, it's similar to other no-credit-check cards. There's a $25 annual fee, and no cashback rewards or introductory offers.
Self receives mixed ratings across review platforms. Comments indicate that customer service can be tough to reach when you need to resolve issues or close accounts. In addition, they note that the loan and card are effective at building credit if you pay on time but have no safety net for missed payments and can be costly.

Learn More: Self Visa Credit Card Review
---
Choose a Card You Can Use Safely
Credit cards are incredibly convenient for managing your finances and building credit when used effectively. However, misusing them can quickly backfire, trapping you in a cycle of expensive debt and tanking your credit score.
As a result, it's essential that you build a solid financial foundation and learn to use credit cards safely before applying for one. Here are some best practices to follow:
Keep an emergency fund equal to your credit limit
Avoid using cards to finance large purchases
Set up autopay to prevent yourself from forgetting payments
Pay your statement balance monthly to avoid interest charges
Credit cards should primarily be a way to build credit and earn rewards. Their interest rates are too high to risk carrying a balance on the account. If you think you might struggle to pay your statement balance on time each month, consider waiting to apply until your finances are more stable.

Learn More: How to Use Credit Cards Wisely: 11 Rules to Live By
Consider Secured Cards with Credit Checks
Applying for a credit card with no credit check is an easy way to qualify for an account despite having bad credit or limited credit history. However, it's usually not necessary. Plenty of accounts with credit checks are available to subprime applicants.
If you're willing to undergo incur a hard inquiry, you may be able to qualify for a credit card with more favorable terms than the ones on this list. Explore those options thoroughly before committing to a card with no credit check.

Learn More: The Best Credit Cards for Bad Credit in October 2022
Take Your Next Steps
Opening a credit card is an effective way to establish or rebuild your credit score. You can also significantly speed up the process by acquiring additional credit accounts, especially installment loans that diversify your credit mix.
However, you must learn how credit works before proceeding. Improving your score while protecting your finances is complex, and the journey is long with many potential pitfalls. Fortunately, you can be successful with patience and discipline. It takes time, but your efforts will pay off!
The post Best Credit Cards With No Credit Check in 2022 appeared first on FinMasters.
FinMasters