Using credit repair software is the middle ground between hiring a credit repair company and trying to repair your credit yourself. With software like DisputeBee's, you are still repairing your own credit but you have a guide to help you through the process.
In this DisputeBee review, we'll take a look at how well DisputeBee delivers on the self-guided credit repair experience and evaluate whether the software is worth the subscription price.
DisputeBee Review & Ratings
DisputeBee
DisputeBee offers a software platform with dispute letter generating and dispute tracking features for individuals and credit repair businesses.
The streamlined process makes this software an excellent option for those with a lot of items to dispute. The price point might be too high to be of sufficient benefit to users with only a few disputable accounts.
Pros
Numerous dispute templates
90-day money-back guarantee
Cons
Complicated setup process
What is DisputeBee
DisputeBee's core service is a credit repair software package designed for credit repair businesses, but they also provide credit repair software for individuals. 
Their software works in conjunction with IdentityIQ to identify the negative items on your credit reports and guide you through the dispute letter process. 
They have templates and options for disputing a wide variety of issues, including collections, late payments, inquiries, bankruptcies, and more. They also have built-in features to help you track all of your disputes. 
All the tools and resources they provide are designed to help you navigate the credit repair process quickly and effectively. 
Access to the software is provided on a monthly subscription basis with an additional subscription requirement for credit monitoring. 
The streamlined process makes this software an excellent option for those with a lot of items to dispute. The price point might be too high to be of sufficient benefit to users with only a few disputable accounts.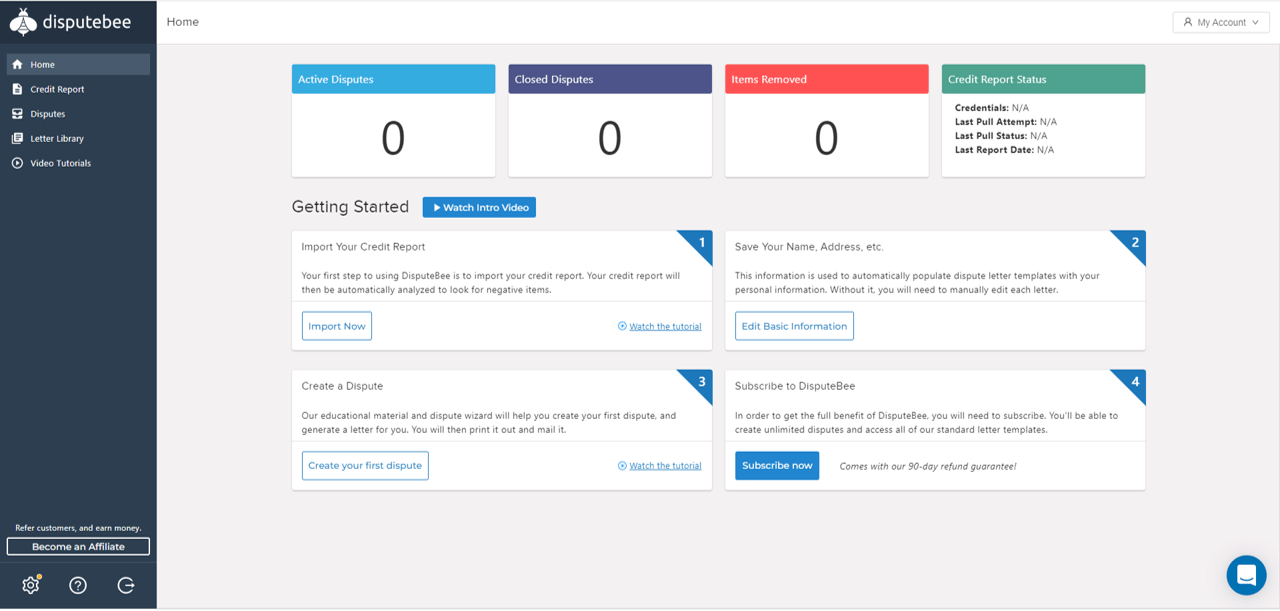 How Does DisputeBee Work?
There are a few different processes that DisputeBee utilizes. For instance, there is one process for signing up and another for importing your credit reports. 
Here we'll look at all the key processes you'll need to know for using DisputeBee to assist in your credit repair efforts. 
How Do You Sign Up?
In order to use the DisputeBee software, you'll first need to create an account. 
Step 1: Go to the Sign-Up page and create a username and password.
Step 2: Choose either the Individual plan (personal credit) or the Business plan (credit repair businesses). Learn more about the plans

Step 3: This takes you to your dashboard. Go to Settings. 
Step 4: Fill in your Basic Information (important for filing disputes).
Step 5: Go to Billing and select your desired subscription plan.
Step 6: You will be prompted for payment information.
Step 7: Once you select Pay and Subscribe, your subscription will be active.
How Do You Import Your Credit Report?
Before you can file a dispute, you'll need to import your credit reports. This will require you to pay for a subscription to IdentityIQ if you don't already have a membership. 
Step 1: Select the Import Now option from your dashboard. 
Step 2: Click the link DisputeBee provides to sign up (this will get you a discount). If you already have an IdentityIQ membership, skip to step 5.
Step 3: You will be redirected to IndentityIQ's website. Select the Get Yours Now option. 
Step 4: Proceed through IdentityIQ's account setup process, including creating your account, verifying your identity, and entering a payment method. 
Step 5: Back on DisputeBee's website (Import option), enter your login info for IdentityIQ, and select Import. 
Step 6: Your credit reports will now be imported and displayed along with your credit scores.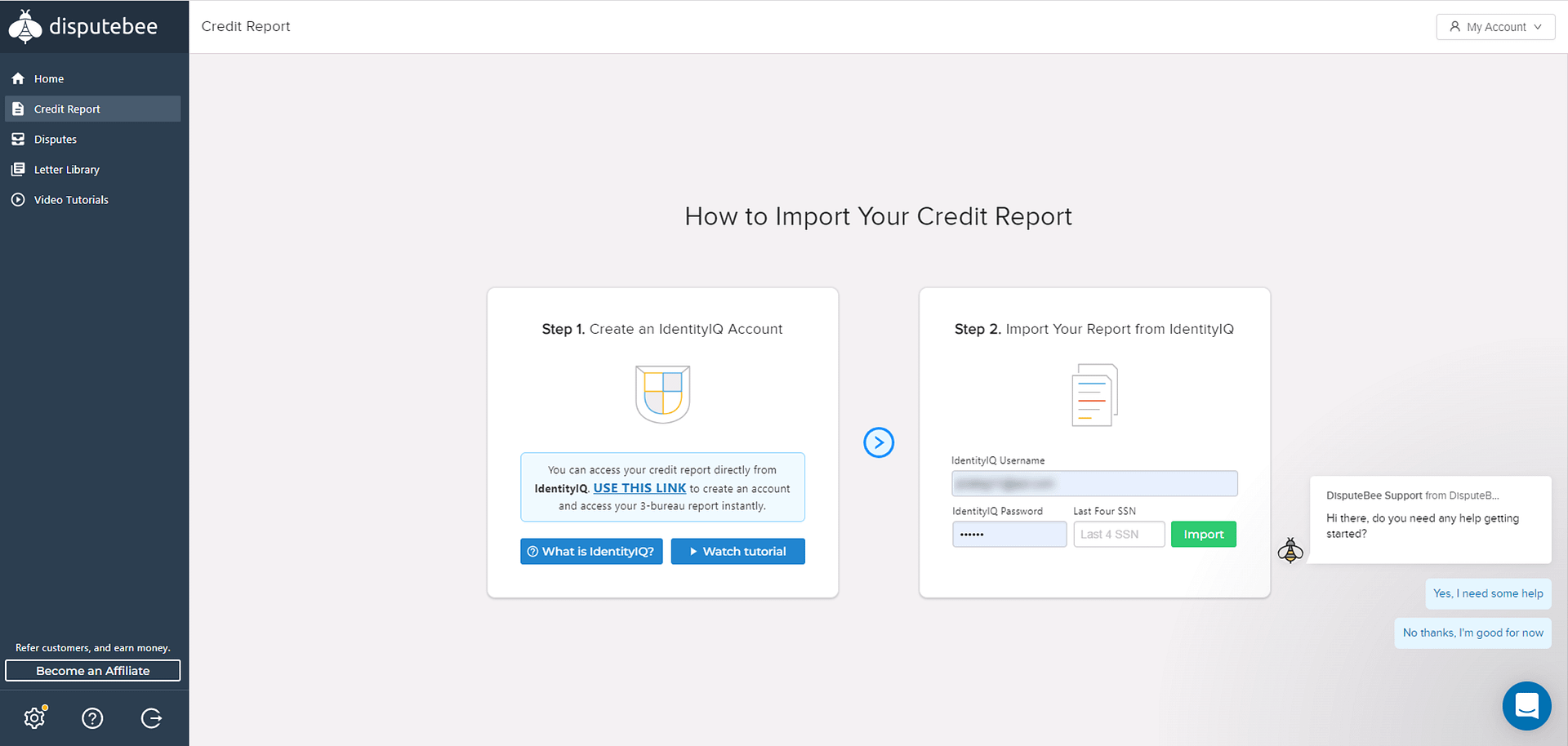 How Do You File a Dispute?
Once your credit report has been imported, the option to create disputes on the Disputes page will become available. 
Step 1: Select New Dispute.
Step 2: Select the type of dispute (this includes inquiries, late payments, collections, etc.).
Step 3: You'll need to locate the items you want to dispute, choose a dispute reason and select the credit bureaus you wish to dispute them with. Then click Next. 
Step 4: DisputeBee reviews the next steps you will need to take before giving you the option to create the disputes. 
Step 5: Review, edit, and download the generated dispute letters. 
Step 6: Print and mail each dispute letter, then mark it as sent on DisputeBee.
Step 7: Once you receive a reply (good or bad), enter that info into DisputeBee using the Received Reply option. DisputeBee will then guide you through any further suggested actions. 
How Do You Cancel Your Membership?
Canceling your membership is easy. 
Step 1: Log into your account and go to your billing settings.
Step 2: Select the Cancel option.
Step 3: Your cancellation will take effect at the end of your billing term.

Note: If you would like a refund, you'll need to email DisputeBee's support to request one. You'll have up to 90 days after your last payment to request a refund. 

This only cancels your DisputeBee membership.
If you want to cancel your IdentityIQ credit monitoring membership, you'll need to do that through IdentityIQ's website. 
DisputeBee Features
Most of DisputeBee's services revolve around creating disputes. This includes generating letters and tracking dispute progress. Their process and templates support various dispute types, including inquiries, collections, bankruptcies, late payments, etc.
Additionally, their credit monitoring partner, IdentityIQ, offers services such as refreshed credit scores, credit alerts, and identity theft protection. 
For those looking at DisputeBee's Business option, there are several different services this package offers. This includes:
Unlimited client accounts
Unlimited team member accounts
Bulk generating & print options
Custom letter templates
Client portal
Billing integration
Contract integration
Sending mail (USPS) via API

You can preview many of these features before you pay by creating a DisputeBee account and watching the tutorials available on your dashboard. 
DisputeBee Pricing
DisputeBee keeps the pricing simple. They have just 2 subscription options: Individual and Business. 
The Individual option, designed to help you repair your own credit, costs $39/month. 
The Business option, with tools and resources for managing multiple credit repair clients, costs $99/month. This subscription plan supports an unlimited number of clients and staff. 
DisputeBee even offers you the option to create an account and preview their dashboard, tools, and templates before you commit to a subscription. 
You can cancel your membership at any time, but your cancellation won't take effect until the end of your membership month. For instance, if your bill is due on January 18th and you cancel your services on January 24th, you'll retain access to the software until February 17th. 
If you are unsatisfied with their service, per DisputeBee's terms of service, you can request a refund of your most recent month's membership. 

Note: To get full use out of the DisputeBee platform, you'll need to import your credit report. This will require a subscription to IdentityIQ. The price for the first 7 days is $1. After that, you'll be charged $21.99/month. 
DisputeBee Customer Reviews
Many of the reviews for DisputeBee are positive. 
There are multiple 5-star reviews on Google, and while some are obviously fake, others are not. 
Many individuals report success with using the software to quickly improve their credit scores. 

And many of the positive reviews also cite excellent customer service. 

The few negative reviews regarding DisputeBee involve customers who did not get the results they were looking for. 
For instance, the below customer was happy with the software but canceled because none of their disputes were successful. 

The one complaint that DisputeBee received on their Better Business Bureau page involved a customer who had their credit score drop. But, the DisputeBee staff quickly pointed out that this is because the customer disputed the wrong items (i.e., valid accounts). 

DisputeBee Alternatives
To see how DisputeBee compares matches up to the competition, below is a table comparing them to three credit repair alternatives (software and services). 
| | Type of Service | Features | Effort Involved | Cost |
| --- | --- | --- | --- | --- |
| Dispute Bee | Software for credit repair businesses & individuals | Credit scores, letter templates, and dispute tracking. Plus client portal and billing integration | Medium | $39/month + $21.99/month(personal) $99/month (business) |
| Credit Repair Magic | Credit repair system | Letter templates and education resources | Very High | $97 |
| Credit Versio | Credit repair software | Dispute templates and dispute tracking | High | $19.95 – $29.99/month |
| Credit Saint | Credit repair services | Filing disputes on your behalf and monitoring your credit | Low | $79.99 – $119.99 a month + setup fee |
DisputeBee is one of the more expensive options on this list, especially when you factor in the required IdentityIQ membership. For example, it would be $60.99 a month for DisputeBee versus Credit Versio's $29.99 a month.
DisputeBee is a self-guided do-it-yourself experience and not a true credit repair service, so the price point seems a bit too high. 
That said when you compare the features, design, and customer service of DisputeBee to other credit repair software options, DisputeBee comes out way ahead. For more information, see our full comparison of the best credit repair software.
Is DisputeBee Worth It?
If you are looking for a cheaper alternative to credit repair services, one that puts you in control of the credit repair process, then DisputeBee might be the solution for you. 
DisputeBee supports a wide variety of dispute types, far more than their competitors support. And their dispute process is easy to navigate, with tutorials every step of the way. 
This allows you to use their credit repair software effectively even if you don't have in-depth knowledge of credit and credit repair. 
Yes, you can file disputes on your own for free. But, if you have a lot of items that need to be disputed, the time DisputeBee can save you in generating dispute letters will be worth the subscription cost. 
If you only have one or two items you need to dispute, the subscription cost won't be worth it.
Or, if you have absolutely no knowledge of credit and no time to learn, you might be safer going with a full credit repair service.
Verdict
Whether you are a credit repair business looking for a system to help you manage your clients or an individual who needs help filing disputes, DisputeBee has a solution. 
The DisputeBee software is easy to use with a well-designed dashboard and multiple tutorials explaining every step of the process. 
The credit monitoring service comes with a 7-day trial (for $1), and their software subscription has a 90-day money-back guarantee. 
The only downside is that this software becomes expensive in the long term. If you paid for DisputeBee and IdentityIQ for a full 12 months, you would be out $731.88. 
So, while this service is a great credit repair option, if you are not getting results within the first few months, we recommend you cancel the service. And if you don't have many items to dispute, your better offer to pursue a cheaper alternative. 

Remember: No credit repair software or service can guarantee results, especially if there are no errors on your credit report. Credit bureaus have no obligation to remove legitimate accounts.
How We Review the Credit Repair Software
We rate all the products we review using a key set of criteria. This allows us to fairly compare products that are not identical.
These are factors we looked at when evaluating credit repair software. 
Ease of Use: Is the credit repair software easy to use and navigate? 
The software is fairly easy to navigate with all of the tutorials DisputeBee provides.
The only reason they don't score a 10 here only because they don't guide you on which items you should dispute. A customer could potentially dispute the wrong items and damage their credit. 
Effectiveness: Does the software deliver on its promise? 
This software is essentially a dispute letter generator and credit repair tracking system. So, in this sense, DisputeBee lives up to the service it promises. 
Many customers have had success with using the software to repair their credit, but a few did not see results. While potential results largely depend on the individual makeup of one's credit file, the ability to generate dozens of letters in one shot could result in disputes being rejected as frivolous. 
Support: When you encounter problems with the software, is someone available to help?
Yes, within reason. DisputeBee offers multiple methods of contacting customer support. This includes a dedicated phone line and an online chat with bot support. 
A few customers did cite difficulting getting responses after hours or during busy times, but otherwise, their customer service experience seems well-reviewed. 
Cost: Is the software affordable when evaluating all of the features?
The pricing for DisputeBee is a bit misleading. While a subscription to their software only costs $39/month, you must purchase credit monitoring from IndentityIQ for an additional $21.99/month. 
The software won't let you create and manage disputes without both subscriptions. 
This gives the software a total cost of $60.99/month which is far less affordable when compared to DisputeBee's competitors but still much cheaper than what credit repair companies charge.
Although it is worth noting that the subscription price for credit repair businesses is about average for the industry. 
The post DisputeBee Review 2022: Self-Gudied Credit Repair appeared first on FinMasters.
FinMasters