If you have no credit score or you're trying to rebuild damaged credit, placing your utility and other routine bill payments on your credit record can help. eCredable is one of several services that can help you do this. Reporting these payments can help your credit, but eCredable only reports to one credit bureau, and you will have to pay a fee.
This review should help you decide whether eCredable should be part of your credit-building strategy.
eCredable Review & Ratings
eCredable Lift & LiftLocker
eCredable Lift helps you build credit by reporting utility payments. LiftLocker helps you monitor your credit score and finances.
Pros
Unlimited utility accounts
Great personal finance tools
Cons
Only reports to TransUnion
Complicated linking process
What Services Does eCredable Provide?
eCredable is a service that allows you to build credit through alternative credit accounts. 
Alternative credit accounts are ones that don't normally appear on your credit profile. These include rent payments, utility payments, phone payments, and more. 
Once reported, this alternative credit can be used in credit score calculations. Your on-time rent and utility payment history can actually help you build credit. 
eCredable charges an annual fee of $24.95 to report up to 8 different types of utility accounts to TransUnion. As part of their service, they will report ongoing utility payments and up to 24 months of past payment history. 
For those that don't have a credit score, reporting these accounts can help them establish one. And for those trying to improve or rebuild their credit, reporting these accounts can help give them a boost. 
eCredable also offers services for credit monitoring and financial planning, as well as a version of their credit-building package geared towards helping business owners build their business credit. 
How Does eCredable Work?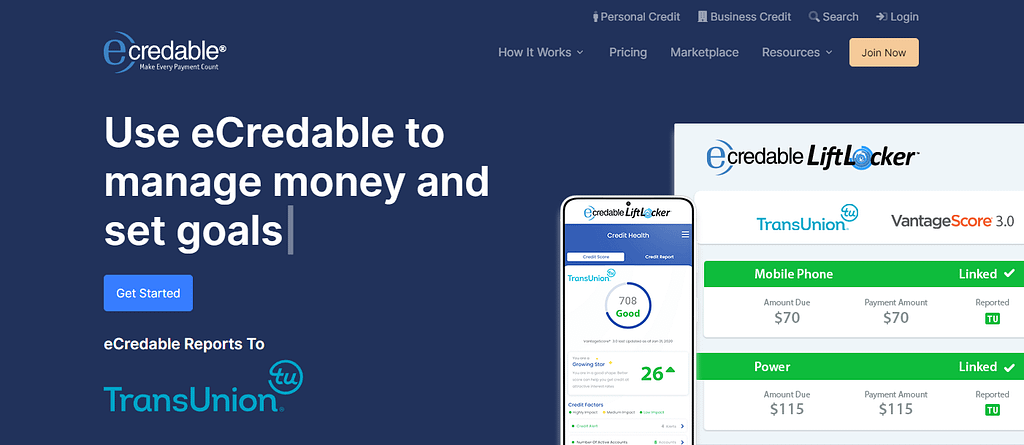 By adding your utility payment history to your TransUnion credit profile, eCredable can boost your payment history, length of credit history, and other factors that contribute to credit scores based on your TransUnion credit report. 
The subscription sign-up process is simple, and linking your utility accounts to eCredable is straightforward. 

Before signing up, you should be aware that eCredable cannot guarantee that adding your utility payments will improve your credit score or that TransUnion will even accept the payment history being added. 
How to Sign Up
Start by going to the eCredable website and selecting the "I Want Lift" option. 
You will be taken to their sign-up form, where you will need to enter your personal information. This includes name, date of birth, social security number, and other information. You will also have the option of setting your login email address and password. 
You will then need to agree to eCredable's terms of service. 
After that, you'll need to provide your payment information. 
Once that is complete, eCredable will need to verify your identity and then process your payment. 
Finally, eCredable will establish an account profile for you where you can begin linking your utility accounts. 
Linking Your Utility Accounts
Navigate to your eCredable account profile. Here, you can start linking utility accounts for select services, including mobile phone, cable, internet, landline phone, electricity, water, waste, and gas. 
During the linking process, you'll be required to provide your login information for your utility accounts. This is so eCredable can pull key information from your accounts, including payment history. 
Once your accounts are successfully linked, it will take eCredable several days to pull the necessary information and begin reporting to TransUnion. 

While you can link an unlimited number of utility accounts, eCredable does not support all providers.
Using LiftLocker
The initial sign-up steps for LiftLocker are the same. You'll need to enter your personal information to create your account and link all of your utility accounts to begin reporting them. 
Additionally, you will have options to link your eCredable account to your bank/credit accounts and your TransUnion credit profile. 
Linking your bank and credit accounts (i.e., credit cards) to eCredable gives you access to LiftLocker's budgeting and financial tracking tools. 
Linking to your TransUnion credit profile enables the credit monitoring, tracking, and score simulator tools and resources.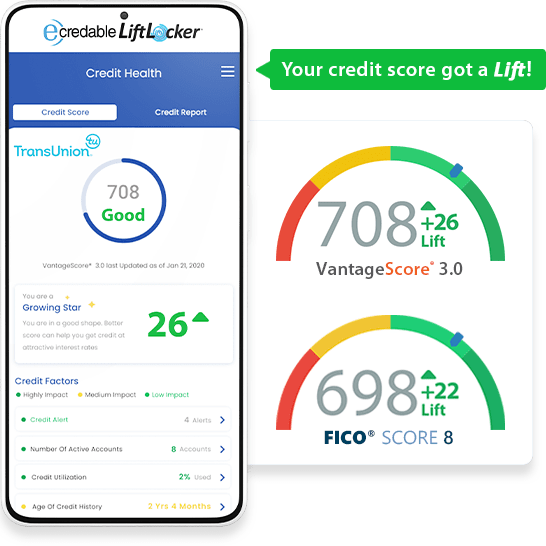 Canceling eCredable Subscriptions
You can cancel your eCredable membership at any time, and eCredable is usually able to process cancellation requests within 24hrs. There is no cancellation fee. 
If you cancel, any membership payments you have made will be forfeited. For example, if you went with the annual payment for the Lift plan and canceled service after 4 months, you would still be out the prepayment for the remainder of your 12-month plan. 
eCredable Lift vs. LiftLocker
eCredable offers two credit building packages, Lift and LiftLocker. 
The first option, Lift, is their credit reporting service. This service lets you link your utility accounts and have their payment history reported to the TransUnion credit bureau.  
The reporting service supports a limited number of providers, including
T-Mobile
DirectTV
Atmos Energy
Southwest Gas
Spectrum
The utility providers list changes based on the state you reside in. 
This credit reporting service supports links to an unlimited number of utility accounts and reports up to 24 months of payment history if the utility company provides it. 
The LiftLocker package comes with the same credit reporting services that Lift does and includes additional features, such as
Credit monitoring (TransUnion Credit Report)
VantageScore simulator
Identity theft alerts
Budgeting tools
Document storage & sharing
Property estimates
Many of these services are provided by linking to your TransUnion credit report. The budgeting tools will require you to link all of your bank accounts, credit card accounts, etc. to eCredable's platform.
Pricing
eCredable has two packages; Lift and LiftLocker. 
eCredable Service Package Comparison 
| Services | Lift | LiftLocker |
| --- | --- | --- |
| Credit Reporting | Yes | Yes |
| Credit Monitoring | No | Yes |
| Financial Planning | No | Yes |
| Cost | $24.95/year | $9.95/month |
In addition to their personal credit building services, eCredable also offers business credit building services for $9.95/month. 

Note: eCredable does not provide any kind of free trial or money-back guarantee on its services. If you cancel their service, no refund will be issued.
Customer Reviews
For a company that has been in business since 2012 (according to the BBB), there are alarmingly few reviews for eCredable's products. 
Is this a sign that they are doing an excellent job, or is it a red flag?
Trustpilot and Facebook, for example, have zero reviews. And the Google Play store only has one review, a negative one citing an inability to use the app or reach customer service. 

Even the BBB has few reviews. One negative review focuses on the lack of customer service. While one positive review cites the affordability of the service. 
On the price side of things, per the Google reviews and an old MyFICO thread, it does appear that eCredable recently improved its pricing structure. Previously, they charged $20 per utility account. 
The Google reviews are a mixed bag. Many negative ones again focus on the difficulty with customer service.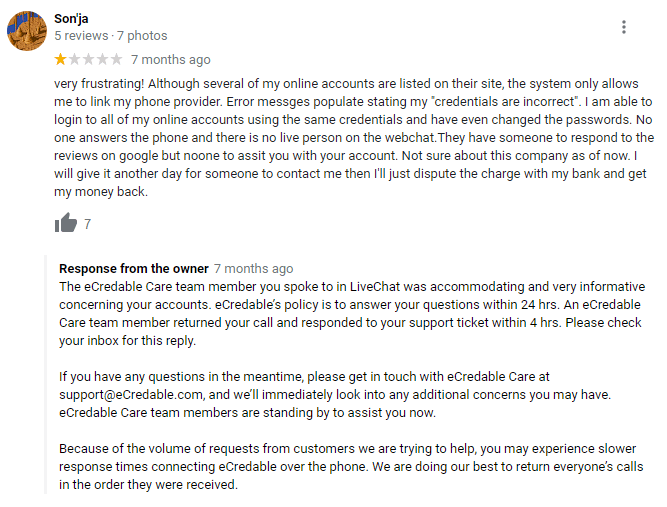 But there are also many positive reviews. From both customers who saw an increase in their personal credit score and those using eCredable's business credit building services. 


eCredable Alternatives 
eCredable is just one of many companies dealing with reporting alternative credit. Most of these companies focus on just one to two types of alternative credit, such as utilities or rent. There are a few that report multiple types of alternative credit. 
Below are 3 competitors to eCredable's service. 
| | Accounts Reported | Reports to | Extra Features | Cost |
| --- | --- | --- | --- | --- |
| Experian Boost | Utilities and subscriptions | Experian | Credit monitoring and Experian credit score | Free |
| Grow Credit | Subscriptions & mobile Phone | Equifax, Experian, & TransUnion | Subscription discounts | Multiple plans ranging from $0 to $9.99/month |
| Level Credit | Utilities and rent | TransUnion for utilities, all 3 major credit bureaus for rent | Credit monitoring & identity theft insurance | $6.95/month + a $49.95 setup fee |
When looking at the competition, eCredable's cost is about average for what other providers are charging. They do make you jump through a few more hoops. 
For instance, Experian Boost looks through your bank statements for recurring payments and adds utility accounts to your Experian credit report using this information. eCredable, on the other hand, requires you to directly link your utility accounts to their platform. 
Is eCredable Worth It?
According to eCredable's own credit building scenarios, their reporting service is best for those with no credit, a thin profile (very little credit), and those with few active credit lines (i.e., most of their credit lines are closed). 
Those who already have decent credit or who have a good length of average credit history will not benefit from eCredable. In fact, for specific consumers, adding utilities to their credit report may actually lower their credit score. 
Reporting utility payments can help you build credit, but eCredable may not be the best choice. 
While they tout excellent security, you have to give them login info for all of your utility accounts. If you are unwilling or unable to provide this information, then eCredable won't work for you. 
Also, eCredable only reports to TransUnion. This limits your ability to use this service to improve all of your credit scores. Grow Credit or Experian's free services would be the better bet if you just want to see how alternative credit might improve your credit score. 
While eCredable's price point is decent, it is not a great standalone service. You could use it in conjunction with other credit-building services. 
If you are looking for convenience, the LiftLocker package with credit reporting and credit monitoring services could be a worthwhile value. 
Before signing up for any paid credit-building service remember that it is completely possible to build credit for free.
Our Verdict
eCredable could be a great service if Lift reported to more than just TransUnion. Because they only offer single bureau reporting, Lift is easily overshadowed by their competition. 
eCredable's other package, LiftLocker, does provide some value with its credit reporting and credit monitoring services. Competitors like Experian Boost still offer similar services for a lesser price. 
When you are trying to build credit, having these alternative credit lines reported to the credit bureaus can give you a boost, but there is no guarantee. It might be better to try a free service first, and if that works, then maybe consider adding Lift or LiftLocker as part of your overall credit-building strategy. 
Our Methodology
We rate credit-building products by comparing their key features with the features of similar products. These products are rarely identical, so you'll need to evaluate them to determine which one fits your needs best.
These are the criteria we used here.
Effectiveness
Customer reviews and the overall potential of a product are used to determine its effectiveness. We reduced eCredable's effectiveness score because they only report to one credit bureau, which limits the product's utility as a credit-building service.
eCredable was admittedly lacking in reviews, making it difficult to get a good idea of their reporting service's effectiveness.
That said, the potential for alternative credit to improve your credit score is well established with competitors like Experian Boost. 
Ease of Use
How easy it is to sign up and use a product to build your credit are both factored into ease of use. 
Despite eCredable's easy sign-up process, their account linking process is unnecessarily complicated.  
Cost
Monthly costs, hidden fees, and cancellation penalties are all considered in the overall cost of a product. And how these costs compare the product's features and competitors' products are key in determining if a product/service is worth the price. 
eCredable's $24.99 price tag is reasonable. But considering some of their competitors offer similar services for free, we could only give eCredable a 7 out of 10 here. 
Support
Technology isn't perfect, and no app, platform, or website performs perfectly all of the time. This is why customer service and support are so important. If something goes wrong, getting it fixed asap is critical. 
While no company's support is perfect, eCredable has consistent customer service complaints. Those who talk to customer service reps usually give positive reviews, but getting ahold of customer service appears to be difficult. The company itself admits that they struggle to keep up with the call volume.   
The post eCredable Review (2022): Is It Worth It? appeared first on FinMasters.
FinMasters