Karma Drive is a tool that tracks your driving habits to determine whether you qualify for discounted premiums on auto policies from an insurance carrier partnered with Credit Karma. It may help you save money on car insurance if you drive safely or infrequently.
Karma Drive
Karma Drive is a tool Credit Karma created to help you determine whether you qualify for a discount on your car insurance premiums based on your driving habits. In 2022, it only works with Progressive policies.
Pros
Fairly intuitive and reliable app
No risk of raising premium rates
Cons
Only partners with Progressive
What is Karma Drive?
Karma Drive is a usage-based insurance tool by Credit Karma, a well-known credit monitoring service. It collects data on your driving habits to determine whether you qualify for a discount on your car insurance premiums.
Initially, underwriters base your auto insurance rate primarily on your demographic data. Since everyone starts off without a driving record, they make educated guesses about your risk levels using data points like the following:
Usage: The more miles you drive, the greater the chance you'll have an accident that leads to a claim. As a result, auto insurers generally charge you more when you drive more often and for longer distances.
Location: Where you live has a significant impact on your likelihood of experiencing accidents, car break-ins, and vehicle theft. You'll generally pay less for auto insurance in areas with fewer incidents and vice versa.
Age and gender: Younger people, especially men, are more likely to have car accidents. Generally, young males would pay more than experienced female drivers for car insurance.
As you develop a driving record, insurers will slowly start to factor it into your premiums too. If you consistently avoid accidents and moving violations, then your auto insurance rates should steadily decrease.
However, in the meantime, you'll likely pay higher insurance premiums than you deserve, especially if insurers deem you high risk because of your age.
Usage-based insurance products like Karma Drive mitigate that issue and streamline the incorporation of your driving history into your premiums. They closely monitor your driving habits for a brief period and give you a driving score, which can determine whether you qualify for safe-driver discounts.
How Does Karma Drive Work?
To use Karma Drive, you must download the Credit Karma app to your mobile device. You can install it via Google Play or the App Store, and it's compatible with Androids and iPhones.
Once you download the app, you'll need to create a Credit Karma account if you don't have one already. That involves confirming your identity by providing information like your name, address, and Social Security Number.
Next, you can go ahead and enroll in Karma Drive. It will start a 30-day trial during which the app tracks your location to assess your driving risk level. For example, it may consider the following:
Phone use
Overall driving speeds
Acceleration and breaking
Time of day driving occurs
Total time behind the wheel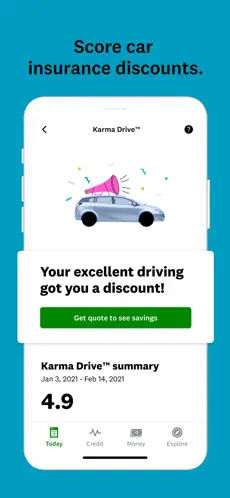 During this trial period, Karma Drive will also suggest ways to improve your driving habits. For example, if it determines that you frequently slam on your brakes, it might counsel you to decelerate sooner and come to smoother stops.

Warning: Some customers report an inability to tell Karma Drive when they're behind the wheel and when they're a passenger. To maintain the accuracy of Karma Drive's assessment, you may have to avoid letting others drive you around during the trial.
Once your 30 days are up, Karma Drive will assign you a driving score and let you know whether you qualify for a discount on an auto insurance policy from Progressive. It may include other carriers in the future, but Credit Karma only has one partner in 2022.
How Much Money Can You Save With Karma Drive?
Credit Karma doesn't state how much you can save with its Karma Drive tool. However, Progressive has a usage-based insurance program called the Snapshot Road Test that is virtually identical to Karma Drive, tracking your driving habits for 30 days to determine your potential safe driver discount with the carrier.
Since Karma Drive has yet to partner with any insurers other than Progressive, the discounts you stand to earn from the two tools should be similar. Fortunately, Progressive shares that Snapshot Road Test users see average savings of $145 per year.

Learn More: If you're interested in paying less for insurance coverage, check out our favorite ways to lower your policy premiums upon renewal: 8 Insurance Renewal Tips: How We Saved 20% on Insurance.
Karma Drive Pros
Let's look at the most significant reasons to use Karma Drive.
Potential Annual Savings
It's important to emphasize that it's possible to see a legitimate reduction in your car insurance rates after using Karma Drive. You can qualify for a discounted policy if you do well during your trial, even if it's only because you were on your best behavior.
In addition, since both the Credit Karma app and the Karma Drive feature are free, there's no financial downside.

Warning: Don't let Karma Drive's trial be your only attempt to lower your auto insurance premiums. Shop around and get an up-to-date understanding of your coverage options at least every one or two years to avoid leaving money on the table.
Opportunity to Improve Driving Habits
Even if you don't qualify for a discounted insurance policy through Karma Drive, you may still benefit from Karma Drive's safe driving recommendations during the trial.
Undergoing an objective assessment of your tendencies while on the road can reveal bad habits you weren't aware of, helping you save money by reducing the likelihood of accidents.
Convenient for Credit Karma Users
Enrolling in Karma Drive is quick and easy if you already have the Credit Karma app. Since Credit Karma is one of the most popular finance platforms in the world, with a reported user base of more than 100 million, the tool is a convenient option for many.
In addition, already being a Credit Karma user means you don't have to share your sensitive personal details with a new third party. In an age where your data is an increasingly hot commodity and your privacy is constantly eroding, it's wise to limit the number of businesses you give access to that information.
No Obligation To Share Results With Carriers
Lastly, Karma Drive lets you assess your driving habits without sharing your results with insurance companies. Meanwhile, carrier-specific usage-based insurance tools don't share that benefit.
As a result, using some of them can actually backfire. Your premium rates may increase if you demonstrate poor driving habits during their assessment periods. For example, Progressive reports that roughly 20% of existing customers who use the Snapshot program see their premiums increase.
Karma Drive Cons
Karma Drive has its advantages, but it's not perfect. Here are the most significant reasons to avoid using it.
Provider Limitations
Credit Karma has yet to pair its Karma Drive tool with any carrier other than Progressive, which significantly limits its utility. You'd need to take multiple other trials to learn how much your driving habits could save you in the broader marketplace, which would be tedious and time-consuming.
In addition, Progressive is one of the more expensive auto insurance companies in the United States, with premiums higher than the national average1. However, that varies by state, so don't write them off without getting a quote.
Location Limitations
Unfortunately, Karma Drive isn't available everywhere. When Credit Karma first launched the tool at the end of 2020, the company announced it would only be available in 39 states, but it would add two more in 2021 to bring the total to 41.
However, there's yet to be an official update from the platform, and it's unclear whether it completed its promise. Its website still notes the product is only available in select states and that more are becoming eligible in the future, so you may need to try it to confirm your state's status.
The original 11 states where Karma Drive was unavailable included AK, AL, CA, HI, MA, NC, NY, VA, WA, FL, and SC.
Privacy Concerns
To use Karma Drive, you must first sign up for Credit Karma, which requires sharing identifying information, including your Social Security Number. Credit Karma's security is as legitimate as any top-tier fintech company, but that still represents an additional opportunity for someone to steal your data.
That may be a sunk cost if you already have an account, but you'll have to compromise your privacy even further to use Karma Drive. Remember, you must share your precise location with the platform for 30 days during the trial, during which it'll collect data on all your movements.
Credit Karma promises not to sell your information to "unaffiliated third parties for their own advertising or marketing purposes," but take that with a grain of salt, especially given the vague verbiage.
Personally, I decided not to give my auto insurance provider access to my location when it offered me a similar discount in exchange for monitoring my driving habits.
Credit Karma Drive Customer Reviews
It's hard to find user opinions on Karma Drive separate from the other tools and services on Credit Karma's platform. However, Credit Karma's general scores should give you some idea of what you can expect from its usage-based insurance tool.
Here are Credit Karma's ratings across several popular review sites:
Based on these ratings and the comments in specific reviews, the primary reason users criticize the company is its credit account suggestions. Credit Karma encourages users to apply for new debt, claiming they have high approval odds, only for the users to receive repeated rejections.


Unfortunately, these allegations are now confirmed. On September 1, 2022, the company paid $3 million in settlement to consumers it knowingly misled into thinking they had pre-approval for third-party financial products.
That caused these individuals to apply, for which Credit Karma earns a commission. Unfortunately, it also creates a hard inquiry on each applicant's credit report, damaging their credit score.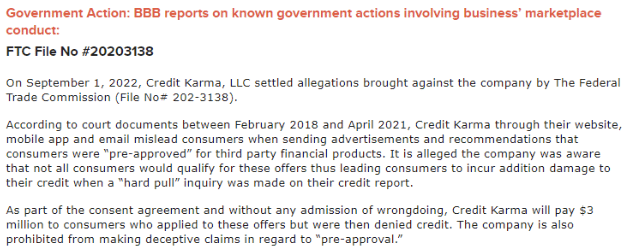 That suggests you can't trust Credit Karma to look out for your best interest, especially since the reviews are also full of complaints about the company's poor customer support.
In addition, there's at least one criticism of the Karma Drive tool itself, which points out that there's no way to tell the platform that you're not behind the wheel in every drive during the trial period.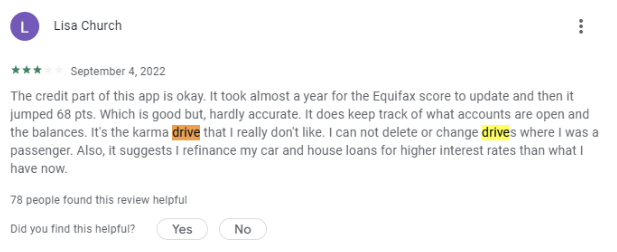 Warning: Remember to take crowdsourced reviews with a grain of salt. Not only are they easily manipulated by companies, but consumers are more likely to leave reviews about complaints than compliments.
Karma Drive Alternatives
Usage-based car insurance tools are becoming increasingly popular among carriers. In fact, most of the popular providers now have usage-based car insurance tools, including Liberty Mutual, Nationwide, Geico, and State Farm. 
If you're interested in getting a quote from a new insurance company net of your usage-based discount, you'll need to use the carrier's tool instead of Credit Karma's since Karma Drive only works with Progressive.
However, be careful doing these tests with your current provider. Some of them can increase your rates if you drive poorly, including Progressive, Geico, and Farmers.
Is Karma Drive Worth It?
Since Credit Karma only partners with Progressive, Karma Drive is really just a way to get a quote from the carrier that incorporates your driving habits into your premiums.
As a result, Karma Drive would probably only be worth using if you have a Progressive policy and want to pursue the safe driver discount without risking an increase in your rates due to poor driving.
You can use Karma Drive to get your driving score without having to share it with the carrier like you would if you used Progressive's Snapshot tool.
The post Karma Drive Review: When Is It Worth Using? (2022) appeared first on FinMasters.
FinMasters