LevelCredit by Self is a rent and utility reporting service that can share your ongoing payments with the major credit bureaus. In addition, it can add up to two years of payment history to your credit reports for a one-time fee.
This LevelCredit review will explore how its reporting services work and help you determine whether they're worth purchasing.
LevelCredit Review & Ratings
LevelCredit
LevelCredit is a reporting service that can add your monthly rent, cell phone, water, gas, and electric bills to your credit reports, helping you build credit. In addition to your ongoing activities, it can add up to two years of payment history.
Pros
Rent and utility reporting in one
Shares rent with all three credit bureaus
Doesn't report late payments
Highly rated customer service
Lower costs than competitors
Cons
New company with limited history
Will not affect all credit scores
What is LevelCredit?
Generally, neither landlords nor utility providers share your monthly payments with the major credit bureaus. As a result, those activities usually aren't reflected in your credit reports and have no impact on your creditworthiness.
LevelCredit is a reporting service that takes advantage of that missed opportunity. Though it can only report your utility payments to TransUnion, it can share your rent with all three major credit bureaus. In addition to your ongoing activities, LevelCredit can add up to 24 months of payment history to your credit report for a one-time fee.
Assuming you make your payments on time, reporting your rent and utilities to the bureaus can make you a more attractive lending prospect. For example, a mortgage company may be more inclined to lend to you if they know you've been able to afford rent equal to your prospective mortgage for years.
Rent and utility reporting can also improve the more modern credit scores, such as FICO Score 9 and the various VantageScores. Unfortunately, FICO Score 8, the score most lenders use, doesn't consider this kind of alternative data.
As a result, paying for LevelCredit or other rent and utility reporting services won't improve the credit score used in most credit decisions.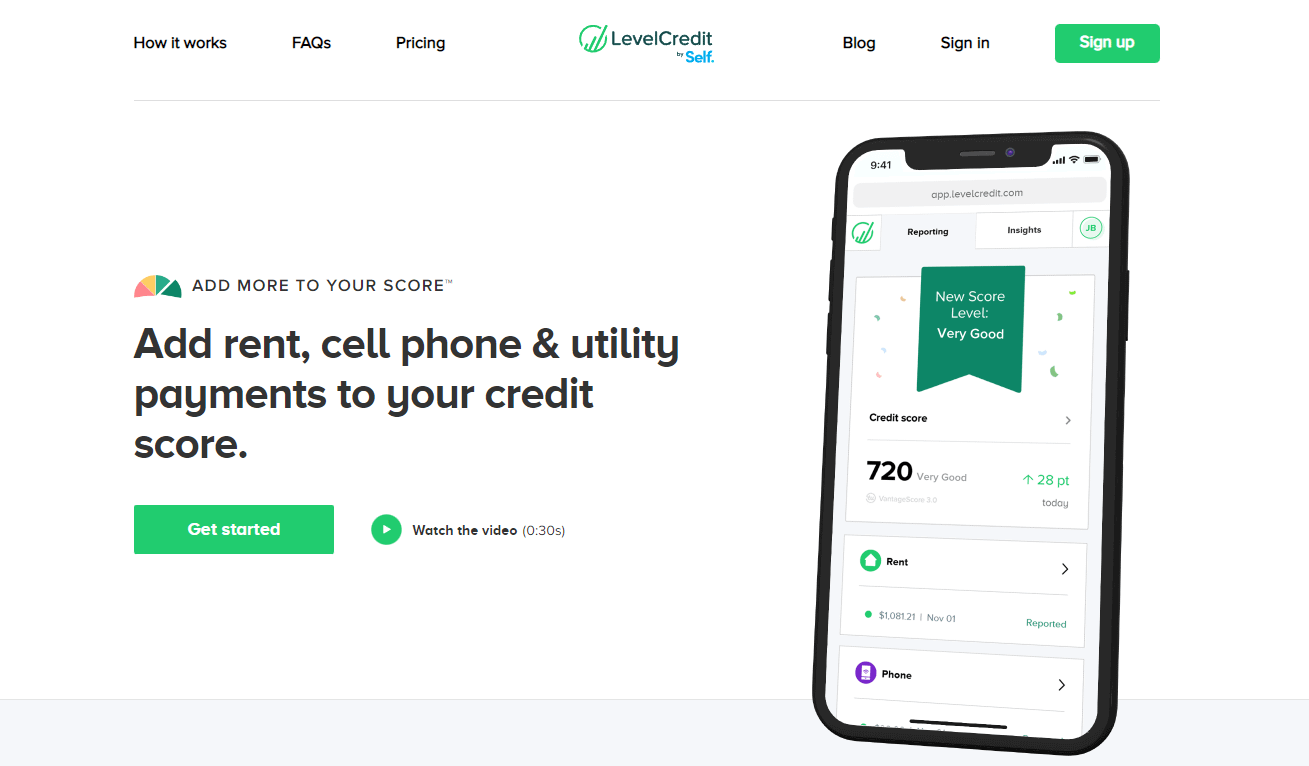 Learn More: Contrary to popular belief, you have far more than one credit score. Here's what you should understand about the various consumer credit score versions: Types of Credit Scores: How Many Different Credit Scores Are There?
How Does LevelCredit Work?
Here's everything you need to know about how LevelCredit works. We'll explore the sign-up and reporting processes, the cost of LevelCredit's services, and how much you can expect them to improve your credit score.
How to Sign Up for LevelCredit
LevelCredit doesn't have a mobile app, but you can sign up for its services through its website. Fortunately, they have no significant eligibility requirements. As long as you're a renter in the United States 18 years or older, you can use LevelCredit.
To initiate the process, you'll need to provide the standard identification details, such as your name, address, contact information, and Social Security Number.
In addition, you'll need to link your profile to the bank account you use to pay your rent. LevelCredit's software needs to search your bank activities monthly for your rent and utility payments to report them to the credit bureaus. They claim to follow bank-level security standards and use high-level encryption to keep your data safe.
How LevelCredit Reporting Works
LevelCredit's monthly reporting process is automatic, so it requires no ongoing effort from you or your landlord. In fact, your landlord doesn't need to be involved in the process at all, even when you first sign up for the service.
To begin the reporting process, you'll need to identify the payments you want to report each month to the major credit bureaus. Once you've linked your bank account to your LevelCredit profile, you can select from all of the following expenses:
Rent
Cell phone
Water
Gas
Electricity
Each month, LevelCredit's algorithm will automatically scan your bank account transactions for rent and utility payments that match the ones you selected initially. It'll consider details like the transaction type, amount, timing, and recipient.
Because LevelCredit needs to match your monthly payments to those first transactions, you may run into issues if the details change too much between periods. Fortunately, you can always log in and confirm each expense to ensure that LevelCredit reports it to the bureaus correctly.
Because LevelCredit looks at your bank account activity to verify your transaction, its service is compatible with most payment methods. It can pick up bank transfers via your property manager's online portal and payments using Venmo, Zelle, or Paypal. Cash is currently the only unacceptable payment method.
Once you've successfully enrolled and confirmed your rent or utility payments, LevelCredit should send your first month's payment information within 24 hours. If you purchase historical reporting, they'll submit it along with your first monthly payment.
LevelCredit claims that it typically takes 2-3 weeks for the bureaus to add the payment information to your credit report afterward.
Will Late Payments Be Reported?
Fortunately, LevelCredit promises only to share positive data with the credit bureaus. If the software can't find your payments in a given month, it won't report any data for that period. That shouldn't negatively affect your credit score.

This feature is one of LevelCredit's unique advantages over its competitors. If you pay late while using most other reporting services, they'll usually share your delinquency with the credit bureaus or cancel your subscription.
Unfortunately, LevelCredit isn't as forgiving regarding your $6.95 subscription. If you fail to pay for a month, it won't report your activities until it gets its fee. If you're delinquent for three months, they'll cancel your account and remove all rent and utility tradelines from your credit reports.
How Much Does LevelCredit Cost?
LevelCredit has a straightforward pricing model. You'll pay $6.95 a month for its ongoing reporting services. In addition to sharing your data with the credit bureaus, the subscription comes with credit score monitoring and $1M of identity theft insurance.
LookBack, its historical reporting option, is a separate service. That means you can purchase it even if you don't want to get the subscription. You'll only need to make a single payment of $49.95.
Fortunately, there's no additional cost for reporting multiple expenses. For example, it would cost you the same amount to share your rental activities only as it would to send your rent, water, and cell phone payments.

Learn More: One of the primary reasons to want a better credit score is to save money. As a result, paying to improve your credit is counterproductive. Check out our favorite ways to build credit without opening your wallet: 9 Best Ways to Build Credit for Free.
How Much Will LevelCredit Build Your Credit?
In 2018, LevelCredit studied over 36,000 users who'd used its services to report monthly rent payments for at least two years. It split the results into four groups based on their initial credit scores upon joining the program.
Here are the approximate credit score improvements for each group over their first two months, one year, and two years in the program.
| Baseline Score | Two-Month Increase | One-Year Increase | Two-Year Increase |
| --- | --- | --- | --- |
| Less than or equal to 500 | 48 points | 67 points | 93 points |
| Less than or equal to 600 | 25 points | 32 points | 55 points |
| Less than or equal to 700 | 13 points | 21 points | 30 points |
| Less than or equal to 800 | 11 points | 18 points | 29 points |
As you can see, the lower your initial score, the greater the impact LevelCredit will have on your credit. Those with high credit scores see a noticeably less significant increase, even after maintaining their subscription for two years.

You should note that the LevelCredit study does not state what credit score they looked at. You have multiple credit scores, and not all of them consider rent and utility reporting.
That said, these are only averages and approximations. There's no way to know how much LevelCredit will increase your scores. It will depend on both your initial credit file and how well you use LevelCredit's reporting services.

Learn More: Instead of paying for rent and utility reporting services, consider using your cash as a security deposit for a secured credit card. These can improve your FICO 8 Score, the most popular credit score: Here are our favorite cards: Best Secured Credit Cards of 2022.
LevelCredit Customer Reviews
Founded in 2019, LevelCredit is a relatively new reporting service and not as well-established online as some of its competitors. As a result, the number of customer reviews is lower than average, though still enough to provide some insight.
In 2022, the Better Business Bureau (BBB) is the only legitimate source available. LevelCredit receives 3.7 out of 5 stars from consumers and a B+ from the platform for its responsiveness.

There are only around a dozen reviews, but most commend the company for delivering on its promises. The praise for its customer support is practically unanimous, with most reviewers complimenting LevelCredit's responsiveness and appreciation for your business.



While there are a few complaints on the business's BBB profile, none of the issues appear to be consistent. Most customers who rate the service poorly seem to do so for random mix-ups and misunderstandings.
For example, one customer was upset that LevelCredit failed to put their utility payments on all three credit reports, not realizing they only offer to share that data with TransUnion.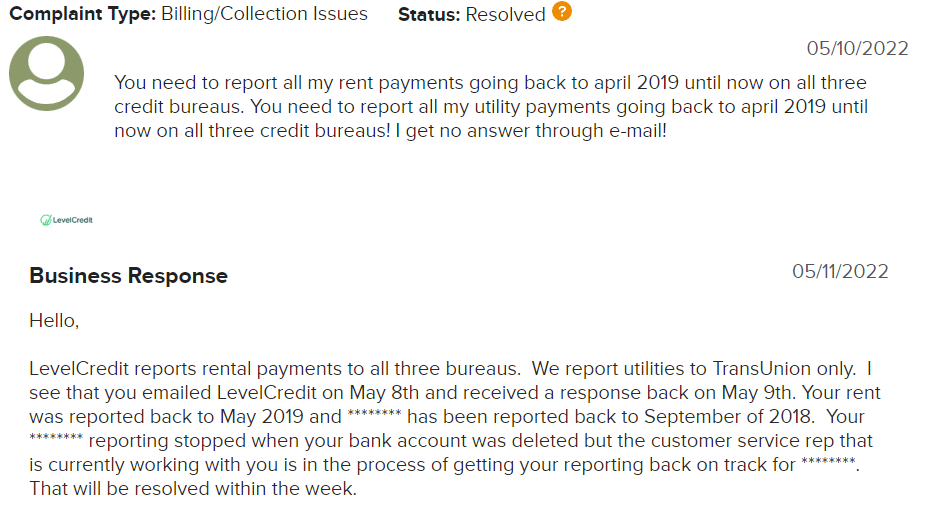 Ultimately, you may prefer a different reporting service if you want one with an established track record. It's too soon to confirm whether most consumers have a positive or negative experience with LevelCredit.
That said, LevelCredit's parent company, Self Financial, Inc., has been around since 2014. They're well-respected and receive excellent customer reviews from thousands of consumers, including 4 of 5 stars on the BBB, 4.4 of 5 stars on WalletHub, and 4.7 of 5 stars on SiteJabber.

Learn More: Self also offers one of the more popular credit-builder loans on the market. Check out our review of the product: Self Credit Builder Loan Review for 2022.
LevelCredit Alternatives
LevelCredit is a great way to build credit without a credit card or installment loan. However, they have many competitors, and some may be a better fit for your needs. Here are a few other options to consider:
Boom is another relatively new reporting service, but it receives excellent customer reviews. It also reports to all three credit bureaus and costs just $2 per month.
Rent Reporters is one of the oldest surviving rent reporting services. Consider it if you want a well-established business with consistently good customer service.
Experian Boost only reports your utility payments to a single credit bureau, but it's free to use, so there's no reason not to take advantage of it.
Whether you report your rent and utilities using LevelCredit or one of its competitors, don't let your credit-building efforts stop there. There's no substitute for using a healthy mix of credit accounts responsibly.

Learn More: If you want to add your rent to your credit reports but aren't satisfied with LevelCredit, check out our review of the other best rent reporting services for consumers: 12 Best Rent Reporting Services In 2022.
Is LevelCredit Worth It?
LevelCredit is one of the best ways to report alternative credit data to the credit bureaus. It's one of the few service providers that shares your rent with all three credit bureaus, and its prices are lower than average.
Since LevelCredit also sends your utility payments to TransUnion for no additional cost, its offer is probably the best deal you can get from a rent reporting service.
That said, these services are only worth paying for if you'll benefit from alternative credit data somehow. Remember, the most popular FICO algorithm won't factor rent or utilities into your score, even if they do show up on your credit report.
Always confirm that you'll see some tangible benefit with whichever creditors you hope to borrow from before paying LevelCredit or any of its competitors. Otherwise, you should consider putting your money toward a secured credit card or credit builder loan instead.

Learn More: Credit builder loans hold your proceeds as collateral until the end of the repayment term, so they don't have to check your credit. Unlike rent reporting services, they can improve your FICO Score 8. Check out our favorite accounts: 5 Best Credit Builder Loans in 2022.
Our Methodology
The ratings we applied above are built on comparisons to other rent reporting services that compete with LevelCredit. They are not intended to compare LevelCredit to other types of credit-building tools.
Here's an explanation of the rating criteria.
Cost
We compared the initial fee, monthly reporting fee, and past rent reporting fees with those of similar services. LevelCredit's costs are highly competitive and they are among the least costly players in the rent reporting space
Effectiveness
The primary criteria here are the number of credit bureaus reported to and the length of the credit history reported. LevelCredit reports rent payments to all three credit bureaus and utility payments to one.
Ease of Use
Ease of use is a measure of how easy the service is to set up and use. LevelCredit has a simple website-based application process and many users report that it works well. Our experience and those of some other reviewers were less smooth.
Customer Support
No service goes right all the time, and when problems do arise you want to be able to get them addressed. Customer reviews suggest generally positive experiences with LevelCredit, and most complaints seem to stem from a poor understanding of the service.
The post LevelCredit Review (2022): Rent and Utility Reporting appeared first on FinMasters.
FinMasters