Rental Kharma is a rent reporting service. It allows you to place current and past rent payments on your credit report, potentially enhancing your credit score. This article will detail how Rental Kharma works and whether it is the best available service for your needs.
Establishing your creditworthiness can be a daunting task. You have to use credit to build a credit record, but you must meet credit score requirements to be given credit in the first place. This situation can seem like a cycle of needing credit to show you are trustworthy but not being able to get that credit to begin with.
Rent payments represent the largest monthly expenditure in most renters budgets. Unfortunately, most landlords do not report rent payments to credit bureaus, so this payment is not used to calculate your credit score. 
Rent reporting services fill this gap, but you will pay a fee for their services. Is Rental Kharma worth its price, and how does it stack up against competing services? Let's find out.
Rental Kharma Review & Ratings
Rental Kharma
Rental Kharma reports rental payments to two of the three prominent credit bureaus, TransUnion and Equifax. This service provides an opportunity for users to build their credit scores.
Pros
Reports to two of the three major credit bureaus, TransUnion and Equifax.
Compatible with cash rent payments, no need to connect a bank account
Fully Customizable Reporting of Payment History Length
90-Day Satisfaction Guarantee
Cons
Requires landlord participation
Doesn't report to Experian
If you have any late payments in your payment history, they will be reported.
Charges for optional add-ons
What Is Rental Kharma?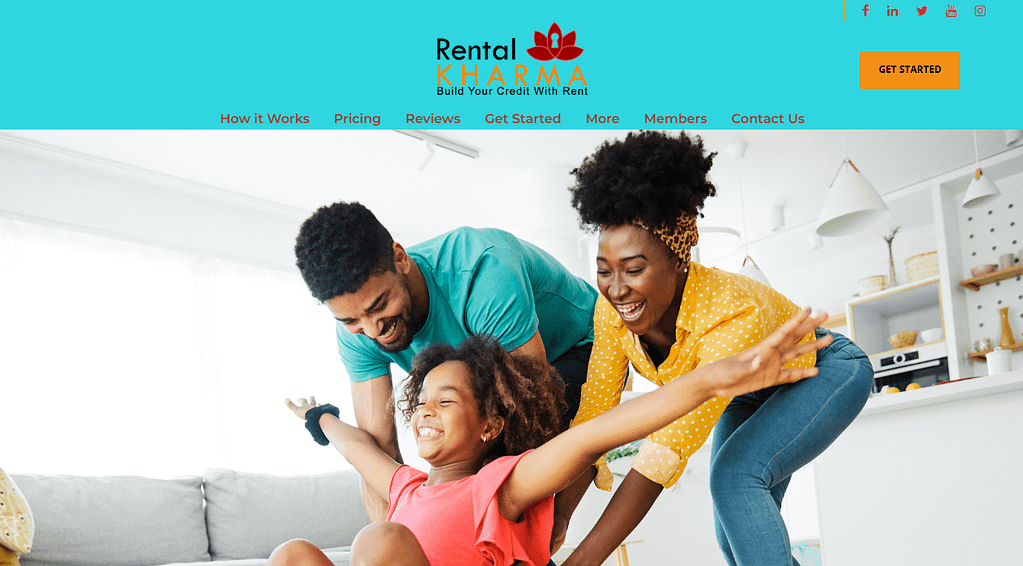 Rental Kharma is a rent reporting service. It can place rental payments on two of your three credit reports and help you build a credit record without having to take on new credit.
If you have no credit score or a thin credit file, or your credit score is lower than you want it to be, adding a new account with a strong record of on-time payments can provide a boost. A rent reporting service like Rental Kharma can help you use rental payments to build credit.
How Does Rental Kharma Work?
There's a widespread misconception is that rent payments are automatically included in your credit record. This is almost never the case. Landlords do not want to pay the credit bureaus or face the regulatory requirements of the Fair Credit Reporting Act.
Rental Kharma reports payments to credit bureaus to help its customers build their credit records. The process is simple and the requirements are straightforward.
You can use Rental Kharma  if you:
Pay your rent to a property management company
Pay your rent to a landlord (as long as they own the property)
Pay your rent to a family member (as long as they own the property)
First, you need to choose the services you want and sign up for them. Then Rental Kharma touches base with your landlord to verify your payment history. Rental Kharma continues to report your rental payment status for as long as you continue with your subscription.
Rental Kharma draws its information from your landlord, which is both a plus and a minus. You will have to inform your landlord, and you may not want to deal with that. On the positive side, Rental Kharma can report cash payments. Many rent reporting services use bank records to confirm your payments, which only works if you pay rent through an automatic bank transfer.
Your rental payments are then added to your Equifax and TransUnion credit reports. As a result, your credit score gets an instant boost from your history of payments and period of credit transactions. You will also receive an ongoing benefit from your on-time rental payments.
Will Late Payments Be Reported?
A payment is not considered late by credit bureaus if it is made within 30 days of its due date. So rent payments made within this 30-day grace period get reported as being paid on time.

A rent payment over 30 days after its due date gets reported as a late payment. This can have a negative impact on your credit score.
How Much Will Your Score Increase?
It is extremely difficult to accurately predict how much you can improve your credit score by using Rental Kharma or any other rent reporting service.
Like all credit-building methods, results depend on various factors, such as the length of your credit history, the presence of negative events on your credit report, and the duration of your rent history. Rental Kharma claims an average boost of 40 points to your credit score by reporting your past rental history.
Using Rental Kharma will add a tradeline of payment history up to 24 months on your credit record. This will have positive results, but its ultimate impact depends on your unique situation.
You will see the largest increase in your credit score if you have:
Two years of on-time rent history
0-3 open accounts on your credit report
Negatives on your credit report are at least two years old

If you have a credit history without sufficient dates to generate your credit score, or perhaps no credit history at all, signing up for Rental Kharma could make the difference between having a credit score or not.
Like all rent reporting services, Rental Kharma will be most effective for people with limited credit history.
Rental Kharma Pricing
Rental Kharma starts at $8.95 monthly and includes a one-time registration fee of $50. This works out to be $157.40 per year. This is just for basic services.
Here is a list of Rental Kharma fees:
$50 Registration Fee
$8.95 Monthly Subscription
$60 per rental property for unlimited payment history reporting
$25 per add-on tenant (roommate or spouse) to the existing account
$5 per month additional fee for spouse or roommate
$25 fee for a new lease
Your fees may vary based on the services you select.
Rental Kharma Customer Reviews
Rental Kharma is a financial institution based in Cookeville, Tennessee. It's been in business since 2012, so it has an extensive operating history with reviews available from many past and current clients.
There are over 1000 reviews of Rental Kharma on TrustPilot, with an average rating of 4.7 stars. Many reviews are a perfect five-star and highlight the benefits of their services.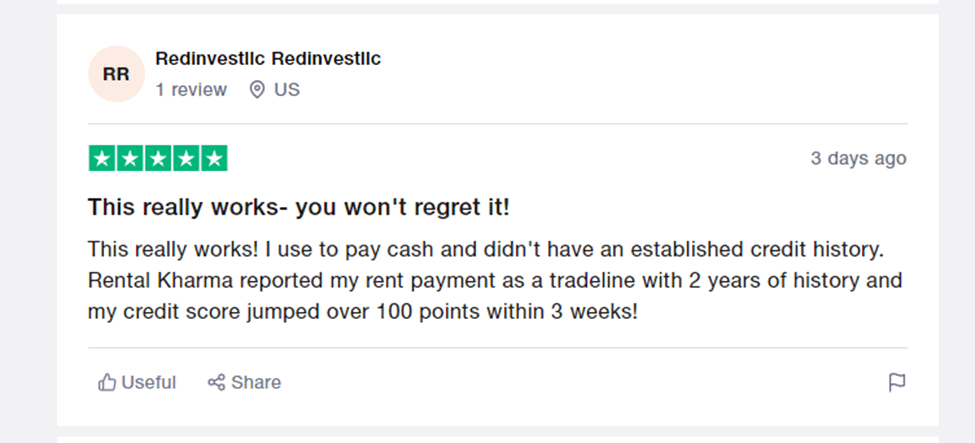 Some of the negative reviews center around disappointing results in their credit scores after using Rental Kharma. For example:

Rental Kharma has similar reviews on Facebook – 4.7/5 stars. Positive reviews highlight satisfaction with their services, while negative reviews often mention disappointing results with boosting their credit scores.
Disappointment with the impact of credit reporting may result from excessive expectations. A rent reporting service does not determine the impact of an account on your credit score. The credit scoring algorithm does that.

If you have an extensive credit file with a large number of negative records, the impact of any rent reporting service will be minimal.
Rental Kharma Alternatives
There are many rent reporting companies to choose from. You can see what we think are the best alternatives to Rental Kharma in our article on the best rent reporting companies.
Companies report to different numbers of credit bureaus. Some, such as Rent Reporters, report to only one credit bureau. Other companies, such as Boom, report to all three credit bureaus. Reporting to all three credit bureaus provides wider positive effects on your credit scores.

If you often pay your rent in cash, a company like Rental Kharma, which gets its information from your landlord, could be the only choice. Companies that rely on bank account information will not be able to confirm or report your payments.
Here's the price comparison between Rental Kharma and 6 alternatives for the best rent reporting companies:
| Company | One-Time Fee | Monthly Fee |
| --- | --- | --- |
| Rental Kharma | $50 | $8.95 |
| Credit Rent Boost | $25 | $5.95 |
| Rent Reporters | $94.95 | $9.95 |
| Esusu Rent | FREE | $50/year |
| LevelCredit | FREE | $6.95 |
| Rock the Score | $48 | $6.95 |
| Boom | $10 | $2.00 |
Be sure to consider your options before choosing a financial services company. Review your needs and the available companies and choose one that fits you.
Other Ways to Build Credit
If you are new to building credit you have many options available. One of your options is rent reporting, which is helpful in capitalizing on an ongoing expense to help your credit score.
But there are other ways as well. For example:
Many of these services charge fees, but it is entirely possible to build credit for free.
Is Rental Kharma Worth It?
Rental Kharma is an effective option for building credit for people who are just beginning their credit journey. It allows just about any rental arrangement to help build your credit by using ongoing expenses you're already paying.
But it is more expensive than some other options. Boom provides the same services at a fraction of the cost of Rental Kharma, and Boom reports to all three credit bureaus.
The biggest argument we see for selecting Rental Kharma would be a need to make rental payments in cash, rather than by bank transfer. If you're in that position you need a rent reporting company that confirms your payments with your landlord, and Rental Kharma fills that need.
Conclusion
This review aims to help you decide whether Rental Kharma is right for you. There is no universal right answer. Your decision depends on your goals and unique situation.
If you are looking to build your credit, consider the various options at your disposal. If rent reporting is part of your solution, consider Rental Kharma and its competitors carefully.
Our Methodology
The ratings we use in this article are based on comparisons between Rental Kharma and other rent reporting companies. These ratings should not be used to compare Rental Kharma and other credit-building tools.
Here is a breakdown of our rating criteria.
Cost
We considered the monthly fee, registration fee (if applicable), and any past rent reporting fees in forming our cost comparison. Rental Kharma's basic package is relatively expensive, and its extra services all come at significant costs, hence its lower score.
Effectiveness
The main considerations for effectiveness include the number of major credit bureaus that companies report to and the amount of time that the credit history is reported. Many reporting companies report up to 24 months of rent payments, but only three companies (Rent Report Team, Esusu Rent, and Boom) report to all credit bureaus.
Ease of Use
This criterion considers how easy services are to sign up for and use. Rental Kharma requires full landlord participation, which brings down the score here.
Customer Support
Rental Kharma has an excellent track record of keeping its customers happy. They also commented on many online reviews of the company and addressed any pertinent issues.
The post Rental Kharma Review (2022): Boost Your Credit With Rent Payments appeared first on FinMasters.
FinMasters