Root Insurance is an insurance carrier that bases auto policy premiums primarily on your driving habits. Your age, gender, credit score, and zip code play less of a role, which may help you qualify for cheaper coverage. It can help some drivers get coverage at a lower cost. It also provides renters and homeowners insurance.
Root Insurance
Root Insurance is a good choice if you currently pay inflated premiums due to demographic factors such as age or gender. You're most likely to receive a favorable quote if you drive safely and infrequently.
Pros
Lower premiums for low-risk drivers
Comprehensive, user-friendly mobile app
Cons
Inaccessible to higher-risk drivers
Not available in every state
Not as well-established as top competitors
What is Root Insurance?
Root Insurance is an InsurTech company that offers usage-based auto policies and a more modern customer experience than many established competitors. It was founded as a startup in 2015 by Alex Timm and Dan Manges, eventually going public in 2020.
Root capitalizes on the fact that most leading insurance companies fail to live up to modern customer expectations of convenience and personalization. It's one of the first insurance providers to build an app that can facilitate the entire auto insurance customer journey.
The app's most notable feature is a telematics-based test that assesses your driving habits. Your performance during the test is the primary determining factor in your policy premiums.
Traditionally, insurance providers have relied on demographic data to determine the cost of your coverage. These data include your age, gender, zip code, marital status, and credit score.
Unfortunately, demographics-based underwriting can cause you to overpay, especially if you're a young driver. Root Insurance minimizes the impact of these factors. They've even promised to remove credit scores from the equation entirely by 2025.
Root's test helps the company focus on the following instead:
Braking habits
Speed of turns
Total miles driven
Driving routes
Phone usage
Time of day on the road
If you drive well during your assessment, you may find that your insurance premiums are significantly lower with Root Insurance than with other providers for the same level of coverage.
Conversely, Root may not offer you any coverage if you perform poorly. The company refuses to insure high-risk drivers to keep its claim costs and customer premiums down.

Learn More: If you'd like to lower your insurance premiums, check out our favorite ways to reduce the cost of coverage: 8 Insurance Renewal Tips: How We Saved 20% on Insurance.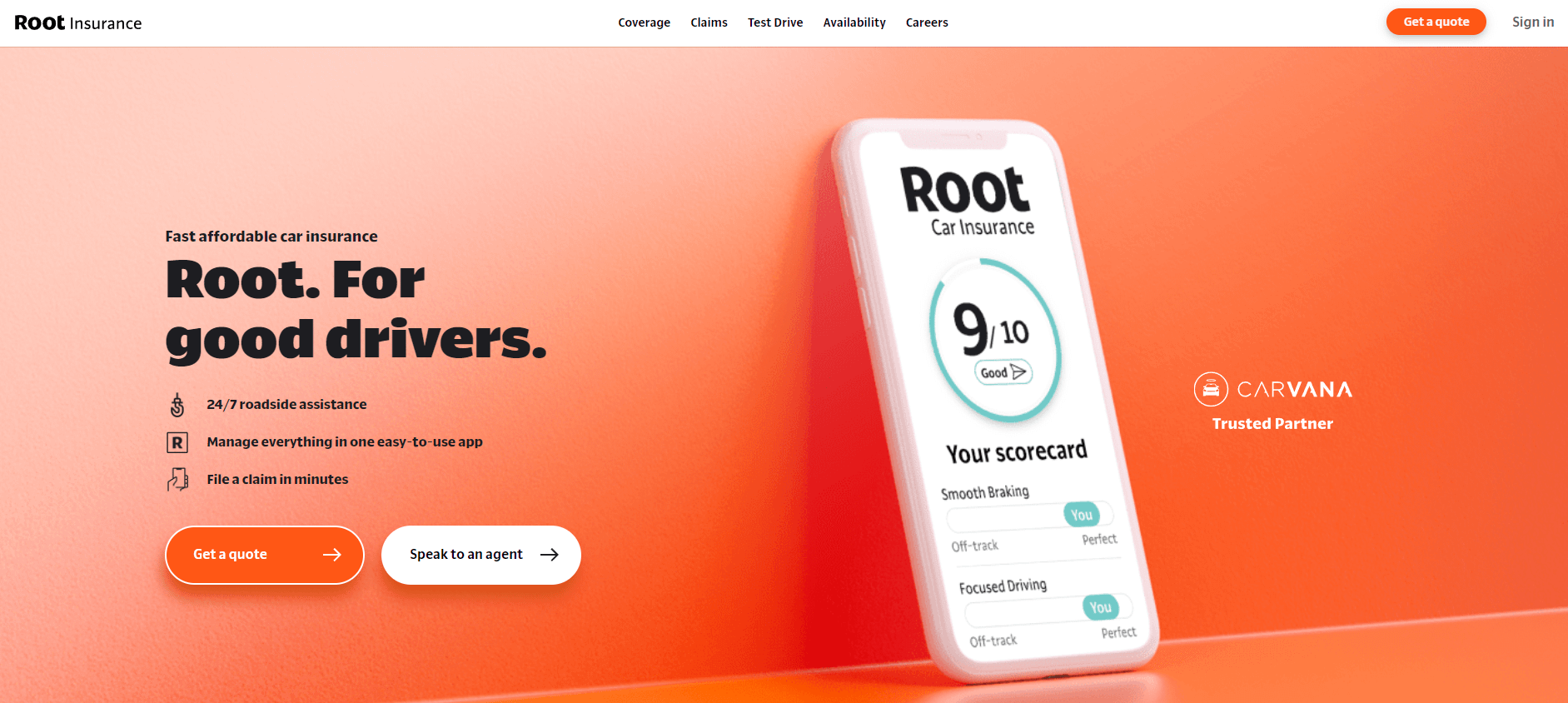 How Does Root Insurance Work?
To get a quote from Root Insurance, you have to download its mobile app, which is compatible with iPhones 5 and above and most Androids. You can download it via the App Store or Google Play.
Next, you'll need to sign up for an account. Root asks for standard identifying information such as your name, email, address, and date of birth.
The next step in the process depends on where you live. In some states, Root Insurance will let you purchase an insurance policy immediately, even before you take its driving test.
In that case, you can have Root Insurance cover you while you take its test. Once you complete it, the company will tell you whether they can continue to insure you at the same rate, a lower one, or not at all.
If you live in a state that doesn't qualify for the day one option, you'll need to complete Root's driving test before you can proceed any further. Once again, Root will assess your performance and offer you a quote or tell you that they can't insure you.
You can initiate the test from the Root Insurance app with no additional equipment. It usually gathers data for a few weeks, though the duration can vary, depending on how much you drive.
Root Insurance claims that the app can tell when you're the driver versus the passenger. This addresses a common complaint about usage-based insurance apps.
In addition, there's no need to keep the app open during the test. It can simply run in the background, so you don't have to worry about it distracting you.
During the test, you'll receive a scorecard that rates your performance on a scale of 1 to 10 in various factors, helping you improve your driving habits in real time.
Is Root Insurance Legit?
Root Insurance is a legitimate insurance carrier. Its primary legal entity is admitted in Ohio, which means it holds a license from the state and is regulated by the Ohio Department of Insurance.
In addition, the company went public in 2020, and its shares are traded on the NASDAQ stock exchange. It's also accredited by the Better Business Bureau (BBB) and receives an A+ rating from the platform.
However, the company isn't as well-established as some of its older competitors. It's never received a financial strength rating from AM Best or a customer satisfaction rating from J.D. Power.
Root Insurance Pros
Let's explore the most significant reasons to consider using Root Insurance.
Potentially Lower Premiums
Root Insurance's primary selling point is it can get drivers with low-risk habits the same or better coverage for less. Since the average annual cost of full coverage auto insurance is $1,771, reducing your premiums can mean significant savings.
Root Insurance advertises that you could save up to $900 per year by switching to one of its policies, though it doesn't explain where that number comes from on its site.
Modern Customer Experience
Insurance is an old-fashioned industry that's been taking its time to join the 21st century. In 2021, 62% of insurers reported that most new policies are completed via phone calls or in person.
InsurTech companies like Root Insurance are attempting to disrupt the industry by offering consumers a more modern, Amazon-like experience. Through the Root mobile app, you can purchase a policy, complete your driving test, and file a claim instantly without having to deal with an agent.
Free Roadside Assistance
Root Insurance includes free roadside assistance with its policies. It covers a wide range of emergency services, including:
Towing
Jump starts
Fuel delivery
Spare-tire installation
Lockout service
Winching
The benefit covers up to three $100 incidents per vehicle every six months. You can make a request for Root assistance through the app or use another provider and email your receipts to Root for reimbursement.
Opportunity to Improve Driving Habits
Root Insurance's driving test assesses your risk levels primarily to help the provider determine whether you qualify for coverage. However, it's also an opportunity to receive an objective assessment of your skills, which many adults haven't had since getting their licenses.
Even if you don't qualify for a Root Insurance policy, taking the test can help you identify ways you can improve. If you take the advice to heart, you can lower your risk of accidents in the future.
Root Insurance Cons
Root Insurance has its advantages, but it's not perfect. Here are the most significant reasons to avoid using it.
Savings Not Guaranteed
Consumers that drive safely or infrequently may qualify for lower premiums with Root Insurance than they would at other providers, especially if their demographics make them high-risk. However, that's far from guaranteed, and you may take their multi-week driving test only to get an inflated quote or an outright rejection.
Even perfect test scores don't guarantee you a favorable quote from the carrier. Root Insurance makes driving habits the most important factor in its underwriting, but demographics, credit scores, and vehicle type still play a significant role. They have enough weight to stop you from qualifying for coverage.
Location Limitations
Root Insurance policies aren't available everywhere. It's a relatively new insurance company and can't provide coverage yet in certain states. It claims to be expanding into the rest of them as quickly as possible but that the differing regulations make some states take longer than others.
As of the time of writing, Root auto policies are available in all but the following 16 locations: Alaska, Washington, Idaho, Wyoming, South Dakota, Minnesota, Michigan, North Carolina, New York, New Jersey, Washington D.C, Rhode Island, Massachusetts, New Hampshire, Maine, and Vermont.
Privacy Concerns
Fighting to preserve your privacy may feel like a lost cause these days, but it's still worth noting that signing up for Root wouldn't help. The company requires that you give up your precise location and telemetrics data for weeks at a time.
Root claims it won't sell your personally identifiable data but also states: "At our discretion, telematics can be utilized in the maintenance of your policy, investigation of a claim, or for any other lawful purposes."
In addition: "The persons or organizations with whom we may share your information may include, among others: Other business partners and/or financial institutions with whom we have a joint marketing agreement."
It might be a pointless hill to die on, but I chose not to share my telemetrics data with my insurer when it offered me a similar deal.
Root Insurance Reviews
Here are Root Insurance's ratings across some popular review sites:
The discrepancy between some of the scores isn't abnormal. Companies have incentives to manipulate the reviews, and each site has different standards for accepting or rejecting submissions.
For example, Trustpilot admits that Root may be using unfair invitation methods to artificially inflate its score on the site. Meanwhile, the BBB is much stricter about protecting the integrity of its ratings, but primarily accepts complaints.
Fortunately, the compliments and condemnations were fairly consistent across sites anyway.
Generally, people were most likely to rate their Root Insurance experiences highly because the company saved them money. Many report that Root's emphasis on driving skills in underwriting helped them qualify for lower premiums.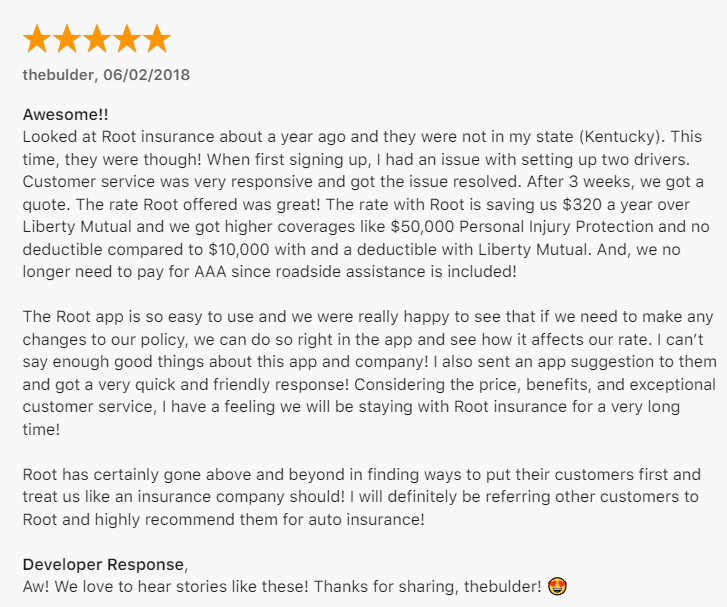 Happy customers also consistently praise the convenience of the app, noting how easy it is to manage everything digitally. However, the ratings are significantly higher on the App Store than the Google Play store, so it's possible that Root works better on iPhones than on Androids.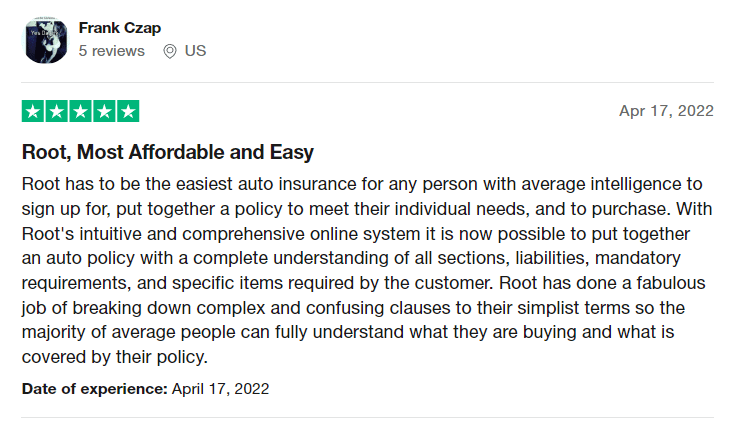 Meanwhile, the criticisms are usually about the company's premiums unexpectedly increasing. Root may be luring in customers with low rates and increasing the prices upon renewal faster than it should.
However, many of these complaints seem to be from customers who don't understand how much factors other than their driving habits affect their premiums, including inflation and extreme weather events, which have both been increasingly rampant in recent years.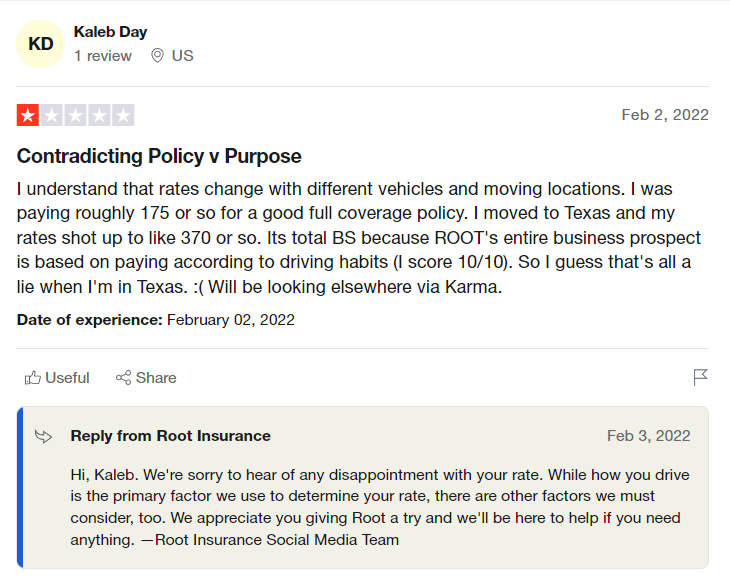 The other primary issue seems to be that customers believe the company is unfairly avoiding claim payouts. Unfortunately, that's the most common complaint people make about insurers in general.
Root Insurance Alternatives
Root Insurance's claim to fame is that it can help you get a lower policy premium for safe driving habits. However, telemetrics-based tests are increasingly becoming an industry standard. Many top insurers offer a similar feature, including Progressive, Nationwide, Geico, and Statefarm.
However, these providers don't emphasize driving habits in their underwriting as much as Root, so you may or may not save as much. In addition, you should use caution when taking these tests with your current provider, as some can cause your premiums to increase.
If you're primarily interested in Root Insurance for its Amazon-like customer experience rather than its good-driver savings, you may want to consider Lemonade. It's another InsurTech company attempting to disrupt the industry using advanced digital technology.

Learn More: Karma Drive is a telematics-based driving test created by Credit Karma. Find out if it's worth taking: Karma Drive Review: When Is It Worth Using?
Is Root Insurance Worth It?
You're most likely to receive a favorable quote from Root Insurance if you drive safely and infrequently, especially if you currently pay inflated premiums due to demographic factors such as age or gender.
In that case, it may be worth taking Root's driving test, as long as you're not worried about privacy issues. However, you should also shop around with a few other providers to ensure you get the best possible terms.
How We Reviewed This Product
We rate products by comparing them to similar products. In this case, that means a comparison to other usage-based car insurance products, and to a lesser extent to other conventional car insurance products. Here's a summary of the rating criteria.
Effectiveness
Effective car insurance has two basic elements: you need to get approved for a policy and the policy has to pay out when you need it to. Root scores relatively well in both categories, though not everyone will be approved and there are some complaints about non-payment ( as there are with all car insurance companies).
Cost
Car insurance is a significant cost, especially for younger drivers, especially if they live in less affluent neighborhoods and have low or no credit scores. Root can offer substantial discounts to these drivers if they consistently drive well.
Ease of Use
Ease of use is primarily determined by user reports from customer reviews. Most reports suggest that setting up a Root account is easy and straightforward, hence the high score.
Support
Support scores are also based largely on customer reviews. All products have some issues, and you want to be sure that you can get quick and effective solutions if something goes wrong. Reviews indicate generally positive experiences with Root, but there are significant numbers of complaints. These may be partly due to misunderstanding or unreasonable expectations on the part of some users, but there's still cause for concern.
The post Root Insurance Review: Is It Worth Using? (2022) appeared first on FinMasters.
FinMasters