TomoCredit, more often referred to as Tomo, is a startup that offers unsecured credit cards to consumers without requiring a credit check. That means you can qualify for the account no matter your credit score, making it an attractive option for people with limited or negative credit histories.
Tomo was founded by immigrants whose families struggled to qualify for credit cards due to their status as foreign nationals once they moved to the United States. They built Tomo so that others like them wouldn't have to face the same issues.
In this Tomo credit card review, I'll explain how their accounts work, verify the company's promises, and help you decide whether the card is worth pursuing.
Tomo Credit Card Review & Rating
Tomo Credit Card
Tomo offers an unsecured credit card with no credit check, interest, or fees. It provides 1% cash back on all purchases and gets reported to all three major credit bureaus. However, Tomo automatically charges your bank account to pay off your balance weekly. Customers also report encountering frequent issues with the card and receiving little to no assistance.
Pros
No security deposit required
Reports to major credit bureaus
High available credit limit
Available to non-U.S. citizens
Cons
Automatic weekly payment schedule
Glitches in underwriting and payment software
Quick to freeze and close accounts
What is the Tomo Credit Card?
The Tomo credit card's primary selling point is that you don't need to clear a credit check to get it. Tomo doesn't initiate a hard or soft inquiry when you apply for one of their accounts. That means your credit score won't affect your chances of qualifying, and applying won't hurt your score.
Typically, you have to undergo a hard credit check whenever you apply for a new credit account. In these cases, the lender or credit card issuer pulls your credit report and uses it to calculate your credit score. The results are one of the most significant factors determining whether you qualify.
Unfortunately, that leads to the classic credit conundrum. You need credit accounts to build good credit, but you need good credit to get credit accounts. As a result, people with no credit or bad credit often struggle to even begin improving their scores.
The solution for these consumers is to focus on acquiring accounts designed to help people build credit. These typically come with fewer cash back rewards, but they also have less strict qualification requirements, like the Tomo credit card.
How Does the Tomo Credit Card Work?
Tomo currently offers only one type of credit card. Here's what you should know about who's eligible for an account, how to apply for one, and how to use it to improve your credit score.
Tomo Credit Card Qualification Requirements
Tomo accepts applications from anyone with a Social Security Number (SSN) or Individual Taxpayer Identification Number (ITIN) and a government-issued ID. As a result, you can apply for their card even if you're not a citizen of the United States.
In addition, the Tomo credit card is unsecured, which is unusual for an account open to people with bad credit. Typically, cards like these require that borrowers provide a cash deposit equal to their credit limit.
When you apply, Tomo uses alternative underwriting methods to determine your creditworthiness. Instead of checking your FICO score or VantageScore, they focus primarily on your bank and investment accounts.
More specifically, they consider factors like the following:
Average account balances
Wages and other sources of income
Fixed expenses and discretionary spending habits
Tomo claims that their goal is to make a holistic assessment of each borrower's creditworthiness. However, their underwriters just look at your cash flow trends, the amount of money you usually have on hand, and any assets that could help cover your debts.
How to Apply for the Tomo Credit Card
To apply for the Tomo credit card, you'll need to go through their preapproval process. That involves filling out forms that ask you for standard identification information like your name, date of birth, SSN or ITIN, and government ID.
You'll also need to link at least one of your bank accounts to your Tomo profile. That sounds concerning, but you're only giving them read-only access like you would with Mint or Personal Capital. Tomo uses services like Plaid to handle the integration and protect your data, so they can't see or retain any of your login details.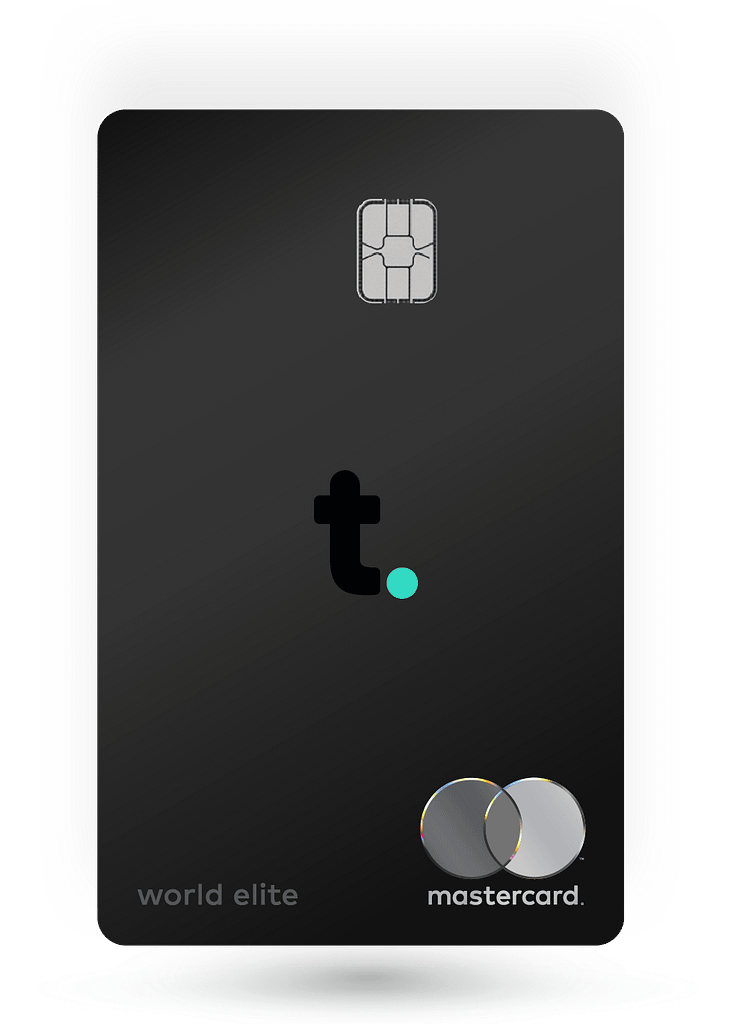 Note that you're not limited to linking a single account. In fact, linking more of them is likely to benefit your application. The stronger your financial position, the more likely Tomo will offer you a credit card and a higher credit limit.
Remember, Tomo considers your investments in addition to your bank account activities, such as your stock portfolio or cryptocurrency holdings.
For example, a strong applicant might link a savings account with a solid emergency fund, a checking account with a healthy average balance and direct deposit, and investment accounts with the beginnings of their retirement portfolio.

If you only connect your checking account, it may be hard to qualify for a Tomo credit card. At the very least, your potential credit limit will be lower. Unfortunately, if you request a Tomo credit card and they reject your application, you can't try again.

Tomo is a relatively new credit card, and multiple users report difficulties linking their bank and investment accounts to it. Check out their up-to-date list of problematic institutions: Tomo Credit Card – Application Troubleshooting.
How the Tomo Credit Card Works
If Tomo approves your application, they'll assign you a credit limit of up to $10,000. They state that you may qualify for an increase after making your first few months of payments on time.
Unfortunately, Tomo follows a strict, weekly payment schedule. Every Monday, they automatically use the funds in your primary bank account to pay off your balance, even if you only incurred the charges the day before.
Tomo claims they'll eventually let you switch to a more traditional monthly payment schedule after you demonstrate good behavior for a few months, but customer reviews say otherwise.
Tomo also implies that their weekly payment schedule will improve your credit score faster, but that's not the case. No matter how many payments you make during a billing period, they only report your activities to the credit bureaus once a month. That means your payment history still only improves a month at a time.

Learn More: A similar misconception led to the popularization of the 15/3 credit card payment hack. Find out what the tactic actually does for you: The 15/3 Credit Card Payment Hack: How, Why, and When It Works.
However, automatic payments mean you'll never carry a balance or pay interest, and your credit utilization ratio will always be low.
But if Tomo can't pay off your balance with the funds in your bank accounts, they'll freeze your card until you pay off the balance. Once you do, they'll likely cancel your account.
Unlike many starter credit cards, the Tomo card has a reward program. As of June 2022, you'll get 1% cash back on all your purchases. You get an extra 1% cash back for three months for each friend you refer, but Tomo caps you at 20.
Tomo Credit Card Key Features
The Tomo credit card has some attractive fundamental features. Here are some that you should know at a glance:
Interest Rate: 0%
Annual Fee: $0
Cash Advances: None
Security Deposit: None
Credit Check: None
Cash Back Rate: 1% on all purchases
Payment Schedule: Automatically charged for full balance every Monday
Credit Limit: $100 to $10,000
Credit Bureau Reporting: Experian, Equifax, and TransUnion
Tomo promises that they'll never charge you any fees or interest for any reason. They're able to say that primarily because they don't let you carry a balance from one period to the next.
How Does Tomo Make Money?
Tomo addresses this directly on their Frequently Asked Questions page, giving the following response: "Tomo doesn't charge you any interest or fees. Instead, we receive a small fee from the merchant for every purchase made with your Tomo card."
These are commonly known as interchange fees. They're usually around 3% of each transaction, and they come out of the merchant's pocket, not the card owner's.
Is Tomo Legit?
Tomo is a legitimate unsecured credit card with no credit check or fees. You can use it to build your credit score, even if you have no prior credit history, you have damaged your credit score, or are a citizen of a different country.
Unfortunately, many customers report encountering significant issues while applying for and using the card. Let's explore what they have to say.
Tomo Card Customer Reviews
Tomo makes big promises, but they fall flat. The startup receives mostly negative reviews on crowdsourced review platforms, including a 1.7 out of 5 stars from 21 people on Trustpilot, 2.8 out of 5 stars from 98 people on the App Store, and 1.3 out of 5 stars from 40 people on the Better Business Bureau (BBB).
Most of the negative comments tell a similar story. First, the users report that Tomo froze their accounts. Some acknowledge that it happened after they missed a payment, but others claim they had never been delinquent. That's almost always followed by account closure, often with no explanation.

When the customers try to contact someone for help, they struggle to get assistance. Tomo's support staff is often unavailable during alleged work hours, and people wait for weeks to get responses to emails.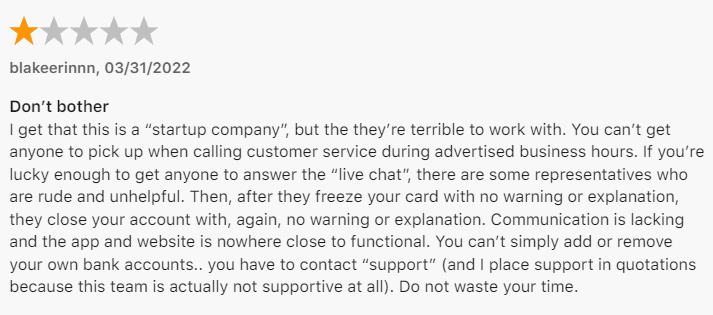 In addition, people report issues with Tomo's automatic payment system. Sometimes the charges happen ahead of schedule, and other times they take the money out of their bank account twice for the same week's balance.
There are also claims that Tomo doesn't accurately underwrite consumer applications. People with allegedly healthy financial positions expect to qualify for much higher credit limits than they actually receive.

Finally, multiple users report that the account never showed up in one or more of their credit reports, even after waiting for several months. That would prevent your credit score from receiving any benefits, even if you paid on time each week.
Tomo Credit Card Alternatives
Fortunately, the Tomo credit card is far from the only option available to people who lack good credit and want to improve it with a revolving account. Here are some other cards you should consider that can help you improve a poor or nonexistent credit score:
Chime Visa Credit Builder: This is another credit card with no credit check, interest, or fees. However, you need to have a Chime spending account and fund it with a cash deposit before you can use the credit card.
Self Visa Credit Card: You need a current Self credit builder loan with three months of timely payments and $100 in savings to open this card. However, there's no credit check or security deposit if you meet those requirements. 
Grow Credit Mastercard: This is a virtual credit card you can use to pay for your monthly subscriptions. Anyone can qualify for their secured account, which only costs you a refundable $17 deposit and a $2 monthly fee.
Depending on what attracts you to the Tomo credit card, there are many different options you can substitute for it. If you only want a credit card you can use to build credit that's accessible with bad credit, any secured credit card might be a viable alternative.

Learn More: If you're open to building credit with an installment account instead of a credit card, you may be interested in a credit builder loan. Check out our explanation of these accounts: Credit Builder Loan: What Is It and How It Works.
Is the Tomo Credit Card Worth It?
The Tomo credit card is a great idea, but as of now, it doesn't deliver on its promises. Tomo is a relatively new startup, and its customers are reporting issues every step of the way. The chances are high that you'll run into problems when applying for or using the card, and their customer support doesn't do a good job of helping with them.
This may change, and the company may iron out its problems as it matures.
For now, though, there are too many reliable alternatives to risk using the Tomo credit card, especially since its weekly payment schedule lowers its utility compared to others. If you're looking to build or repair your credit, I'd recommend using a different account.
Our Methodology
The ratings we use in this article are based on comparisons between Tomo and other credit cards available to people with no credit or bad credit.
Here is a breakdown of our rating criteria.
Cost
We considered the fees and interest rate in forming our cost comparison. Tomo's no-fee, interest-free model is a clear winner in this department and receives a high score.
Effectiveness
The Tomo card should be an effective credit-building method. They report to all three credit bureaus and the weekly payments ensure on-time payments and low credit utilization. We did lower this score slightly because of reports of accounts not appearing on credit records.
Ease of Use
This is based primarily on customer reviews and reflects customer perceptions of the product's user-friendliness. Tomo has some work to do here..
Customer Support
This ranking is also based on customer accounts of interactions with the company. Here, again, there are reported problems with access to customer service representatives and with their responsiveness.
The post Tomo Credit Card Review (2022): Unsecured Card With No Credit Check appeared first on FinMasters.
FinMasters