A business credit score, like a personal credit score, is a measure of creditworthiness. Business credit scores are separate from personal ones but can still be influenced by them.
Business credit scores aren't only used when a business applies for a loan or credit card. Suppliers will also check a customer's credit before extending terms. This makes building business credit a very important part of establishing a business.
But what is a good business score, and how do you achieve one?
Let's explore the unique business credit bureaus, score ranges, and scoring criteria that define what a good score is and what you can do to achieve it.
What Is Good Business Credit?
Unlike personal credit scores, each business credit bureau has a unique scoring model with a different score range. A good credit score might be 60 or 1600. Credit bureaus use different criteria: some focus on payment history, while others weigh business age or assets more heavily.
Here's a look at what business credit scores each credit bureau offers and what you need to achieve a good score.
What Is a Good Dun & Bradstreet Score?
Dun & Bradstreet (D&B), one of the biggest names in the business credit world, offers the PAYDEX score as their main business credit score. The PAYDEX score ranges from 1 to 100.
A good PAYDEX business score would be anything over 80, which indicates to lenders and vendors that your business has a low risk of making late payments.
The best way to achieve a PAYDEX score of 80 or higher is to ensure that your credit accounts are reporting to D&B and to always pay accounts on time. If your business is new, you may need to sign up for a DUNS number first.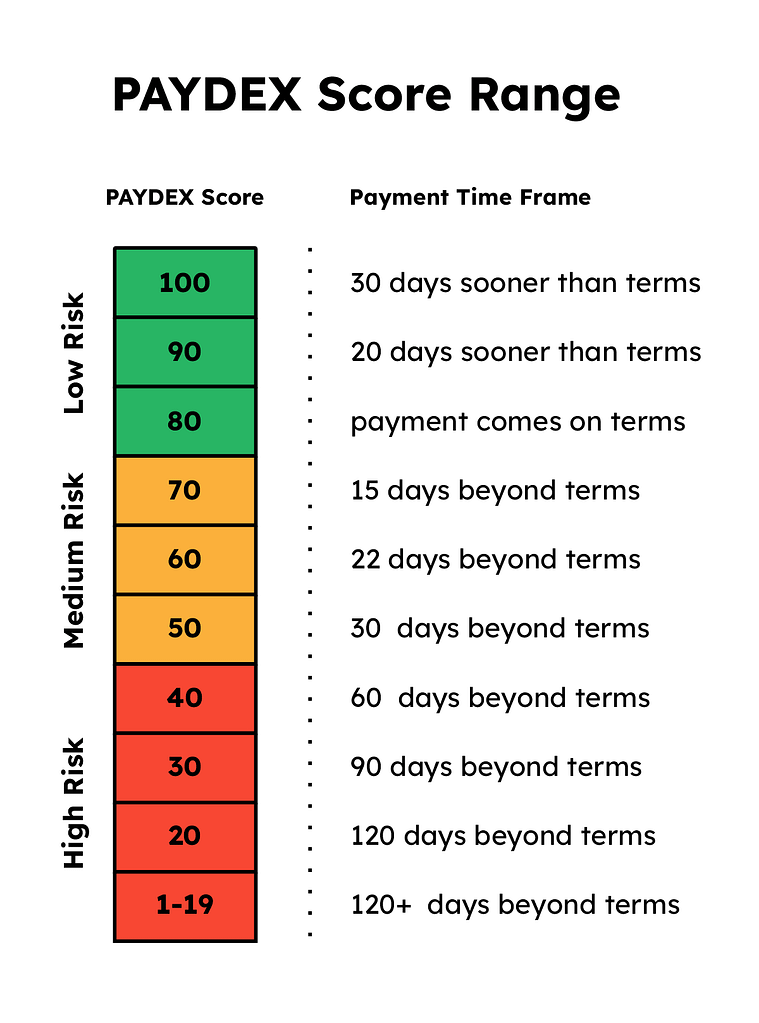 In addition to PAYDEX, Dun & Bradstreet offers several other business credit rating scores, including their Delinquency Predictor Score (DPS), Supplier Evaluation Risk (SER), etc.
These alternative business credit scores often include business size, assets, industry, and equity in their calculations. The resulting scores/ratings can help predict the likelihood of a business going bankrupt, how vulnerable they are to cyber-attacks, and more.
---
What Is a Good Experian Business Credit Score?
Experian's main business credit score, the Intelliscore Plus, ranges from 1 to 100. The score calculation factors in many aspects of your business, including business size, age, payment history, legal actions, etc.
An Experian Intelliscore below 50 would indicate a medium to high risk of late or missed payments in the next 12 months. 51-75 would be a good score, while 76-100 would be excellent.
Achieving a good Intelliscore will require a good credit history (on-time payments and low credit utilization) and a decent business age.
Experian also offers a Financial Stability Risk Rating with a score ranging from 1 to 5; the lower the score, the better.

It is also worth noting that Experian recently released an updated model of their Intelliscore, version 3, which uses a scoring range of 300 to 850. In this model, a good score would be 720 or higher. This scoring model version is not yet widely used.
---
What Is a Good Equifax Business Credit Score? 
Equifax offers three business credit scores: a payment index score, a credit risk score, and a failure risk score.
The first one, the payment index score, has a range of 1 to 100. A score of 90-100 is excellent and can only be achieved by having zero late payments. One or two late payments (less than 30 days late) will lower your score to the 80s, which is still considered a good credit score.
The credit risk score ranges from 101 to 992. It is calculated using information such as company size, credit history, age, credit limits, delinquencies, etc. A score of 600 or higher would be considered good and requires several years of credit history and on-time payments.
The final Equifax business credit score, the failure risk score, provides insight into the likelihood of your business folding up shop within the next year. This score ranges from 1000 to 1610, with a higher score being better. 
---
What Is a Good FICO Small Business Scoring Service (SBSS) Score?
This business credit scoring model created by FICO ranges from 0 to 300. The higher your score, the better.
This particular score is heavily used in small business lending decisions. In fact, the Small Business Administration (SBA) requires this scoring model to be used for SBA-backed loans.
While a higher score is better, if you are looking for a 7(a) loan, you'll need an SBSS score of at least 155. The score is calculated using info pulled from your business credit reports, business finances, loan application, and personal credit reports.
So if you haven't been in business long but have decent personal credit and stable business finances, you have a shot of getting a good SBSS score even if you don't have great scores from the other business credit bureaus.
---
How to Improve Your Business Credit?
If your business credit scores aren't the best, there are several steps that you can take to help improve your business credit.
Below we'll look at how you can build business credit, how you can fix bad business credit, how to monitor your business credit, and how personal credit can impact your business credit.
How Do You Build Business Credit?
Building business credit takes time. Many scoring models require your business to have been operational with multiple credit lines for several years before giving you a good credit score. But time isn't the only important factor.
On-time payment history is just as important, so try not to exceed your net terms. For example, for a net 30 account, you'll want to pay on day 30 or sooner.
Credit utilization is also important, so try not to use up all your available credit. One piece of good news: credit inquiries are not factored into business credit scores.
How Do You Fix Bad Business Credit?
If your business scores are bad, you must first figure out why.
If age is the problem, you can improve your credit by establishing new accounts, paying them on time, and being patient. While getting new accounts can be difficult with poor business credit, low-credit options like credit builder loans and secured cards exist.
Poor payment history can drag down your score, so paying your utilities and suppliers on time is important. It is worth noting that some scores use an average for payment history, so paying early can help outweigh late payments.
You can also try negotiating better net terms. I.E., extend a net 30 account to net 60 terms.
Fraudulent accounts can also give you a poor business credit score, and catching them quickly with a business credit monitoring service can lessen the impact.
How to Monitor Your Business Credit
Unlike consumer credit, you have limited options for checking your business credit scores and reports. If you want access to credit monitoring or credit-building features, you might need to pay a premium.
Below are nine free and paid services you can use to obtain your business credit scores.
*A separate credit building secured business credit card is available through the app. 
Is Personal Credit Still Important?
Personal credit is often separate from business credit, but it can still affect and be affected by business credit.
FICO SBSS scores, for example, include personal credit scores in their score calculation. So having poor personal credit can hurt your business credit. A good personal credit score, on the other hand, can help you build business credit.
Individual lenders may also choose to look at your personal credit in addition to your business credit and assets when making lending decisions, especially if your business is relatively new.
You might need to sign a personal guarantee with a creditor when building business credit. This lets the vendor/creditor report any delinquencies on your accounts to your personal and business credit.
This dual reporting means that having poor business credit can start dragging down your personal credit. It's important to maintain both.
Why Is Good Business Credit Important?
Your business credit scores help lenders and vendors decide if they want to develop a relationship with you. So having good business credit scores will help your business thrive, while bad ones limit your growth opportunities.
Good business credit is just one of many steps needed to develop a successful business. Still, it can be one of the easiest benchmarks to achieve, and it's a foundation for further positive developments.
The post What Is a Good Business Credit Score? appeared first on FinMasters.
FinMasters