Instagram marketing. What does it mean? For some, it's posting funny videos. For others, it's a provocative photo of a model in front of a mountain landscape. For most businesses, it's a whole different story, and that's why it's important to find the best Instagram apps designed to help brands that aren't Kardashians create successful campaigns.
The Apple Store and Google Play Store have thousands of Instagram apps, some of which are good for marketing products and services. However, many are made more for fun, while others don't work that well.
Therefore, we put together a list of the best Instagram marketing apps for you to choose from. This way, you can browse through the following categories to see exactly what it is you need.
We'll cover Instagram apps for:
So, keep on reading to learn about the best Instagram marketing apps.
Best Instagram apps for photo editing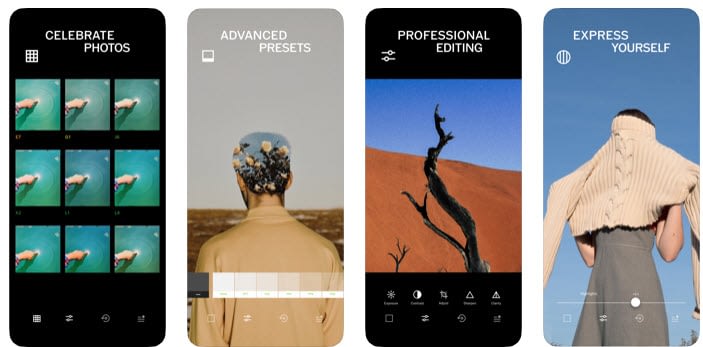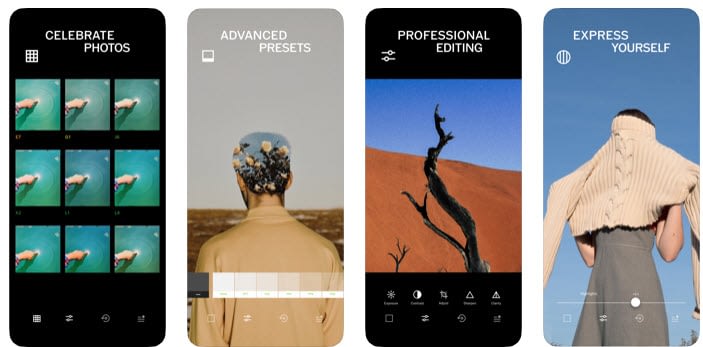 VSCO
VSCO is a powerful yet simple app for editing photos you take on your phone or import from other sources.
Editing a photo is the first step you typically have to take with Instagram marketing, and you'll find that many times the editing tools on Instagram aren't enough.
With VSCO, you receive a free version with 10 presets, basic editing tools, and inspiring photos.
You can then upgrade for the affordable membership to unlock everything from 200 presets to advanced editing tools like video editing and borders. You can also share your edits with other people and take advantage of vintage looks like Agfa and Fuji.
Snapseed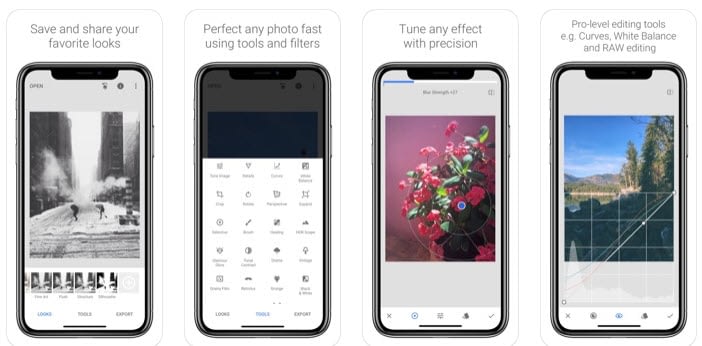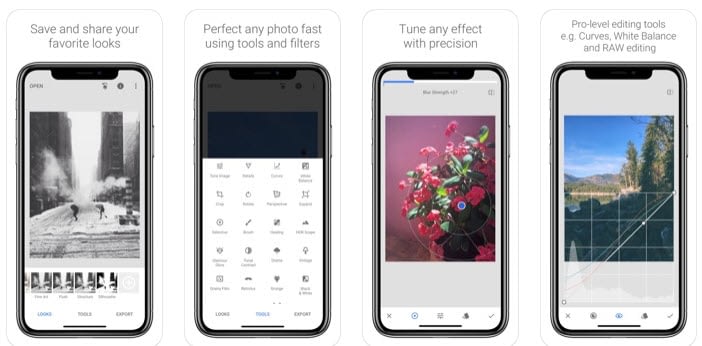 Snapseed is from the folks at Google, and it provides a strong solution for taking photos on your phone, then putting it directly into a photo editor that's about as professional as it gets. All of your photos can be saved on the app, then you can tap on the fast filter and effect buttons before sharing them to Instagram, or any of the social networks.
In comparison to the competition, Snapseed provides several pro-level editing tools such as white balance and RAW image editing. So, technically, you could import photos from your DSLR camera and edit them entirely on your phone.
Many users compare this to Photoshop or Lightroom, but with an intuitive interface for your smartphone. There's not going to be as many effects as Lightroom, but you can take advantage of grainy film, vintage effects, noir, and much more.
Snapseed also provides unique tools for healing dark spots in your photos and working with HDR photos, where you combine multiple exposures to combine them into a single photo. It's a top-notch editing tool that all marketers should check out.
Best Instagram apps for collages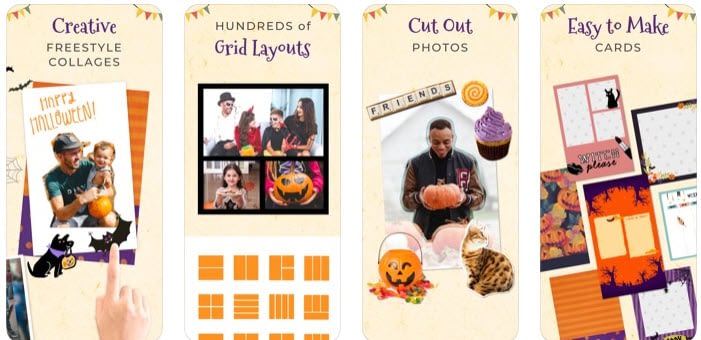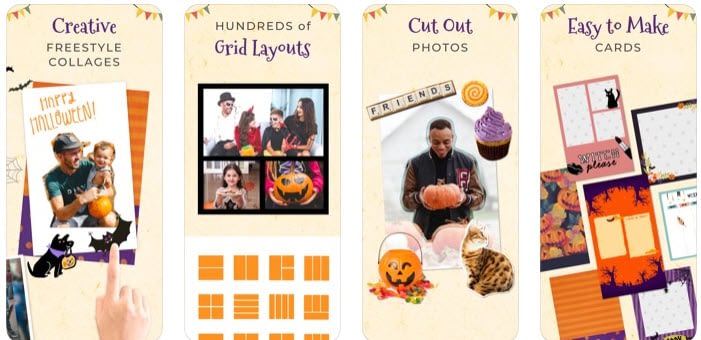 PicCollage Grid and Photo Editor
PicCollage does a wonderful job of generating quick, and beautiful, collages for people who don't want to spend too much time designing for Instagram.
The idea is to upload a handful of photos and have PicCollage do the work for you.
You get to select themes such as holidays or vintage designs for the collages. Then, PicCollage suggests some templates and inserts the pictures automatically. Most of the features are free, and you can buy interesting stickers, cards, and backgrounds for small fees.
Some cool features include drawing tools, sharing buttons, gifting, and a freestyle mode to start from scratch.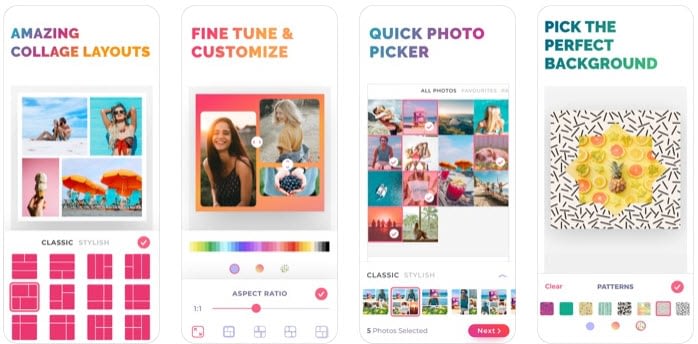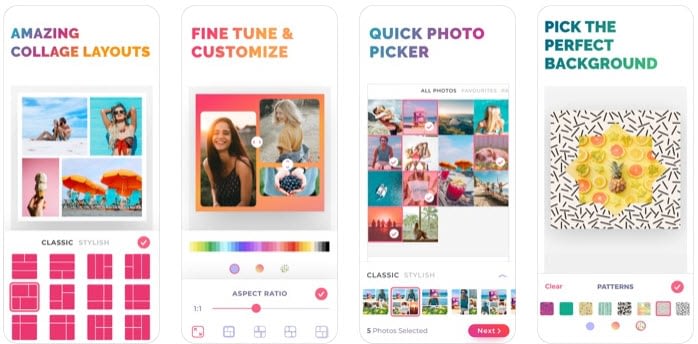 Pic Jointer for Photo Collage
Pic Jointer is on the Apple Store, and it's an ideal option for creating amazing layouts and collages. You can pick photos quickly and drop in a nice background or fine-tune the design manually.
Some of the features include options for creating collages with stylish layouts. You never have to start from scratch, and you can add items like stickers, text, and colors. Sharing to Instagram is done with one click, and you even get some nice photo editing tools as well.
Best Instagram apps for automation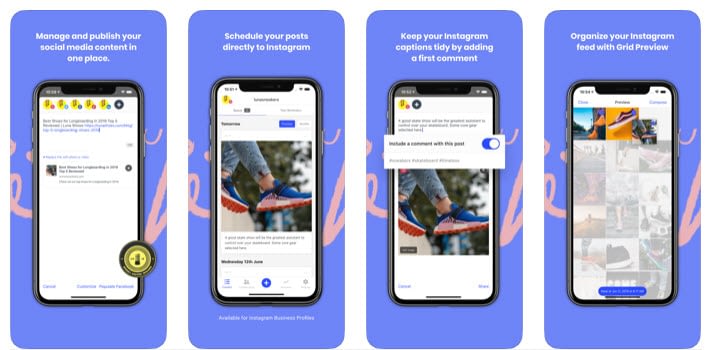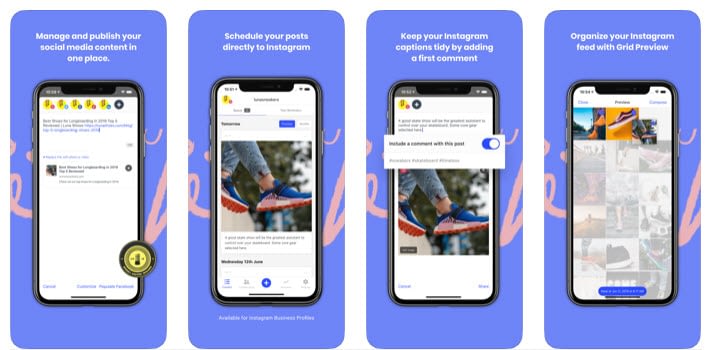 Buffer
With Buffer, online stores, influencers, and corporations can start planning and scheduling social plans for the widest range of networks, such as Instagram, Facebook, and Pinterest.
Quite a few social planning tools are out there, but Buffer is one of the most reputable you can choose from. It has apps for Android and iOS, and it actually supports Instagram direct posting, whereas many of the competitors do not.
Analytics are provided for you to understand where your engagement is coming from, and you can always utilize the content suggestions so you never run out of ideas.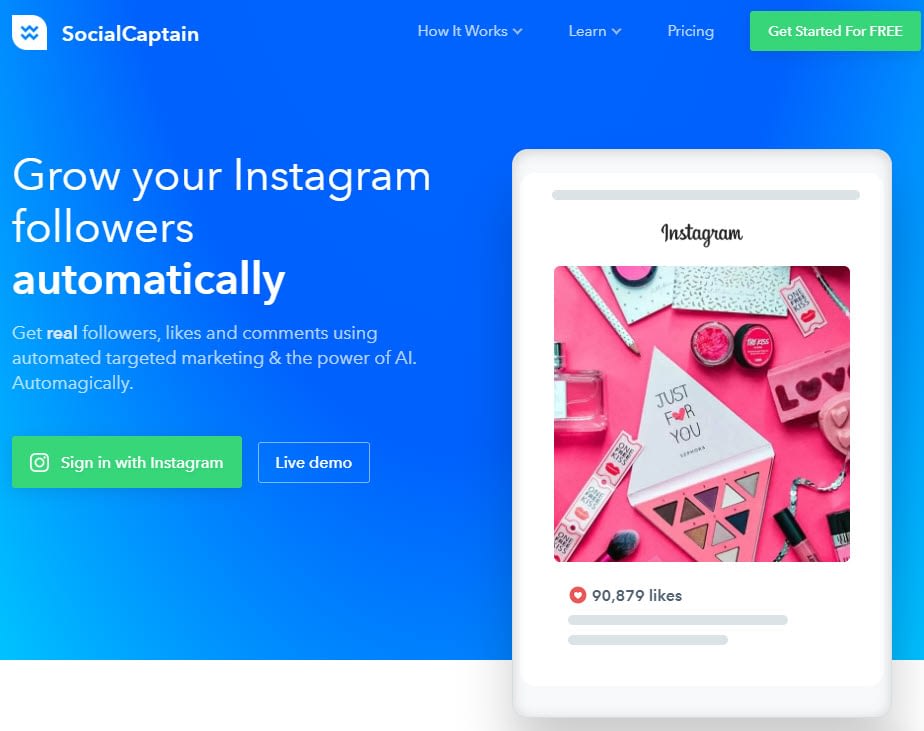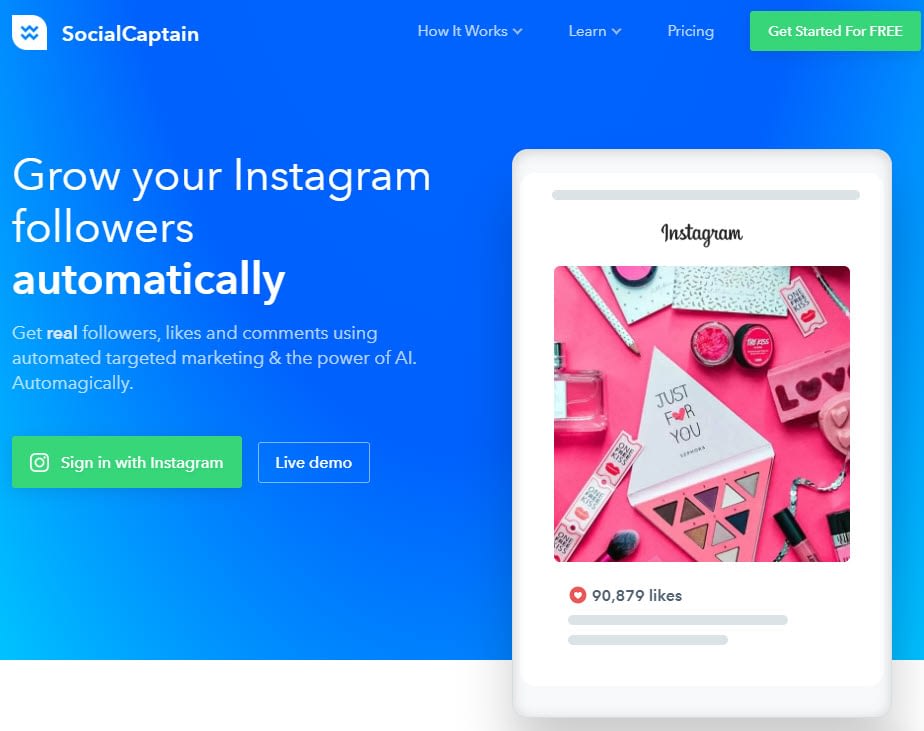 Social Captian
Planning your own social schedule with a tool like Buffer is rather important. But what about trying to build your followership to actually see what you post?
That's where Social Captain comes into play. Not only does it allow you to automatically gain Instagram followers, but it puts an emphasis on bringing you real followers, as opposed to bots or paid users.
This is extremely important in a world of fake followers. Social Captain does the trick by targetting people in your niche and using artificial intelligence to convince them to follow your page. Quite a few features are packed into Social Captain, so it's only available as an online app.
Best Instagram apps for hashtags
Hashtag Expert
Your Instagram caption is important for making an impact on the popular social network, but hashtags serve as the method for getting the word out to potential followers. This is particularly true since users can follow hashtags like they would Instagram pages.
Overall, Hashtag Expert allows you to search for a keyword, then reveals suggestions from the millions on Instagram. However, Hashtag Expert takes it a step further by showing the ones with the best return for you.
This includes hashtags that are proven to get more likes, followers, and comments.
Best Instagram apps for reposting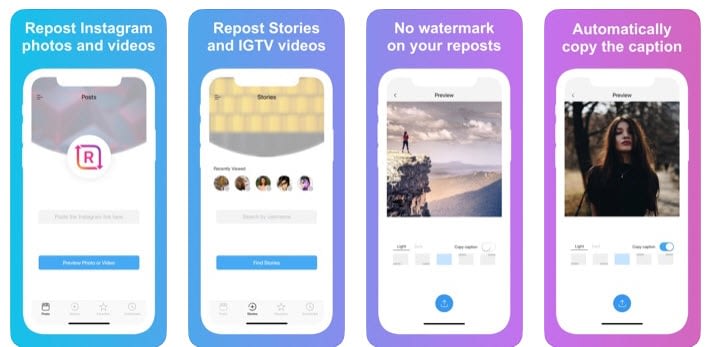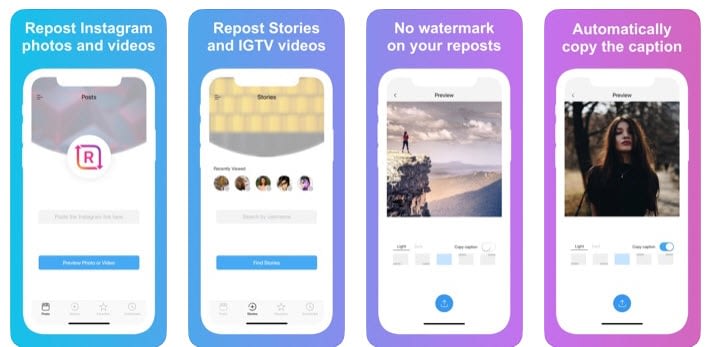 Regrammer
Although Regrammer is only on the Apple Store, it's an incredible tool for finding content to share on your own Instagram page.
A crucial part of marketing on Instagram is seeing what others are posting online and sharing it. Keep in mind that you should always ask permission to regram an Instagram post.
Once you get permission, Regrammer works wonders with repostable photos, videos, and stories. You can automatically copy things like the captions and hashtags. It even lets you schedule regrams a bit later.
Best Instagram apps for analytics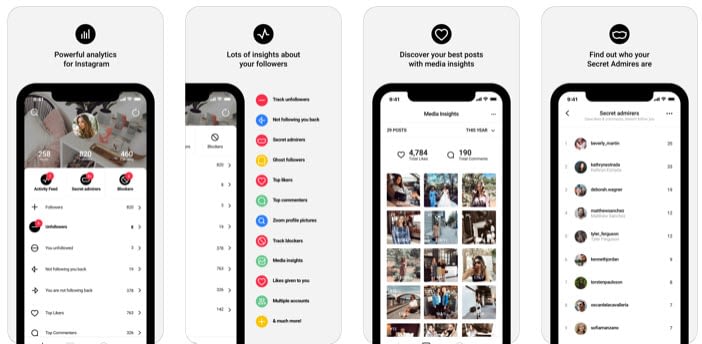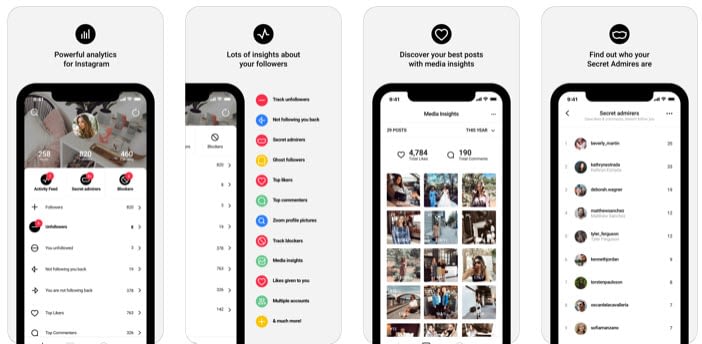 FollowMeter
Facebook analytics can take quite some time to get used to, and even then, there's way too much information packed into the Insights module.
Instagram is much better, but we also like having a third-party app to help break down the data.
The FollowMeter app is a good place to start since it has plenty of visuals and simple lists for understanding what's going on with your Instagram. You can see everything from gained followers to total like numbers, along with average comments for posts and non-followers.
You can even promote your page in the Discover section of FollowMeter if you upgrade to the premium version.
Best Instagram apps for cool videos and clips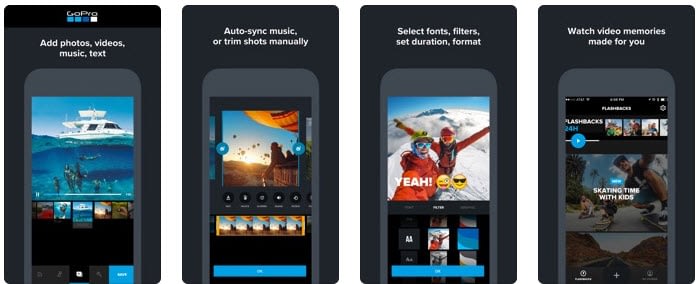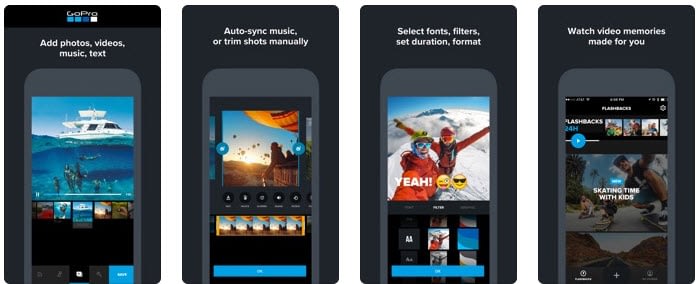 Quik
Quik stands above the many video editing and Instagram sharing apps in that it speeds up the editing process significantly. The app is made by the GoPro developers, but there's no need to have a GoPro or use footage from one of those cameras.
If you've tried to upload videos to Instagram in the past, you know that uploading and editing can take quite some time. Then, you sometimes end up with something cut off or low resolution.
Quik makes it easy by asking for your videos, auto-syncing with music and then trimming the shots automatically. Choose from filters, formats, and the duration, then click the Publish button. This app links directly to social networks like Instagram. Technically, you could create a professional video in under a minute if you have all the clips ready.
Adobe Premiere Rush for Video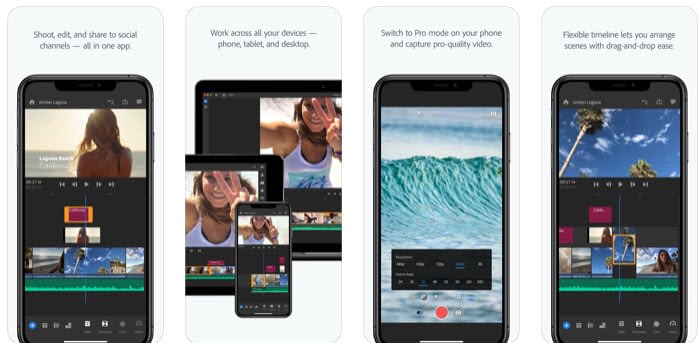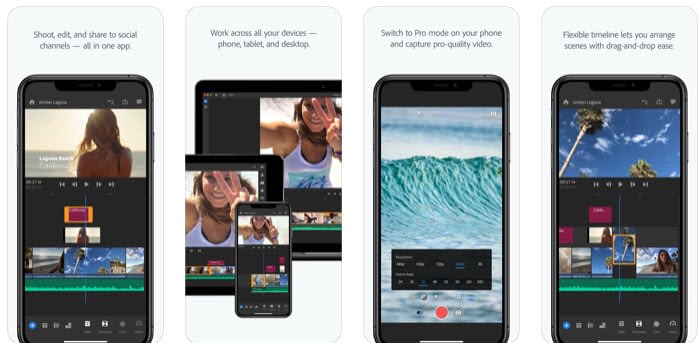 Adobe Premiere is dedicated to professional editors, and it requires a powerful computer for editing large videos. However, the Adobe Premiere Rush version caters towards social media users, seeing as how all of your shooting, editing, and publishing is done in the app.
Some excellent video editing tools are offered with the app, including editing with graphics, photos, video, and color enhancements.
The multitrack timeline is a little confusing, but easy to get used to. You can also add customized titles, sound, and transitions. This is one of the more feature-packed Instagram video editing apps, but it's intuitive enough and nice for the average user.
Best Instagram apps for Instagram Stories
Hype-Type
Stories are essential for connecting with users on a minute-by-minute basis. They're great for showing what's going on right now with your brand, and they go away after a while, making them great for promotions and new products.
In the past, generating a story meant that you would typically have to share a standard video or picture, with whatever design tools were provided through Instagram. This was fine, but some third-party story apps have come out with much better design elements in recent years.
Hype-Type is an example of one of these apps. Essentially, Hype-Type helps with hyping your stories and adding interesting elements that grab attention. Animate text, use text filters, and/or drop music into any of your stories.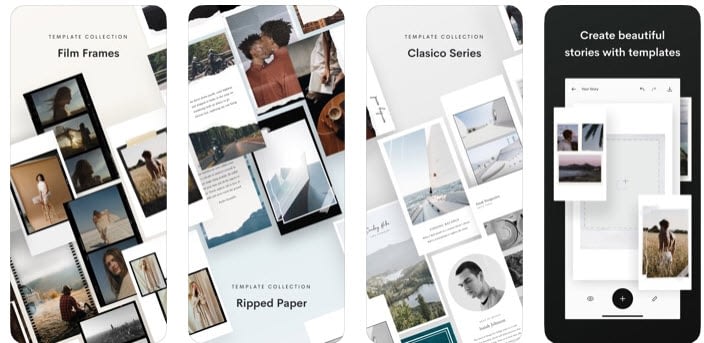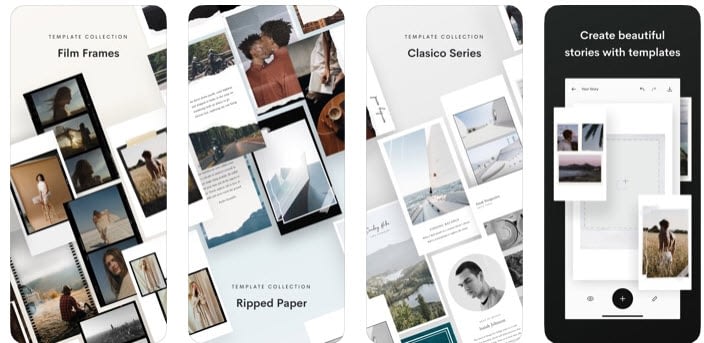 Unfold
Unfold is one of our favorites on this list for a few reasons. First of all, Unfold has over 150 Instagram story templates for you to choose from when designing your stories. In addition, you can drop in fonts and stickers to make your stories more unique.
We also enjoy the fact that Unfold lets you capture directly through the third-party app, include a few filters, then upload it directly to Instagram. All of the videos remain in high resolution, and the export process takes one click.
Unfold provides several collections so that you can stick with one type of branding for your company. For instance, you may go with a classic or retro design and never stray away from that.
Which of the best Instagram apps is right for you?
From regular photo editing apps to marketing solutions for Instagram stories, the Apple and Google Play stores are filled with options for you to not only create, but automate some of your Instagram marketing.
Instagram has huge marketing potential, but it can get exhausting if you're not utilizing the right tools. So, download and test some of these apps to ensure that you're doing Instagram right!
The post 10+ Best Instagram Apps for Building Effective Marketing Campaigns appeared first on Revive Social.