Despite the exponential growth we've seen in the website platform space over the past couple of years, finding the best WordPress alternatives is still a tricky affair.
You see, this is not one of those market segments where you quickly pick out popular competitors as alternatives. WordPress' continued dominance is starving other platforms of the traction that would make them stand out as obvious alternatives.
So far, 43% of all websites are running on WordPress – which is more than tenfold as much as its closest competitor [1]. That places WordPress in a league of its own, while all its alternatives are left to scramble for morsels.
However, there are still platforms out there that do compete with WordPress on a handful of aspects and do a pretty good job of it! What follows is the full breakdown of their standout features. But, keep in mind that these solutions are not outlined in any specific chronological order. Rather, our compilation of the best WordPress alternatives features the ultimate finalist across each of the 10 most frequently sought-after usage categories:
Best WordPress alternatives and top competitors for 2022
1. Webflow – best WordPress alternative for site building and web design
When it comes to designing and building websites, one of the best WordPress alternatives you'll find is Webflow.
While the platform offers the full stack of website creation and hosting services, it predominantly sells itself as a no-code website builder. The platform itself is built to run as a visual content management system that unleashes the full power of HTML, CSS, and JavaScript through a visual canvas.
That's not to say that WordPress is incapable of building websites. You can, of course, create and customize websites on WordPress' own site builder, as well as adjust the underlying code if you have the technical skills.
What you won't get, however, is an editing interface whose experience is as smooth and easy as Webflow's. The learning curve here is more gentle, and you get to build your website from scratch or by customizing any of the hundreds of pre-built templates.
When you're at it, Webflow even gives you the option of hosting under the platform's branded domain name, which is completely free of charge.
The types of websites supported here include blogs, professional sites, and online stores – all of which come with a content-driven layout plus a host of digital marketing tools.
2. Squarespace – best WordPress alternative for beginners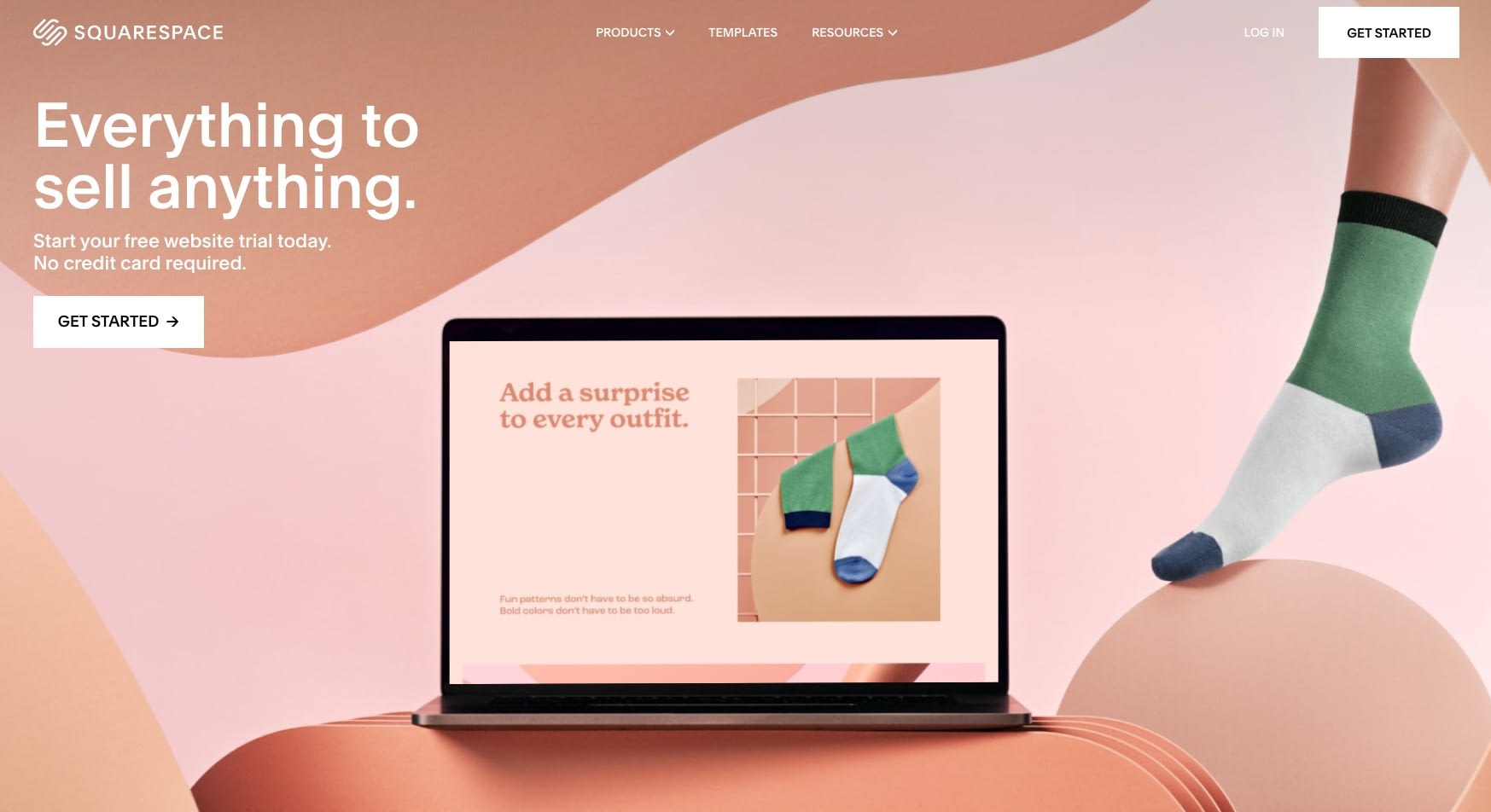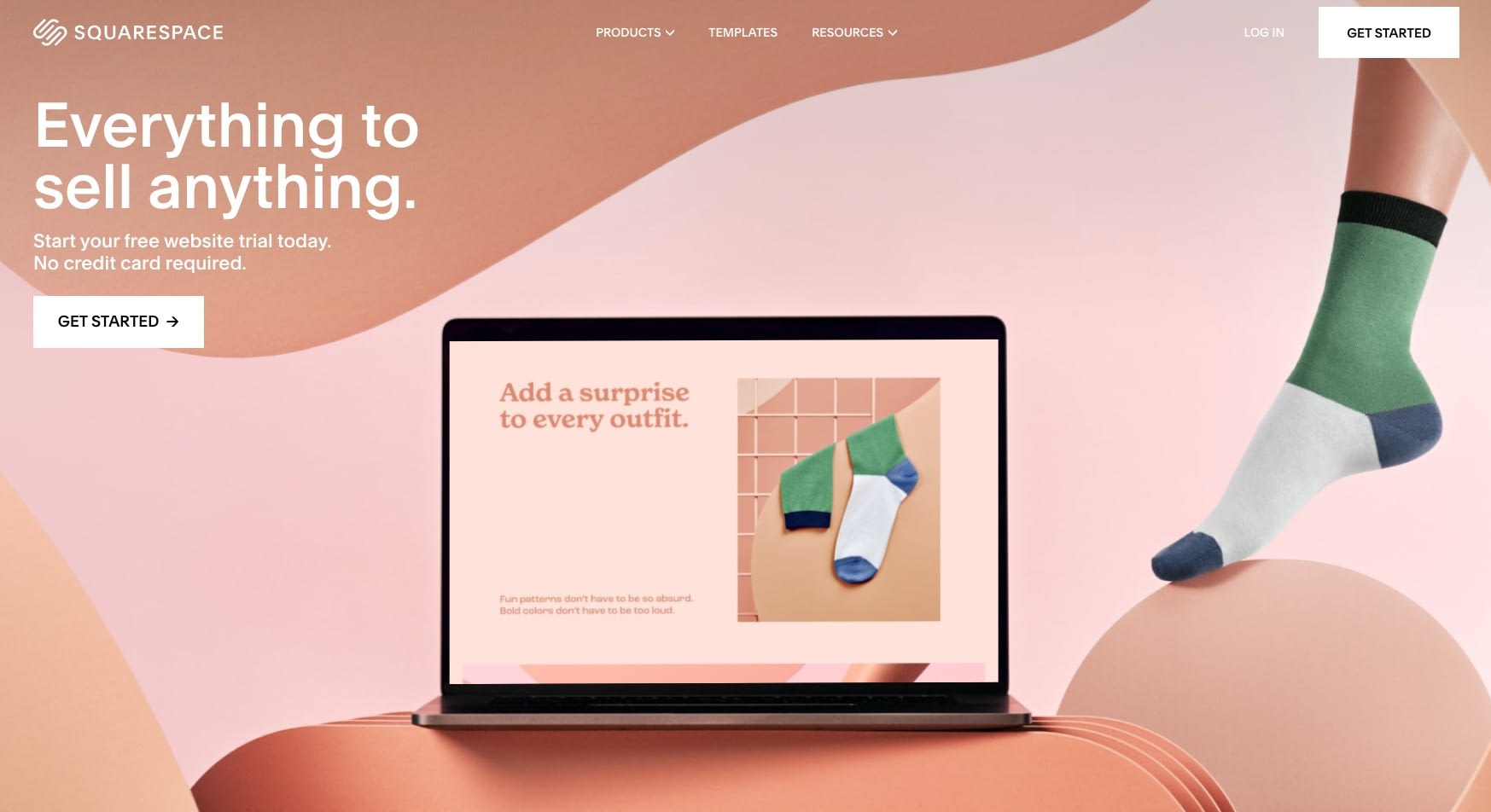 If you're just getting started, your priority would probably be a minimalistic, easy-to-use platform for building, hosting, and managing your website. Now, that's precisely what you get from Squarespace.
You can think of it as an all-in-one website platform, as it takes care of everything from website creation and customization to hosting and online selling. All these solutions have been packaged as simple, intuitive tools that don't require any technical experience to control. That means you won't be touching a line of code.
The website builder, for instance, comes in the form of a user-friendly drag-and-drop website builder. You don't even have to start from scratch, as the platform already has a collection of over 100 mobile-optimized templates.
Other than that, you'll have access to a host of basic extensions, simple SEO tools, plus ecommerce capabilities. Adding extra functionalities is as easy as acquiring the appropriate extensions from Squarespace's marketplace and adding them to your site. No technical skills are required.
The pricing for these assets starts at $16 per month, which additionally qualifies your site for a free domain, unlimited bandwidth, and SSL security.
3. Wix – best all-in-one WordPress competitor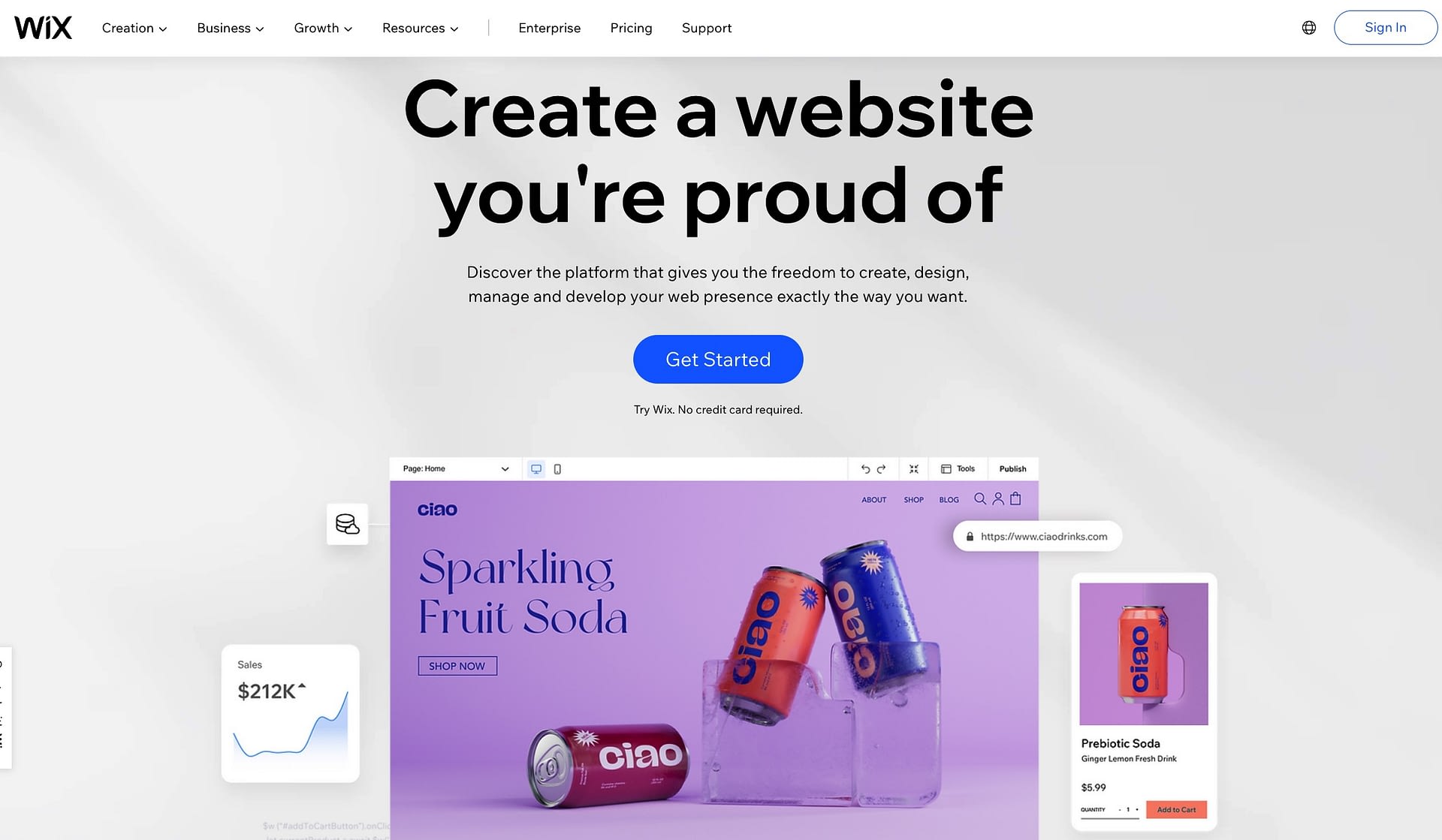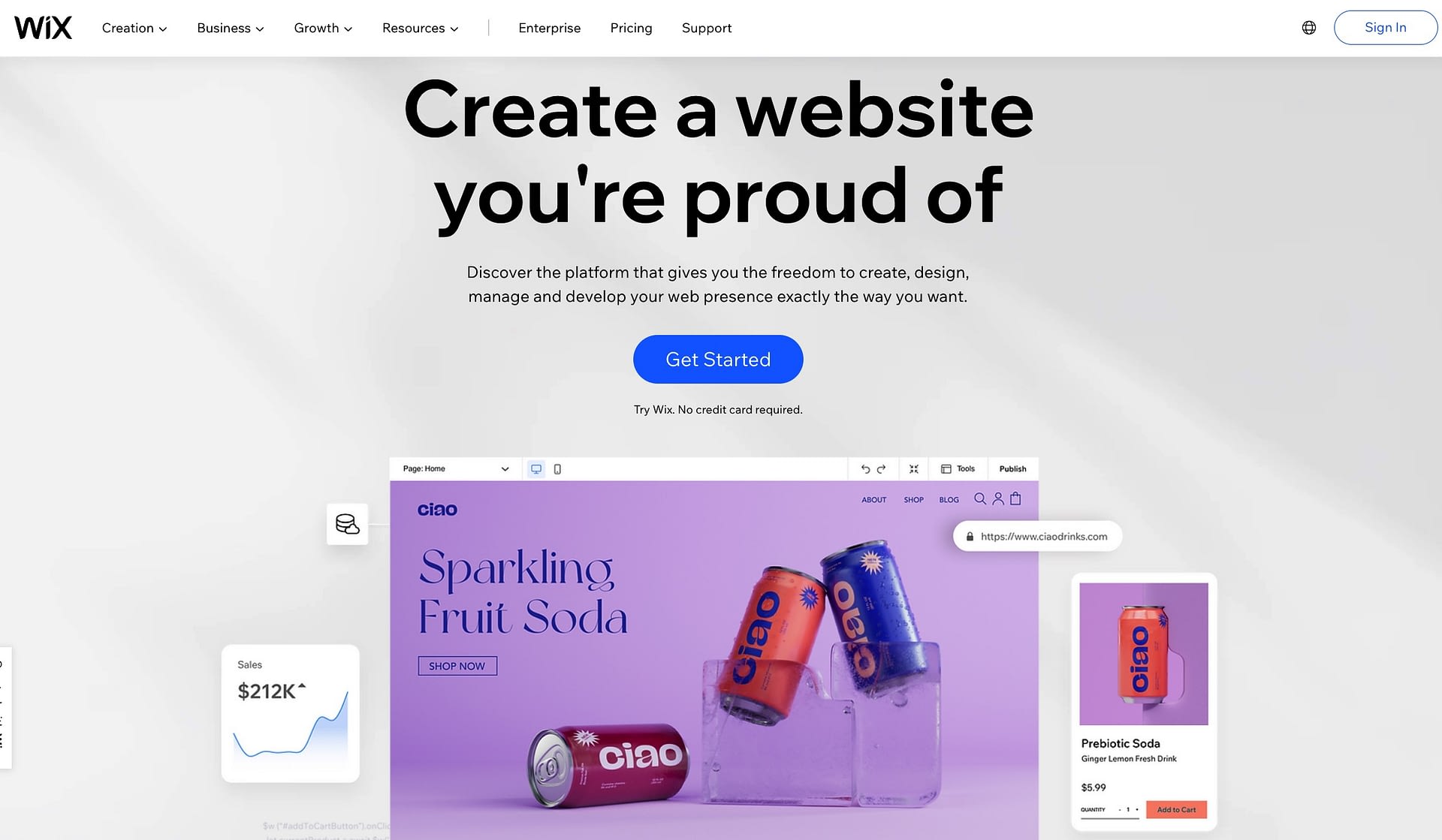 Whereas Webflow and Squarespace are both all-inclusive WordPress competitors, none of them is as comprehensive as Wix. This is the go-to platform when you're in the market for the best WordPress alternatives with enough features to support your site not only in the beginning, but also as it grows over the long haul.
To learn the ropes, you can start your journey on the free plan. You'll get access to Wix's free website builder, along with more than 500 fully customizable templates.
Otherwise, you can piece everything together even faster with Wix ADI, an AI-driven engine for building and customizing sites based on your needs. Then developers would appreciate deploying their applications on Velo, which is Wix's open development platform for building web applications.
All in all, it's only through the premium packages that you'll be able to unleash the full power of the platform. This is when Wix truly flexes the advantages it has over WordPress. You'll be getting a free domain for one year, web hosting with unlimited bandwidth, marketing tools, business emails, unified database management, etc.
Then if you ever need to open an online store, Wix's business arm has got you covered. It boasts a complete ecommerce platform that can power digital selling on your website, social channels, and across marketplaces.
The prices start at $22 per month. In this package, you get all the features you might need, plus hosting for your website included.
4. Shopify – best WordPress alternative for online stores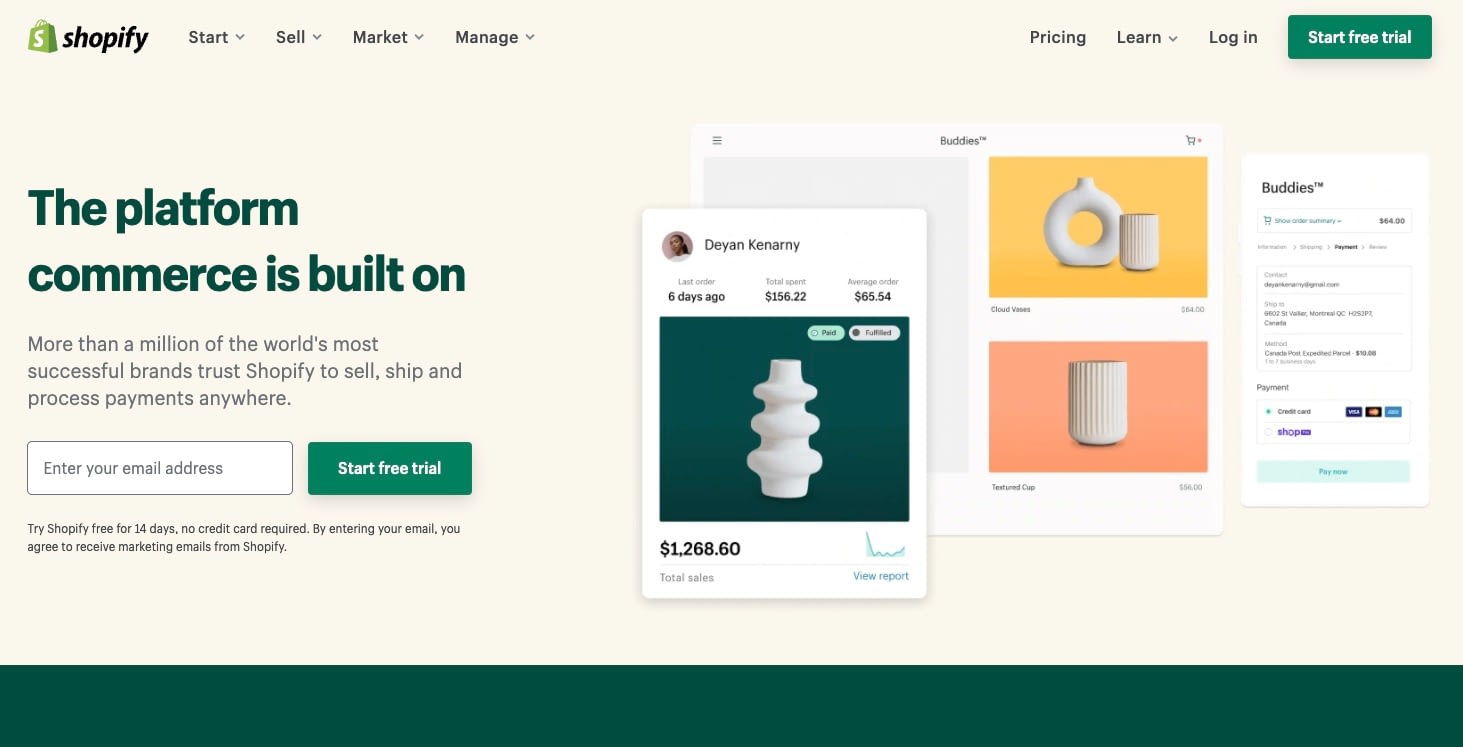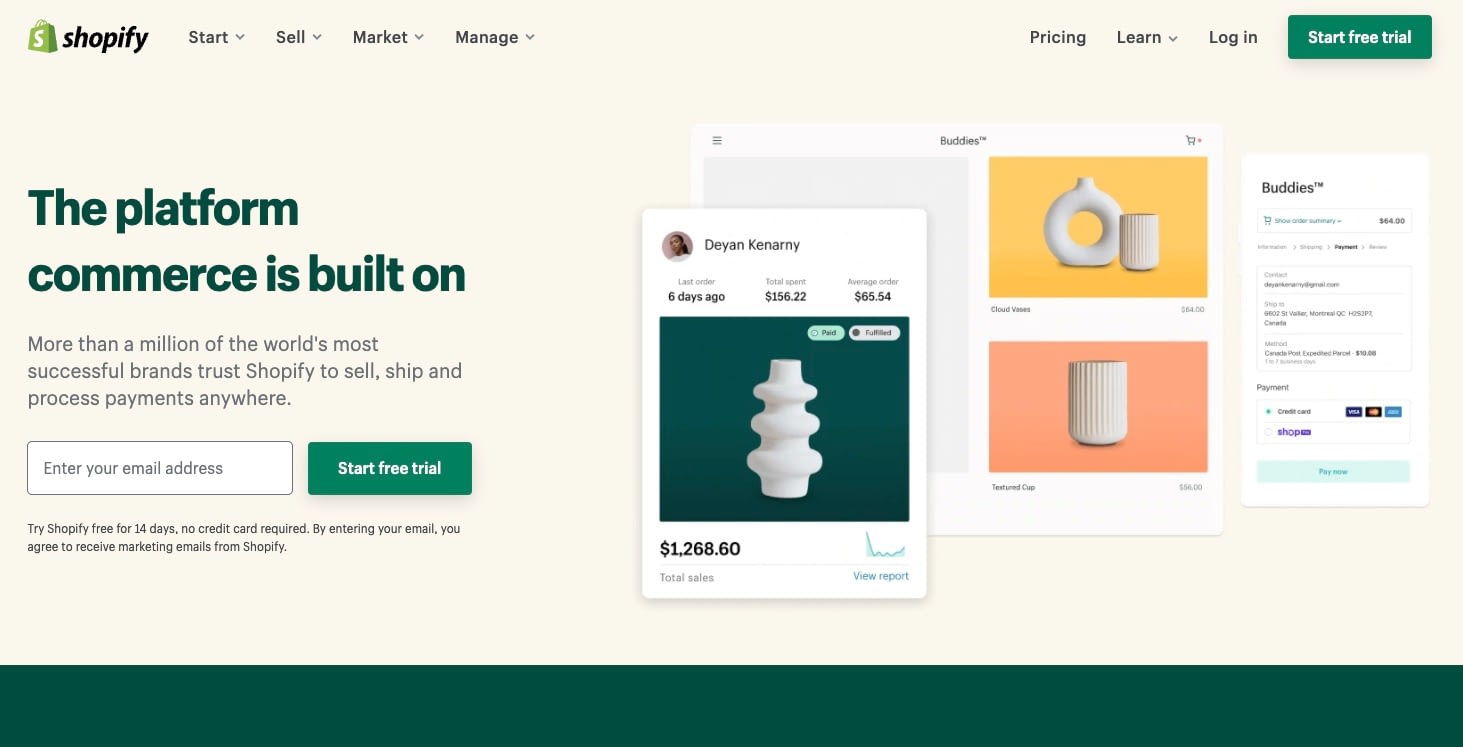 Speaking of ecommerce, the true powerhouse of online selling is Shopify. This is the best WordPress alternative for online businesses and entrepreneurs who are looking to establish a fully functional ecommerce site.
With Shopify, you won't be going through the trouble of searching for business hosting services, or hiring a web developer to refine your WooCommerce/WordPress integration. Instead, you get to launch and manage everything from one centralized system, which comes optimized exclusively for online selling.
You can set up an online store even on the lowest plan. All you need to pay is $29 per month, and Shopify will grant you full web hosting along with all the basic resources for creating, customizing, managing, promoting, and growing an online business.
This includes tools for site building, blogging, inventory management, payment processing, customer engagement, traffic analytics, order management, and SEO. What's more, users can supplement all that with custom functionalities from the Shopify App Store.
Then as your operations expand, Shopify allows you to introduce additional sales channels, sync online selling with a brick-and-mortar point of sale system, run multiple inventory locations, plus open multiple staff accounts.
5. Drupal – best WordPress alternative for coders
For web developers who'd want to retain the flexibility of WordPress after switching platforms, one of the best WordPress alternatives to consider would be Drupal.
Unlike Shopify, Wix, Squarespace, or Webflow, Drupal is an open-source content management system. That means it's structured a lot like WordPress, complete with a similar self-hosted ecosystem and technical configuration options.
As such, you won't be getting any web hosting services here. Instead, Drupal is acquired as a free installable system, which you then proceed to deploy on a compatible web server.
Once it's finally up and running, the system allows you to create and customize your site without necessarily digging into the underlying code. You can select your preferred designs from the thousands of themes in Drupal's library, and then maybe even extend the site functionalities by adding modules from Drupal's collection of over 48,000.
That notwithstanding, however, Drupal's biggest highlight is its unlimited flexibility. The platform's open source framework can accommodate infinite customization options. The only thing is that you'll need advanced skills in HTML, CSS, and PHP coding.
6. Joomla – best open source CMS WordPress alternative
Joining Drupal on the list of the best open-source WordPress alternatives is Joomla, another CMS platform that applies the same approach as WordPress. It's free, open source, self-hosted, and specialized in content management.
That said, the one thing that sets Joomla apart from Drupal and other open source WordPress alternatives is its obsession with user-friendliness. You see, while Drupal's learning curve can be a bit steep for beginners and non-coders, Joomla tries to maintain the same level of user-friendliness as WordPress.
That means that even as its customizable source code pulls in web developers, Joomla still enjoys acclaim from non-coders.
You won't be needing any special technical skills to tweak your SEO settings, redirects, media, menus, banners, and content. Plus, you can easily introduce extra functionalities from Joomla's library of over 6,000 extensions.
7. Jekyll – best WordPress alternative for static websites
Still on the best WordPress alternatives that come with an open source license, people who intend to keep their code development lean would appreciate Jekyll's capabilities.
Jekyll happens to be a static website generator that specializes in developing lightweight static blogs and web pages. Developers use it to trim their code down to the bare minimum, getting rid of all the complexities that you'd otherwise find on WordPress' dynamic language.
This system is capable of running HTML, CSS, JavaScript, and Markdown. You just need to enter your content into Jekyll's visual editor, and the system will immediately convert the plain text into a static page that's ready for publishing.
One good thing about such static pages is the fast speed at which they load. You can count on them to respond quicker and more seamlessly than their dynamic counterparts.
Also, you might want to keep in mind that static websites eliminate the need for a database, server-side platform, or CMS. This significantly reduces the risks of breaches that would otherwise arise from the unpatched vulnerabilities commonly found on WordPress.
8. Weebly – best free WordPress alternative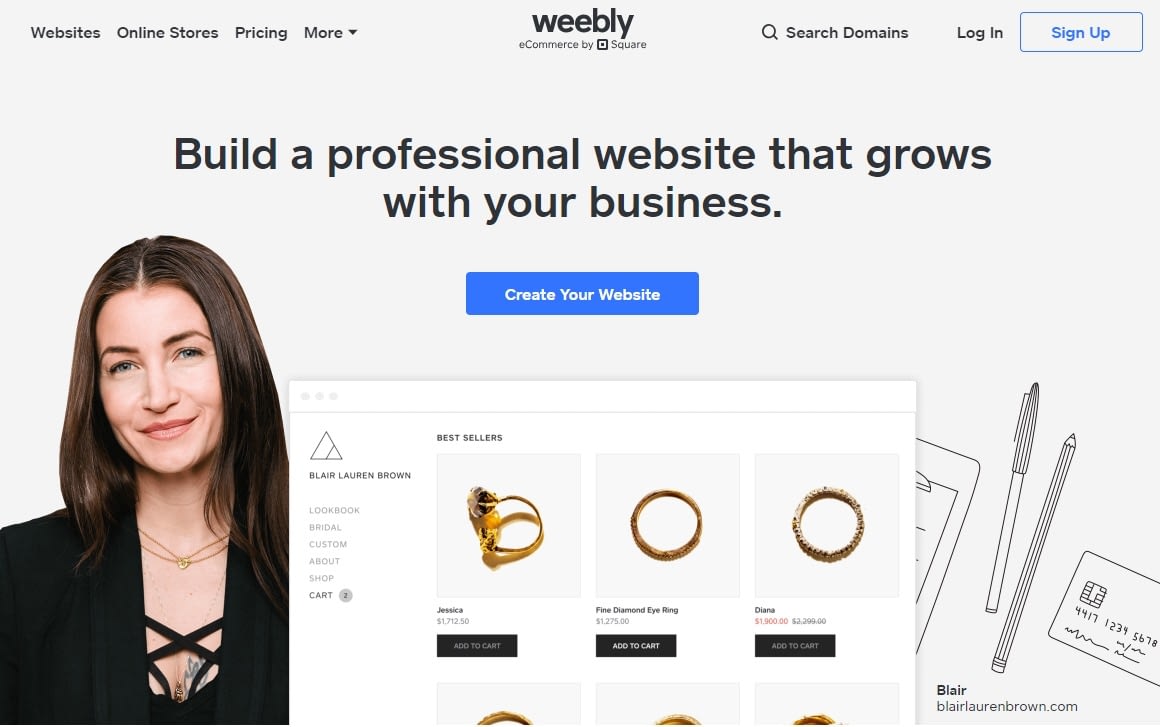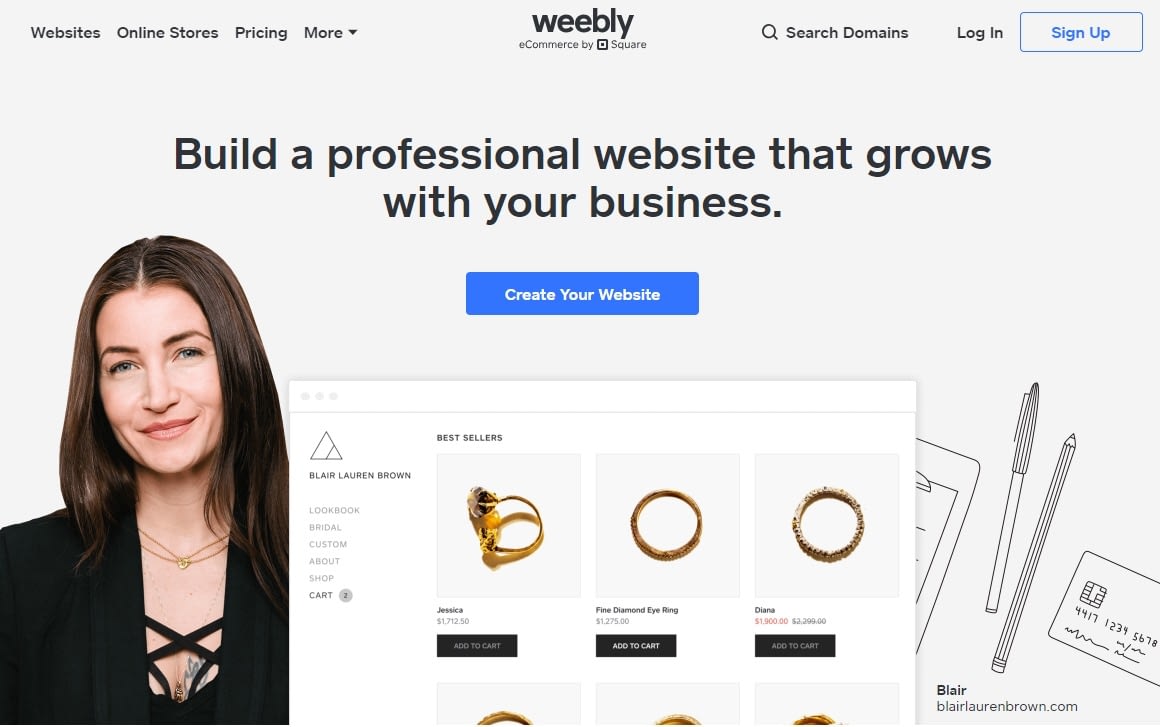 It's hard to compile any viable list of WordPress alternatives without mentioning Weebly in some way. It's an all-in-one website platform that strongly rivals Wix, Webflow, and Squarespace. It's particularly celebrated for its well-balanced packages, which offer solid website features at competitive pricing rates.
So generous is Weebly, in fact, that it allows you to set up and run a website without paying anything. This is courtesy of its permanently free basic plan, which offers 500 MB of storage, SSL security, SEO tools, plus a free Weebly branded domain.
If you need a bit more features and you'd also like to hook up a custom domain name to your site, the premium plans start at $12 per month.
9. BigCommerce – best WordPress alternative for ecommerce enterprises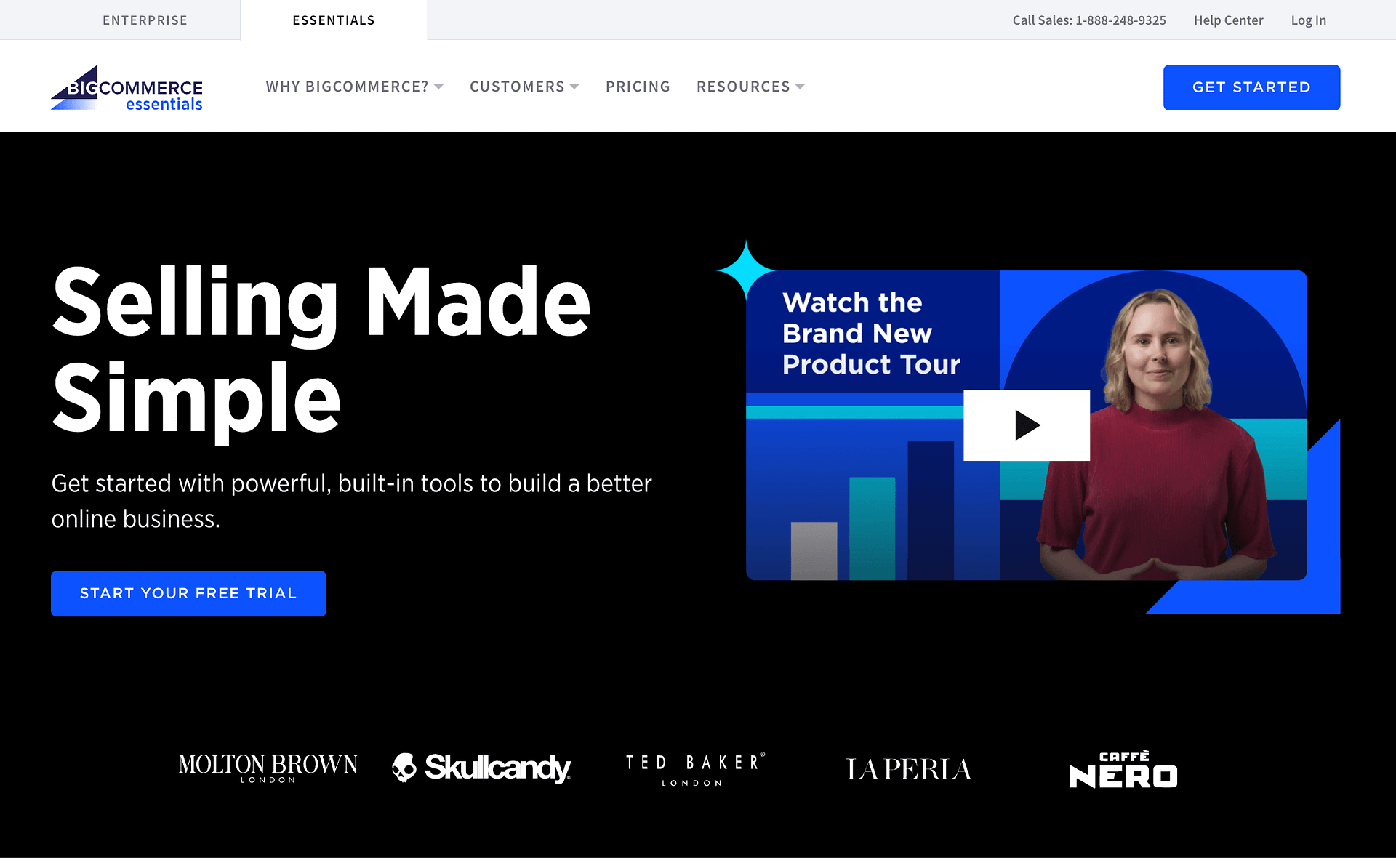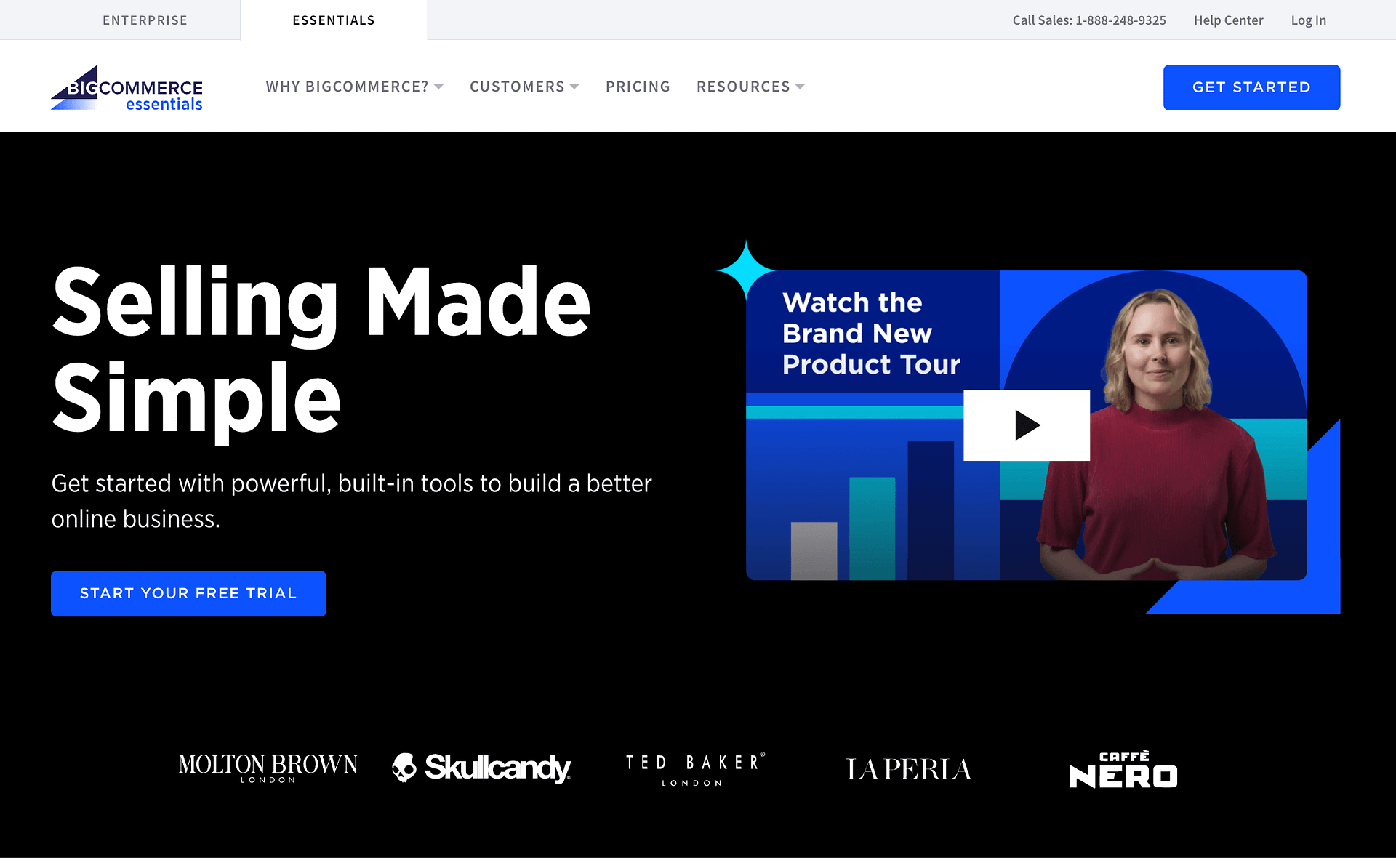 For enterprises running an online store, the likes of Shopify may not be the best WordPress alternatives to support their needs. Such highly demanding business ecosystems would, instead, require dedicated enterprise-level solutions.
BigCommerce happens to have just the right credentials for the job, courtesy of its enterprise-optimized ecommerce platform. It comes with extensively scalable features, which are uniquely structured to support B2B selling, multiple storefronts, unlimited staff accounts, a fully provisioned online store, extended functionalities, and omnichannel selling.
Website creation, on the one hand, is powered by BigCommerce's intuitive page builder. Then when you're done with the visual editing process, you get to deploy your website on its own cloud server. This gives your headless ecommerce framework all the dedicated resources it needs to process large data packets.
10. Ghost – best WordPress competitor for blogging
Ghost is an open-source platform that takes you back to what WordPress was before it evolved into the current intricately complex ecosystem. Instead of barraging users with an extensive array of plugins, themes, and whatnot, it chooses to keep everything simple and refreshingly lean.
Even the tools themselves run on a NodeJS-based foundation, which helps in maintaining a lightweight CMS framework. You'll also appreciate that the platform focuses on blogging alone – giving publishers a well-streamlined environment for creating blogs, posting content, and monetizing the resultant engagements.
With Ghost CMS, you'll have a neat interface for customizing your website, managing content, overseeing SEO, and administering recurring subscriptions.
Keep in mind though that there are two versions of Ghost as a blogging platform: the first version – the open source one is what we're discussing here. However, apart from that, there's also a hosted version of Ghost – one where the Ghost team sets up the site for you and handles everything from hosting to functionality. The prices on that start from around $9 per month.
Choosing the best WordPress alternatives for your website
Now that we've established that WordPress is indeed replaceable, keep in mind that your choice of what to replace it with should be tied to your migration rationale.
In other words, it's only after you've defined your reasons for switching that you'll be able to objectively choose the best WordPress alternatives for your use case.
Here are our top picks again based on the specific things that they do better than WordPress:
Are there any other WordPress alternatives that we didn't mention? Let us know in the comments section below!
The post 10 Best WordPress Alternatives for Blogging, Business & Ecommerce appeared first on Revive Social.
Revive Social