A healthy collection of Facebook reviews can help distinguish your page, build trust, and boost sales. Plus, with the right approach, they can be easy to accumulate.
In this post, we'll discuss the importance of Facebook reviews as well as how (and why) you should enable them. Then we'll provide four tips for getting more reviews on your Facebook page. Let's get started!
The importance of Facebook reviews for growing your business
People no longer just use Facebook as a way to connect with family and friends. They use it to find and connect with brands, products, and services. Additionally, they use it to share their thoughts and opinions. At the intersection of these two use cases are Facebook reviews.


When you create a local business page with Facebook, users can leave ratings and reviews. (Note: Recently, Facebook updated its traditional reviews to 'Recommendations' to include more features, though the concept is largely the same.)
The importance of customer reviews in online marketing is paramount. Research by Market Force Information discovered that 82 percent of consumers say they read and trust local business reviews. In fact, approximately 91 percent of 18 to 34-year-olds trust online reviews as much as they do personal recommendations.
The influence of customer reviews applies to social platforms such as Facebook. According to research, two in three Facebook users visit a local business page at least once per week. More, approximately one-third of users use the platform to look for recommendations and reviews.
Put simply, your Facebook reviews matter. They are a key component of social proof, which can be used to improve the credibility and trustworthiness of your business. In turn, this can lead to an increase in customer loyalty as well as a boost in sales and search rankings.
A quick guide for enabling Facebook reviews for your business page
Before we get into how you can encourage customers to leave reviews, it's important to first make sure that your page lets them in the first place. If you've already configured these settings, feel free to skip this step.
However, if you just created a new Facebook business page or are unsure whether reviews are enabled, it's worth double-checking. To enable reviews on your Facebook page, login to your page, then click on the Settings tab in the top-right corner, followed by Templates and Tabs in the left-hand navigation:


Under the Tabs section, there should be a Reviews item. If there's not, scroll to the bottom, click on the Add a Tab button, then select Add Tab next to Reviews.
To the right of the Reviews tab, click on the Settings button. Next to Show Reviews, make sure the switch is toggled to the 'ON' setting: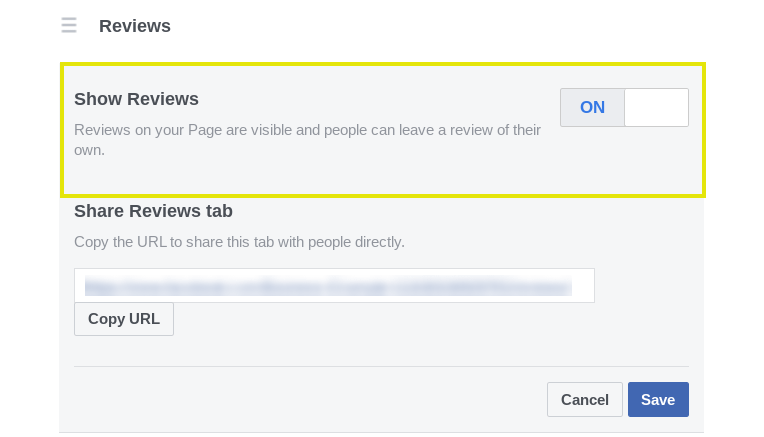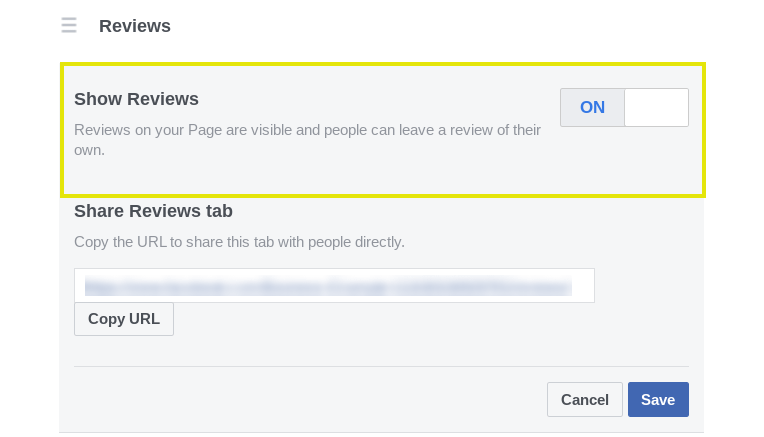 When you're finished, click on the Save button.
You can check to make sure you successfully enabled Facebook reviews by going to your page. There should be a tab for Reviews in the left-hand column: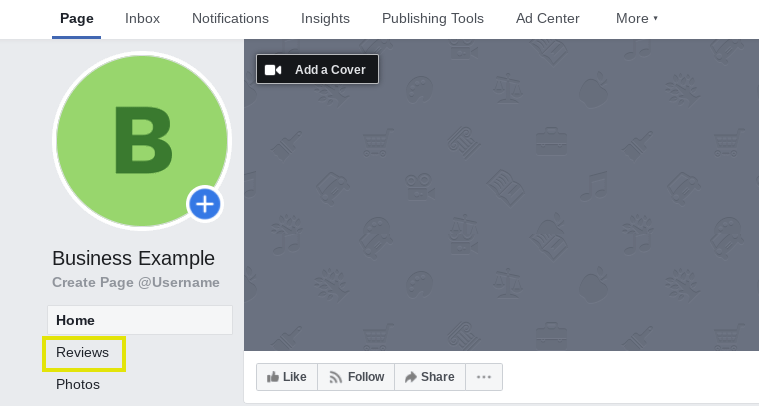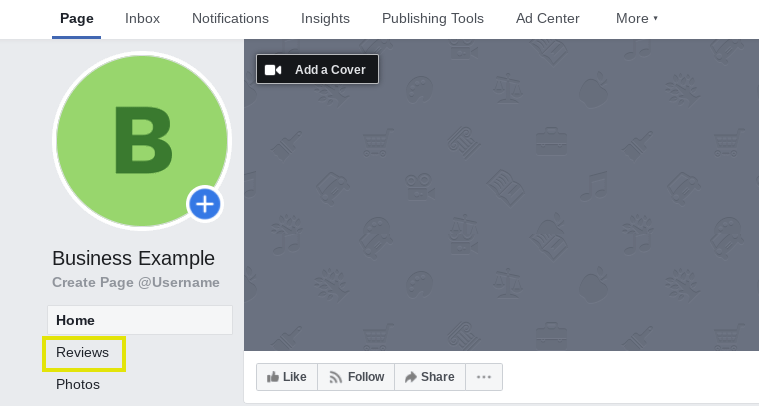 It's worth mentioning that Facebook determines the rating of a business page based on reviews and recommendations. The only way users can see the rating of your page is if you have the recommendations turned on.
How to get more reviews for your Facebook page (4 key tips)
Now we've covered the importance of Facebook reviews and made sure your page is configured for them, it's time to learn how to generate those reviews in significant numbers. Let's take a look at four key tips you can use to get more reviews on your Facebook page.
1. Create off-site, automated follow-up emails to send to customers
If you want something, sometimes all it takes is simply asking. When it comes to asking people to perform a specific task, such as leaving you a Facebook review, timing is everything.
A good time to ask customers for a review is after they have purchased something from you or used one of your services. You can do this by sending a post-purchase follow-up email.
How you phrase the emails will, of course, depend on your business. However, as an example, you could use something along the lines of, "Thank you for your purchase! We value your opinion, so we'd really appreciate you taking a minute to leave us a Facebook review." Within the email, you can include a link that will bring them directly to your Facebook page.
To create these emails, we recommend using an email marketing tool such as Sendinblue: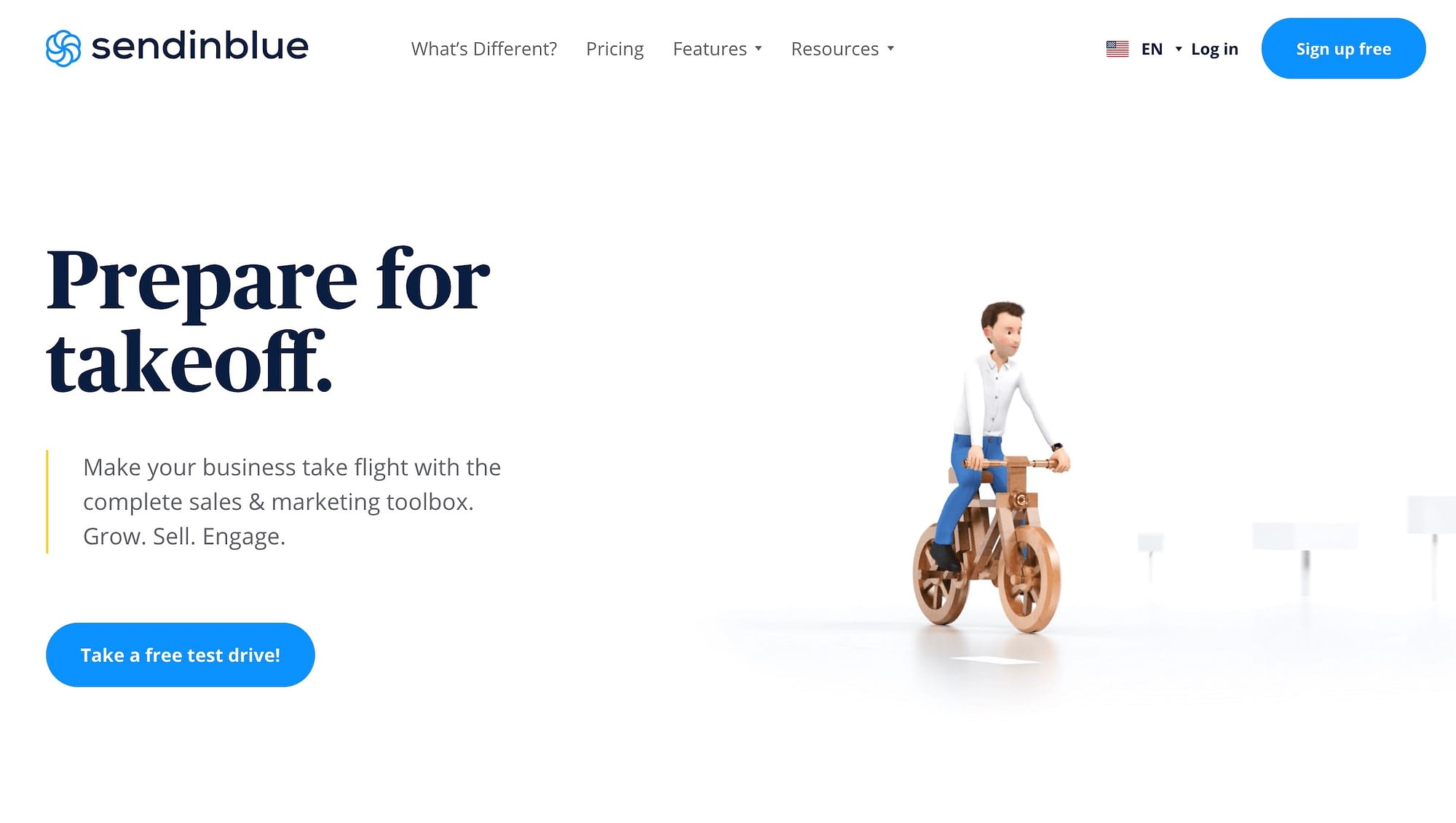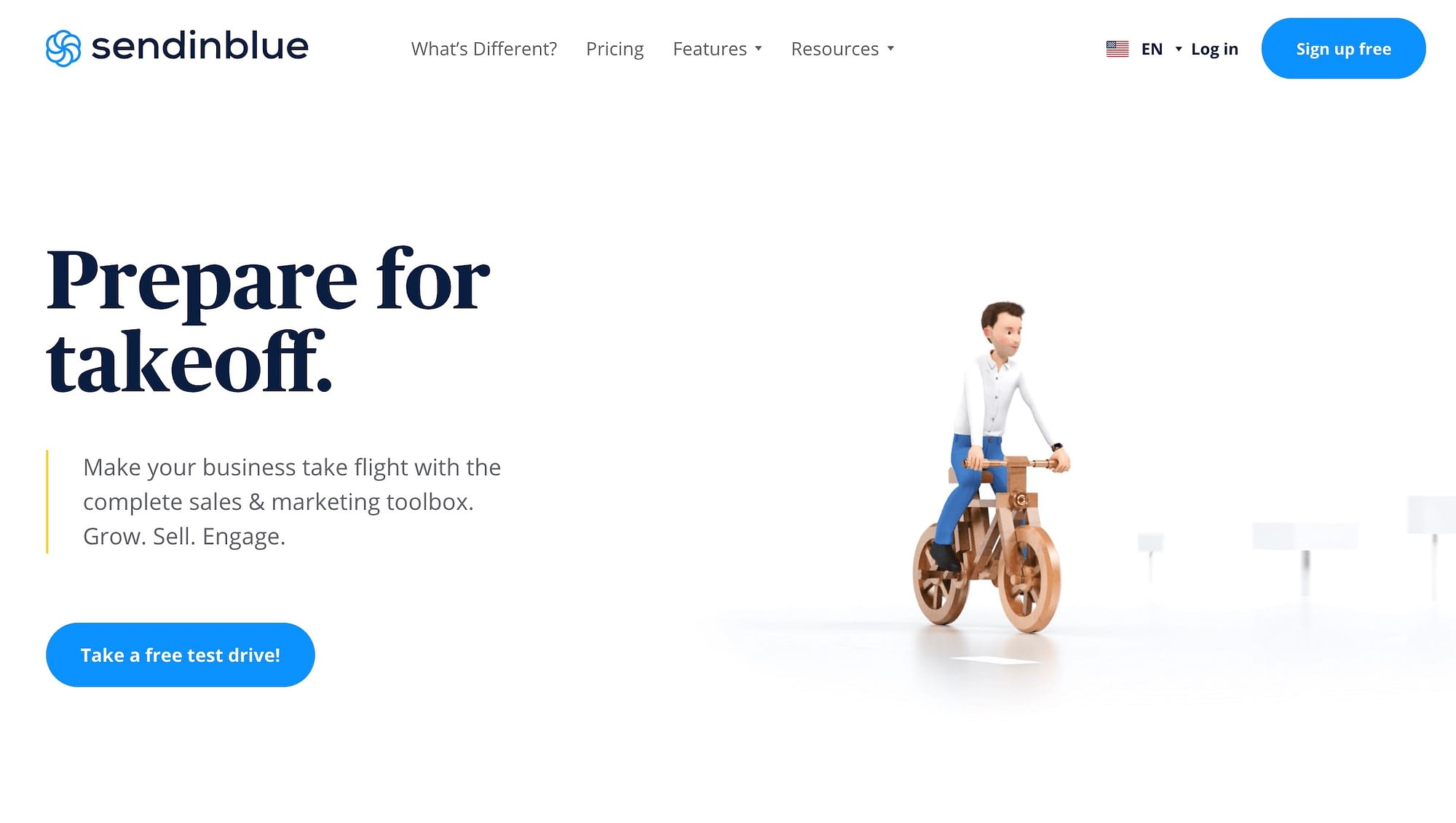 Sendinblue lets you choose from a variety of email templates, or you can create your own. After you sign up for your account and choose a plan, you can use the email automation feature.
2. Add a Call To Action (CTA) button to your website asking for Facebook reviews
If you want to generate more Facebook reviews, it's important to have a clear CTA button on your website. There's a good chance you already have social icons on your site connecting to your various social channels, including Facebook.
However, you can take this one step further by using a CTA for the reviews and recommendations specifically. To do this, consider using a plugin such as Social Reviews & Recommendations:
This WordPress plugin lets you display Facebook reviews and recommendations on your website as a sidebar widget. When your site visitors see a feed with reviews from real customers, it can help increase their confidence and trust regarding your brand. If you upgrade to the business plan, you can also add a CTA button asking users to write a review.
After you install and activate the plugin, you can connect it to your Facebook page by going to Settings > Facebook Reviews from your WordPress admin dashboard: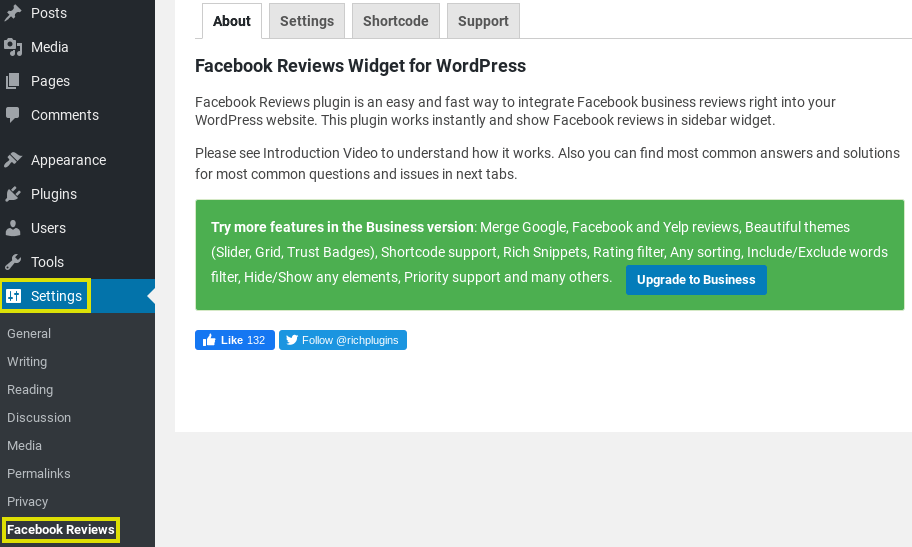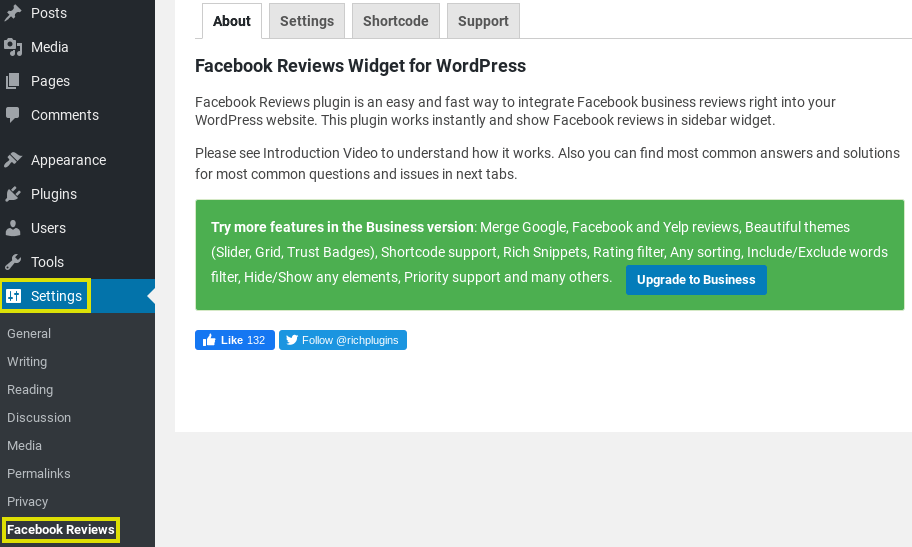 Under the Shortcode tab, you can log in to your Facebook directly, or connect the widget by entering your Page Name and Page ID. This is also where you can customize the appearance and display of the widget.
3. Encourage customers to 'check-in' to your business
Most social media users enjoy sharing what they're doing and where they are with their followers, which is why many 'check-in' to places on Facebook. Check-ins are Facebook's version of geotags, which helps to boost your presence on Facebook.
When someone checks-in to your business on Facebook, it shares the post with their followers. Then, when someone hovers over your business name, a preview of your page will appear:
A check-in is a form of an endorsement or recommendation, especially when it's accompanied by photos or a compliment. As we covered earlier, recommendations and posts from friends can go a long way in influencing people.
So how can encouraging your customers to check-in lead to more reviews? After a user checks in somewhere, Facebook will usually send an automated reminder asking them to rate or review their experience. This gentle nudge can be all it takes for them to leave a recommendation.
You might also consider offering customers an incentive for checking in. For example, you could offer them a discount or a freebie. A small incentive can go a long way in encouraging customers to check-in and, eventually, leave a review.
It's important to make sure your business page is configured to allow check-ins. To do this, log in to your Facebook page, then click on the Edit Page Info button at the top. Under the Location section, there will be a box next to Customers visit my business at my street address: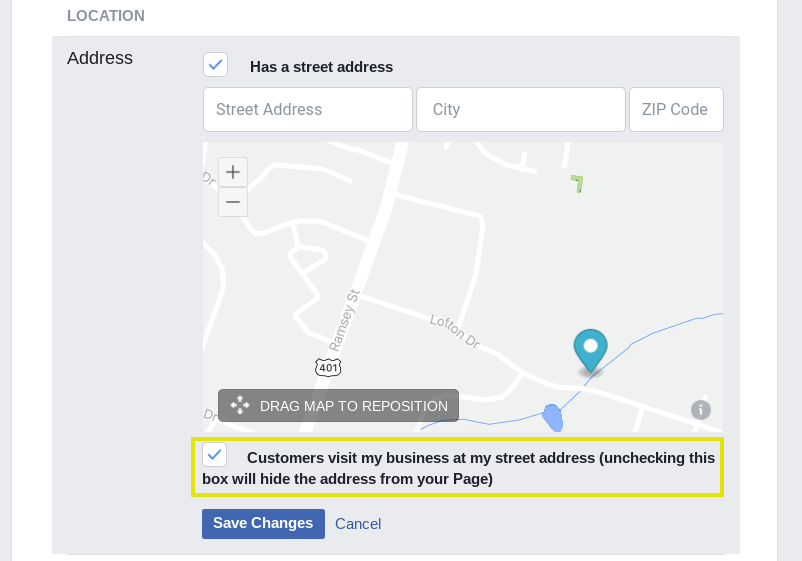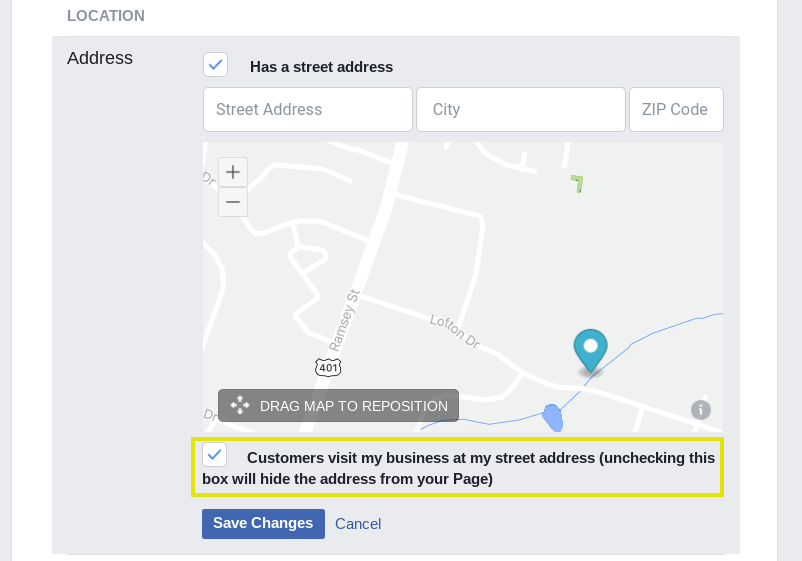 Make sure the box is checked, then click on the Save Changes button. If the box was already checked, you don't have to do anything.
4. Respond to every review you get
You can help visitors form a favorable impression of your business by playing an active role in the reviews. One way to do that is to respond to every review you get – both the positive and negative ones.
Doing so establishes a certain level of transparency and authenticity. While your initial reaction to a bad review might be to delete it, negative reviews can actually help. Research shows that bad reviews can improve conversions by 67 percent. Plus, bad reviews present the opportunity to demonstrate strong customer service.
You can respond to negative reviews by letting the customer know you appreciate their input. Then, express your desire to change their impression of your business. You could offer them a discount or ask for contact information to further discuss their experience and ways to improve.
For positive reviews, you can simply thank them and let them know you appreciate their taking the time to leave a review. This show of recognition and appreciation may even encourage others to leave reviews.
To make responding to your Facebook reviews easier, we recommend turning on your page notifications. That way, you'll know immediately when someone leaves a review so you can respond in a timely manner.
To do this, login to your Facebook business page and click on Settings > Notifications: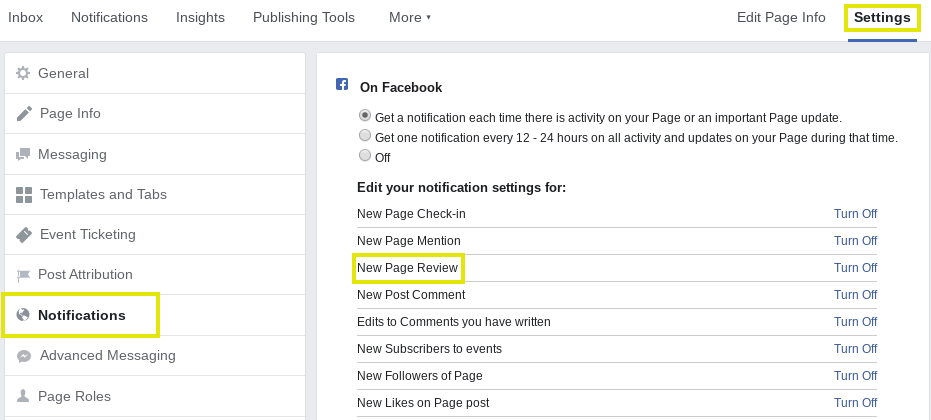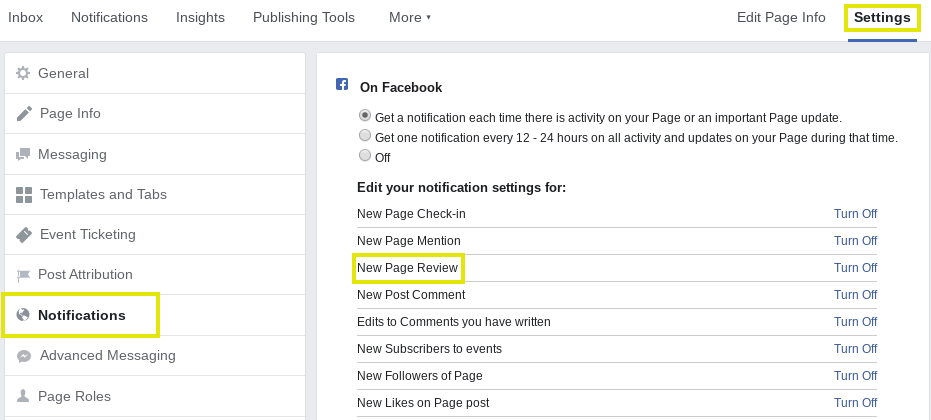 You can enable notifications for any activity on your page. If you only want to receive notifications for reviews, click the Turn On link next to New Page Reviews.
Conclusion
Your Facebook business page is an important part of your social media marketing strategy. However, if you want to maximize the value of the page and use it to generate new business, it's a smart idea to focus on increasing the number of reviews you get.
In this article, we've discussed four tips you can use to get more Facebook reviews:
Create automated follow-up emails to send customers.
Add a Call To Action button on your website asking for Facebook reviews.
Encourage customers to check-in to your business.
Respond to every Facebook review you get.
Do you have any questions about getting reviews on your Facebook page? Let us know in the comments section below!
* This post contains affiliate links, which means that if you click on one of the product links and then purchase the product, we'll receive a commission. No worries though, you'll still pay the standard amount so there's no cost on your part.
The post 4 Strategies to Get More Facebook Reviews for Your Business appeared first on Revive Social.