Using the best WordPress pricing table plugins on your website is a must if you sell several products or services online.
Pricing tables can turn a meh sales page into a distinctive, absorbing one. Price comparison tables help users compare many services or products quickly. They don't waste time checking on individual pages separately. Once they've identified a product or service they like, they can find out more about it or buy straightaway.
For a website owner, WordPress pricing tables are an excellent way of using pricing psychology to position your best products strategically, so they appear as the logical choice for users.
Before we review the five leading WordPress pricing table plugins, we will look at the standard you can use to evaluate them.
Best WordPress pricing table plugins: criteria
Consider these five critical factors when choosing the ideal pricing comparison plugin for your website:
Aesthetics. A pricing table should be gorgeous, so it grabs visitors' attention immediately. People glance at or ignore a drab table. But they give a beautiful one a good look, which allows you to present your offers to them.
Responsiveness. These days people access the internet using many devices, including desktops, laptops, smartphones, tablets, feature phones, and more. Your price comparison tables need to render correctly on any device to give users a pleasant experience.
Templates. Not everyone has the technical expertise or the time to design a decent pricing table from scratch. The best pricing table plugins have proven templates that suit different industries and contexts. Templates save time and accommodate people who don't know how to code.
Customization. While templates are great, they mustn't be rigid. Each brand is unique and has specific goals. Top WordPress pricing table plugins are editable. They allow you to tweak the designs to suit your unique context.
Ease of use. A pricing table solution may have all the bells and whistles, but it's frustrating if it's hard to use. Ideally, you must grasp all the components quickly and use the plugin intuitively.
With these requirements in mind, let's discuss the best five WordPress pricing table plugins available today.
The best WordPress pricing plugins
Below you will find our top picks for WordPress price comparison plugins. For each tool, you will get its key features, what makes it the best choice, and pricing info.
Table of contents:
Otter Pricing Blocks fits the best WordPress pricing table plugins bill perfectly.
It's a versatile page builder for creating impressive pricing tables and sections for your services or products quickly. Importantly, Otter allows you to add custom CSS to your price comparison tables. Here is a sample of a pricing table built with Otter: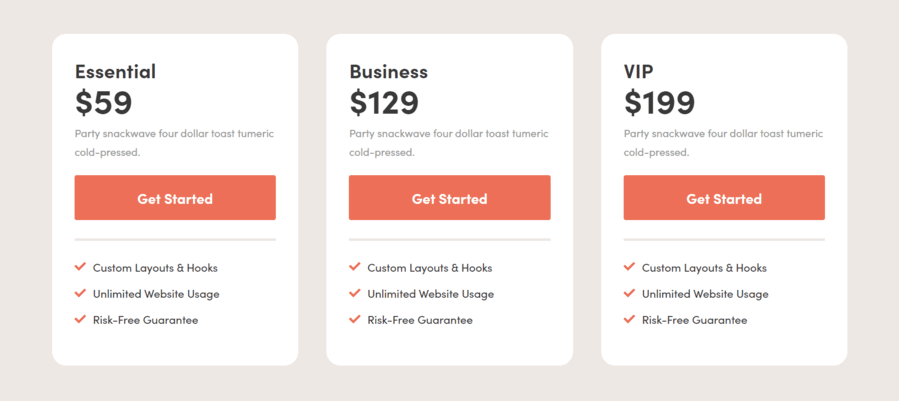 As a bonus, Otter Blocks also offers 30 additional building blocks and templates for Gutenberg. You can use the blocks to add cart buttons, product reviews, pop-ups, and more.
Features that make Otter Blocks a brilliant choice
Create pricing tables faster with stunning and mobile-friendly pre-built templates.
The free plan allows you to add unlimited pricing tables on any page on your website.
You can add animations to your tables to make them more appealing to shoppers.
Add testimonials to your tables for social proof and to enhance their pull power.
Add custom CSS to make the table look precisely the way you want by adding media queries, colors, and borders.
Otter is fully compatible with WooCommerce.
Otter Blocks Pricing
Otter Pricing Block has a free plan and the paid plan is $69 annually.
2. Easy Pricing Tables
Easy Pricing Tables is one of the best WordPress pricing table plugins around.
The plugin allows you to design and publish nice-looking pricing tables on your WordPress site. You can create a customized comparison pricing table in minutes without touching a single line of code. The user interface is intuitive. You simply point and click to edit your table.
See the Easy Pricing Tables plugin in action below:
The plugin is fully compatible with the Gutenberg editor so that you can create pricing tables inside the post editor.
Do you prefer the classic editor? No worries. It's compatible with that one, too.
Features that make Easy Pricing Tables a superb choice
You can customize colors, fonts, sizes, text, formatting, positioning, reorder columns, and more.
Make your pricing table eye-popping with images and icons.
The plugin is compatible with both the Gutenberg editor and the classic editor.
Easy Pricing Tables has a quick 1-click WooCommerce integration.
Enjoy design freedom by adding custom CSS to your pricing tables.
The pricing tables are responsive and look superb on any device.
Add checkout links to your pricing table buttons for PayPal, Stripe, or another payment gateway.
Save your favorite pricing tables as reusable blocks to add to other posts or pages.
Easy Pricing Tables Pricing
The Easy Pricing Tables base plan is $49 per year.
Another feature-rich WordPress pricing table plugin is the WP Table Builder.
What makes the WP Table Builder special is its versatility. It's a simple drag-and-drop solution that makes building pricing tables a breeze. You can use it to create pricing tables, restaurant menus, product lists, and schedules. If whatever you want to sell needs to be presented in a table format, you can build it with this flexible plugin.
Here is a pricing table created using the WP Table Builder:
You can easily tweak your table's text, images, lists, star ratings, and buttons to look exactly as you want it to.
Features that make WP Table Builder a splendid choice
There are pre-built table templates to help you create tables faster.
You can create responsive pricing tables that look exceptional on mobile, tablet, and desktop.
Import or export your tables in CSV or XML formats.
You can boost your tables' appeal and conversion potential with ribbons, circle ratings, and styled lists.
Use the table pagination functionality to break long tables into pages for a better experience for your shoppers.
Customize your table using different border colors and changing the padding and margin settings.
Save time and design tables faster by duplicating full columns and rows.
WP Table Builder Pricing
WP Table Builder has a free version and paid plans start at $49 per year.
4. WooCommerce Pricing
WooCommerce Pricing makes the best WordPress pricing table plugins list as a dedicated pricing table for ecommerce sites.
So if you run an online ecommerce shop on WordPress, you will love this plugin. It's ideal for listing differences in pricing for services, products, or anything else sold online. The WooCommerce WordPress pricing table plugin empowers you to create unlimited pricing tables anywhere on your site.
Its drag-and-drop sorter makes building tables like the one below straightforward:
WooCommerce Pricing enables you to customize your table's colors, background, fonts, and icons, insert unlimited bullet points, create new columns, control width, as well as personalize theme templates.
Features that make WooCommerce Pricing an excellent choice
The tables are fully responsive and adapt to any screen size.
Create on-brand tables by changing the colors of each column to match your brand identity.
Duplicate tables you like with one click and use them on other pages.
You can build unlimited tables with unlimited rows and columns.
Add a URL button and text to your tables for a smooth checkout.
You can create attractive plugins in any language.
The plugin allows you to add an image in each column and display icons in each line.
WooCommerce Pricing
The WooCommerce Pricing plugin is free, and the premium plans start at $10 per month.
5. Pricing Table By Supsystic
What makes Pricing Table By Supsystic one of the best WordPress pricing table plugins is that it has a powerful, feature-rich free plan.
The plugin lets you to showcase your product prices, services, or packages in appealing and responsive pricing tables. You can create unlimited and striking comparison pricing tables using the table builder's simple drag-and-drop editor. There's no need for coding skills to use the tool.
A cool feature is the ability to add animation effects to your tables, as you can see below: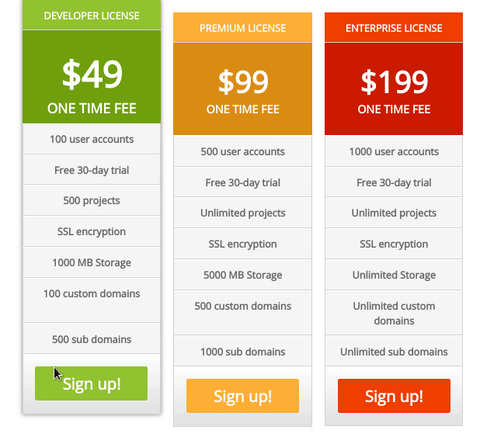 You can visually separate the plans in your pricing table to draw attention to a particular one.
Features that make Pricing Table by Supsystic a marvelous choice
Create responsive mobile-ready tables that render well on any device.
The plugin has 40 ready-to-go templates, so you don't have to design from scratch.
You can customize your table's font, background color, border width, padding, and background image.
Easily add media files to your table: images, videos, icons, and buttons.
Add special effects and animation for more attractive pricing tables.
You can enlarge a particular pricing column, so it stands out.
Create both vertical and horizontal pricing tables.
Pricing Table By Supsystic Pricing
This plugin has a free plan. The premium plans start at $49 per year.
Best WordPress pricing table plugins wrap up
In summary, the best WordPress pricing table plugins are an invaluable selling tool.
Pricing tables are a visually attractive way of showcasing your products and services. All the above plugins are solid options. Choose the one that has the features you need.
Do you have questions about WordPress pricing tables? Ask in the comments section below!
The post 5 of the Best WordPress Pricing Table Plugins appeared first on Revive Social.
Revive Social