TikTok has rapidly become a sensation, but the video-sharing platform has also come under fire recently, with threats of a ban being floated in the US. For brands looking to tap into the power of this platform, or those already active, there's a lot of uncertainty. This makes it important to consider TikTok alternatives.
Fortunately, TikTok's popularity has spawned a number of competitors, many of which have gained a solid market share of their own. Diversifying into one or more of these alternatives might be a smart move to protect your marketing strategies in the event of a TikTok ban.
In this article, we'll explain how businesses might benefit from marketing on TikTok alternatives. Then we'll explore six of the best options currently on the market. Let's dive in!
Why you should consider marketing on TikTok alternatives
Video has become a serious force in marketing. People love video content. TikTok, in particular, has been a boon for both brands and affiliate marketing. The enormous user base, lengthy video time limit, and creativity fostered by the platform allow for some very interesting campaigns. Companies can also leverage the social features of the app (including live video streams) to build engagement among their audience.
However, despite its popularity and potential, TikTok has recently been threatened with a ban in the United States. Although the video-sharing app has so far managed to avoid this fate, marketers may currently be hesitant to put too many eggs in such a flimsy basket.
However, the upside of this pressure has been a sharp rise in market share for TikTok's competitors. Even big names like Facebook/Instagram are getting in on the action with their own short-form video services. The end result from a marketing perspective is that you now have lots of options to extend your reach, even if TikTok itself stays put.
How we chose our TikTok alternatives
To select the best alternatives to TikTok, we considered all apps that provide a similar service – that is, short-form video with a social element. We then considered the number of downloads and active users, as well as the name recognition of the app or brand. Finally, we looked at each app individually to see how its features stack up against TikTok.
In the end, the six platforms featured here stood out as by far the most popular and all-around best competitors to TikTok. There was a single service that looks intriguing but ultimately failed to make the cut: YouTube Shorts. The idea here is sound, and YouTube certainly has brand clout.
Unfortunately, Google has a bit of a reputation for releasing apps or features and later killing them off. While we don't think YouTube itself is going anywhere, we're a little wary to recommend going all-in on Shorts unless you're already using YouTube for marketing.
The 6 best TikTok alternatives for maximum engagement
Now that we've discussed why you should consider TikTok alternatives, let's look at six excellent options. Each of the platforms offer powerful opportunities to leverage short-from vido, so the one that's the best fit for you will at least partly depend on the platforms you use and your business goals.
1. Instagram Reels
Instagram Reels is a recently-released feature of Instagram that is, in essence, a clone of TikTok. The service lets users create short videos, overlay music and various effects, and upload them to Instagram. Reels works very much like its competitor in this regard.
Once your videos are uploaded, they appear in the Explore tab of the Instagram app, alongside other content. The nice part about this integration is that users won't need to download an additional app to make use of the feature. Since Instagram boasts an astonishing 1 billion monthly active users [1], that puts your content in front of a lot of eyes for essentially no additional investment.
From a user-facing perspective, creating Reels isn't the most intuitive software. In fact, the whole feature suffers from a lack of discoverability and usability. However, once you know where to find the option, creating Reels is relatively painless – though it's definitely not as intuitive as TikTok.
Fortunately, this friction doesn't exist when it comes to viewing Reels: they pop up right alongside the other content on an Instagram feed, so reaching your audience with them is seamless. This means Reels are best used as an addition to existing Instagram marketing efforts. Brands can leverage the video content to add some variety to their image posts.
Given the ubiquity of Instagram, having this feature available right from the app makes it a fantastic choice for any business already using Instagram.
2. Snapchat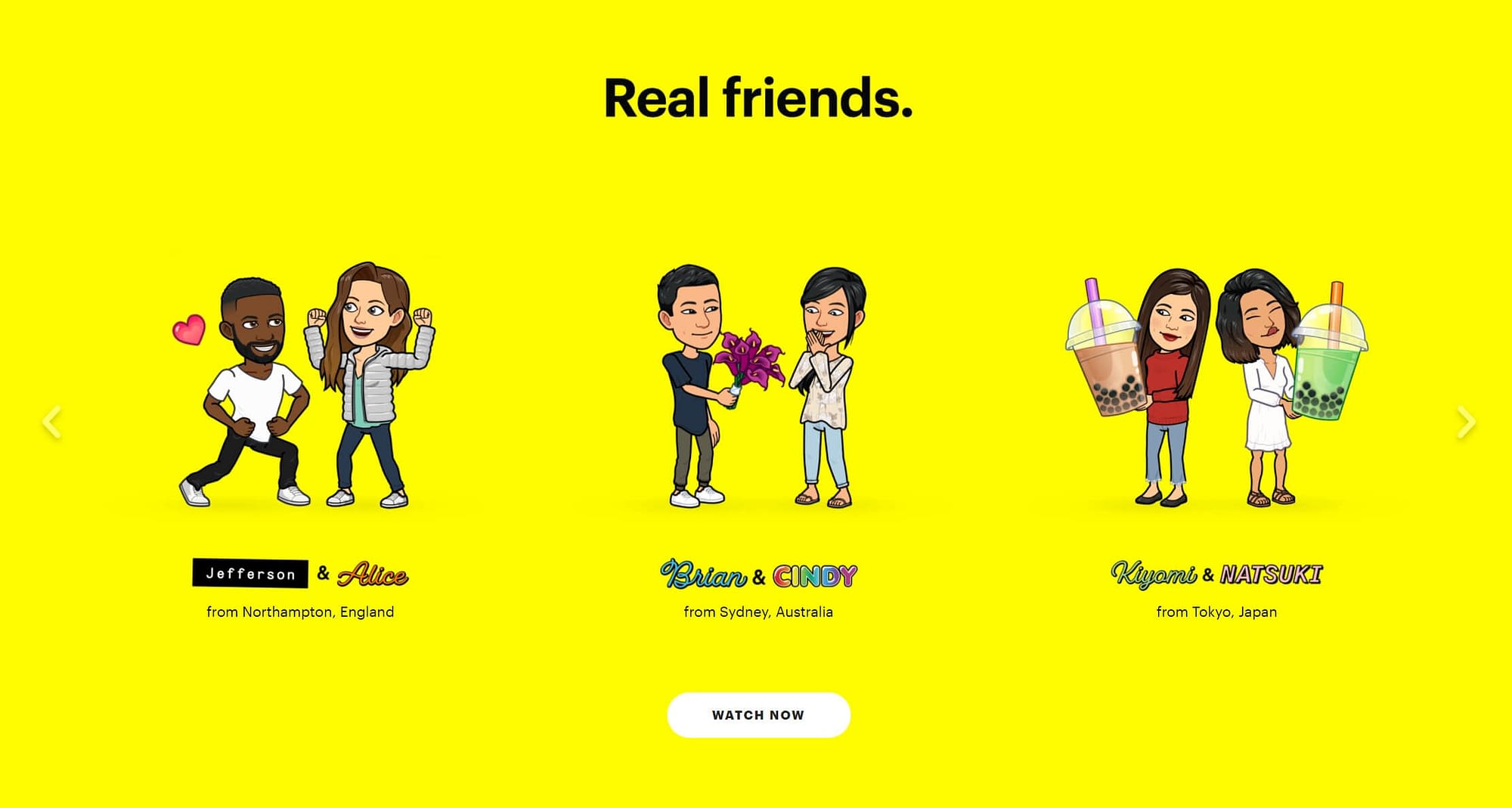 Snapchat has been around for a while, and while it's not quite the same format as TikTok, the general format is similar – focusing on short-form content. The two services also share an extremely similar demographic [2], with users primarily female between the ages of 18 and 24.
This overlap means that if you're on TikTok to reach a specific audience, you're very likely to find them on Snapchat as well, making for a smoother addition or transition for your marketing team. The platform also boasts a whopping 10 billion daily video views [3], so there's plenty of opportunity here.
One of the biggest advantages of Snapchat from a marketing perspective is a relative lack of competition compared to platforms like Facebook, Instagram, and Twitter. While there are certainly a lot of users on Snapchat, not as many brands have jumped on board (yet). The platform also offers a uniquely authentic experience with more intimate and direct communication than is possible with something like Instagram or even TikTok.
Even if you don't choose Snapchat as a direct alternative to TikTok, this is one to watch and strongly consider adding to your existing marketing strategy, particularly if you know your target audience already uses it.
3. Likee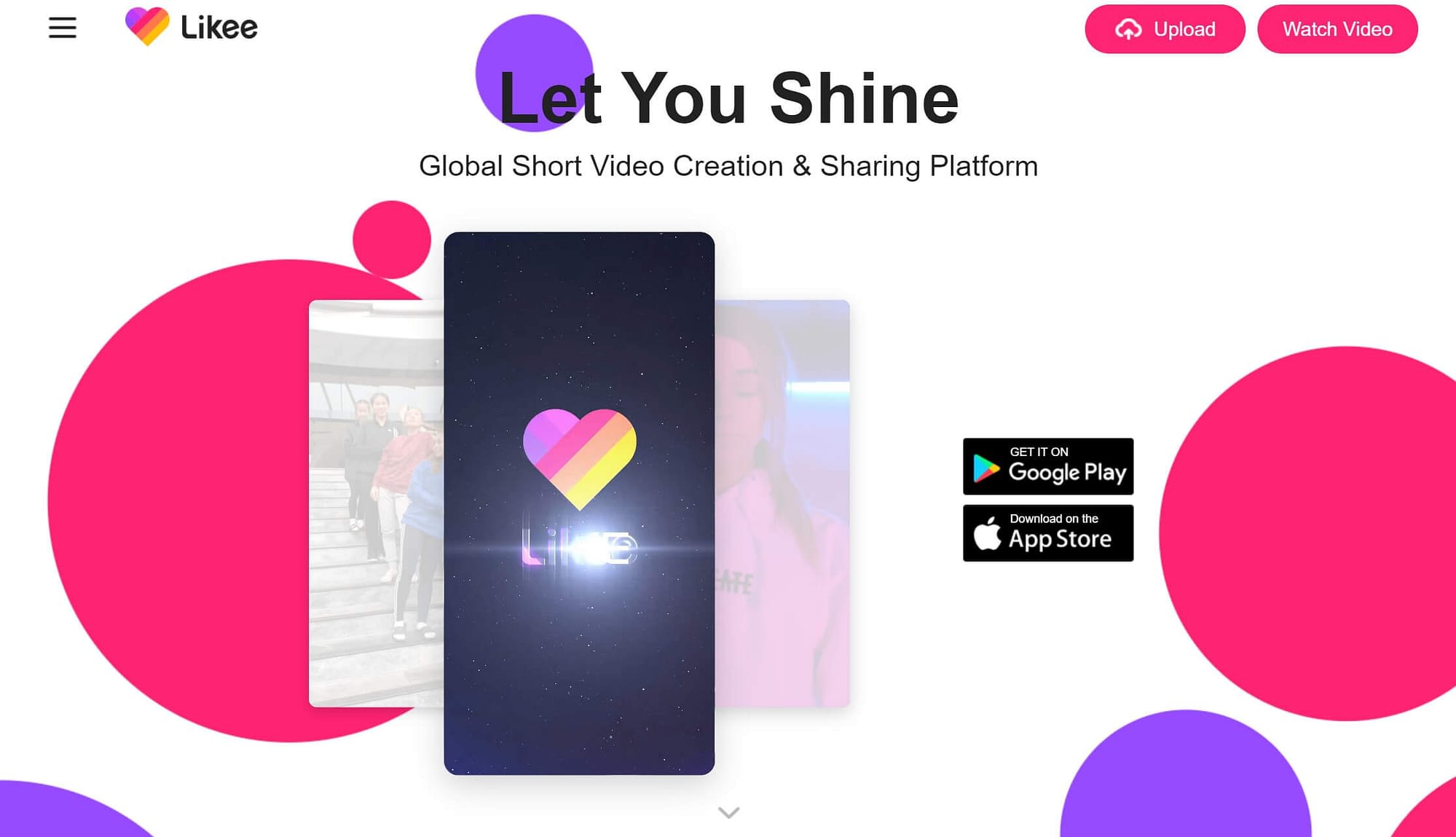 Services such as Instagram Reels and YouTube Shorts are relatively small features of large, existing platforms. However, a number of independent platforms have also popped up in recent years that stand as direct competitors to TikTok, with similar feature sets and experiences. Of these, Likee has been one of the most popular.
Likee is an app and service that enables users to share short vertical videos, just like TikTok. The app is available on both Android and iOS, and it's consistently been one of the most popular apps on each store in the last few months (currently it's in the top 20 free apps across all categories on the Google Play Store). It also features a large and interactive community that marketers can tap into.
Like TikTok, Likee features a large library of music and effects to overlay on videos to add personality. This means it should be relatively easy to take your current video workflow and migrate it over. Considering the direct feature comparison, Likee is an excellent pick for brands that want a direct TikTok competitor with a large existing audience.
4. Byte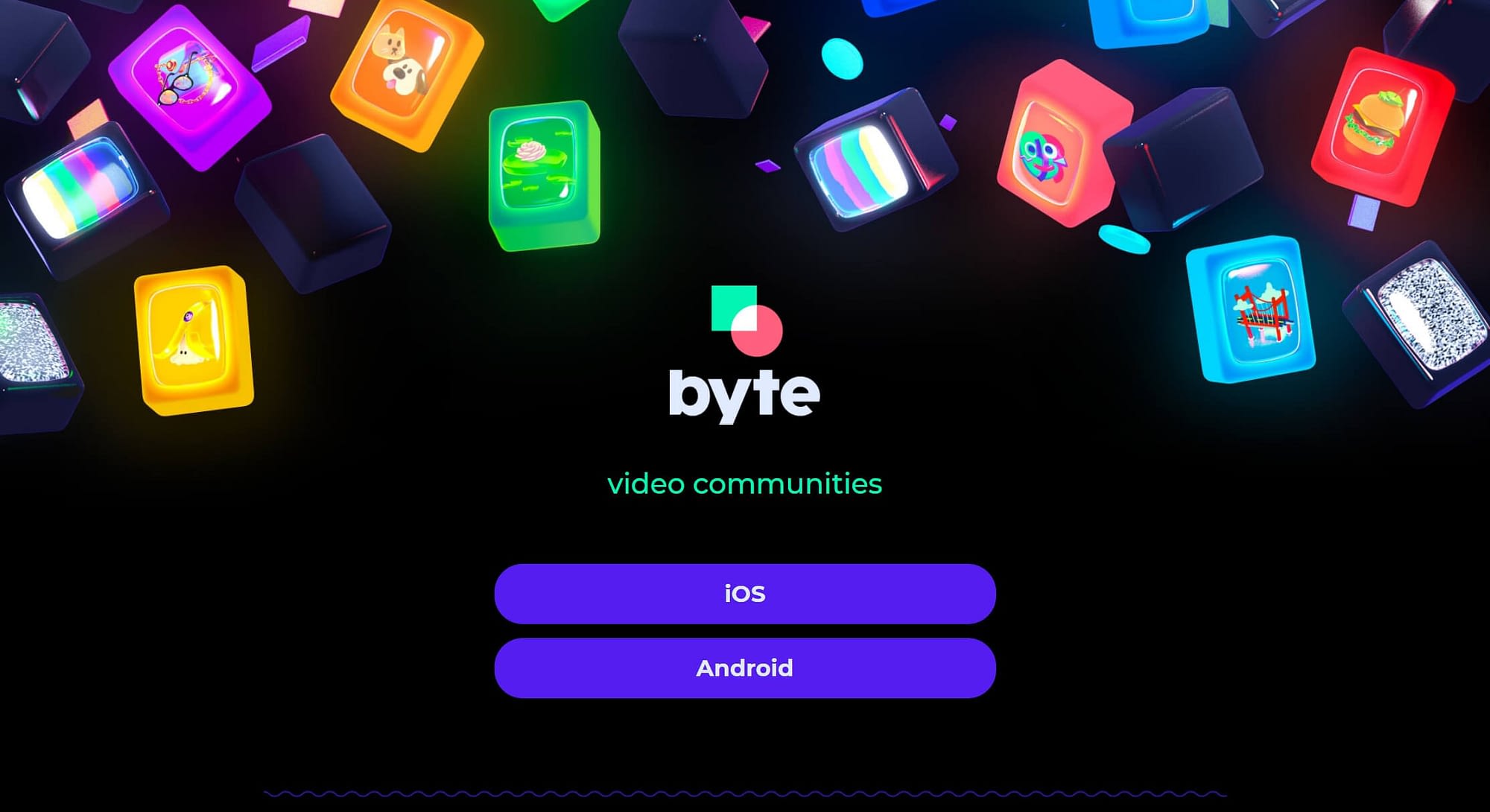 Byte is another app that's extremely similar to TikTok in both layout and everyday use. The primary difference between the two is that Byte limits videos to just 15 seconds, compared to TikTok's 60-second limit. Apart from that, the two are extremely similar: both let you browse your subscribed channels or view recommended videos that might match your interests from a broader feed.
Byte has another advantage over its competition: it's from the makers of the successful short-video app Vine (remember Vine?). This means the team behind it has some experience in the space, which lends Byte an air of credibility that some of the other options lack. In other words, if we had to pick the service on this list that's most likely to hang around for a bit, we'd give the nod to Byte.
5. Triller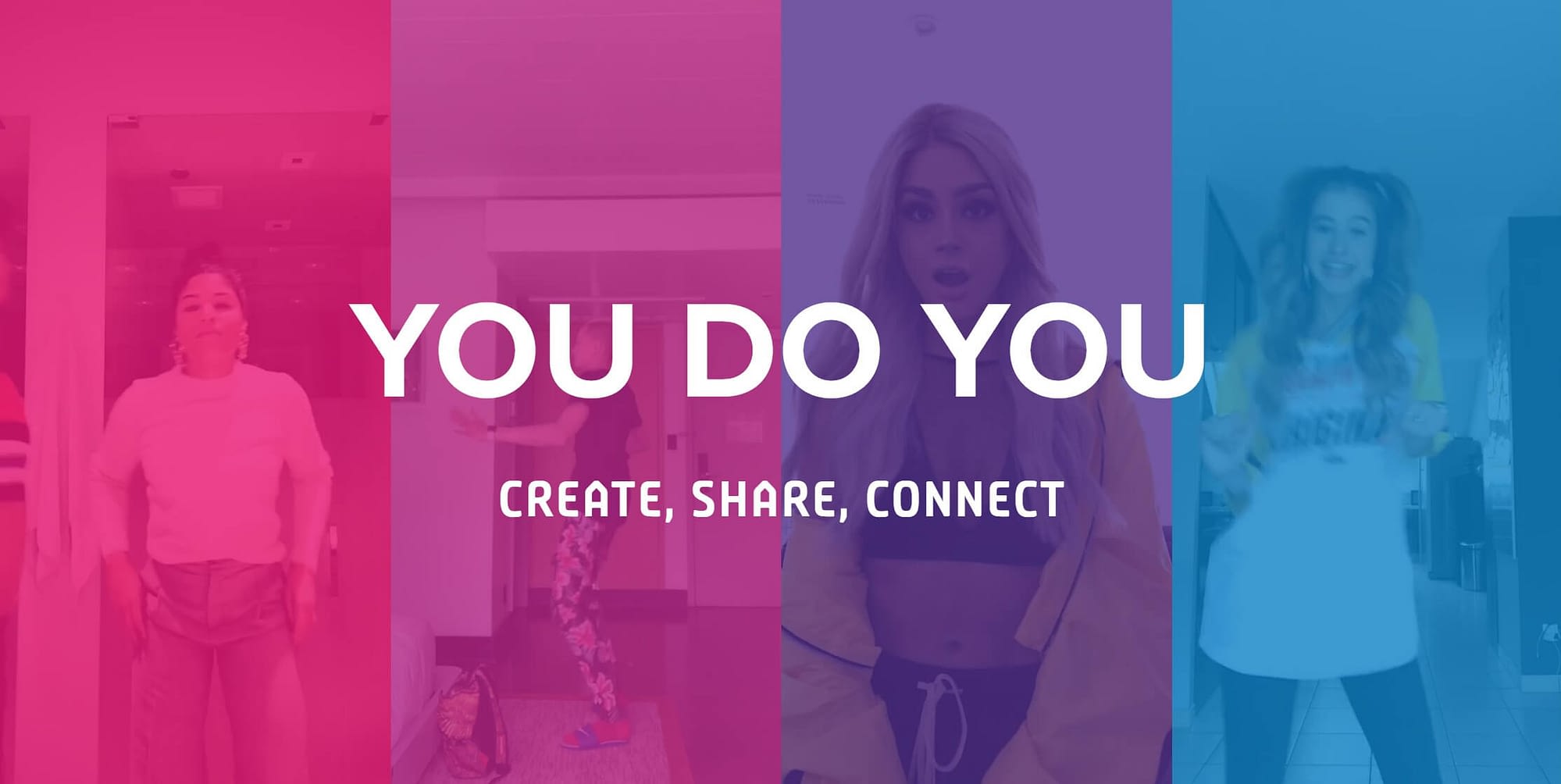 Triller is a bit different than the other entries on this list in that it focuses primarily on music-related content: when creating a new video, you have to choose between a music video or vlog, and music and dancing videos get their own tab in the interface. This type of content may be a little tougher to leverage for marketing, but if you can make it work, the large user base might be worth the effort.
Another interesting aspect of Triller is the way celebrities seem to have taken to it. You can find some big names on the platform, including Post Malone and Alicia Keys. This type of presence makes Triller an interesting option for affiliate marketing and influencer promos.
6. Dubsmash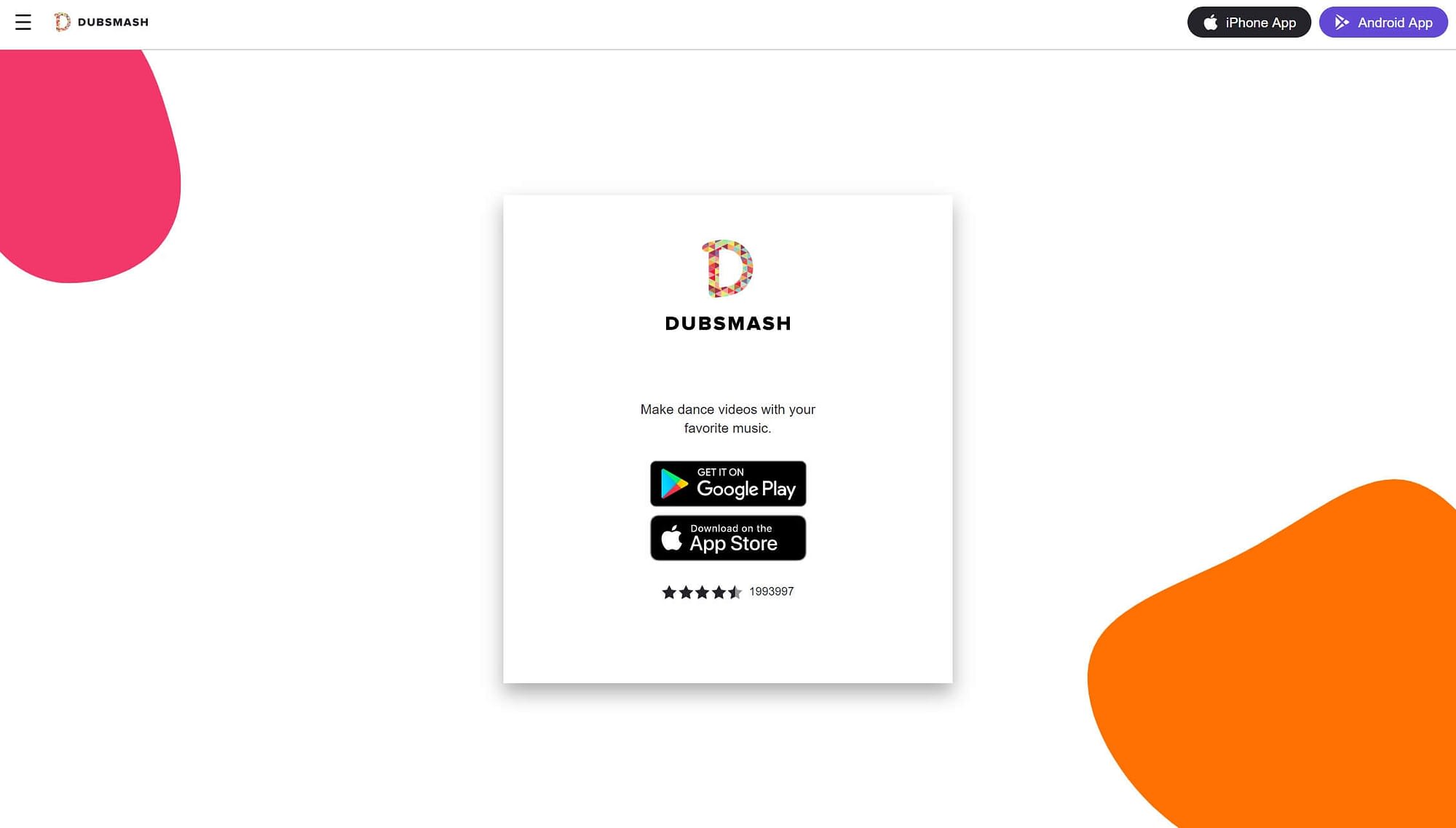 Dubsmash takes the 15-second limit of Byte and tosses it in the trash: this video-sharing app limits users to just 10 seconds to get their point across. The app itself is very similar to TikTok, so users of that platform should feel right at home.
Of course, the question for marketers is how effective you can be with such short content. The answer here may be to utilize the platform less to push products and more to foster engagement and brand awareness. On the flip side, the strict limit could be just the ticket for savvy marketers to get creative and try something new. In any case, the familiarity also means that if TikTok ever sees a ban in the United States, many users may flock to this app to get their video fix – so it's definitely one to watch.
Conclusion
TikTok represents a lucrative marketing opportunity for any brand or business that can leverage short-form video. However, the uncertainty surrounding the future of the platform may make marketers wary.
Fortunately, there are competitors that are gaining traction. Check out the top TikTok alternatives to see if one might be a good fit for your brand:
Which of these TikTok alternatives sounds best to you? Let us know in the comments section below!
The post 6 TikTok Alternatives That Should Have Your Attention appeared first on Revive Social.