Searching for the best cheap email hosting for your business?

While a lot of web hosts offer free email hosting if you have a hosting account with them, you might have situations where you need a dedicated email hosting provider.
Thankfully, dedicated email hosting doesn't have to break the bank, especially with one of the hosts from our list.

In this post, we've collected our top ten picks for cheap email hosting, which include plans for as little as $0.91 per month. There's even a viable free email hosting plan that might work for your business!
Top cheap email hosting providers in 2022
Here are our top picks for the best affordable email hosting, in no particular order…
Table of contents:

Price:
From $6 per user per month, including access to other Google business tools and a large Drive allocation.
Google Workspace, formerly G Suite, can be said to be the Gmail for businesses. You'll be able to use the same familiar Gmail interface, but with your own custom email address.
It's slightly more expensive than some of the other cheap email hosting services on this list, but it still fits in the label of "cheap."
By 'cheap,' we mean that you'll be paying as low as $6 per user per month to host and run your business email address. Every single account that you add to Google Workspace's Business Starter package gets 30 GB of storage, while the address itself is linkable to your custom site domain.
The Business Standard option, on the other hand, goes for double the price per user. Quite a bargain, considering the 2 TB of storage allocated to each email account.
Beyond that is Business Plus and Enterprise, whose $18+ price tag per user per month is not within the boundaries of what many would describe as cheap email hosting.
That said, the best thing about Google Workspace is, its email hosting service comes bundled with a robust business productivity suite. All your user accounts will have access to a host of business tools that can easily rival Microsoft Office. We're talking about Google Docs, Sheets, Slides, Hangout, Meet, Drive, and Calendar.
2. Zoho Mail – Free / From $1.25/user/month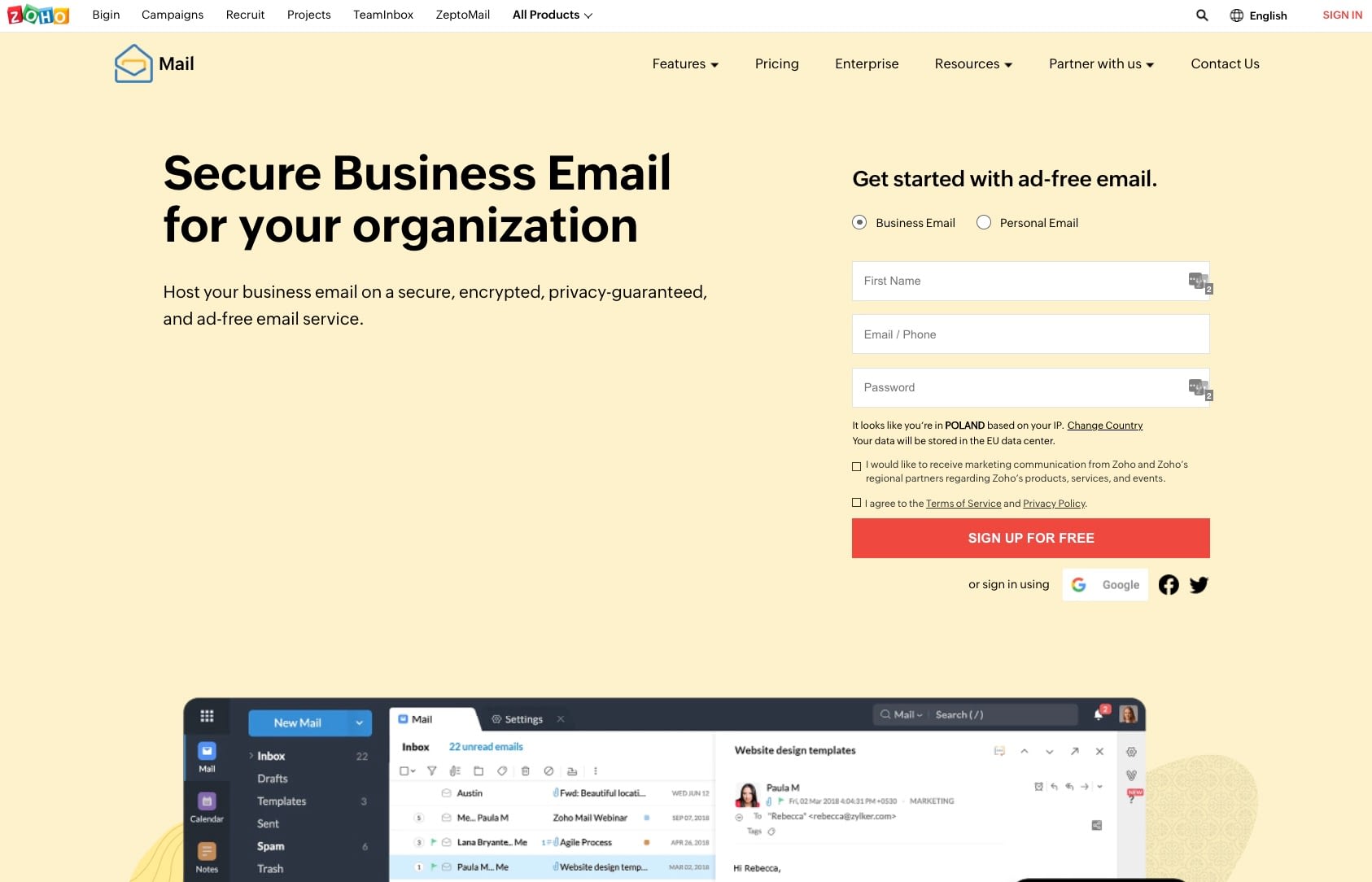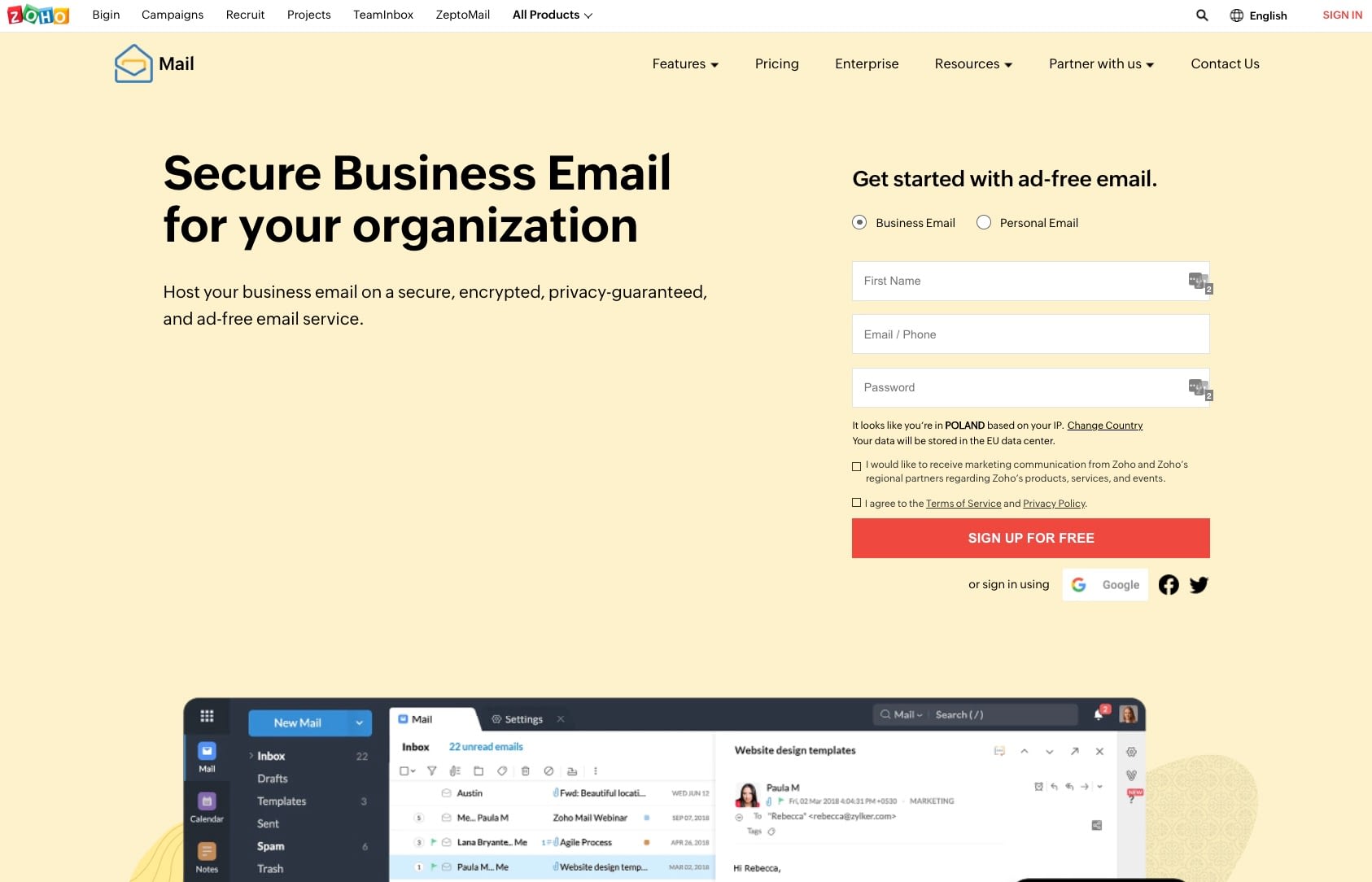 Price:
Free plan for up to five mailboxes (but can only access email via Zoho website/apps).
Paid plans from $1.25/user/month (access via any email client/app).
If you're looking for a free email hosting solution that comes with premium features, you might want to look into Zoho Mail.
The only thing is, the free plan can only support you for so long – since it has a limit of five mailboxes, each maxing out at 5 GB.
On a brighter note, however, an upgrade here won't cost you much. $1.25 per user per month gives each account about 10 GB, while $4 per user per month stretches the storage allocation to 50 GB.
Whichever premium package you pick, Zoho Mail's cheap email hosting should easily support business mailboxes across multiple domains.
What's more, you'll have the privilege of routing emails, recalling messages, configuring domain aliases, syncing emails via IMAP and POP, as well as managing your Zoho account from its native mobile apps.
Zoho Mail additionally suits collaborative business teams. Its Workplace package, which starts at $3 per user per month, features a suite of essential communication and productivity apps.
You'll have access to online chat messaging, video meetings, presentation software, spreadsheets, document processing, file management, and multi-user collaboration.
3. Rackspace – From $2.99/user/month

Price:
From $2.99 per user per month, with a 14-day free trial
Rackspace is a business platform that hosts not just emails, but also applications, big data, and multi-cloud environments. These services are distributed separately, with email hosting being sold in three extremely cheap feature-rich packages.
$2.99 per month is all it takes to launch each user's professional email across Webmail, Outlook, and mobile. $3.99, on the other hand, throws in office-compatible productivity apps, instant messaging, file storage and sharing, plus desktop, and mobile syncing. Then for $6,99 per user per month, you should be able to additionally remove storage limits on archived emails.
All these packages start with a trial period, which should run for 14 days before billing officially begins.
If you're unsure about what to choose between the three cheap email hosting options, you can always reach out to Rackspace's support team for professional assistance. They're accessible round the clock.
Rackspace is also renowned for maintaining 100% uptime. This is a guarantee you'll find in their service agreement, which further promises cash compensation should you ever experience downtime.
4. IONOS – From $1/month for a single user

Price:
Individual plans from $1 per month, including a free domain name.
Multi-user plans from $2.50 per user per month for 10+ users.
IONOS is an industry veteran that has been around for decades. During that time it has refined its hosting architecture to the point of outshining competitors as one of the best cheap email hosting providers.
This service now boasts ISO-certified servers, 360 Gbit/s connectivity, plus georedundant infrastructure comprising ten data centers across five countries.
$1 per month is all you need to start enjoying them. IONOS will grant you an ad-free business email account with 2 GB worth of storage space, which should sustain about 10,000 emails.
Add $3 to that and your disk space will be expanded to 12 GB. But, if you're bringing in multiple users, you might be better off with the IONOS Mail Business package, which can accommodate up to ten of them on 50 GB.
To empower your team even further, you might want to switch to the IONOS packages that come integrated with Microsoft 365 and Microsoft Exchange. This is where you'll be able to collaborate seamlessly with document management tools, communicate via MS Teams, as well as store and share files with OneDrive.
5. Greatmail – From $15/month for 15 mailboxes

Price:
From $1 per mailbox per month, but there's a $15 minimum. Minimum payment is $15 per month for 15 email mailboxes.
Speaking of multiple users, Greatmail is the best cheap email hosting provider for large teams. Its architecture is specifically structured to economically support several subordinates on a single admin account. That means you won't be breaking the bank to run a collaborative environment on email.
In particular, you ought to go for Greatmail's Groupware Edition instead of the smaller Standard Edition. The latter is cheaper at $15 per month, but the 15 mailboxes that come with it are only ideal for basic POP3/IMAP email syncing across custom domains.
With Groupware Edition, though, you'll be facilitating real-time synchronization of contacts, calendars, and emails across multiple devices, operating systems, and clients.
The pricing starts at $30 per month for ten mailboxes – which translates to about $3 per user per month.
You'll enjoy in-line server redundancy, up to 25 GB of cloud storage per mailbox, full-time expert support, high volume SMTP hosting, email archiving, multi-domain support, spam filtering, firewall protection, DNS load-balanced clustering, and real-time data replication.
6. Namecheap – From $0.91/month ($0.74/mo. additional mailboxes)

Price:
From $0.91 for a single mailbox, with a two-month free trial. Add more mailboxes for just $0.74 per month.
Pro plans with mobile sync from $2.41 per month for three mailboxes. Add more mailboxes for $2.16 per month.
While Namecheap's fame is largely attributed to its cheap web hosting and domain registration offerings, it happens to be just as competitive on the email hosting front. You'll find a set of extremely cheap email hosting packages, each of which has been configured to start you off on a generous two-month free trial.
So cheap is the email hosting here, in fact, that users can launch a custom business mailbox for as low as $0.91 per month – with each additional user joining the principal account for $0.74 per month. Every single mailbox at this level is allocated only 5 GB of disk space.
A payment of $2.41 per month, however, increases the allocation to 10 GB per mailbox, bringing the total to 30 GB for the default three-user base plan.
If you choose to upgrade further, you'll be paying about $3.66 per month – which caters to five mailboxes, each with 15 GB of storage space.
From that pricing strategy alone, you can tell that Namecheap targets small business teams that are not very heavy on email. They should be able to sync their stuff across multiple devices and maybe collaborate on docs, sheets, and presentations – but their mailboxes won't have the capacity for boundless emails.
However, Namecheap is conversely generous with file storage, as collaborators get as much as 30 GB of space on each user account. At least that gives them more flexibility with exchanging files, as well as managing tasks and documents.

Price:
From $4 per user per month.
Among the many things Amazon Web Services (AWS) is renowned for, on-demand pricing happens to be one of the core highlights that increasingly attract business users. So, it's no surprise that it maintains that same approach even in email hosting.
Amazon Workmail is the name of the service, and it's available in a rather pleasantly simple pricing structure. You just need to pay $4 per month for each user – and, in return, Amazon Workmail will empower your team with one of the most versatile but cheap email hosting ecosystems.
For starters, each user account is awarded 50 GB of storage space by default. The system itself can be deployed on any popular email client, including native Android and iOS applications.
You should also be able to run it seamlessly on services Microsoft Outlook, upon which Workmail's support for the Microsoft Exchange Activesync protocol will facilitate full syncing of your contacts, mail, and calendars.
The integration between Amazon Workmail and Microsoft Active Directory further facilitates mailbox access through Microsoft's existing credentials. What's more, you can manage your Amazon Workmail emails using the same administration tools as your Active Directory account.
When it comes to security and performance, Amazon Workmail boasts one of the best encryption systems for cheap email hosting. You'll be using AWS Key Management Service (KMS) to set the encryption keys for securing your data at rest. Other than that, you'll have control over the server region where data is held.
8. Hostinger – From $0.99/mailbox/month

Price:
From $0.99 per mailbox per month for the basic Business Email plan.
From $2.49 per mailbox per month for the Enterprise Email plan.
Just like Namecheap, Hostinger is a web host that chose to venture into cheap email hosting.
The email service itself is somehow structured using the same principle as Hostinger's corresponding website hosting packages. You get to start small and inexpensive with a simple base plan, and then slowly work your way to a slightly costlier but more economical setup.
Business Email is the name of the starter plan, where each mailbox goes for $0.99 per month. Every user is entitled to 10 GB of email storage, ten email aliases, email templates, unlimited mail filters, plus omni-channel mailbox access. You should additionally be able to run your account via Webmail, as well as on Android and iOS apps.
Enterprise Email is the second pricing plan, making it the only upgrade option. The rate here is $2.49 per mailbox per month, which raises the storage ceiling for each user to 30 GB. The rest of the provisions have, otherwise, been mirrored from the Business Email plan.
Upon firing up the system, you can expect a smooth experience on the platform – thanks to Hostinger's intuitive and easy-to-use Titan interface.
9. DreamHost – From $1.67/mailbox/month

Price:
From $1.67 per mailbox per month with annual billing or $1.99 with monthly billing.
DreamHost is yet another widely acclaimed web hosting service that went on to spin off a dedicated email hosting service from its extensive platform.
This is where you come when you need the best cheap email hosting from a seasoned host, but without the extra cost of supporting a website. The system allows you to run its powerful email features on both natively and externally registered domain names.
As for the pricing, you'll notice that DreamHost's schedule is a lot like Amazon Workmail's. The only difference is, DreamHost's rates are significantly cheaper.
Otherwise, its dedicated email hosting is accessible through a single pay-as-you-go plan. You could either go for monthly billing at $1.99 per user per month, or maybe purchase it for a year's cumulative lump sum – which should be equivalent to $1.67 per mailbox per month.
That'll unleash 25 GB of storage for each mailbox, along with universal IMAP support, custom aliases, message routing, automatic delivery filters, Webmail support, spam filtering, and multi-device syncing.
How to choose the best cheap email hosting solution
Email hosting is just as subjective as web hosting. That means there's no single solution that can sufficiently cater to everyone as the overall best cheap email hosting service.
What's suitable for you rather depends on your business needs, hosting budget, team size, growth plans, and communication channels.
For instance, if you're just getting started

and can't afford to spend money

on an email hosting service, we'd recommend Zoho Mail's Forever Free plan. That will give you the best free email hosting features for businesses, though you'll only be able to access your email via Zoho Mail's website or official apps.
IONOS, on the other hand, happens to be the best cheap

email hosting provider for businesses that are yet to secure a domain name. Its $1-per-month package comes bundled with a free domain name, which should save you the trouble and costs of third-party registration.
Growing teams
would, otherwise, be better off with Google Workspace, while Rackspace tends to be the most dependable in terms of uptime.
Then for short-term usage,
DreamHost and Amazon Workmail would be the most appropriate cheap email hosting services because of their flexible pay-as-you-go schedule.
Do you still have any questions about choosing the best budget email hosting provider for your business? Let us know in the comments!
The post 9 Best Cheap Email Hosting Providers For Your Business appeared first on Revive Social.
Revive Social